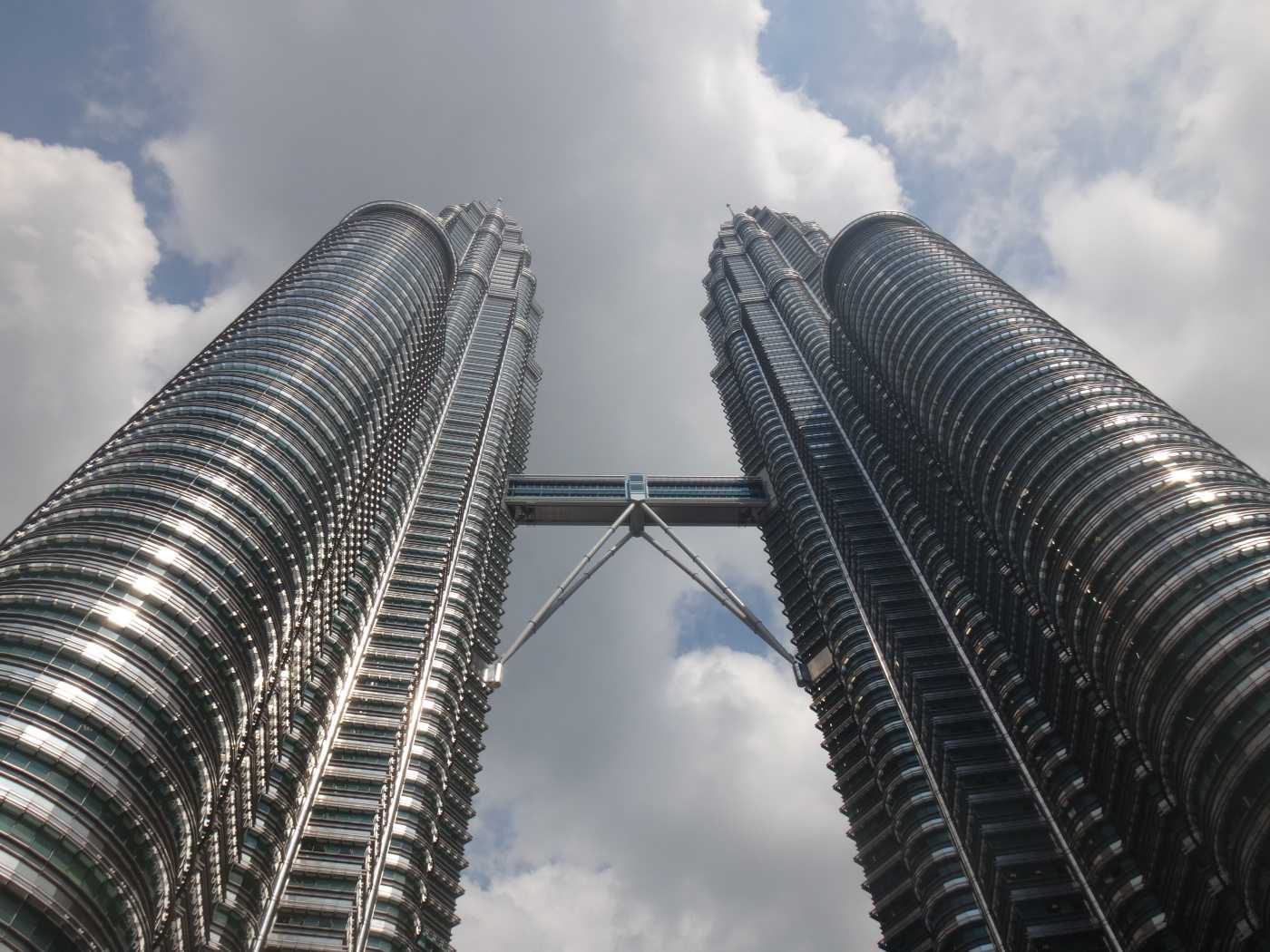 MALAYSIA, THANK YOU.
Kuala Lumpur, I have to say is similar to Manila. The vibe for me was the same – malls, city, people, food, prices, among others. Everything really was similarly comparable to Manila. I'm still grateful for the experience because it's still a different culture and it has its unique traits.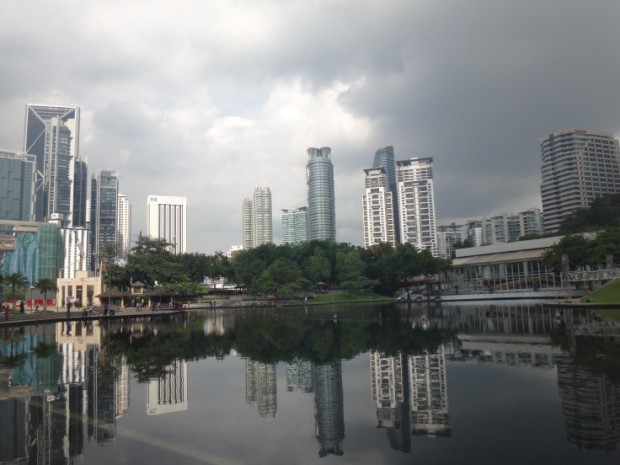 City View in front of Petronas Towers
When I'm in another country, I can't help but always compare. The progress, the TRAINS, the people, the culture… Even though this is the case, there's always this great feeling in me that I know I'll always learn something new, that I'll always gain something.
Whether it's meeting people from that country or tourists/travellers, riding the train, learning the culture or simply stepping out of that plane into new ground, I know that I'm about to experience or feel something grateful, something grand. Keep this in mind when you're travelling. Whether you're there for business or pleasure or simply by chance, be grateful that YOU have the opportunity to experience another country, another culture.
This is what Malaysia helped me realise after these few years of travelling. I am truly grateful.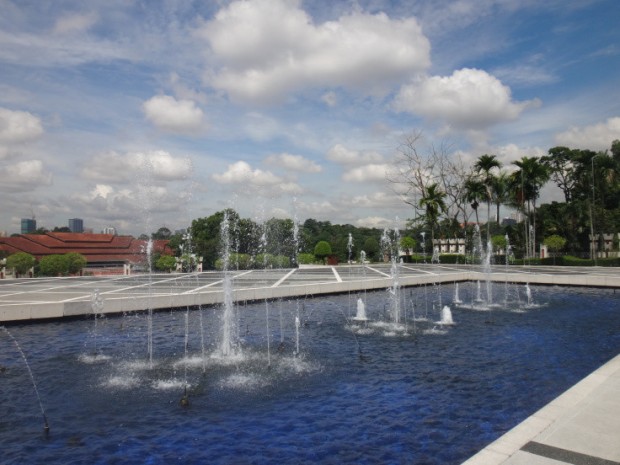 Nice view at KL Monument
Flight
I really love Cebu Pacific. Even though a lot of people complain about its services, I'm really grateful to this company. I've been able to travel as much as I can because of them, because of their low airfares. Early this year, I was lucky enough to get a KL roundtrip flight (3.5 hours per way) for P600+. This is my 2nd lowest airfare after Batanes. I am truly grateful to the Universe for giving me the chance to visit a country with these means.
Also read: 8 Tricks to Successfully Grab Cheap Promo Flights in the Philippines
Just one little setback, for the red eye flight back to Manila, there was one surprising moment. It was around 2 or 3 am, I am not sure if it was really bad turbulence or ignorance on the pilot, but I felt like the plane turned off (If that is even possible) but it felt like the plane stopped and fell a few feet. When that happened, everyone woke up! All seemed to panic and looked out the window, the flight attendants were even going back and forth to the back and pit.
I just closed my eyes and prayed. The seat belt sign turned on for what seemed like 1 hour or more. Nothing happened after that "drop," and everything was smooth sailing. But I got really scared. I loved flying, but that really made me pray. I prayed for my family and thanked God for all the blessings.
It is true what most people say. Live your life to the fullest every single day. Be confident and say what you feel. Do not feel inferior to the negative things people say about you. YOU know who YOU are, and no one can say otherwise. Say I love you to people who matter the most and just be happy. Be happy for others and give support. Most importantly, be grateful and be content.
Kuala Lumpur International Airport 2 (KLIA2)
KLIA was really cool and big. There are a lot of shops and restaurants to eat at! My favourite here is the duty free shops! I always look out for Lindt because specialty chocolates are really cheaper at airports. And OMG for the first time, I saw a LINDT BUFFET! I can choose among different types of Lindt and just pay by weight!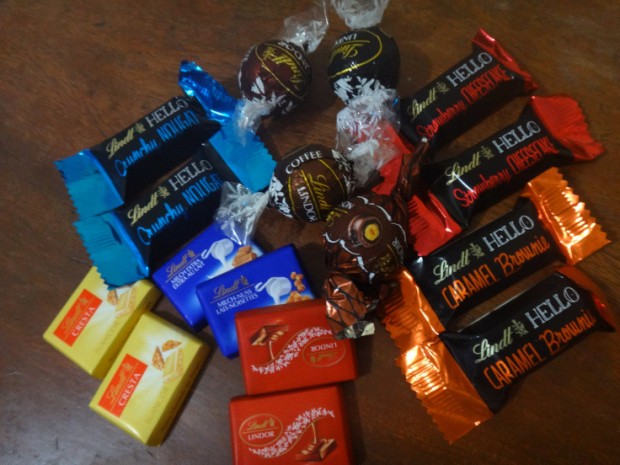 MY MOST FAVOURITE! Lindt chocolates from the Lindt Buffet!
Comparing KLIA2 with other Int'l Airports, the only comment I have is the distance between Arrival and Departure areas. It's a bit of a walk, a longer walk if the walk-a-lators do not work. In other countries this distance can be covered by an airport train. I didn't mind at first but since KLIA2 was just a few days stop for a connecting flight, I had to do that long walk around 4 times carrying my bags. I do not have check in baggage so for the most parts, the walk was a struggle. At least I got to exercise!
Also read: 10 Least Explored Destinations in Malaysia
Everything's easy from KLIA2. There are signs leading to nearby hotels and capsules, buses, cars and a train. There is also a train linked to KL city centre.
Transportation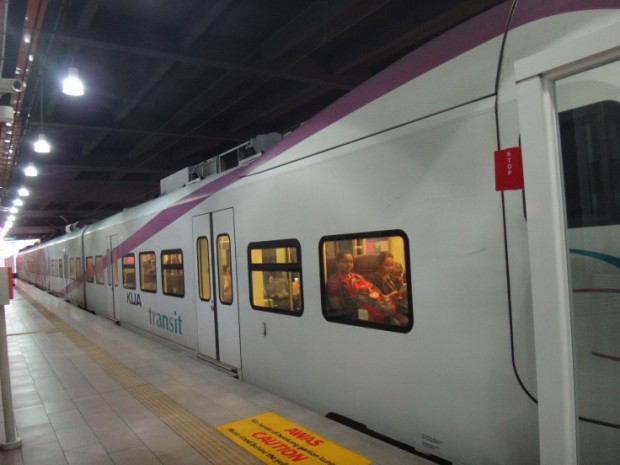 Airport Line
For my KL transpo experience, I got to ride a van through its highway (comparable to NLEX/SLEX) and mostly the train to get around the city. The van was a transfer from Sri Packers. The trains in KL can be compared to the ones here in Manila, the difference is there are more lines, more stations, more trains and an airport line.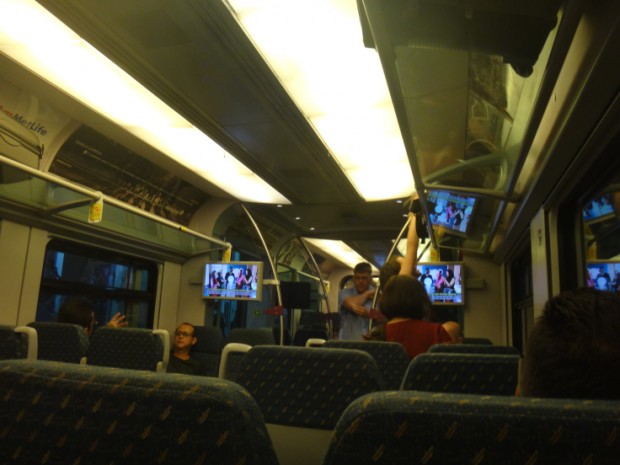 Comfy seats inside the airport line train
KLIA2 to KL city centre is like Manila to Subic. The Airport train(s) can take you from KLIA2 to KL City for about 25 to 30 minutes depending on which line you take. This was really cool, because you wouldn't have to worry about any other transportation to go anywhere but the train. The Airport line operates from 5AM until 12MD so transportation around KL was really easy. Airport rail lines connect to KL Sentral line, and every other tourist site route connects from there.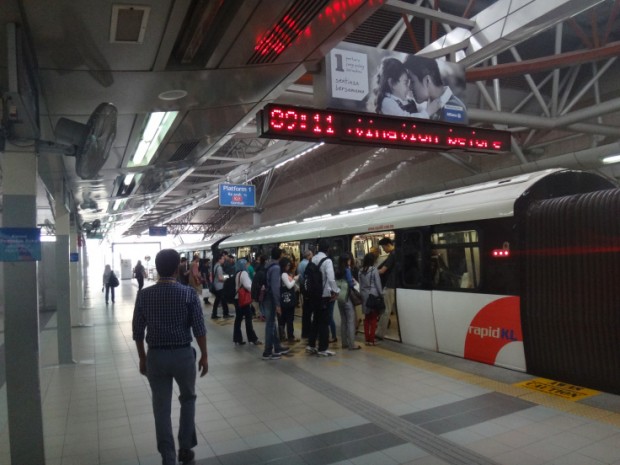 People lining up at KL Sentral
I felt the Manila train vibe here once. This is when a new person I met and I were going back to our hotel, and we accidentally lined up at a popular station during rush hour. It was like an Ayala Rush Hour station scene. As much as KL's train is more advanced than ours, I still felt that Manila "rush hour" here. I think it was around 4-5 trains before I got on a train. People were pushing and staff were controlling people to fix their lines and even fixing there's still space inside. Some people lined up were telling people inside to move so other people can go in. "So it also happens here," I thought.
Accommodation
SRI Packers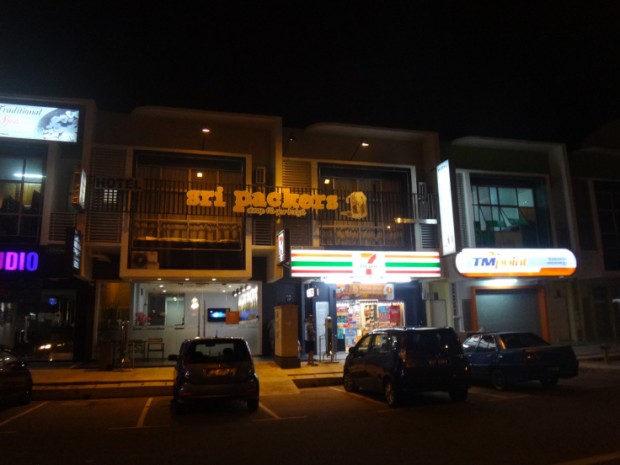 Sri Packers Front View
Since my first arrival in KL was a transfer or connecting flight, I only had a few hours to spend in KL so I decided to just stay at a nearby hostel and not make an effort to go into the city. SRI Packers Hostel is a popular transfer hotel in KL. They offer free breakfast and transfers for an affordable fee. The transfer to this hotel was about 20 minutes. Imagine a ride from Subic to somewhere near Pampanga. The set up is a hotel near a gas station with a few food establishments much like a Rest Stop.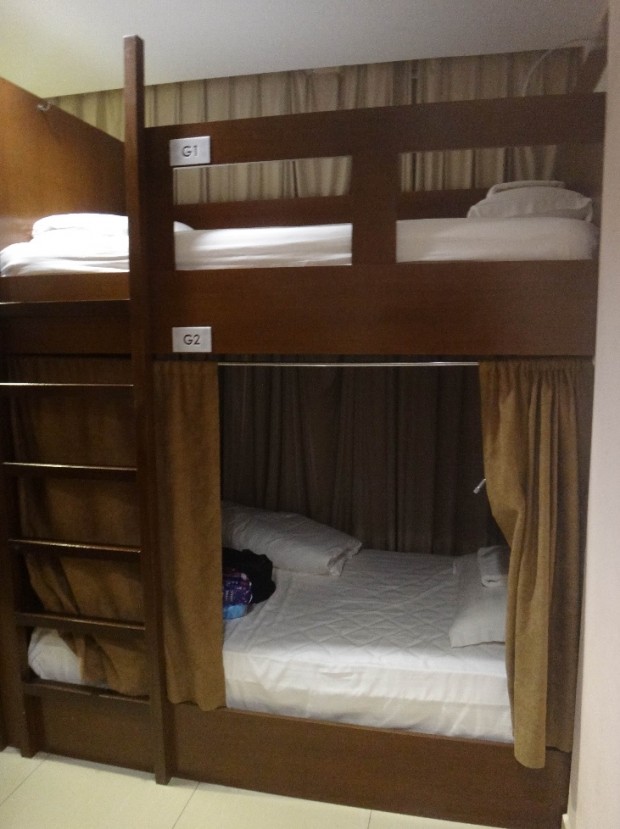 My bed at Sri Packers!
The hostel was really nice. The beds and bathroom were clean. Just a setback, the room was very small so if you're in a room with a few people, you can hear them fixing their stuff or even taking their showers, because everything was so close to each other. As much as possible, when I am in a room with other people, I show respect by being quiet at night or being discreet when I fix things and move around. Even when I took my shower, I was so careful to not make too much noise. But some people were really rude–banging doors and their things, talking so loudly that night, taking a bath so loudly by using the shower water so much. I just closed my eyes and said, "I am very grateful for the patience I have gained during this time."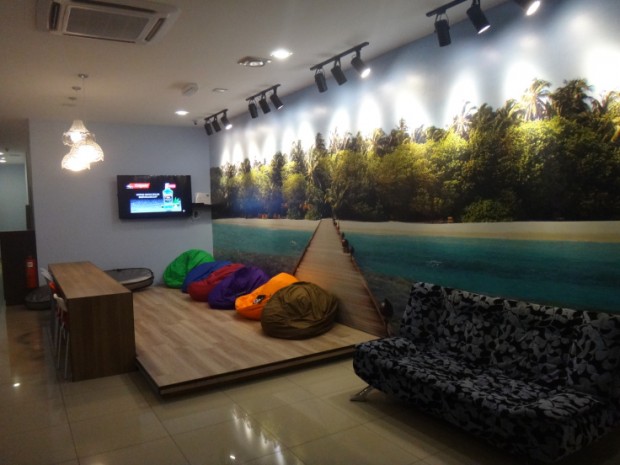 Common Room at Sri Packers
Pod's Backpacker's Home
Coming back to KL for connecting flight back to Manila, I had a few more days to spare so I stayed at a hostel in the city centre this time. POD's Backpacker's Home was really great. We were 10 in a room so I got to meet lots of people. I even got to talk to two very hot Brazilian guys who have been travelling the world for some time now. Sobrang kilig! I met some really cool girls from China and Japan, too. They had a cafe where you can mingle and watch people jam. There is a stage where you can freely sing, play guitar, or show any talent. The staff was very nice and accommodating, too.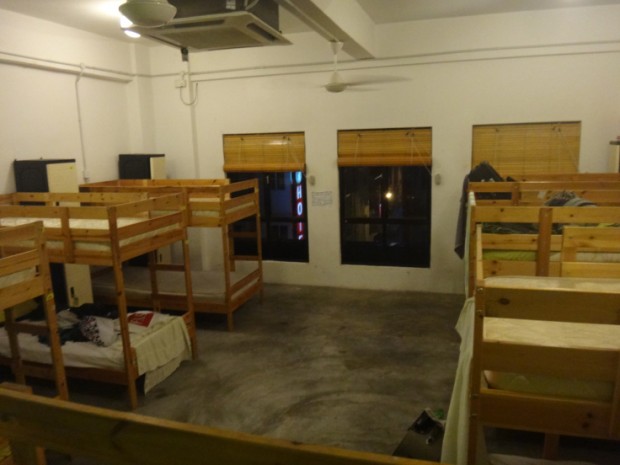 10 bed mixed dormitory room at PODs
The beds were clean and the room was very homey. Setback is the bathroom. It felt like a garage or storage area turned into a bathroom. It looked so old and really scary. After taking a bath, I still felt dirty after it all. The air inside was disgustingly humid so I always had to open the windows to let the bad air out.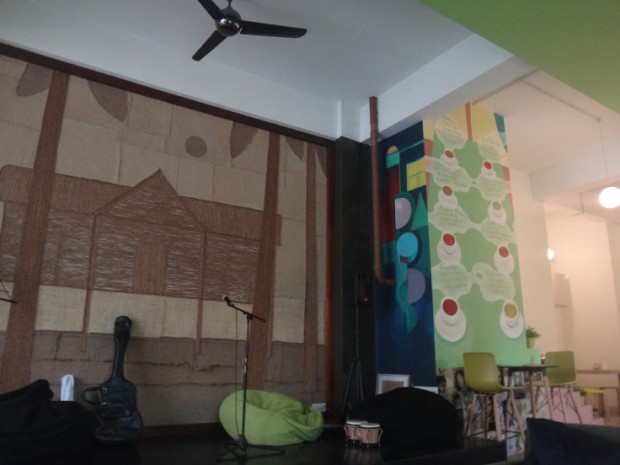 Stage at PODs Cafe
Location wise, the hostel is near KL Sentral station. Around 5-10 minutes walk depending on which route you take from the station. My best bet is get out of the station, walk through NU Sentral mall and find the escalator going down en route to Little India Brickfields and you'll find the hostel easily. There are also a lot of Indian canteens and bars around this place.
Also read: How to Spend Your 12-Hour Layover in Kuala Lumpur
Food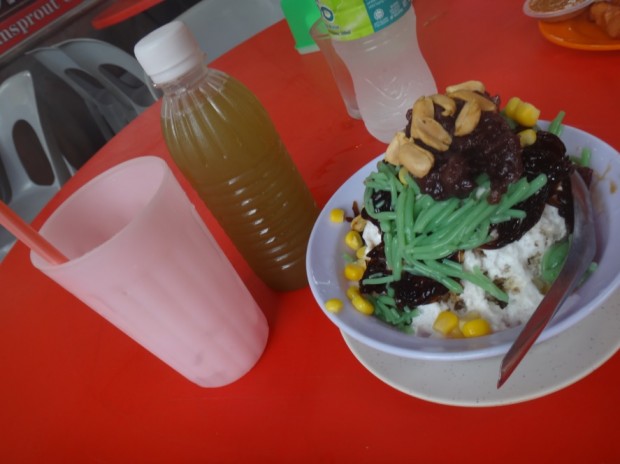 ABC dessert and Sugar Cane drink from Jalan Alor food street
Food in KL was just okay for me. Almost all the food I've tried I think I've already tried in Manila. Pad Thai, KFC, CBTL, Iced desserts among others, were just some of the food that I ate and nothing really special about them.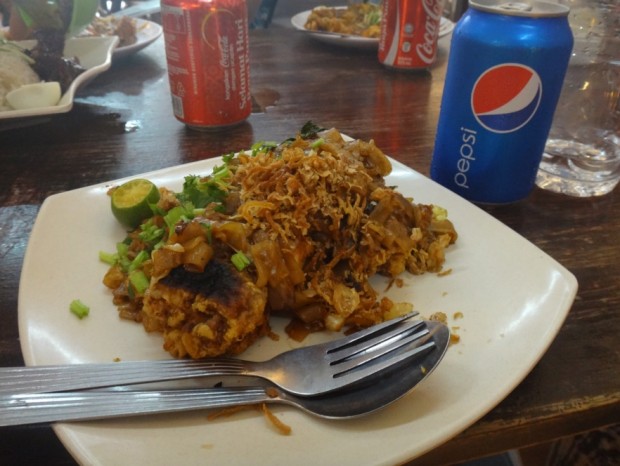 Pad Thai lunch from the Tour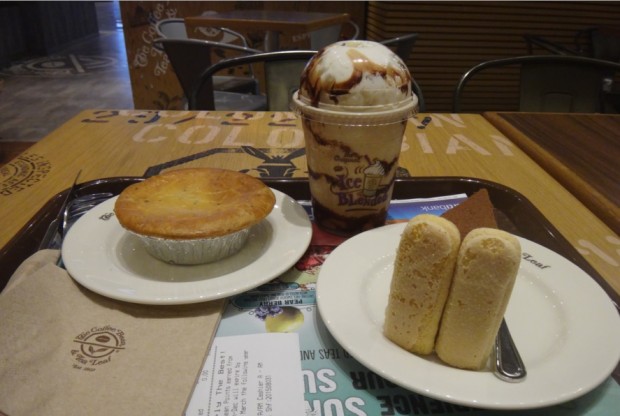 CBTL meal at NU Sentral
I tried the Curry based food at the Airport where I ordered Roti with popular curry sauces. The taste was different, a little acquired for me but really grateful for the chance to try it.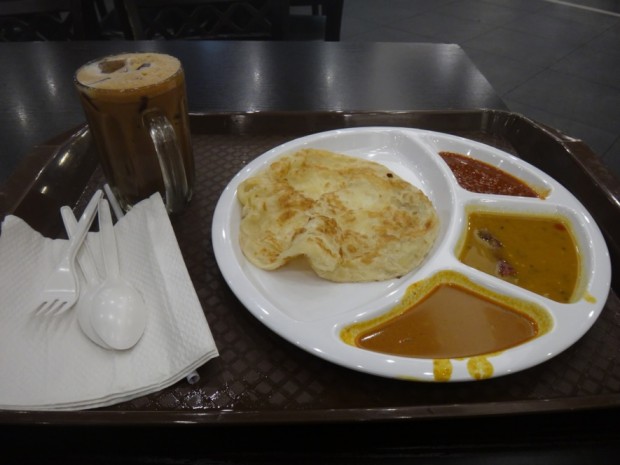 Iced Coffee and Roti Platter at KLIA2 Food Court
Exploring Kuala Lumpur
1. Little India Brickfields
I got to explore this place because this was near my hostel. Lots of Indians here and the food really looked good, but I wasn't too hungry when I was exploring. People were friendly here because they smiled a lot at me. Here, I realized that KL much like Singapore has very diverse people. You don't really know who the Malaysians are because there are too many people that looked really different. There were Chinese, Indians and some Malaysians that look like Filipinos.
2. NU Sentral Mall
This is a really big mall connecting to the KL Sentral train. This is like SM Megamall; shops were almost the same and the vibe was the same for me.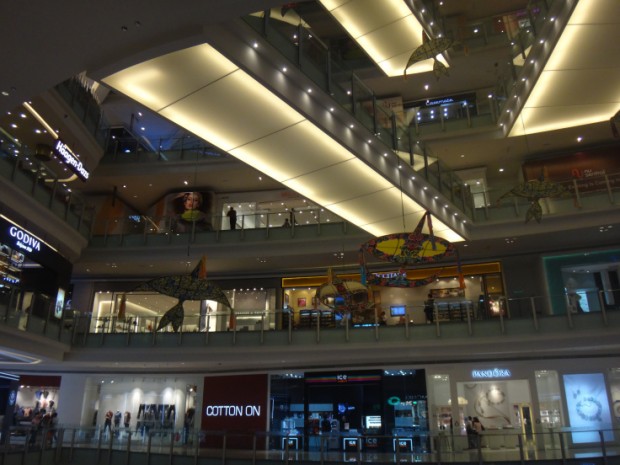 Inside NU Sentral Mall
3. Bukit Bintang & Jalan Alor Food Street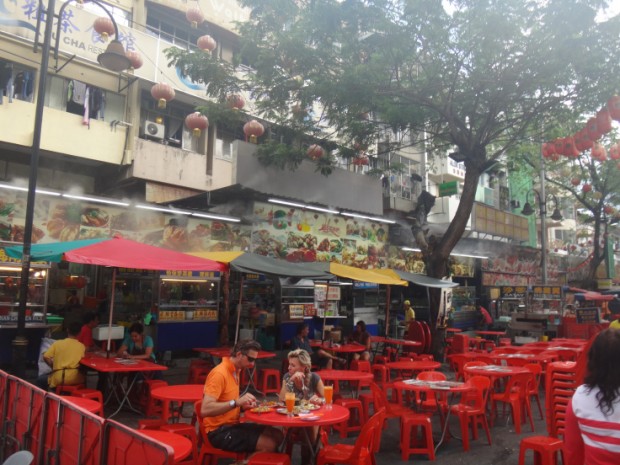 Stalls at Jalan Alor Food Street
I got to explore this place with a really cool person I met from Ireland at Reggae Mansion. We walked around seeing street shops and lots of food. At Jalan Food Street, you could see a lot of foreigners so you'd really know that this was a tourist destination. Similar menus were being served at almost each station – BBQ, soups, noodles, iced desserts, fruits and others. The vibe here can be comparable to Weekends Food Markets like Mercato.
Reggae Mansion's 7 Wonders of KL Shared Tour
I availed a popular tour from Reggae Mansion, which would bring us to 7 popular tourist sites in Kuala Lumpur. I really wished I stayed at Reggae Mansion! The vibe was just so fun and lively, and I was just in the lobby. There were so many people to talk to and the facilities were very nice. This was just a minute walk also from a popular train station. Next time I'll be in KL, I will definitely stay here!
The tour was really fun because of Mr. Ong. He was our tour guide. He was really witty and very funny. At every stop, he would make funny comments and really guide us to the history of each destination. It was a great and enjoyable tour overall. He really commented a lot about the Philippines. He said that we eat rice almost everyday and everyone in the tour was really shocked. Some even asked me what we eat with rice. He was really knowledgeable and really great.
Here are the 7 popular KL destinations we went to:
1. National Mosque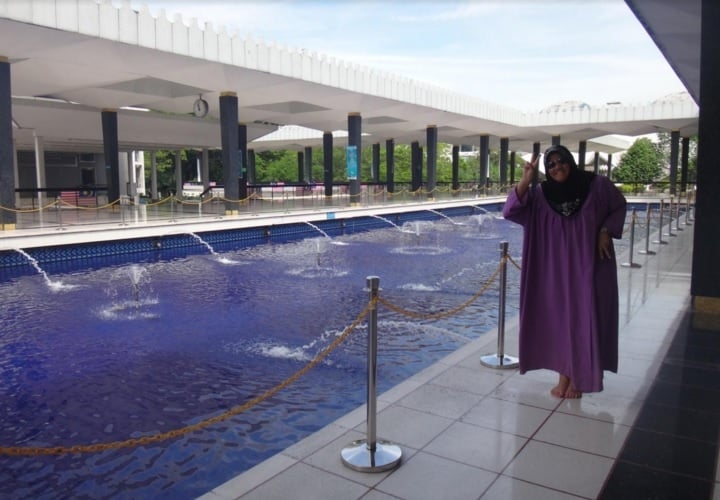 Inside the Mosque
This was really fun because we got to wear long purple robes and a black headscarf. This was a religious place, and we had to respect it by wearing proper clothing. The outfit was really hot though, and I can't imagine some people wearing that all day.
Also read: 10 Places to Visit on Your First Trip to Kuala Lumpur
2. National Monument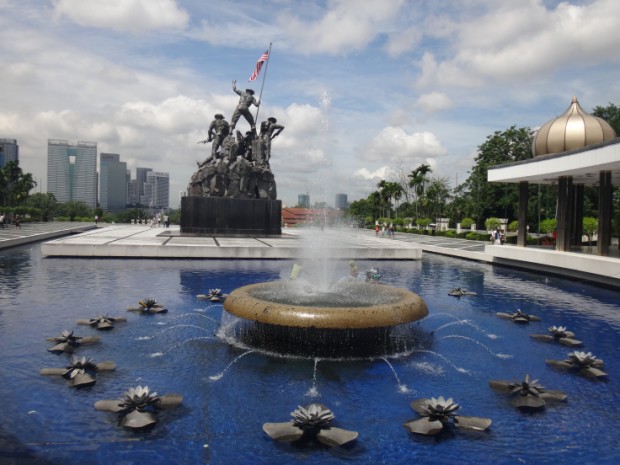 Breathtaking view of the National Monument
This was really cool! The statue was really huge and the view was just great!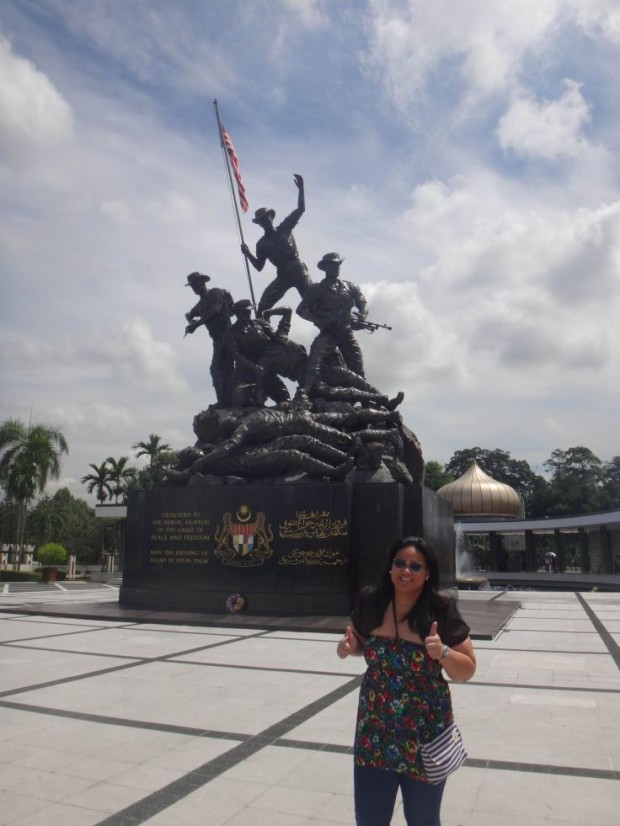 At the Monument
3. Merdeka Square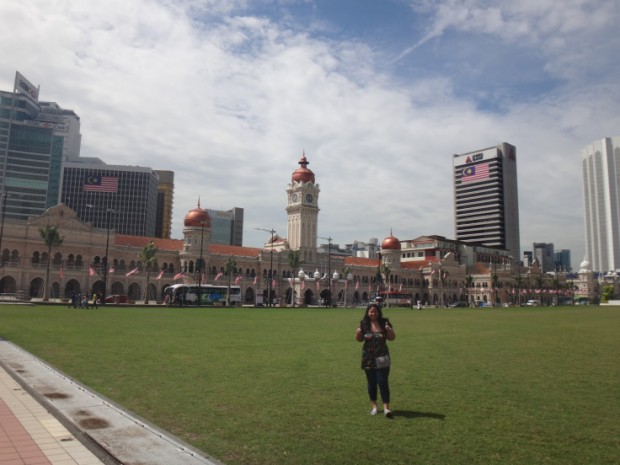 Field at Merdeka Square! Thank you Elaine for taking my picture! 😉
I loved this place! The view and the field was just a good stroll. The wind and the weather was just so nice.
4. The Royal Palace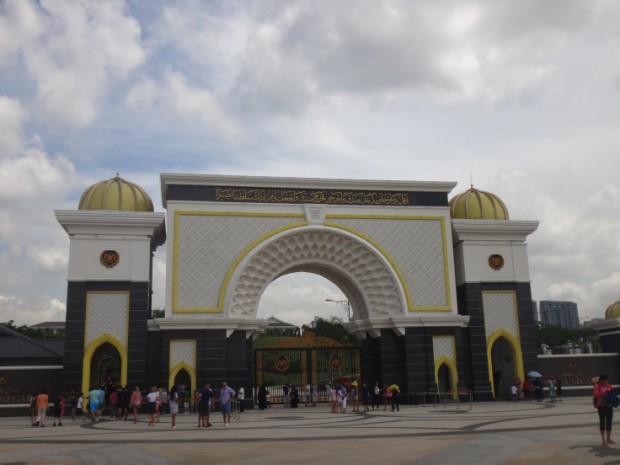 The Royal Palace Front Gate
Since Malaysia was a British colony, they have the same UK Palace set up. There are guards that stand there all day long and a guy on a horse. I felt really bad for the horse. And the guy riding him was dozing off at most times as I was taking a picture oh him.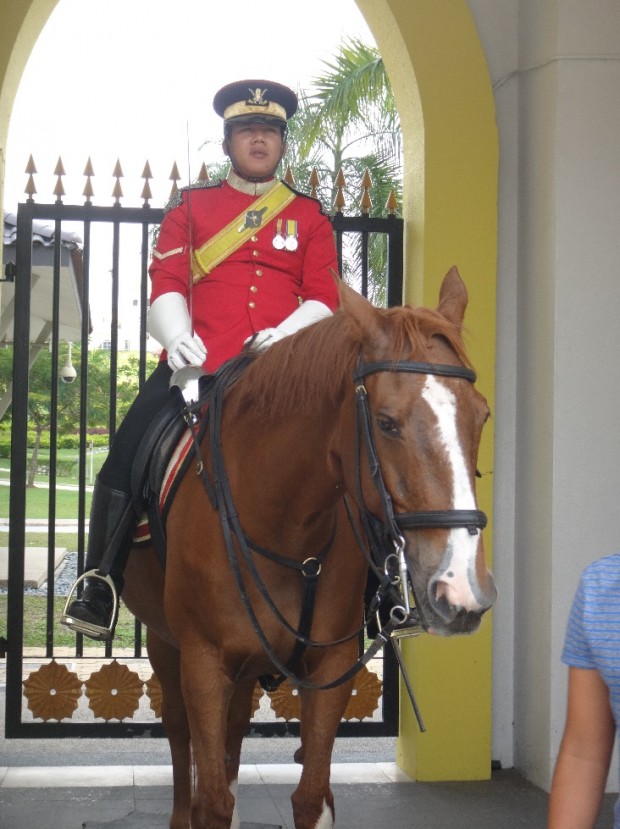 Dozing off, Mr Horseman 😉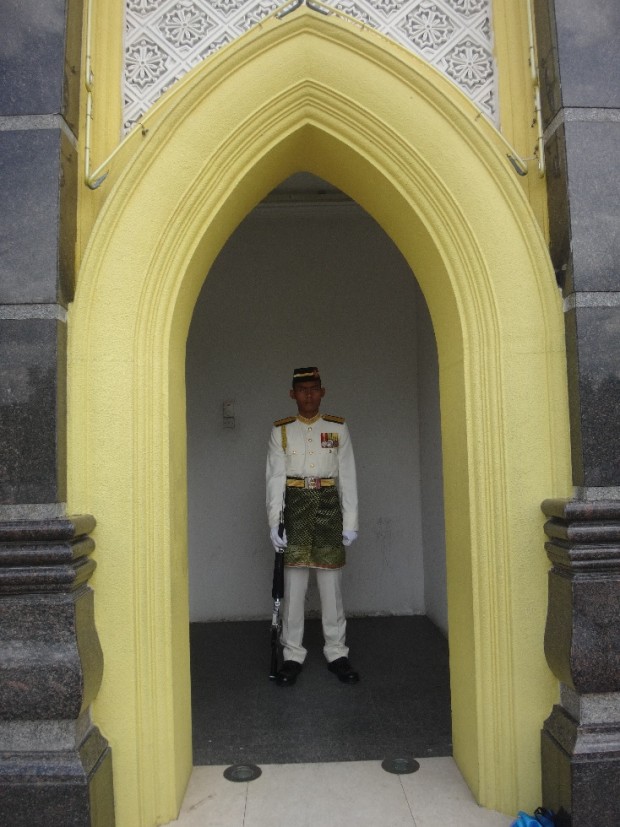 Guard at the Royal Palace
5. Batu Caves
This is my favourite.
Even before coming to KL, just seeing Batu Caves in pictures, I was already at awe. I felt like the faith was so strong and the culture vibe was so evident.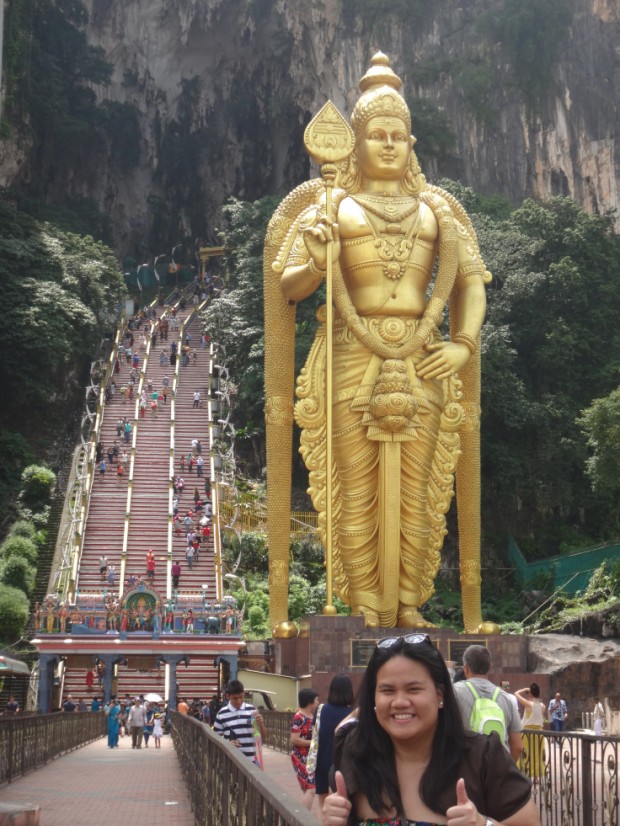 At Batu Caves
Where sacrifice shows respect
Batu Caves is the most important religious Indian shrine in Kuala Lumpur. To reach the temple above, you have to climb around 272 steps. The steps were steep. But every 20-30 steps, there is a spacious landing where you can rest. There were also lots of monkeys along the way! Be careful with your small items, they can just take it out off your hand.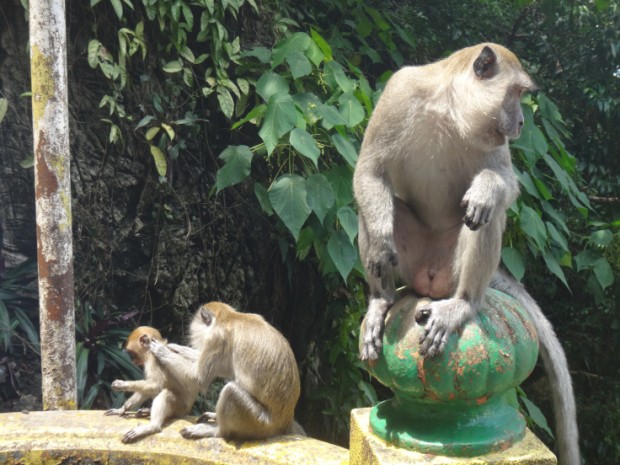 Lots of these monkeys along the way!
Where effort leads you to success
I really made an effort.  But the spacious landings and view really helped. Every time I would stop I would just look out to the view and appreciate how beautiful it was. And the new friend that I met just kept on supporting me. Reaching the top was really overwhelming and the view was just a bonus. Any kind of TRUE and WORTHY success can really be felt with any effort. Nothing really significant ever comes easy in life. There, I always feel, has to be effort and meaning.
Where faith shows you culture
Here, you also have to be properly clothed, you cannot wear sleeveless shirts or short shorts. I was really surprised because a girl halfway through the climb rearranged her bottoms to show a part of her legs, a woman who was way down at the stairs ran up quickly just to strictly tell the girl that she was wrong. I wondered how many times a day does the woman do that, she really values her religion. And us tourists, should follow that example.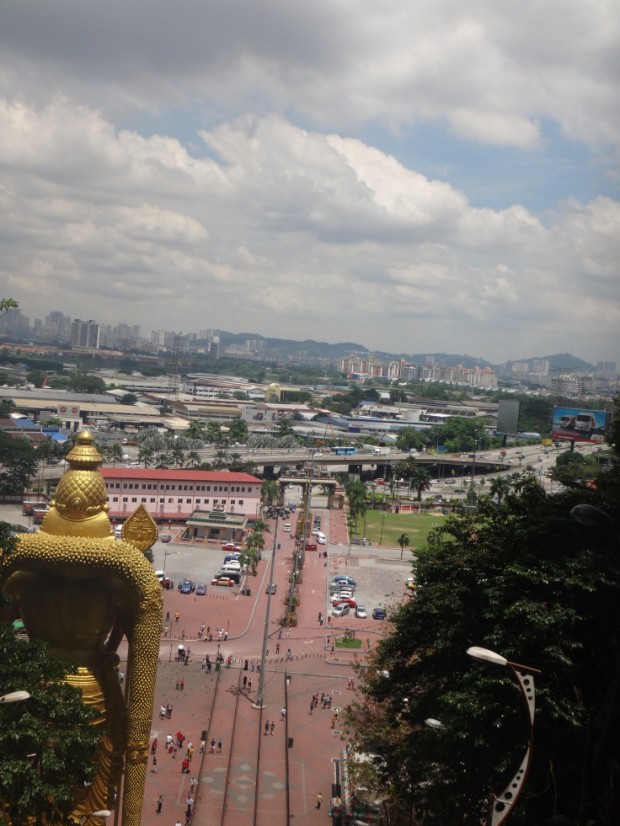 Hi Batu Caves view!
6. Royal Selangor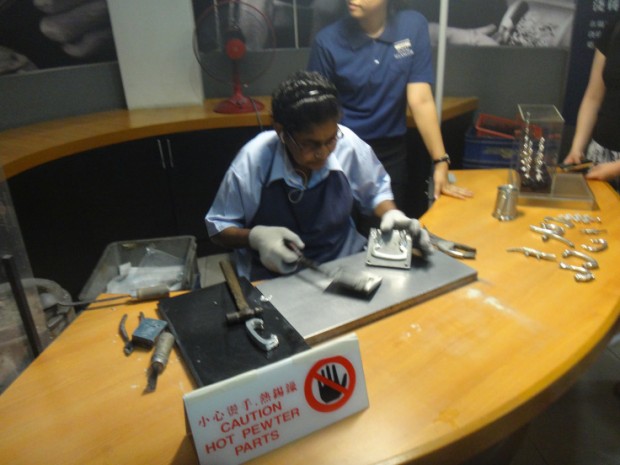 One of the steps in making Pewter Products
This was really cool and admirable. This is a popular pewter (some type of metal, kind of like tin) manufacturer where all products are hand made. We got to witness personally the first steps in making their products. We even got to drink out of one tin can product and the vibe was so incredible!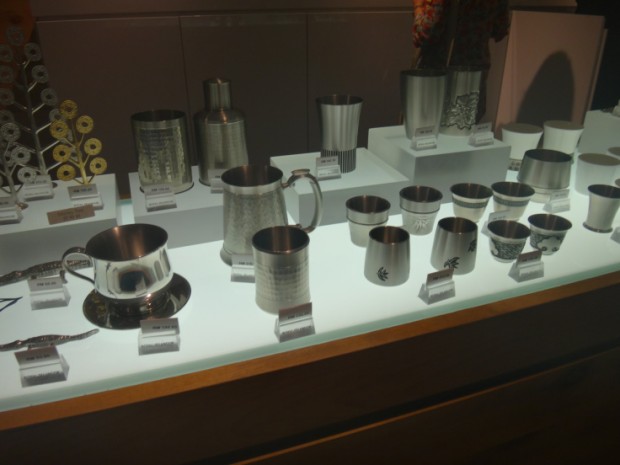 Wished I bought one! Too pricey though! But brilliant products!
What I really admired here is their wall of hand prints.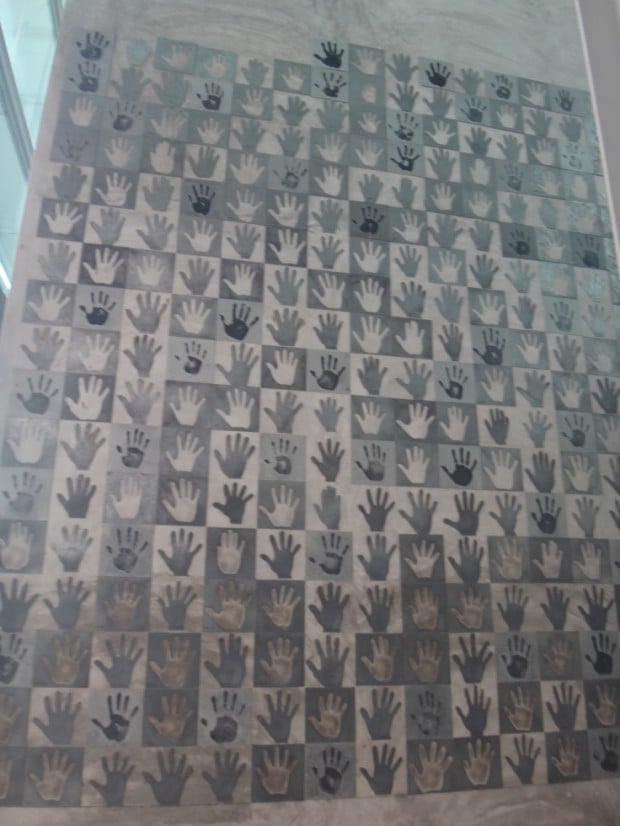 Wall of Hand Prints! Kudos to these genuine and hardworking hands!
Each hand print represents an employee who has been working for them for 5 years. Being there, seeing what they do, how they need to be careful and strictly be specific to details, kudos really. What they do is beyond admirable, because the effort is just so overwhelming.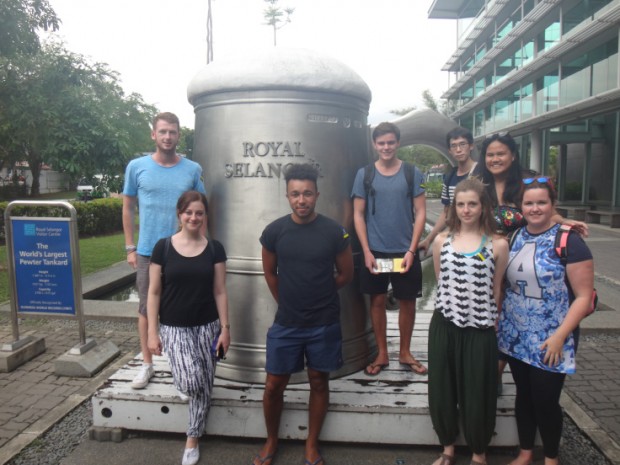 Tour group from Reggae Mansion 😉
7. Petronas Twin Towers
AHA! The ever popular Petronas Towers. This was really nice. I was more amazed though by the Taipei 101 building but this was really cool with its height and the view. We weren't able to go up because a lot of tourists usually frequent this place and is on a first come first served basis, but I was already grateful to experience it outside.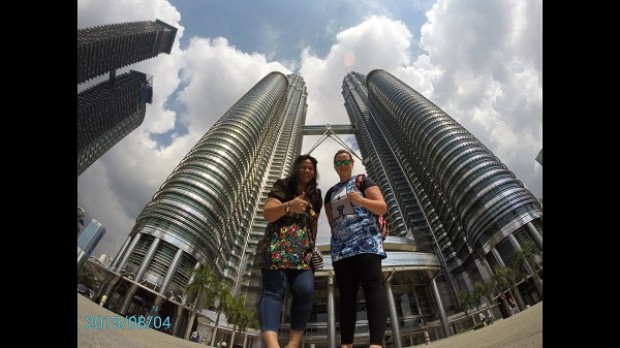 GoPro Shot at Petronas Towers. Photo from Elaine Scanlon
Also read: Visiting the 7 Wonders of Kuala Lumpur
Great company and grateful realisations
I really got to talk to a lot of people and I really learned a lot. I even had a crush on one of them, because he was really sweet and his personality was just so refreshing! Thank you, Malaysia for my first international crush! Here are just some of the things I learned and realised from them.
No better time but NOW. If we want to do things, let's do it NOW. Let's not waste time, and let's make the most out of our lives. Experience the best things because there is always an opportunity to do so.
We should appreciate the blessings that we receive every day. We don't realise it, but sometimes we are luckier than most and we should always be grateful for any little thing.
The best part about travelling is meeting new people and learning from them, their culture, and even their personality.
Make an effort to converse and learn about other people. Don't travel to take pictures. Immerse yourself in their faith and in their culture.
Malaysia, Truly Asia
Travelling really is exhilarating and I thank Malaysia for making me see its value and importance.
Also read: Budget Travel: 48 Hours in Kuala Lumpur with Just RM250
I am very grateful for all the money I paid for these travel blessings:
Cebu Pacific Flight
PHP 633.32
Travel Tax
PHP 1,620
Terminal Fee
PHP 550
Accommodation – Sri Packer's Hotel (1 night)
PHP 345.60
Accommodation – POD's Backpacker's Home (2 nights)
PHP 735.74
Kuala Lumpur City Day Tour – Reggae Mansion
PHP 950+
Food and transportation
PHP 1,500+
Estimated Total
PHP 6,500