Contributed by Wandering Soul Scamper
It was through the invitation of a fellow travel blogger (Miss Bean formerly LaaganNgaBata) that I finally got the chance to visit Tuburan, Cebu over the weekend. We are going to visit Marmol Cliff, Lantawan Tunnel, Molobolo Spring, etc. I was supposed to go somewhere for a solo trip as my usual travel buddies have different appointments and prior commitments. But opportunities only knock once, so I immediately responded the invitation and grabbed the chance. I decided to move my solo trip for a day and visit Tuburan first before my solo weekend getaway.
Also read: 15 Thrilling Outdoor Adventures to Conquer in Cebu
The plan was to visit few of the spots in Tuburan like the Marmol Cliff, Lantawan Lookout and Molobolo Spring for just a day. Knowing that Tuburan is several kilometres away from the city, we need to take into consideration the very limited time to visit each spot, taking into consideration the travel time from the city to Tuburan and versa.
Tuburan is located north of Cebu City and is the hometown of the late revolutionary Arcadio Maxilom. This sleepy town that comprises 54 barangays is less frequented by tourists and adventure-seekers. Tuburan Cebu is known for several tourist spots waiting to be explored by the wandering souls and adventurers. Tuburan is known for its beaches, rivers, crystal-clear cold springs, caves and natural wonders that nature lovers and adventure-seekers couldn't resist.
Among the scenic spots in Tuburan are the Marmol Cliff and Cave, Lantawan Lookout and its springs and beaches. Tuburan has several springs, few of the popular ones are the Molobolo, Little Baguio and Mantawihan. Among its popular beaches are the Apalan, Daan Lungsod and many more.
Tuburan got its name from the prevalence of springs in the area. It was derived from the word "Tubod" which means spring. These springs are the sources of the households' potable water among its early settlers.
How to get there
By Hired Van:
You can ride a V-hire from Ayala Terminal going to Tuburan.
The fare is ₱140 one-way. Alight at Tuburan Proper near the bus terminal. In our case, we took the hired van for convenience. Travel time would take around 3 hours. There are also hired vans in North bus terminal plying to Tuburan with a bit lower fare of around ₱120.
By Bus:
Another option is to take the Bus going to Tuburan. Just got to North bus terminal and take the bus bound for Tuburan. I am not really sure of the fare as of this writing. I bet it is much lower than that of the Hired Van
Marmol Cliff: An ethereal gateway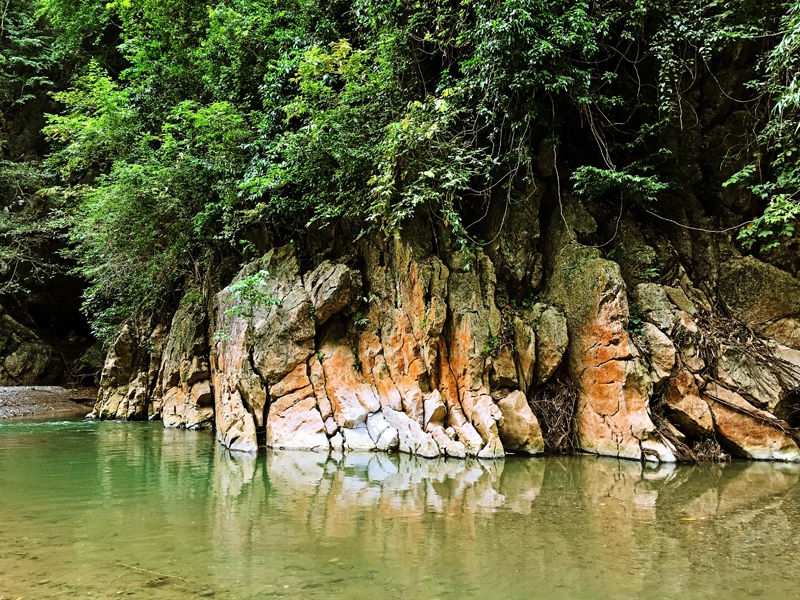 The trip started with an early meet-up at Jollibee near Ayala Terminal. We had travelled for around three hours from Ayala Terminal to Tuburan. From Tuburan proper, it would take around 30-45 minutes motorcycle ride going to Marmol Cliff. The ride would be adrenaline pumping as you're going to cross rivers by motorcycle. Yes, you will cross those rivers! Your hired motorcycle will suddenly become an amphibian monster. It is quite a challenge to cross around 12 times or more on a very rocky riverbed.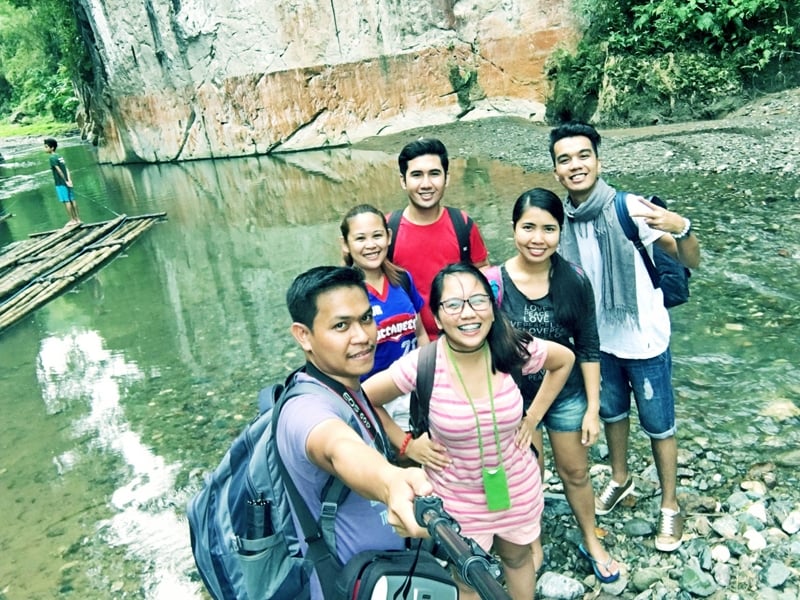 Marmol Cliff is Tuburan's famous gigantic twin marble rock that would make any adventurer have that pleasure of experiencing the beauty of nature. The boulders are beautiful and seem a majestic portal or gateway to some place ethereal. In between that twin marble rock is a turquoise stream that wound its merry way through the opening. The waters sprung below the marble rocks in its way to the pebbles whisked in the riverbank and in the under wash like pieces of glitter. A ray of soft light impaled down from above piercing through those thick bushes glinting with little sparkles, like a thousand diamonds sanctified with an inner fire.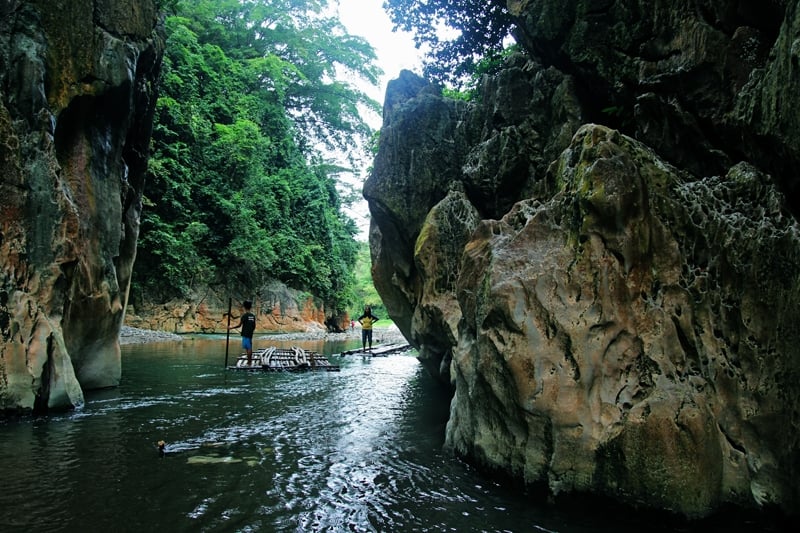 There is a deep portion of the stream in between these twin cliffs. If you want to go to the centre and don't want to get wet or swim your way in, you can ride the raft. There is no fixed amount each ride, you just have to give donations to the local operating the raft. In our case, we gave ₱10 each. You can climb up on the boulders, unleash the child spirit in you and have fun!
Also read: My Aloguinsan River Eco-Cultural Tour with Fellow Bloggers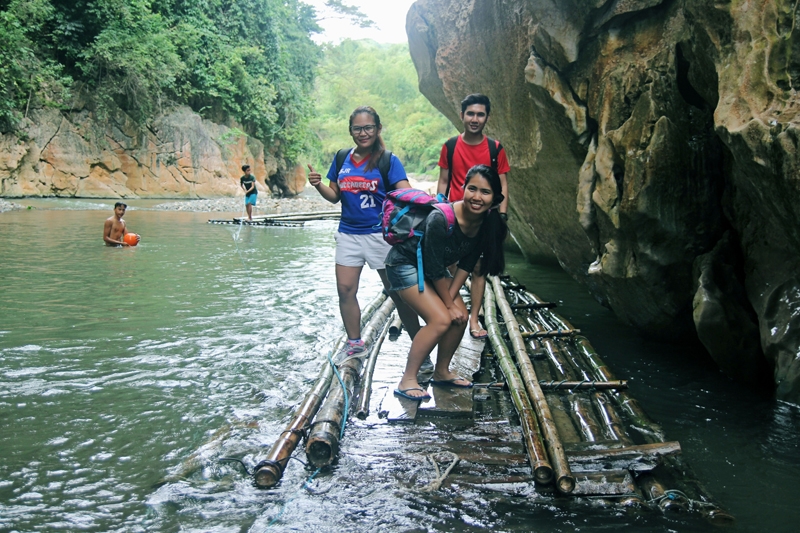 On the other end of the cliff is just another normal river bank scene. What we have done was, took a lot of photos with the rocks as a backdrop.
There is a cave opening in the side of the cliff but I did not bother to ask the locals as we were in the hurry for our next destination. After our trip, I found out that it is indeed a cave with spacious interiors that had been useful for Filipino Katipuneros during World War II. According to folklores, this wide cliff which stands over hundred feet high is also the spot where the Maria Cacao & Joaquin Tang-an Story lies.
Lantawan Tunnel: A safe hiding place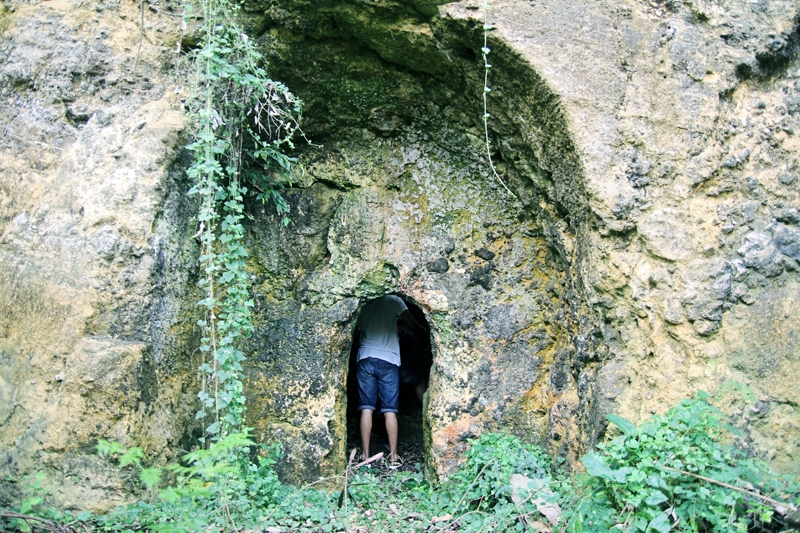 After our heart pumping motorcycle ride adventure from Marmol Cliff, we went straight to Lantawan Resort to visit the Lantawan Tunnel. Lantawan Tunnel is located in the vicinity of Lantawan Resort. Unfortunately, Lantawan resort is nearly not operational anymore. The place is of minimal to no maintenance at all. However, the place is still scenic. It has a vast ground area in front of the resort covered with mango trees with thick lush green grasses underneath.
Few metres from the back of the resort lies the Lantawan tunnel. When we visited the place, the ladders were wrecked already. So we have no way to go down but through the back door entry point with a small opening right below the small bridge along the shore.
Lantawan Resort is a private development in Panas, Daan Lungsod, Tuburan, Cebu. According to local folks, this tunnel was originally dug during the Japanese Occupation and is reportedly used as their hideout and jump down area from fighter planes during the World War II.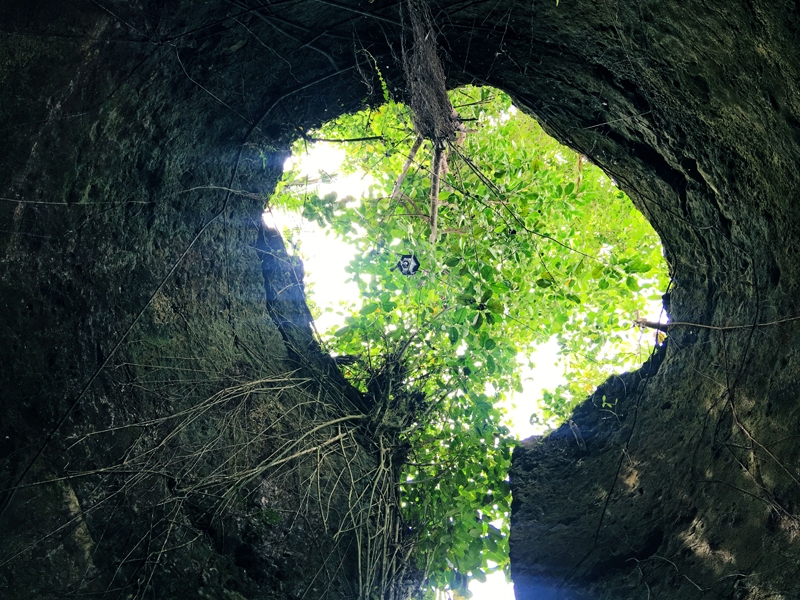 As opposed to the commonly used term "tunnel" by many, by technical definition, I would refer it as merely a pit or a hole. After taking few photos inside, we decided to capture more scenes right outside the hole. The child spirit within us was unleashed and we had so much fun doing crazy stuff and poses.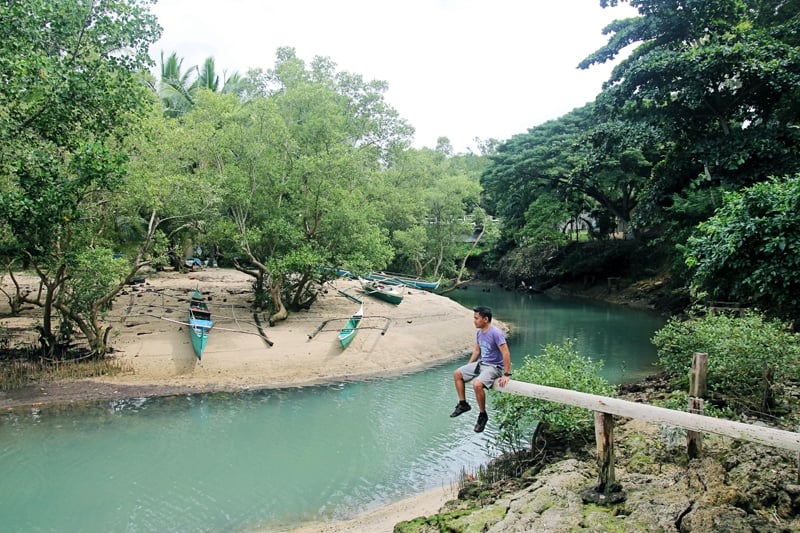 After few moments, we decided to eat lunch and proceeded to Molobolo Cold Spring after for a cold dip.
Molobolo Spring: Where fresh and salt water meet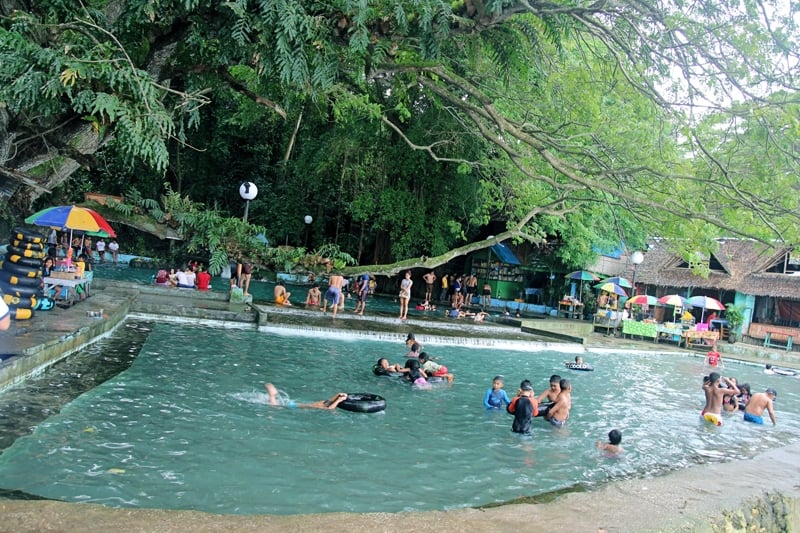 Tuburan is blessed with several springs that serve as the source of potable water by the early settlers. Among its springs, Molobolo is the most frequented by both tourists and locals.
Molobolo Spring is said to be Tuburan's major spring that has been used as the source of water for household purposes for a long time now. According to the local site, "the spring abundantly oozes out cold spring water (1 cu. m. /sec.) continuously spilling volumes of water through the beach fronting it."
Molobolo has also been considered as a favourite destination for locals and tourists alike when speaking of Tuburan. The spring is accessible by any means of transportation. Thus expect the place to be crowded any time of the day, especially during summer.
The spring is developed that it looks like a man-made swimming pool. It is located under the sheath and an eclectic binge of the tree branches covering the whole spring with shade. There are several food stalls beside the swimming area where you can buy snacks or meals if you're not bringing any. There are open cottages near the spring for rent too. When you decide to go swimming in a not crowded pool, you can always go swimming on the beach fronting the spring.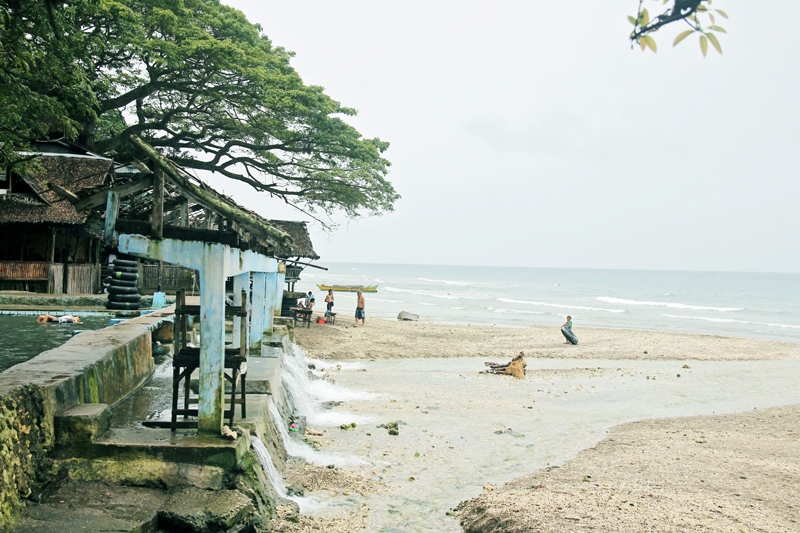 If you are looking for a sophisticated, neat looking and not too crowded spring to take a relaxing dip, then I can say that Molobolo spring is not the right place for you. The place for me is just so-so, but it boils down to our own standards. What might be not too good for me might be the best for others? So if your purpose is to have that cold-dip, then maybe, just maybe, Molobolo Spring is worth a try.
The weather on the late afternoon was not that good that we had to cut short our trip and go back to Cebu city early. It's a good thing for me as I have another trip right after Tuburan which I will be posting separately soon.
There are few more places to visit in Tuburan like Tuburan Town Museum, San Antonio De Padua Parish Church, Adela River, Sto. Niño and Apalan Marine Sanctuaries, and Dao Tree (Dracontomelon dao). Dao tree was originally part of our itinerary but we chose to skip due to time constraints.
Also read: Cebu to Bohol 3-Day Itinerary for Your Next Long Weekend Getaway
Have you been to Tuburan? Have you visited the place mentioned above? Do you have other beautiful spots in Tuburan that is worth to be included in the list? Let us know your thoughts by leaving a comment below.
Tips
There are a lot of habal-habal (motorcycle taxi) drivers who will offer to fetch you to Marmol cliff. Be vigilant as some of them might overprice the fare. Ask the locals where you can find the place where habal-habal drivers bound to Marmol Cliff are situated.
For security purposes, you need to hire a habal-habal driver that is quite familiar with the place. It is really a challenge crossing a river for about 12 times with a rocky riverbed.
Be prepared to get wet when crossing those rivers going to Marmol cliff. I personally recommend wearing sandals as your feet will surely get wet.
To maximize the places in your list, be mindful of the time spent in each spot. Depending on where you start, the spots can be far from each other. Taking travel time into consideration would be of great help in your fun-filled adventure.