Featured image credit: Michael Theis
Prior to visiting the United Arab Emirates (UAE), I only knew about Dubai and Abu Dhabi. Little did I know, the country is actually composed of more than just two cities—Dubai, Abu Dhabi, Sharjah, Ras Al Khaimah, Ajman, Umm Al Quwain, and Fujairah.
Now that I've been to UAE myself, let me share with you a simple travel guide, with all the information needed, for first-time Filipino travellers.
Getting a Visit Visa
We got a visa directly from UAE because of relatives based in Dubai. The Visit Visa is granted to all foreigners who want to visit the country for travel. It's sponsored by someone who is currently living in the Middle Eastern country.
For application forms and details of other types of visas, visit Embassy of the UAE (Manila) and Embassy of UAE.
Step 1: Compile the necessary requirements for a tourist visa
Passport copy of the sponsor
Passport copy of the tourist
Copy of the salary certificate or employment contract of the sponsor (resident)
Proof of family relationship
Travel insurance
Visa Application Form
Step 2: Accomplish the Visa Application Form
Step 3: Send all the complete requirements to your relative based in UAE for him to process it there
Step 4: Pay the necessary application fees for both sponsor and tourist
AED 610 (~ ₱8,000) e-DNRD fees
AED 620 (~₱ 8,100) e-form fees
AED 1,000 (~₱13,000) deposit, refundable upon departure of the sponsored person
Step 5: Receive the approved visa by courier
Flights to UAE: Brave the 9-hour flight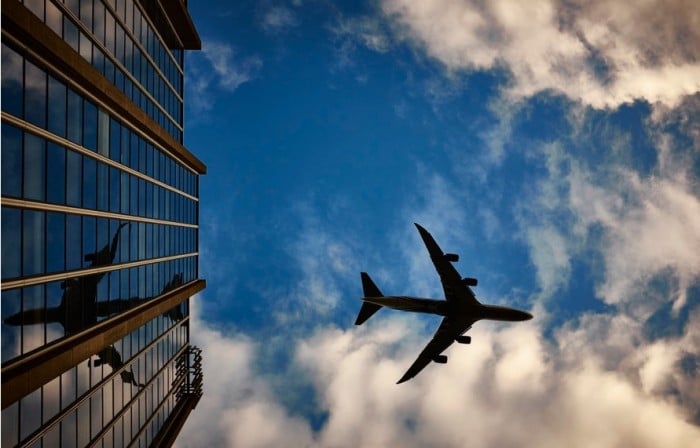 Choose a flight that goes to Dubai from Manila since it's the main hub of everything. We were lucky to have stumbled upon Cebu Pacific's newly launched flight so it was cheaper. We were able to book around ₱20,000+ for a round trip ticket per person. Since we flew during winter, it was still a bit higher compared to other months.
It already included a 20kg luggage allowance. You can also avail meals onboard if you wish or buy food from the Ninoy Aquino International Airport (I would suggest the latter since it's better and there are more options). You can also fly onboard Philippines Airlines, Emirates or Qatar Airlines. You'll touchdown the Dubai International Airport.
Estimated airfare: ₱20,000+ (depending on the airline)
Getting around UAE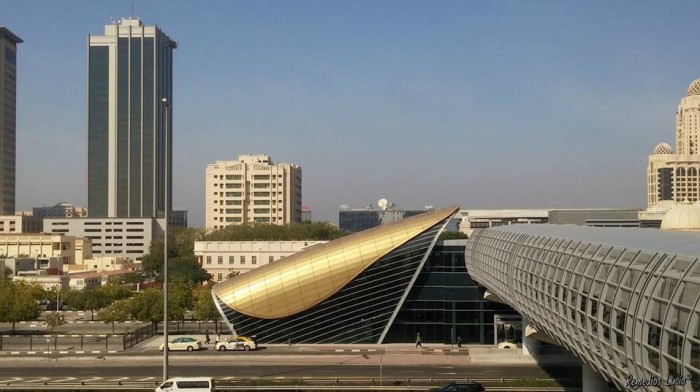 Image credit: Remedios Lucio
The best way to go around the country is by hiring a van or even better if you know anyone living there with his own transportation. It's because most of the places to visit are far from each other. If you're only staying in one city, it's okay to take the public transportation but for us, we hired one when we visited Abu Dhabi from Dubai.
Also read: 5 Things To Accomplish While On A Desert Safari in Dubai
There's also a train called the Metro, which is easy to take since there's no language barrier and there are signs where to get the tickets. They have ticket counters and ticket machines available. The stops are either connected to the mall or near business hubs. The people are easy to talk to since most speak English.
If you're taking the bus, there are stations when you go down the Metro, but be sure to take note of each number which corresponds to different routes. We were lucky because where my family lives, the buses go inside the condominium complex.
You can also flag down a cab but it's a bit more expensive. The drivers are helpful and know a lot of the usual tourist spots. You'll probably even ride one of the Middle Eastern drivers who speak Filipino.
You'll be surprised at how many of them actually know our language. We had an Indian driver when we hired a van who is fluent in Filipino so it was indeed very amusing during the entire ride. There was also another one from the Middle East whose video on YouTube became viral because he was so fluent in our language.
Transportation cost: ₱200+ (depending on mode of transport)
What to eat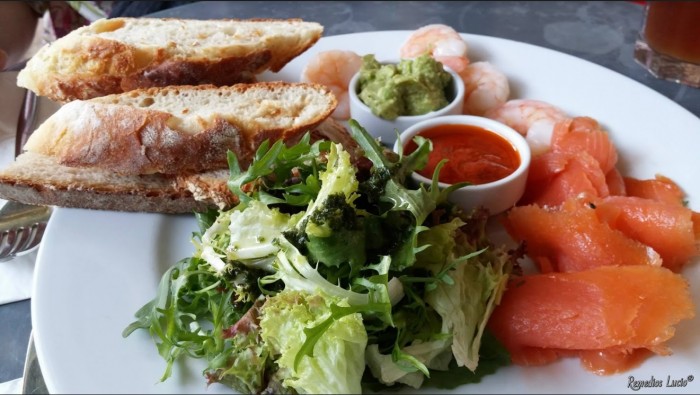 Image credit: Remedios Lucio
You're only here once in your life so why not truly immerse yourself in the local Middle Eastern cuisine? It's utterly one of the most flavourful dishes around the world. Muslims are prohibited from eating pork so the Arabs venture into having different delectable meats for the palate. Expect to see a lot of lamb, mutton, goat, beef, veal or seafood on their menus.
Of course, the most well-known food originally from this side of the world is Shawarma. They usually use lamb or chicken that's mixed with garlic sauce, pickles, fries, tomatoes and wrapped in Arabic Roti. It's made more similar to a Kebab.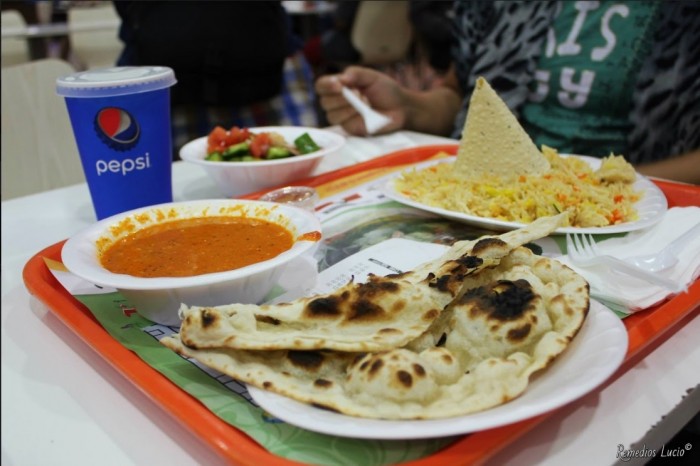 Image credit: Remedios Lucio
Don't miss out on authentic Hummus that's usually served with a Shawarma and Pita bread. The chickpeas dip is mixed with olive oil, lemon juice, tahini paste with a sprinkle of salt and garlic.
If you're there during the Ramadan, try the exotic taste of Al Harees that's made of meat and wheat. It's cooked for hours, creating that smooth texture. You can enjoy it more if you add spices to it but eating it plain is also great because of the already rich taste of meat and wheat.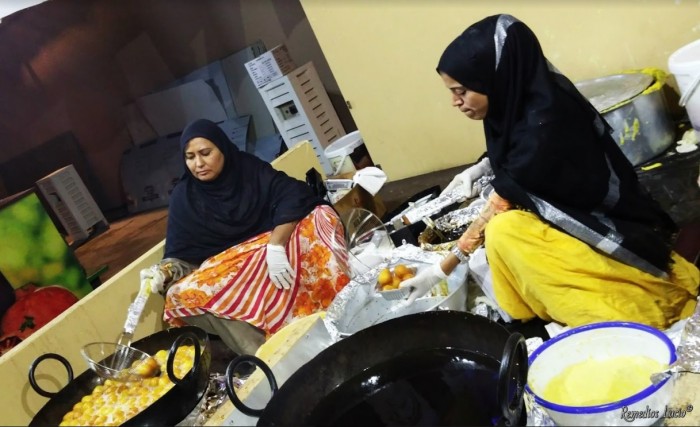 Image credit: Remedios Lucio
Another local traditional dish is Al Machboos that's cooked with rice, vegetables, meat, onion, and dried lemon. It's also added with spices and salt to taste. It's one of the popular dishes around the country you shouldn't miss.
They also love coffee or tea but with a twist as they add cardamom, saffron or mint to give a distinct taste to both. Their dates are really good for the sweet tooth with chocolate-covered flavours, particularly those from Bateel and Patchi.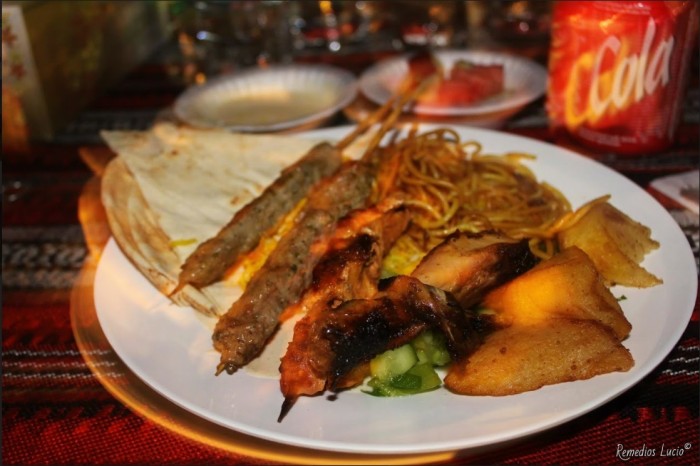 Image credit: Remedios Lucio
If you're a bit queasy about trying the local cuisine, there are other international cuisines from other countries. Try dining at mall food courts to get the best of both worlds and cheaper finds. If you're aiming for Middle Eastern food, visit Latitude, Sultan's Lounge, Marakesh, Li Beirut, and Operation Falafel. If you prefer internationally known restaurants, try Jollibee, KFC, Paul Café, Five Guys Burgers and Fries, Shake Shack, Carluccio's, and Le Pain Quotidien.
Food cost: ₱300 – ₱2,500 per meal (depending on establishments)
Where to stay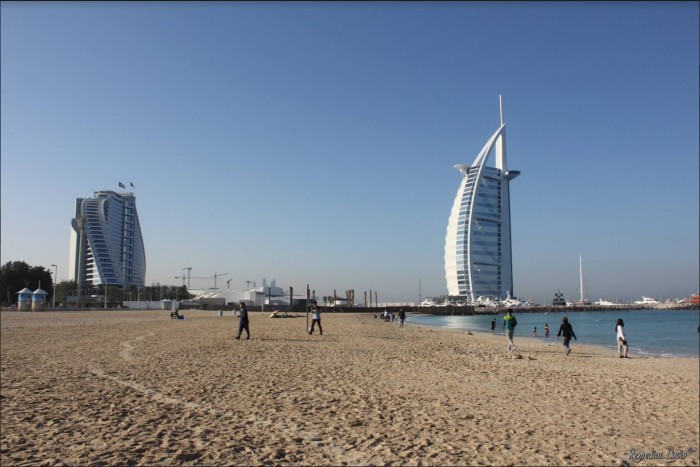 Image credit: Remedios Lucio
We stayed at our relative's house during the entire duration of our vacation in UAE. If you don't know anyone, you can always check in at the accommodations such as hotels, hostels or try booking through Airbnb or Couchsurfing. It would all depend on your budget.
If you're willing to splurge, stay at the world-famous Burj Al Arab, Atlantis The Palm or Royal Mirage Dubai. There are also cheaper but great places to stay in that are strategically located in the busy city areas like the Holiday Inn Abu Dhabi or the Crowne Plaza Hotel.
The Jumeirah Walk area also has a lot of condominiums where locals and expats alike are offering accommodations via Airbnb or Couchsurfing. So if you're a bit strap on the budget, you can check in one of these cosy abodes in a great location by the beach. Cheaper accommodations can be found as well in Deira and Bur Dubai.
Accommodation cost: From ₱3,000 up per night (depending on establishments)
Top places to visit
There's so much to do here and the list is endless. Like I mentioned earlier, there are five cities but most of the places we've been to were in Dubai and Abu Dhabi. Here's an extensive rundown on where you should go around town to make your travel in the Middle East worthwhile.
Also read: 10 Must-Visit Attractions in Dubai
Dubai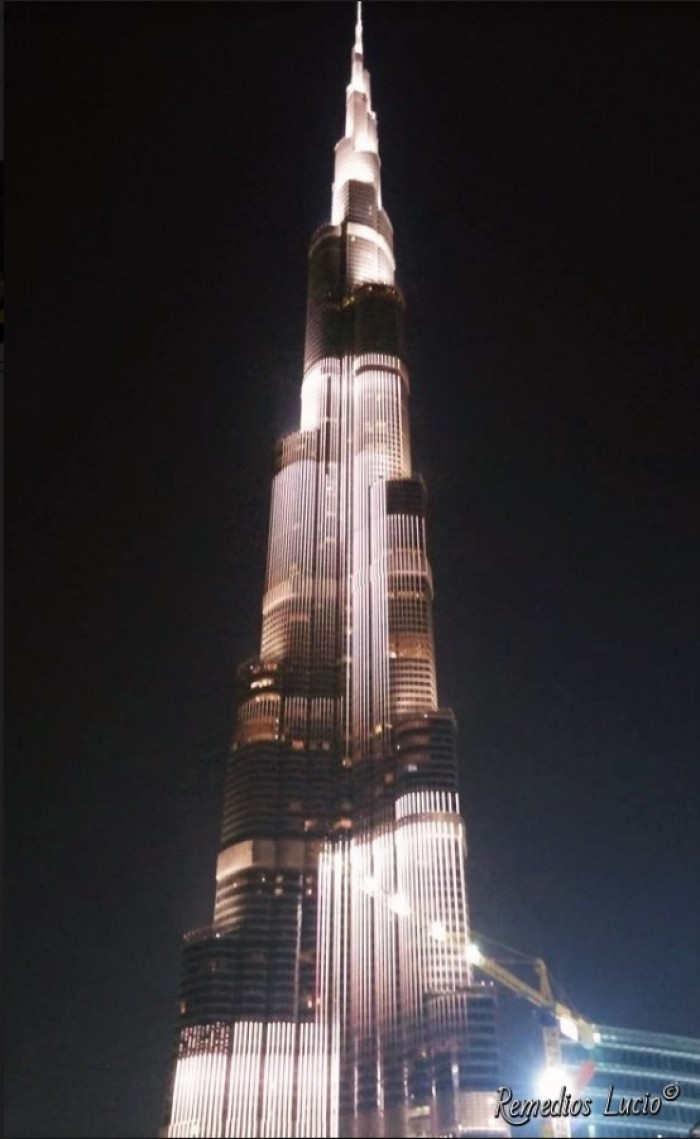 Image credit: Remedios Lucio
Burj Al Arab – 160-storey skyscraper and observation deck
Burj Khalifa – a luxury hotel designed like the sail of a boat
Atlantis The Palm – a luxurious hotel and an amusement park
Dubai Museum – learn about the colourful history of UAE
Jumeirah Beach – swim at the beach overlooking the Persian Gulf
Mall of Emirates – one of the best malls to shop for local and designer finds
Dubai Mall – biggest and most popular mall in Dubai
Souk Madinat – shop for authentic local perfumes and textiles
Sharjah
Sharjah Art Museum – for art lovers, this is the best museum in UAE
Adventureland – the largest family entertainment centre in the Middle East
Sharjah Cricket Stadium – watch a Cricket game if you're a fan of the sport
Abu Dhabi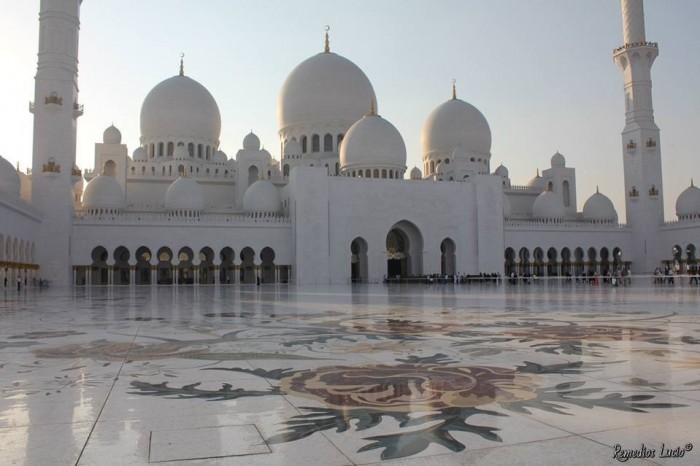 Image credit: Remedios Lucio
Sheik Zhayed Grand Mosque – the most famous mosque in UAE
Ferrari World – a great collection of Ferraris in the museum
Yas Waterworld – a fun-filled water park for kids
Ikea – a popular furniture shopping destination
Qasr al-Hosn – the oldest stone building in the city of Abu Dhabi
Al Ain National Museum – see stone age artefacts and pre-oil era history
Ajman
Ajman Museum – the former fortress and Ajman's first line of defence that's now a museum
Ajman Dhow Building Yard – the world's largest dhow building centre
Ajman Beaches – some of the best beaches in UAE
Mowaihat – an archaeological site discovered in 1986
Ras Al Khaimah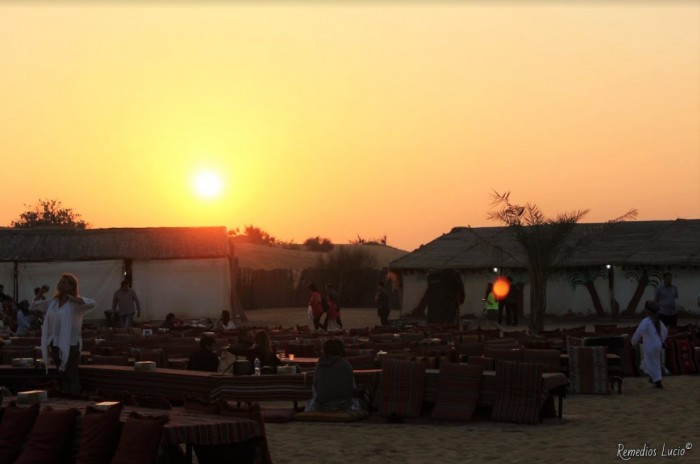 Image credit: Remedios Lucio
Bassata Desert Village – experience dune bashing, belly dancing, Arabic Tanoura, camel riding and Arabic barbeque
Al Wadi Equestrian Adventure Centre – nature reserve where you can go horseback riding
Iceland Waterpark – escape the heat at the amusement water park
Dhayah Fort – 16th-century fort that sits on a mountain overlooking the Persian Gulf
National Museum of Ras Al Khaimah – see the 18th-century artefacts when the Emirates was invaded by Persians
Umm Al Quwain
Umm Al-Quwain Fort – the museum exhibits the local archaeological artefacts from Al-Dur
Al-Dur Archaeological Site – you'll find tombs, stone houses, and glassware from Egypt and Syria
Seneyah Island – a serene nature sanctuary full of Al Qaram trees, deers, and birds
Dreamland Aqua Park – a fun water amusement park for families
Fujairah
Al-Bidyah Mosque – the oldest mosque in UAE
Fujairah Fort – the oldest fort in UAE that's surrounded by a Fortress Village
Al-Hayl Castle – the former abode of Fujairah's ruling family
Ain al-Madhab Hot Springs – loosen up those tired muscles from travelling
Wadi al-Wuraya – see and swim at the picturesque waterfalls
What to wear in UAE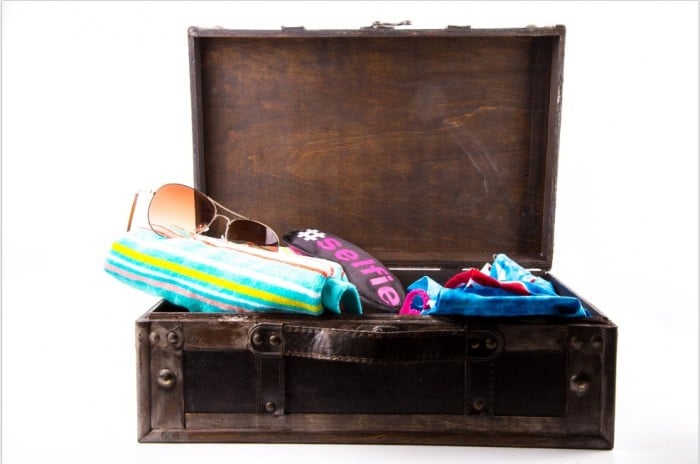 Take note that it's a relatively more conservative country in terms of dressing. If you're visiting, be sure to pack depending on where you're going and what the season is (there are four seasons in UAE).
You can ideally wear anything but always remember to dress more appropriately when visiting the sacred places such as mosques. Wear long bottoms and shirts with sleeves. Scarves are always handy, whether for mosques or the weather.
You can wear swimsuits at the beach especially where expats live. Dubai is the most open city among the others, so here you can bare more while enjoying the beach and the views of the Persian Gulf. Boots are great for winter, though, it doesn't really snow but it's cold enough so you'll need them to warm your feet. Wear coats as well with scarves for the desert night cold breeze.
Also read: Middle East Travel: 6 Safe Countries for Your First Trip
If you plan to visit the entire UAE, a couple of weeks is needed, but if you're visiting only a city or two, about two weeks is enough to see a lot of interesting historical and avant-garde attractions. You'll definitely experience the enigmatic culture of the Middle East and learn a thing or two during your travel here.