The appeal of pandemic movies is hard to explain, though I will try. Sitting through grim documentaries about virus outbreaks feels wrong somehow; they're too soon and too close to the present. But watching Gong Yoo battle his way through a horde of zombies on a speeding train? Sign me up. 
From adrenaline-pumping to emotionally touching, these movies show different responses to viral diseases. One thing's for sure: Humanity isn't going down without a fight. 
1. Train to Busan (2016)
When a leak from a biotech factory mutates into a deadly virus, all hell breaks loose in South Korea. We follow Seok-woo (Gong Yoo), a negligent, workaholic father who accompanies his daughter on a train from Seoul to Busan. Unbeknownst to the passengers, one of the infected has boarded the train. Together with a ragtag group of survivors, Seok-woo and his daughter must beat back the hordes of the undead closing in on them. 
Fans of Kingdom and The Walking Dead will love this action-packed thriller that hits all the tropes and character beats we love, while offering a fresh, emotional take on the zombie outbreak. 
Also read: How to Get From Seoul to Busan: A Detailed Guide 
2. I Am Legend (2007)
I Am Legend takes place several years after a cure for cancer has developed into a virus that wipes out most of humanity. Only the infected remain: feral, cannibalistic vampires that prowl the streets by night. Dr. Robert Neville (Will Smith) roams the wasteland of Manhattan with his trusty German Shepherd Samantha, as he tries to find a cure for the plague and tunes in to the radio broadcast for any sign of fellow survivors. 
Based on Richard Matheson's novel of the same name, I Am Legend joins the list of pandemic movies with a twist. As someone who was traumatised after seeing this movie, let me just say this: Hug your dogs. 
3. World War Z (2013)
Another movie that has grown in popularity is World War Z. Brad Pitt plays Gerry Lane, a former United Nations employee who tries to get his family to safety when the world is ravaged by flesh-eating ghouls. Just like in Train to Busan, the contaminated legion moves terrifyingly fast — piling on the living the same way hyenas take down a gazelle.  
Expect to charge through plane crashes, explosions, and jump scares with all the spectacle of a Hollywood blockbuster. World War Z is cheesy and over-the-top, but it makes for great escapism when you want to watch bystanders fight like hell for their future.
4. Cargo (2017)
While other pandemic movies tend to be fast-paced, Cargo captures the weary, bone-deep exhaustion of what it's like to live through a crisis. After suffering a fatal bite from a zombie, Andy (Martin Freeman) has 48 hours to find a suitable guardian for his baby daughter Rosie before he turns into one of the undead. He embarks on a journey across the Australian countryside to give his daughter a fighting chance at life, meeting strangers along the way. 
5. Shaun of the Dead (2004)
If watching these doomsday flicks has you reaching for the remote, consider Shaun of the Dead. It has a poster that reads: "A romantic comedy. With zombies." Meet Shaun (Simon Pegg): a thirty-something underachiever who lives with his best friend Ed (Nick Frost). One day, their dull and mostly uneventful lives are upended when the zombie apocalypse takes London. 
You'll spend more time laughing at the fail-worthy moments in this movie, like when Shaun and Ed can't find any weapons and end up throwing a microwave toaster at the zombies. Perfect for anyone craving funny entertainment, Shaun of the Dead proves that pandemic movies don't have to be all doom and gloom. 
6. Outbreak (1995)
Life in a Californian town grinds to a halt when an Ebola-like virus from a monkey spreads at an alarming rate. What follows is a race against time as virologist Sam Daniels (Dustin Hoffman) must locate the original monkey to find a cure and contain the outbreak. And if he can win back his ex-wife (Rene Russo) in the process, well, that's a bonus. Meanwhile, the U.S. Army intends to use the virus as a biological weapon. 
Directed by Wolfgang Petersen, this 1995 movie is powered by its star-studded cast: Dustin Hoffman, Rene Russo, Morgan Freeman, Kevin Spacey, Donald Sutherland, Patrick Dempsey, and more. 
7. Contagion (2011) 
Before the news, Kate Winslet was already telling us to stop touching our faces. Indeed, Steven Soderbergh's pandemic thriller has so much to say about the world we now find ourselves in. From the mutation of a virus to the peddling of conspiracy theories and fake cures, Contagion depicts how a highly infectious disease can become a global health emergency. 
Still, this movie has a hopeful streak running through it. Scientists are trusted and valued for their expert advice; health officials emerge as competent and organised. Even a high-ranking officer says, "I'd rather the news story be that we overreacted than that many people lost their lives because we didn't do enough." Here is a movie that shows how mankind just might survive this, even if our lives will never be the same. 
Also read: 5 Addicting Spanish TV Series You Should Definitely Binge-Watch on Netflix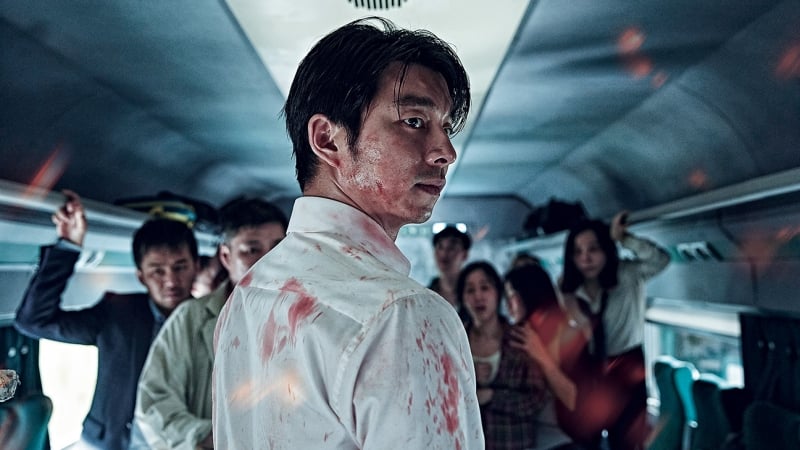 Why the sudden spike of interest in these tales? 
Pandemic movies can't predict what will happen to us in the future. But they can give us something we can visualise and conquer vicariously, even if it's through the rogue scientists and citizens hacking their way through a zombie herd, or the different nations of the world banding together in solidarity. In them, we see how real life is — and isn't — like the movies, after all. 
---
Featured image credit: I Am Legend; Train to Busan; Contagion / Facebook.