Featured image credit: Conrad Manila
It was a night of glamour, luscious fares, world-class performances, and most of all, undeniable prestige, as the annual Virtus Awards recognised the top hospitality professionals in the local tourism industry for 2019.
Spearheaded by the Hotel Sales and Marketing Association (HSMA), the Virtus Awards 2019 awarded nine hotel and resort practitioners who exemplified excellence in their respective categories at a grand ceremony in Conrad Manila last 14 Oct 2019. These are: Outstanding Sales and Marketing Associate, Outstanding Sales and Marketing Manager, Outstanding Sales and Marketing Leader, and Best Marketing Campaign of 2019. The HSMA is the premier organisation of sales and marketing leaders in the Philippine travel and tourism industry, and the prime body behind the acclaimed awarding event.
Also read: For Your Next Staycation Near Manila: 10 Barkada-Friendly Airbnbs
Virtus Awards 2019 official winners
After a thorough six-month selection process by a judging committee who remained anonymous up until final judging day, the following emerged as winners: Rigil Kent V. Acapulco (The Bellevue Manila) and Ian Bencio David (Conrad Manila) for Outstanding Sales & Marketing Associate; Marvia Jelizha Villarin (The Bellevue Hotels and Resorts) for Outstanding Sales & Marketing Manager; Evangeline A. Imperial (Solaire Resort) for Outstanding Sales & Marketing Leader; and Taal Vista Hotel and Crimson Hotel Filinvest City, Manila for Outstanding Marketing Campaigns.
Meanwhile, the judging committee comprised of Virtus Awards chairperson Rose H. Libongco, the sitting HSMA board including HSMA chair Margie Munsayac of Bluewater Resorts, President Christine Ann Ibarreta of Golden Phoenix Hotel Manila, Vice President Benjie Martinez of Bayleaf Hotels, Treasurer Carmela Bocanegra of Chroma Hospitality, Secretary Cristina Carreon of Marriott Hotel Manila, Memberships Director Tet Romualdo of Linden Suites, Education Director Michael Jaey Albaña of Conrad Hotel Manila, Programs Director Amie Villena of Bellevue Resorts Bohol, and PR Director Pearl Maclang of Marco Polo Davao.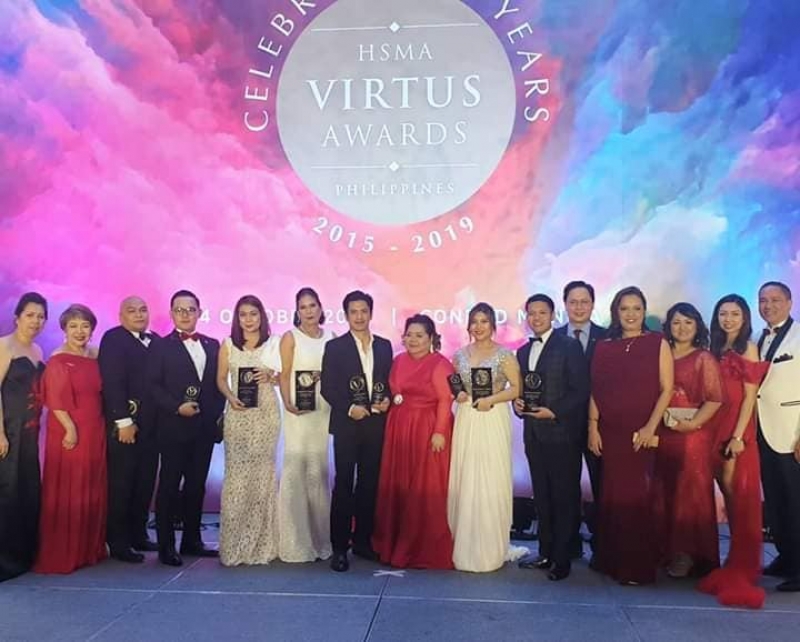 Virtus Awards and HSMA's ruby anniversary
Launched in 2014, the Virtus Awards is the biggest and most esteemed award-giving body for hotels in the Philippines. It aims to acknowledge the hard work and passion of talented sales and marketing professionals, whose jobs are considered the "the most nerve-wracking in hotels", as chairperson Libongco put it. But more than contributing to their respective hotel's success, each hotel sales and marketing individual plays a bigger role in the national tourism scene.
"As DOT relies on the cooperation of all tourism stakeholders, we value the generosity and readiness of the HSMA Board to offer us counsel – drawing on their rich, invaluable collective marketing experiences, as we formulate projects and policies that work and have tangible, measurable results," shared Department of Secretary and Virtus Awards 2019 keynote speaker Bernadette Romulo-Puyat.
Furthermore, seen throughout the awarding ceremony at Conrad Hotel Manila was a ruby colour theme, used to represent HSMA's ruby or 40th anniversary. Rose Libongco, along with fellow hotel professionals Melvyn Cruz, Aurora Patricio Paredes, Michael Cuisia, and Peter Leitgeb, founded the association from what Libongco recalls as the need "to put system and order in the fast-expanding hotel industry as a result of the Philippine hosting of the World Bank IMF Conference". The association now proudly has at least 100 members nationwide.