Within Asia, the word 'summer' is almost synonymous with the tropical beaches of Thailand, Malaysia, and even the Philippines. But as these countries bid their hottest seasons goodbye, a fabulous summertime is just beginning for one of their East Asian neighbours.
A quick two-hour flight from Manila, the urban city of Hong Kong can be unusually hot and humid during its summer months which run from late May to mid-September. Its cutting-edge skyscrapers, posh shopping malls, and vibrant theme parks then serve not just as attractions on their own, but an escape from this difficult weather. But fret not, there are plenty of ways to enjoy the season while still keeping your composure.
SEARCH FOR CHEAP FLIGHTS TO HONG KONG HERE!
From little known Hong Kong-style cafes, short-distance water parks and cushy hotels, get ready to discover the great 'unknowns' of Hong Kong like a local this summer — all the while staying #soulcool!
Cool places to eat
Mobile Softee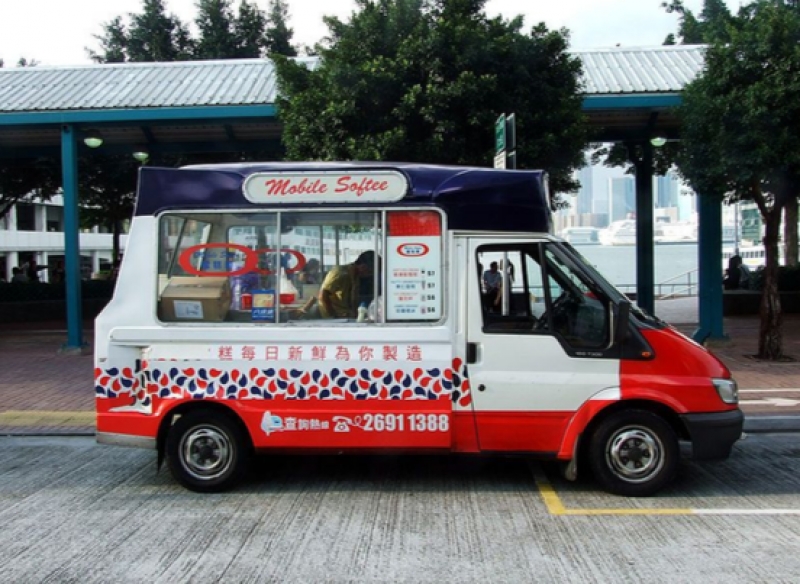 The colours red, white and blue may instantly remind you of the Philippine national flag, but in Hong Kong, these colours only mean one thing — Mobile Softee. Formerly Mister Softee, this ice cream brand is famous for its four ice cream products which are Soft Ice Cream, Nutty Drumstick, Large Cups and Jumbo Orange. Every time you hear the Blue Danube tune coming up in populated places in the city, you know it's time for a much-needed ice cream break with Mobile Softee!
Location: Central, Tsim Sha Tsui, Mong Kok, Temple Street, Victoria Park and in other popular sightseeing areas around the city
Mido Cafe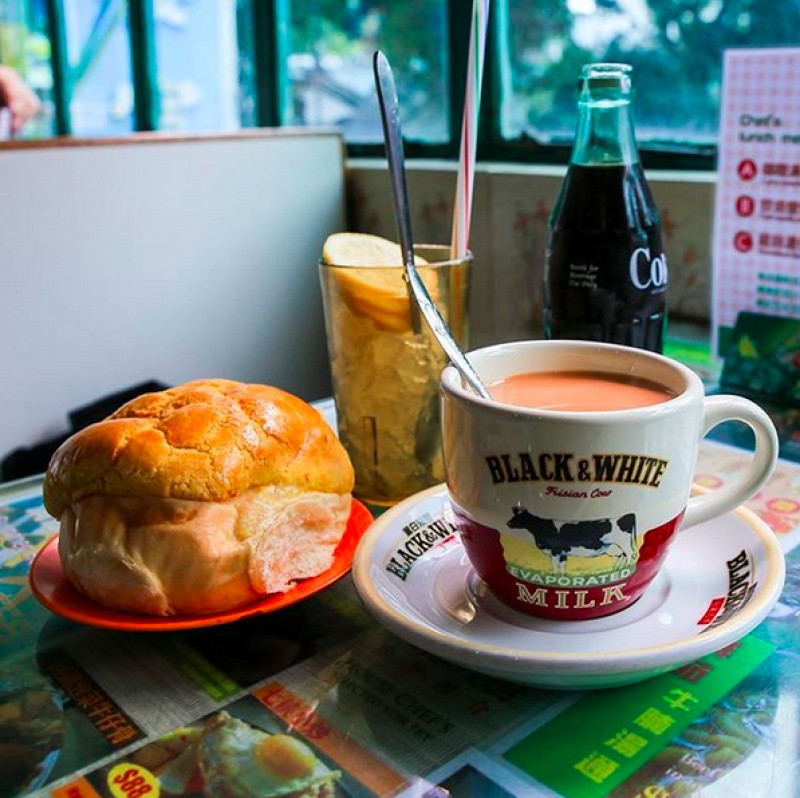 A cha chaan teng classic, the iced red bean has long been a staple drink among Hongkongers during the summer. A usual recipe is made up of adzuki or sweetened red beans, light rock sugar syrup, and evaporated milk. This gives the drink a combination of crunchiness, creaminess, and sweetness. Get your serving at Mido Cafe, the oldest tea cafe in the city!
Location: 63 Temple St, Jordan
Kung Wo Beancurd Factory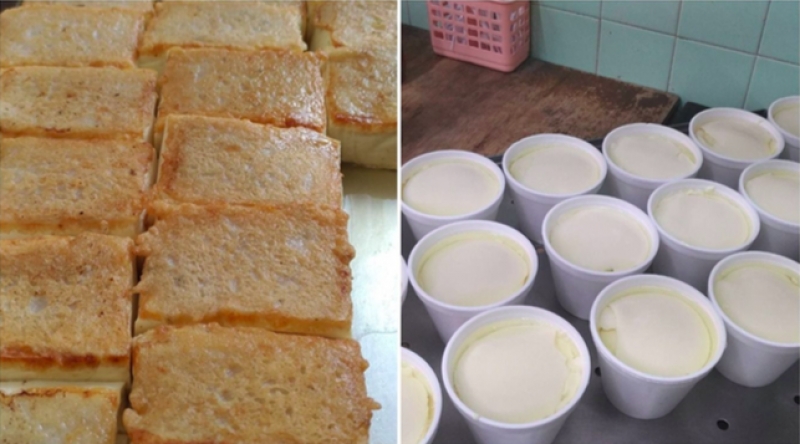 When it comes to tofu, nothing stands out as much as the ones at Kung Wo Beancurd Factory in Sham Shui Po. Most noted for their chilled tofu puddings, beancurd puffs and sugar-free soy milk, this retro store manages to keep customers coming back for more both for their flavourful menu and affordable prices — something that's hard to come by in Hong Kong these days.
Location: 118 Pei Ho Street, Sham Shui Po, Kowloon
Oddies Foodies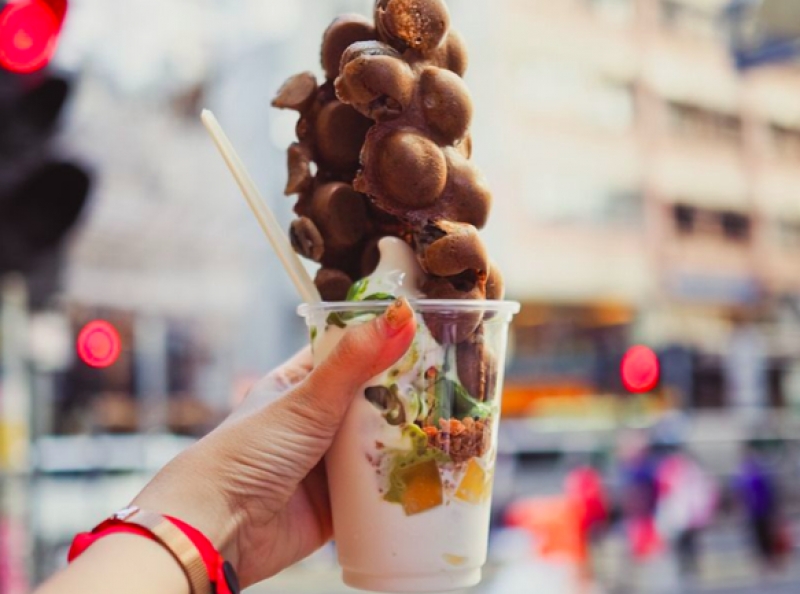 For gelato and eggette fanatics, there's a hole-in-the-wall place in Wan Chai that will turn your deepest cravings to a finger-licking reality. Oddies Foodies, or simply Oddies, is a master when it comes to this combo. Each serving screams gourmet more than anything, and is definitely a must-try for a hot summer stroll around Hong Kong.
Location: 45 Gough Street, Central
I Cremeria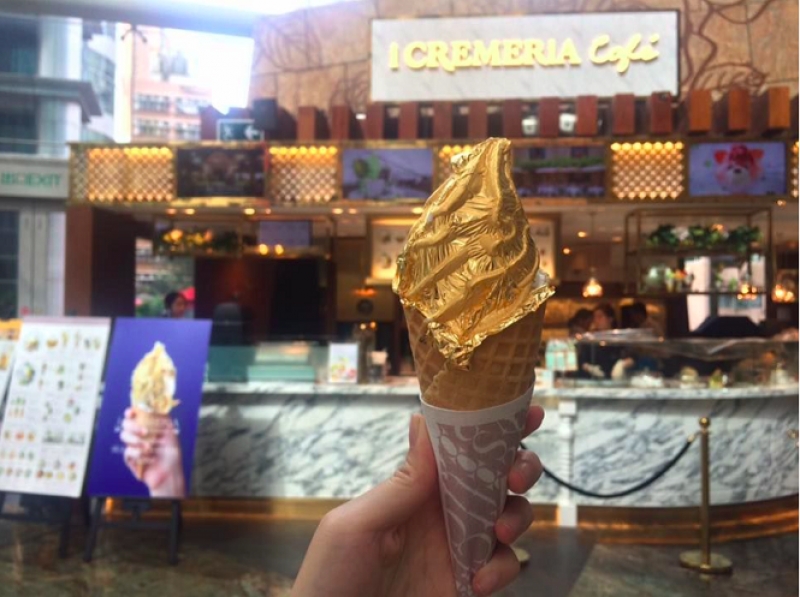 A fruit and cream fusion is something that's quite familiar to the Filipino palate, which is why you'll find it easy to worship the desserts served in I Cremeria. Their fruit parfait highlights include the Frutta Crema, Giapponese Crema and the Uji Matcha Affogato. There's also an ice cream with gold leaf which will make you feel like a total millionaire even for a few minutes!
Location: OT-G03A, Ocean Terminal, Harbour City, Tsim Sha Tsui
Atum Desserant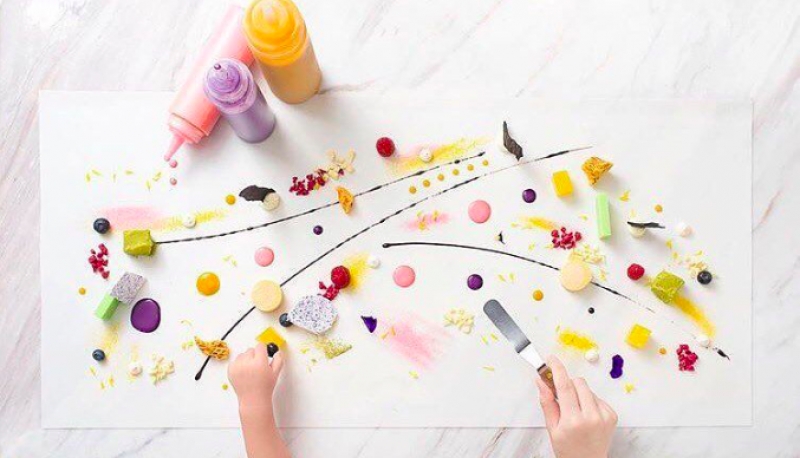 Relentless perspiration will make you feel a little uncomfortable, but that will change once you find an hour to drop by Atum Desserant at Causeway Bay. Here, it's all about satisfying your sweet appetite while appreciating art at the same time. The desserts are served in impressive improvised artistic plating and table theatre, making your stay much more rewarding.
Location: 16/F, The L. Square, Lockhart Road, Causeway Bay
Emack & Bolio's Hong Kong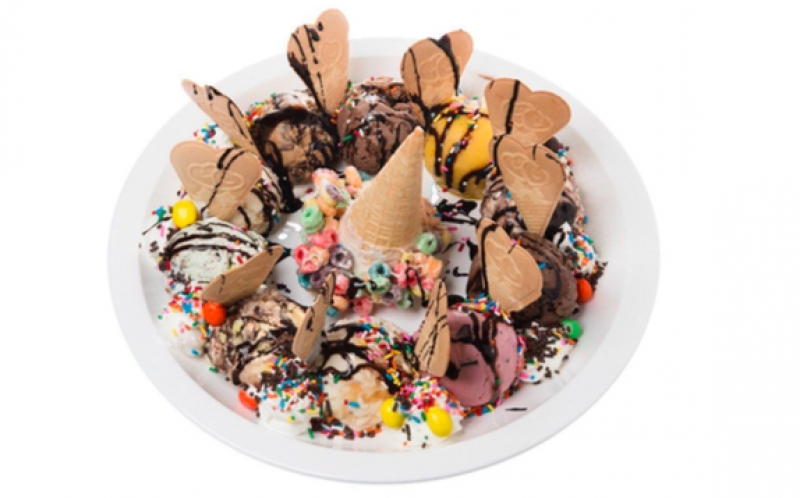 Emack & Bolio's has been a fixture in the United States food and beverage industry for a long time. In 2015, fans of the store in Hong Kong were gifted with the first branch in the city that elevated everyone's standards when it comes to ice cream. Expect nothing less than crazy good and colourful sundaes, ice cream scoops and more!
Location: GF, 26 Cochrane Street, Central
Cong Sao Star Dessert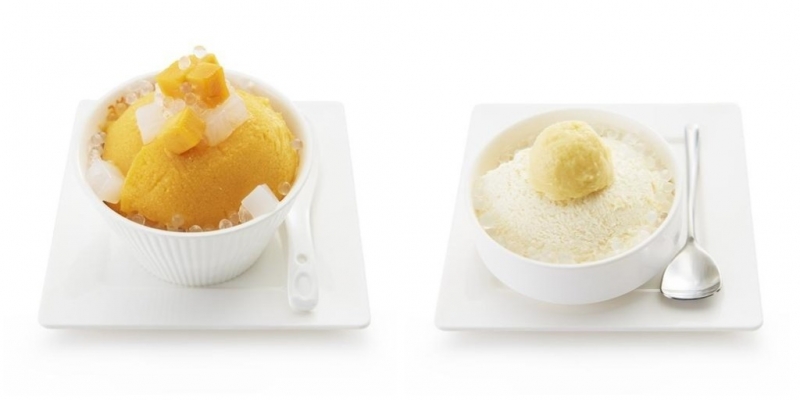 At one point, there'll be a day or at least a few hours in your trip that you'll just feel like staying in. This is where Cong Sao Star Dessert comes in. It offers a delivery option so won't have to search the streets of Hong Kong for its store. Its signature offerings include the Longan Sorbet with Nata de Coco, Durian Sorbet with Crystal Seeds and the Sweet Mango Sago.
Location: 25 Soy St, Mong Kok
Yee Shun Dairy Company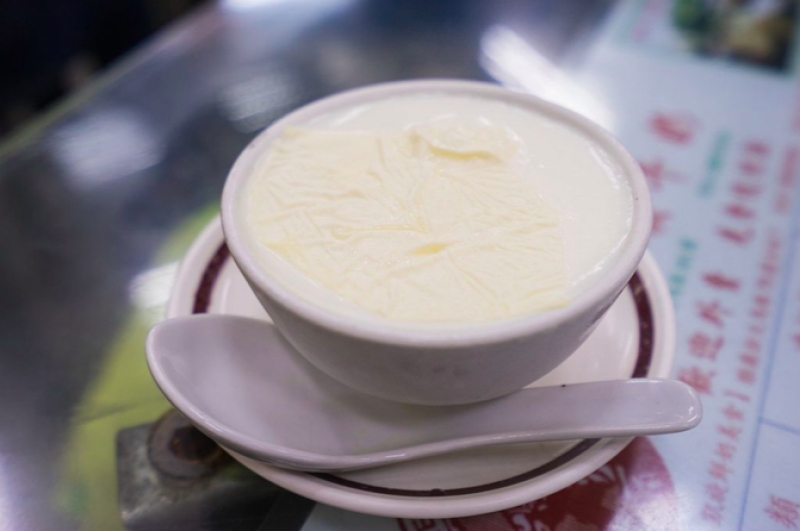 Browse through best-selling or most visited Hong Kong eating guides and there's a great probability you'll find Yee Shun Dairy Company in the most recommended section. The store's speciality is a dessert that originated from Guangzhou in China known as the Double-Skin Steamed Milk Pudding. It's served hot or cold, just in case you want to mix things up for a change.
Location: G/F, 506 Lockhart Road, Causeway Bay
Tei Mou Koon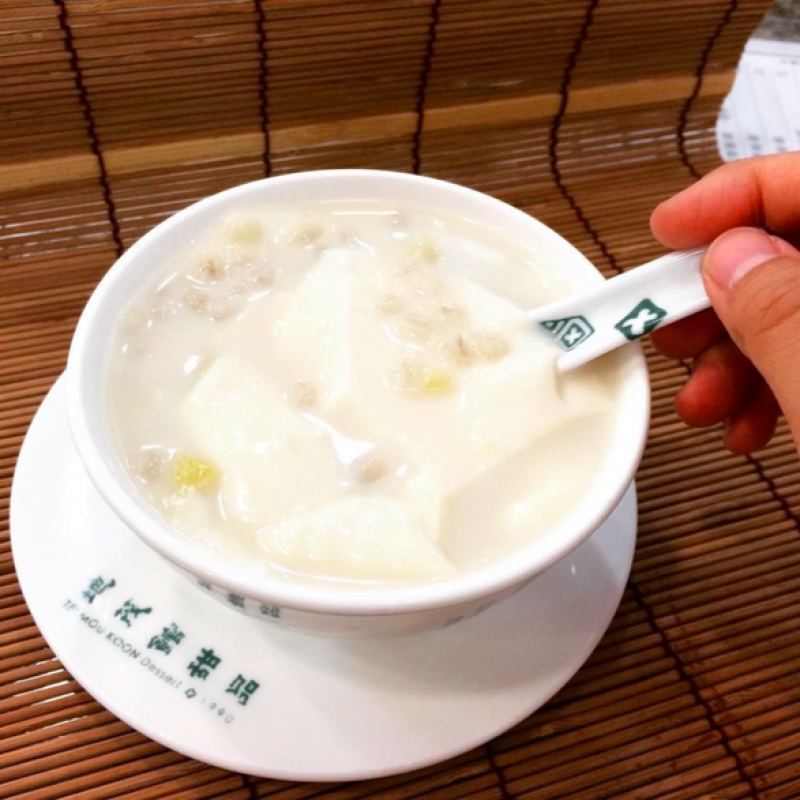 You can't travel in Hong Kong without tasting authentic Chinese desserts, and Tei Mou Koon has some of the best ones around. You'll definitely want to try their tofu or mango pudding, as well as the sesame and tofu pudding combo!
Location: G/F, 47 Fuk Lo Tsun Road, Kowloon
Cool places to visit
Lake Egret Nature Park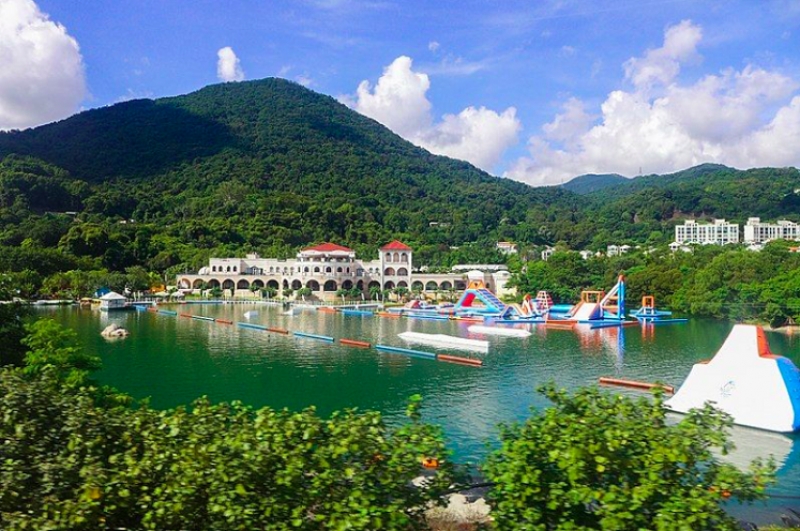 Fan of the infamous Straw Hat Crew and all things summery? Then it's the perfect time to buy a ticket to the recently opened One Piece Summer Park 2018 in Lake Egret Nature Park. Open until 31 August 2018, the park features the One Piece Memorial Zone, Thousand Sunny Deck, a 4-metre-tall Luffy Gear 4 inflatable character, Chopper Bubble World, One Piece Aqua Challenge Water Park, One Piece game booths, and a whole lot more!
Location: Lake Egret Nature Park, 2 Hung Lam Drive, Tai Po, New Territories
Shek O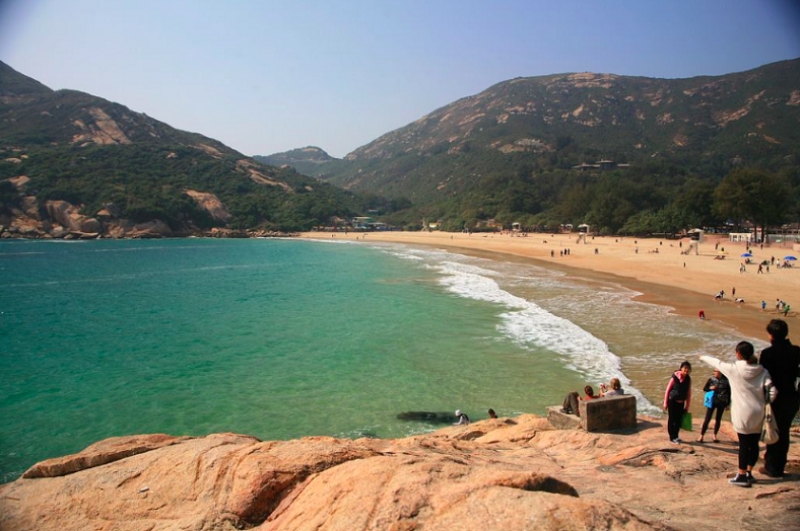 There's more to Hong Kong or summer than visiting beaches. But wait, is there even a single beach in the city? The answer is yes. Hong Kong may be dominated by high-rise buildings and modern recreational areas, but you'll find a great number of beach options in lesser known areas all waiting to accommodate you. On the southeastern side of Hong Kong Island, there's a place called Shek O, a beach village popular among locals as a go-to outdoor destination. Its local beach boasts of a golden hue and it's common to see families enjoying barbecue get-togethers in the area. You can opt to go on a food crawl at the beachside restaurants or try rock climbing at nearby cliffs.
Location: Hong Kong Island
Lamma Island Family Trail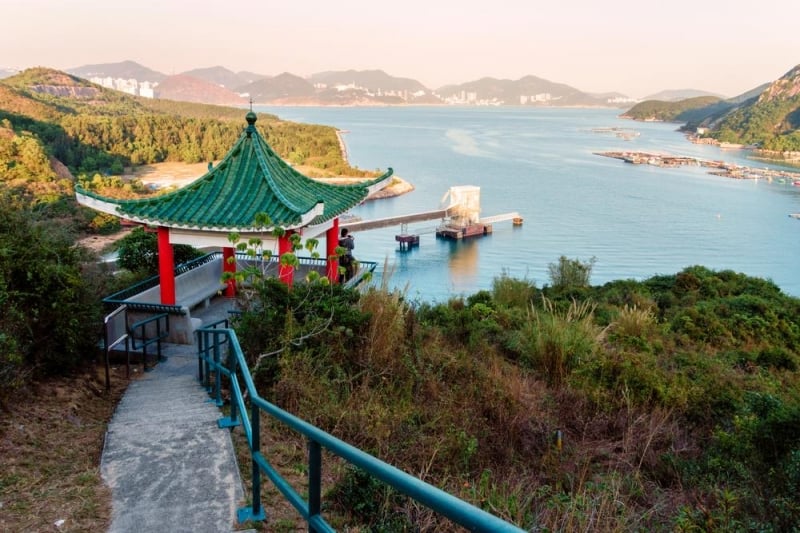 Lamma Island is one of the most popular outlying island destinations from the city. The island provides an opportunity for repose from the fast-paced and dynamic life in the city centre. This summer, you can take the Family Trail that stretches from the laid back Yung Shue Wan to the traditional fishing village Sok Kwu Wan. The two-hour trip offers you the scenic panorama views of Lamma Winds, Cheung Chau and Lantau Island, and also fishing rafts on the sandy beach in Lo So Shing Village. End the experience by relaxing and eating at Seafood Street.
Tips: During summer, Hong Kong weather can be very hot and humid. To stay "soul cool" while on the trail, choose your clothes wisely. A bright coloured T-shirt with breathable fabric like linen is highly recommended. Don't forget to bring a tumbler filled with cool water or an energy drink to stay hydrated. Investing in portable electric fan is also a smart and cute idea for a summer holiday in Hong Kong!
Location: Lamma Island
Ocean Park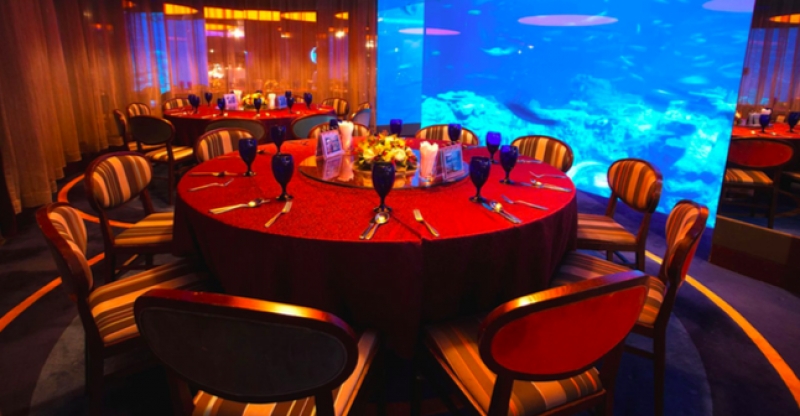 One of the most visited theme parks in the world, Ocean Park has a number of rides and exhibits designed to captivate anyone from young to old. From 30 June to 2 September, the park is serving a summertime Chinese menu by Michelin-starred chef Chan Kwok-Keung. It also features 100 exotic Caribbean food and drink specialities which make up a portion of its Summer Carnimal celebration. Chef Chan's Summer Tasting Menu can be availed at Neptune's Restaurant located within the park.
Location: Wong Chuk Hang, Hong Kong Island
Hong Kong Disneyland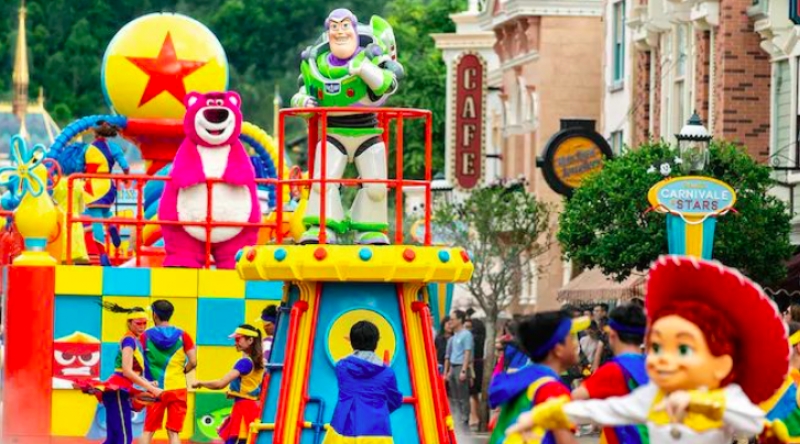 Think Hong Kong, and Disneyland will be one of the first things that'll come to mind. Since 2005, the city's largest theme park has been in most travellers' itinerary, particularly for nationalities coming from neighbouring Asian countries. If you're visiting the park this summer, there's one more reason to be hyped because of the Pixar Water Play Street Summer Party, which runs until 2 September. A Hong Kong Disneyland first, a Pixar Water Play Street Party will also bring together characters from favourite Pixar films, The Incredibles and Toy Story.
Location: Hong Kong Disneyland Resort, Lantau Island
Harbour City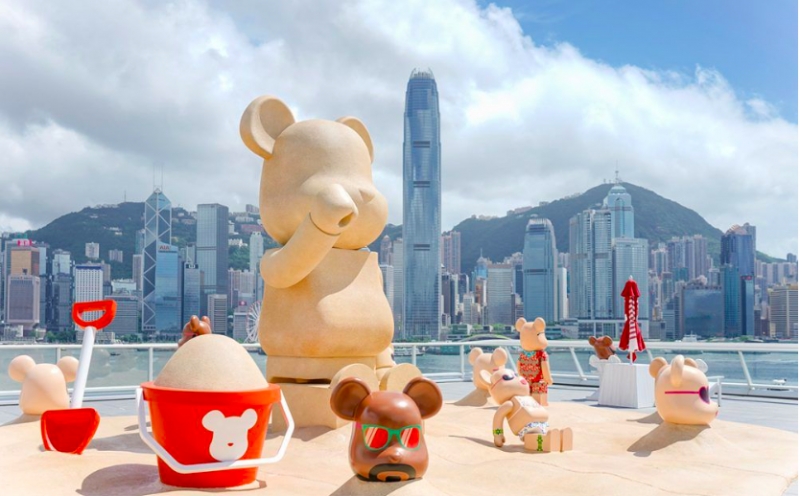 If you're not down for travelling outside the city, there's always the nearby option of Harbour City which gives the best of nature and urbanity in one. From 5 July to 5 August, its Ocean Terminal Deck is hosting a summer beach party graced by over 30 [email protected], a sought-after toy figure from Japan, with their eight brand new summer looks. There are also over four-metre sand sculptures of these adorable characters standing by at two sides of the Victoria Harbour and the grand steps to join everyone on their sunny tour of the harbour.
Location: 3-27 Canton Rd, Tsim Sha Tsui
Cool places to stay
Wontonmeen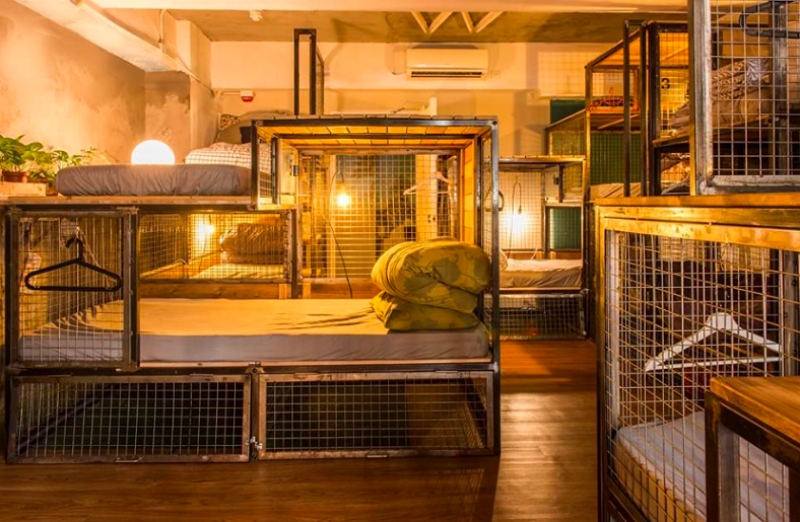 Wontonmeen in Sham Shui Po is a hostel that also caters to artists from every part of the world who need a place to share their craft. Staying here, you'll get to witness routine gallery exhibits and mini-concerts perfect for easing you down after a long day out. And if walking the next day seems problematic, the hostel offers free bicycles that you can use to tour the city!
Location: 1/F 135 Lai Chi Kok Road Kowloon, Tai Kok Tsui
W Hong Kong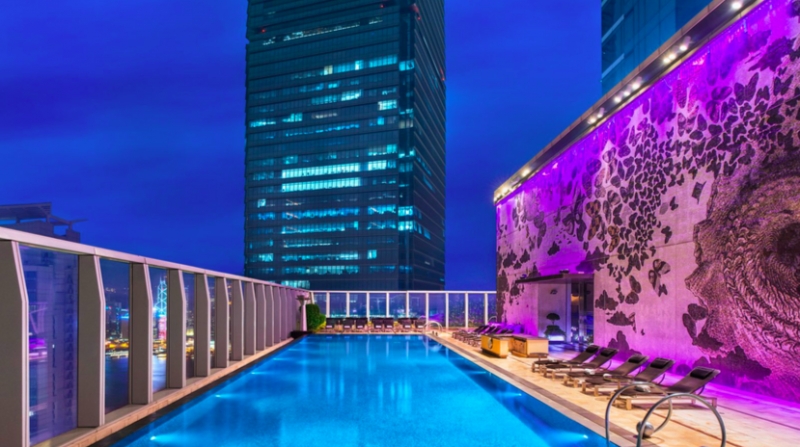 W Hong Kong is a contemporary hotel perfect for art, fashion and music aficionados who are looking for a balance between relaxing and having fun. Speaking of fun, the hotel is staging their Summer Crush Pool Party at the hotel's rooftop pool, an iconic facility on its own. There will be an augmented reality (AR) photo booth and live performances for you to watch out for. Join the party this 28 July, 11 August and 1 September!
Location: 1 Austin Road West, Kowloon Station, Kowloon
Hotel Madera Hong Kong and Hotel Madera Hollywood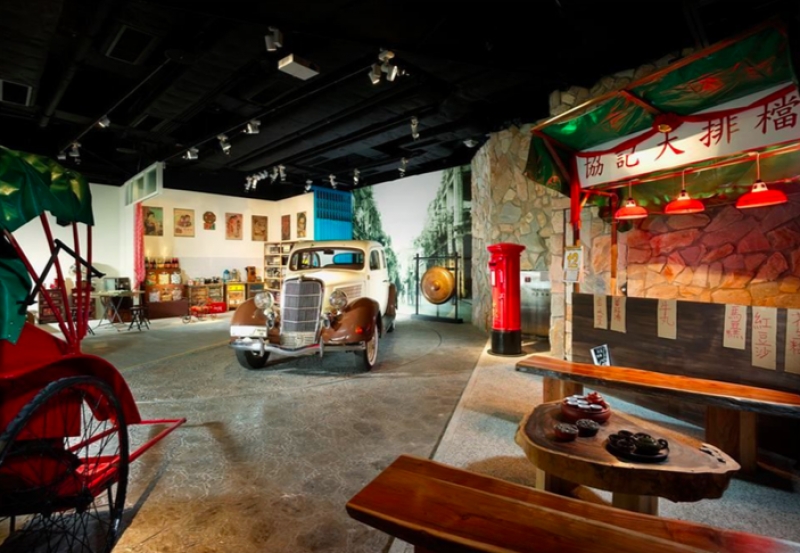 Loving 80's Hong Kong in pictures? Then there's no question you'll love the ambience at one of these hotels too. Located in Jordan, Kowloon, Hotel Madera Hong Kong has an exhibition that shows how the city looks back in the day.
Location: 1 Cheong Lok Street, Jordan, Kowloon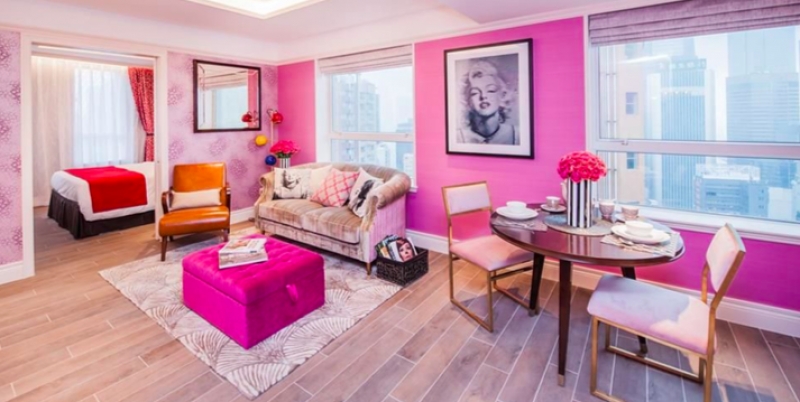 On the other hand, Hotel Madera Hollywood in Central is furnished with classic yet glamorous designs to give you a taste of the golden Hollywood era. Both branches provide modern amenities to give you a hassle-free (and definitely sweat-free) stay in the city.
Location: No.53-55 Hollywood Road, Central
Attitude on Granville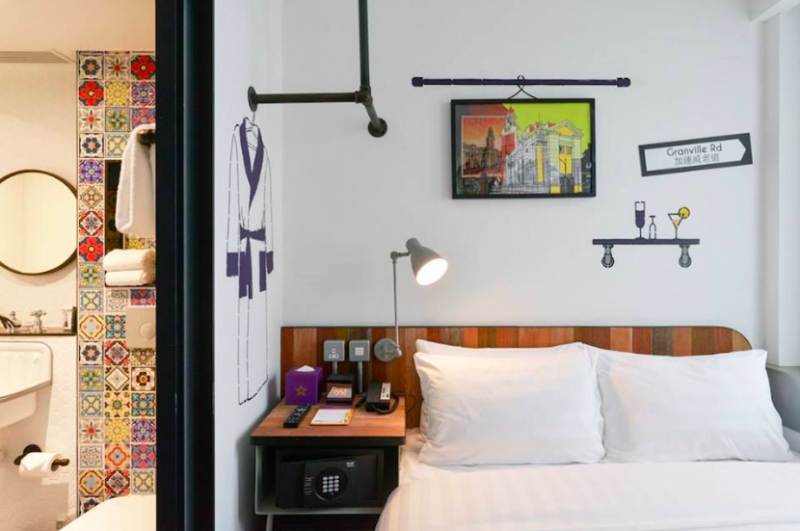 The place describes itself as a "stylish boutique hotel with an attitude". And looking at it from the outside or inside, you will surely agree. The great thing about Attitude on Granville is that it lets you tour Hong Kong without even going out just yet, as you'll see main attractions like the Star Avenue, Clock Tower, Canton Road and Cultural Museum visualised in areas within the hotel. How's that for a preview?
Location: 20 Granville Road, Tsim Sha Tsui, Kowloon
The Mahjong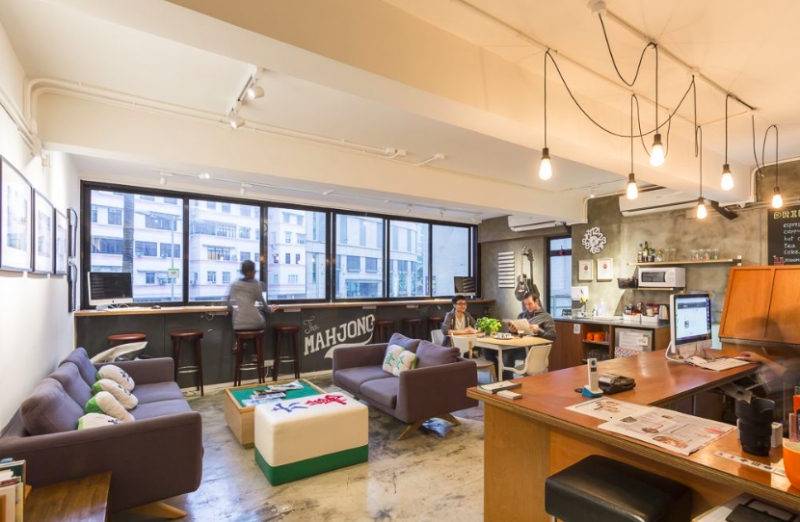 True to its name, the first thing you will notice upon entering the hotel is a huge Mahjong desk dedicated to the famed Chinese traditional game. Taking off from this, The Mahjong offers a space for travellers to immerse themselves in a bit of Hong Kong culture while socialising with fellow guests. This, of course, is core to the game itself. Some of the city's finest attractions, such as the Tsim Sha Tsui harbourfront promenade, Mong Kok ladies' market and the Sai Kung seafood village are located no more than 40 minutes from the hotel!
Location: 1/F, 2A Ma Hang Chung Road, To Kwa Wan, Kowloon
Dorsett Wanchai Hong Kong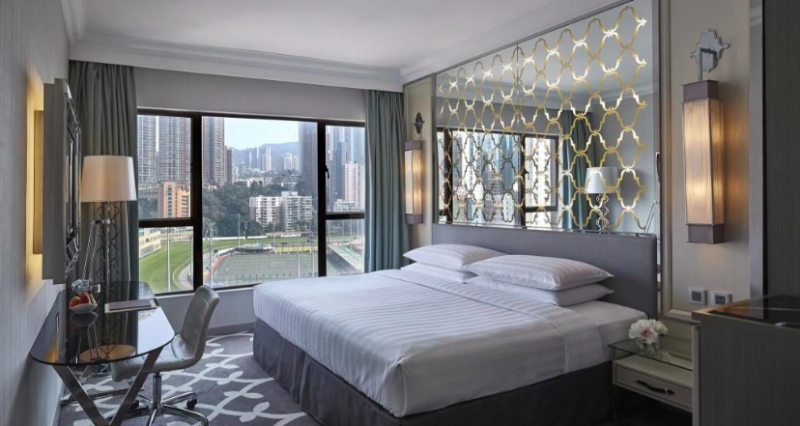 Trendy, accessible as well as business and leisure traveller-friendly, the freshly made-over Dorsett Wanchai Hong Kong is everything you could want for a chic and cosy stay this summer in Hong Kong. But even with its enticing sleeping facilities, the hotel boasts of an eclectic atmosphere for fun-seekers. There's a Jockey Suite for racing enthusiasts, the Sony 4K 3D Experience Suite and Osim Massage Suite!
Location: 387-397 Queen's Road East, Wan Chai
CLICK HERE FOR MORE STAY OPTIONS IN HONG KONG
Additional travel tips
Some of the best places for summer are found in the Sham Shui Po area of Kowloon. It is one of Hong Kong's best places to shop, thanks to its effervescent street markets, restaurants and street food stalls. To search for the best places to stay in the area, we recommend that you use Wego. It'll make your booking hassle-free by letting you compare prices and filter accommodations according to your interests and budget.
Airfare prices can be quite unpredictable especially when you're weeks or even days away from your planned vacation. Make sure to keep a close watch for the cheapest prices for your preferred dates on Wego as well.
If you're having a mix of nature and city tours this summer, it's wise to bring insect repellent, sunscreen, tissues and day towels, your trusty water container, an umbrella and of course, a good camera to take advantage of the glowing summer lighting.
Hong Kong is kind of like the New York of East Asia. Even with the weather, it won't hurt to exert extra effort in what you're wearing. A stylish pair of flip flops, loose-fitting cotton shirts and dresses, as well as plain leggings and shorts should go a long way.
Happenings in the city are constantly changing. Be sure to stay updated on the latest activities to make the best out of your summer vacation in Hong Kong by visiting Discover Hong Kong, the official website of Hong Kong Tourism Board.
Summertime in Hong Kong is something that you shouldn't be afraid of. In fact, it's one worth looking forward to! If anything, it's all about choosing the best places to eat, the best hotels to stay in and the best activities to do to enjoy the season without 'overheating'.
So, are you ready to #discoverhongkong while staying #soulcool this summer?
PLAN YOUR HONG KONG SUMMER TRIP NOW!
---
Brought to you by Wego and Hong Kong Tourism Board.