Contributed by Escapes and Diaries
I normally don't get bullied or taunted whenever I travel either around my own country or outside of it. But when I do, I just grin back. Let me tell you some of my personal experiences while travelling in and out of my country. Don't get me wrong. I didn't take the comments thrown at me as insults. Neither did I let the words scathe my self-esteem. Rather, I took everything as a compliment in a way that just made me smile to myself. So here are some of questions and comments thrown at me…
It costs Filipinos a lot to travel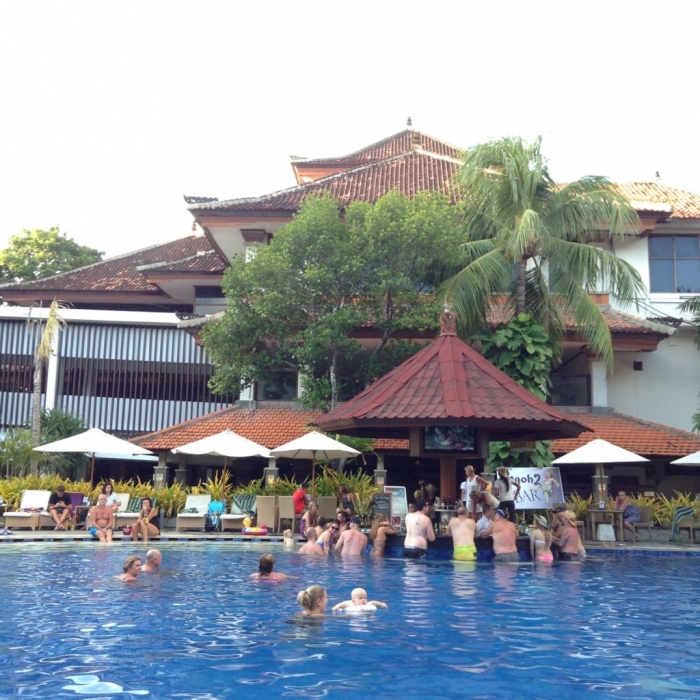 Last year, during my stay at a luxury hotel in Bali, an Australian guy initiated a conversation with me. Since he seemed nice, I continued talking to him.While I was dipping in the pool, I had a chit chat with him and he asked me where I was from. I said I was from the Philippines. Maybe he had heard some things about the Philippines or been to the Philippines, which could explain the first thing he remarked: "So, it cost you a lot to come here?" I was speechless for a while and simply smiled back at him. I said, "Yeah, a little bit, but don't worry, I saved up for it." He didn't say anything afterwards. It made me wonder what other perceptions foreigners have about Filipinos travelling abroad.
Also read: 9 Struggles Filipinos Travelling Abroad Can Relate To
YES, I MUST ADMIT, it's expensive to travel on our own considering the fact that their currency and ours are completely different – the two currencies have a huge gap in value. For us to travel, we need to work harder. For example, the minimum salary of a regular employee in the metro is around $300 monthly. A manager or anyone with a higher rank gets at least $400-$500. Please correct me if I'm wrong here.
Luckily, in my case, I get a higher pay (not that I'm bragging about it) because of my line of job. But the point is, I work harder and longer hours than a regular employee does. So, now you can imagine, buying a plane ticket itself would cost me much, (except of course when you're lucky enough to get the piso promo fare like what I always do to sustain my travel lifestyle) plus accommodations and all other incidental expenses.
I myself take a long time and lots of courage to book a flight. My family isn't rich and we've never travelled together. I remember that when I was a kid, the only time I got to visit the big city was when mom visited dad in Metro Manila, a six-hour bus ride from my hometown in Pangasinan.  My mom is a skilful dressmaker and that's how she earned money for us and sent me to school. I can agree to some extent that it costs a lot to travel to different countries, but I hope that other nationalities don't conclude that just because we're Filipinos, we can't travel the world. Yes, we can.
Everybody can. Everybody has the ability to do so. Everyone is capable of something she desires to do, even travelling.
Filipinos are rice monsters
Another Australian guy bugged me with another question. Why do Filipinos eat a lot of rice? We eat rice for breakfast, for lunch, and for dinner. Sometimes, we even eat rice for snacks. So when I returned home from my travel with numerous foreigners, I came running to my best friend, Google and did a research on the percentage of Filipinos eating rice. Statistically, 80% of the population eat rice. Rice is our staple food. And don't question that.
Do you know that the country even has a fast-food chain which offers unlimited rice? Yes, we do! And I personally profoundly love it! We were born and raised surrounded by rice fields. In fact, we have the Banaue Rice Terraces in the Northern Philippines.  It seems weird for most foreigners that we're eating rice during every meal. What they don't realise is that they're also like us. The only difference is that they eat potato or bread or cheese. They gave me the nickname "The rice monster" which I liked somehow, as it made me laugh.
Why can't you swim? Your country is surrounded by waters!
YES. EVIDENTLY.
The Philippines is an archipelago. And we do have more than 7,000 islands. Even so, we were not taught to swim. Unlike other countries like Japan, each child beginning from elementary or at least as early as toddler days, are already being taught how to swim. Each school has a swimming lesson and that's part of their curriculum. So that says it all.
On the other hand, in my country, the Philippines, we don't have a swimming pool in our school. If one wants to learn how to swim, he or she should go to the beach which is merely near the town or a couple of hours drive from home. So, you see? For us, it's a big deal learning how to swim. I, myself don't know how to swim. And yes, I never learned how to swim until just recently. If my memory is reliable, I just learned it in late March this year. And because of that, I get teased all the time. And the main reaction would be, " you're from the Philippines and you don't know how to swim? How come?! Insert exaggerated reaction here coming from them ".
How did I deal with it? Well, as I've mentioned above. We never had a swimming pool nor any swimming lessons. More so, if you want to learn how to swim, then you pay for it which is costly on our end.
Also read: 18 Comments Every Filipino Traveller Has Dealt With Abroad
Filipinos seldom win
I met a Swiss guy when I went to Bohol and Siargao islands who told me that it was such a shame that I didn't know how to swim or do water activities frequently. I told him that I was taking it as a compliment. But then, I thought to myself, yes, he was right. So I told him, "Don't worry, the next time we meet again, I'll beat you in water sports. Name it, snorkelling, diving, swimming or surfing."
Filipinos always quit
During my trip to the beautiful islands of Siargao, the owner of the hostel I stayed in organised an island hopping activity. There were 16 people on two big boats. There were only two Filipinos, me and a guy from Cebu. The rest are from the US, China and other parts of Europe such as The Netherlands, Switzerland, Sweden, Italy and France.  As you can imagine, these countries are more privileged in travelling. But my self-esteem didn't crumble because I know, as a Filipino, I have something they don't have. But that's not the point here.
Anyway, a Dutch guy created a game called the "coconut game". The objective of the game was to shoot two empty coconut shells into the hole, making sure that they get inside the circle. If you fail, you have to drink two shots of rum. If you succeed, you can choose two people to drink rum. I was always being picked by these dudes. It was all a fun game but the rum was burning my lungs, and to think, we were playing it under the scorching heat on the beach.
I suddenly stood and said I quit. Everybody disagreed. They were like, no, don't quit. And the Dutch guy said, "Filipinos always quit. They never won at any sports or games." Everybody died laughing. So did I ( I, didn't take it the wrong way). And then, he continued, "When did the Philippines ever win?"I stared right into his eyes and spoke, "Miss Universe 2015?"
As soon as I spoke, he shut his mouth. Everyone fell silent for a moment. Oh yes, Miss Universe. Miss World? Name all the pageants and we're never left behind. If beauty and brain are the basis, then Filipinas win.  I could even have mentioned Manny Pacquiao, the world boxing champion or Filipino singers like Charice Pempengco and Arnel Pineda. And then laughter erupted again. At one point, I thought some of them were right. Somehow it's odd that many Filipinos like playing basketball despite the fact that they are short.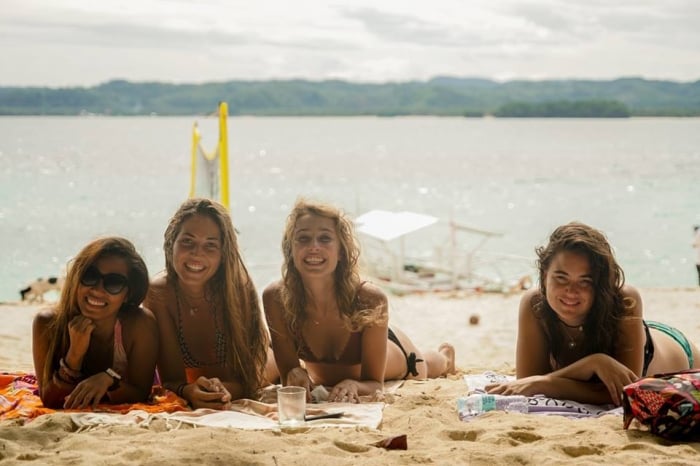 Whenever a foreign traveller asks me where I'm from, I always proudly say that I'm from the Philippines and that I am confidently beautiful with a heart. I will always be proud of having brown skin and of my ability to speak English well. English is widely spoken in the Philippines that's why all the foreign travellers that I've met were glad that they didn't have a hard time communicating with Filipinos.
On a personal note, I didn't take everything mentioned above as an insult to my being a Filipino because I knew it was just part of the game and travelling as you randomly meet people from different areas.  And at least, I made them realise that Filipinos always have the guts to participate and join any international competition. And even though not all are privileged enough to voyage the world the way they do, everybody has different views and perceptions.
We were brought up in a different society with a different culture. Yes, they can travel the world whenever they want to, eat expensive and good food whenever they feel like to or splurge anytime they want to. I may not have all that they have, but I'm proud of where I come from. I'm proud of my countrymen, the delicacies, and the culture. I'm a Filipino and I can travel the world. I'm proud of myself and my country. I'm thankful to those people I met for making me more proud of where I came from. And I appreciate the fact that they are very thankful for visiting my beautiful country. They've seen many places in the country that they haven't seen anywhere else in the world and for that, I'm proud of my country.
Well, to sum it all up,  the people I met were nice and I learned many things from them, too.
Also read: How A Filipina Became an Au Pair and Travelled the World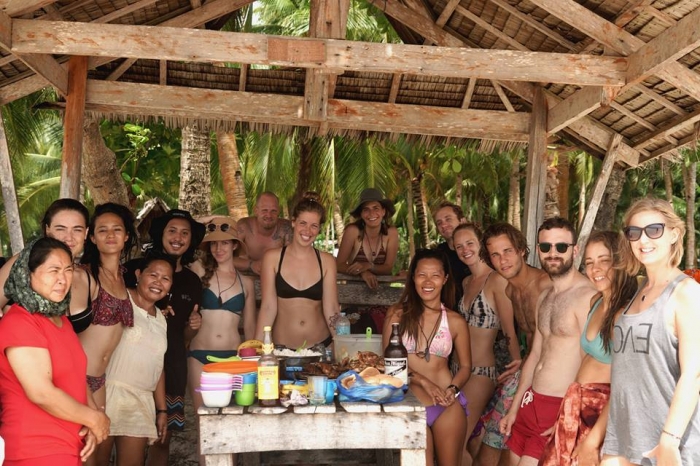 Thank you guys! You're awesome!
How about you? How was your experience in dealing with foreigners in and outside your country? Have you been thrown out the same questions? Let me know your experiences! Comment below and let's talk! 🙂
Photo credits to Waikin Chung. Thanks Ken!