Around three hours away from Sapporo lies a ski destination that has gained international status and continuous popularity for the past few years. Longtime locals say that once a winter hub for most Australians only, Niseko is now visited by more and more tourists from Asian and European countries.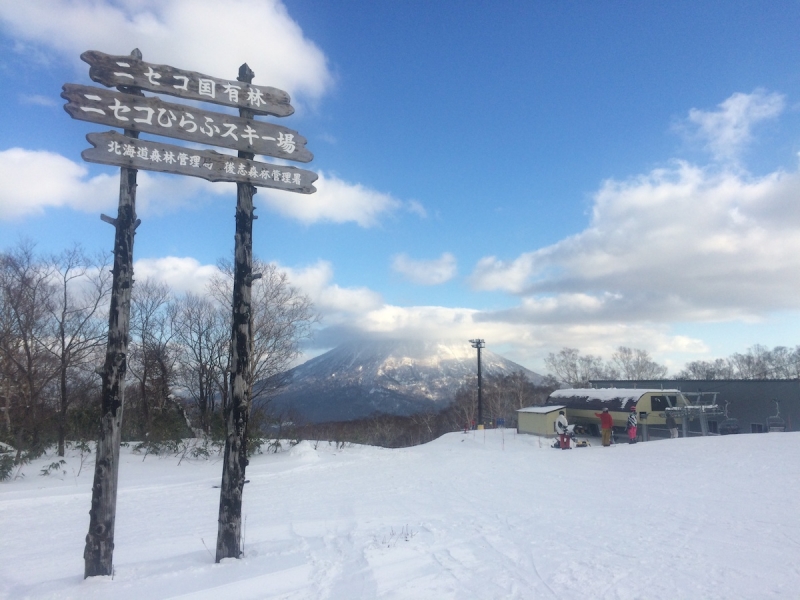 Niseko has been credited for its snow with acclaims such as "mythical snow paradise", "best quality snow", "legendary powder snow", and many others. Growing up in a tropical country and who has had snow experiences a few times before visiting Niseko, I didn't even know that snow could have levels of quality. I thought that snow was just snow that is somehow similar all over the world – a colder phenomenon to rain. But apparently, winter sports enthusiasts and travellers feel differently.
Also read: My Early Winter Experience in Hokkaido: 5-Day Schedule & Trip Highlights
When I had the chance to experience Niseko for myself, I couldn't fathom the magic that I felt when I saw and felt the marshmallow-like and cottony resemblance of the tremendous amount of snow in Niseko. Especially when the sun hit the snow in the right spots, it looked like diamond dust sparkling in our midst.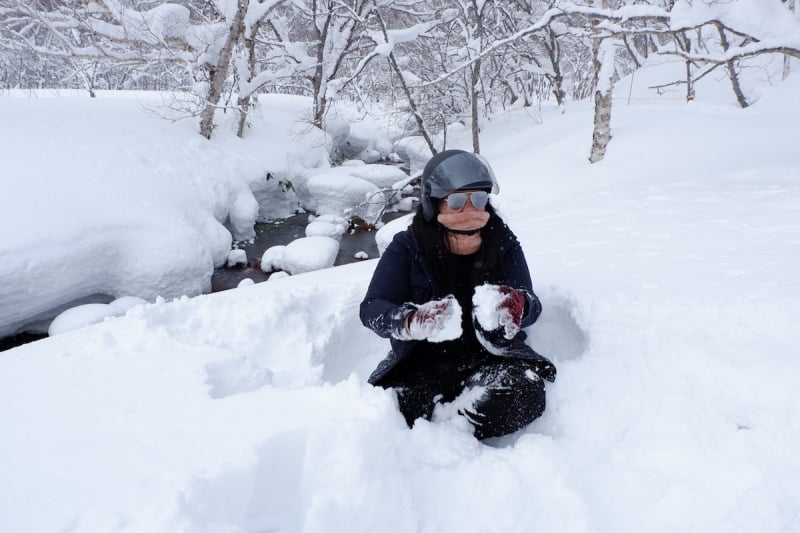 This so-called legendary powder snow comes from the cold winds that originate from Russia that turns into north-western seasonal winds that soon crosses the sea of Japan from which the winds gain more moisture. The clouds formed from this process then bring heavy snowfall to different parts of western Hokkaido like Furano, Sapporo, Tokachi, and Niseko. The dry snow that accumulates and forms from this unique geographic cold and dry air process makes it easier for winter sports enthusiasts to ski or snowboard down slopes. It has instilled the Japow! (a play on words, Japan and Powder) mentality to many who have experienced and conquered the wintry powder snow that Niseko in Japan has to offer.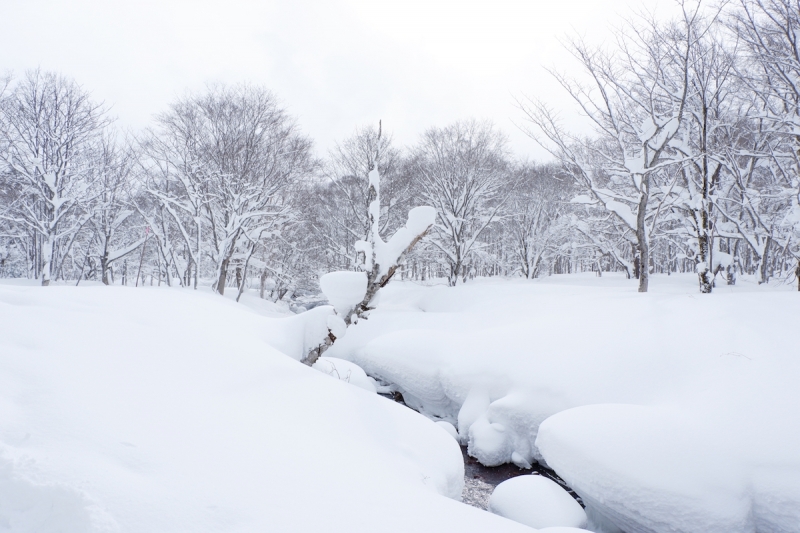 Only a few hours bus ride away from Hokkaido's heart and most popular destination, Sapporo, Niseko is definitely a contradiction to the hustle and bustle of the city. As travel becomes more and more accessible, Filipino travellers are always on the lookout for new destinations especially countries that have varying seasons that we cannot experience in our own country. Spring and winter are the top seasons that enchant most of us – whether its falling Sakuras or snow, a destination that has any of these is a place to save up and work for.
Here is a travel guide + tips based mostly on the experiences I've had in Niseko in late 2016 and start of 2018:
Securing a Japan visa
Philippine passport holders require a Japan visa to visit Niseko. How to apply? READ – Easy Japan Tourist Guide for Filipinos
Winter season
If you're interested in visiting Niseko during the winter season, the first thing to ask yourself is which month or period will you travel to Niseko? Here's a guide on the winter season conditions per period based on tourist information:
Open Season
Period: Last week of Nov to 1st week of Dec
Pros
No crowds
Affordable accommodation
Cons
Limited ski resort and business operations
Less snowfall
Limited free shuttles
No night skiing
Eary Season
Period: 2nd to 3rd week of Dec
Pros
Few crowds
Mid-range priced accommodation
Night skiing is open
Ski resort operations start
Free shuttles start
Shorts lines at lifts
Cons
Limited off-piste or backcountry skiing
Peak / High Season
Period: Last week of Dec to Mid Feb
Pros
Excellent snow conditions
High accumulation of dry powder
Great nightlife
All businesses and ski resorts operational
Free shuttles
Lots of events and activities
Cons
Expensive accommodation and winter activities
Freezing temperatures
Crowds
Snowfall every day/Not many sunny days
Busiest time during Christmas, New Year, Chinese New Year, Sapporo Snow
Festival week
Restaurant reservations can be fully booked
Long lines at lifts
Shoulder Season
Period: Mid Feb to last week of Mar
Pros
Excellent snow conditions
Fewer crowds than high season
All businesses and ski resorts still open
Accommodation and winter activity rates drop a bit
Sunnier days
Cons
Varying snow conditions
Night skiing ends late March
End Season
Period: April to May
Pros
No crowds
A bit of snowfall
No reservations needed at restaurants
No lines at lifts or restaurants
Cons
Less snowfall
Lifts and ski resorts close mid-May
Free shuttles end late April
I have been to Niseko twice (2-3 Dec 2016 and 28-30 Jan 2018), the first one on a solo trip and the next with my mom.
On both times, I was able to experience operational shuttles and ski resorts. There was a good amount of snowfall as well on both trips. During our trip last Jan 2018, it was colder and I had a harder time to adjust to the weather than my first trip. There was more snowfall as well. During my trip back in 2016, I experienced heavy snowfall on my first day and a very sunny weather the next day. On our recent trip, it snowed heavily all throughout until the moment we left Niseko wherein just a little peak of sun came through. I also noticed the increase in crowds at one of the ski bases and gondola. There was a line at the gondola and we weren't able to have a solo cable car going up the ski mountain.
If you want to experience snow for the first time, I feel that any month is good to visit as there is a substantial amount of snow per period. For avid skiers, snowboarders and winter sports enthusiasts, peak and shoulder seasons are the best. If you want a peaceful winter vacation, open, shoulder, and end seasons would be best so that you can avoid crowds and busy operations.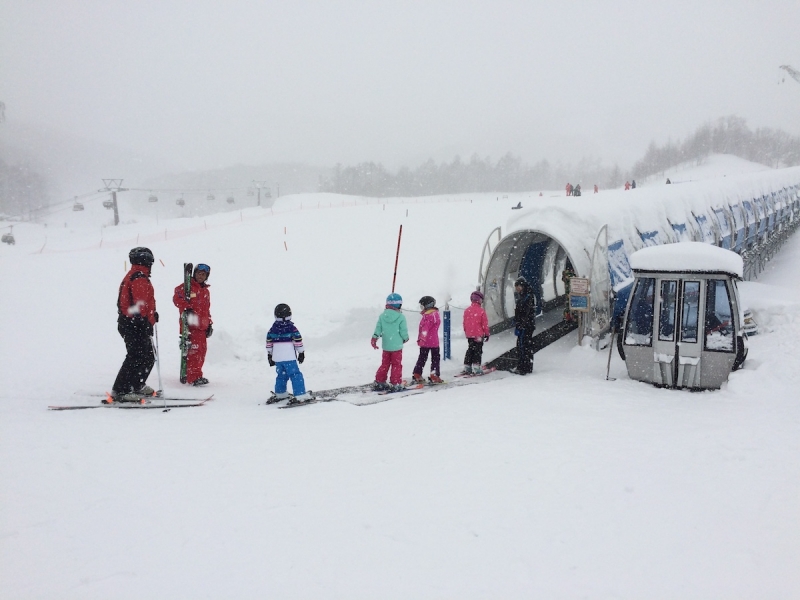 What to wear
If you're visiting Niseko AND experiencing snow for the very first time, the most important thing to take into account during your travel planning is the weather and what to wear. My mom and I thought that we were prepared during our recent 2018 trip to Niseko but we had lapses so I assure you that planning this part is VERY IMPORTANT.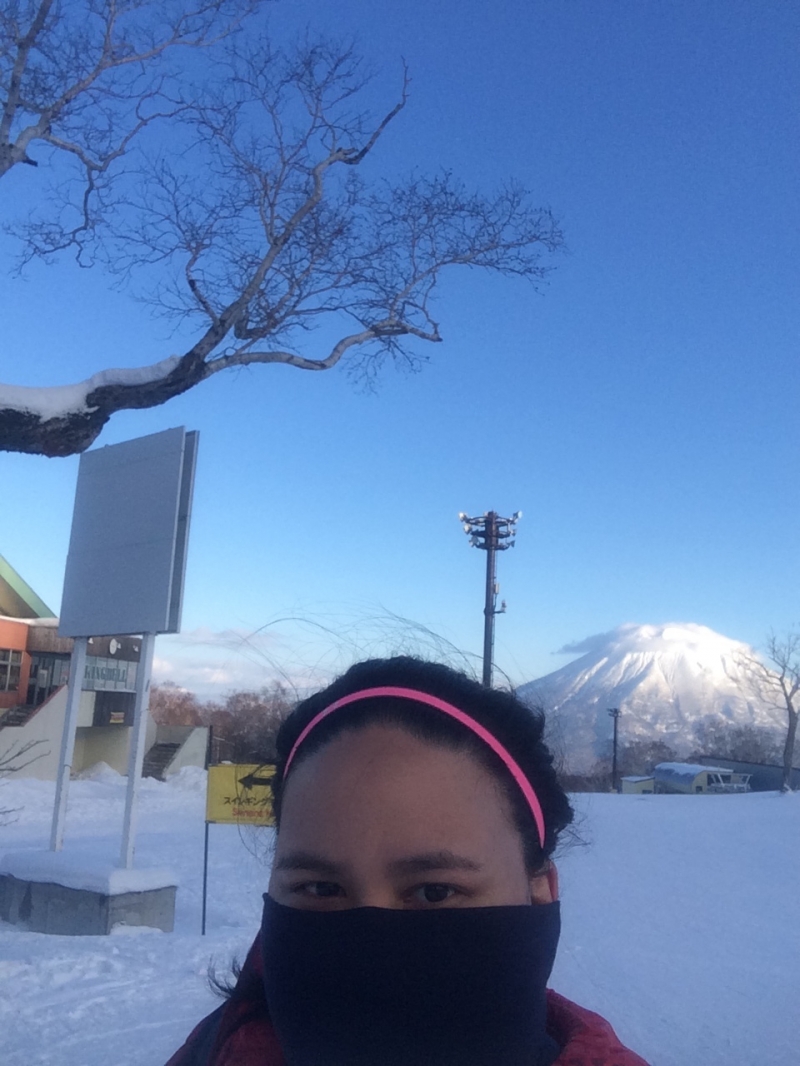 Since we visited during high season and the coldest period during winter in Niseko, we experienced average temperatures between -2°C to -12°C during our stay. From inside a van or an accommodation lobby, the snow looked so mesmerising that I just wanted to bathe in it but once I stepped out of those enclosed spaces, the freezing weather slapped me back to reality.
It was extremely cold! During our first afternoon, the snow was pouring heavily and I remembered my mom and I had a hard time functioning. We couldn't unzip our bags, use our phones properly, or hold our itinerary and map well. We were shaking and freezing that we couldn't wait to enter a convenience store or shade ourselves under a roof or tree. It was a hard adjustment in the beginning but we got used to it after a few hours.
The most significant tip I can give on your winter wear is to OVERESTIMATE. Here are some tips for you to take into account when preparing for the weather for your trip to Niseko:
Bring lots of layers, more for your body parts that are easily sensitive to cold.
Purchase quality heat wear or layers.
Wear boots that have good grip as there are some slippery roads around Niseko.
Put on sunglasses especially if your eyes are sensitive. Since the snowfall was heavy during our first walk outside, a few snowflakes went into my eye and it felt salty that I started to tear up. It stung a bit but when I put on sunglasses, it became better.
I recommend wearing neck warmers and coats with overheads more than ear muffs.
Wear gloves and socks with thick cotton padding.
Bring lip balm and moisturizing lotions. Make sure to use these before and after your winter activities. It is also advisable to use lip balm throughout the day.
Make sure that your electronic devices are placed in warm pouches or pockets with a lot of padding and covered from the falling snow when in use. At one point, my iPhone had full battery when we left our accommodation but after 10 minutes in the freezing weather of Niseko, it died a few times. Once you are indoors, do not charge your phone at once. Let it warm up first and it will turn on eventually having the same amount of battery it had before it died.
Also read: Winter Checklist: 10 Items to Pack on Your First Snowy Vacation
It's better to have MORE than have the right amount of winter wear when you visit Niseko. Prior to our trip, we already planned what to wear each day but since it was colder than we expected, we had to add another or two coats to our winter outfits. My mom even wanted to purchase gloves at one of the Niseko resorts but found it too expensive. If you want to purchase additional winter wear in Japan, buy from Sapporo or the airport as it is much more affordable than buying directly in Niseko.
Travelling to Niseko
As of March 2018, there are no direct flights from the Philippines to Hokkaido from any commercial airline. Only connecting flights are available.
UPDATE (6 July 2018): Philippine Airlines will have non-stop flights from Manila to Sapporo (Chitose) starting 10 September 2018.
On both trips to Hokkaido, I flew with Jetstar. Back in 2016, my route was from Manila to New Chitose airport via Nagoya. For the recent trip, we took the Manila to New Chitose airport via the Tokyo route. Upon trial bookings online, Jetstar offers the lowest rates to Hokkaido. On average, one-way base fares start at ₱9,000. If you chance upon seat sales to Nagoya, Tokyo, or Osaka, you can get a one-way flight to New Chitose airport with an all-in fare of at least ₱5,000.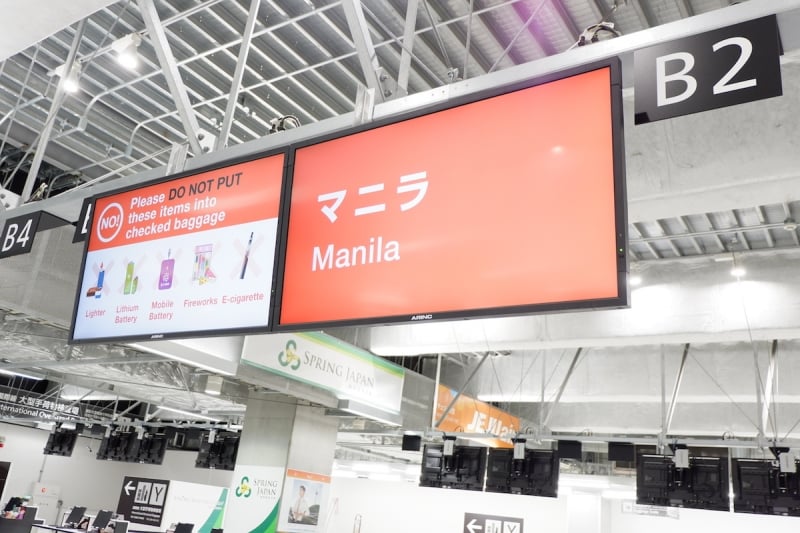 Both my flights departed Manila at 12am so I arrived at the connecting Japan airport at around 6am. The transit time took around two-three hours each time but it felt quick because of the self-service transfer. Once you arrive at Nagoya, Tokyo, or Osaka, you need to pass through immigration, retrieve your luggage, and check-in again at the airport's domestic counter for your next flight to Hokkaido. Compared to the first flight from Manila, the flight to Hokkaido was a breeze. Make sure you're seated by a window so you get to see the view of northern Japan in winter. It's definitely breathtaking!
Please note that Jetstar is very strict with the weight of baggage. Carry-ons are strictly at 7kg only for each passenger and any excess needs to be checked-in. On our way back to Manila, the Jetstar staff at the Tokyo airport was very strict and only allowed two pieces of carry-ons per passenger.
Other flights that you can look into for your trip from the Philippines to Hokkaido:
Cebu Pacific (Manila to Sapporo via Taipei-Scoot or Tokyo-Vanilla Air or Incheon-Jeju Air) – Change airlines as part of the Value Alliance Network.
Philippines Airlines (Manila to Sapporo via Haneda/Tokyo/Nagoya-ANA) – Change airlines as part of the PAL Codeshare Flights.
Eva Air (Manila to Sapporo via Taipei)
Cathay Pacific (Manila to Sapporo via Hong Kong)
JAL (Manila to Sapporo via Tokyo)
ANA (Manila to Sapporo via Tokyo)
Korean Air (Manila to Sapporo via Seoul)
China Airlines (Manila to Sapporo via Kaohsiung)
Vanilla Air (Cebu to Sapporo via Tokyo)
I included all the airline options wherein you can have one booking for a Manila to Hokkaido flight from a single airline website. Most of these flights land at the New Chitose airport, around an hour train away from central Sapporo. If you choose to book another airline on your own from the connecting flight in central Japan (Tokyo, Osaka, etc), you can also choose to land at the Okadama airport which is just 20 minutes away from central Sapporo.
Once you arrive in Sapporo, you can choose to take any of the following land transfers to Niseko:
Public bus via Chuo/Niseko Bus – One-way fare is ₱1,271+ (¥2,600) while roundtrip fare is ₱2,201+ (¥4,500) to/from New Chitose Airport/Sapporo. This is the most affordable option to travel to Niseko. Since I was staying at Hirafu, one of the biggest ski resorts in Niseko, it took a longer time as the route this bus takes has Hirafu as the last stop.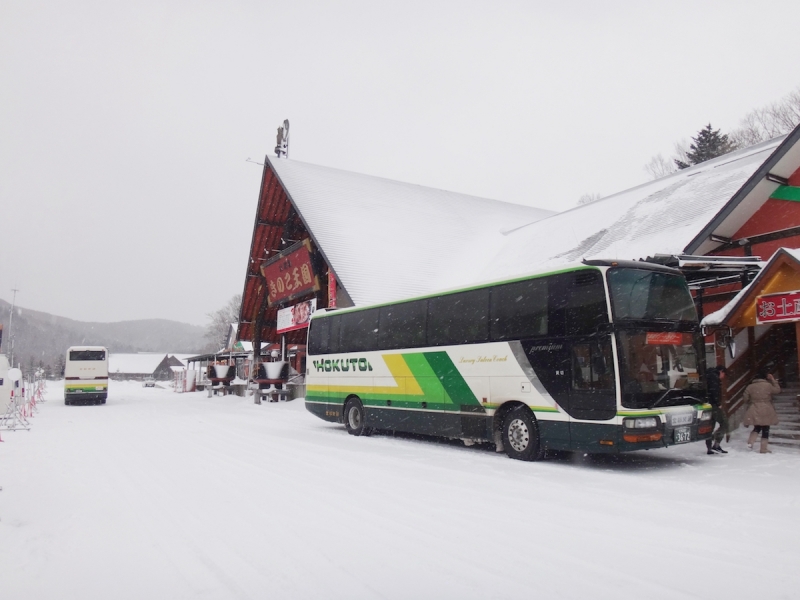 Public bus via Hokkaido Resort Liner (HRL) – One-way fare is ₱1,956+ (¥4,000) while roundtrip fare is ₱3,912+ (¥8,000) to/from New Chitose Airport/Sapporo.
JR Train – If ski buses aren't operating yet, this and private transfers are your only option to visit Niseko. If you have JR passes, this is a productive route to maximise the use out of the pass. If you're coming from the New Chitose airport, you'll have two train transfers before reaching the local train in Niseko. (JR Airport – JR Sapporo – JR Otaru – JR Kutchan Niseko). According to Rome2Rio, this route takes around four hours and costs at least ₱1,700+ per way if you don't have the JR Pass.
Private transfer (car/van/taxi) – This is the most expensive and convenient option going to Niseko. This can cost you at least ₱10,000 per way. Companies that you can look into for private transfers are Sky Express, Yohtei Private, Sky Station, or Wing Taxi Hokkaido.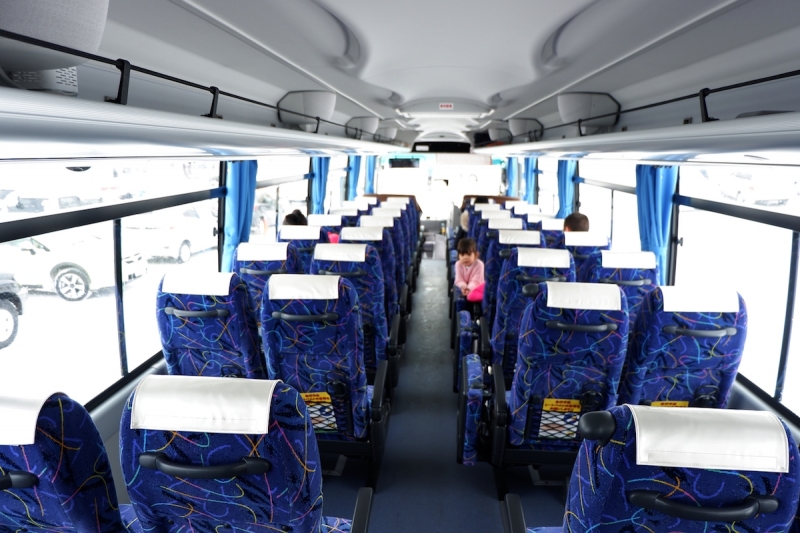 During my 2016 trip, I booked a roundtrip bus from Hokkaido Resort Liner directly and took this route – New Chitose airport – Niseko (Hirafu Welcome Center) – Sapporo (Sapporo Tobu Hotel). The bus departs on time and has two stops on both ways – one rest stop and one at the Rusutsu Ski resort. Coming from two flights, the ski bus trip was really relaxing. The bus passes through amazing views of surreal snow-covered forests, lake, and mountain views. Even though I was sleepy from tiring flights, I didn't have the heart to sleep because of the scenic views.
On our recent trip to Niseko, we took a private transfer from Wing Taxi Hokkaido (₱10,516/van) to Niseko and a Hokkaido Resort Liner ski bus (₱1,893/person) days later to Sapporo. The van can fit up to 9 people and it took us around three hours to get to Niseko. We took a private transfer for convenience so that once we got to the New Chitose airport, we would depart immediately for Niseko. If we took the HRL bus, we would have to wait for the fixed schedule and you usually have to take into account delays with this option. At least with the van, the company will take into account all our information and will be at the arrival gates once we arrive.
For the trip to Sapporo (Hirafu Welcome Center Niseko – Sapporo), we took the bus since we weren't a hurry to reach our next destination. The bus was really spacious and it had two stops – Rusutsu and a rest stop. This time our stop in Sapporo was at Sapporo Excel Hotel Tokyu as our accommodation in Sapporo was nearest to this designated hotel.
Where to stay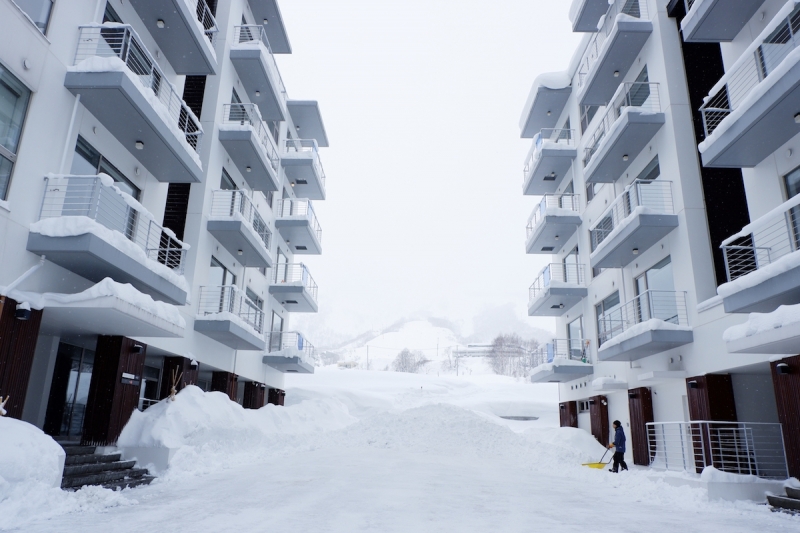 Niseko consists of four major ski resorts – Grand Hirafu, Hanazono, Niseko Village, and Annupuri. On both trips, I stayed at Grand Hirafu, which is the biggest ski resort and has the liveliest town atmosphere of them all. Hirafu is where all major stops of transfers and shuttles and tourism activities are the busiest. Here are the accommodations that I've stayed at: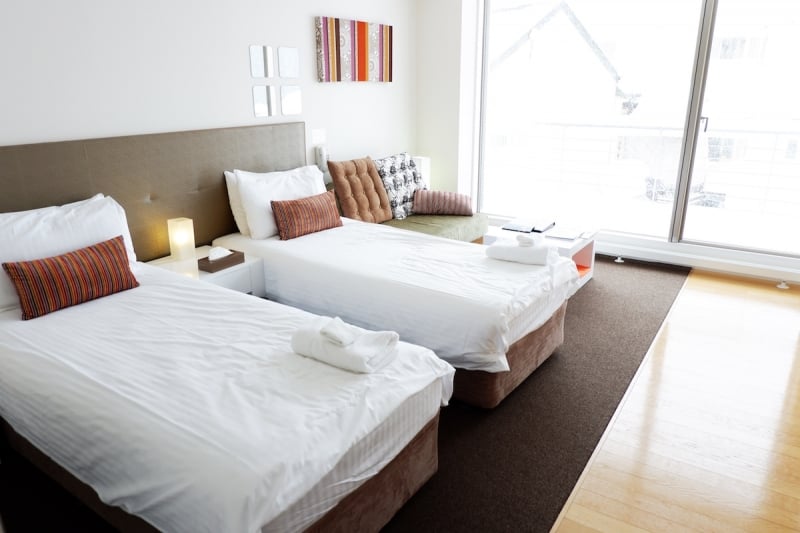 Niseko Central's Yama Shizen – Niseko Central is the largest accommodation provider in Niseko. It offers 200 luxury properties in the heart of Hirafu to suit guests' preferences. We stayed at its award-winning apartment condominium, Yama Shizen. The homey vibe and the snowy balcony outside made it a very cosy stay for us. With comfortable beds and a kitchenette, we had everything we needed to make our stay memorable. Yama Shizen along with other properties of Niseko Central are serviced apartments.
The staff is there to accommodate you with all your needs during your stay. Yama Shizen is conveniently located as well as we were able to find nearby convenience stores, major bus stops, and popular lifestyle hubs. Yama Shizen requires a two minimum night stay and average rates start at ₱19,500+ (¥40,000) during winter season.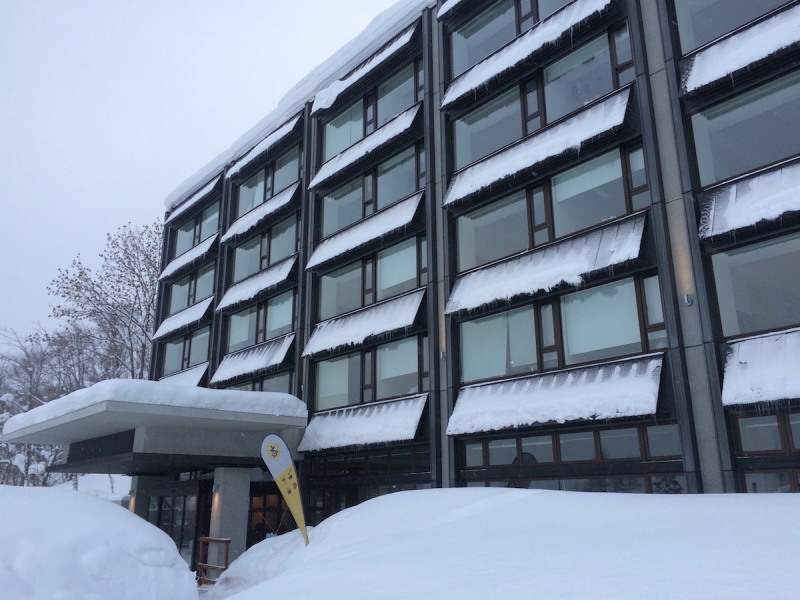 Ki Niseko – Ki Niseko is the best hotel I've ever stayed at in my entire life so far. It's a world-class hotel that infuses Japanese discipline and sophistication. The staff really makes sure that you have an unforgettable stay and that the investment you made during your stay is worthy. I stayed here during my first trip back in 2016 and our second night on our recent trip last Jan 2018. Ki Niseko is a ski-in and ski-out boutique with amazing rooms that have views of the Grand Hirafu resort and Mt. Yotei when visible. The amenities are complete and luxurious worthy of a 5-star rating. It has its own ski valet which guests can freely use. You can literally ski-in and ski-out of this hotel as the Grand Hirafu lifts and gondola are just a slide away.
Their in-house renowned Chef Maeda also prepares the most scrumptious meals for guests using local produce that blew our taste buds away. On average, staying in a hotel room at Ki Niseko starts at ₱18,000 but if you're lucky and catch very good deals online, you can stay for at least ₱9,000.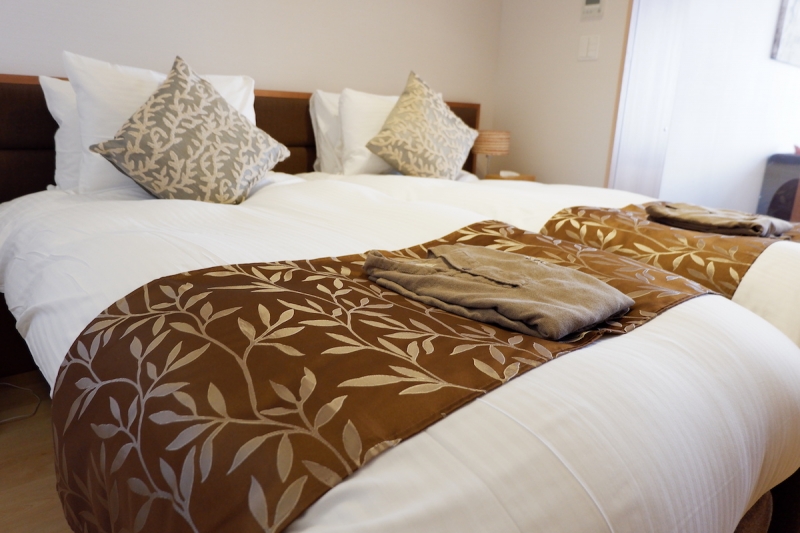 Accommodations in Niseko especially during winter are very expensive if you choose to stay in any of the major ski resorts and close to central locations like Hirafu town. You can find mid-range priced accommodations like hostels and guesthouses mostly in Moiwa and Kutchan, but these locations require around a 10-15 minute taxi, bus, or shuttle transfers to reach popular or central attractions. Even though these are hostels and guest houses, on average, rates start at ₱4,000+ per person per night.
Niseko is an international ski destination and around a three-hour ride away from the central city. If you'll visit, expect that prices are higher than the usual. Hostels and guesthouses that you can look into are Hooting Owl Lodge, The Lodge Moiwa 834, Hirafu Backpackers, and Stoked Niseko Hostel.
Transportation in/around Niseko
There are a lot of transfer options available in and around Niseko. If you're visiting in winter, make use of the free shuttles available in major ski areas.
Free shuttles – A lot of ski resorts and hotels provide shuttles that pass and halt at major bus stops in and around Niseko. You can actually study the stops and make routes of your own so that you don't have to pay for any transfer. Shuttles arrive every 15-30 minutes. Here are some free shuttles you can look into: Hanazono Shuttle Bus, Grand Hirafu Shuttle Bus, Niseko Village Winter Shuttle Bus, Moiwa Ski Resort Free Shuttle, and Ki Shuttle. We only maximized the use of the Ki Shuttle but at the Hirafu Intersection bus stop, a lot of skiers and snowboarders were making use of the Grand Hirafu, Hanazono, and Moiwa shuttle vans. It looked packed because some tourists take their ski equipment with them. If you're staying in the Hirafu area, make use out of the Grand Hirafu and Hanazono free shuttle vans.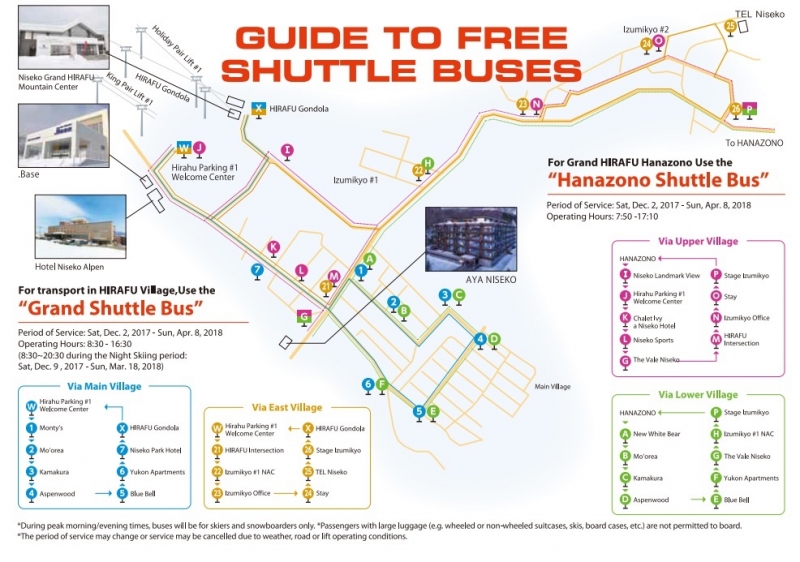 Niseko United Shuttle – This bus service connects ski resorts and Kutchan town every day. If you have a Niseko United All-Mountain Ski Pass, this shuttle is free. But if you'll be using the bus for point to point locations, respective bus fares are applied. The amount is paid to the bus driver directly upon drop-off at the destination. My mom and I were supposed to use this bus to visit Milk Kobo near the Niseko Village. We waited for the designated bus at the Hirafu Intersection stop but the time for the bus to arrive indicated on the timetable wasn't met and we were freezing our asses off at the stop so we just walked to a nearby convenience store and bought food there. The staff at Yama Shizen informed us that during peak season, the buses are usually late and don't adhere to the fixed timetable. Bus fares can range from ₱73+ to ₱244+ (¥150 to ¥500) depending on distance. For the free shuttles and Niseko United Shuttle Bus, there is a live shuttle tracker via the Niseko Tourism app so that you're aware where your preferred buses are en route in real time.
Private Taxi – This is the most convenient and expensive option for transfers in and around Niseko. When we got back to our hotel, we asked how much it would be to take a taxi from Hirafu to Milk Kobo and we were informed that it would cost us around ₱1,500+ per way. That was just a bit too expensive. If we had more time and could have handled the cold more, we would have waited for the bus. You can book a taxi in Niseko via the Taxi Caller App (Sprint Taxi) or your accommodation's reception.
Where to eat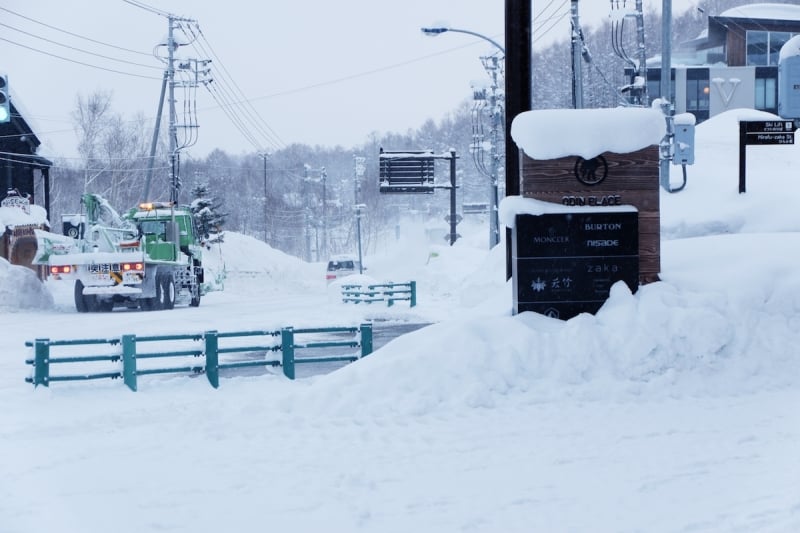 Although Niseko is a Japanese destination, when you get there, it doesn't feel as Japanese as it is in Tokyo or Osaka. It's similar to the vibe that we feel in El Nido or Boracay where the populous is mostly made up of international tourists. It's the same for Niseko. During my trip back in 2016, I felt like I was in Switzerland or Aspen because most of the tourists were Caucasians. On our recent trip, we were able to come across a lot of Australians and were able to trade pleasantries with a few Filipinos too.
There were Japanese locals and tourists but most people working and touring there were Europeans and travellers from Australia. That's why the language barrier is almost non-existent in Niseko. I remember during my first trip to Hokkaido when I visited a ski resort in Otaru (Snow Cruise Onze) and told the manager about my visit to Niseko and he said, "Niseko. Not Japan. Too many foreign workers and tourists". This may be the opinion of that manager but I still felt the Japanese vibe in Niseko. Everything was clean, organized, efficient, and orderly. The amenities were world-class and the people were disciplined. I feel that's the reason why Niseko is so alluring, it's like you get a bit of the best of different cultures in a winter setting.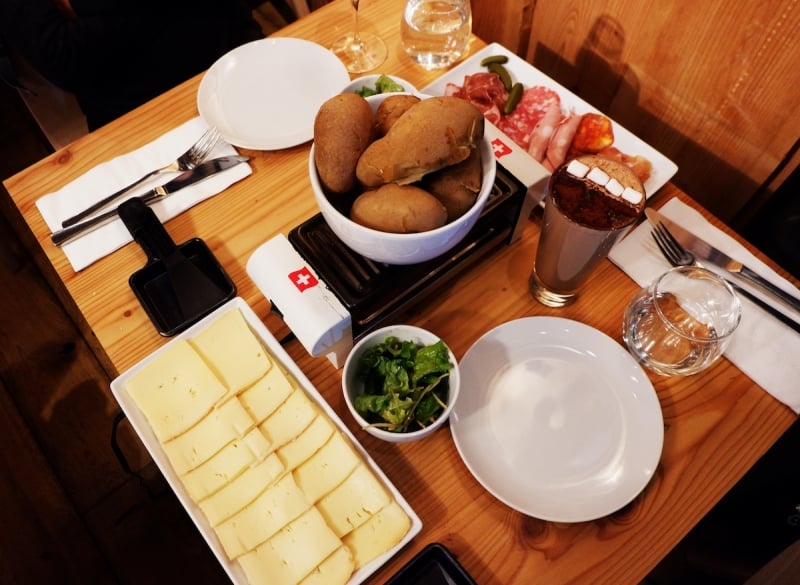 Since Niseko is an international ski destination, there are so many varieties and options for dining. Since you're in Japan and you're probably expecting to eat a lot of Japanese food, Niseko has a lot of restaurants for that. But please note that prices are more expensive in this region compared to eating probably the same meals in Sapporo.
Here are just some of the places I ate during my trips to Niseko and a few we wished we could have eaten at:
Rakuichi Soba – This is one of the most popular restaurants in Niseko because Anthony Bourdain featured it in his show, No Reservations. It has gained a cult following for its soba craft ever since and is usually fully booked months in advance. Locals say that you need to reserve six months in advance to guarantee a seat. Its location is in the middle of a forest in a wooden aesthetic and can only seat a total of 12 people. We weren't able to eat here because I inquired late and it was fully booked during our stay in Niseko.
Milk Kobo – Known for its local farm dairy, Milk Kobo serves the best cream puffs and ice cream in town. We wanted to try these along with the cheese tarts and a meal at Prativo but we couldn't handle the cold while we were waiting for the Niseko United Shuttle and had no more time in our itinerary to visit this place.
Ezo Seafoods – Just like Rakuichi Soba, this restaurant was fully booked during our stay. My sister was able to try a take-out platter from Ezo Seafoods & Oyster Bar during her Jan 2017 trip and she said it was the freshest and best seafood she has ever eaten. The most affordable take-out platter is ₱9,620+ (¥19,700 +8% tax). If we could have reserved seats, the bill would be much cheaper. You'll eat the freshest fish, crab, oysters, and many more at this Omakase style restaurant. The seafood is sourced daily from Sapporo wholesale markets.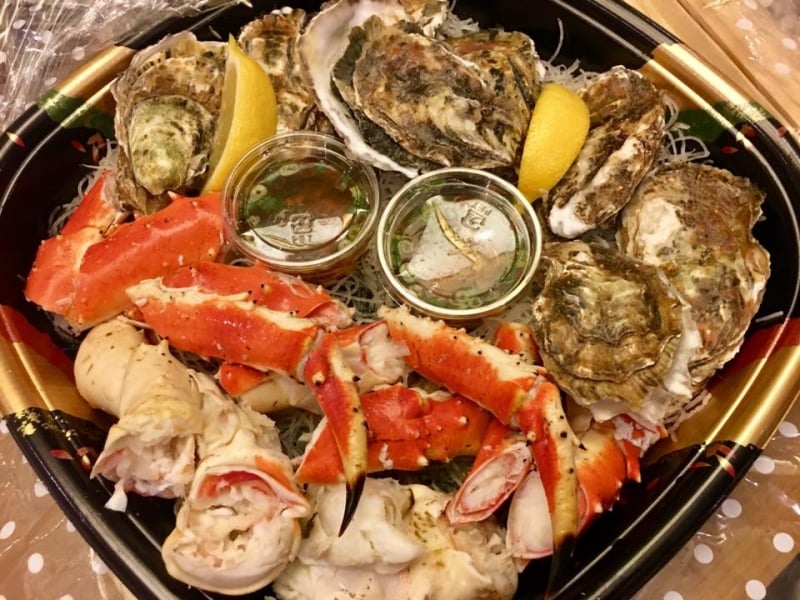 Odin Place Niseko – This is your one-stop Apres-ski (After-ski) complex. In the heart of Hirafu stands Odin Place Niseko, designed by renowned Apple architects, a lifestyle hub where Niseko tourists can eat and hang out before, during, or after a long winter's day. The mini-mall like structure has a bistro & bar, bakery, Alpine cuisine restaurant, luxury winter apparel, real estate and tour receptions, and a Michelin-approved Japanese restaurant. My mom and I had the chance to experience an indulgent breakfast at Musu bistro, takeaways at Koko, dinner at the Alpinist, and a night cap at the Musu bar.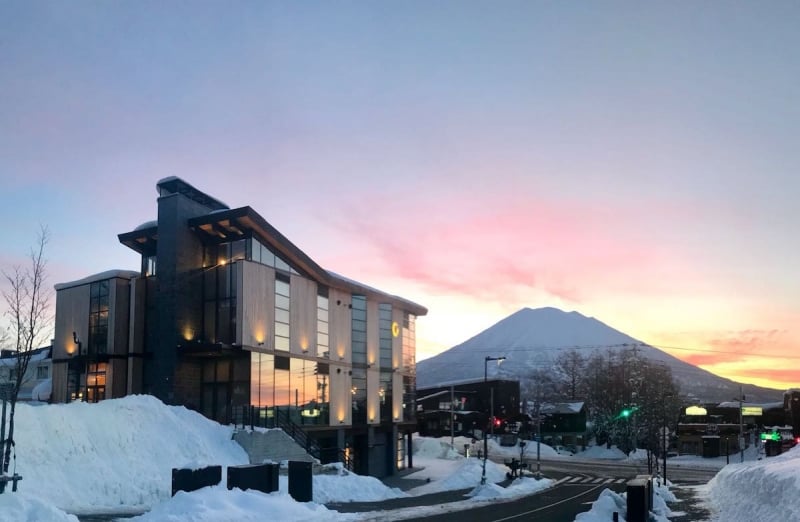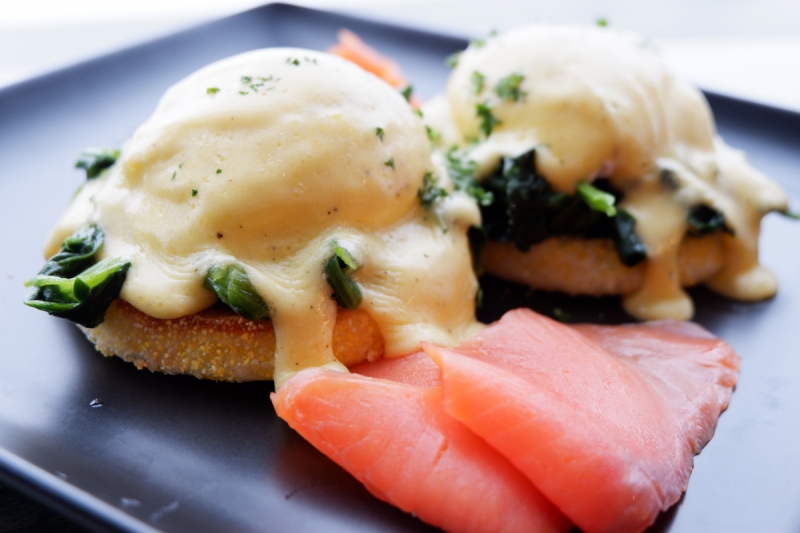 The Bénédicte is delicious and divine while the pastries from Koko were freshly baked. During our last night in Niseko, we had the best quality Raclette spread at the Alpinist and had an amazing and quick night cap at Musu. The vibe at night dramatically changes from the morning where you just relax, celebrate, and enjoy the day that was. The atmosphere was inviting and amazing. This is definitely a worthy Apres-ski hang-out. It tends to get packed so make sure you make a reservation. Rates are fairly priced and I would compare it to eating out at restaurants in Ayala malls or BGC.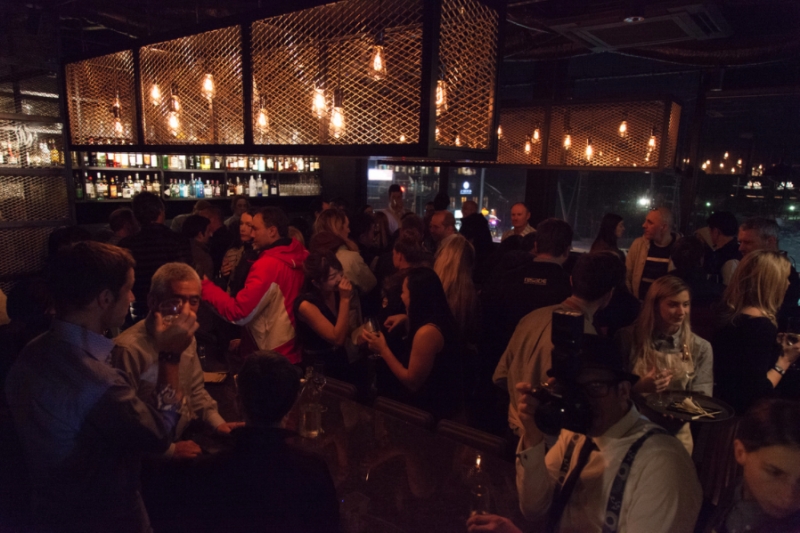 An Dining Café & Bar at Ki Niseko – I've stayed at Ki Niseko twice and I have much praise for their in-house restaurant, An Dining. The selection is so fresh and gastronomic. In my entire life so far, I've had the best breakfasts here. The wasabi and Hokkaido butter are so fresh and the slow braised Ebetsu black pork served with Kutchan mashed potato was to die for!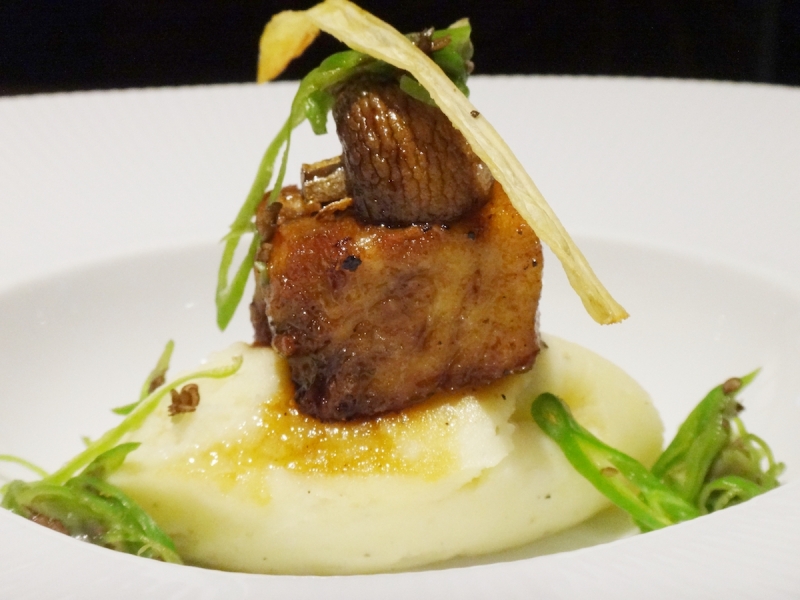 Even if you're not staying at Ki Niseko, you can still eat at An Dining. You can even catch a free Ki Shuttle from the Hirafu intersection bus stop if you're interested in eating at this amazing restaurant. The breakfast buffet is priced at ₱977+ (¥2,000) while the dinner courses start at ₱4,300+ (¥8,800).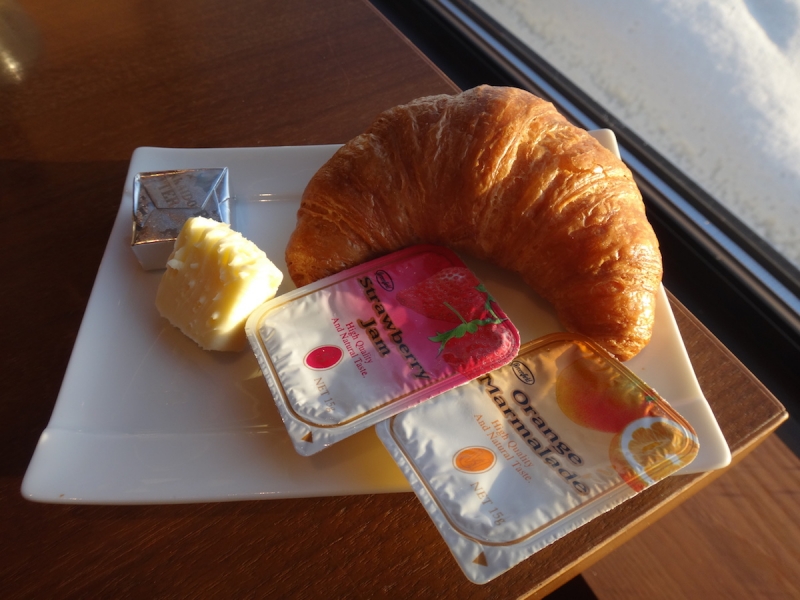 Seicomart Hirafu – In Japan, convenience stores are always a go-to for us. It is the most affordable option but the quality of the selections is just as good as eating out in restaurants. This holds true as well in Niseko where you can find a Seicomart in Hirafu. During our recent stay, we went there around three times and purchased Onigiris, Sushi platters and bento boxes, Sapporo beer and wine, and even strawberries. Transfer and drop-off at Hirafu Intersection bus stop and the Seicomart convenience store are just a few seconds walk away.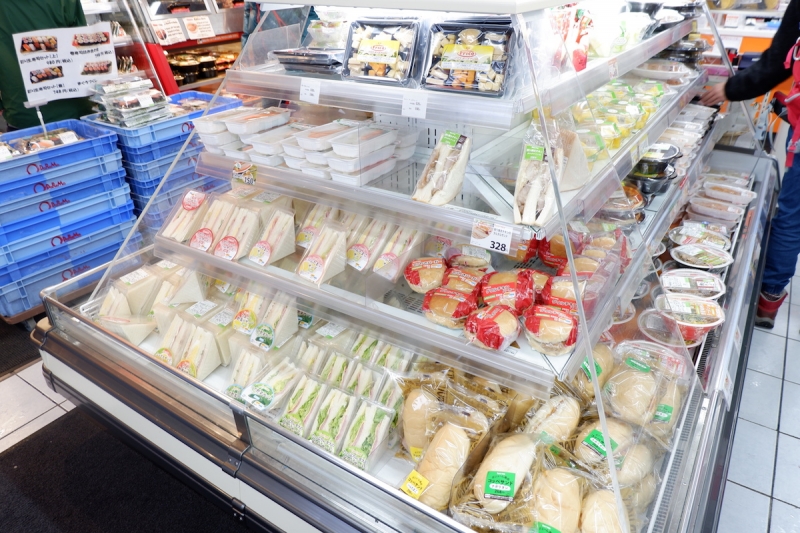 Food Vans – Outside Seicomart and near the Hirafu Intersection bus stop, you'll find a lot of food vans selling grilled oysters, pizza, sandwiches, curry rice, ice cream, and many more. There are seated areas outside the vans but if it's pouring down snow, it's a bit hard to eat there. We weren't able to buy anything from these vans because we maxed out at Seicomart but there were a lot of people lining up at the Taj Express Curry van.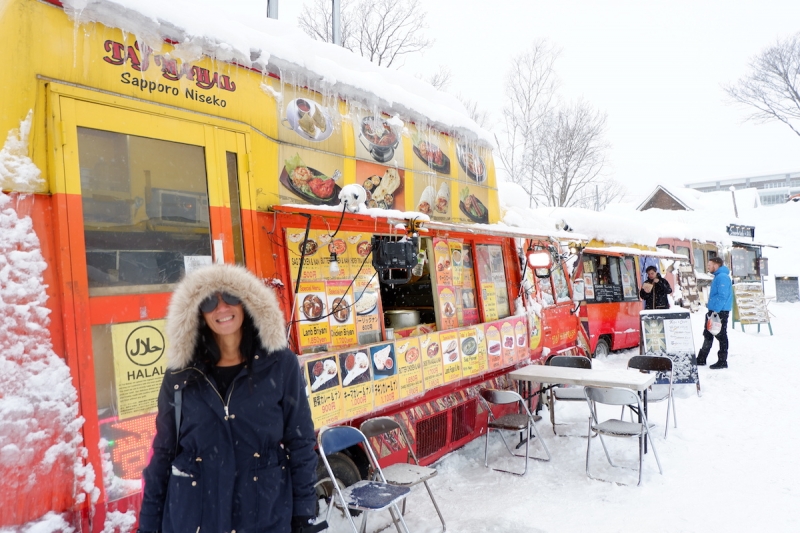 For more wine and dine options in Niseko, visit Wine & Dine Niseko.
Winter activities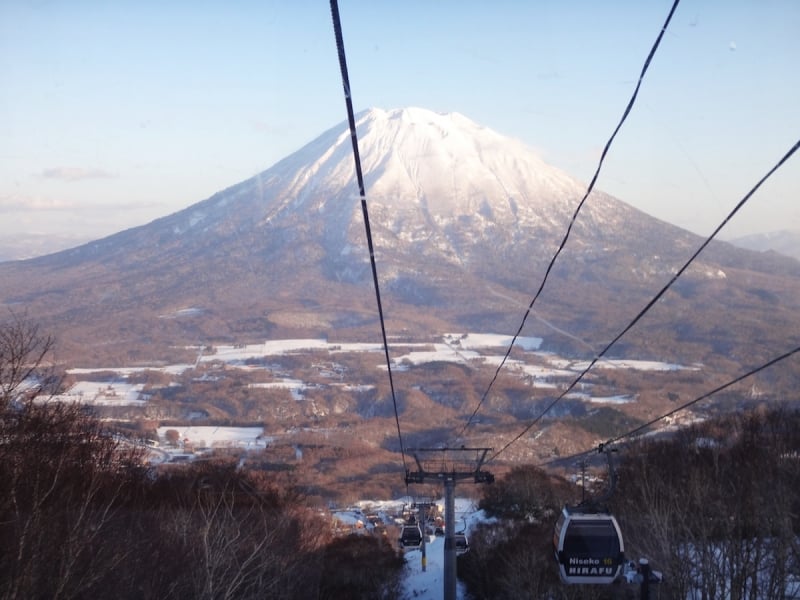 Niseko is at its busiest during winter so there are so many activities that every kind of tourist can do. Whether you're a winter sports enthusiast or looking for family-friendly activities, there's something for everyone. Here are some of the winter activities that I've experienced during my trips to Niseko: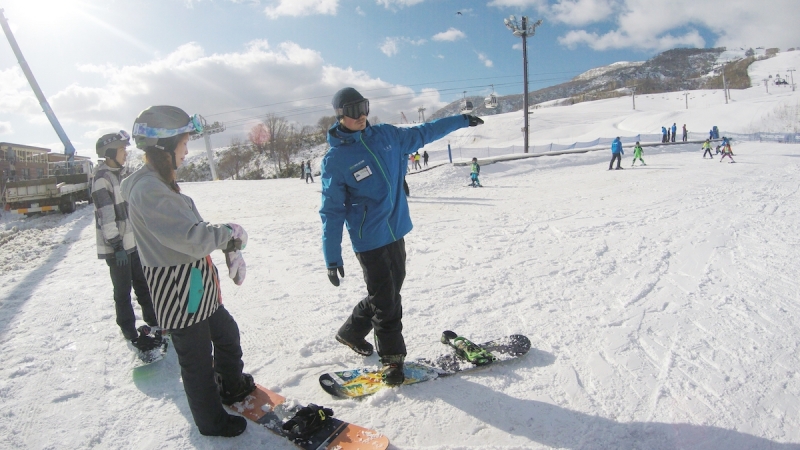 Snowboarding – During my first trip to Niseko, I tried snowboarding for the very first time. I joined a half-day group lesson with Go Snow. It was a tiring, overwhelming, and difficult experience but definitely worth it. The basics were taught by a Polish winter sports enthusiast who has been teaching skiing and snowboarding in ski resorts all over the world. The lessons had a lot of balance, falling, sliding, and laughter. It was definitely fulfilling to be able to accomplish a slide well-balanced. Half day adult group lessons (whether skiing or snowboarding) lasts for 2.5 hours and costs ₱3,900+ (¥8,000).
I also rented a ski jacket, snow pants, snow ski boots, and a snowboard from Rhythm Japan for 1 day which cost me a total of ₱3,180+ (¥7,363) for everything.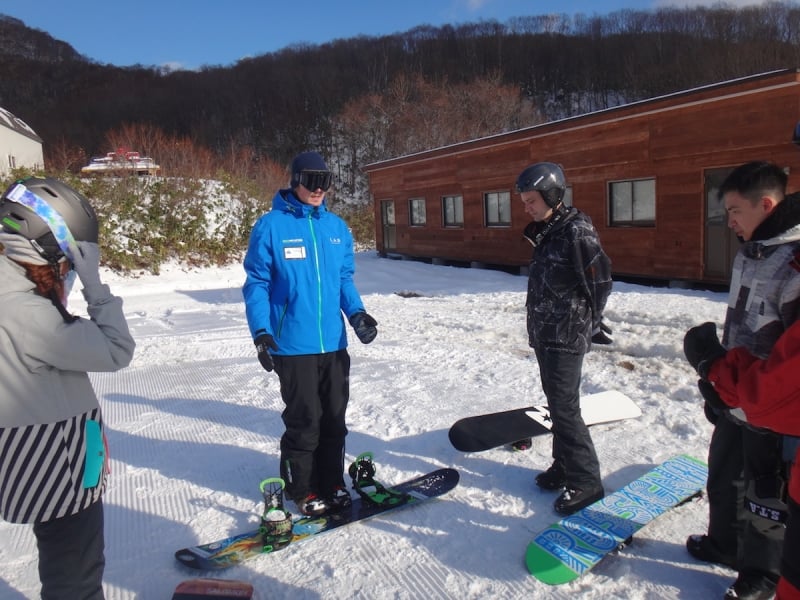 If you're not into winter sports, you can try these activities: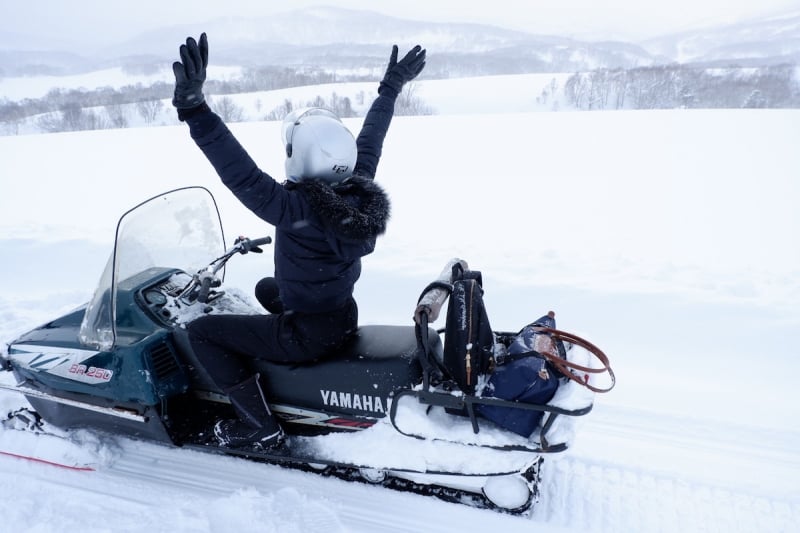 Snowmobiling at White Isle Niseko – This was the best winter activity I've ever experienced in Niseko. Snowmobiling through a vast view of white snowfields and frost-covered forests was mesmerizing and magical. White Isle is a YAMAHA-authorized snowmobile park where tourists use environmental friendly 4 stroke engine snowmobiles.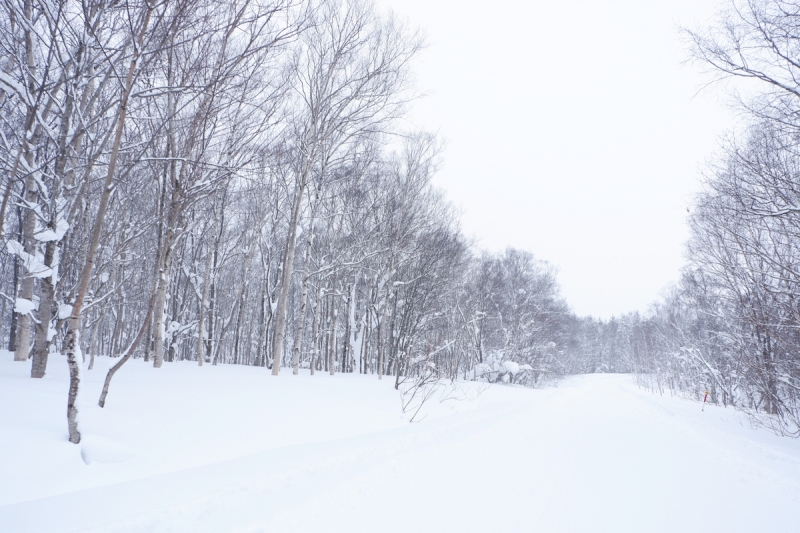 You can ride through river dams, powder runs, small ponds, and terrace fields. My mom and I booked the 60-minute large snowfield tour wherein we drove through open white spaces, forests, and a river. We had two stops. The first stop was atop a beautiful hill with an amazing winter view of a vast field backed against mountains. The tour guide offered us hot chocolate at this point too. It was so surreal!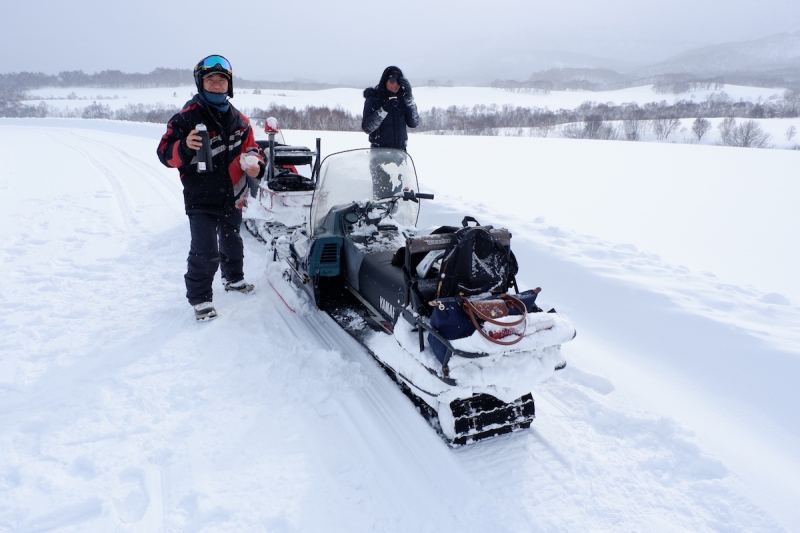 After driving through another run of forests, we stopped by a river where we sat down, walked through, and took photos in hills of dry and soft powder snow. It was amazing! THIS IS DEFINITELY A MUST EXPERIENCE if you're visiting Niseko! It was like we were riding through a snow paradise. Here are the snowmobile rates per person: 30mins forest course ₱3,400+ (¥7,000); 60mins large snowfield ₱7,400+ (¥12,000); 90mins super view ₱8,800+ (¥18,000). This rate already includes pick-up and drop-off at your accommodation or preferred destination. At White Isle, you can also try riding a banana boat (snow rafting) or snowkiting.
Snowtubing at Hanazono Resort – One of the most affordable winter activities you can try in Niseko is Snow Tubing at the Hanazono Tube Park. The rate is ₱1,220+ (¥2,500) per person and you can snow tube all you want for 60 minutes.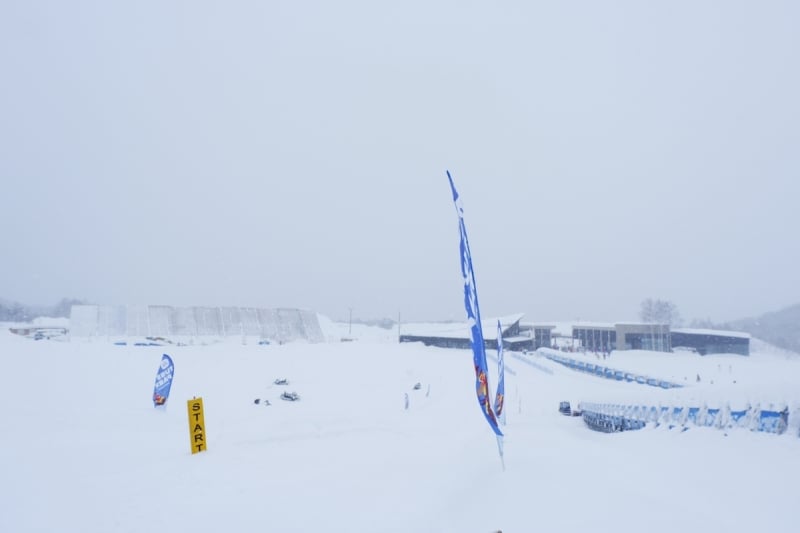 My mom and I tried this and we had an amazing time. We went on a weekday and most of the tourists were skiing and snowboarding so we had the tube park all to ourselves. We got our ticket inside the Hanazono 308 reception and walked towards the park. When we showed the attendant our ticket, he gave me and my mom one big salbabida each. We dragged it to the available conveyor belt going up so we didn't have to climb to the top of the slides.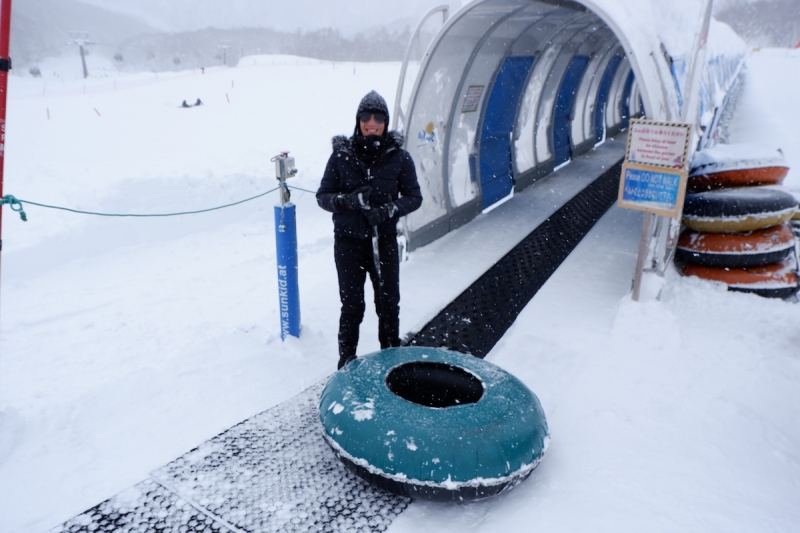 There were two slide courses – straight and curvy. It was really fun! But we went during a heavy snowfall downpour so as time flew by, it was a bit freezing to handle. The conveyor did help warm us a bit because we were enclosed in a tube going up for a few minutes before we had to go out through the slides again. This is an enjoyable activity and well-recommended. The Hanazono 308 lodge and food court is definitely a must visit too. It's like an Aspen lodge that you see in movies where all the college kids go to. It's hip and trendy.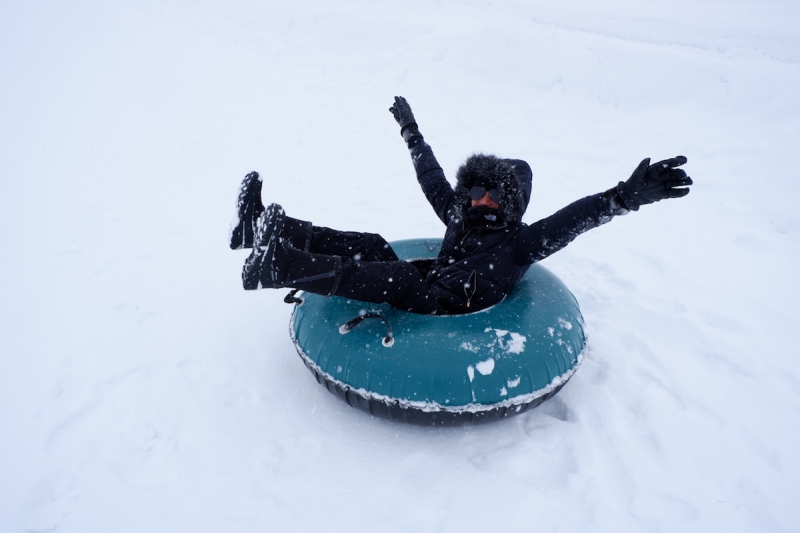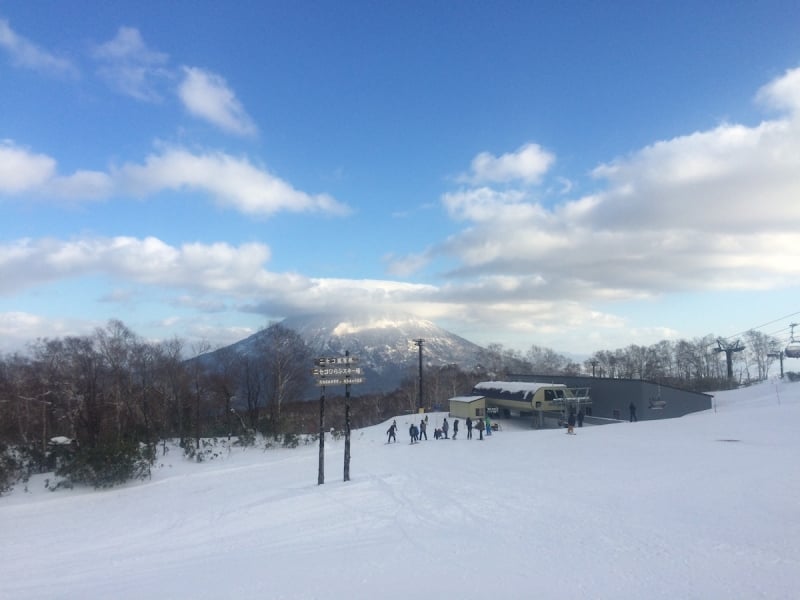 Grand Hirafu Gondola and Mountain Café – For an amazing view of Niseko and Mt Yotei, a gondola trip up Grand Hirafu Mountain is a must-do! You don't need to ski or snowboard to explore and enjoy the snow up top Grand Hirafu. A roundtrip Hirafu Gondola ride costs ₱879+ (¥1,800).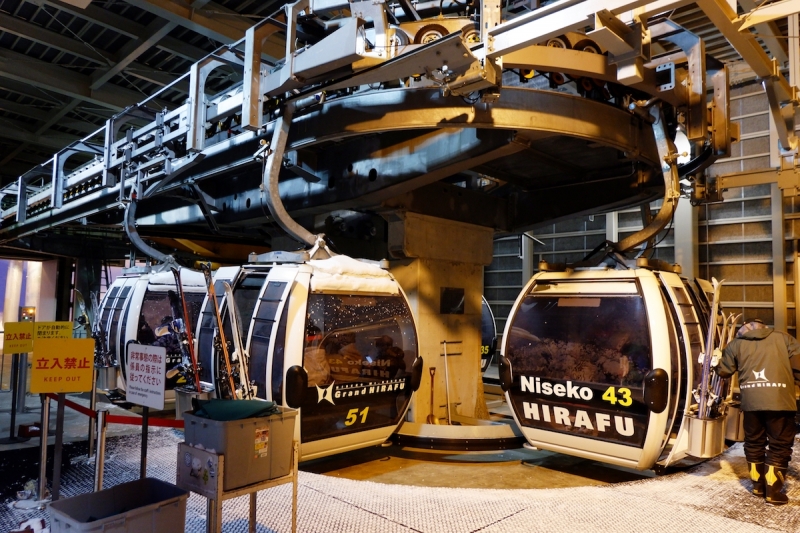 From the fantastic views inside the gondola ride to the winter walk you'll have at the top, you'll have a nice winter experience here with friends, family, or with kids. If you get a bit cold up there, you can hang-out and eat the Mountain hut café which is open until 4pm. There's free Wi-fi there as well. You can bask in the view of Mt Yotei if visible or just stare at skiers and snowboarders sliding down the slopes.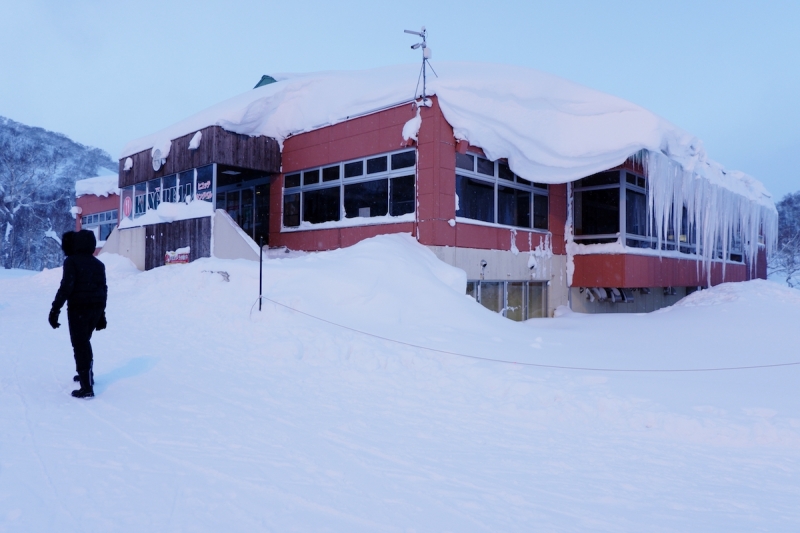 You can walk through the forests and even build a snowman. If there is no heavy snowfall, it would be best to visit in the morning so you can see an amazing view of Mt Yotei. You can also catch a dusk experience by riding up during the late afternoon so you can view skiers and snowboarders sliding down Grand Hirafu mountain at night.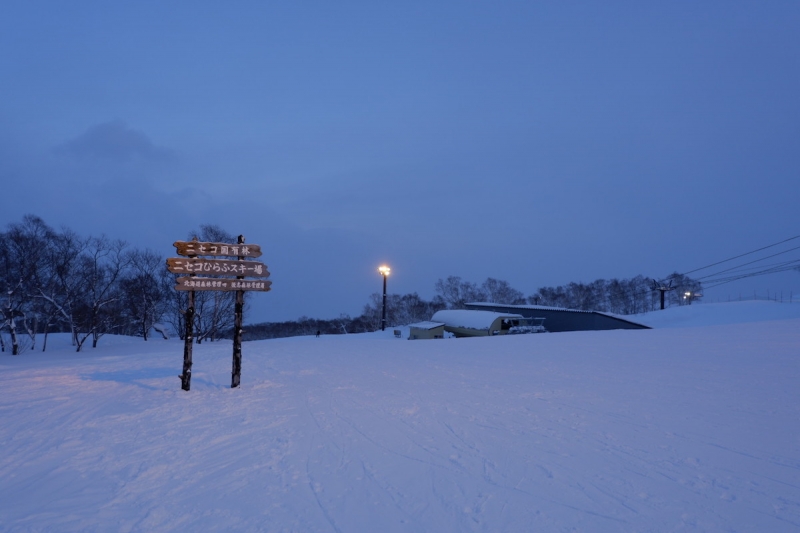 Other winter activities that you can look into are snow rafting, snow shoeing, reindeer sledding, and the NAC adventure park. For indoor activities, you can try local arts & crafts, soba making, powder yoga, Japanese calligraphy classes, glass blowing, and many more.
Also read: 10 Winter Experiences You Must Complete in Hokkaido
If you're interested in visiting during the off-season, Niseko is growing as a summer destination as well. You can try park golf, water rafting, cycling marathons or tours, tree trekking, ice cream making, and slack lining.
Planning your winter trip to Niseko
While planning for my Niseko trips, I found that there are only limited guides and blogs from perspectives of Filipino travellers. So I based most of my itinerary on available tourist information. Here are a few websites and apps that can help you make a productive itinerary for your winter trip to Niseko:
Niseko Tourism – Official tourism websites or pages are always a good idea when looking for travel information. The Niseko tourism website offers current basic information on all the things that you need to know to plan your trip to Niseko. You can search for available accommodations, wine and dine guides, current events, and many more. They also have an app where you can track live updates and trackers of the shuttle bus, trail and lift status, weather, Avalanche information, book taxis, and download tourist maps + guides. This is handy during your trip so you're updated on all things Niseko! at your fingertips. You can download the official Niseko Tourism app via Google Playstore and Apple iTunes store.
Experience Niseko – Just like Niseko Tourism, Experience Niseko is media outlet where you can find complete guides on different travel experiences in Niseko. I like this website because it has a lot of entertaining and informative articles on the region which are good references for itinerary making.
Rome2Rio – This is my favourite travel app. I always use this whenever I need any information on transportation. It keeps the order of my activities and locations organized and productive so that I can maximize every second of my travel experiences.
One of the top ski resorts in the world in recent years, Niseko boasts of heavy tourism activity amidst an amazing backdrop of snow and nature. Accommodations, tours, and other lifestyle hubs keep developing each and every year for the growing number and variety of travellers.
Niseko is definitely a winter destination that is worth experiencing.
Are you looking for a new winter destination? Start planning your Japow adventure today!
Note: Philippine Peso amounts may vary depending on the exchange rate. As of March 2018, ¥1 = ₱0.49