A Xiamen Airlines aircraft crash-landed at the Ninoy Aquino International Airport on 17 August 2018 following a two-and-a-half-hour flight from Xiamen City in southern China.
Flight MF8667 was carrying a total of 157 passengers and eight crew members when the Boeing 737-800 swerved off NAIA's primary runway, 06/24, upon landing. Airport authorities reported that the aircraft had already been tracked circling Manila for about an hour, with an initial failed attempt to land recorded 15 minutes prior to the incident.
BREAKING: Xiamen Air #MF8667 Xiamen to Manila (Boeing 737-800 B-5498) appears to have suffered a runway excursion on landing in storms/heavy rain at MNL at 1555UTC after a period of holding & a missed approach. Reports of engine detached. Updates soon. | Photo via @jelof21 pic.twitter.com/0jJfdjKf00

— Airport Webcams (@AirportWebcams) August 16, 2018
The flight left Xiamen at 9.05pm on 16 August and was scheduled to arrive in Manila at 11.30pm. The aircraft eventually landed at 12.05am the following day with the crew immediately initiating evacuation procedures. According to the Aviation Safety Network, the incident was due to the then ongoing heavy thunderstorms in the city. During the incident, one of the plane's engines was detached from its wing.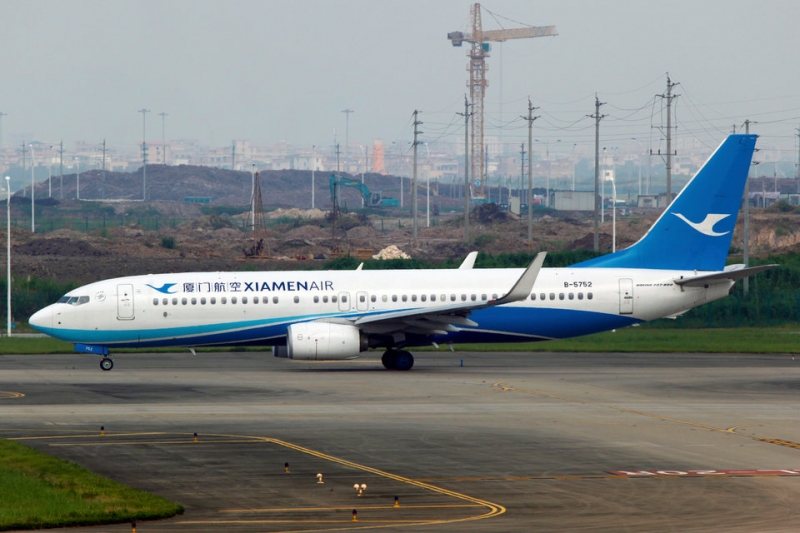 NAIA runway 06/24 remains closed until 7pm on 17 August. However, the rest of the airport will continue operations. Airport authorities confirmed that all passengers and crew members were unharmed, while in-depth investigations are still currently taking place.
Several hours after the incident, several flights have already been cancelled or diverted in NAIA, causing a massive passenger crowd to be stranded in the terminals. These flights are:
Terminal 1
EY 421 Manila – Abu Dhabi
SV 871 MNL – Jeddah
HX 781 Hong Kong – Manila
CI 711 Kaohsiung – Manila
CI 712 Manila – Kaohsiung
Terminal 2
PR 453 Manila – General Santos
PR 454 General Santos – Manila
PR 1845 Manila – Cebu
PR 1846 Cebu – Manila
PR 432 Manila -Tokyo (Narita)
PR 408 Manila – Osaka Kansai
PR 438 Manila – Nagoya
2P 2959 Manila – Cagayan de Oro
PR 300 Manila – Hong Kong
PR 301 Hong Kong – Manila
PR 422 Manila – Tokyo (Haneda)
PR 421 Tokyo (Haneda) – Manila
PR 507 Manila – Singapore
PR 508 Singapore – Manila
PR 418 Manila – Busan
PR 419 Busan – Manila
PR 1466 Manila – Incheon
PR 467 Incheon – Manila
PR 730 Manila – Bangkok
PR 731 Bangkok – Manila
TR 306 Manila – Hong Kong
TR 307 Hong Kong – Manila
Terminal 3
CX 908 Manila – Hong Kong
CX 912 Manila – Hong Kong
CX 906 Manila – Hong Kong
CX 907 Hong Kong – Manila
5J 272 Manila – Hong Kong
5J 273 Hong Kong – Manila
5J 5054 Manila – Hong Kong
5J 5055 Tokyo (Narita) – Manila
5J 929 Manila – Bangkok
5J 930 Bangkok – Manila
5J 110 Manila – Hong Kong
5J 111 Hong Kong – Manila
5J 112 Manila -Hong Kong
5J 113 Hong Kong – Manila
5J 014 Manila – Dubai
5J 115 Dubai – Manila
5J 805 Manila – Singapore
5J 806 Singapore – Manila
5J 188 Manila – Incheon
5J 187 Incheon – Manila
5J 487 Manila – Bacolod
5J 488 Bacolod – Manila
Diverted flights
PR 105 San Francisco – Manila – Diverted to Cebu
PR 103 Los Angeles – Manila – Diverted to Clark
PR 117 Vancouver – Manila – Diverted to Cebu
PR 115 San Francisco – Manila – Diverted to Clark
PR 119 Toronto – Manila – Diverted to Clark
PR 655 Riyadh – Manila – Diverted to Bangkok
PR 657 Abu Dhabi – Manila – Diverted to Saigon
PR 683 Dammam – Manila – Diverted to Bangkok
5J 187 Incheon – Manila – Diverted to Clark
5J 804 Singapore – Manila – Diverted to Clark
(Source: Manila International Airport Authority)
Also read: Great Developments That Happened to Philippine Airports Recently