We've heard many tips on how to cope with our quarantine blues. Stay away from the news, some suggest. Busy yourself in the kitchen, others advise. We're not here to downplay the situation — we're facing a global pandemic, after all! — but we're all about supporting you when it comes to your much-needed sanity breaks. One thing we've been adding to our daily quarantine routine? Yoga from home!
Also read: 6 Home Workout Activities to Keep You Fit Until You Can Finally Travel Again
Benefits of yoga from home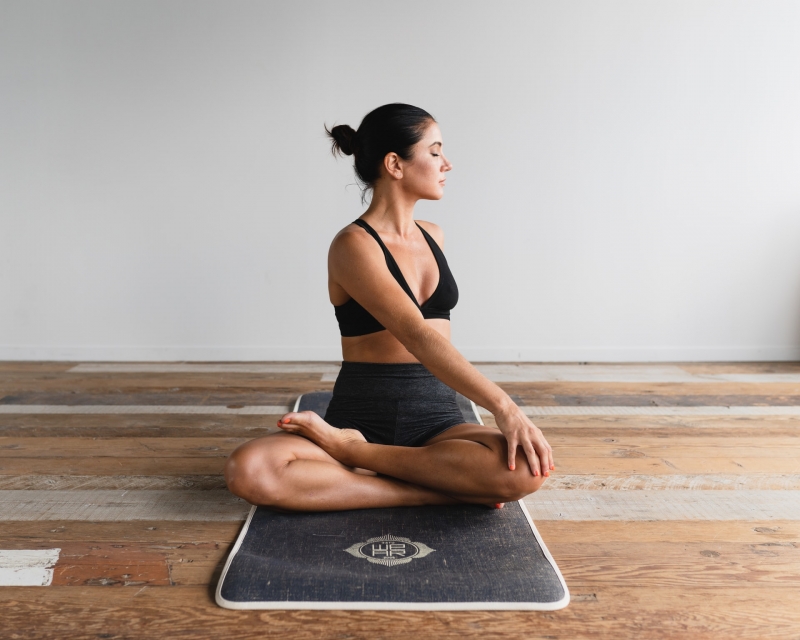 The reason why we're zeroing in on yoga per se is because of its huge mental and physical benefits. And during this crazy quarantine period, we definitely need to intentionally take care of our minds, bodies, and souls. 
Another reason why we're so into yoga is that anyone can do it! And with the blessing of YouTube, we can access great home workouts whenever we want. Here are some of our favourite yoga channels that you should definitely try out.
5 yoga channels on YouTube
1. Yoga With Adriene
Perfect for: Beginners
With a whopping 6.75 million subscribers, Adriene Mishler of Yoga With Adriene is certainly one of the most popular yogis on YouTube. A quick search into YouTube and you'll immediately land in one of her videos. In fact, her channel has been recognised by Google as the "most searched workout" in 2015! 
Calling Adriene a crowd-favourite is an understatement. She's become the go-to for people who are just starting out in yoga. She's grown quite a loyal fanbase as well — and it's not surprising why! 
With the online yoga community saturated with sculpted abs and açai bowls, Adriene is one refreshing character. She's honest about her lazy days; she does her sun salutations in her kitchen with her cattle dog, Benji, napping by her side. Adriene's unintimidating manner just welcomes everyone to join her practises — even when some viewers have to do downward dogs on makeshift yoga mats (read: towels and carpets).
2. Boho Beautiful
Perfect for: Nature lovers
While we can't go outdoors just yet, we can still enjoy picturesque views from our screens. Since starting Boho Beautiful six years ago, Juliana Semenova has inspired over a million subscribers with her travel yoga channel. For every upload, she takes her viewers around the most stunning natural views in the world. 
Sometimes, Juliana does a slow morning yoga sequence by the beach. Other times, she does handstands atop a mountain. On more intense days, Juliana opts for a yoga sequence fused with pilates — ideal for people who want workouts with quicker movements. Mixing yoga and pilates with stunning beach sceneries, this channel is relaxation (and a lot of sweat) in a bottle. 
As they are mostly travelling, Juliana and her husband Mark swear by the workouts they upload. According to them, doing two sequences per day keeps them fit and healthy on the road. Of course, they also advocate for healthy diets. Juliana and Mark are both vegan — they even upload vegan recipes from time to time.
3. The Yoga Room
Perfect for: Everyone who thinks they can't do yoga
Inclusivity is at the heart of The Yoga Room, a Texas-based yoga studio that joined YouTube in 2011. While most of its clients still mainly attend classes in person, The Yoga Room's channel uploads just enough free videos for everyone to practise yoga from home.
Drawing its values from ahimsa, an Indian principle that promotes respect for all living things, The Yoga Room creates yoga classes for every age, gender, and condition. In its YouTube channel, you will find yoga sequences for kids, plus-sized yogis, and people with mobility issues. Just in time for quarantine season, The Yoga Room uploaded a yoga sequence recently that was specially made for COVID-19 essential workers! 
Speaking of inclusivity, the teachers in The Yoga Room are of a diverse set, too! Keep the senior citizens at your homes healthy as they follow the movements of inspiring grey-haired instructors. 
4. Yoga With Tim
Perfect for: People looking for a full-body workout
Female yogis have been, without a doubt, dominating the online yoga scene. But, that doesn't mean men can't practise yoga too! Regardless of gender, everyone can definitely benefit from this workout. It improves strength, mobility, and vitality, after all.
To prove our point, we want to put the spotlight on Tim Senesi, one of the most followed yogis. His channel, Yoga with Tim, features yoga challenges that people of all ages and skill levels can try out. 
Aside from the fitness benefits of yoga, Yoga with Tim is a good channel for those needing a more balanced state of mind. Having suffered from depression in his college years, Tim is definitely no stranger to mental health issues. Yoga, he once said, helped him overcome his psychological challenges. With this, Tim started his channel for more people to have access to the mental benefits of yoga. 
Not sure where to start? We recommend Tim's 7 Day Quarantine Challenge — a full-body sequence that serves as a great yoga workout. 
5. MadFit
Perfect for: Audio geeks
We believe that yoga can benefit most people, but if you're looking for more variety in your workouts, then MadFit is the perfect channel for you. Like the rest of the YouTubers in this list, Maddie Lymburner of MadFit uploads mostly workout videos. Her YouTube channel has videos that range from yoga and stretches to HIIT workouts. 
Music lovers can turn to MadFit for their jam sessions, too. Maddie has created full-body workouts that groove to different pop songs such as Doja Cat's Say So, Justin Bieber's Intentions, and even BTS' ON.
Maddie has even more content rolling on her personal YouTube channel that goes by her name. There, she shares her healthy recipes, routines, and day-in-a life videos. From what we're seeing, this girl is the epitome of fitness is life.
Also read: 15 TikTok Users to Follow For a Dose of Entertainment
It's high time for us to get on our mats, lose all that Dalgona-induced weight and ease our quarantine anxieties with yoga from home. Namaste!