Contributed by bambamdxplorer
Hi y'all explorers!
When you think of going to Vietnam, I bet you'll have 2 places in mind – either Hanoi or Ho Chi Minh, but Vietnam has more to show off apart from those 2 major cities. In south Vietnam alone, you can't squeeze in all places of interest in 10 days, so to give you an overview, I've been to 4 towns/cities in the south of Vietnam which are Mui Ne, Da Lat, Nha Trang and Ho Chi Minh City. This journey is recommendable for Pinoy full-time employees who got an approved two-week vacation leave, just like me!
Also read: Backpacking Southeast Asia: 10 Days in 5 Countries with Just ₱25k (All-In)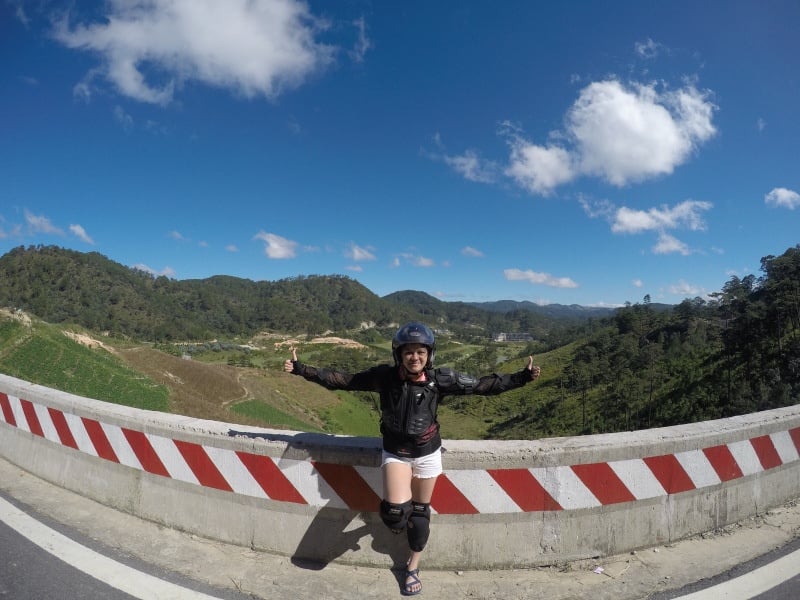 Let's make things sweet and simple, shall we? Here's the day to day itinerary, expenses and tips on how to maximise your 10-day stay in South Vietnam:
Day 1 – Arrival in Ho Chi Minh City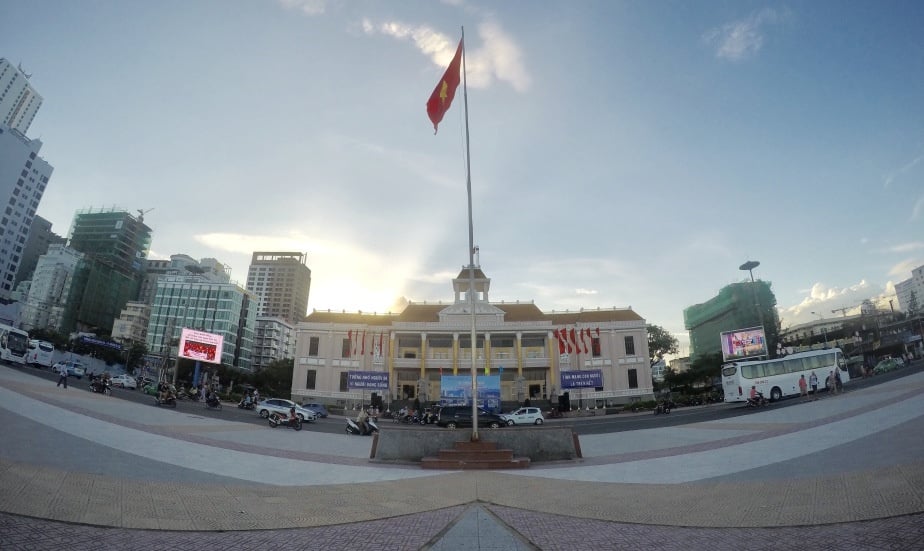 I decided to put HCMC in the last days of my itinerary since the ticket I booked to exit is HCMC to MLA. Upon arrival, I travelled from Tan Son Nhat Airport to District 1 Pham Ngu Lao via airport taxi.
Pham Ngu Lao is comparable to Khao San Road of Bangkok. It is the backpacker hub in HCMC. Cheap hostels and pubs flocked by backpackers all over the world are in this area.
Tips
• There's an available airport bus that arrives every 30 to 45 minutes that has multiple drop-off points to main districts of HCMC – from the Tan Son Nhat Airport to Pham Ngu Lao is only VND 40,000(₱100) bus fare.
• If you prefer convenience in a taxi, my recommendation is Mai Linh taxi (green taxi) because they are strictly metered so no scam and negotiation. Flag down rate is cheaper if you ride to regular taxi instead of the SUV type. Taxi fares start at VND 8,000-9,000 (₱25) for the first 0.5-0.8 km. Legal taxis should have a meter and a rate chart displayed.
Travel from HCMC to Mui Ne
Go to FUTA (Phuong Trang) Bus lines terminal and ticket counter at No. 272 De Tham Street, District 1, HCMC (Opposite of Allez Boo café). Across the ticket counter is the Van Terminal that will transfer you to the main bus terminal going to Mui Ne (Phan Tiet).
• Cost: (as of 2016) VND 120,000 (₱290)
• Travel time: 6hrs (Max 8hrs) with 2 stops (pee break & lunch)
• AVOID: Night Trip & Prepaid open ticket, because it may be expensive.
7.30am-1.30pm (6hrs) = Travel HCMC to Phan Tiet, Mui Ne.
1.30pm-2pm = Arrival in Mui Ne
Stay: 1 night Mui Ne Back Packer Village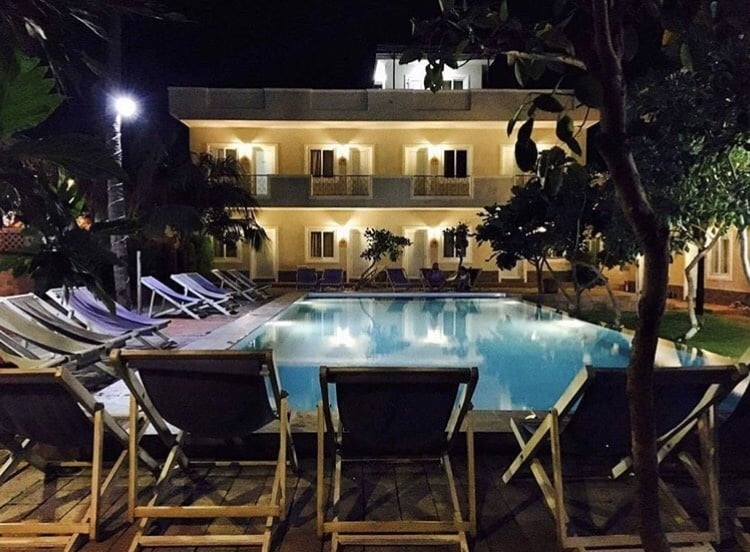 Address: 137 Nguyen Dinh Chieu, Ham Tien, Mui Ne Vietnam
Contact: [email protected]
Website: http://www.muinebackpackervillage.com/reservations.html
Cost: Dorm Bed/night Mixed of 6, VND 160,000 (₱390)
Start of activities: FREE TIME – swim in the beach / kite surfing / dine in a seafood restaurant along the street / souvenir buying / photo op / socialise or have pool party with other backpackers in Mui Ne Backpacker Village
Dine fresh seafood here after playing around the waves of Mui Ne beach.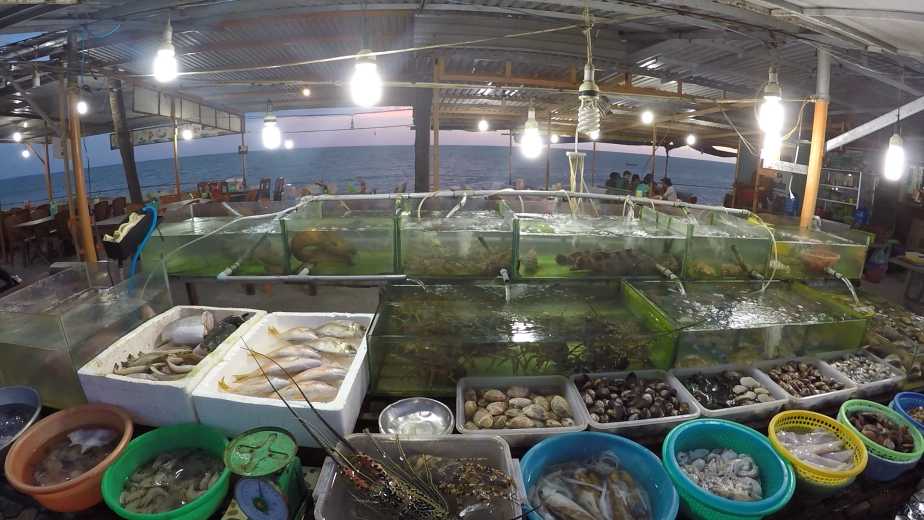 To do: Book Sunrise Tour in Mui Ne Backpacker Village reception area. The cost of Sunrise Tour with breakfast as of 2016 is VND 160,000 (₱390)
Tip: Do an advance booking of bus transfer from Mui Ne to Da Lat in Mui Ne Backpacker Village reception area. Bus fare is VND 92,000 (₱225). After the Sunrise tour, wash up, eat lunch and wait for the bus to pick you up in front of Mui Ne Backpacker Village at 12.30 pm.
Day 2: Mui Ne
3am-4am – Wakeup call and get ready for the sunrise tour at 4.30am until 9.30am.
Also read: The Sand Dunes in Vietnam is a Surreal Place You Have to Visit
Itinerary of Sunrise tour:
1. White Sand Dunes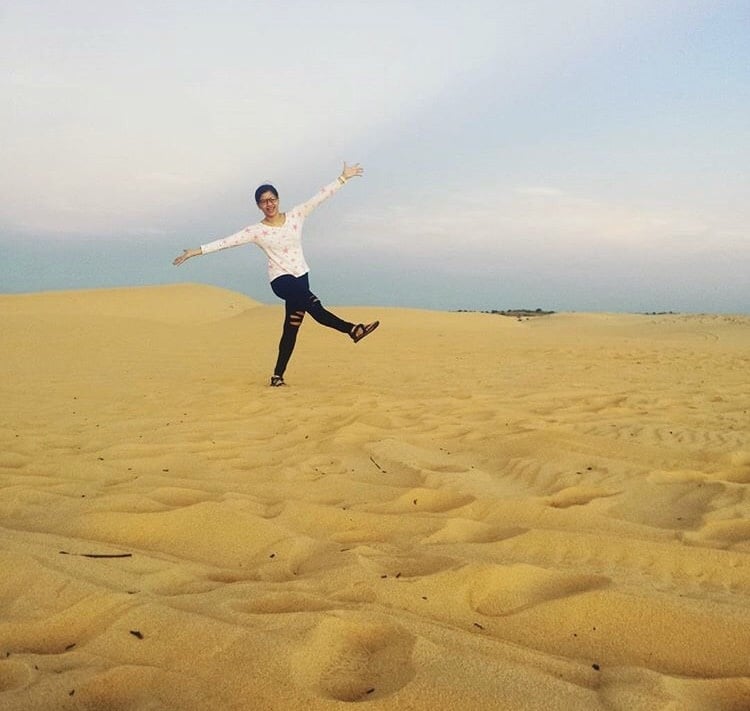 2. Red Sand Dunes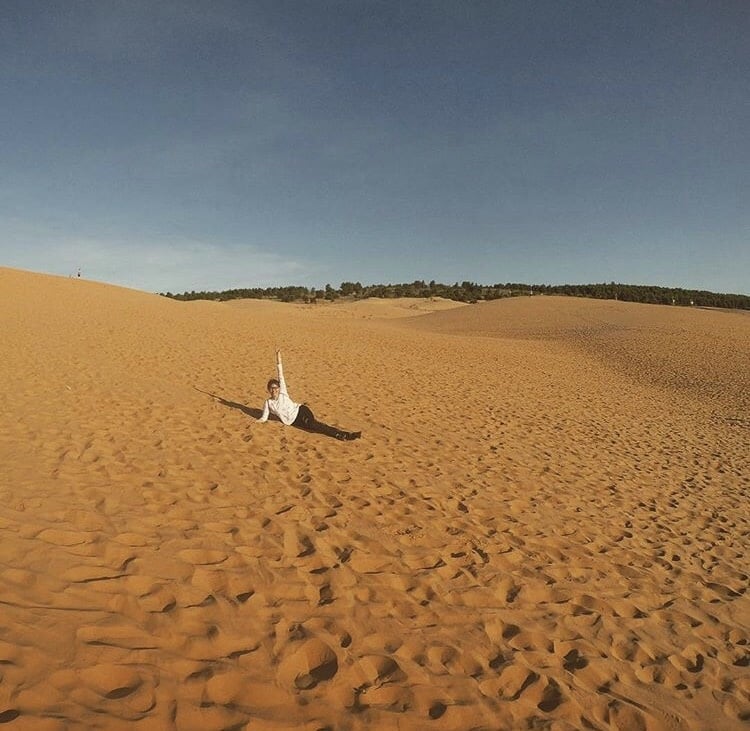 3. Fishing Village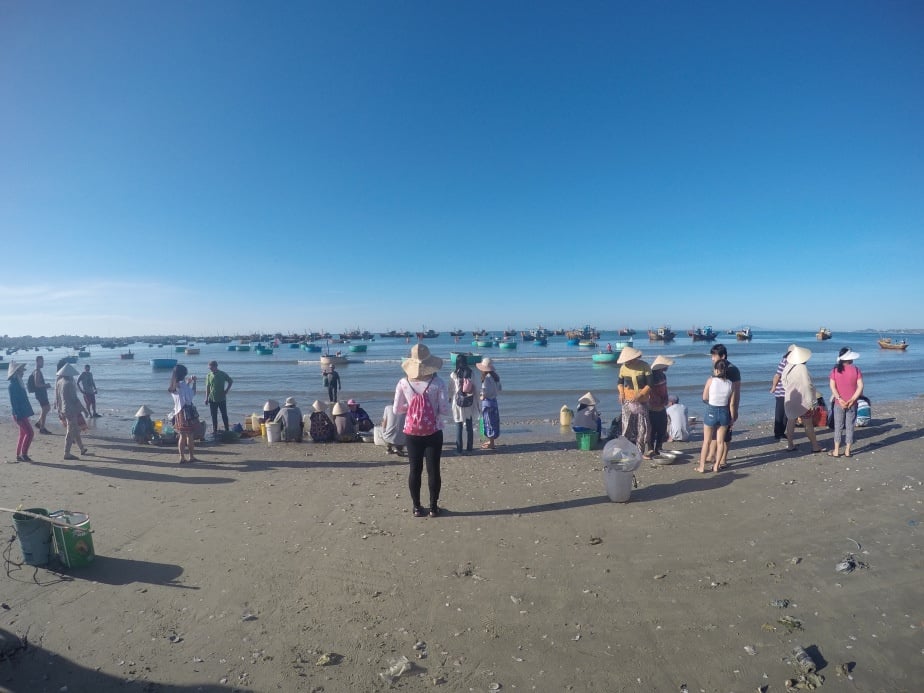 4. Fairy Springs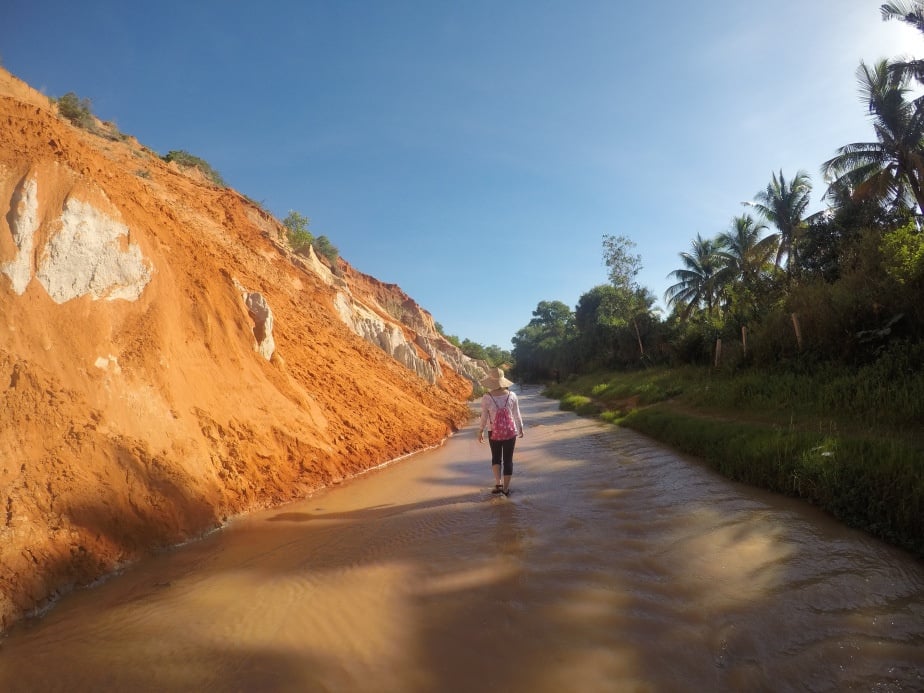 Optional: ATV Rides, 20 mins, VND 300,000 (₱660) or Sand Boarding US$ (₱50)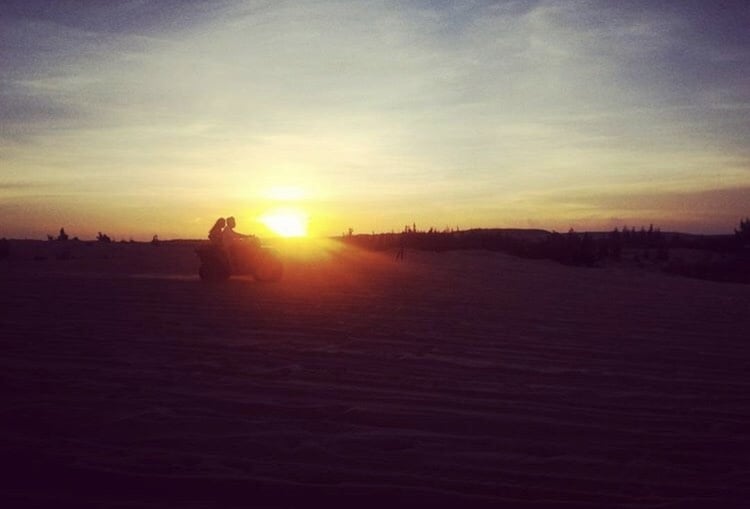 Tip: Wear a face mask, a pair of sunglasses, sunblock and keep yourself properly covered.
9.30am-11am – Tour wrap up, go back to the hostel, lunch, then wait for the bus transfer going to Da Lat.
Stay in Mui Ne for 1.5 days
Total estimated expenses ₱2,500
1pm – Travel from Mui Ne to Da Lat
Travel time: 4 to 5 hrs
Estimated arrival in Da Lat: 6pm
Stay: 3 nights in Da Lat Backpackers Hostel at 11 Hà Huy Tập, Phường 3, Dalat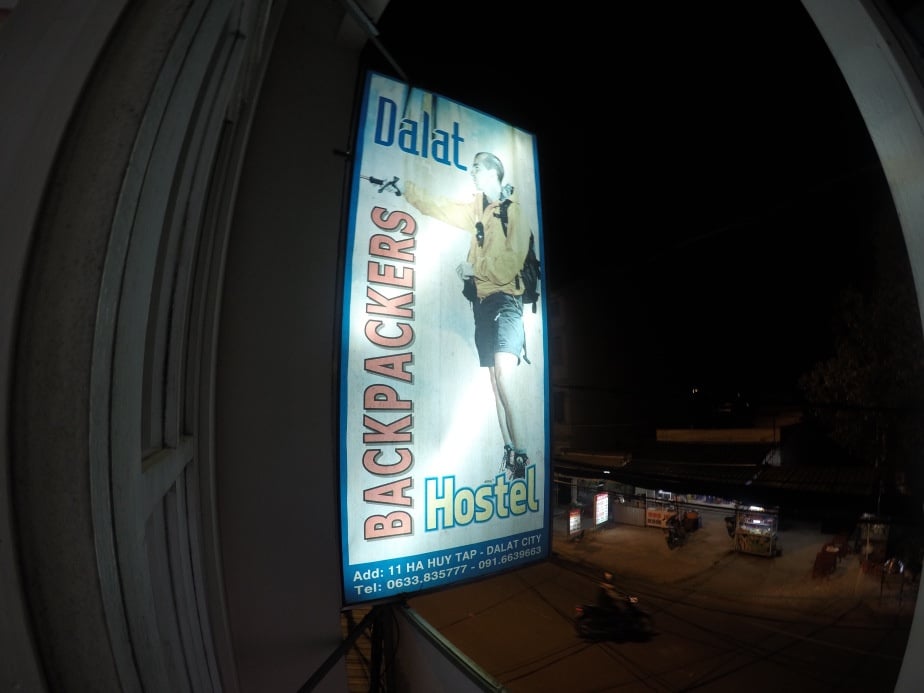 Location: 2 km from Da Lat Market and Da Lat Flower Gardens.
Contact: +84-63 3520 977 or email [email protected]
(You may email them to request to pick you up from the bus station)
Website: http://dalathostel.net
Cost: Female Dorm 4 bed with free breakfast and free dinner with 1 glass of beer upon arrival. $5/person (₱245)
To do: Dine with other guests in Da Lat Backpacker and then socialise with them on the roof for BBQ and beer.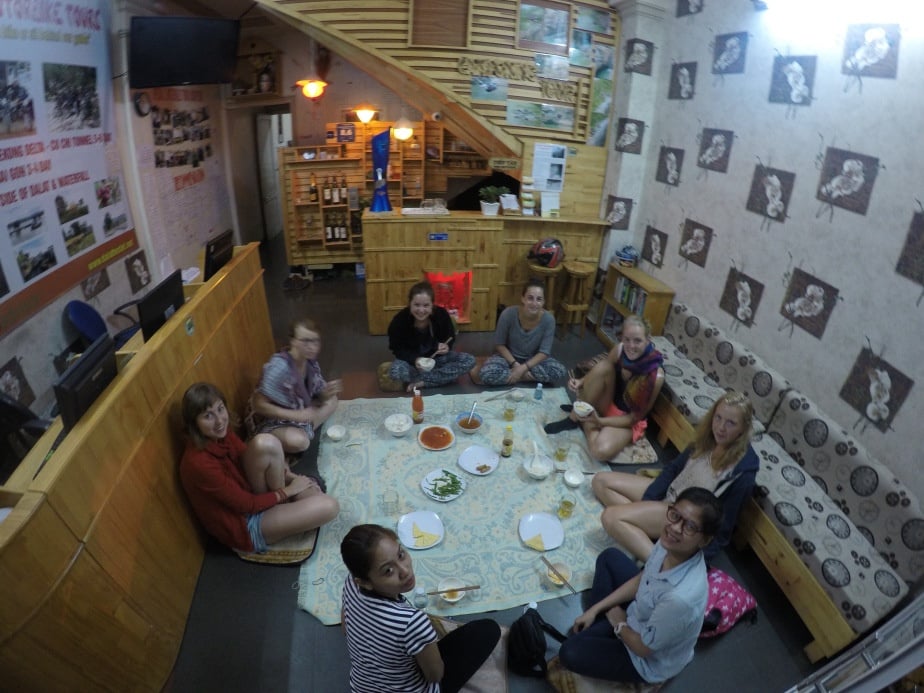 Me in reality: I slept early for tomorrow's new adventure.
Book: Whole day Easy Rider Tour via Motorbike. The cost is around US$25-36 (VND 625,000-900,000 / ₱1,215-1,700). You have the option to customise the tour itinerary, which I will enumerate in Day 3.
Day 3: Da Lat countryside motorbike tour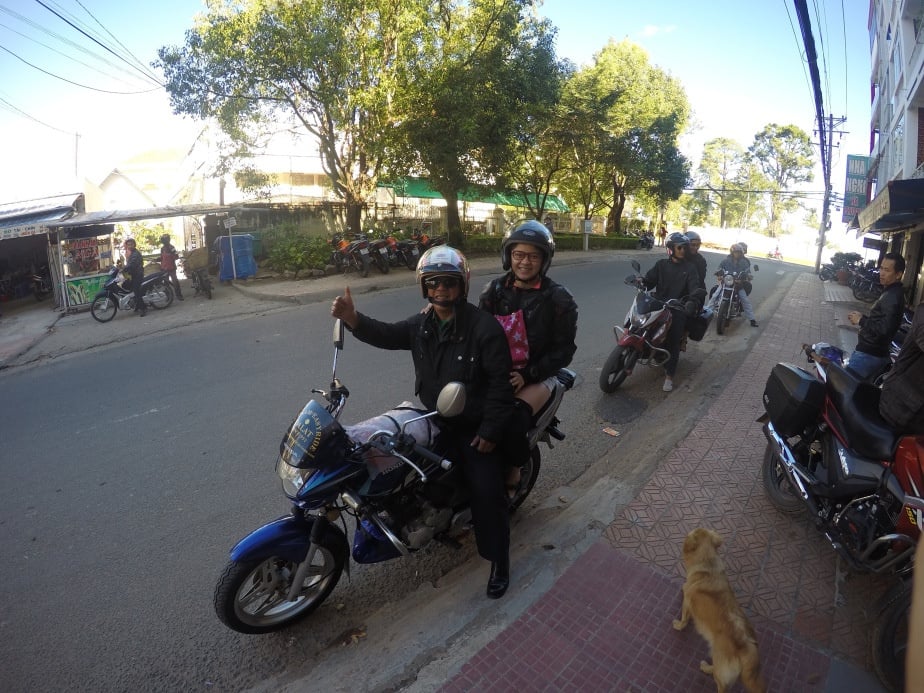 6.00 am – Wake up and Prep up
7.30 am – Avail the free breakfast
8.30 am – Start of Easy Rider Tour
So here is the customised tour we arranged for our Whole day Da Lat countryside motorbike tour.
1st stop: Tuyen Lam Lake or The Paradise Lake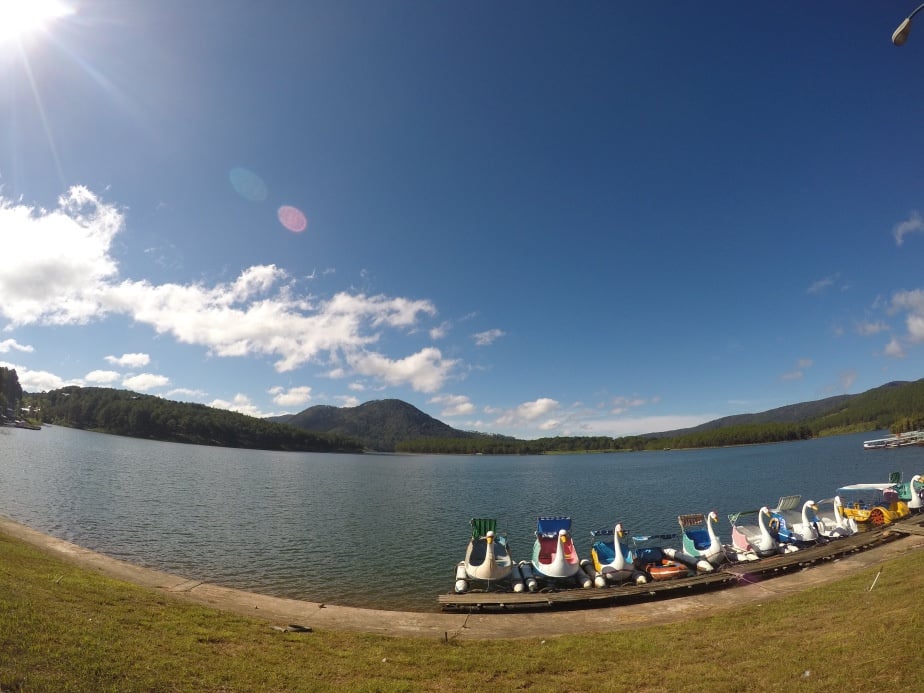 Just a stop over for photo op here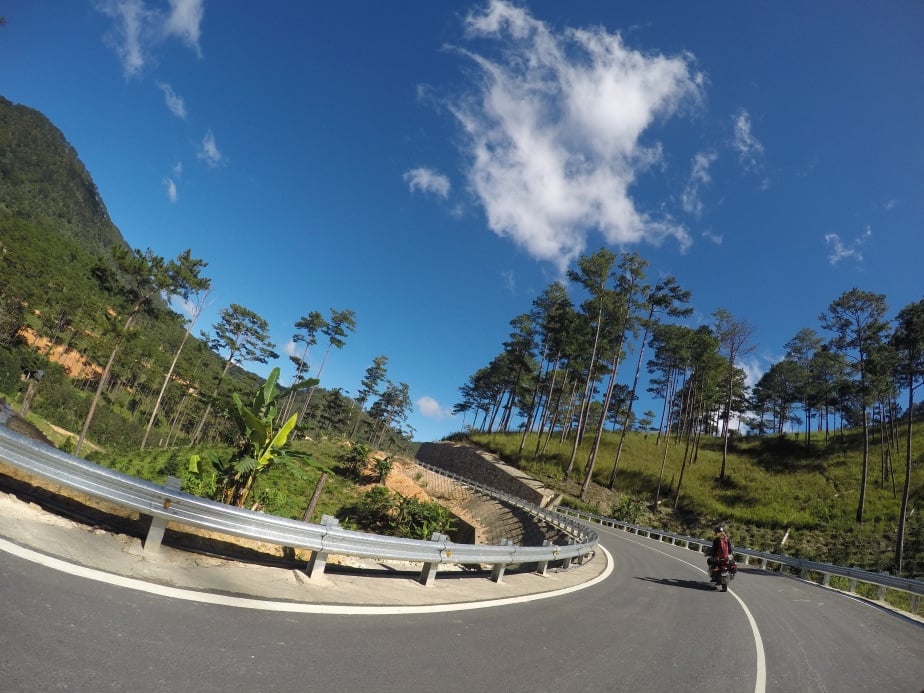 Then we roll again
2nd stop: The Chicken Village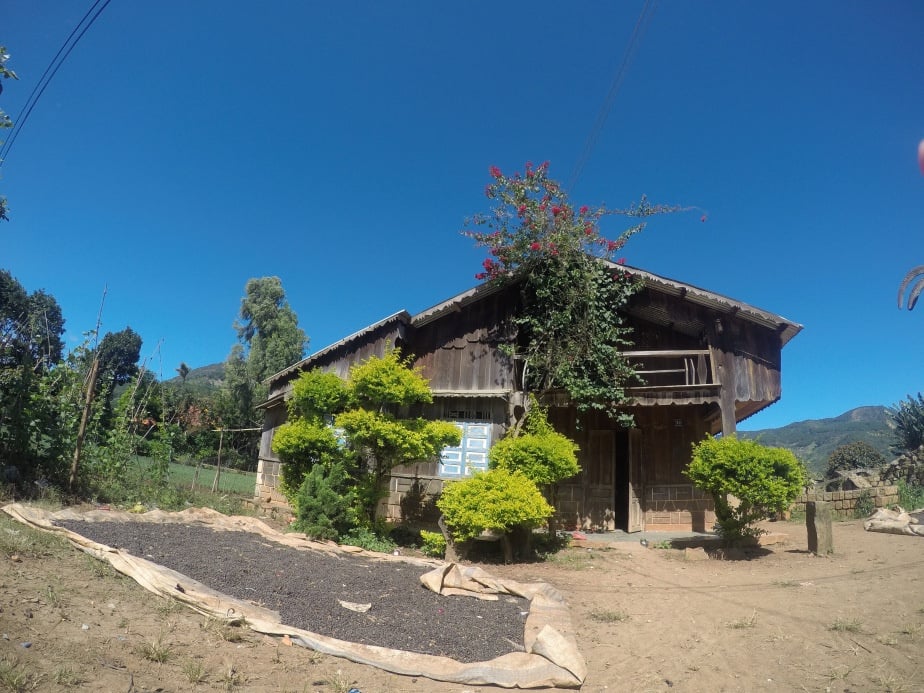 There's a legend behind the name of this village and I don't want to spoil it from the local settler who will tell you the story behind it.
3rd stop: The Mushroom farm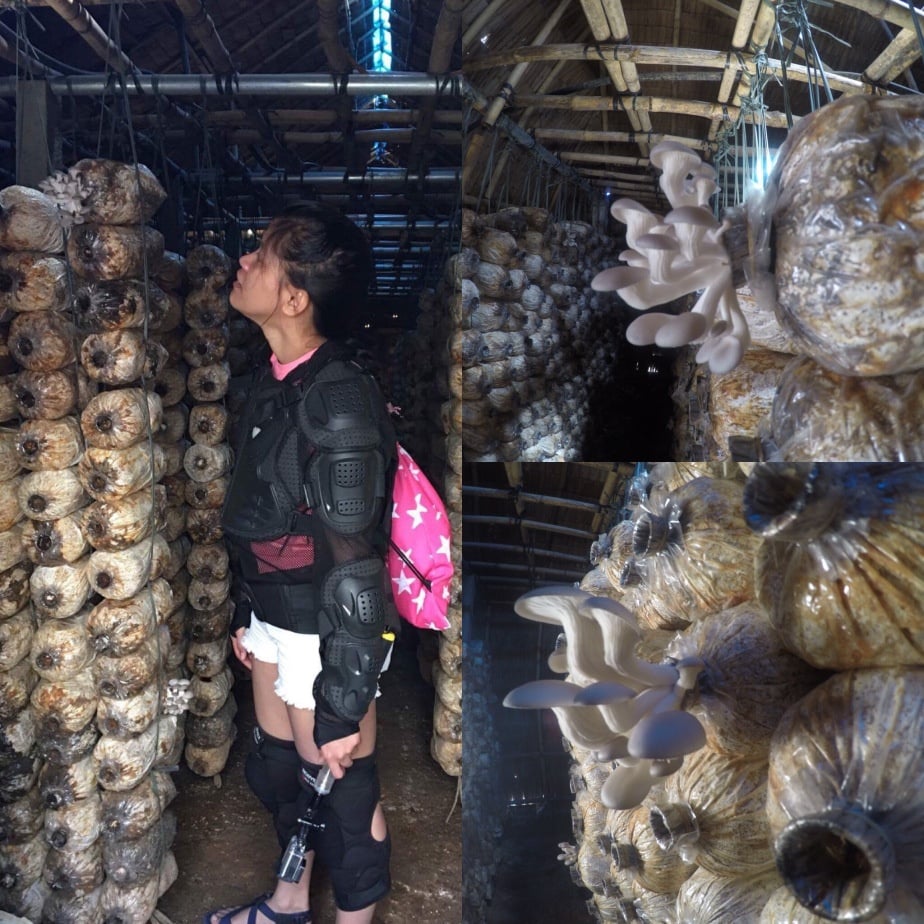 4th stop: Pongour falls (Lam Dong Province)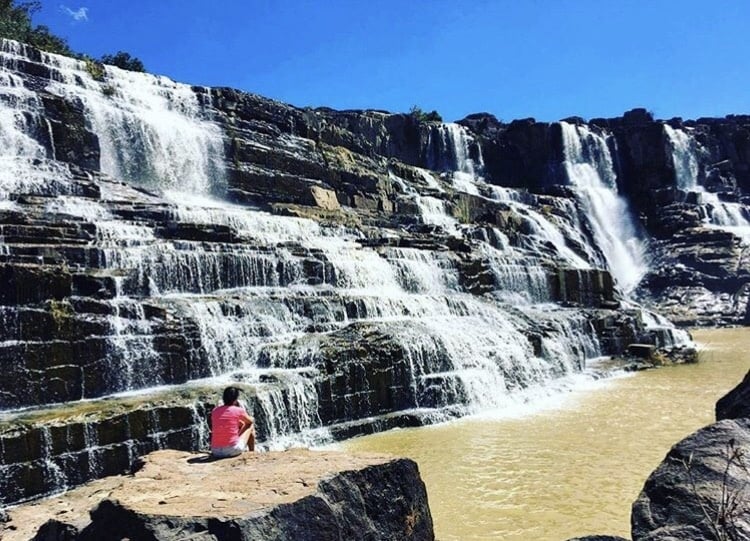 5th stop: Elephant falls in Nam Ban town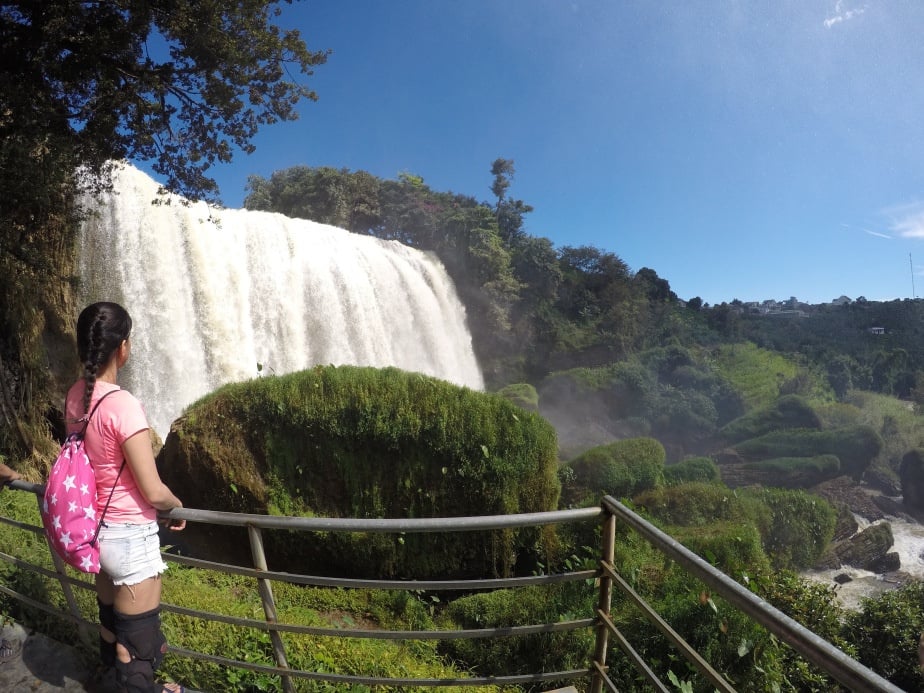 Because of its 30-metre height, we had to trek down and go through narrow rock walls to see the other side of it.
From this spot, you'll feel the strength of the water falling down to the mad river.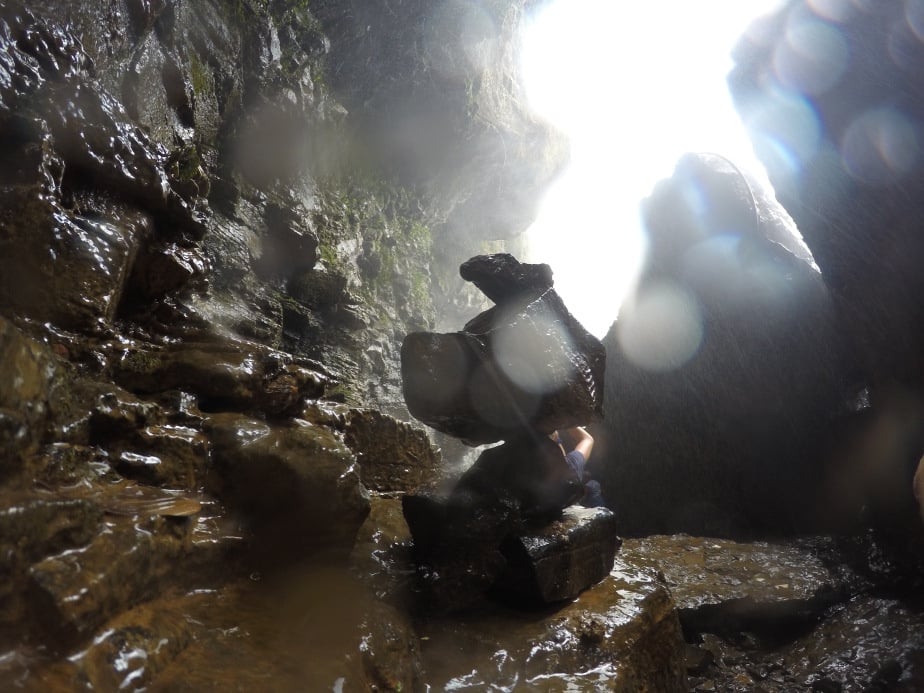 6th stop: Linh An Tu Pagoda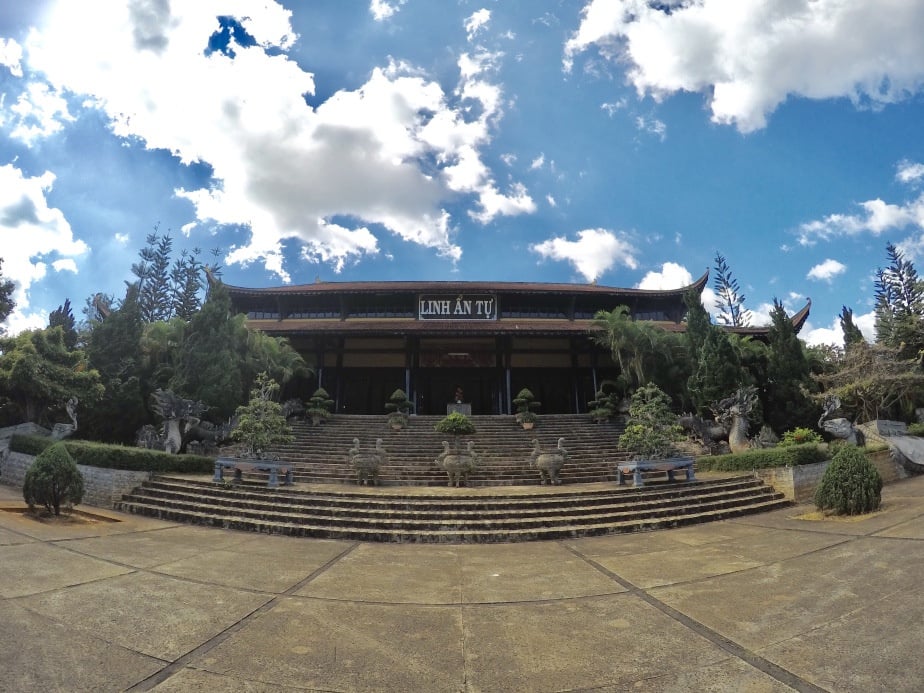 This site has the picturesque view of the townlet Nam Ban because it is located at the elevation of 1,080m above sea level.
7th stop: The Silk farm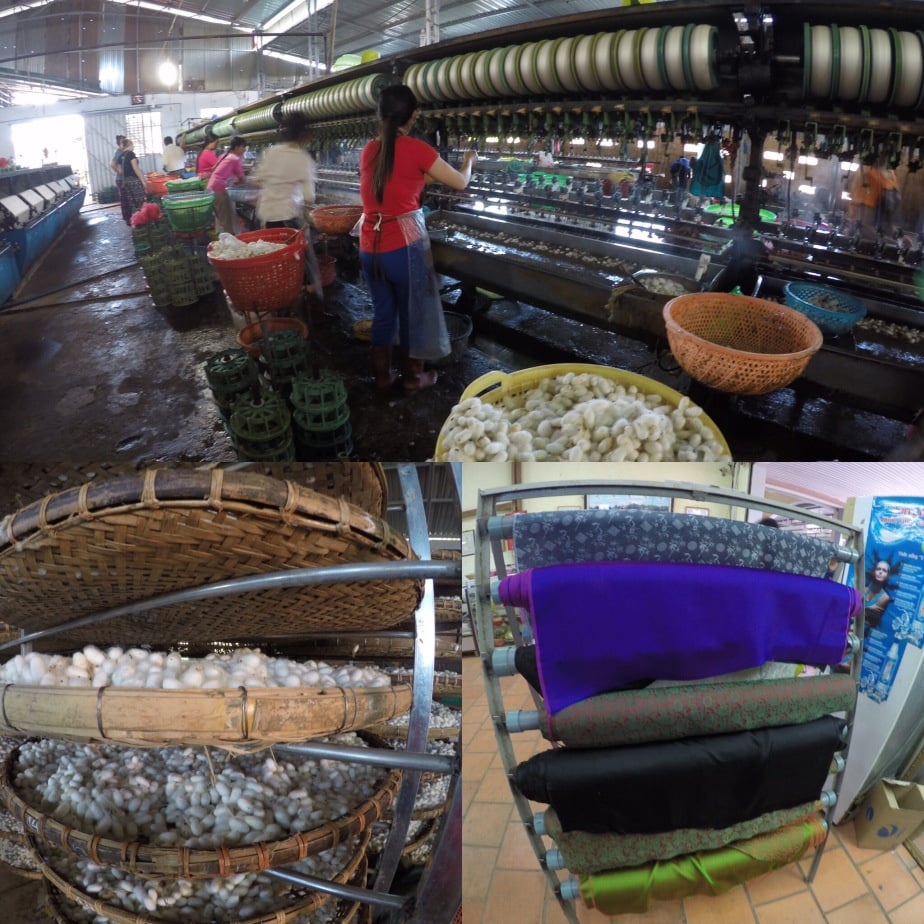 8th stop: The weasel coffee farm and cafe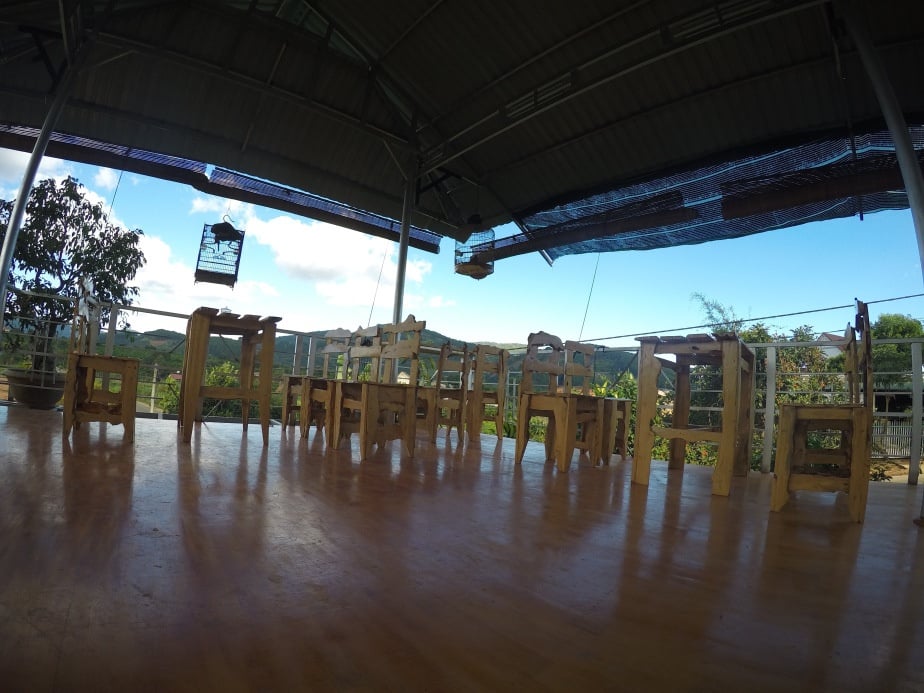 Coffee out of animal's poop! Also known as Kopi Luwak.
9th stop: The flower farm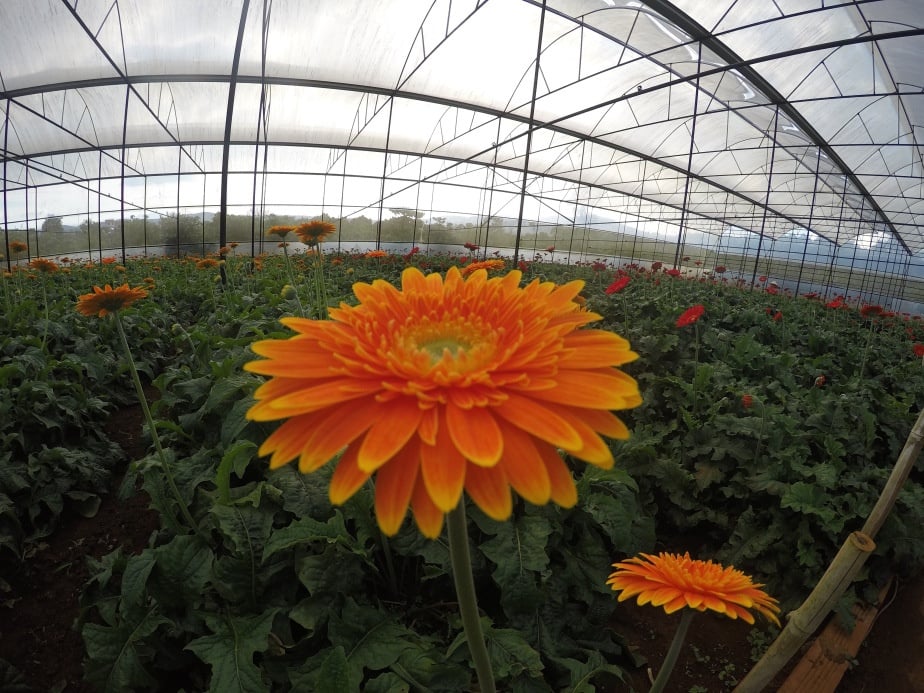 And the last stopover to wrap up our easy rider motorbike tour.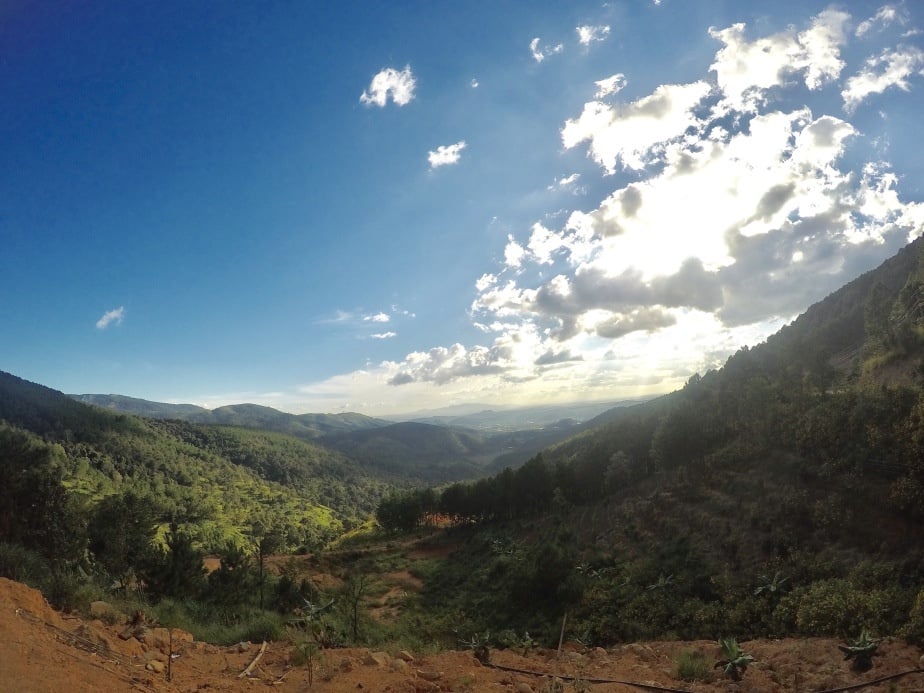 Indeed, the best way to discover Vietnam is by two-wheels. Got inspired to try it too? Visit this link so you'll get the right person to organise your one of a kind experience in Da Lat, Vietnam!
So you are still on the 3rd day of my Vietnam Backpacking tour. After the whole day motorbike tour, they drop us off at our hostel, washed up then off we went to the night market to get some Vietnam way street dine-in. The night market is just 2km away from Dalat Backpackers. The night is young and it is generally safe to walk around the city.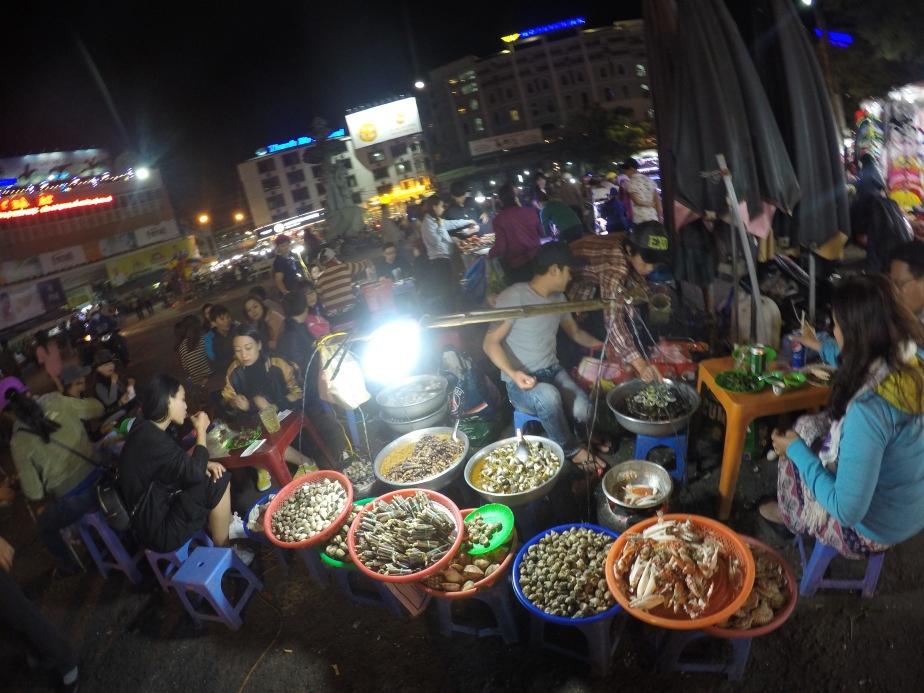 Day 4: Da Lat / Lambiang Mountain / Valley of Love
Everything we did on the 4th day is wholly D.I.Y.
Tip: Maps are mostly available in the hostels, so ALWAYS ask for your free copy.
10am: First off is going to LamBiang mountain. Travel time from Da Lat city to Langbiang Mountain is 45 mins to 1 hr.
Direction: Via Local Bus at top of the central market (at the south end of Nguyen Van Troi, next to Eximbank). Fare is calculated by distance travelled, with the rate chart displayed on the side of the bus. Write down where you want to stop and show it to the fare collector
Available bus is from 6am-5pm, departs once an hour. VND 12,000 (₱26)
Green bus #5 or Orange Phuong Trang (Futa) bus to Lac Duong (pronounced Lac Yung), taking it to the end of the line.
If you are riding the exact bus as I told you, then you'll be dropped off here: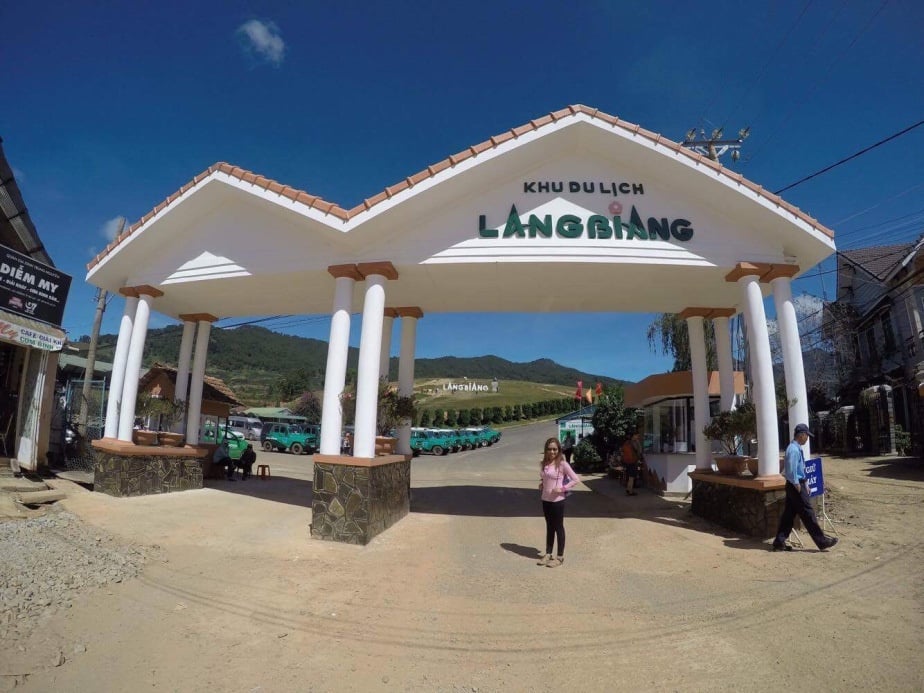 Entrance fee: VND 20,000 (₱45)
If you have the energy and want to save money, just hike the 2167m peak, ideal for a 3 hours hike, or if you want to save time ride an Old Russian jeep to reach 1950m peak.
Round-trip journey VND 300,000 (₱655) / jeep but the best option to save time and money is to wait for more passengers VND 50,000 (₱110) / person
Here are the views up there worthy of your time and money!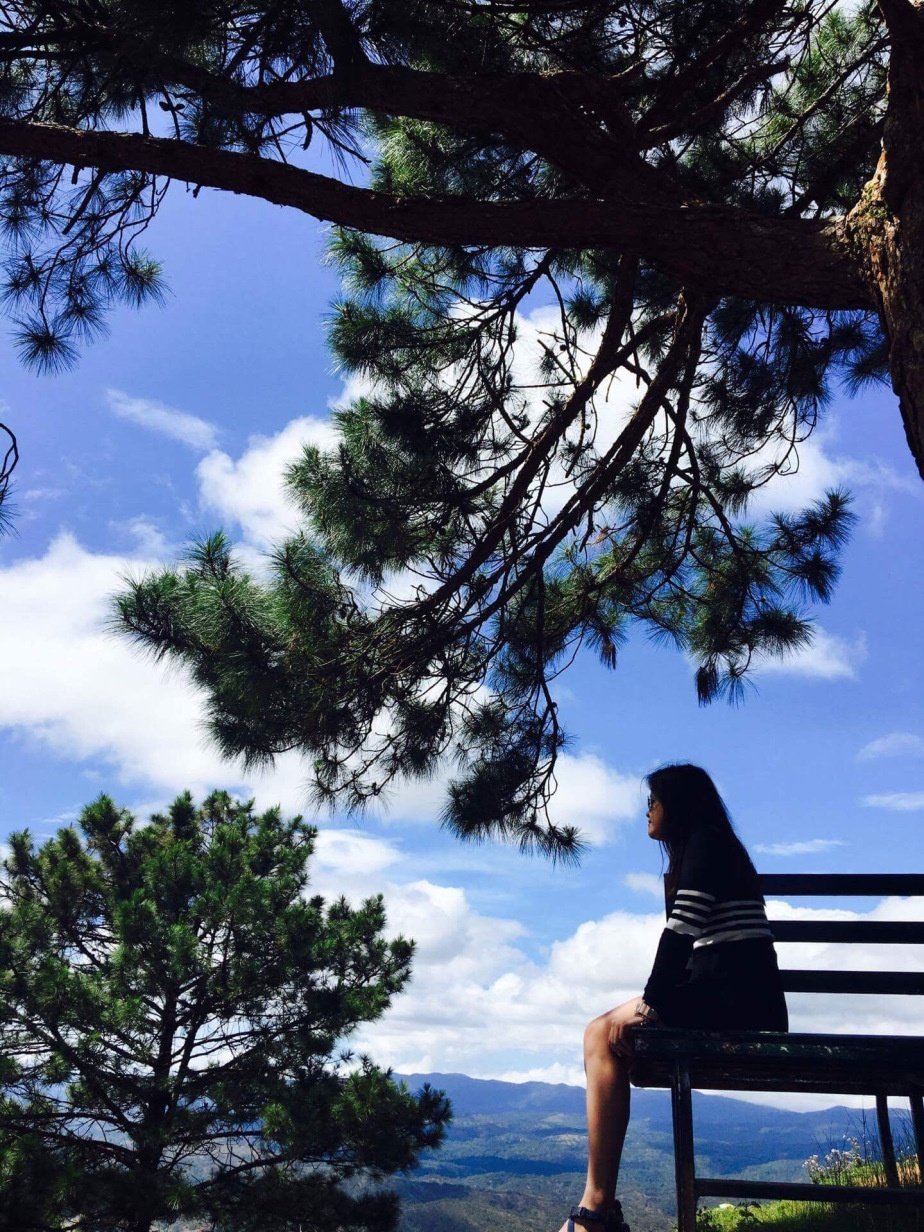 After two hours, you'll have to be back to the Russian jeep to go down unless you want to pay extra to get a different jeep to bring you back, so maximise the time and take pictures and explore the whole area.
Going back to the centre of Da Lat City, you just have to wait for the same bus at the same spot where it dropped you off.
Then from Da Lat market, we got a Mai Linh taxi going to Valley of Love, which is 5km away from Da Lat centre. The total taxi fare from and to Valley of Love is less than ₱300. It's open daily from 8am to 5pm.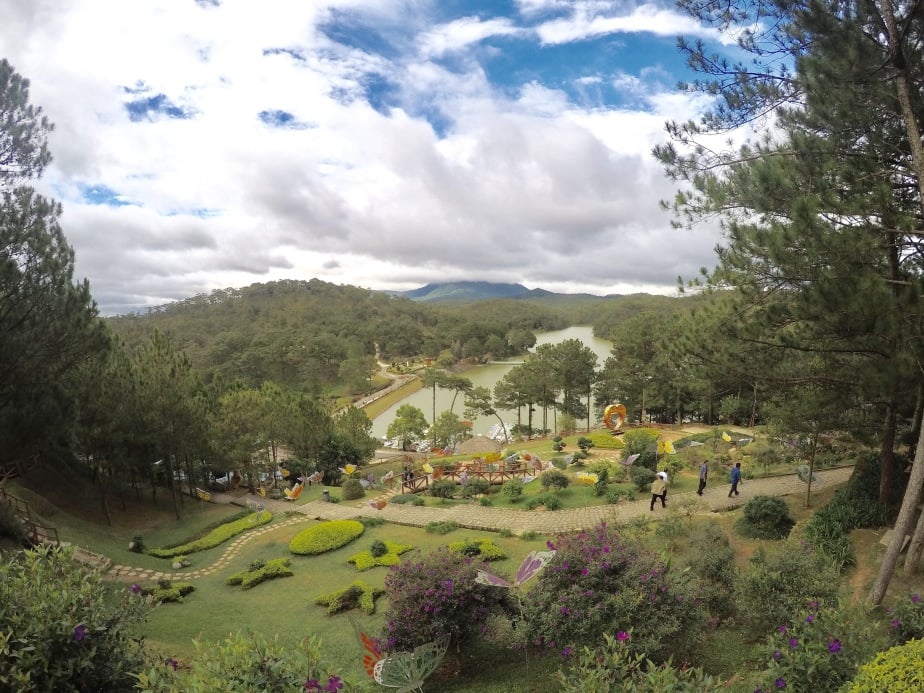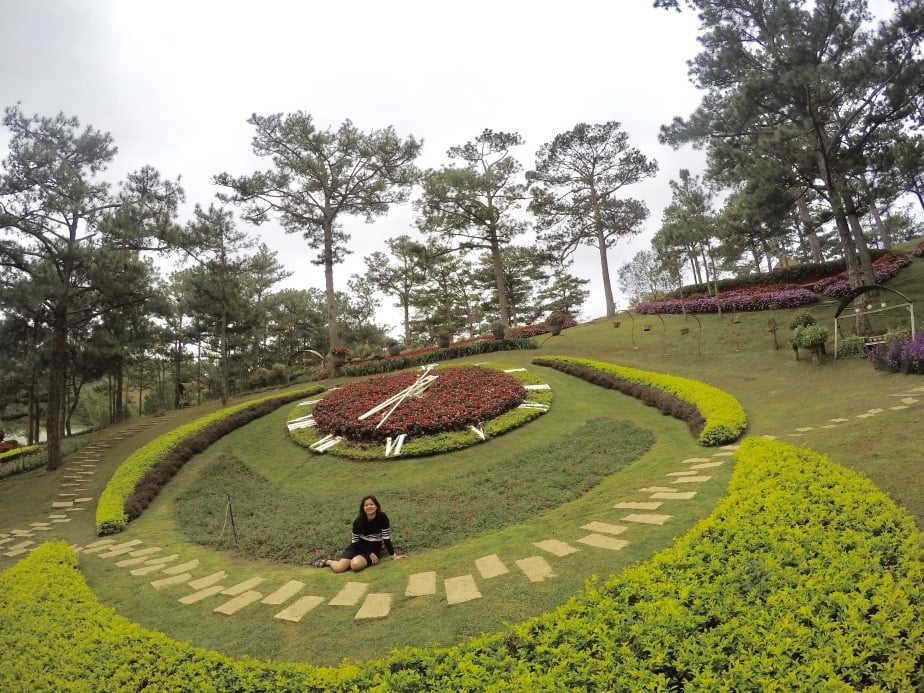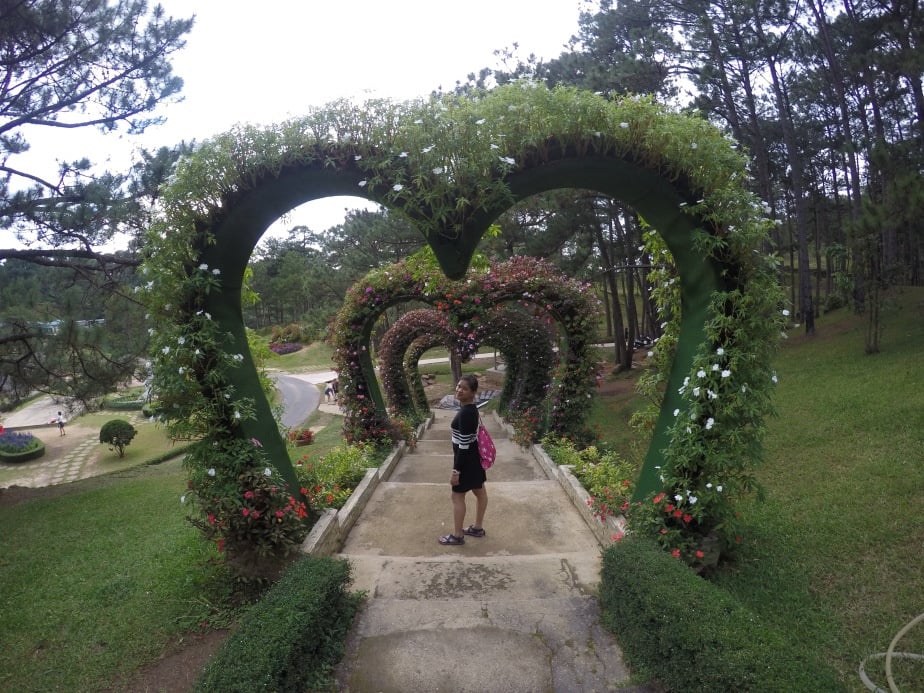 Valley of Love entrance fee: VND 40,000 (₱100)
Day 5: Da Lat / travelling to Nha Trang
We booked 12.30 pm bus transfer from Da Lat going to Nha Trang which will take about 4 to 5 hours.
Since we still had half of the day to spend in Da Lat, we went to "The Crazy House", which is just 2km away from Da Lat Backpacker hostel. After breakfast we just walked going there and of course, with the help of the free map, we're able to locate it. It opens daily from 8am to 5pm.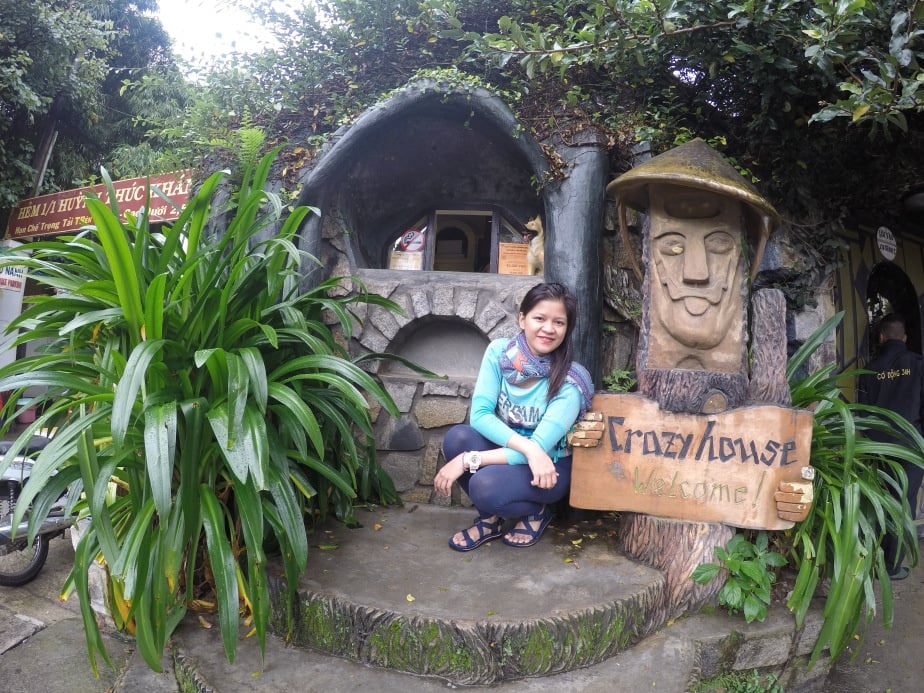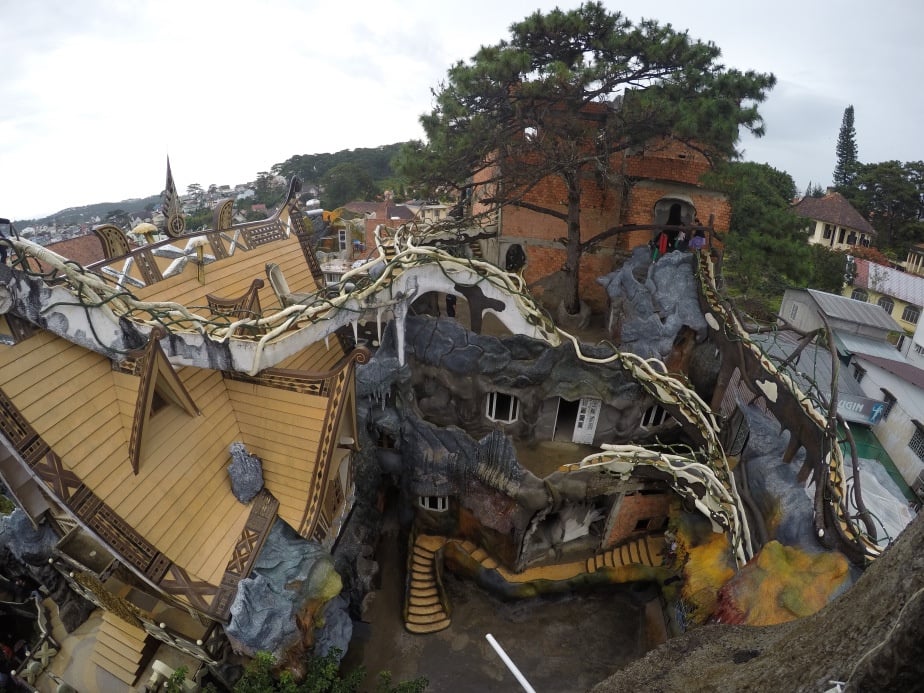 Crazy House entrance fee: VND 40,000 (₱100)
Stay in Da Lat 3 days and 3 nights
Total estimated expenses ₱4,500
6pm – Arrival in Nha Trang
Note: We didn't book in advance to any hostels we stayed in Vietnam. We just searched from travel blogs and Wikitravel site for the recommended accommodations in each place went to.
We found a nice place after searching and enquiring through various hostels along Hung Vuong street in Nha Trang.
Stay: 2 days in Seamoon Guest House
Location: 24/9A Hung Vuong St. Nha Trang City
Email: [email protected]
Cost: Room for 2 is ₱300 per person
Day 6: Nha Trang / Diep Son Island
7am – The very first thing we did was to book the sleeper train heading back HCMC. Why? Because we have to! Another option is a sleeper bus which needed to be booked in advance, too. There are a lot of travel agencies along the street where you can book for train, bus or airplane, they also have tour packages.
Then we braced ourselves up in search of Diep Son Island. Now, this will be a tricky one because Diep Son Island is not commonly available for foreign tourists yet. If you enquire to travel agencies around Nha Trang offering Day Tour to Diep Son, most likely it will be offered only if you are a local.
How we got there was just a matter of luck and persistence! So I don't actually recommend you going there because you might get lost or frustrated.
But here's how we got there anyway…
From Nha Trang Train station you have to find the bus stop, ride Xe Om (motorbike) to take you there and wait for one who is going to Van Gia town, the travel is almost 3 hours and then you'll have to get off to Van Ninh bus terminal. From there, hire a Xe Om to wharf. From Van Gia port (60km from Nha Trang centre) take Phuong Dong boat. Or if you'll be lucky enough (just like us) there will be private speed boat that can take you to Diep Son island for less than 30 mins.
Cost: Depends on the availability of the boat in Van Gia Port. They say Phuong Dong boat costs around VND 200,000 (₱500). The private speed boat that we hired cost VND 1,500,000 (₱3,600). But we divided that into 6 people, so it's VND 250,000 (₱600) per person.
If you have the guts and the cash, it'll bring you to these wonderful views.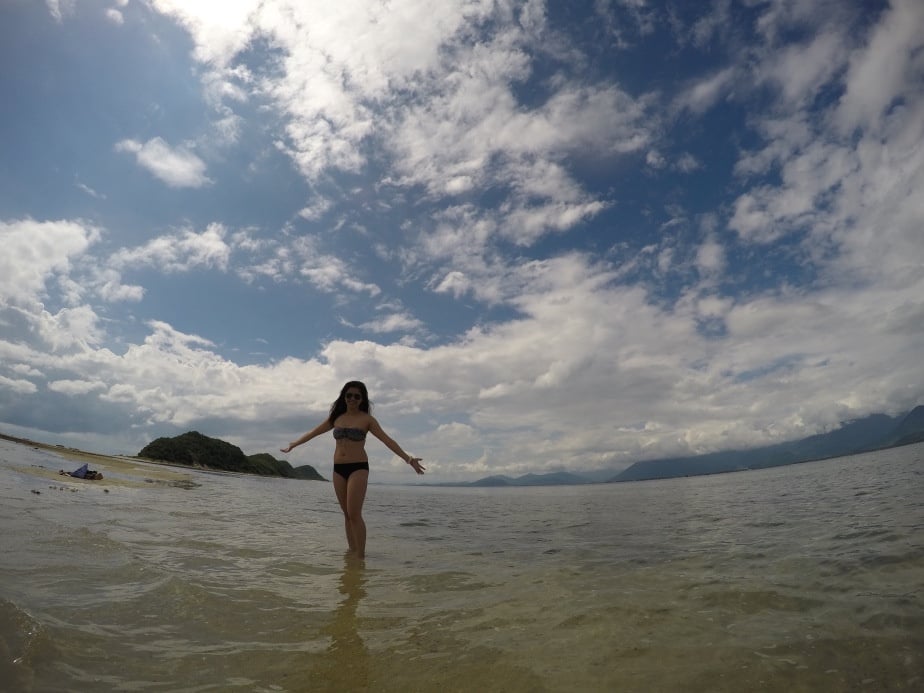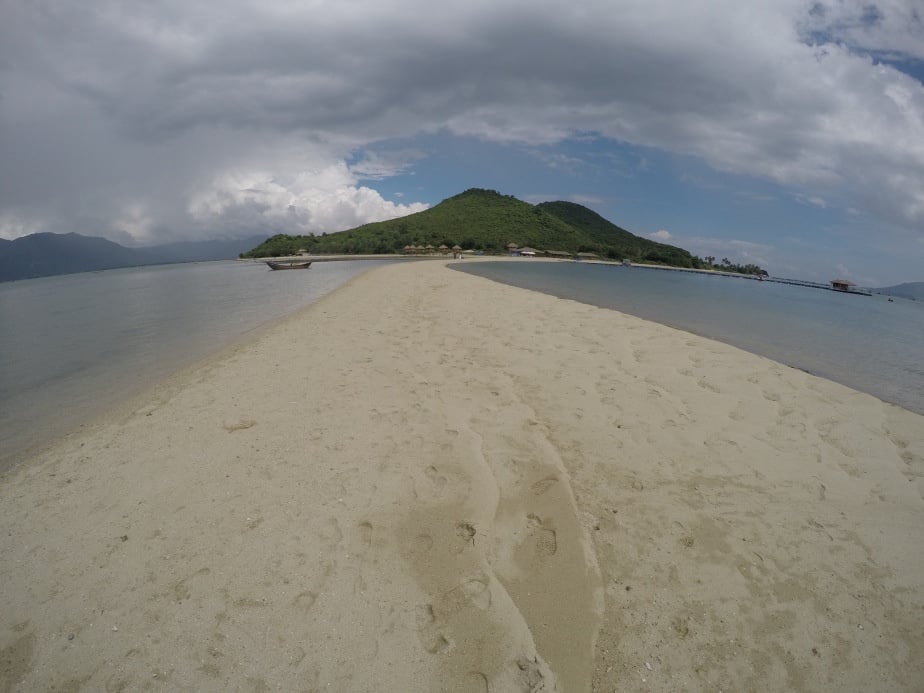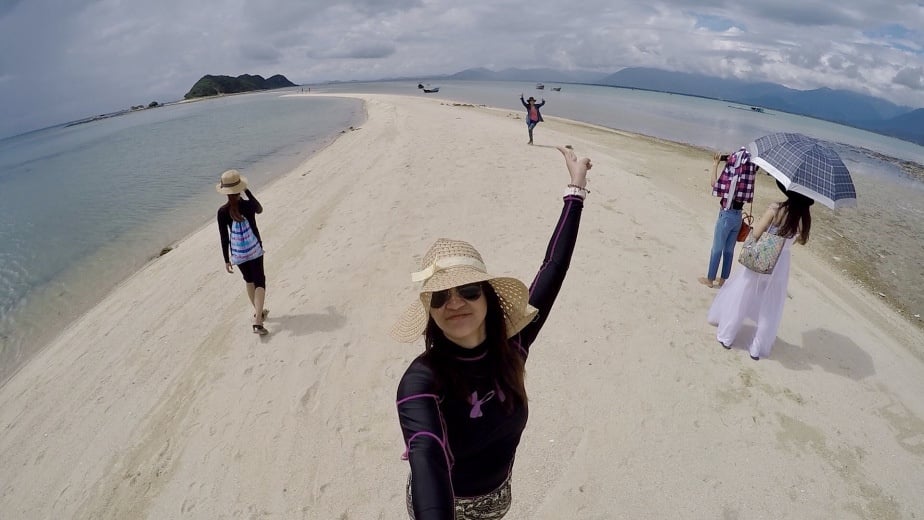 Diep Son Island / Sand Bar
3pm – We arrived back to Nha Trang City from Diep Son.
Had a nice walk on the wavy coast of Nha Trang city. Saw the iconic Thap Tram Huong or the Lotus Flower Tower. Strolled in Nha Trang Park overlooking the beach.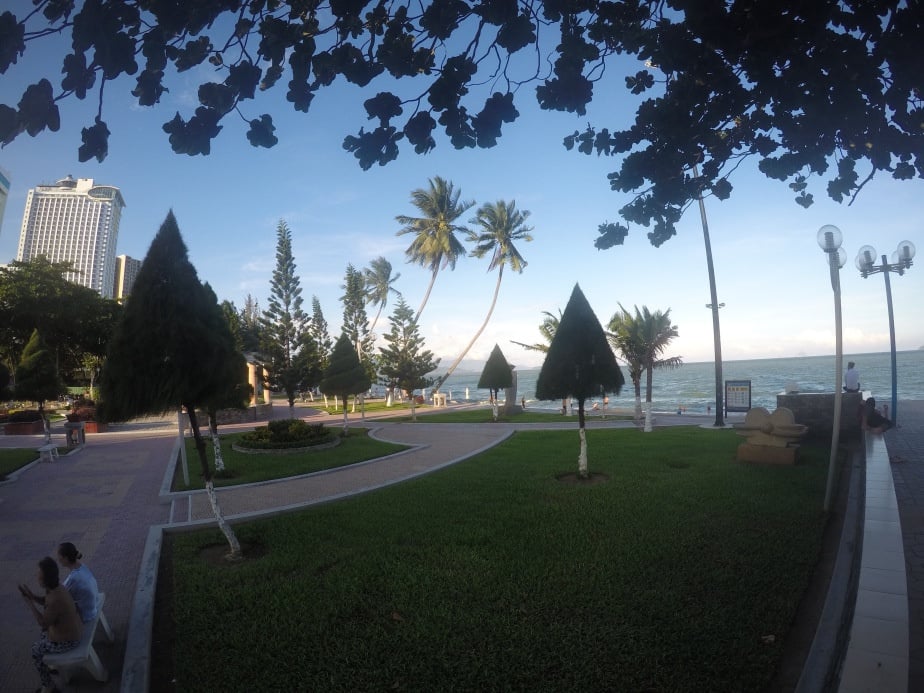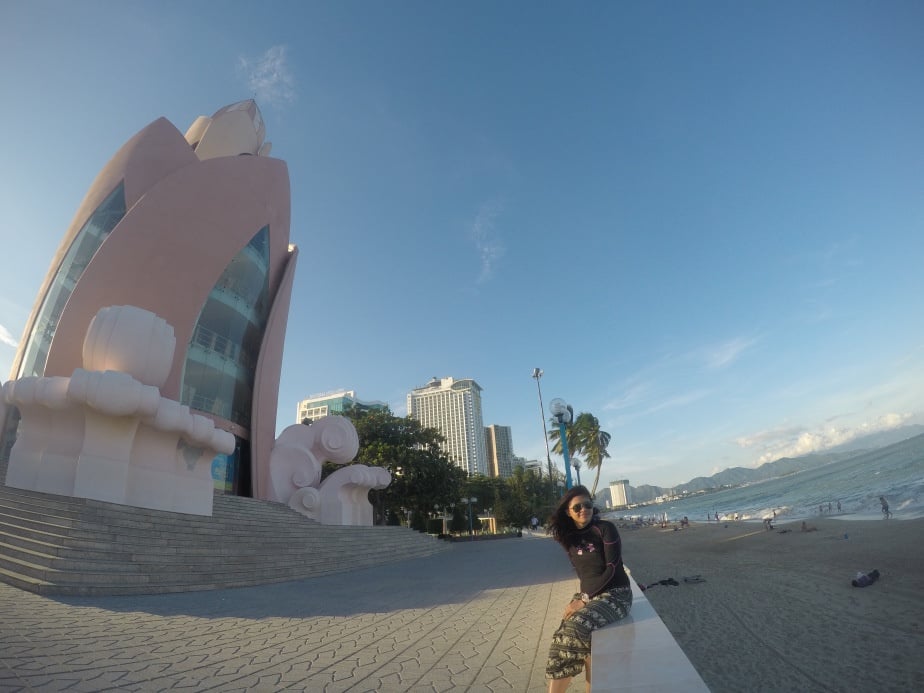 No doubt why this city is listed in Vietnam's most visited.
Day 7: Nha Trang / Thap Ba
5am – Wake up call
The best way to start the day is to catch the sunrise!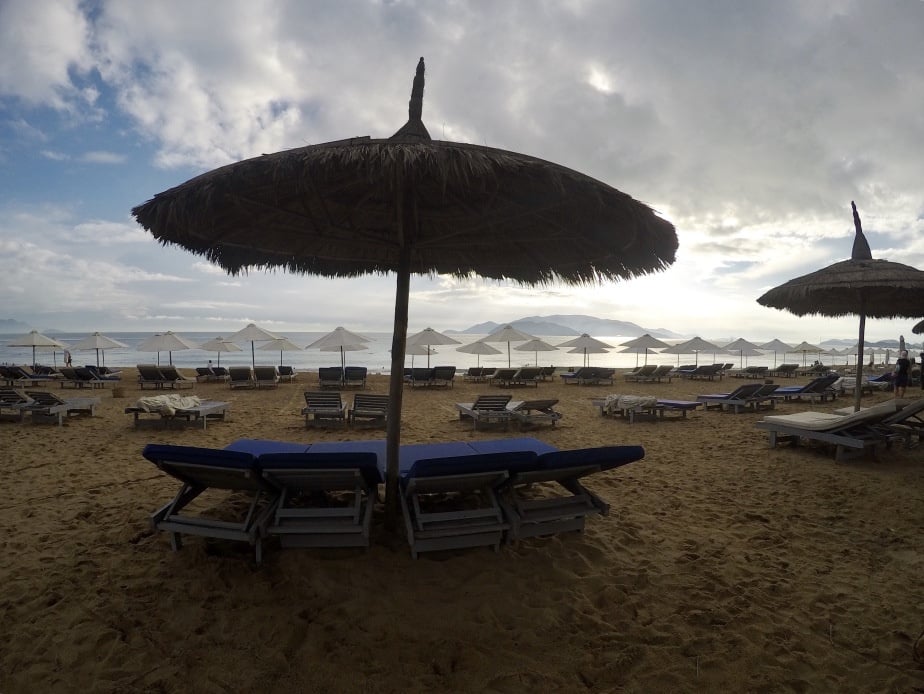 Nha Trang Beach during sunrise
12nn – Lunch out and souvenir shopping
2pm – Check out from Seamoon hostel
Since the train schedule we took is scheduled at 10pm going HCMC, we spent the couple hours we have left in Nha Trang in Thap Ba Mud Bath and Spa.
3pm – Time for some relaxation in the most popular MUST DO in Nha Trang, the Mud Bath! The highly recommended place to experience that is in Thap Ba Spa. Opens every day from 7am to 7pm. Getting there by taxi is easy because most drivers know it, the taxi fare will cost around VND 100,00 (₱250).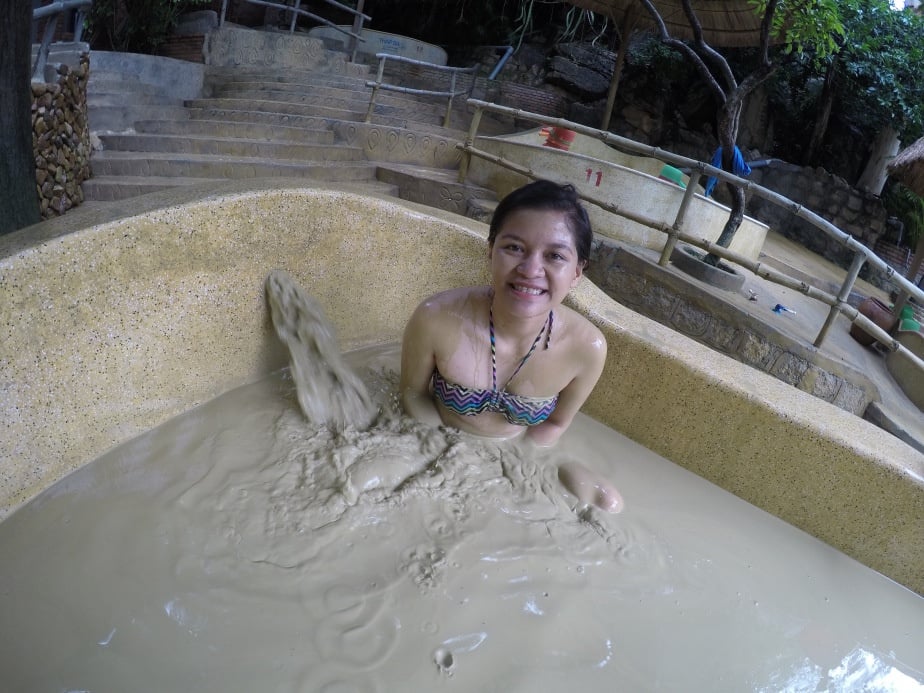 Location: Ngoc Hiep Nha Trang Khan Hoa Province Vietnam.
Cost: VND 190,000 (₱460) inclusive of communal mud bath, hot spring and swimming pool access
7pm – From Thap Ba we hired a taxi going to Nha Trang train station to catch our sleeper train. The train fare was VND 382,000 (₱920).
Estimated time of arrival in HCMC is around 7am of our Day 8.
Stay in Nha Trang 2 days and 1 night
Total estimated expenses ₱4,000
Day 8: HCMC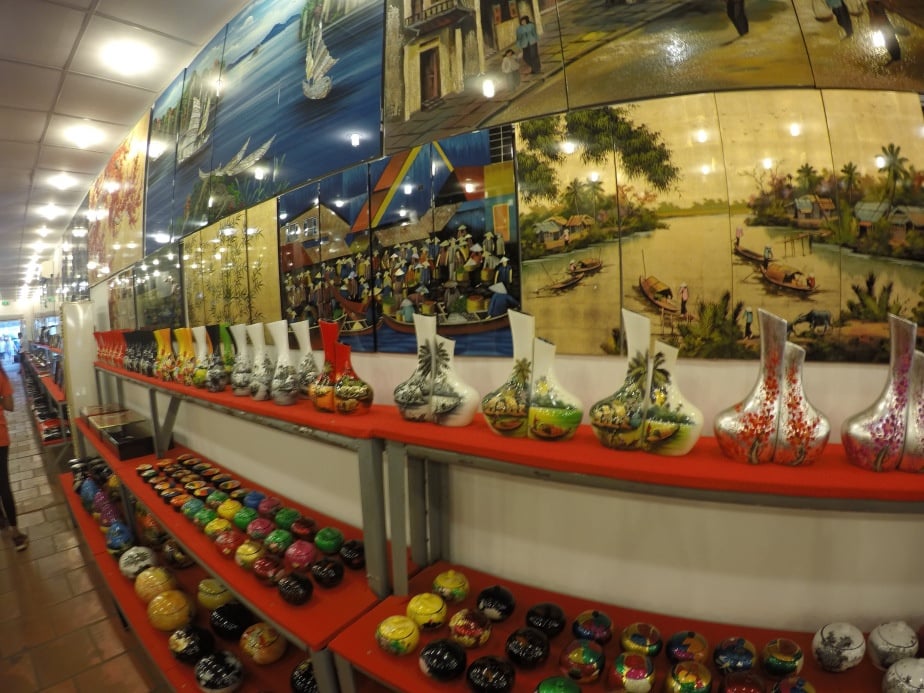 Stay: x 2 days in Hotel Kim
Location: 91 Bui Vien St., Pham Ngu Lao Ward, District 1, HCMC.
Cost: $5 per night (₱250)
Being in HCMC is like being in Manila because of the traffic. But it didn't spoil my Cu Chi tunnel trip as I'm used to hours of bus ride because of heavy traffic. Its distance from HCHC is 70km and it will take two hrs by bus to get there. We took the half day tour that started at 8am with a stop over in handicrafts factory for disabled people of Vietnam. I am glad to have seen them and how they passionately work despite their condition.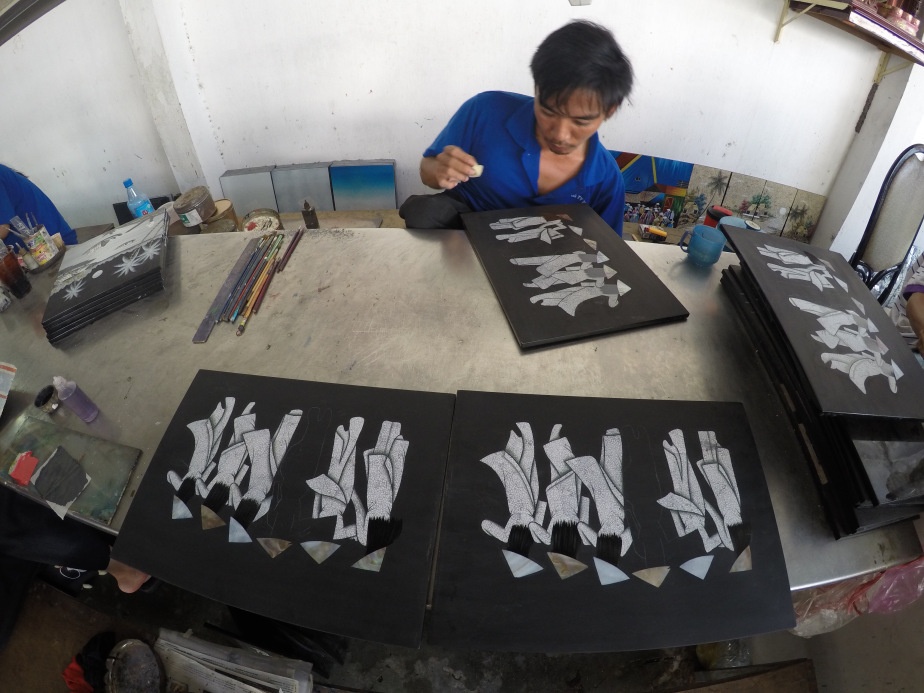 At around 10am, we arrived in Cu Chi tunnel and was oriented of the tunnelling system and was told of the history of Vietnam war in 1955.
If you wish to crawl in the tunnel, you can volunteer and look awful.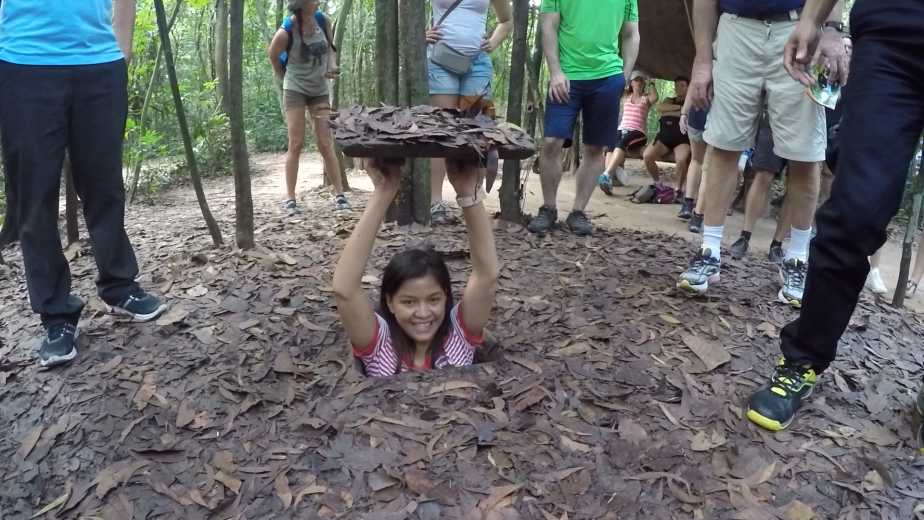 Tip: If you are claustrophobic I suggest you not to volunteer because you may just pass out!
The Cu Chi half day tour cost VND 100,000 (₱250)
Note: The tour fee is exclusive of the entrance fee. Once you arrive in Cu Chi Tunnel, the tour guide will collect VND 110,000 (₱260). However, you have the option to include the entrance fee payment once you book it in the tour agency.
Note: The cost of the tour actually varies depending on what travel agency you'll get it from. The agency that offers the cheapest is Vietsea Tourist Travel Service located at 181 Pham Ngu Lao St., District 1, HCMC.
After the Cu Chi Tunnels, we continued the quest in learning more about the history of Vietnam war at War Remnants Museum.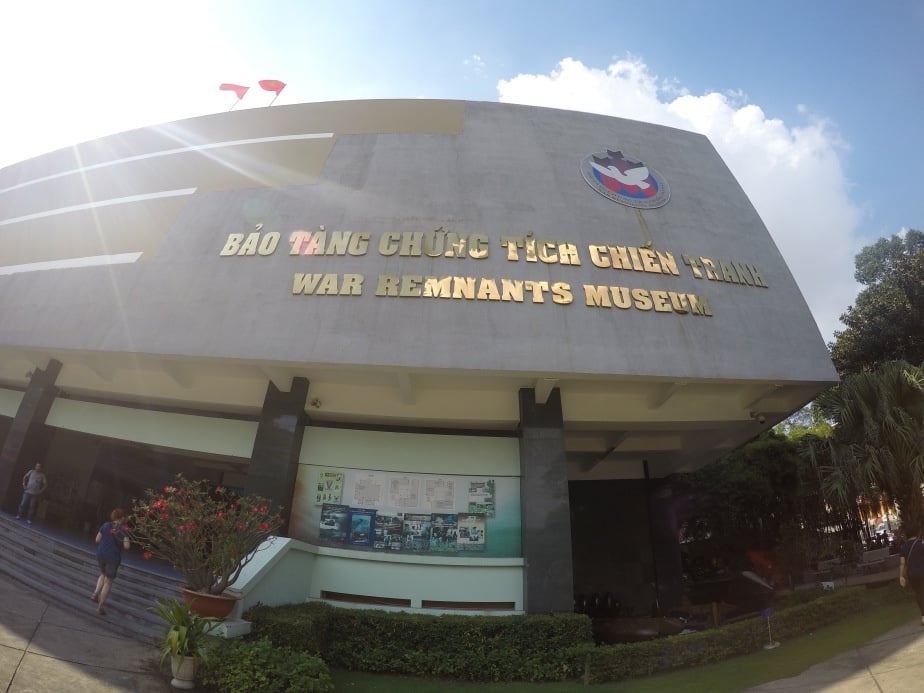 Entrance fee: VND 15,000 (₱40)
This is the highlight of my HCMC trip! I won't forget it because I was awkwardly crying while looking at the war pictures and reading through each heartbreaking story behind them. It made me feel like I was there, like I am one of the people begging for their life to be spared. After that eye-opening and heartbreaking visit in War Remnants Museum, I had a different perspective about Vietnam and its people. My heart and prayer are with them.
Day 9: HCMC
To where we stayed is close to another point of interest in HCMC. So it'll be beneficial to people who don't mind long walks.
Here are the sites you can stroll around HCMC:
1. The Independence Palace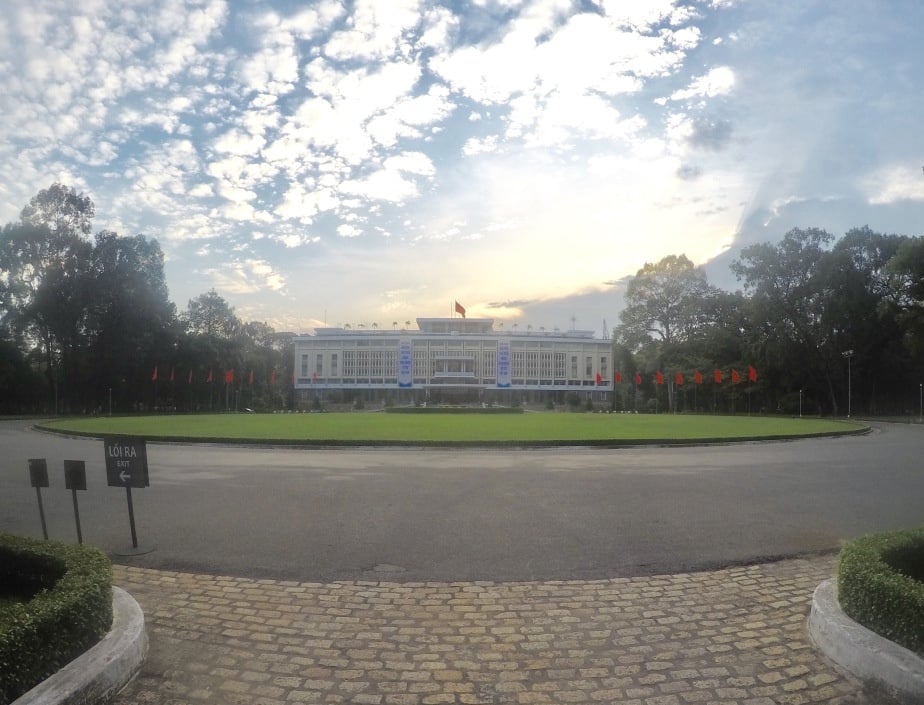 There's a fee of VND 30,000 (₱75). It opens 7.30 am–11am and 1pm–4pm. Going there from District 1 is approx. 25 mins. walk for a distance of 2km.
2. Saigon Notre Dame Cathedral
You may come there on its English Mass at 9.30 every day. It's just 2 blocks away from The Independence Palace. From District 1, approx. 26 mins. walk for 2.1km distance.
3. Saigon Central Post Office
The oldest post office in HCMC is now a tourist spot. It's just across Saigon Notre Dame so you can easily pay a visit after the mass.
4. Tao Dan Park and Street Food Market
After a tiring walk, you can chill and relax in this park with no fee. It is located across The Independence Plaza. Then, there's a nearby street food plaza along Nguyen Du street corner Thu Khoa Huan street.
5. Saigon Skydeck, 49th Flr. Bitexco Financial Tower
And we capped off the night by spending it on Saigon Skydeck. It is a bit pricey here, fee is VND 200,000 (₱480). But it is one of the 20 iconic buildings in the world awarded by CNNgo. It has 360° stunning view of the city and its surroundings, and access to binoculars, souvenirs shop and Ao Dai Museum. So not bad at all to spend a penny here.
Day 10: HCMC
It's the last day! So rise early and have Vietnam coffee. I am not a fan of coffee but it's a must so I gave it a try. There are a lot of coffee sold around the street and though there's a Starbucks Coffee Shop nearby, Viet people and tourists would opt to have coffee on the road. Having iced coffee and Banh Mi in the street is a good way to spend in the early morning.
For the last itinerary, Ben Thanh Market for souvenir shopping.
Tip: There are two types of stores in this market: 1) the fixed price mostly found in front of the market and 2) stores where you can haggle in the inner part. Beware of the store sellers because they tend to be very insistent just to sell. Once you ask, you must buy. But that won't work for me; one of the sellers grabbed my hands and insisted that I buy their product. That is not cool!
Time to go home…
To go to Tan Son Nhat Airpor from District 1, take the public bus to Airport in Bus Terminal located in the crossing of Pham Ngu Lao and Do Quang Dau street. Take the bus #109/49 which arrives every 20 mins. Fare is VND 20,000 (₱50).
A wave of nostalgia swept over as we headed back to Manila. Vietnam will always be a part of me.
Stay in HCMC 3 days and 2 nights
Total estimated expenses ₱4,500
Also read: 6D5N in Vietnam: An Itinerary to Bring Out the Wanderer in You
Breakdown of expenses
HCMC Arrival
Airport Taxi = 120
Food & Drinks = 200
Bus fare to Mui Ne = 290
MUI NE
Mui Ne Backpacker Village x 1 night = 385
Sunrise tour w/ breakfast = 385
Food for 1 day = 370
Others (Souvenirs/Tip) = 500
DA LAT
Bus fare to Da Lat = 225
Da Lat Backpacker Hostel x 3 nights = 900
Easy Rider Motorbike Wholeday Tour = 1,500
Langbiang entrance fee = 45
Langbiang total transpo fare = 190
Valley of Love entrance fee = 100
Valley of Love total transpo fare = 300
Crazy House entrance fee = 100
Food for 3 days = 750
Others (Souvenirs) = 550
NHA TRANG
Bus fare to Nha Trang = 580
Seamoon Hostel x 2 nights = 600
Bus fare to Van Gia = 60
Xe Om to Van Gia port = 50
Speeboat to Diep Son Island = 600
Thap Ba mud spa = 460
Taxi fare to Thap Ba = 140
Taxi going to Nha Trang Train Station = 110
Food for 2 days = 550
Others (Souvenirs) = 450
HCMC
Train fare to HCMC = 920
Kim Hostel x 2 nights = 500
Cu Chi Tunnel half day tour = 240
Cu Chi Tunnel entrace fee = 270
War Remnants entrace fee = 40
Bitexco Sky Deck = 480
Bus to Tan Son Nhat airport = 50
Extra baggage = 250
Food for 2 days = 1,050
Others (Souvenirs) = 550
Let's do some math! If you total all my expenses for 10 days it's only ₱14,860!
Also read: Exploring Vietnam, Cambodia and Thailand for Just ₱15K All-In
Travelling is really not that expensive if you are just adventurous and courageous! – BambamDxplorer
That's all for now and I hope you have the same amount of joy and excitement as you take your own Vietnam journey. I would love to hear your own stories!
To more backpacking trip, I am BambamDxplorer logging off for now.
Happy trip and God bless!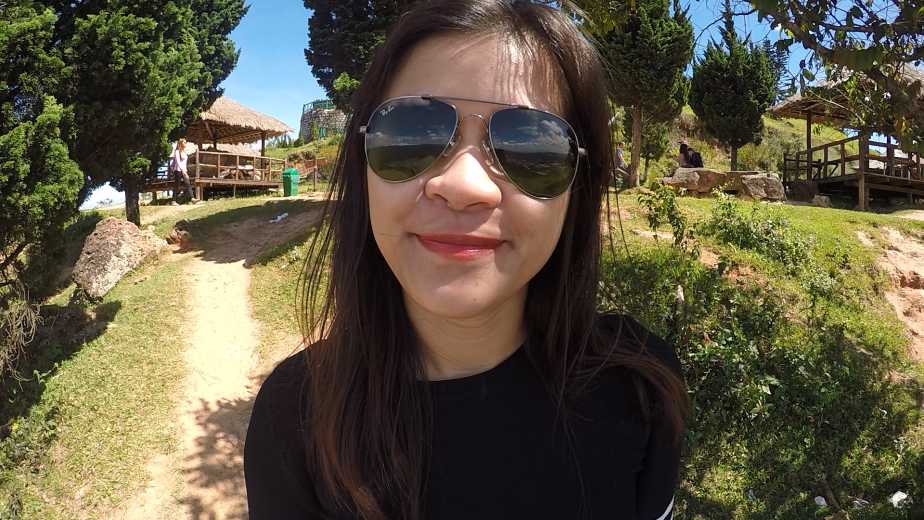 You can watch my Vietnam Trip video below: