It's forever Valentine's Day in this recently opened cafe in Cebu.
Located in Cordova, 10000 Roses Cafe features, as its name suggests, 10,000 white plastic blooms that light up at night. The 3-feet tall flowers are placed beside a concrete path that leads to the cafe building and looks like an endless sea of blooms when viewed from certain angles.
Also read: 13 Unique Themed Cafes You Never Knew Existed in Metro Cebu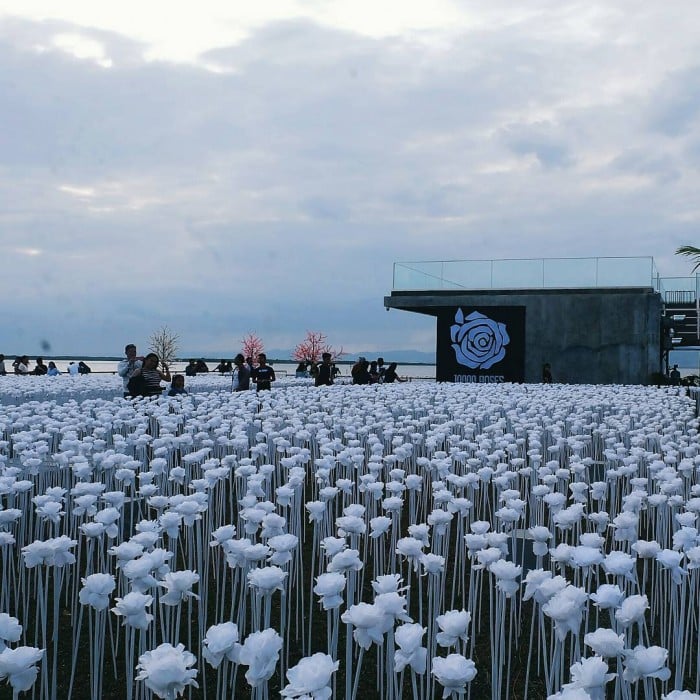 Image credit: Chasing Bleu
The cafe is currently in their soft opening phase so some menu items and services may be unavailable as of the moment.
According to the Korean CEO of the cafe who is also an interior designer himself, he got his inspiration from the Dongdaemun Design Plaza in Seoul. He is said to have plans of putting up a fence where couples can leave love padlocks just like the one in Namsan Tower.
The cafe opened last 6 February 2017 and has welcomed more than 30,000 guests over the weekend. Aside from enjoying their food and drinks at both inside air-conditioned building, rooftop deck and alfresco area, visitors can also enjoy a quick stroll around the cafe while enjoying the fresh sea breeze and the skyline of Metro Cebu right across the back patio.
Also read: 10 Cafes in the Philippines with the Most Picturesque Views
Image credit: Four-Eyed Laagan
The municipality of Cordova is currently asking visitors to pay up ₱20 as environmental fee after seeing throngs of crowds throwing garbage into the waters surrounding the cafe. During the swarm of guests over the weekend, at least 500 of the LED roses were also found to have been bent or cut.