A new year is approaching. And with the dawn of 2024 comes a new set of Philippine holidays. That means you can start planning your extended vacations as early as now! Keep reading to find out the dates of the key 2024 holidays and long weekends — and which ones didn't make the cut. 
Also read: 15 Quick Destinations Abroad for the Next Long Weekend
Regular holidays and special non-working holidays in 2024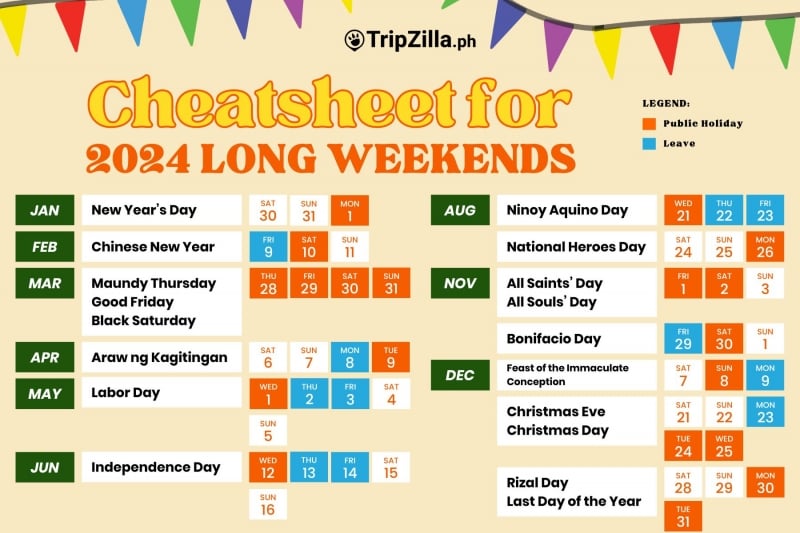 It's still a few months before 2023 turns into 2024, but Malacañang Palace has already revealed most of the regular holidays and special non-working days for next year in Proclamation No. 38. Filipinos can look forward to a total of 17 Philippine holidays in 2024; while a few fall on a weekend, there are a handful of travel-friendly long weekends. And if you're willing to cash in your vacation leaves, then you can make the most of the mid-week holidays, too!
The following regular holidays are confirmed under Proclamation No. 368:
1 Jan: New Year's Day

28 Mar: Maundy Thursday

29 Mar: Good Friday

9 Apr: Araw ng Kagitingan

1 May: Labor Day

12 Jun: Independence Day

26 Aug: National Heroes Day (Last Monday of August)

30 Nov: Bonifacio Day

25 Dec: Christmas Day

30 Dec: Rizal Day
Meanwhile, special (non-working) days are as follows:
10 Feb: Chinese New Year

30 Mar: Black Saturday

21 Aug: Ninoy Aquino Day

1 Nov: All Saints' Day

2 Nov: All Souls' Day

8 Dec: Feast of the Immaculate Conception of Mary

24 Dec: Christmas Eve

31 Dec: Last Day of the Year
In addition to these proclaimed holidays, additional ones will be filed for Eid'l Fitr and Eid'l Adha. The dates for the Islamic holidays will be confirmed after the approximate dates have been determined in accordance with the Islamic calendar or the lunar calendar. 
On the other hand, EDSA People Power is no longer listed as a special non-working holiday in 2024. 
Also read: 10 Quick Tourist Attractions Near Manila for Long Weekends
Can you believe a new year is a few months away? It's a clean slate and an opportunity for new experiences in the Philippines and abroad. Follow TripZilla Philippines on Facebook and Instagram for travel news, updates, and the latest deals, so you can make the most of the Philippine 2024 holidays and long weekends on this list. Safe and happy travels, everyone!