There's another holiday coming and we can't wait to spend our extended weekend elsewhere. Can you? Don't worry, there's no need to hop on a plane if you're only willing to have a brief vacation. Here are some must-visit tourist attractions near Manila for a quick getaway!
Also read: 10 Long Weekends in the Philippines in 2023
Tourist attractions near Manila for your long weekend adventures
1. Sy Juco Heritage House – Malabon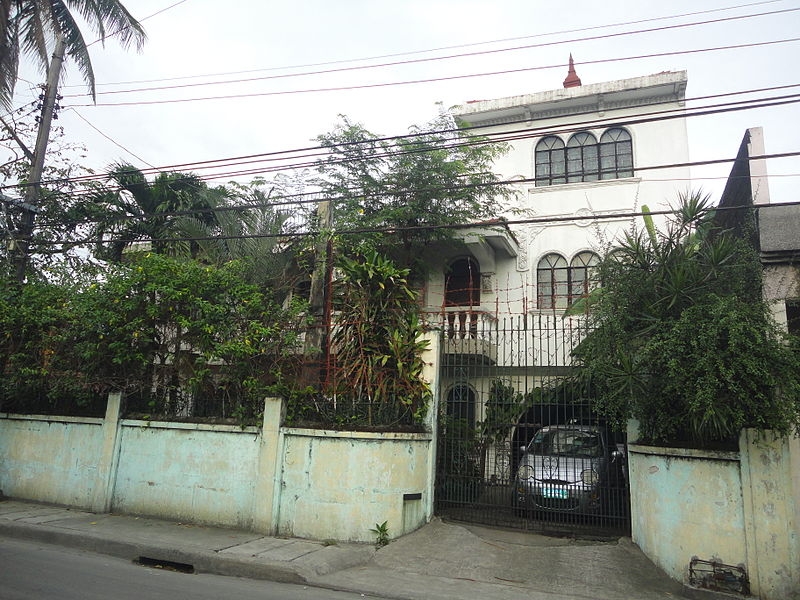 If you have an appreciation of ancestral homes built during the Spanish era, then the Sy Juco Heritage House should be on your bucket list. Located in Ibaba, Malabon, this is approximately only an hour away (minus the traffic, of course). This heritage house was built in 1869 and was home to a Swiss-Filipino family. The story goes that during WWII, the house was spared by the Japanese military because a Swiss flag flew from the window. The house was also used as a school and tobacco factory.
2. San Bartolome Church – Malabon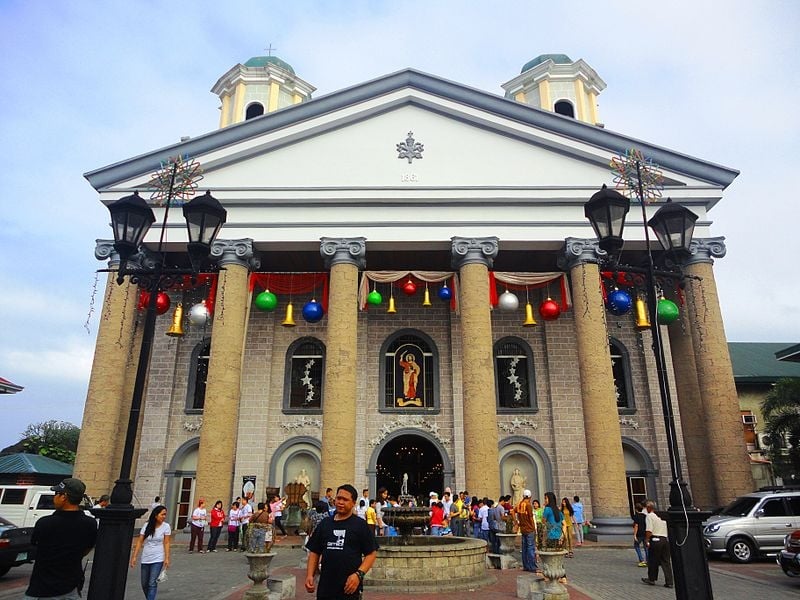 While you're in Malabon, it would be practical to also visit the San Bartolome Church in San Agustin. The church was built in 1564 with Baroque-inspired architecture. Although it suffered from heavy damage during WWII, this Pantheon-like church was restored and is well-preserved today. From the towering pillars outside to the high ceilings and golden accents inside the church, local and foreign tourists alike will be in awe of the grand facade.  
Tip: You can explore Malabon more with the Malabon Tricycle Tour. The tricycle tour will bring you to popular food and heritage destinations that will cross out everything on your Malabon bucket list. Plus, it's great for people on a budget!
3. Masungi Georeserve – Rizal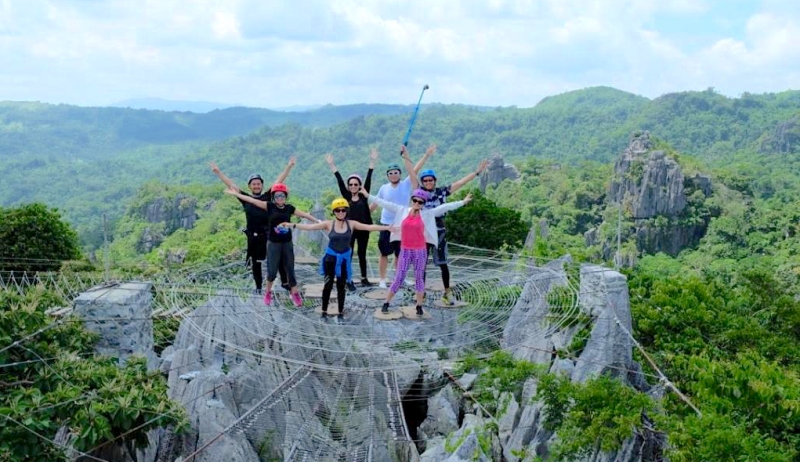 Located in Baras, Rizal, the Masungi Georeserve has become one of the most popular attractions near Manila for nature lovers and adventure-seekers. The reserve is a conservation area and a rustic rock garden which allows visitors to encounter wildlife and different plant species. Guests have a trail to trek and follow in order to get to Masungi's attractions such as Bayawak, Tatay, Nanay, Ditse Patak at Duyan, and perhaps the most famous one you've also seen in pictures, the web-style platform called Sapot. It's better to book your reservation the earliest you can if you're planning to visit during a long weekend.
Rates: ₱1,500 to ₱1,800 (depending on the trail experience)
Also read: Rizal Travel Guide 2023: Where to Stay, What to Eat, Things to Do

4. The Twin Lakes of San Pablo – Laguna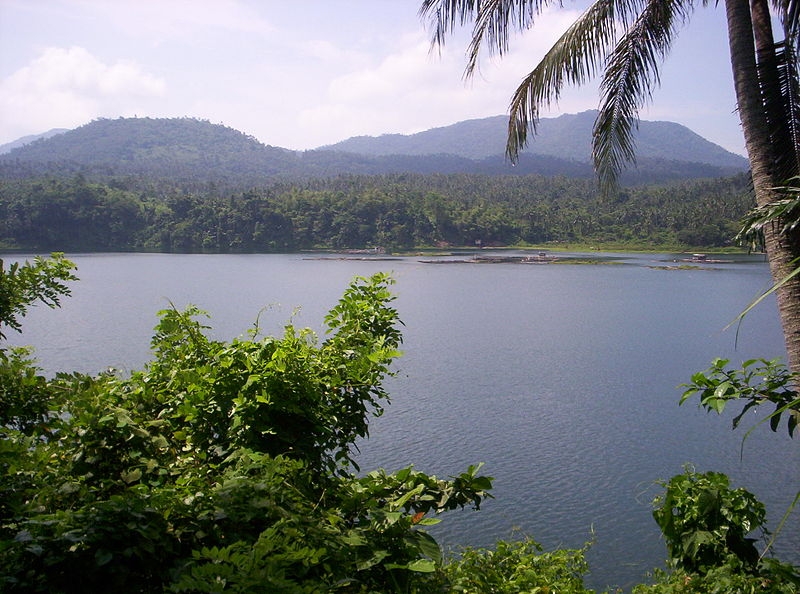 Laguna is known for its seven lakes, but the most famous for tourists are Lake Pandin and Lake Yambo in San Pablo. Get even closer to nature by riding a raft to the middle of Laguna's most pristine lakes, and admire the surrounding lush greenery as you have a pleasant lunch with your friends and family.  
Lake Pandin has two stops, a Balete Tree with thick vines which people use to swing and dive into the water, and a grotto where locals can source fresh water. The landscape of the two lakes is picturesque too. You also have the option to swim in Lake Pandin and trek to Lake Yambo. This is actually one of the more affordable attractions near Manila for barkadas, don't miss out on it!
Rates: ₱200 to ₱500 depending on group size, raft size, and the inclusion of food
5. Sisiman Bay – Bataan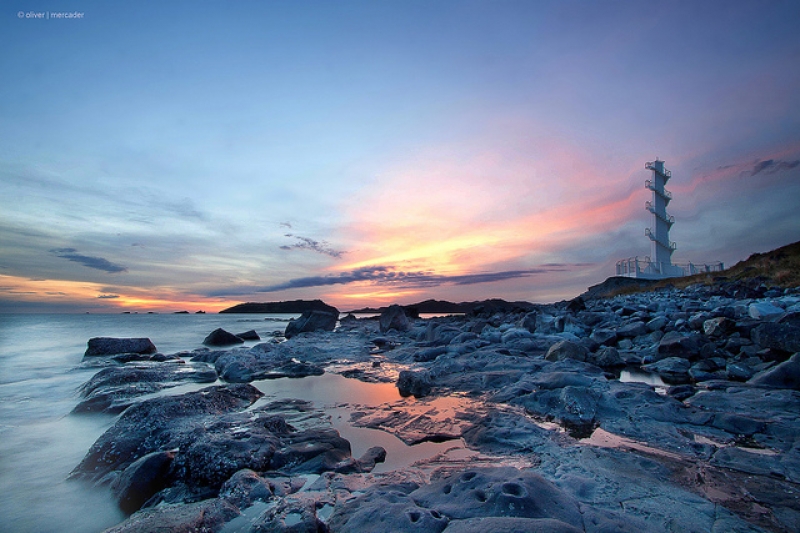 Sisiman Bay in Mariveles, Bataan is a three-hour drive from Manila but is still underrated considering how beautiful the place is. There's so much natural wonder to take in such as the rock formation and pebbles scattered along the beach. Not to mention, the contrast between the green and brown of San Miguel Peak to the deep blue of the bay. 
In good weather, the blue sky is the perfect canvas when the sun sets over the bay. There's also a lighthouse which tourists have often made a backdrop in their photos. But, don't get us wrong because every inch of Sisiman Bay is already picture-perfect! 
6. BenCab Museum
If you're tired of the typical museums in Metro Manila, then you really only have a few options left. That is if you're willing to drive for a couple of hours more than usual! The BenCab Museum in Baguio is undoubtedly one of the most popular museums in Luzon and a go-to tourist spot whenever one is in Baguio. It houses several paintings by Philippine National Artist Benedicto Cabrera; plus, the museum itself is a work of art. It features modern architecture with high ceilings and glass walls where natural light penetrates.
At the back, you'll see a man-made duck pond, bridge and gazebo. It isn't just a place to appreciate contemporary and Cordilleran art, but also a place where you get to relax and take in mother nature amidst the cool breeze you'd never get in the metro.
Rates:
General admission – ₱200
Students with valid Philippine school-issued ID – ₱120
Seniors/ PWD with valid Philippine government-issued ID – ₱150
Also read: 15 Must-Visit Museums in the Philippines to Celebrate Pinoy Heritage and History
7. La Union
Ah yes, the Surfing Capital of the North, and what millennials would often refer to as "Elyu". This surf town has become the ultimate barkada getaway as of late, mainly because of the beach and surfing, but there's a lot more you can do in La Union. You can hike to Tangadan Falls and swim in the pool or visit Lomboy Grape Farm and pick fresh grapes and guapples to bring home. If you're feeling a bit artsy, you can go to Red Clay Pagdamilian where they have daily pottery-making lessons. Now, aren't all these attractions near Manila worth trying, too?
Rates:
Tangadan Falls – ₱480 (all equipment included)
Lomboy Grape Farms  – ₱100 (entrance); ₱250 per kilo of grapes
Pottery Tour – ₱50
Pottery Making – ₱450
Also read: 3D2N La Union Itinerary: Eat, Surf, and Party for Less Than ₱5K
8. People's Park in the Sky – Tagaytay
Initially named Palace in the Sky, it was originally a mansion built for the visit of former United States President Ronal Raegan and former First Lady Nancy Raegan to the Philippines. However, the visit never took place and the unfinished mansion was then transformed into the leisure park it is today. 
On the hunt for the perfect, breezy spot to enjoy scenic vistas of the Taal Lake and Taal Volcano? People's Park in the Sky, one of the highest peaks in Tagaytay, is the place for just that! It also has small cottages where you can chill and have meriyenda while enjoying the view.

Rates:  ₱30 entrance fee
Also read: Top 10 Things to Do in Tagaytay for a Great Weekend Escape
9. Biak na Bato National Park – Bulacan
On your quick eco-adventure in Bulacan, don't skip visiting Biak na Bato National Park. Tucked away in the town of San Miguel, this ecological and archaeological attraction draws you closer to nature and rich biodiversity. Aside from its natural beauty, it also holds historical significance dating back to the Spanish era. For nature seekers and history enthusiasts, this historical destination is a sight to behold.
Rates:
Tour guide – ₱30 
Caving fee – ₱150
Also read: Bulacan Tourist Spots and More: 8 Exciting Places You Can't Miss
10. Hidden Valley Springs – Laguna
If you simply want to take it easy on your long weekend, the hot springs of Laguna might be what you're looking for. While the province boasts a wide variety of hot spring resorts for you and your family, the iconic Hidden Valley Springs is not one to be missed! This tranquil resort is nestled in a lush tropical forest with natural hot spring water from Mount Makiling. Aside from soaking in its warm waters, you can go on tours among its nature trails, too. 
Rate:
Day tour – From ₱3,200
Also read: 10 Waterfalls in Laguna for a Refreshing Natural Shower
As we're waiting for the long weekend, why not mull over these must-visit attractions near Manila? Already eyeing which one best suits your mood and preference for your long weekends? Trust us, you have enough time and options.
---
Featured image credit: Masungi Georeserve | Official Facebook Page
Facebook image credit (L-R): Masungi Georeserve; Hidden Valley Springs| Official Facebook Pages