Need a little natural refreshment? Waterfalls in Laguna are a crowd favourite. For locals, they're a source of precious freshwater. For tourists, they are a lush setting for swimming, outdoor activities, and photo opportunities. Falls come in all shapes and sizes, too, from sprawling multi-tiered streams running down jagged boulders to imposing cascades as tall as skyscrapers. And best of all, plenty are within an hour or two from the metro. So, load up the car, put on some tunes, and chase these cascading falls in Laguna that are some of the best in the country.
Also read: 10 Airbnbs & Vacation Rentals in Laguna That Are Staycation Goals
Waterfalls in Laguna worth the road trip
1. Pagsanjan Falls
A prominent feature in national tourism ads, Pagsanjan Falls is one of the most beautiful waterfalls in Laguna and possibly the entire Philippines. Consisting of three drops, this waterfall is frequently visited by tourists to bask in its glory.
There are a few ways to access Pagsanjan Falls. The first and most famous way is through the underground river, where tourists will emerge from a cave that leads to the falls' pool. Visitors can hire boatmen to paddle canoes that come and go on the underground river. Resorts around the falls call this route shooting the rapids, a thrilling way to get to and from Pagsanjan Falls.
Another name for the waterfall is Cavinti Falls, a name that comes from its proximity to the township of Cavinti. It's also possible to visit the falls from the top by hiking from this Laguna town. Regardless of which route travellers take, the waterfall is a gem from any angle.
2. Majayjay Falls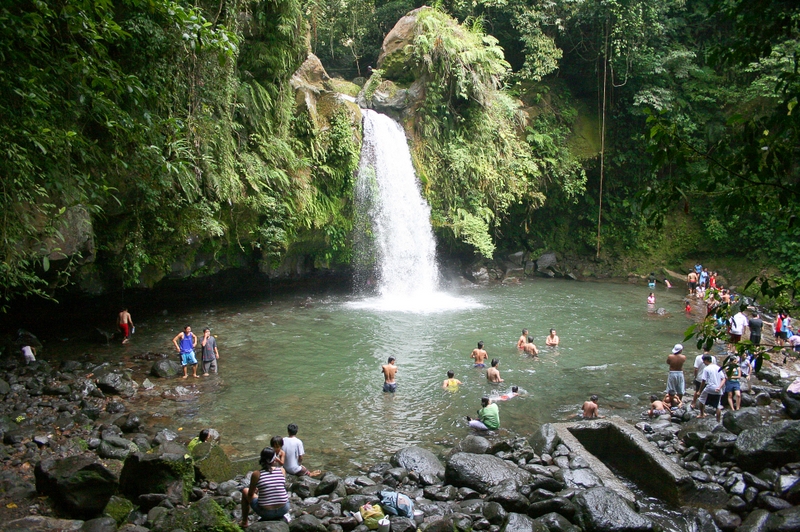 Another waterfall with many names, Majayjay Falls is a popular natural shower in Laguna. Known by other names like Taytay Falls and Imelda Falls, this cascade has been enjoying growing popularity since its discovery during the Spanish Colonial Period.
Wade in cool waters flowing through Majayjay Falls from Mount Banahaw. Travellers must embark on a short trek to get to the basin, but don't worry — it's not an imposing hike at all. In fact, the exercise makes the plunge into Majayjay Falls' natural pool much more refreshing. Hikers can also see the clear stream flow right beside them as they make the trek to the waterfall through a channel.
3. Buntot Palos Falls
No one really knows why Buntot Palos Falls, or "eel's tail" in English, is named as such. But no matter the name's origin, there's one thing about the waterfall that's widely agreed upon: Its beauty will leave anyone speechless. 
It is also known as Hidden Falls since visitors have to go through the thick encroachment of the Sierra Madre Mountain Range just to reach its pools. That's two to three hours of hiking! But once visitors reach its foot, they will be greeted by an 80-metre (!) waterfall that is definitely cool and refreshing. With the grandeur of Buntot Palos Falls, the hike is definitely worth the trouble.
4. Hulugan Falls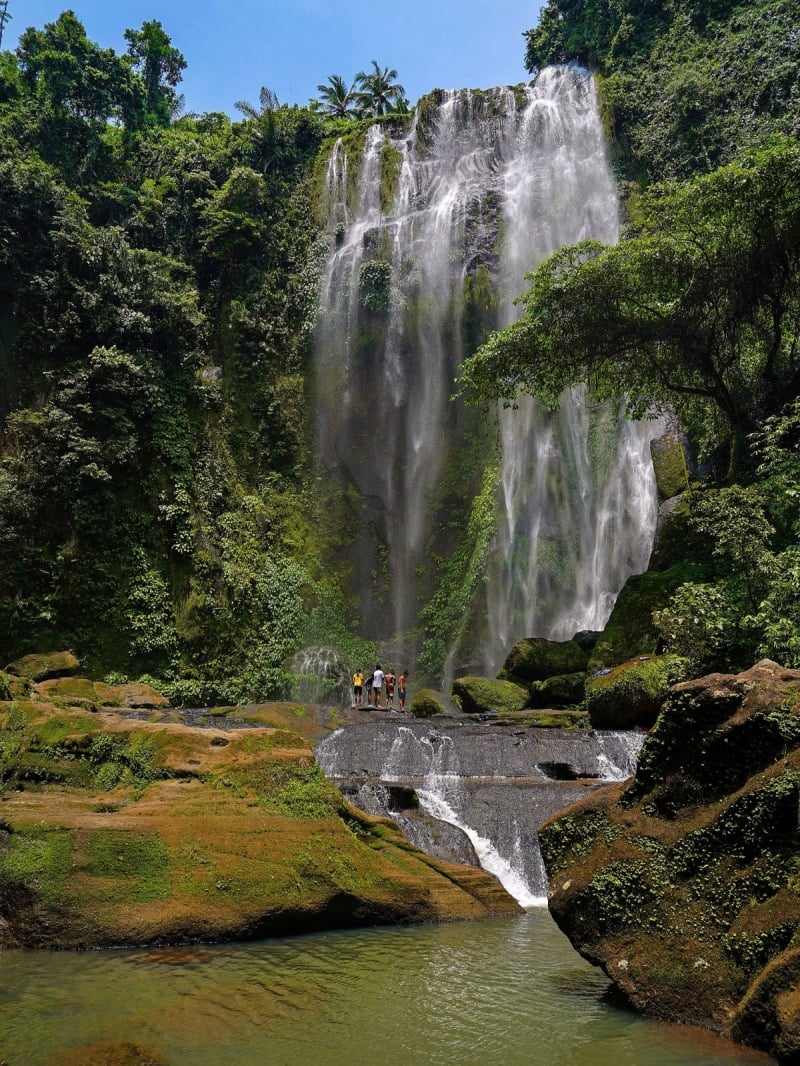 One of the most gorgeous waterfalls in Laguna is Hulugan Falls in Luisiana. Legend has it that it was named as such because a cow once fell from the top. Locals say this is the tallest waterfall in the province, so this is definitely saying something! 
Before setting off, keep in mind that reaching Hulugan Falls' catch basin can be quite troublesome. Tourists have to hike to the top of the falls, and then trek down rocks to its pools. But like all waterfalls on this list, Hulugan Falls is a top contender when it comes to beauty. We recommend trying to reach the catch basin in the afternoon, when the sunlight passing through the mists creates pretty little rainbows over the water!
5. Aliw Falls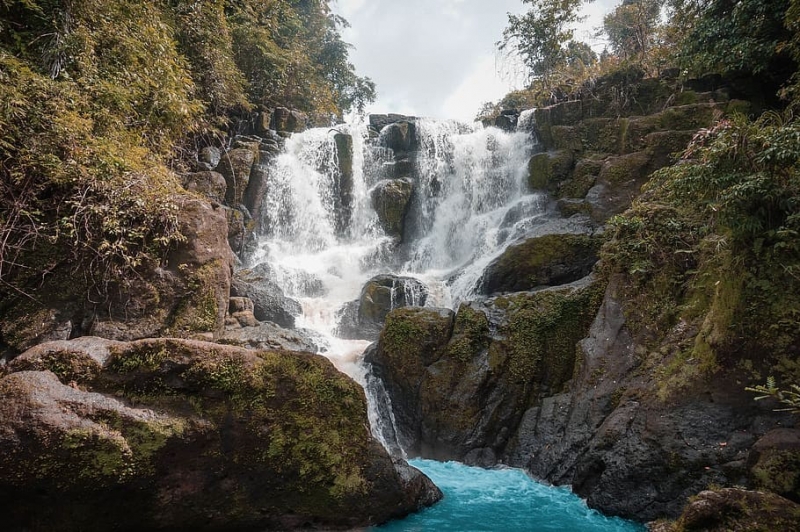 There are so many waterfalls in Laguna, but, Luisiana has a handful of them! So, after visiting Hulugan Falls, travellers can make a trip to another hidden gem: Aliw Falls. Unlike the taller Hulugan Falls, Aliw Falls isn't just a single drop. Instead, water flows around, on top, below, and between the rock formations like clockwork; overall, it can be a surreal sight to witness. The basin is also quite wide, with climbable rocks where swimmers can dive off to.
6. Talay Falls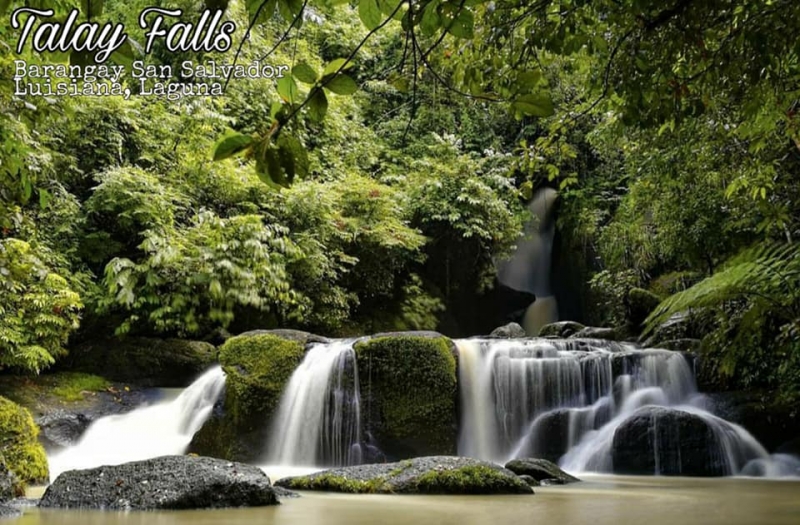 To conclude the trio of waterfalls in Luisiana, make for some time to visit Talay Falls. If you start out early, it's possible to hit all three waterfalls in a single day! Talay Falls is the smallest of the three Laguna waterfalls, but it's no less worthy of a visit. Travellers who enjoy uncovering secret spots can even follow a path through one of the tiers and discover the hidden falls tucked away from sight. 
7. Bunga Twin Falls
Bunga Twin Falls may not be the highest of waterfalls in Laguna, but its symmetry earns it a steady stream of tourists. The pair of cascades sit side by side, split evenly as they distribute water to the cool basin below. Plus, adrenaline junkies will surely get a kick out of Bunga Twin Falls in Nagcarlan. Thrill-seekers can conquer new heights by climbing the cliff next to the falls and diving into a 32-foot-deep pool!
8. Bumbungan Falls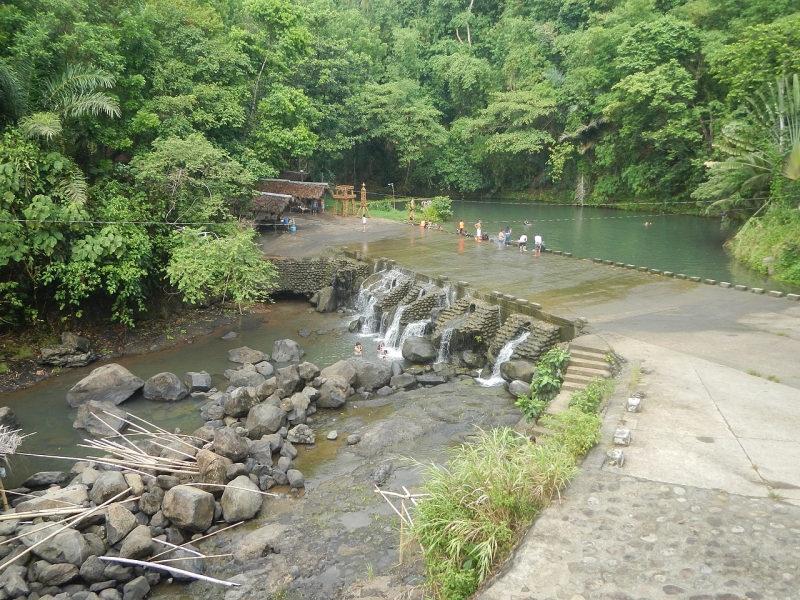 Natural waterfalls abound in Laguna, but another popular destination also happens to be man-made. Bumbungan Falls is a part of Bumbungan Eco Park, which is the spillway of the Bumbungan River itself. The falls have a paved road on them where visitors can seemingly walk over the flowing river. Beside the falls are picnic tables that offer a scenic lunch in the park.
This waterfall is also located in Cavinti, so keep this in mind should you visit its more famous neighbour, Pagsanjan Falls.
Also read: Campsites Near Manila: 15 Refreshing Spots for Your Next Getaway
9. Dampalit Falls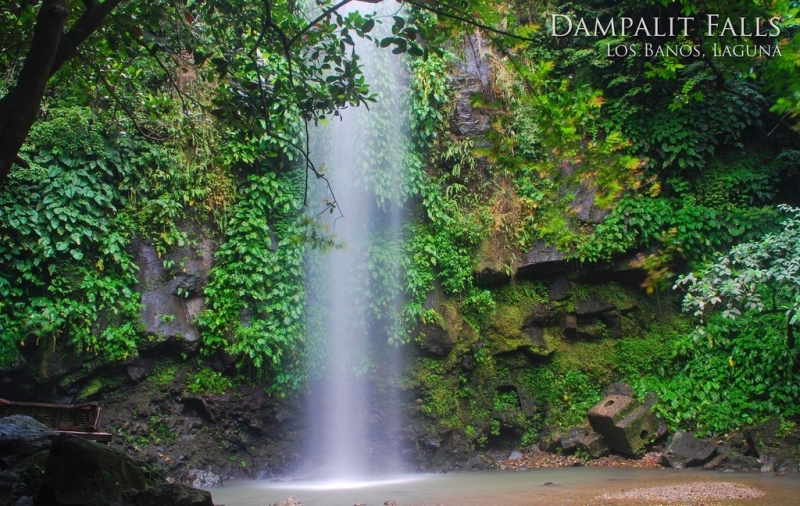 Los Baños is famously known for its hot springs, but hidden in the town is one of the best waterfalls in Laguna. Dampalit Falls can be accessed by going a bit past the famous Mount Makiling. While the waterfalls are strong, the shallow catch basin makes a great swimming hole for visitors. Surrounded by verdant greenery, Dampalit Falls is an ideal place for a chill picnic in Laguna. Fortunately, the area around the waterfall has picnic table rentals for those who wish to eat in this elevated al fresco experience!
Also read: UPLB-Buendia Bus Routes Have Finally Reopened for Commuters
10. Buruwisan Falls
Buruwisan Falls in Siniloan is popular among beginning mountain hikers because of its accessibility. It is one of the seven waterfalls housed in Mount Romelo. This waterfall has a staggering 180-foot drop which you can actually rappel down from! Apart from that, a swim in Buruwisan's refreshing spring water more than makes up for the mountain hike. 
Additionally, a trip to Buruwisan can be part of a waterfall trek through Mount Romelo that also includes detours to Lanzones Falls, Batya-Batya Falls, Sampaloc Falls, Sapang Labo Falls, Binaytuan Falls, and Diwata Falls. It's not an easy trek, but definitely a memorable one for adventurers. 
11. Bukal Falls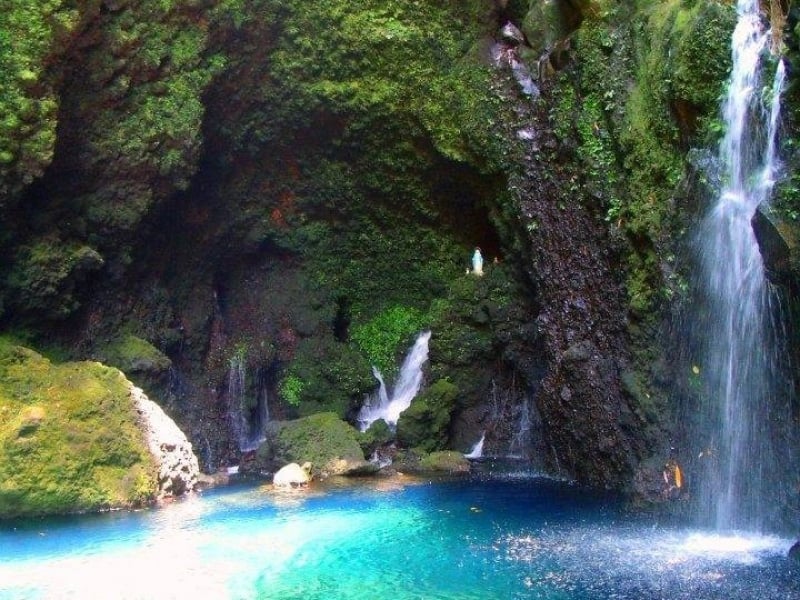 A beautiful natural feature nestled at the foot of Mount Banahaw, Bukal Falls is an underrated gem in Majayjay, Laguna. It's not a particularly high waterfall, but it does feature one of the bluest waterfall pools you can imagine. Clear, turquoise waters promise stunning photos — but if you're planning to take a dip, be prepared for an icy cold experience! Some call it Kilangin Falls, while others affectionately dub it Enchanted Falls; either way, it's bound to entrance nature-loving travellers exploring the province. 
12. Ambon-Ambon Falls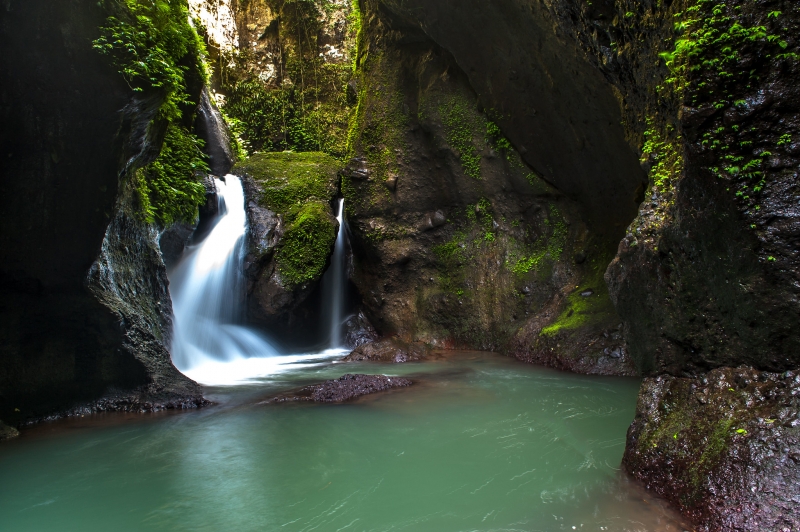 Inside Panguil River Eco Park is another Laguna must-see for waterfall lovers, Ambon-Ambon Falls. It's often overlooked for more famous cascades in the province, it's a fantastic destination for a day out in nature. The falls are a 20- to 30-minute trek on park trails, with a quick stop at a smaller waterfall dubbed Piit Falls along the way. Tucked behind cliffs, Ambon-Ambon Falls features an air of seclusion — if you're lucky, you might even have this Laguna cascade all to yourself!
After swimming and hanging out by Ambon-Ambon, try your hand at the other activities in Panguil River Eco-Park, like camping and river tubing. 
Also read: 10 Waterfalls Near Manila for Day Trips & Long Weekends
And that's just some of the many waterfalls in Laguna! It's way more than you can probably fit in a single weekend (or even two), but you can take your time exploring these natural gems. Anytime you're in the mood for a swim in extra-cold natural pools, these falls in Laguna are waiting for your visit. 
---
Featured image credit: ElliotAndal | Wikimedia Commons