Not all travellers are outdoorsy, and I've always been one of those who preferred cities and beaches over mountains, hot springs, or waterfalls. The short distance didn't matter, nor did the number of invitations I received to go on hikes or visit waterfalls near Manila.
However, allow me to admit that for the longest time, I referred to myself as 'not a mountain or waterfall kind of girl' without any prior experience. The idea of going out, exploring nature, or seeking out adventures just never really appealed to me.
Don't get me wrong, though. I live in a country rich with some of the most gorgeous landscapes and natural wonders you'll ever see, and I'm fully aware of that — I consider it a blessing, even! I guess I just needed to step out of my comfort zone to actually go out and experience them for myself — something I've always been hesitant about doing. Until I joined TripZilla, that is.
My first waterfall experience
As a three-week-old newbie to the TripZilla family, I had the opportunity of going on first-ever hike. A little over six months later, I immediately said yes to the chance to experience waterfalls for the very first time. On a trip to Baler, we took a side trip to San Luis, Aurora and trekked our way to the Ditumabo Falls. And let me tell you — when we completed the uphill trek and I laid eyes on my very first waterfall, I was completely stunned.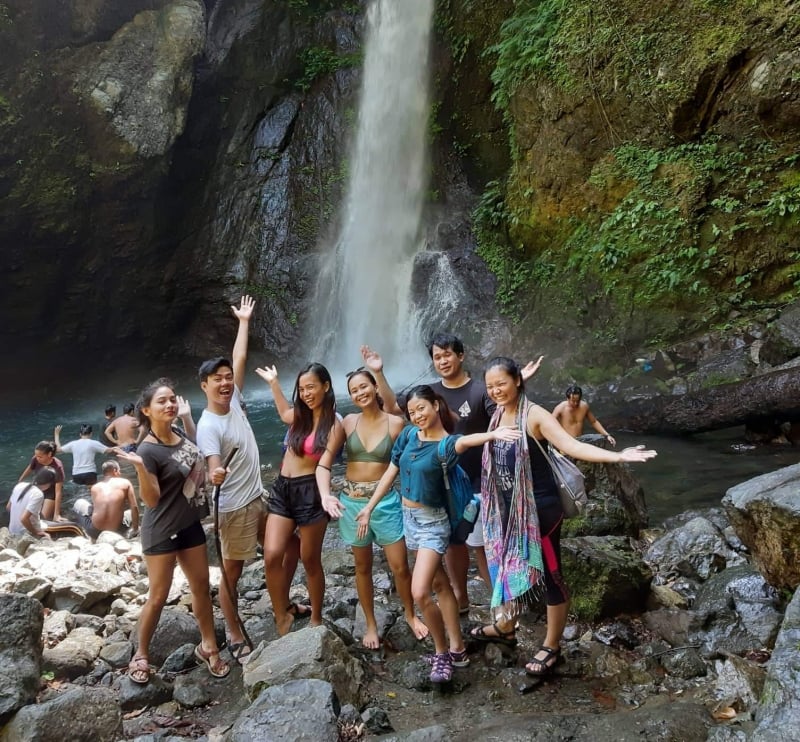 My friends and family have always been confused with regard to my strange travel preferences — I love the beach, but I don't enjoy swimming. It always takes a little coaxing to get me to set foot in the sea (or any body of water, for that matter)! But to complete my very first waterfall experience, I needed no convincing. I just knew I had to take a dip. And it was all sorts of amazing.
Officially a waterfall convert
The water was cold, clean, and refreshing; the surrounding scenery was absolutely gorgeous. Finally, I got to witness such a magical, picture-perfect scene in real life. Sure, it may have been way more crowded than I expected. But to feel so connected with nature was such a moving experience.
Since then, I promised myself I would say yes to more nature trips — especially if waterfalls are involved. And since my friends particularly love planning getaways for long weekends, I kept a lookout for those just within driving distance of Manila. 
So, with this, I invite you all to scroll through this list, select your destination, rev up your engines (or hop on a bus), and prepare to witness some of the most gorgeous waterfalls near Manila! I hope you all fall in love with nature and with the Philippines in the same way I did.
Also read: 13 Long Weekends in the Philippines in 2020
Waterfalls near Manila that are perfect for day trips
Laguna
1. Aliw Falls — Cavinti
It probably won't come as a surprise that most waterfalls near Manila can be found in the province of Laguna. But while several of them are well-known to the public, a number of them are still waiting to be discovered. The Aliw Falls, tucked in the midst of lush greenery, are certainly among these hidden gems. Plus, here's a bonus: the hike, which will only take you 20 to 30 minutes, is friendly to beginners!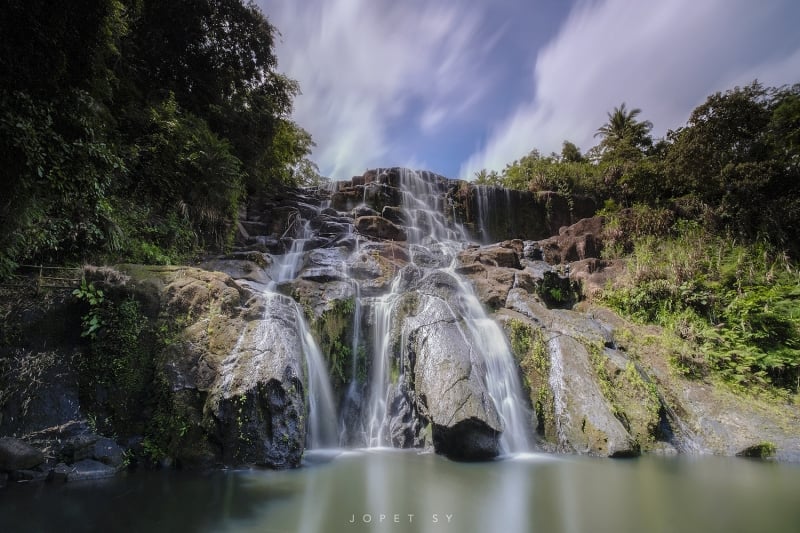 With water that streams down layer upon layer of rock formations, the 25-metre high falls are, without a doubt, a majestic sight. Though the natural pool is small, it's actually quite deep — and because of this, visitors are advised to refrain from swimming here. However, if you'd like to take a dip, you're welcome to climb to the top, where you'll be able to enjoy shallow waters and take in breathtaking views. A limited number of stone tables and chairs are also available, making the Aliw Falls an ideal picnic spot — just make sure to come by early to snag seats!
How to get there: Take a bus to Sta. Cruz, then take a jeep to Luisiana. Afterwards, take a trike to the Aliw Falls jump-off point in Brgy. San Salvador.
Entrance fee: ₱10 per head
Guide fee: ₱300 to ₱500 per group
2. Buruwisan Falls — Siniloan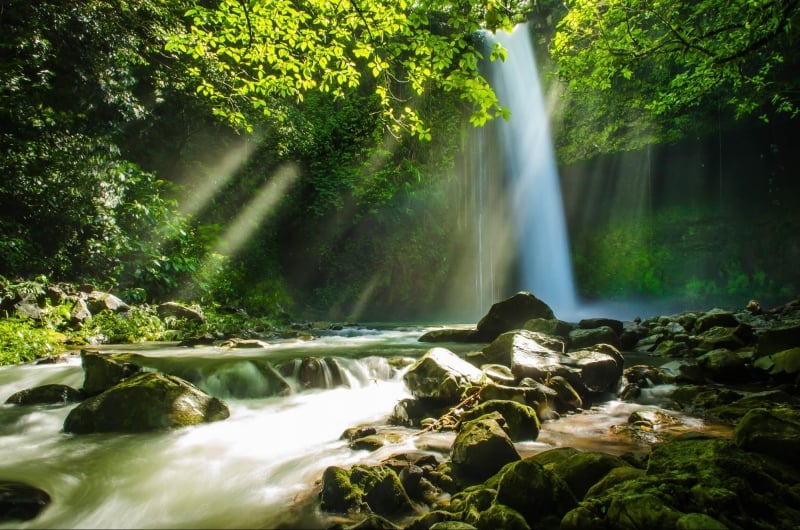 The Buruwisan Falls are yet another of Laguna's well-kept secrets. You'll find them just 10 to 15 minutes away from the campsite at Mt. Romelo — which happens to be home to not just one, but seven of Laguna's most stunning waterfalls. As if that wasn't impressive enough, locals say the mountain is actually home to more than nine waterfalls, some of which are just lying under the radar.
The clean, cold water cascades down from 50 metres above. When the weather is perfect and the lighting is just right, the Buruwisan Falls' turquoise pool practically glows, making the whole scene look like something straight out of a fairy tale. Apart from swimming and simply revelling in its beauty, visitors can opt to go rappelling, too! On top of that, you can venture off to explore the rest of Mt. Romelo's waterfalls. And if you're up for a challenge, you might even want to see all seven of them in one go!
How to get there: Take a bus to Siniloan, Laguna. When you get there, take a tricycle to the Buruwisan Falls jump-off point.
Entrance fee: ₱10 per head for day trip, ₱50 per head for overnight camping
Guide fee: ₱600 per group
3. Ambon-ambon Falls — Pangil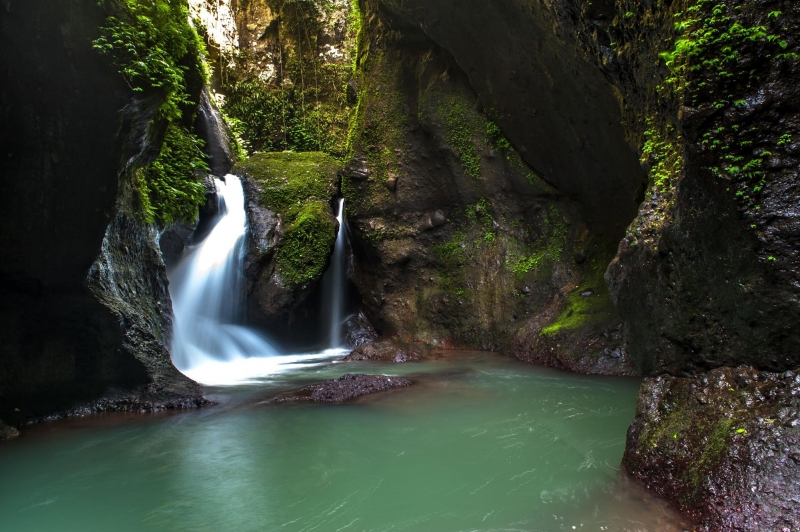 On the lookout for an exciting yet beginner-friendly waterfall adventure? The Ambon-ambon Falls, nestled within Laguna's Panguil River Eco Park, meets that criteria exactly. The journey to the falls consists of a walk across paved areas, various water crossings (you will have to swim and wade across knee-deep water), and several rides on bamboo rafts. Despite the eventful trip, it'll only take you 30 to 45 minutes to get to your destination!
A slice of paradise hidden behind large boulders, the 60-metre high waterfall cascades in a gentle drizzle. And yes, if you were wondering, this is where it gets its name! As the water isn't too deep, you can take a refreshing dip or treat yourself to a "massage" under the falls. Nearby, you can also enjoy activities like rafting and water tubing — you can even set up camp and stay overnight for the full experience.
How to get there: Take a bus to Sta. Cruz, then take a jeep to Siniloan and get off at Natividad. Finally, take a trike to Panguil River Eco Park.
Entrance fee: ₱135 per head
Guide fee: ₱350 per group
4. Pagsanjan Falls (Cavinti Falls) — Cavinti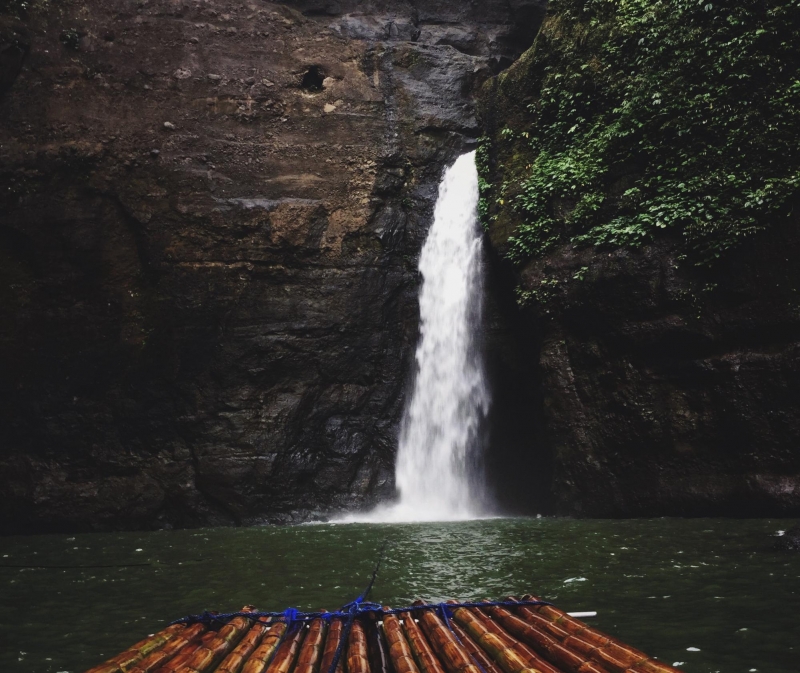 Of course, how could this list of waterfalls near Manila not include the famous Pagsanjan Falls? Known to locals as the Magdapio Falls, it's one of the most popular waterfalls in the Philippines. (After years of Araling Panlipunan, you probably knew that already.) On top of that, did you know that the end scene of the 1979 film Apocalypse Now was shot here, too? Pretty cool!
Though the falls were renamed 'Cavinti Falls' back in 2009, this change has honestly never quite stuck with me. For those who don't know, the falls are geographically located in Cavinti, Laguna. However, the more popular point of entry is found in Pagsanjan — hence its original name. This action-packed route entails about an hour's upstream river trip aboard a canoe. The downstream trip back is often referred to as 'Shooting the Rapids' — a thrilling ride through 14 rapids amidst narrow rocks. 
Tip: Don't bring any valuables that aren't waterproof. You will inevitably get soaked!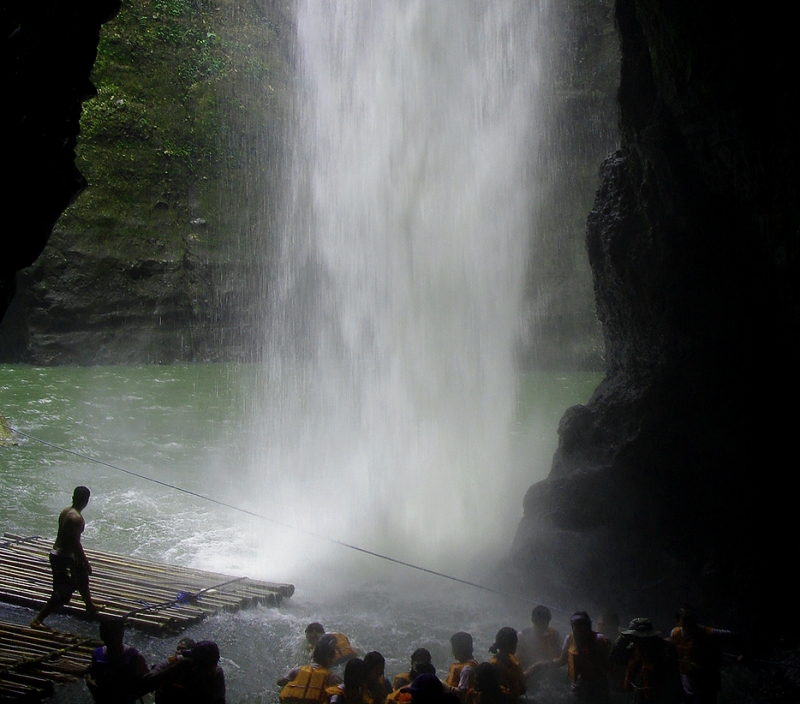 The Cavinti Route, on the other hand, is less time-consuming and more affordable. There's a catch, though: It's more challenging, and definitely not beginner-friendly. From the entry point at Pueblo El Salvador's Park and Picnic Grove, you'll only have to take a short trek. But to get to the main falls, you'll have to descend via a steep ladder and then rappel your way down vertically.
But regardless of how you get there, you'll be able to take part in the same activities upon reaching the main falls. Swimming, taking a bamboo raft  through the cave under the falls (known as the 'Devil's Cave'), and shooting the rapids are musts to complete your Pagsanjan adventure!
How to get there: 
Pagsanjan route: Take a bus to Sta. Cruz and alight at the Pagsanjan/Jam Bus terminal in Brgy. Pagsawitan, Pagsanjan. Then, take a jeep and get off at the Pagsanjan Falls jump-off point.  
Cavinti route: Take a bus to Sta. Cruz, then take a jeep to Cavinti and get down at the Magdapio Falls junction. Once you get there, take a trike to Pueblo El Salvador.
Entrance fee: ₱1,250 to ₱1,500 per head for those taking the Pagsanjan entrance; ₱270 per head for those taking the Cavinti entrance (additional ₱360 per head for those who'd like to 'shoot the rapids')
Guide fee: Already included in the entrance fee, but we do encourage tipping your tour guides and/or boatmen!
Rizal
5. Daranak Falls — Tanay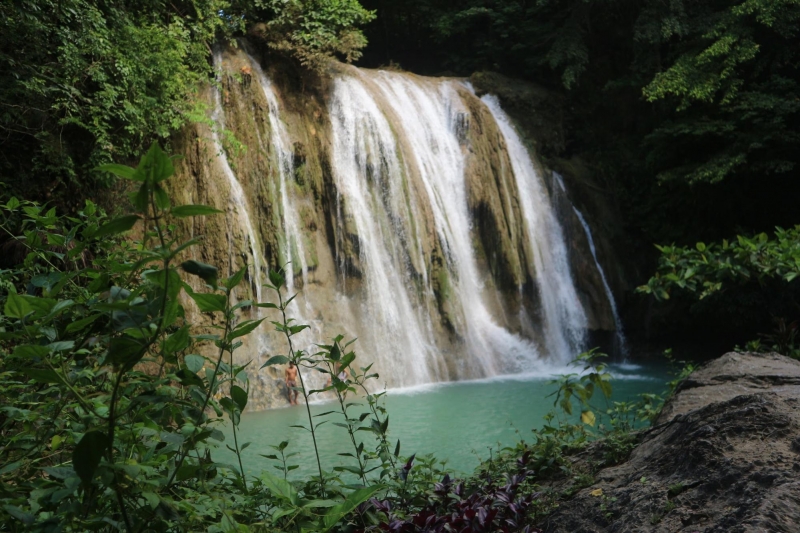 Along with nearby attractions such as Mt. Daraitan and Tinipak River, the Daranak Falls are particularly popular among travellers who actively seek quick trips from Manila. Because of its proximity to the metro, Instagram-perfect turquoise waters, and affordable entrance fee, it's a heavily frequented weekend getaway — especially in the summer. Oh, and did we mention you don't have to trek to get there, either? No wonder they're among the best loved waterfalls near Manila!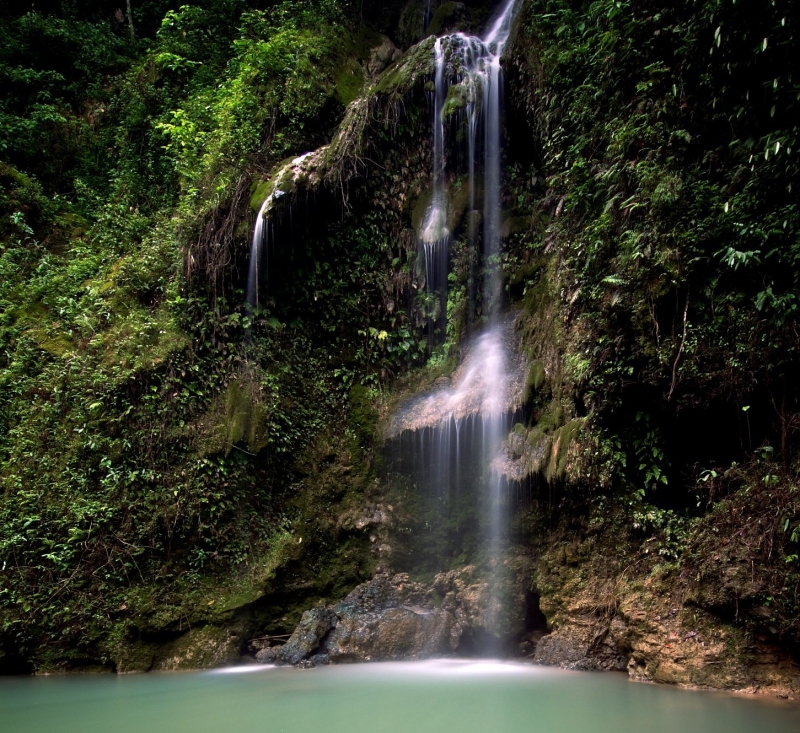 The waters, which stream from 14 metres high, fall into a catch basin that's perfect for swimming. With both shallow and deep areas, visitors of all ages are sure to enjoy. Cliff-jumping is an option for thrill-seeking travellers, too. As for those just looking to kick back and relax? You can rent a table in a shaded area and enjoy a picnic with a view! (Just remember to clean as you go — and take note that bringing plastic and styrofoam is strictly prohibited.)
How to get there: Take a bus to Taytay and get off at the Cainta junction. Then, take a jeep to Tanay and take a tricycle to the Daranak Falls entrance.
Entrance fee: ₱50
Guide fee: None
6. Batlag Falls — Tanay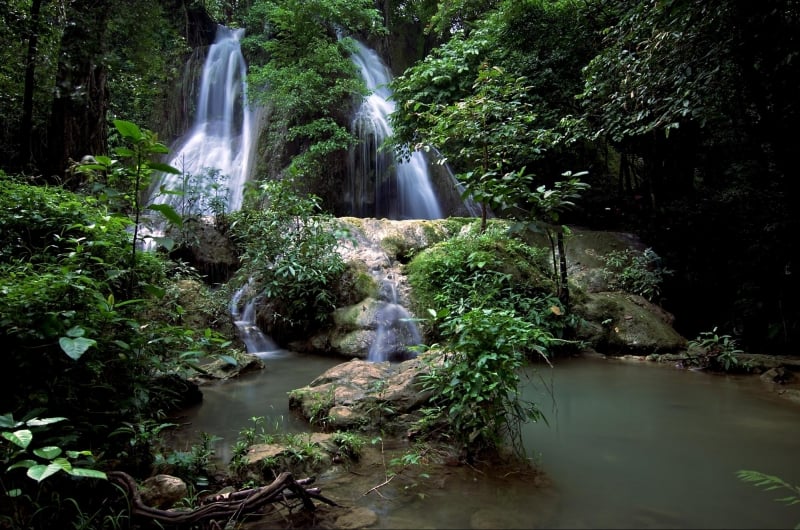 Sure, most people know about the Daranak Falls — but have you heard of the Batlag Falls? While they're not as popular as their sister falls, they're just as deserving of a spot on this list of must-see waterfalls near Manila. And if you ask me, the fact that they're more under-the-radar makes the Batlag Falls an even more attractive option. (Do you hate crowds, too?)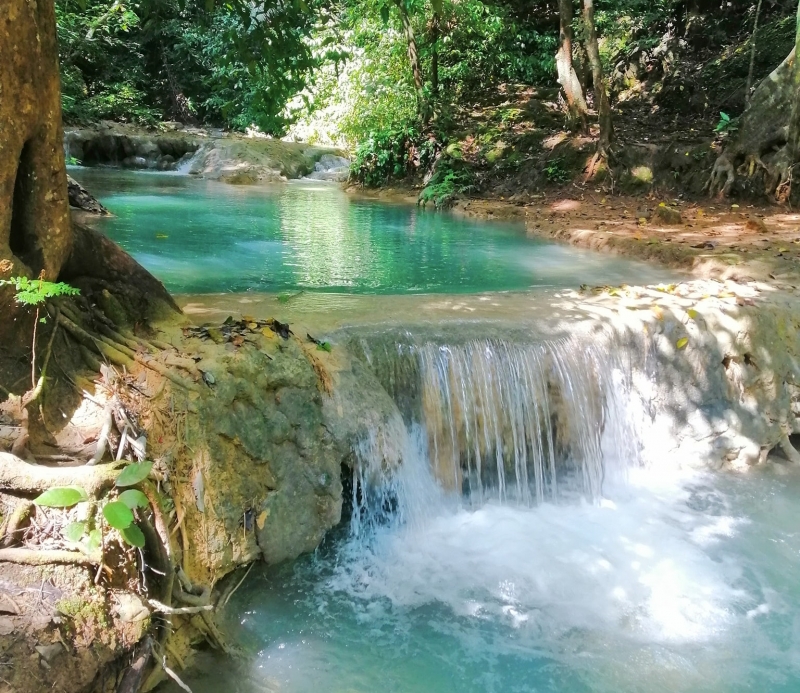 Just a 10-minute hike away from Daranak, the falls are tucked within a lush forest. Its beautiful turquoise waters cascade gently into two basins, one at 1.5 metres deep, and the other at 4 metres deep. The fact that you can actually swim in such gorgeous pools is almost unreal! There are available tables and benches around the area, so you can definitely spend several hours there. 
Note: You can only access the Batlag Falls via the Daranak Falls, so we recommend seeing both in one go!
How to get there: Take a bus to Taytay and get off at the Cainta junction. Then, take a jeep to Tanay and take a tricycle to the Daranak Falls entrance. From there, trek to the Batlag Falls.
Entrance fee: ₱100
Guide fee: None
Waterfalls near Manila for long weekends and overnight trips
La Union
7. Tangadan Falls — San Gabriel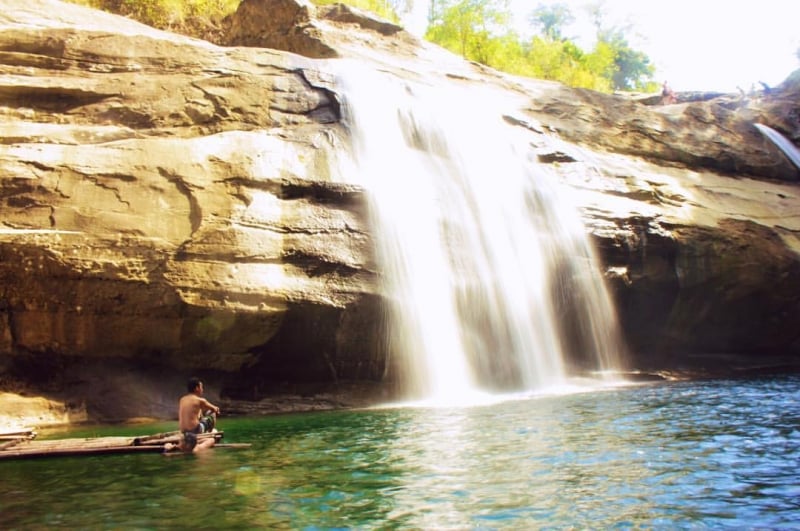 Did you know that La Union is home to one of the most gorgeous waterfalls near Manila? Just when you thought Elyu had it all — sun, sand, surf, and lots of great food — you find out that it has even more to offer! One of the province's must-see sights, the Tangadan Falls are among La Union's underrated gems. This being said, you'll want to make the side trip to San Gabriel the next time you're visiting the surf town!
The Tangadan Falls are an easy and scenic one-hour trek from the jump-off point. But if you aren't up for the extra exercise, you can easily cut your trek to just 20 to 30 minutes by hiring a private tricycle.
Once you get to the falls, you'll undoubtedly find yourself in awe. The water cascades from various heights, and the jade-coloured pool is surrounded by stunning rock formations. Visitors may swim, cliff jump, or rent a spacious bamboo raft and simply unwind under flowing water. Sounds like the perfect picture of relaxation to me!
How to get there: Take a bus to La Union and get off at San Juan. Then, take a jeep to San Gabriel and alight at the tricycle lane. Finally, take a trike to the Tangadan Falls jump-off point.
Entrance fee: ₱30 per head
Guide fee: ₱500 per group
Aurora
8. Bulawan Falls — Dinalungan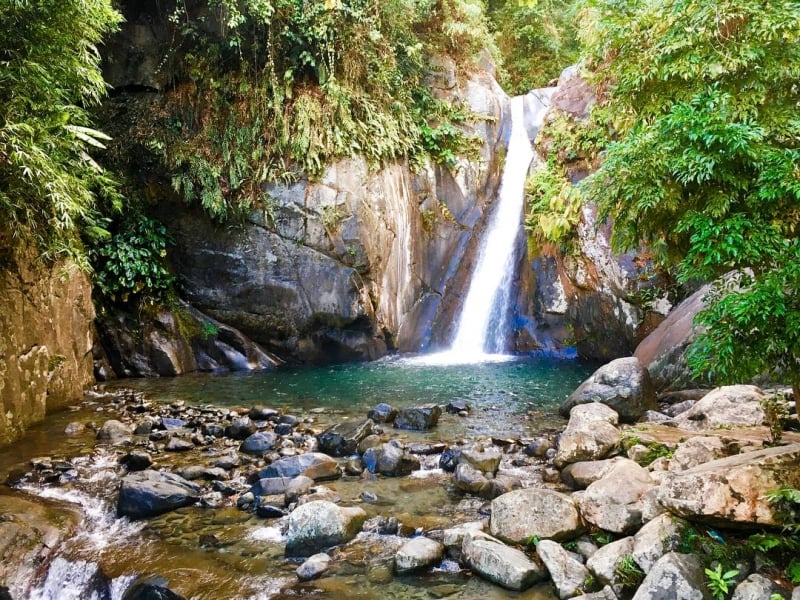 Just 30 minutes away from the paradise that is Casiguran, you'll find the breathtaking Bulawan Falls — some locals call them the most beautiful in all of Aurora. A tranquil hideaway in the middle of a dense forest, the falls are best known for the crystal clear water that flows down its large rock formations. But despite giving off the vibe that you're in the middle of nowhere, it only takes a five-minute walk to get there from the jump-off point! Can you believe that?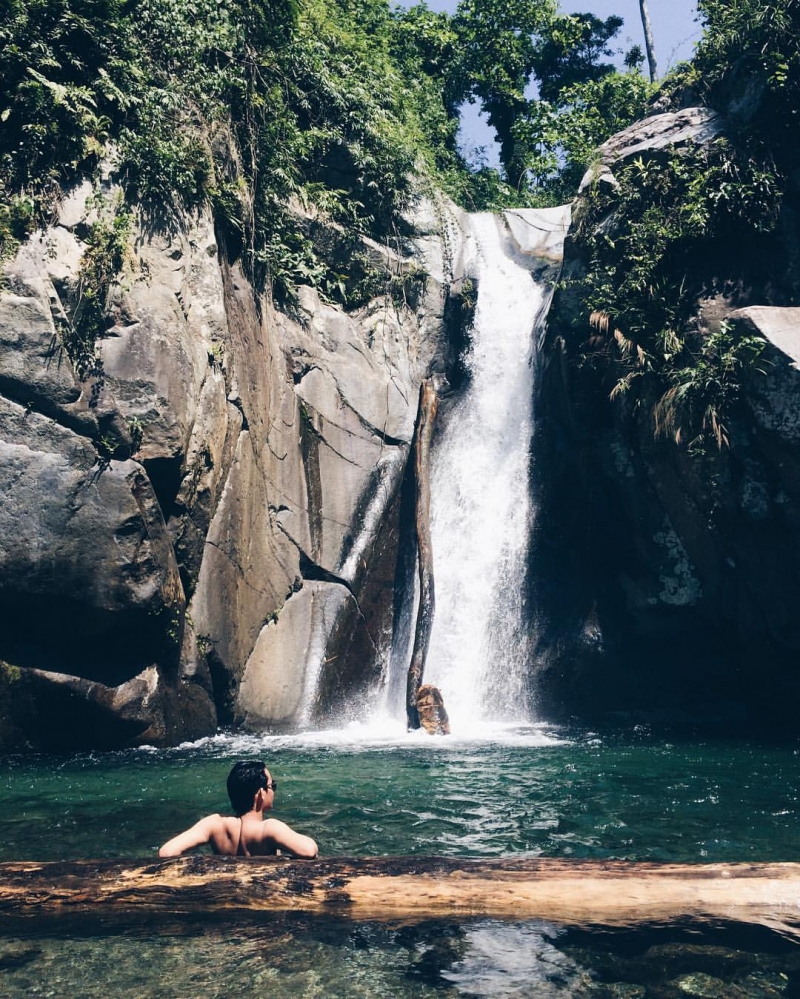 As one of the province's lesser-known attractions, the Bulawan Falls are perfect for travellers who veer away from crowded tourist areas. It's a peaceful place to just sit and appreciate nature, as well as take a chance to swim in clean, natural water. (Cool fact: Several years back, the falls were actually acclaimed as the region's cleanest inland body of water!)
How to get there: Take a bus to Cabanatuan. From there, board another bus to Dinalungan. Finally, take a tricycle to the Bulawan Falls jump-off point.
Entrance fee: ₱15 per head
Guide fee: None
9. Ditumabo Falls — San Luis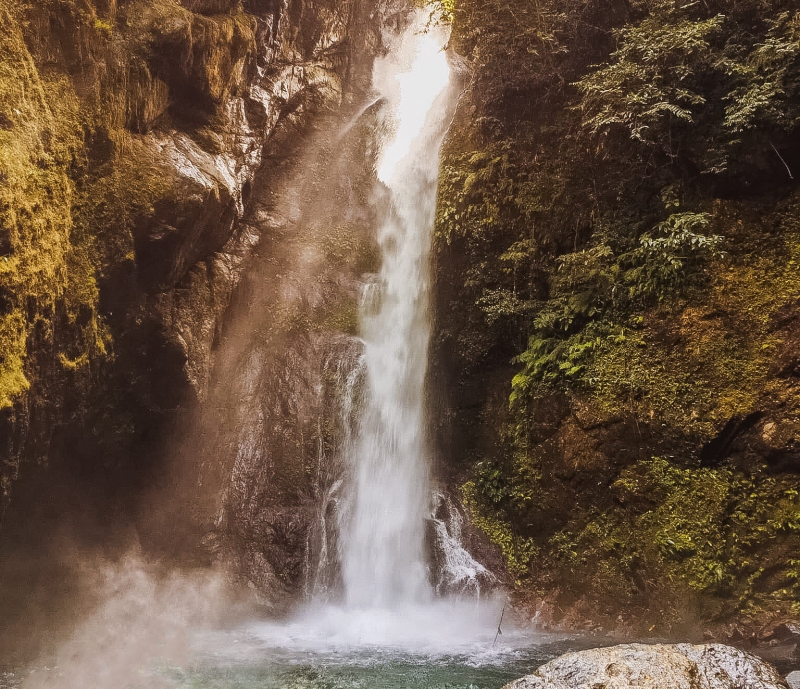 Aah, now we've reached the waterfalls near Manila that pretty much changed my life! The Ditumabo Falls, locally known as the Mother Falls, are a popular side trip for those visiting Baler. They're often mistaken to be one of Baler's attractions, but they're actually located in the nearby town (about 45 minutes away by tricycle) of San Luis — another place very much worth visiting!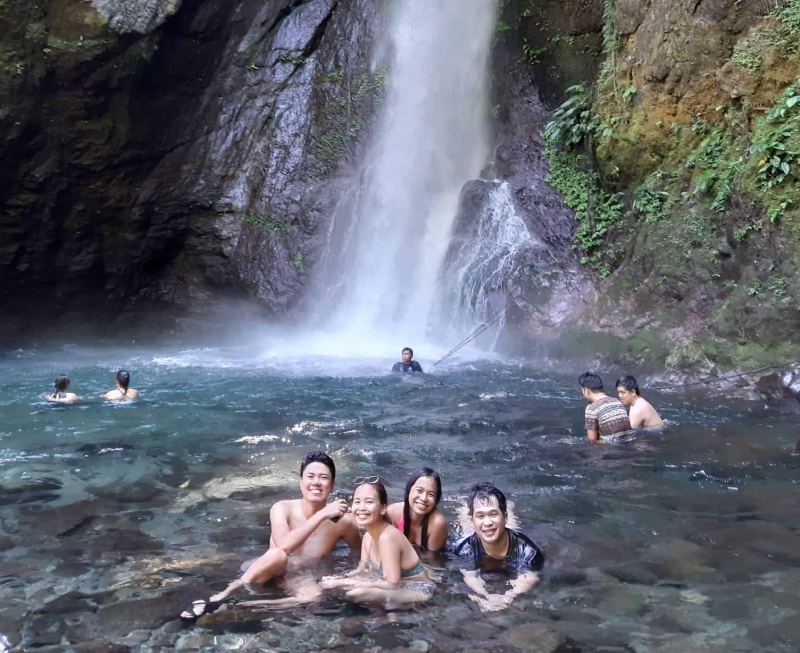 Depending on your speed and expertise, you could get to the main falls in as fast as 20 minutes. But don't be afraid to take your time, as the route is made up of dirt paths, cemented walkways, and wooden bridges. You'll have to cross through stony rivers a few times, too — so, safety first! Despite the mini obstacles, the hike is both scenic and beginner-friendly. And once you arrive at your destination and lay eyes on the 42-metre falls, all the trouble will certainly be worth it. The clear waters will practically call out to you — make sure to take a dip!
How to get there: Take a bus to Baler, Aurora. Then, take a trike to San Luis and alight at the Ditumabo Falls jump-off point.
Entrance fee: ₱20 per head
Guide fee: ₱300 per group
Mountain Province
10. Bomod-ok Falls — Sagada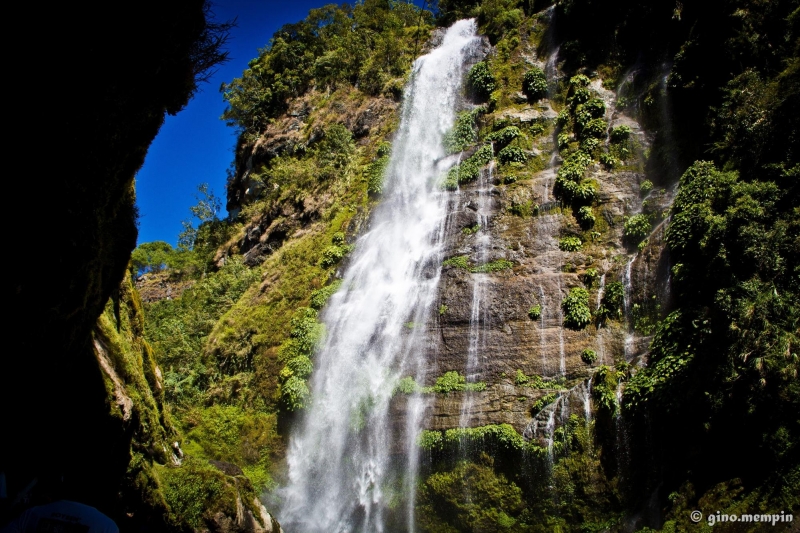 The next time you're off on a soul-searching trip in the mountains of Sagada, be sure to add the Bomod-ok Falls (also known locally as the Big Falls) to your itinerary. As they're hidden deep within a valley, the trek there can take one to two hours. But with such gorgeous views of rice terraces, mountains, and nearby villages, the hike will surely be worth your while.
Once you complete the scenic journey, you'll be rewarded with a sight that will instantly take your breath away. Surrounded by stunning rock formations, the majestic falls cascade from a cliff 60 metres above ground into a pristine pool. Make the most of your trip and swim in refreshingly cold water — maybe you'd even like to go cliff jumping!
How to get there: Take a bus to Sagada. Then, take the jeep to Brgy. Banga-an in front of Sagada Municipal Town Hall and get off at the Bomod-ok Falls jump-off point.
Entrance fee: ₱60 per head
Guide fee: ₱600 per group
Also read: You Can Now Travel Directly from Manila to Sagada Via This Luxury Bus
An important reminder
When visiting any natural spot (or any tourist spot, for that matter), it's always important to leave no trace. Be a responsible tourist, and make sure to clean up after yourselves before heading back home. Let's make a conscious effort to be better travellers and preserve Mother Nature's beauty.
Also read: 10 Airbnbs for Your Next Barkada Staycation Near Manila
Now, which of these waterfalls near Manila have you been to? Which do you want to visit next? We'd love to see your photos — tag us on Instagram at @tripzillaph and use our hashtag #MakeTravelHappen!