Contributed by A Wanderful Sole
Basic info
Location: Barangay Daraitan – Tanay, Rizal
Elevation: 739+ MASL
Difficulty: 4/9
Feature: Scenic view of the Sierra Madre range and of Tinipak River
Mt. Daraitan is one of the several stunning mountains located in the beautiful province of Rizal boasting all of nature's goodness from pristine rivers and waterfalls, dark hollowed caves of century old formation of stalagmite and stalactite rocks to the picturesque view of the Sierra Madre range. She has quickly established herself as one of the top hiking destinations bringing hundreds of thrill seeking spirits to her trails every single day. She may have allowed way too many footprints in her land but don't ever think she is all spice and everything nice because behind her summit seeming so graceful from afar is her utterly formidable nature which has sent some hikers home weeping and with a broken heart or should I say a broken knee.
Also read: Mount Tibig: The Hidden Beauty of Batangas
The swift journey and the bumpy ride
Three in the morning and while the rest of the world was soundly asleep, McDonald's in front of Edsa Central however, was filled with cheerful chatters and we were amongst them. Hiking is indeed the most popular recreation/outdoor activity this year as we weren't the only group prepping for that day's great adventure. Since transport service to take us to Tanay won't be available until 4am, we had no choice but to kill time over chicken Mcdo and coffee.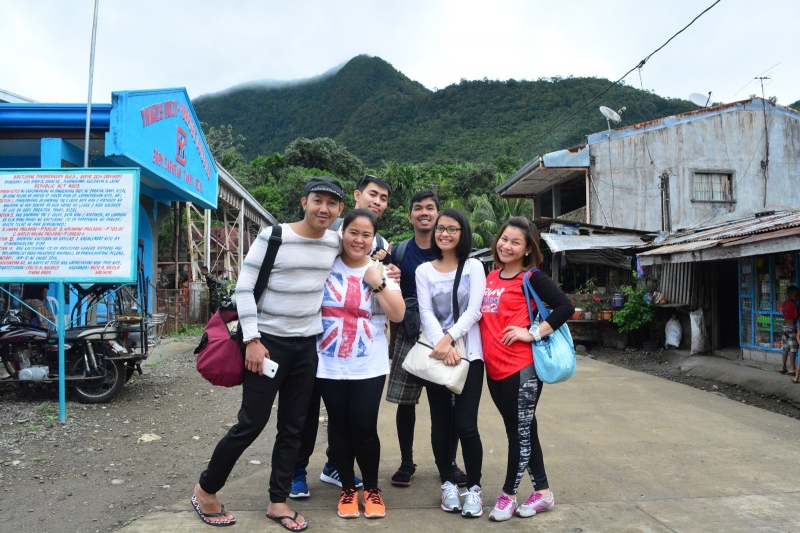 The clock hit the hour of 4 and slowly the lively crowd left McDonald's with our pack headed towards Starmall to catch ourselves the first trip to Tanay. We could've taken the jeepney as it was cheaper but vans are smoother and faster. We departed for Tanay at 5 (since we waited for other passengers to fill up the empty seats) and I have probably spent the rest of the trip talking about a whole bunch of stuff with my occasional hiking bud, Ardel. (PS: I am terribly sorry to those who were trying to sleep during the entire 1 hour travel but they couldn't do so because of my boisterous blabbing. I just had way to much coffee!)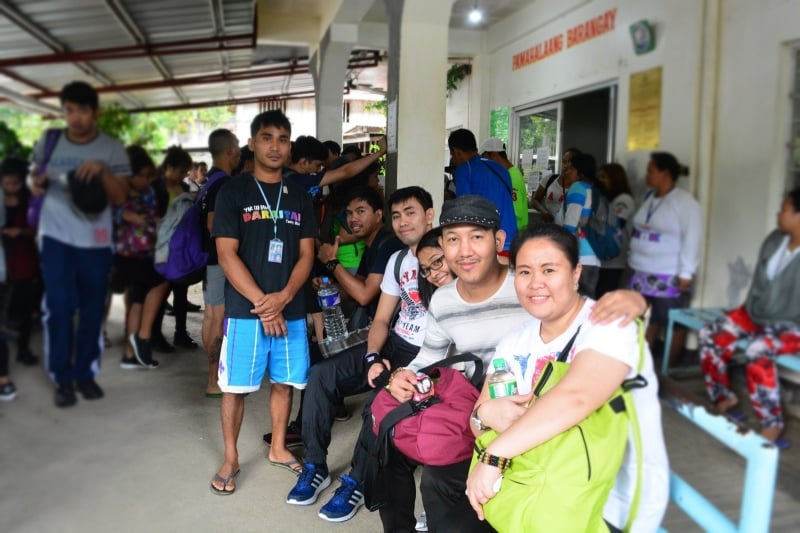 We arrived in Tanay Rizal a little passed 6am. From the drop off point (Jollibee Tanay), I walked towards McDonald's to meet with our contact, Kuya Pio – the tricycle driver who will be taking us to Mt. Daraitan registration site. After much deliberation of who's who (We were 7 and 2 of us if I may say were not within the generally accepted size so they were arguing who will take more of the weight) and how much should be paid, we started the bumpy ride to Brgy. Daraitan.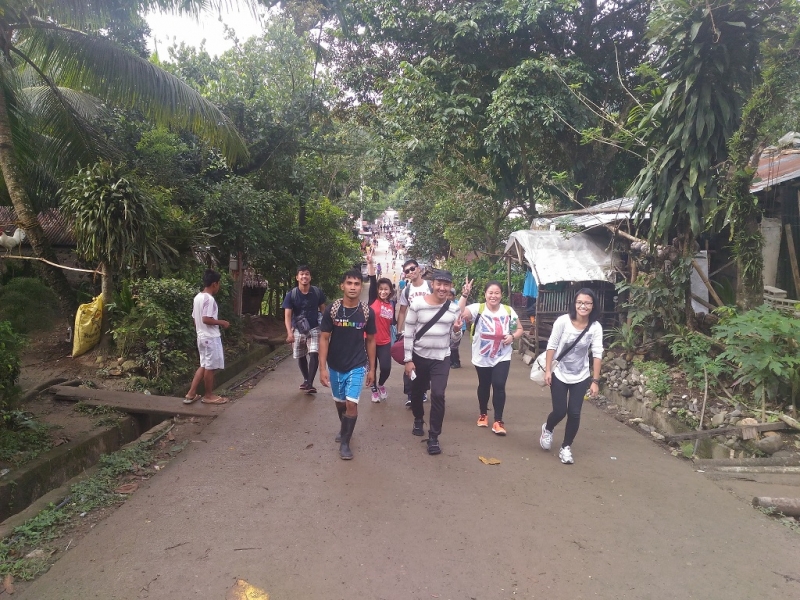 The first part of the ride was really smooth through a concrete road then my nightmare began when we turned left to an avenue heading towards Brgy. Daraitan. It was a totally rough uphill ride which took almost an hour and mind you! I was seated at the back of the driver which turned out to be the worst possible spot I could be in that moment! Oh well not much I can do about it, do I?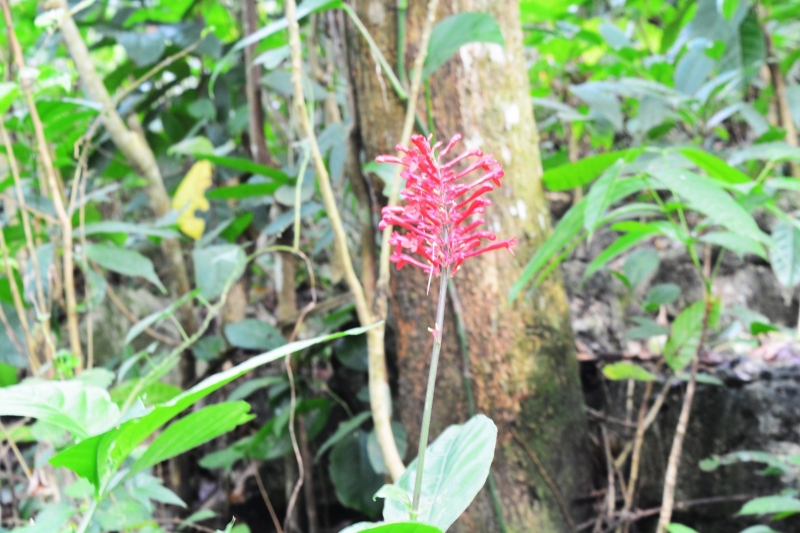 We passed by a battalion of soldiers with all of them looking so tired. Beaten up. I remembered the news I've heard the week before about their (not possibly this group) encounter with the lefties in Batulao which cost them one of their comrades and I couldn't help but feel sorry and sympathize. But hey! I never knew a simple "Hello" and "Good Morning" could do wonder to brighten them up and paint a smile on their faces! It was unbelievably priceless.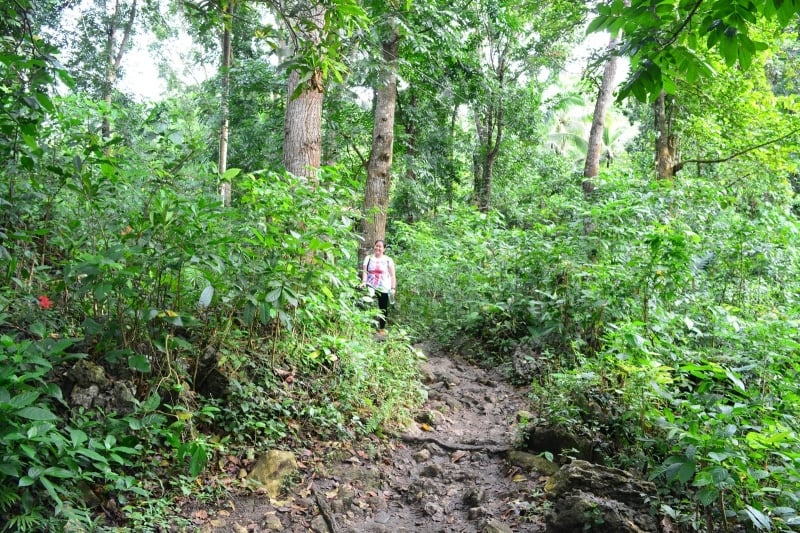 After the seemingly without end uphill ride, we finally arrived in Brgy. Daraitan registration site. The scene we had come to witness wasn't entirely much to my liking. Hundreds of young, promising and enthusiastic faces swarmed the streets in front of the registration area. I was confused, baffled and eager to find out what was causing the commotion. Turned out two people audaciously brought two groups of inexperienced hikers to hike up the summit of Mt. Daraitan which number would equate to more or less 150. Wow! That's a whopping number to beat the trails of the helpless mountain, I'd say!
The climb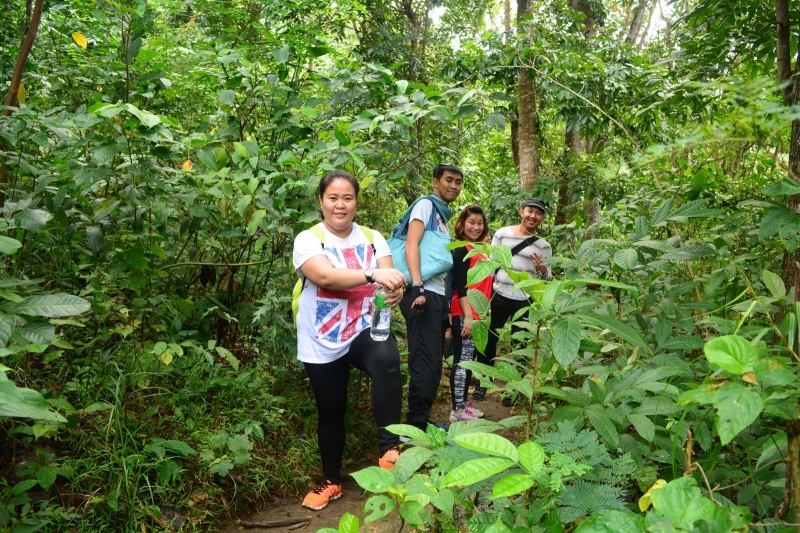 Anyhow! Mt. Daraitan was calling and quick were we to respond as after registering, paying the fees and securing ourselves a guide (the super kind Jouanson), we were already on our way to brave the challenge of this magnificent mountain. The hike kicked off with a walk along an uphill concrete road which stretched for several metres then shifted to a slippery rockstrewn road when it ended. The first leg of the trek wasn't really that hard and we were still keen to notice the diversity of this mountain's ecosystem. Trees obscure the sky towering over other plants of various species and immeasurable abundance. Flowers were scattered in both sides of the trail looking so lovely in different colours. The scene was so delighting we barely noticed we've trekked quite far from where we started until the ordeal began passed station 1.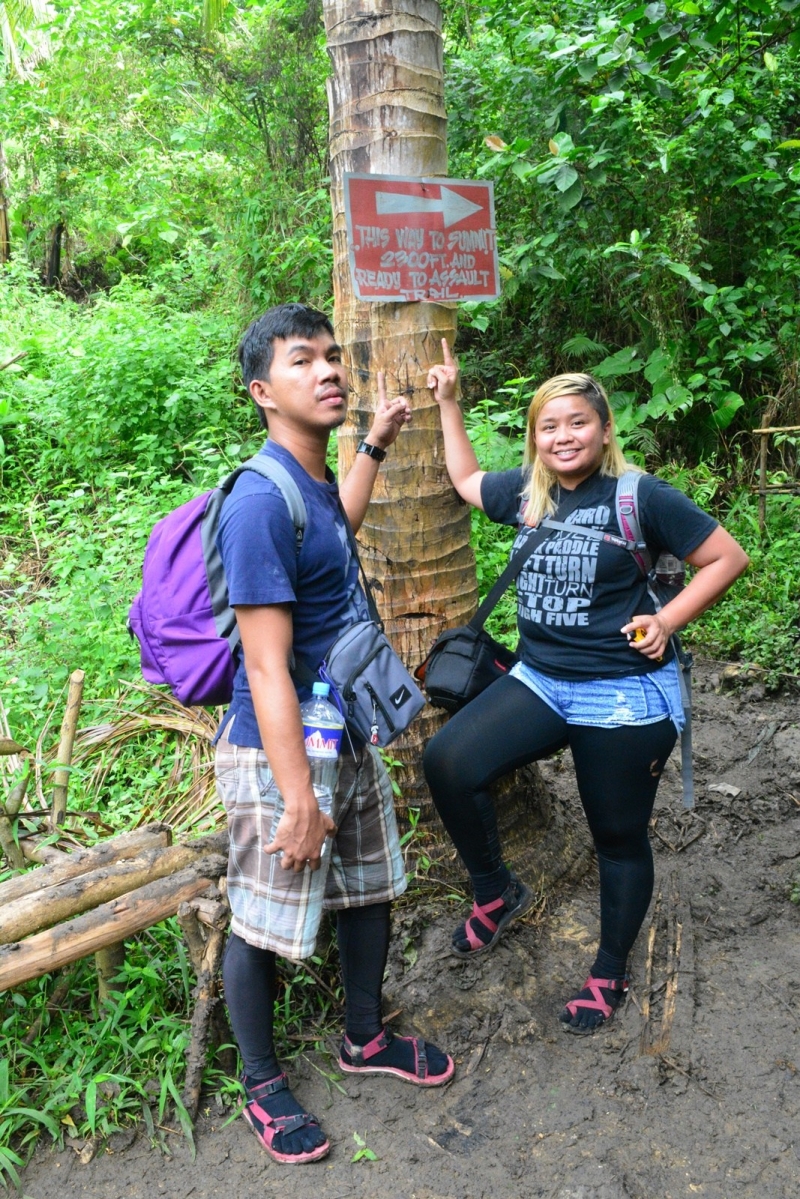 I shouldn't have spat my conclusion out early on. The first part of the trek got me thinking I was up for an easy task. Little did I know I was headed to something I never knew before. Mt. Daraitan was merciless with trekking made twice a task grueling along the bloody muddy trail emblazoned with pointed and slippery rocks! The assault seemed so endless with the ascent becoming steeper in every step. There were times when it gets confusing which way to take as I was careful not to slip and fall on my back with barely nothing to choose from. Anywhere I lay my eyes on where equally treacherous as the other. There were wooden bars placed in both sides of the trail as support but they were not much of help to me. The only reason I was thankful they were there because they come in handy whenever I needed something to pull myself up a notch when merely relying on my strength wasn't good enough. I was just glad the company I was with were never an extra baggage on my shoulder! In fact they were a whole lot better than me with them heading the pack and me left at the tail trying to keep up with them. There were two resting camps in between stations 1 and 2 and pretty much I was the one taking the most comfort in them. After the painstaking assault along a mud covered trail which lasted almost two hours, we finally reached station 2.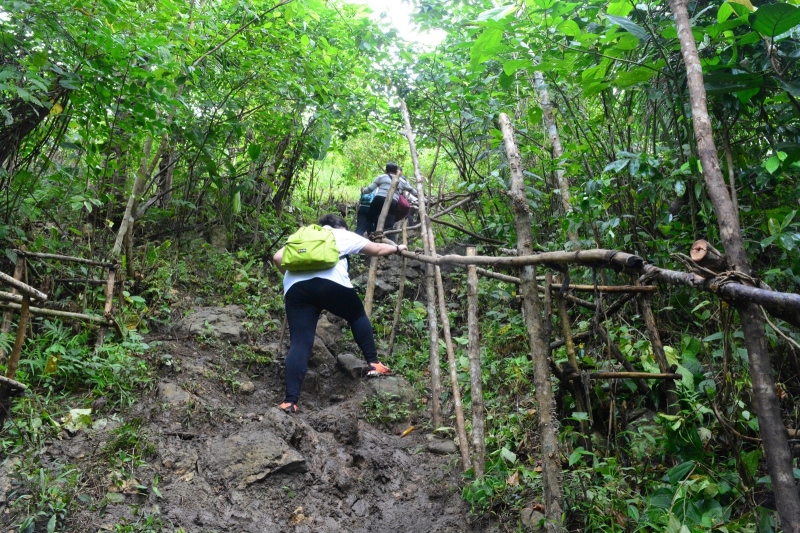 The trail passed station 2 was no different. It was as much of a torture as the one we just went through. It continued on until camp 1 with the trail becoming too difficult seeming too impossible to overcome. We've walked through some flat surfaces where I found a bit of comfort from the too arduous task I have gotten myself in, giving me time to brace myself for the coming unknown challenge. I was thinking Mt. Daraitan was definitely far from over with her surprises so I had to make sure I was still physically and mentally ready to face whatever may come our way.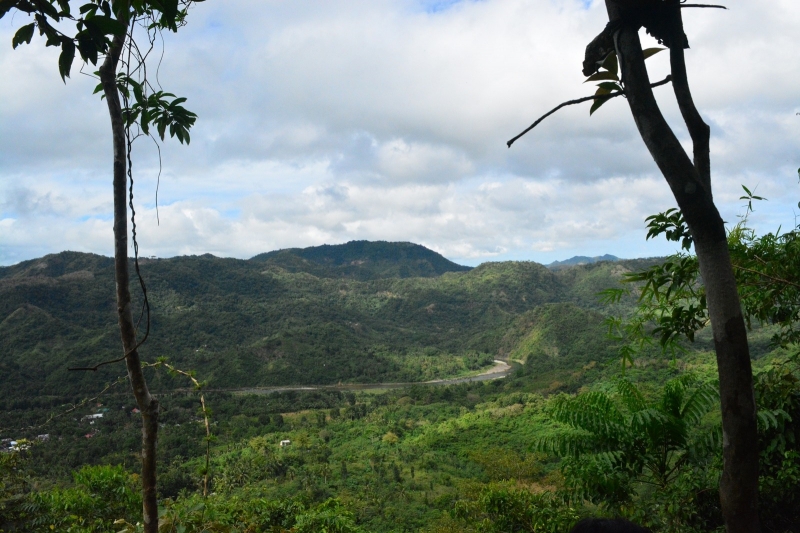 It was a little passed 11am when we reached camp 1 and there we decided to eat lunch. We were too exhausted and most certainly out of energy to last the hike up until camp 2. We took 30 minutes to refuel. After then we took off to face the challenge going to camp 2 which was still an hour of trek away. We went through an equally grueling assault worsened by the scorching heat of the sun. The absence of wind blowing through made it impossible to bag for air and had me running out of breath several times. We also passed several intricate limestone rock formations with some of them having sharp edges which we had to carefully avoid. I felt too beaten up halfway to camp 2. The trek became more and more unbearable each time I was reminded how far were we towards the finish line. I was becoming too impatient (not my normal self) with it taking a toll on me with my mind constantly bugging me "Why is the climb to the peak taking me forever?" It was like a disease that was slowly consuming what little determination I had left. Just when I was about to pack up and leave, my feet (my shoes) finally embedded their prints against the muddy grounds of camp 2!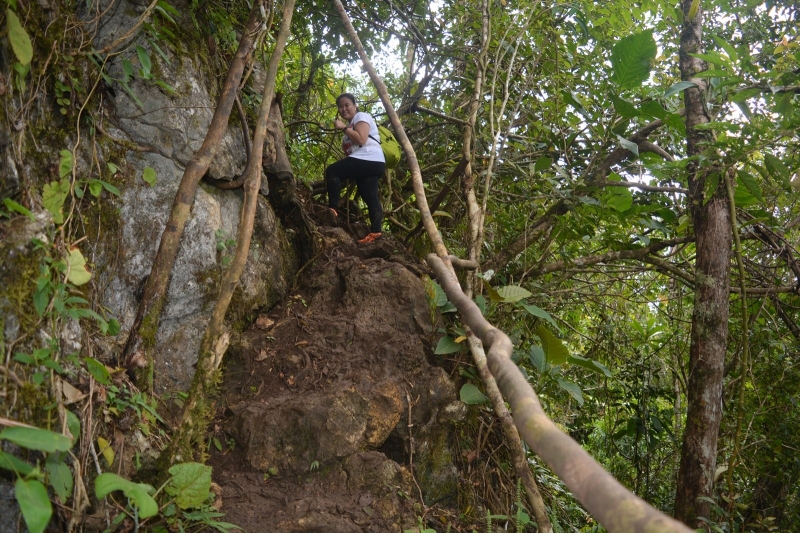 The summit from camp 2 was just 15 minutes away but don't ever get too excited as one miss can still get you rolling down the hills. I have expected to see a crowd and I have witnessed no less than 50 people upon setting afoot the summit. Everyone seemed to be very busy getting on with their daredevil poses. My friends joined in the frenzy as well whereas I chose to find me a spot where I can admire the epic scenery and take it in in silence. I found me a spot amidst the crowd's fulfilled laughter. It didn't bother me that Mt. Daraitan has quite the noisiest summit I have ever set my foot in. I may have shared more quiet moments with the other mountains before but what my eyes were seeing was no less than beautiful. It was something unique only to the exemplary Mt. Daraitan, enough to remind my too tired soul that she was so worthy of it all.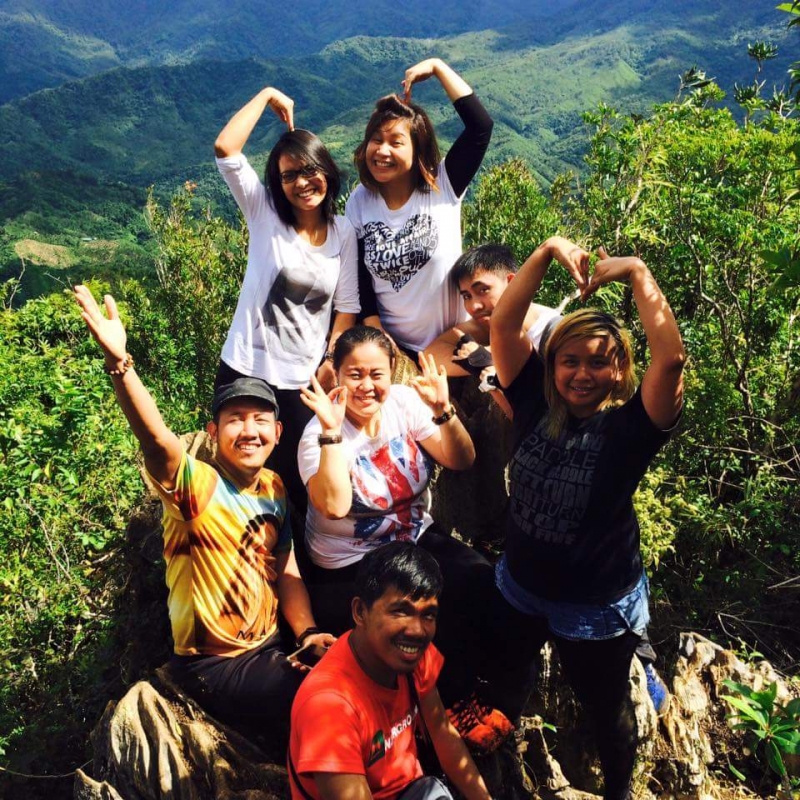 Traverse to Tinipak River
It was getting late and it seemed as if we won't make it to Tinipak River before sundown so after the getting ourselves enough of the summit, off we went to embark on another challenge. We didn't trace the trail back to camp 2 instead we passed through a different route to avoid collision with the other hikers going up. The traverse to Tinipak River was unthinkable. It was nothing short of hellish. If hiking up the summit was arduous, there was no word to describe going down to Tinipak River. It was hard enough to avoid slipping while climbing, harder even when going down that made me wish I had better balance or I was in anyway good at skiing. It was no easy feat as I had to always be on my guard watching each of my step. There was pretty much nothing I can held on to except for small branches which wouldn't really do much to prevent me from falling all the way down. I had to go over limestone rocks which made my hand sore. There were a couple of times when we had to pass through a narrow opening in between two limestone rock formations with me worrying about two things. I was like asking how am I going to let myself through that space made for midgets without bumping my head or hurting myself when I have a body of a 200 pound bear? I couldn't recall how exactly did I do it but a few scratches and bruises from my arm to some parts of my stomach down to my legs would tell it was such a nightmare. We had encountered a couple more obstacles such as uprooted trees blocking the trail and 90-degree rock climb going down (if there wasn't an improvised ladder) before we finally reached Tinipak River.
Also read: Tinipak River DIY Guide: What to Know Before Your Hike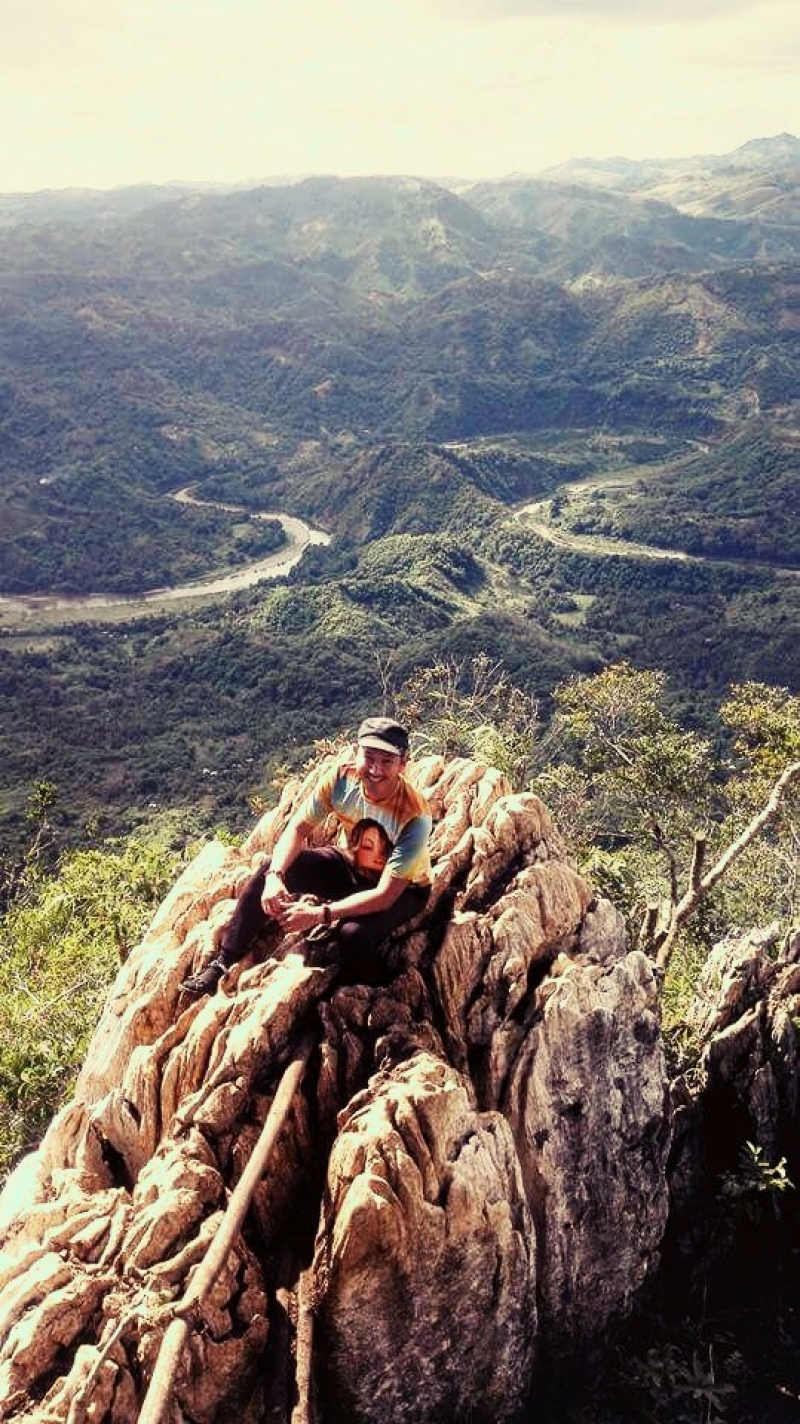 Tinipak River was such a spectacular sight with its turquoise water floored with beautiful limestone rocks. The gushing water pounding against the rocks was music to my ear as I watched the sun bid the day goodbye with its orange hue painting the sky over the luscious trees of Mt. Mamara. This day may have been nothing of what I had expected it to be but it was something which taught me a better perspective. Mt. Daraitan may have been a relentless ordeal but I would really love to give her another try, another day with the same great company of fun loving people.
My 50 cents and other substantial info
I do not despise new people coming to climb and love the mountains. I was once like them, a lost soul wondering what the heck is up there in a place where you can almost kiss the blue skies. Matter of fact I've expected to see a crowd that day especially that Mt. Daraitan has been a household name in the mountaineering community for quite some time now but never was I ready to see that many people! It was insane! I just hope these organizers would come to their senses and would take into consideration the impact they bring to the mountains as well as the well-being of their participants. These new hopeful souls coming to embrace the wonder of nature aren't supposed to become an avenue for earning yourselves some cash. I too consider myself a newbie and instead of being taken advantage of, I would really appreciate if I and my fellow newbies would be guided to the path of being the hope of our mountains' future.
I discourage joining open hikes or if you are to join one, please take into consideration the number of participants who will be joining. I suggest joining open hikes with just 10-15 participants max. This way you can determine whether the organizer would be able to attend to you and your needs in case the situation gets dire. This was the case of the two inexperienced hikers we bumped into who were part of the 70 people one organizer took to hike Mt. Daraitan. One of them was injured on the assault and they were both scared and confused as to what to do. They said they were split into two groups of 35 and were designated seven guides so each guide will handle five people. The guide left them when one of them got injured as he was to chase the other 3 who went off ahead of them. While getting to know and befriending new people are one of the benefits of joining open hikes, you can't take away the fact that there are people who will remain strangers and will treat you as strangers nevertheless. It is still better to be with your friends or people you've known for a long time so in case something bad happens, you know they will have your back.
Please leave the comforts of the city in the city. If you are to hike up a mountain have the decency to consider other people and respect them. Don't go bringing your bluetooth speakers in the wild and play them in full volume. You don't just disrupt other hikers but you also are a nuisance to the environment. The mountains are places of solitude and not for party!
Please do not linger in the summit too long. Be mindful of the other people who would love to get their chance to witness the splendor of nature. If there aren't too many hikers that day, Jeez! by all means you can stay for as long as you want but if there's tons of them, don't be an asshat and be considerate. Get on with your photo ops quick and leave. Simple.
Observe the "Leave No Trace" principle. Anybody who has a normal functioning brain would understand what these 3 little words imply! It means get your ass off the mountains if you are much of an asshole to adhere to this fundamental rule!
The council overlooking the care of Mt. Daraitan has implemented a limit of 300 people to hike up the summit everyday. They also imposed a 30-minute limit to stay at the summit. Those in excess of 300 will only be allowed entry to Tinipak River and cave. How I wish they would bring the limit to just barely a hundred!
How to go there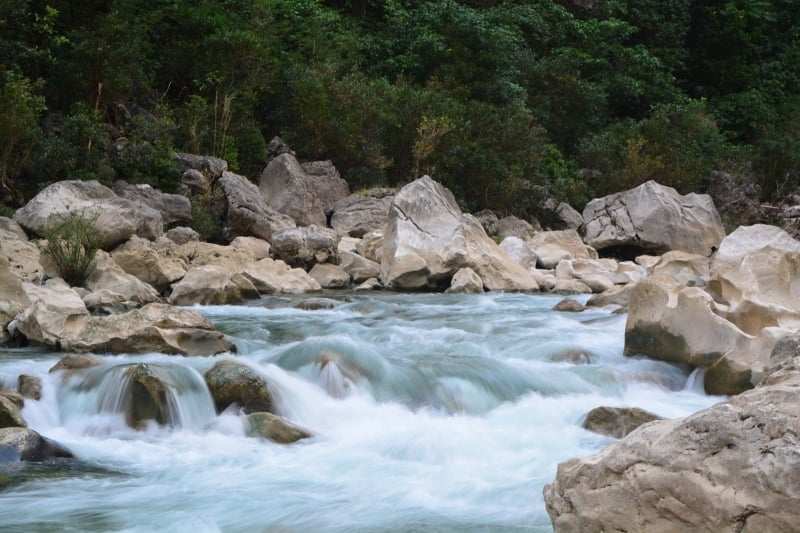 Commute – Ride a van in front of Starmall to Tanay or a jeepney along Shaw Boulevard. Get off at Jollibee Tanay and hire a trike going to Barangay Daraitan registration site.
Private – Drive to Tanay taking Ortigas Extension to Rizal Provincial Road, Roman Rojas Rd and Marikina-Infanta Hwy/Marilaque Hwy/R-6 to Tanay tracing the way to Laguna. Turn left to Makaira – Daraitan Road then drive all the way until the registration hall which is situated several meters passed the river.
Summary of expenses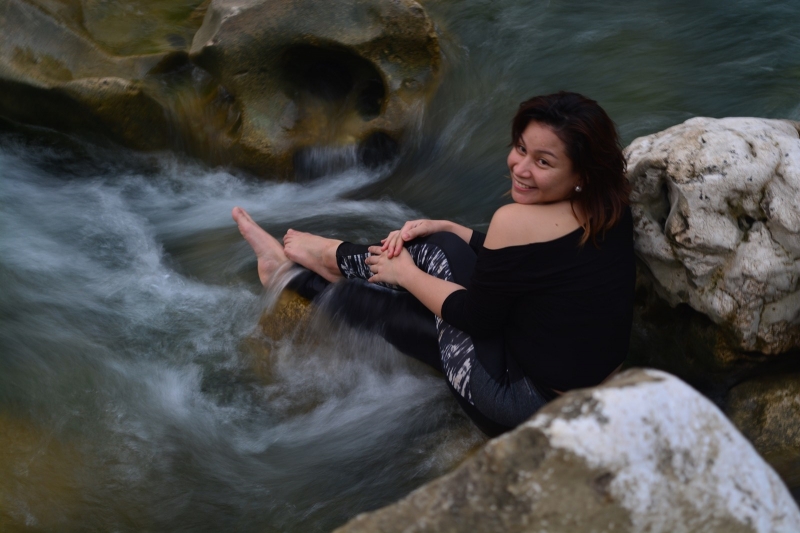 RT Fare Manila-Tanay – ₱140
RT Fare Trike Tanay-Brgy Daraitan @ ₱500/5 – ₱200 (Trikes can accommodate a total of 6 pax)
Registration/Environmental Fee – ₱20
Tinipak River fee – ₱20
Guide Fee @₱500/5 – ₱100 (Max capacity is 10 pax)
Food and other expenses – ₱100
TOTAL – ₱580
Things to bring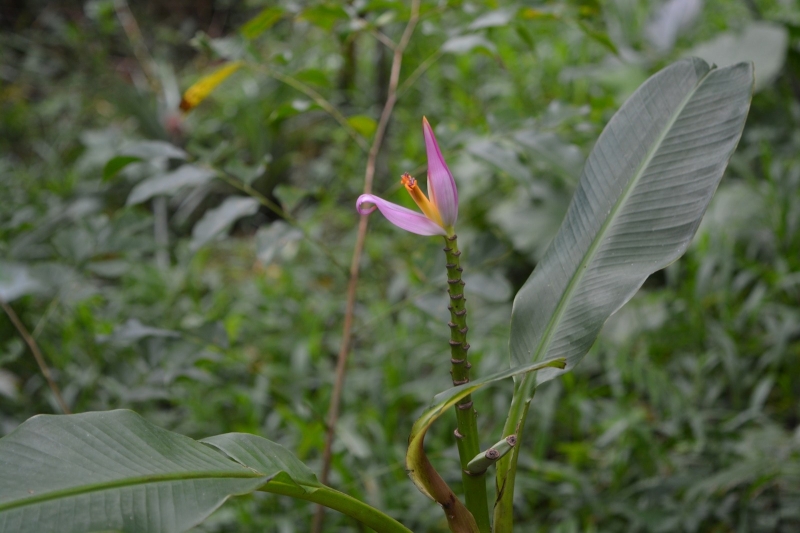 Packed Lunch
Trail Water at least 2 liters
Gatorade
Trail food
Garbage Bag
Umbrella
Trekking Pole
Bandana/Cap
Extra Clothes
Towel
Toiletries
Extra Money
Waterproof bag for gadgets in case of rain
First aid kit including both OTC and maintenance meds
Sample itinerary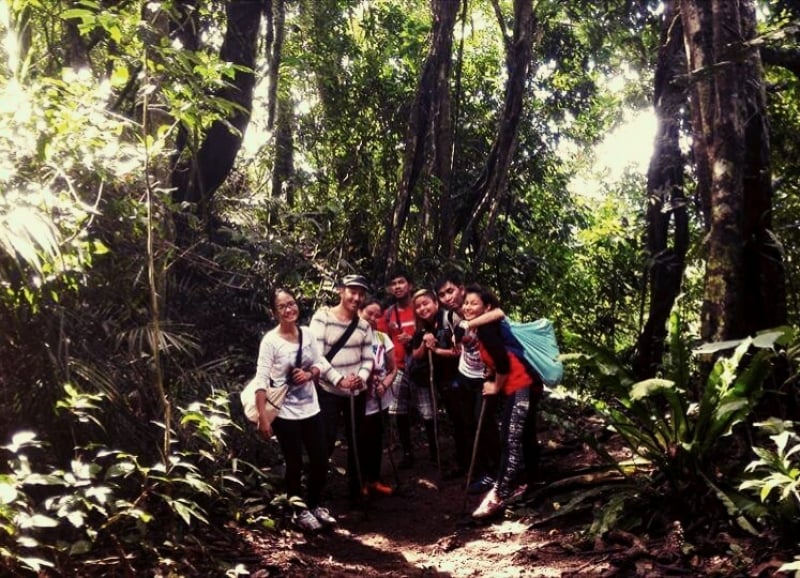 0300 Meet Up McDonald's Teleperformance (In front of Edsa Central
0400 ETD Tanay
0500 ETA Jollibee Tanay (Hike Trike)
0600 ETA Brgy. Daraitan Registration Site
0630 Start Trek
1100 Summit/Photo Ops
1200 Descent to camp 2/Lunch
1300 Start Traverse to Tinipak River
1600 Tinipak River/Cave
1700 Wash Up
1800 Hike back to registration
1900 Ride trike or jeep back to Tanay Terminal
2000 Tanay Terminal/Head Home
2100 ETA Manila
Other interesting places found in Tanay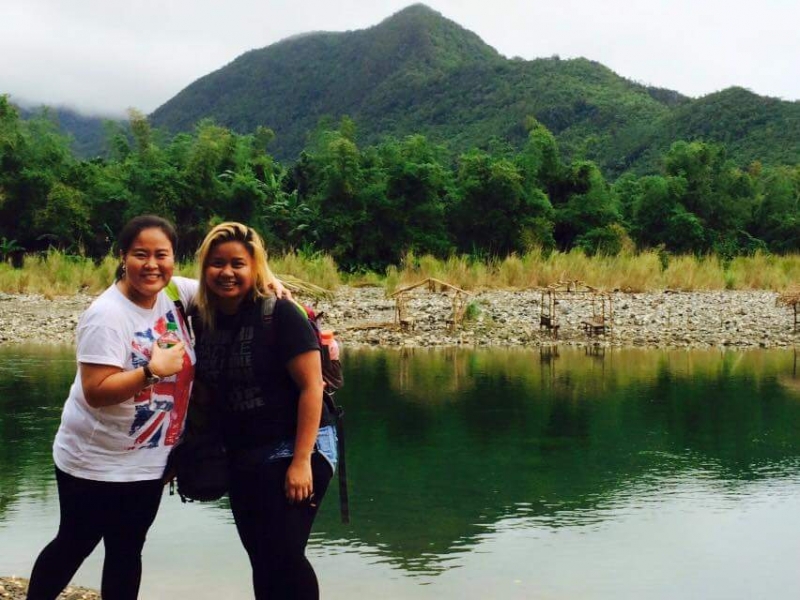 Mt. Batolusong
Mt. Mamara
Kay-ibon Falls
Pilla Wind Farm
For further inquiries, you may contact Tanay Tourism thru the following numbers: 09323757376 / 7361059 or 09989881590 or you can check Mt. Daraitan Tour Guides Association on Facebook.
I personally recommend our guide Jouanson. He is guaranteed to take care of you in every way he can. Please contact him thru his mobile no. 09353129588 or 09752454264. If you need a tricycle ride from Tanay to Brgy. Daraitan, you may wanna contact Kuya Pio at mobile no. 09480424947.
Recent update
Guide Fee is now ₱750 for a group of 5. Kindly make the necessary adjustment to your budget prior to your hike.
Also read: 10 Beginner-Friendly Hiking Trails in the Philippines
There you go! Took me time to finish this. Like effing days! Care giving me a feedback about this post? Leave your comments on the box below. Keep on climbing and more happy trails to us! Until next time. Ciao!