Contributed by HoyJuno
Feel free to use this comprehensive 3D2N Taiwan guide for your own travels. But be warned, this itinerary will tire your legs, drain your energy and possibly empty your pockets if you go overboard with the pasalubongs but will definitely fill you with unforgettable moments that you'll remember when you're old and sad in your deathbed.
Also read: Entering Taiwan Visa-Free: My Experience & Actual Process for Filipinos
Airfare
Open that browser and start searching for flights right now. Luckily, there is never a shortage of promos and discounts with the various primary coloured airlines in the Philippines such as AirAsia and Cebu Pacific. If you click fast enough and pay even faster, you can score cheap seats (say that fast, cheap seats, cheap seats, cheap seats!) aboard any of the country's flight carriers. We booked a MNL (Manila) to TPE (Taipei) round-trip flight for only ₱6,000 via Air Asia. You can also get it for as low as ₱3,000 when in promo.
Accommodation
I find it best to stay at an Airbnb simply because it's cheaper. Most of the time, you'll get a hosts who will not only accommodate you but will also give you tips and guides on how to navigate their place like a local. We booked an Airbnb near Zhongxiao Fuxing station (book near stations with multiple connections for faster travel) at a low, low price of ₱3,000 per night for four people. But wait, there's more!
Transportation
Taiwan's transportation system is smooth, efficient and all things that the Philippine transportation system is not. For the first day, we rode a bus to Taichung, rented a taxi from the Taichung Driver Service for a full-day tour there and experienced the efficiency of the HSR to go to Taipei in the evening. On the second day, we caught a ride in the TRA system to visit Shifen and Jiufen. Finally, on the third day, we mastered the MRT map using the Mapa Metro, paying with the all-powerful One Day Taipei Pass.
Wi-Fi
There are three ways to get online access so you can tell your followers all about your Taiwan trip in real-time. First is the free public Wi-Fi access which is honestly a hassle to set up so we opted for the second option, which is to pre-book a pocket Wi-Fi (this is not an ad, they really do offer cheaper and more convenient options). Lastly, there's the Taiwanese sim card which I think is good for solo travellers.
Visa
By the time you're reading this, Taiwan is already visa-free for Filipinos, but it's only up to 31 July 2019. So, just in case you're having your trip after that time, don't skip this part. Here are three ways to get a Taiwan visa:
Get it online for free if you have visas issued by Schengen countries, the United Kingdom or the United States. Just print the ROC (Taiwan) Travel Authorization Certificate.
Get it personally at the Taipei Economic and Cultural Office in the Philippines (TECO) located at 41F Tower 1 RCBC Plaza, Ayala Ave. Makati. Fill out an application form, bring the requirements, pay the fee and wait.
Get an e-Visa which was what I did. Go to the website, fill in the required details, pay the fee and wait up to three business days for your approval.
Pre-booking
There are a lot of things that you can pre-book such as the HSR tickets, tour vans and entrance tickets to various tourist spots, but one of the best decisions we made is pre-booking the Taipei 101 pass. It really is cheaper! If you're not sure, you can always do the booking right before entering the tourist spot and compare the prices. For example, my party only booked our tickets ten minutes before arriving in Taipei 101. We skipped the queue and enjoyed a hassle-free trip to the once highest building in the world.
Food
I'm not much of a foodie but I do love eating. So, to truly experience Taiwan through my mouth, I present to you my top five food among all the things that I've tried in my short three days of stay in Taiwan.
Mushroom Hotpot in Taichung – the mushroom changes the whole hotpot game.
The 50 Lan Bubble Tea of Taiwan – this is the origin of all the bubble teas of the world, also known as KOI in Singapore.
Xiao Long Bao on the streets of Taipei – I saw a lot of stores that sell these truly cheap and delicious delicacies of Taiwan.
The Pineapple cakes of Houtong Cat Village – this is the best version of the famous pasalubong staple.
The streetfood in any of Taiwan's many night markets – you have a lot to choose from but do try the local recommendations of beef cubes, devil's chicken, grilled squid and stinky tofu.
Disclaimer: I'm not a reliable judge of food but you can trust me to choose only the ones that are generally edible and extremely affordable.
Currency
The peso is getting weaker and weaker by the day. We tried to overcome this by exchanging our Philippine Peso to New Taiwan Dollar weeks before the trip (NT$1=₱1.87) only to find out that the best rates are in the ATMs of Taiwan! (NT$1=₱1.76) So, lesson learned. If you can, get your cash from ATMs instead of going through the hassle of exchanging currencies at steep prices here.
Weather
An unintentional stroke of genius we did was to bring an umbrella. Taiwan's weather is notorious for being fickle which we experienced first-hand. We were there towards the end of October when the winds have started to get cold but the sunlight was still a bit too harsh on the skin. Our solution was to bring adjustable fashion — scarf, hats and jackets. It also helped that we wore shoes for the entirety of the trip.
The Itinerary
Day 1: Colorful Taichung
If I were to recommend one place in Taiwan, it is Taichung. It's a vibrant town south of Taipei full of colours. A day here feels like a week with every new place becoming a magical memory. Of course, with this kind of build-up, it's also our most expensive day. Ah, but it's so worth it for someone like me.
6am: Bus to Taichung
8am: Breakfast and meet up with our Taxi driver
9am: Rainbow Village
10am: Lavender Cottage
12.30pm: Lunch at Master of Mushroom
2pm: Carton King
3pm: Zhong She Flower Market
5pm: Gaomei Wetlands
6.15pm: HSR to Taipei
8pm: Check-in at Airbnb
9pm: Dinner at Shillin Night Market

Day 2: Charming Jiufen
My ultimate travel dream is to go to Studio Ghibli Museum. Until then, I am satisfied with going to any place that is connected to it such as Jiufen, which is the inspiration for my favourite Studio Ghibli movie of all time — Spirited Away. I literally teared up.
7am: Wake up and breakfast on the way to MRT
9am: TRA to Ruifang Station
11am: Houtong Cat Village
12pm: Lunch at Shifen Station
1pm: Shifen Waterfall
3pm: Fly sky lantern
4pm: Jiufen
6pm: TRA to Taipei
8.30pm: Raohe Night Market
9pm: Rainbow Bridge
10pm: Drinks at a bar

Day 3: Crowded city of Taipei
Today we conquered Taipei. It was tiresome, troublesome and yet one of the most terrific times of my short life! I've squeezed in all the necessary stops, from culture to arts to technology to pandas. I mean it, your legs will turn into mush after this day so bring Salonpas, prepare an energy drink and start walking.
7am: Wake up and breakfast
8am: Longshan Temple
9am: Chiang Kai Shek Memorial
11am: Huashan Creative Park
12pm: Check out of Airbnb
1pm: Taipei Zoo
5pm: Taipei 101
9pm: Back at airport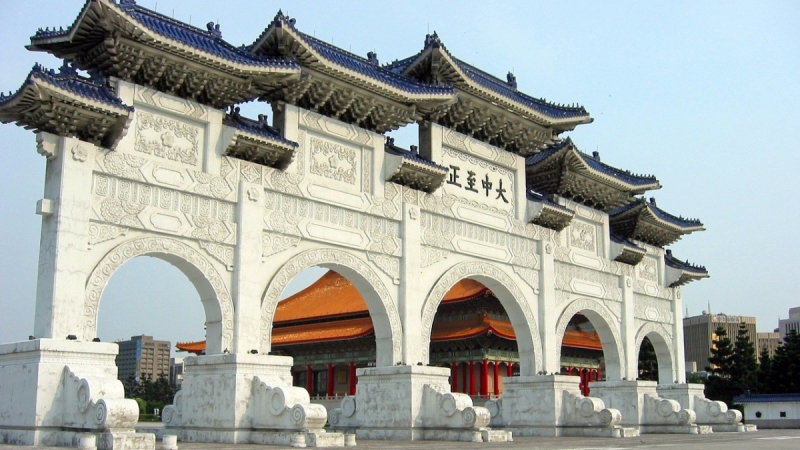 This is my Taiwan trip. Below is a comprehensive itinerary and budget sheet I've spent hours on making.
If you want to create your own itinerary, I suggest you research on your own just like I did. I used Guide to Taipei, a website where you can type in any place in Taiwan and will show you how to get there and what to expect. Also, try to access the website of Taipei Pass and download their e-book for a complete rundown of all things Taiwan!
Also read: 7 Things I Wish I Knew Before Travelling to Taiwan for the First Time
The budget
Promo airfare: ₱3,000
Travel Tax: ₱1,620
Accommodation: ₱1,500
Transportation: ₱4,594
Entrance fees: ₱1,732
Food: ₱2,348/
Total: ₱14,794
I present to you my pride, honour and guide which I literally printed and followed point per point during our Taiwan adventure. Feel free to download it and use it for your own journey. I've put in here everything you need to know including how to navigate the various modes of transportation, tips for enjoying the place, suggestions on what to take pictures of and of course, the budget.