Contributed by The Fickle Feet
I visited Siargao before and until now I still can't move on. No day has passed without me thinking when I will ever go back. I'm not sure why, but what I know is that there's something in the island that made me fall in love with it. Maybe it's the waves, the people, the vibe. I can't specifically point out what it is. Maybe it's the whole package of the island.  I don't know. What I know for sure is that there's a lot of things going on in this simple yet amazing island of Siargao.
Also read: 3 Days Siargao Itinerary for Your Next Barkada Getaway
I know, I'm not telling you exactly what is on this island, but if you are curious enough, go there and experience the magic! If you decide to go, I can help you with that. I'm not a good planner and I won't give you any plan here. What I will share with you is our mistakes and the whole story of this adventure, also, a few tips to make your Siargao experience worthwhile within four days!
I will divide it into three: Before, During and After.
Ready? Okay. Let's go!
Before
Book your way to Siargao
By Air – One way to get to Siargao via plane is through Cebu Pacific, and we are lucky that we live in Cebu.

Cebu to Siargao – Flights are once a day. It is quite pricey so always watch out for promos like we did. Our tickets cost ₱1,300+ per person! It was really cheaper than the normal price.

Another option is via SkyJet Airlines which flies directly from Manila to Siargao.
By Sea – This is not the best choice but if you have a lot of time, you can go to Siargao via Ferry.

Cebu to Surigao City – You can take Cokaliong Shipping Lines, the ferry departs 7pm every day. It's a 12-hour trip so it's basically one whole night. The Economy fare is ₱850 while the Tourist fare is ₱1,025.

Surigao to Siargao Island – There's a daily trip from Surigao to Dapa. It will cost ₱350 for a 3.5-hour trip.
Reserve your place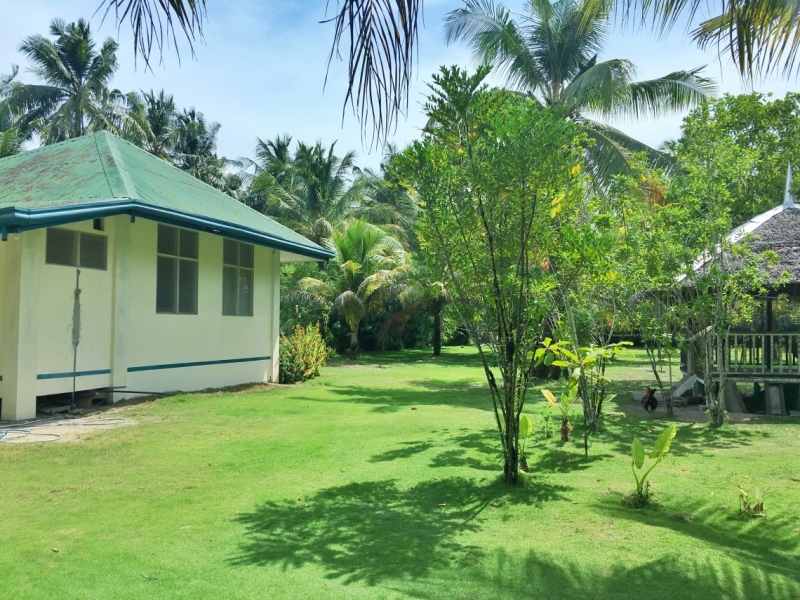 Well, like what they say, book ahead of time to avoid the hassle.
If you are travelling with a group, I think the best way to look for accommodations is via Airbnb. We got our place for only ₱1,000 per night, with a wide yard, two double-decker beds and one bed that can fit two people. There's a comfort room, kitchen with complete cooking sets, and a refrigerator.  No complaints!
If you are travelling alone or in a pair, I heard from a friend that Paglaom Hostel is the best option to do so.
Don't forget to pack what you need
If I could go back and repack for the trip, I would do it again. I don't want you to regret anything like I did, so I will share with you my new version of my packing list. Sorry boys. For girls only.
Clothes
5 Pairs of swimwear

1 rashguard

1 boardshorts

2 shirts

1 pair of denim shorts

1 pair of breezy pants (almost like a pyjama)

2 pairs of easy shorts

1 dress (in case of emergency)

2 girly tops
Footwear
slipper

reef shoes (for surf)

espadrille
Gadgets
phone with charger (most important)

Gopro with case

floating monopod
Essentials
towel

sunblock

toiletries
During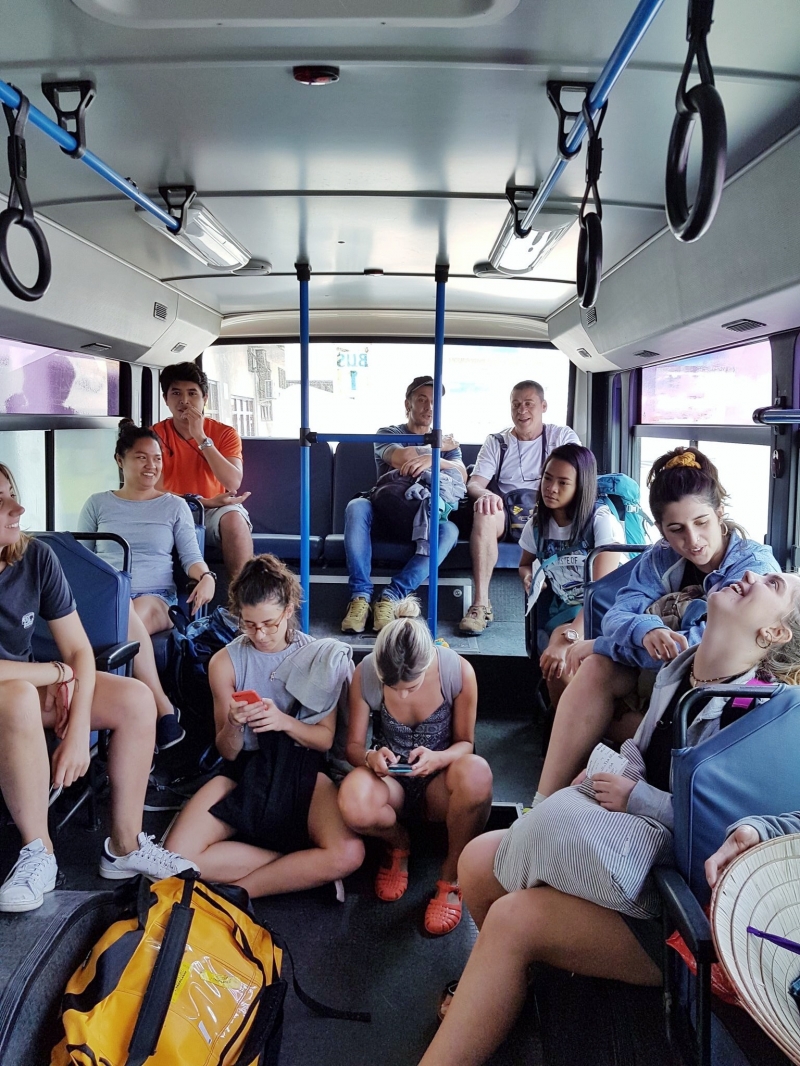 Get up. Go to the airport. Ride that plane. Land in Siargao! Woohoo!
Upon arrival in Siargao, take a Van for ₱150 going to General Luna. Remember to always haggle. Sometimes the locals take advantage of travellers and charge fees more than usual. Be smart enough.
Settle into your accommodation. Once everything is set, go run wild! (I'm exaggerating here, please ignore.)
Let's have a checklist of what to do on the first day. Here's what we did!
First, we rented a motorbike for ₱350 a day. We had four days, and to lessen our expenses, we took the initiative to calculate every bit of things. Every ride for motorbikes is ₱20, so if you are willing to pay for every destination with that amount, then go. But if you're not, rent a motorbike.

Second, we shopped for a grocery that was good for four days. We ended up buying more than enough. So make sure to buy only what is needed.

Third, we booked a surfing lesson for the next day. #Excited
Things to do in Siargao
Go to the beach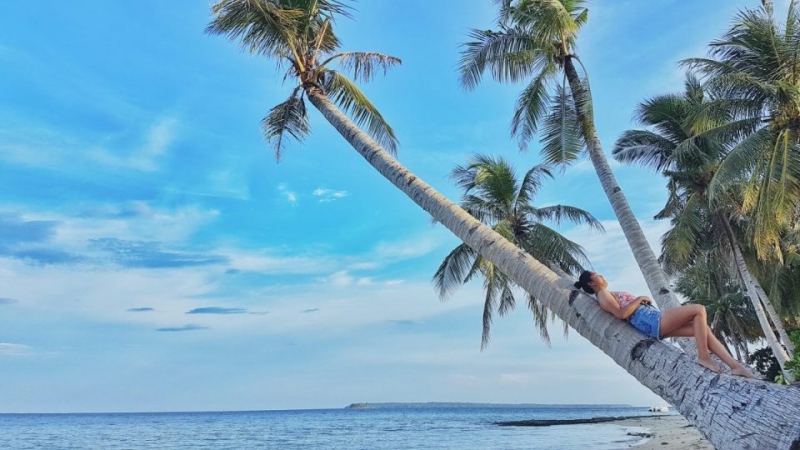 Well, you have to seize the day!
After everything was set. We went to a secluded beach near the cemetery.  It was nice because it was like we owned the place. It was relaxing and we also saw a lot of jellyfish and we thought they would sting, but they didn't.
Here's my TIP: Don't drink on day one! I repeat, do not drink!
Maybe we were too overwhelmed to be in Siargao and decided to have some. But be careful not to do this on the first day. You need that energy for the next day. Especially if you want to go surfing!
Get up! Surf's up!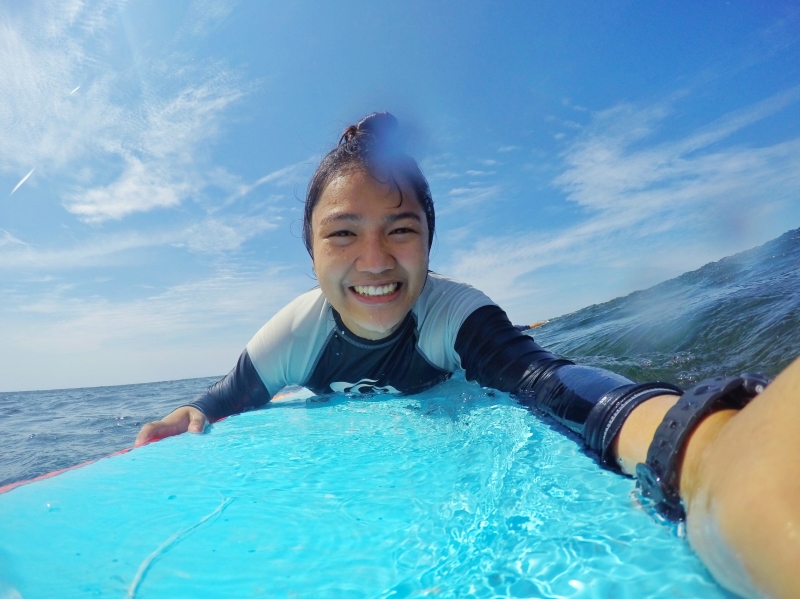 Cheers to the first surfing experience on the island, but guess what. Because we had some fun the previous night, we weren't able to get up at 5am and we were late for our surfing session. Boohoo! 9am is already a bad time to surf, especially for beginners, so we ended up having only one hour to surf instead of two. The wind was already blowing hard and beginners like us can't keep up with that. We learned our lesson!
Where to surf
Near the cemetery.
We rented a small boat to get there and damn, the waves were amazing! I also realised that I was not that good at surfing yet, but overall it was fantastic even though we only had two instructors for the five of us. It was still fun, but I think it would have been more enjoyable if we each had one. Our next surfing session will definitely have a 1:1. Another lesson learned!
Quicksilver and Cloudnine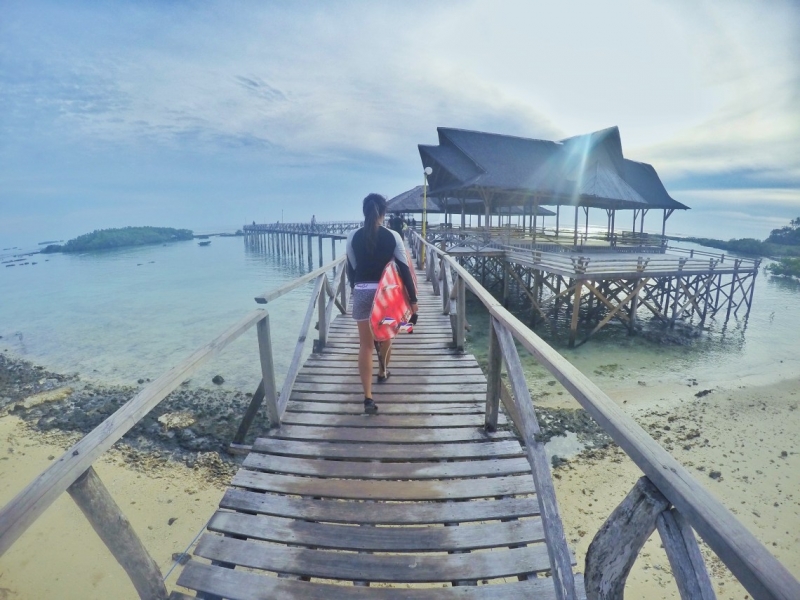 Both spots are located near the Boardwalk. The places are a little bit crowded since it is popular. Quicksilver is for beginners and Cloudnine is for those who can surf on their own. But if you're a beginner who wants to experience bigger waves, I'm not stopping you from trying Cloudnine.
Surfing session rates
Surf Board –₱200 per hour

Surf Instructor –₱300 per hour
TIP: If you brought a pair of reef shoes, that's good! If you didn't, you can rent it for ₱250 per day.
On the way to Magpopongko Tidal Pool
Remember what I said earlier about renting a motorbike? This is the part where you'll thank me for that. Going to Magpopongko Tidal Pool cost ₱1,000-1,500 per person. But if you rent a motorbike, the gasoline will only cost ₱120, plus the cost of the motorbike per day! That's a big difference if you ask me.
It is an hour's drive away. Entrance Fee is only at ₱50. Ask the locals what the best time to go is. We went there at 12nn and the high tide was already coming. We only had an hour to enjoy the place. It was not really a good time, but it was still worth it. On my next visit to Magpopongko, I will make sure to be there at the right time.
Rent a bike and visit the Boardwalk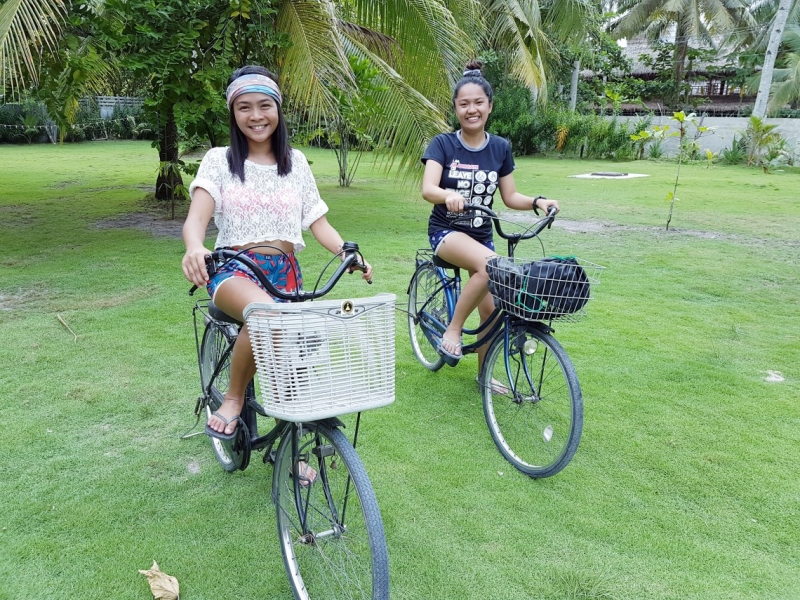 This is for girls who can't drive motorbikes. You can rent a bike for ₱100 per day.
We met a French guy, who has lived in Siargao for two years and sells handicrafts for a living at the Boardwalk. He really loves the place—a testament that you should visit the island.
Don't forget the nightlife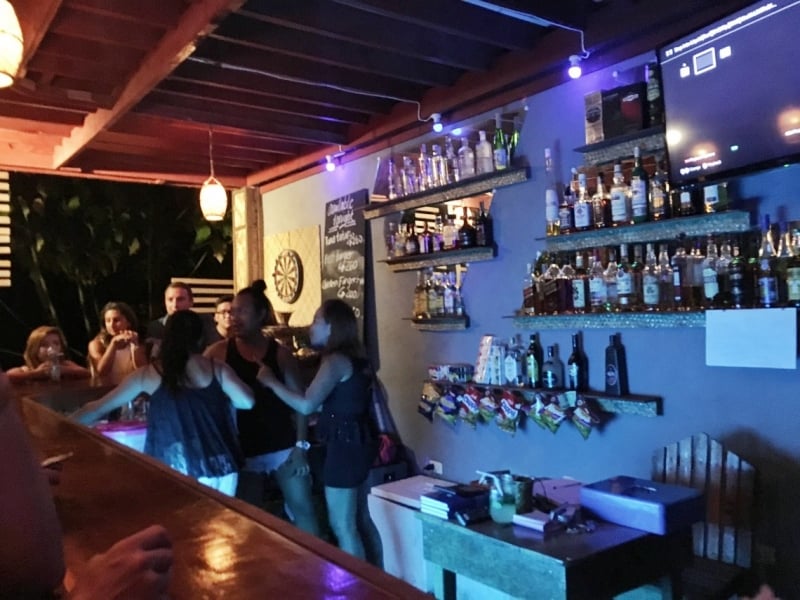 Well, oh well. Another experience off my radar. Since I know that Siargao is a chill place, I never thought of going to bars or partying while visiting the island and yet I did. With my sleeping outfit, we went to Rumbar as it was the place to hang out during Mondays in Siargao. The place has a chill atmosphere with live music playing. The drinks were also good!
Also read: So This Is What It's Like To Party In Siargao
On the next day, Tuesday, was a dance party at Jungle! We weren't able to party here since we went too early and decided to hang out in another place instead. I'm sorry, I forgot the name. But it was near the Boardwalk. The place has billiards pool, darts, and other group games like Jenga.
Go on a food trip
This is the thing I am not good at but regretted not doing on the island. I only went to one café. A friend of mine suggested a lot of places like Shaka, Café Loca, and Harana, but I wasn't able to go. If you're going to Siargao, try to visit at least five. There are tons of cafés and I'm sure the food they serve is amazing!
Another place to visit is Kermit where we were able to dine. They serve Filipino-Italian Food, which is authentic I must say. You can make your own pizza, and the pasta overwhelmed my Filipino taste buds. That's how I can say that it's authentic Italian!
Also, the restaurant is always full, they have reservations, but if you are not able to make any reservations like we did, just wait. It's also quite pricey here. Ready your cash for the good food you are willing to spend on!
Of course, if you don't like to spend much, I have a place in mind. Go to Mama's Grill. It was actually popular. A lot of travellers were in this place. No wonder, they serve delicious grilled food with affordable prices. This is a must-try!
Whole day island hopping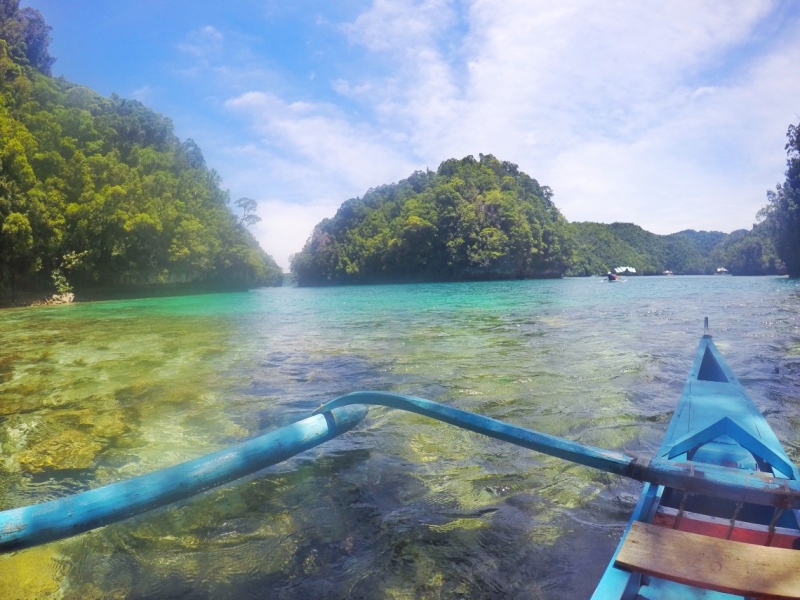 We underestimated this whole day activity and went on without any preparation at all. So I'm here to guide you to not neglect the most important thing during this activity — the FOOD! Prepare your food, buy a lot. Believe me, you will starve like we did if you won't do this right. I'm not exaggerating.
Also read: Island Hopping in Siargao:₱1,000 Per Person VS ₱1,500 Per Bangka
Also, rent the boat a day before this activity. If you will include Sohoton cove in your itinerary like we did, it will cost ₱4,500. But if you will only go to the three Islands, Naked, Dako and Guyam, it is only ₱1,500.
Sohoton Cove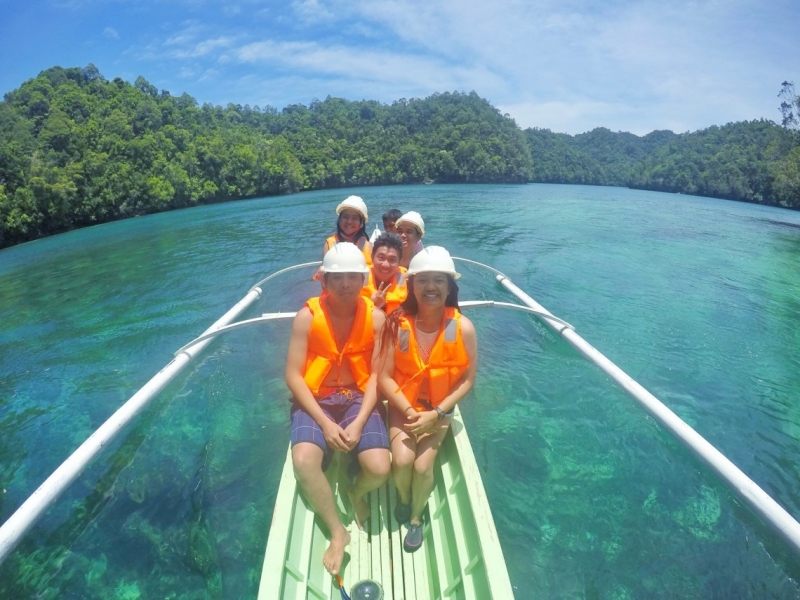 Going to Sohoton cove with a small motorboat takes two and a half hours. This is too long for five people with no breakfast going on an adventure.
This is also the part of the island hopping that cost us a lot. Don't blame us. We wanted to enjoy every bit of the place, so we had to avail of all the activities.
Activities:
Sohoton Lagoon with Jelly Fish

Sohoton Cove tour
Cost in Sohoton Cove:
Permit Fee:

Foreign – ₱100 per head

Local – ₱50 per head
Entrance with Environmental Fee (with safety gears: helmet and life jacket)

Foreign – ₱190 per head

Local – ₱90 per head
Docking fee – ₱50

Pump boat (Sohoton cove tour) – ₱500

2 local boat guides – ₱330

Paddlers (Sohoton Jelly Fish) – ₱100 per head
TIP: If there are life jackets in your rented boat, take those instead and ask to reduce environmental fee with safety gears.
Naked Island
After the whole activity in Sohoton, we continued our island hopping. Since one of the machines in our motor boat broke down, it took us three hours to get to Naked Island with no food to eat except banana. Starving, exhausted, and struggling for my survival, the only thing that came to my mind that time was how I wished we had prepared enough food for that trip.
Daku Island
With no energy, we found civilization on Daku Island. We bought some food to eat before our lunch and asked the locals to cook our lunch that we brought back to the main island.
When the food was served, we were freaking ready to eat our lunch. I was energized and ready to enjoy the rest of the day.
Guyam Island
We were ready to explore with my full tummy but sad to say that we weren't able to visit this Island since we had no time left. I will make sure to visit this island again on my next trip there and I will not include Sohoton to make that possible.
After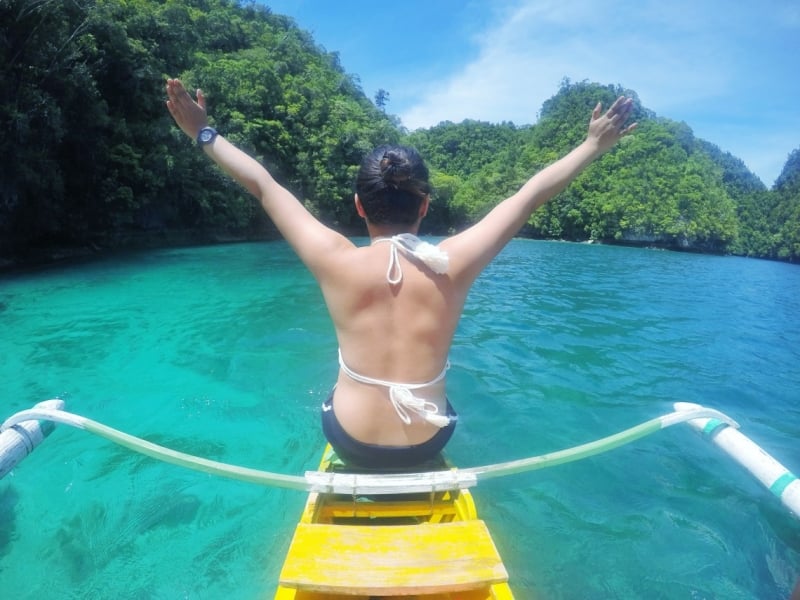 You will get the hang of it. You will end up like me. The next day after our travel here, I've been yearning for the place even more and thinking when my next visit will be. I was thinking of where to stay if I'm not going to be in a group, what food to try,  what activities I haven't done yet, and so on.
And if you experience something like I did, you will share amazing moments on this island. Just like me.