Contributed by The Travel Debugger
For a very long time, travelling to Sagada seems very unreachable to me. I always ask one of my uncles who frequent Sagada (they bring their own vehicle) when can I travel with them but our schedules don't always match. I've always wanted to go to Sagada because of the cool climate, beautiful sceneries and the unique tradition and culture of the people there. This is even long before we watched the movie 'That Thing Called Tadhana.' So I told myself, I shouldn't put any more hopes on travelling with my uncle. I then finally scheduled our trip this cold December not only to Sagada but to Banaue and Baguio as well!
Also read: 5 Life-Changing Reasons to Visit the Banaue Rice Terraces
Initially, it was supposed to be just my wife and me but our friend from Abu Dhabi tagged along the trip since she will be on vacation to the Philippines. The more the merrier! It was all our first time in Sagada.
In this post, you will get to know our itinerary, expenses, travel guides and our wonderful experience in culture rich, simple but amazing Sagada. Read on folks!
Itinerary
We really wanted to have a relaxed itinerary. Just chillin' and knowing the culture is enough for us. No extreme cave spelunking or mountain hiking.
Day 0 (Dec. 2)
10:00 PM – Depart from Manila to Banaue via Ohayami Bus
Day 1 (Dec. 3)
7:00 AM – Arrival in Banaue
Breakfast at Homestay Lodge
8:45 AM – Depart from Banaue to Sagada by Van
Picture taking at Banaue Rice Terraces View Point
11:00 AM – Arrival in Sagada
Check-in at Residential Lodge
Rest a bit
12:30 PM – Lunch at Salt and Pepper
Pay Environmental Fee at Municipal Hall
Shopped a bit
Rest again
3:00 PM – Start DIY tour (no guide) to Sugong coffins and Lumiang Burial Cave
4:00 PM – Merienda at Sagada Lemon Pie House
Rest again (So good to sleep in a chilly climate)
7:00 PM – Dinner at Lucky's Shanghai Hauz and dessert at Strawberry café
Day 2 (Dec. 4)
4:30 AM – Kiltepan Sunrise (500 Van roundtrip)
6:30 AM – Rock Farm Cafe / Orange Picking (Additional 150 for the Van)
9:30 AM – Echo Trail Tour (guide fee 600)
The Episcopal Church of St. Mary the Virgin
Sagada Cemetery
Echo Valley
Hanging coffins
Underground River
Bokong falls
12:30 PM – Sagada Weaving
12:45 PM – Lunch at Centrum Building
Rest a bit
4:00 PM – Supposed to walk to Lake Danum at 3PM but we overslept and woke up at 4PM!
Tried to walk to Lake Danum but failed so we ended up at Sagada Pottery.
6:00 PM – Streetfood for dinner and shopped a bit
Day 3 (Dec. 5)
7:00 AM – Travel to Baguio
1:00 PM – Arrival in Baguio / Lunch at Good Taste Restaurant
2:00 PM – Check-in Hotel Veniz
3:00 PM – Souvenir Shopping at Good Shepherd and Mines view Park
5:30 PM – Dinner at Ketchup Food Community
Day 4 (Dec. 6)
6:00 AM – Breakfast buffet at Hotel Veniz
7:30 AM – Shopping at Baguio Public Market
10:00 AM – Pack-up
12:00 PM – Check-out
2:10 PM – Depart to Manila (Victory Liner)
Tip: For me, it's much better if you go to Sagada on weekdays rather than on weekends or holidays since it's jam packed on those days. We had a calm and quiet trip on Sagada, just perfect.
Also read: Backpacking Northern Luzon in 9 Days for PHP 10,000
Transportation
We chose the Banaue-Sagada-Baguio route because we think it's the most efficient and less tiring since we would be just chillin' and buying souvenirs in Baguio.
Going to Banaue
We boarded the Ohayami Bus route at 10:00 PM from Sampaloc, Manila to Banaue. Travel time took 9 hrs with 2 stop overs.
Fare: PHP 450 plus PHP 20 online processing fee
For more information, go to www.ohayamitrans.com
Once in Banaue, there are drivers willing to take you to your destination whether it be in Sagada or your booked guesthouse in Banaue.
Going to Sagada
We boarded a van in Banaue for PHP 300 each. Travel time took around 2 hrs with a stop over in one of the amazing viewpoints in Banaue.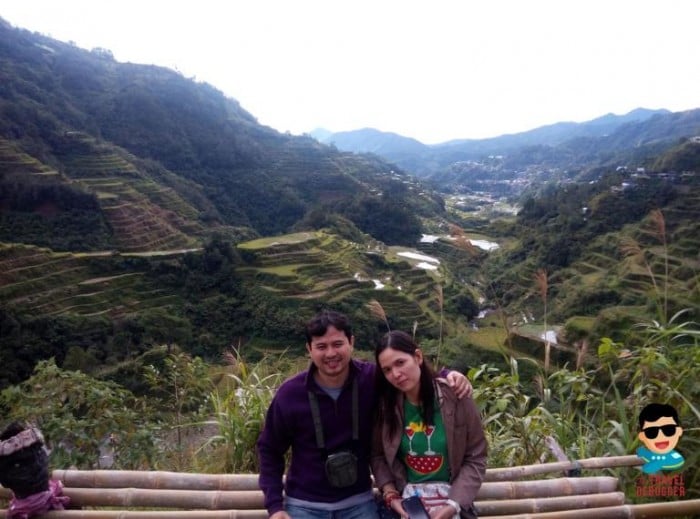 No words can describe how beautiful this place is. Breathtaking!
Many tourists also take the Banaue to Bontoc, then Bontoc to Sagada route riding at the topload of the Jeepney.
Going around Sagada
Walk.. walk.. walk… Sagada is all about walking but you can also hire a vehicle if you want to just like what we did in Kiltepan. We hired a vehicle for PHP 500 going to Kiltepan and met the driver at the Saggas tourist information office at 4:30 AM.
After Kiltepan, we decided to go to Rock Farm for Orange picking and breakfast. We just added PHP 150 for the driver to take us there and to the town proper after. It's a good deal especially if you are too full because of all the oranges you ate.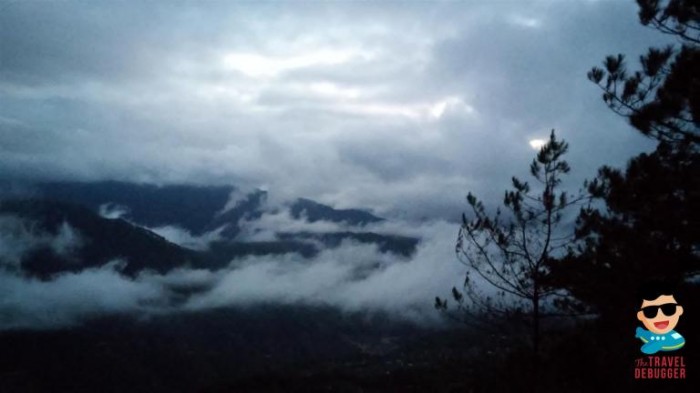 No sunrise, but still awesome.
Going to Baguio
We boarded the GL / Lizardo Trans Bus at the Sagada terminal at 7AM. I believe the earliest bus leaves at 5:00 AM and the last one leaves at 12:30 PM.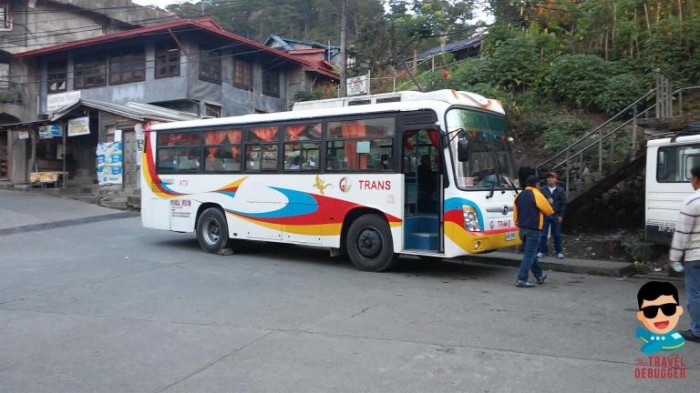 The GL/Lizardo Trans bus we boarded to Baguio
Fare: PHP 220
No need for advance reservation. Just go there before your planned departure and buy your tickets at the bus conductor.
Halsema Highway has one of the most amazing sceneries I've seen in my entire life (no kidding). This is also the reason why I chose to go to Baguio from Sagada for our last leg. Too bad I don't have pics.
Going back to Manila
We boarded the trusted Victory Liner from Baguio to Manila. At first we thought we won't get a ticket out of Baguio by Sunday (We went to the ticket office at Saturday) as all the trips were fully booked but fortunately they opened new trip schedules. We boarded at 2:10 PM (just the right time out of Baguio) and arrived at Manila at 9PM.
Fare: PHP 460
Travel time: 7hrs
Accommodation
In Sagada
Residential Lodge – 2 Nights for PHP 300 per person per night
We booked this lodge since it has rave reviews on the internet. It didn't disappoint. Booking is hassle free (deposited 50% down payment through Landbank) and the contact person responds back immediately for queries. It's one of my main criteria on booking a place.
The owner and staff are really polite and helpful. The room is just adequate and cosy for those chilly Sagada nights. They have hot and cold shower and wifi in the main lobby. For PHP 300 per pax per night? This is a great deal.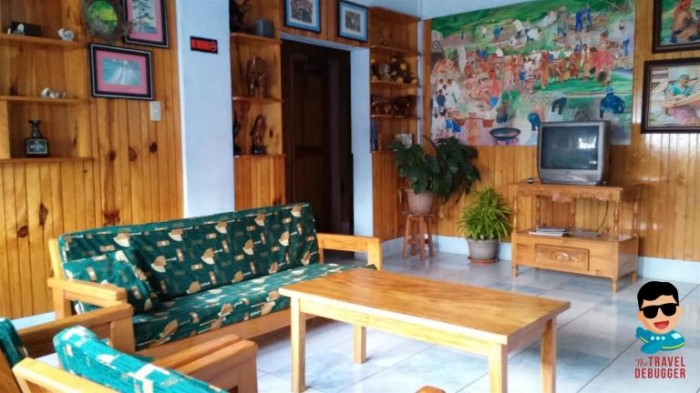 Residential Lodge Living Room
Contact them at: 0919 672 8744
In Baguio
Hotel Veniz – 1 night for PHP 1395 Junior Standard room with no aircon plus PHP 500 for additional person.
Who doesn't know about Hotel Veniz in Baguio? Right at the heart of the city, this Hotel is one of those bang for your buck accommodations since it's relatively cheap but with complete hotel amenities.
We chose to book a hotel since we needed a mini-staycation that stays on our budget. We won't need airconditioning anyways.
More info at www.hotelveniz.com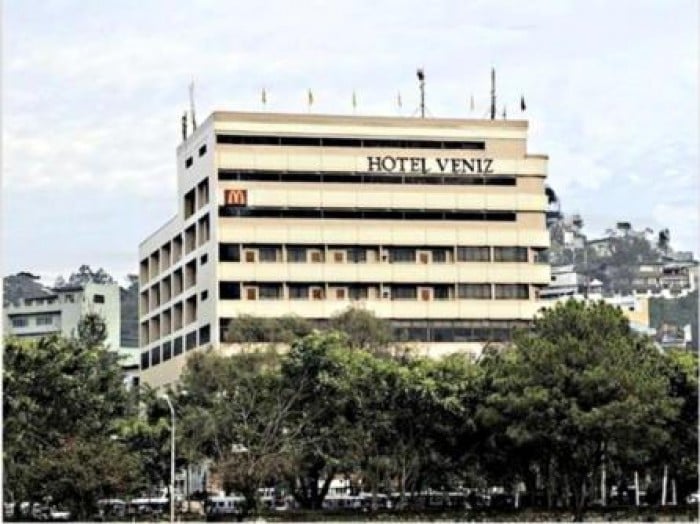 Book your stay at Hotel Veniz through Agoda here!
Tours
We didn't join a group tour in our Banaue-Sagada-Baguio Trip since we wanted to go on our own pace. We went on a DIY trip where we just commuted from Manila to Banaue, then to Sagada, Baguio and back to Manila either by bus or van.
Upon arrival in Sagada, you can then go to the Saggas tourist information office and check the tours you wanted to avail. There are tours that you can DIY while there are some that is required to have a guide like spelunking in the Sumaguing Cave. If you'll be going on DIY to some of the places, please ask the information officer in the Saggas office first if a local guide is required or not. This is very important! Safety and precaution first before doing anything stupid lol. For Kiltepan view point, you don't need a guide but you can hire a vehicle since it's a long walk from the town proper. All up to you though.
Before proceeding to the tour, you must register first at the Municipal Hall for the environmental fee for PHP 35 each.
We only availed the Echo Trail tour which you will visit the following places:
The Episcopal Church of St. Mary the Virgin
Sagada Cemetery
Echo Valley
Hanging coffins
Underground River
Bokong falls
Note that though these places are near to each other, you still have to walk and trek a lot up and down the trail. But don't worry, our guide told us that the Echo Trail is one of the easiest trek in Sagada. I even saw old people doing this tour.
Guide Fee for this tour is PHP 600 but if you are happy with how your guide assisted you, then please give them a little extra. ?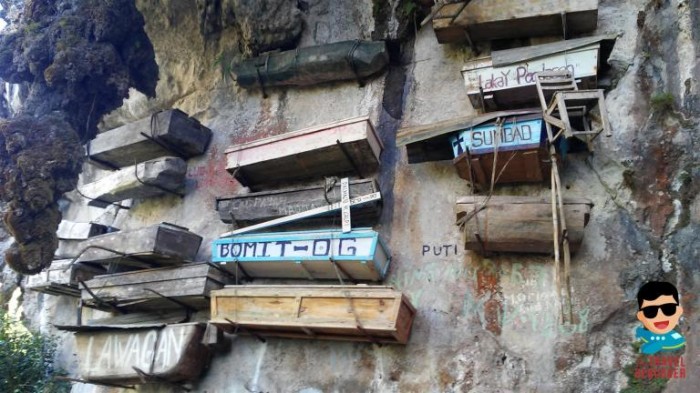 Sagada Hanging Coffins
You can DIY the Echo Trail tour, but if this is your first time in Sagada, it's much better to get a local guide to explain the history of the places and their tradition and culture
If you will just go to one place e.g. Echo Valley, then the guide fee is just PHP 200 for a group of 15 persons.
You can check the Saggas Tour rates here.
Food
In Sagada
Eat Like a Tourist
Sagada is not only known for its adventurous activities but it's also known for its food. There are several restaurants to choose from but be prepared to shell out around PHP 150 to PHP 300 per dish as they cater mostly to Tourists. So how good was it? For us, it's a hit or miss. We liked some dishes but the others are forgettable. Click here for our Sagada Food Trip.
Eat like a Local
If you are on a budget, but you still want to eat good food that the locals eat, then head to the basement of Centrum Building (a.k.a. Eduardo Gaudan Longid Centrum, besides the Sagada terminal). Our local tour guide in the Echo Trail tour suggested this to us as we are looking for good yet affordable food in Sagada.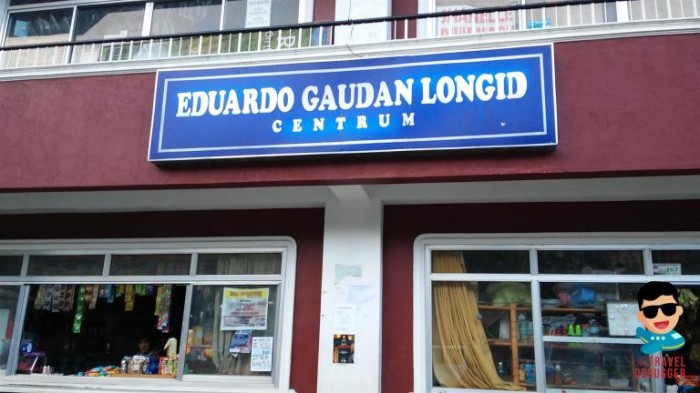 Centrum Building. Go to the basement for the small restos.
We ordered fried daing na banugs (PHP 140), sinigang na bangus (PHP 90) and nilagang baka (PHP 100).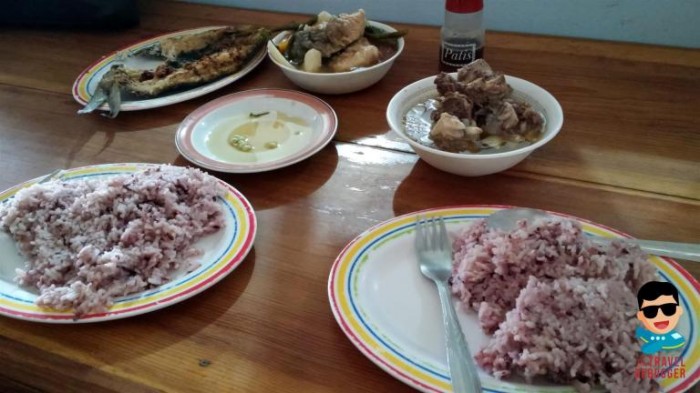 Yummy! Nilagang baka is sooo goood!
It was really good! Home cooked meals at its finest! The servings are generous too, plus we get to try the red rice of Sagada which the other restaurants we went to didn't offer.
Eat like a pauper
On our last night in Sagada, since we wanted to save more on our budget, we decided to just eat anything we see on the streets. First stop, we saw this barbeque stall on our way home from Sagada Pottery. One stick of fine barbeque meat cost PHP 12.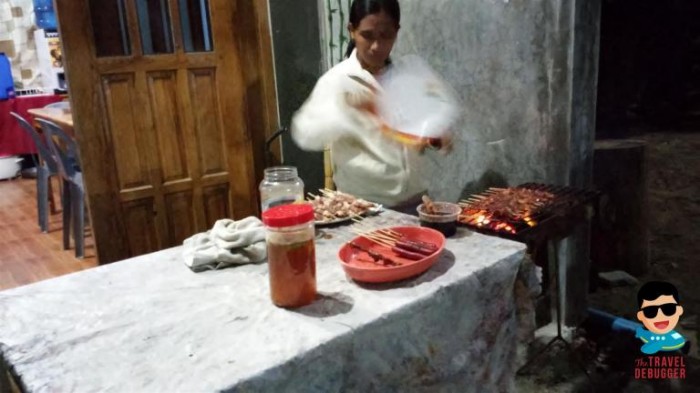 Barbeque stand
Then next are all of Pinoy's favourites – fishballs (3pcs for PHP 2), chicken balls (PHP 2 each) and kikiam (PHP 1.5 each). Last but not the least, sweet corn on a stick which cost PHP 35. A total of PHP 64 per person, not bad right?
In Baguio
One of the branches of Good Taste restaurant is just besides Dangwa terminal in Baguio where the GL / Lizardo Trans bus last stop is. This is our 3rd time to eat here and of course, it didn't disappoint. For PHP 95 for a rice meal with ample servings and good taste (redundant lol), it's definitely one of the best restaurants in Baguio.
After shopping for souvenirs in Good Shepherd, we went to dine in the popular Ketchup Food Community just right across Wright Park. Well, it's popular because they really offer good food! We dined at Happy Tummy (Thai Food) and ordered Pad Thai (PHP 195), Chicken Satay (PHP 175), Sticky Mango Rice (forgot the price) and Lomo Pork Ribs (PHP 205) at Canto.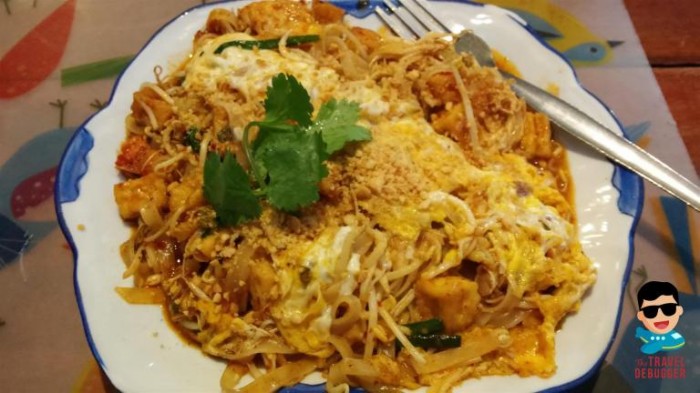 Happy Tummy's version of Pad Thai
The Pad Thai was really good! One of the best Pad Thai we had outside of Thailand and I'm glad we have it here in the Philippines. The Chicken Satay with I think, is a turmeric sauce is nice as well. The Lomo Pork Ribs at Canto is to die for! The meat is tender and soft and is marinated nicely. For dessert, we had the Sticky Mango rice that looks like a sunny side up egg at first look, but it's delicious!
Happy Tummy's Sticky Mango Rice. Looks like an egg no?
Maybe I'll create a separate post for my review in Ketchup Food community. Stay tuned.
Expenses
Here is a summary of our Expenses for our 4 days trip in Banaue, Sagada and Baguio. Please note that shopping items and souvenirs were not included as this may vary per individual preferences. Food and drinks are shared between the two of us. Some items like the Van to Kiltepan are shared between the 3 of us in the group. Kindly see the remarks column for more information. I also didn't include the expenses for bottled water as it is too tedious to note.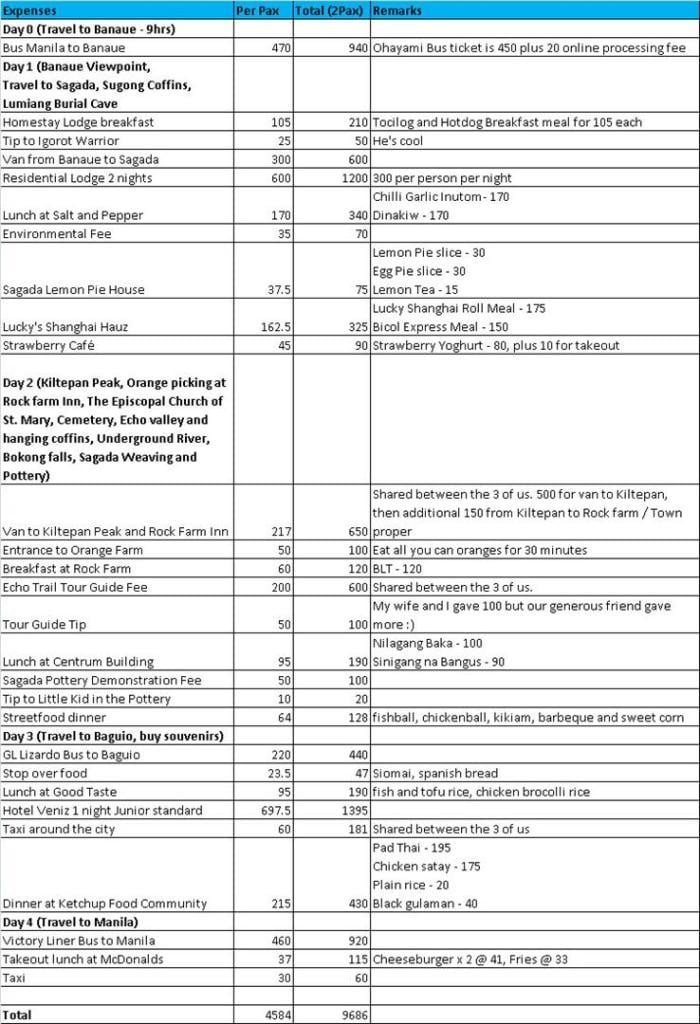 Our Expenses for the 4D3N trip to Banaue, Sagada and Baguio
Let's say we spent PHP 5,000 each. Still not bad for 4 days getaway in 3 different places right? Items that can be lessened here are the Van to Kiltepan (you can just walk, but we prefer to take a Van because it's a long walk), not hiring a local guide in the Echo Trail Tour (but not recommended for first timers), not giving tips (also not recommended), eat packed food or streetfoods/carinderia all throughout (possible but really hard) and just stay at a guesthouse/inn in Baguio instead of a Hotel (we really need some staycation sometime).
Souvenirs in Sagada are also a little bit expensive but when you buy, just think that it's a way of helping them in their daily lives and a way of saying thank you for such a wonderful visit.
Some prices I recall:
Fridge Magnet – ranges from PHP 50 to PHP 100
Sagada T-Shirt – PHP 150/PHP 160
Sagada Orange in Rock Farm – PHP 60/kg
Also read: 9 Yummy Treats to Buy from the Philippines
I hope this post helps you in any way on your planned trip to Banaue, Sagada and Baguio. Stay tuned for more posts regarding our trip. In the meantime, feel free to ask questions and I will try to answer them as much as I can. Thank you!