Contributed by Hannah Jenina
"I took the one less travelled by, and that has made all the difference." – Robert Frost, American poet
It was 2010 when we went to the southern tip of mainland Malaysia, Johor Bahru, but last summer 2017, my sisters and I decided to travel to another side of the country – the state of Sabah in the Malaysian Borneo. Some don't know this place and some don't see it as a travel destination. It may be a place less travelled but I assure you, it will definitely take your breath away.
Sabah is known as the "Land Below the Wind". Its capital city, Kota Kinabalu, is the largest in the state and is regarded as the international gateway to Borneo.
Also read: Having a Blast in Kota Kinabalu Without Hiking or Beach Bumming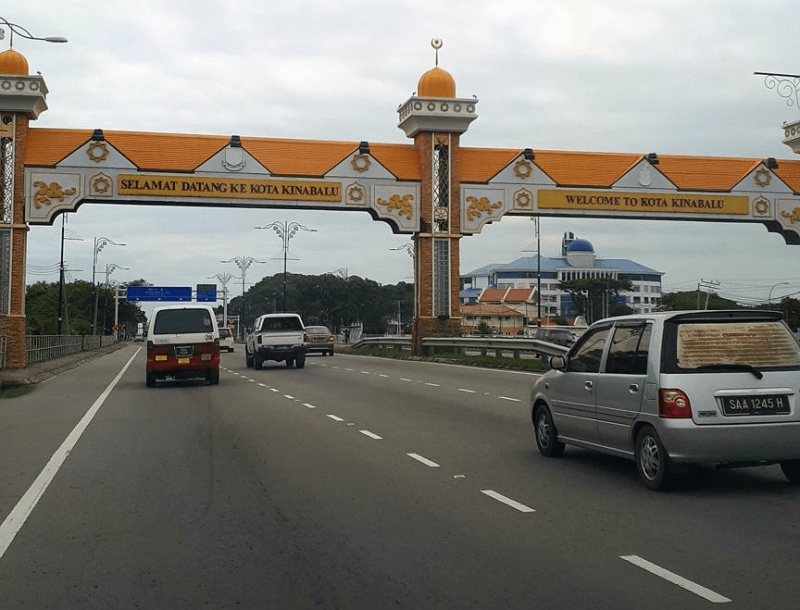 Sabah is known for its rare animals, spectacular plants and marine life. It also has seemingly endless beaches, rocky foreshores and coastal mangroves.
We mainly visited the West Coast Division of Sabah. It occupies the northwest part of the state and consists of different districts, namely Ranau, Kota Belud, Kota Kinabalu, Penampang, Papar and Tuaran.
How we explored Sabah for five days with only ₱13,700
We booked a round-trip promo flight with Air Asia amounting to ₱3,216.70 one month prior to our holiday. We were lucky to get cheap tickets. The flight is about two-hours long from the Philippines.
Day 1
We departed the Philippines at 9am and arrived at the Kota Kinabalu International Airport at 11.19am. The scorching 31°C weather welcomed us. We then booked an Uber ride to bring us to our hotel for check-in.
Tip: Uber and Grab drivers were very helpful in our tours. We were fortunate because Grab had a promo then which helped us a lot during our stay.
After freshening up, we ate our lunch at KFC, which was a few steps away from our hotel. Then, we waited for our booked trip. We availed a Klias River Fireflies Safari Cruise with Klook. Again, we were lucky we booked our first-day itinerary weeks before and had the chance to use the "Madness" promo code which cost us ₱1,767.60 each.
From the Kota Kinabalu city centre, it is a three-hour journey to Kota Belud, Klias River's location. This is a mangrove forest reserve.
We arrived at our destination at 5pm and we were first served with some appetisers before starting the cruise.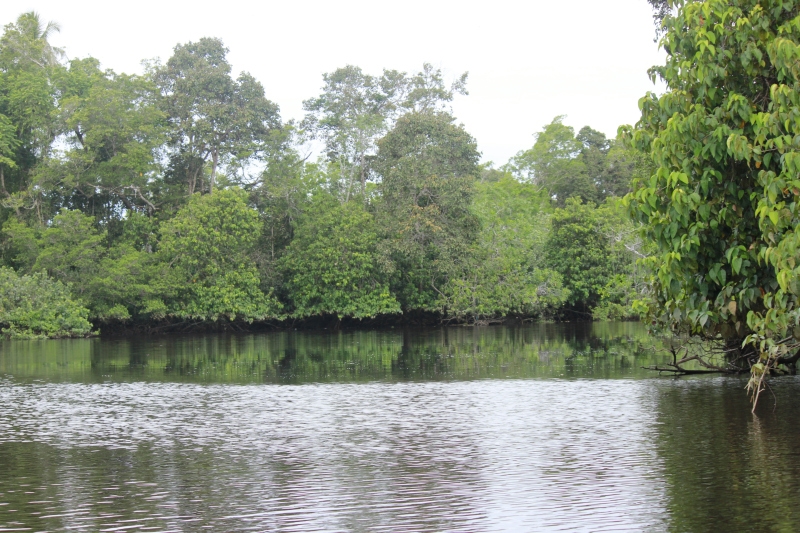 During the cruise, we had the chance to see proboscis monkeys or long-nosed monkeys. These are bizarre-looking animals that are reddish-brown in colour and are endemic to the island of Borneo.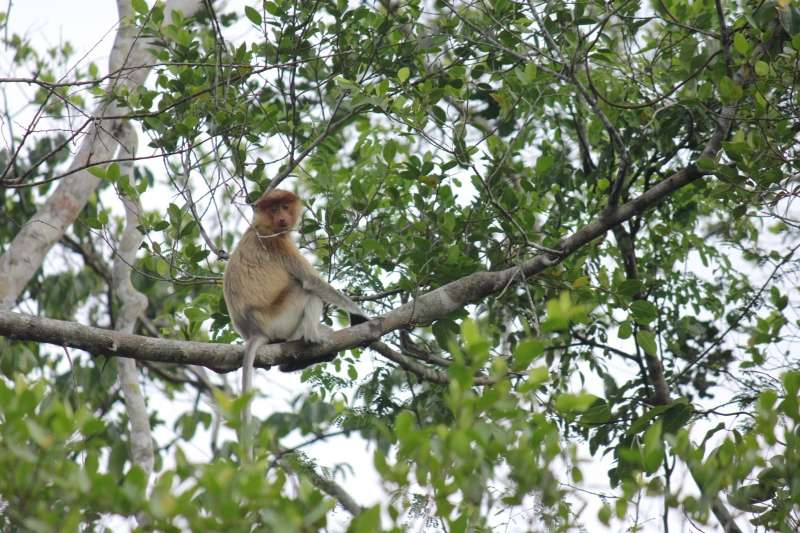 There are several species of animals to see here. You will encounter different kinds of birds, reptiles and even long-tail macaques and silver languor monkeys.
After the cruise, we had our dinner, which was included in the package we availed. Then, we went back to the boat to watch fireflies.
Surreal was the best word to describe this experience. It's like a fairy tale. Unfortunately, we didn't have great photos of the fireflies but I can clearly remember what I witnessed.
Day 2
Our second day's tour was, again, availed from Klook. It was the Poring Hot Spring & Desa Farm package with the same promo code for ₱1,852 each.
First, we had a short stop at a market overlooking Mt. Kota Kinabalu. Towering at 13,435 feet, Mt. Kota Kinabalu is the highest mountain in Borneo. The Mt. Kinabalu climb takes two days. Sadly, we didn't have the chance to climb to its peak, but I hope we can do it in the future. A package tour for climbing Mt. Kota Kinabalu will cost you roughly ₱15,000-30,000.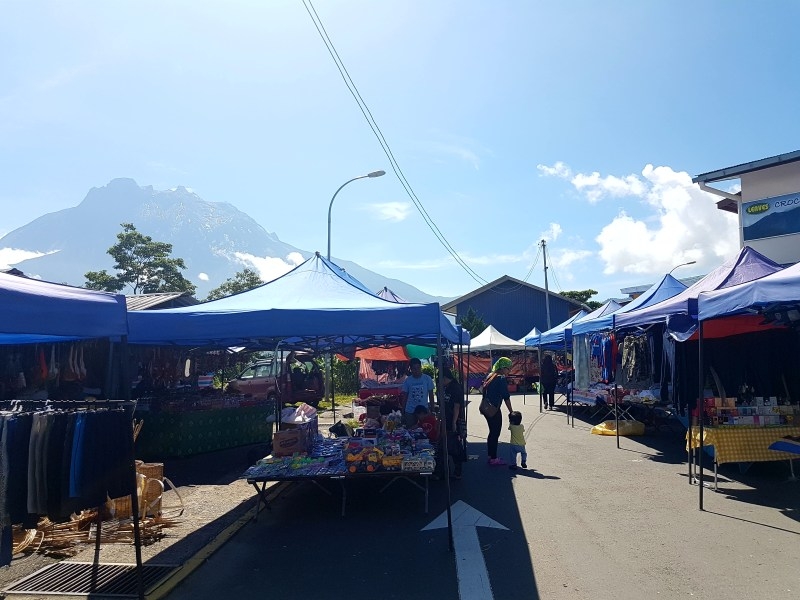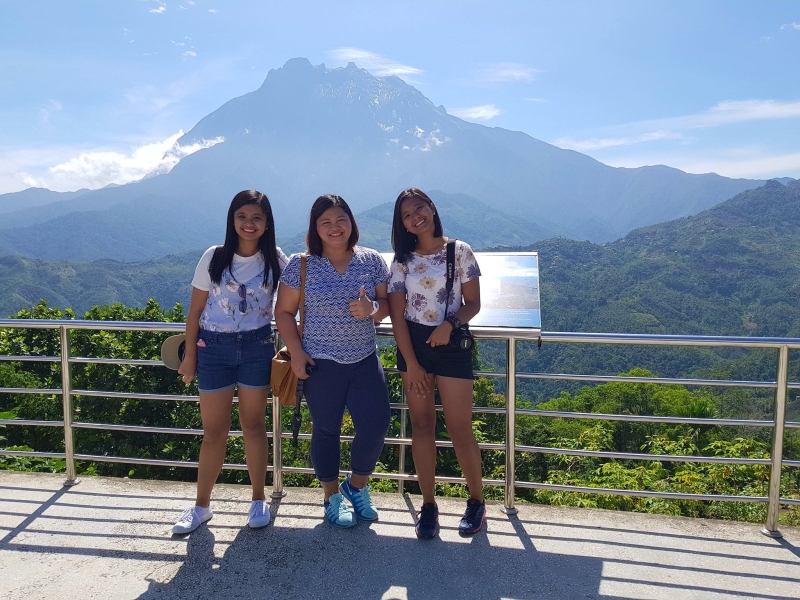 After taking plenty of photos, we went back to our shuttle and travelled two hours to reach Desa Cattle Dairy Farm.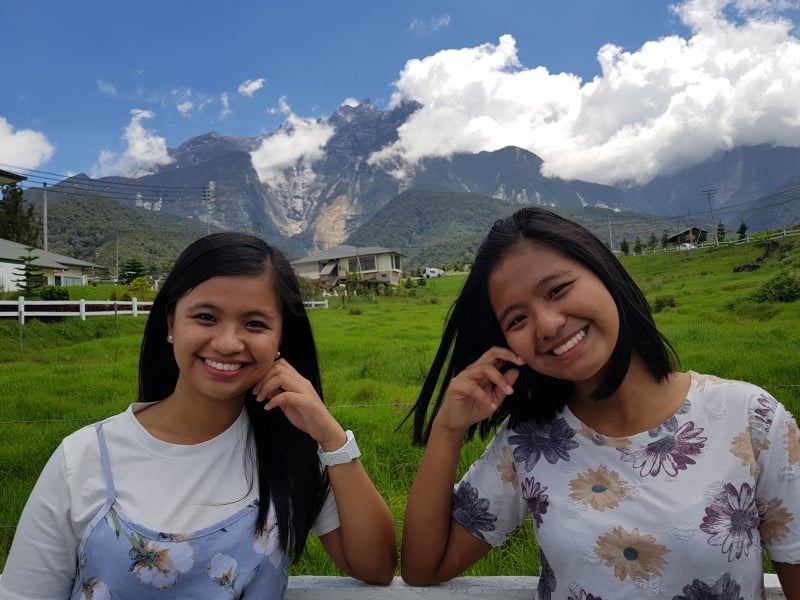 Desa Cattle Daily Farm is deemed as the "New Zealand in Sabah". It is located at the foothill of Mt. Kinabalu. Yearly, the cattle farm produces about 900,000 litres of milk. We fed the cattle and goats, or you can also give them milk. And of course, tasting their products is a must.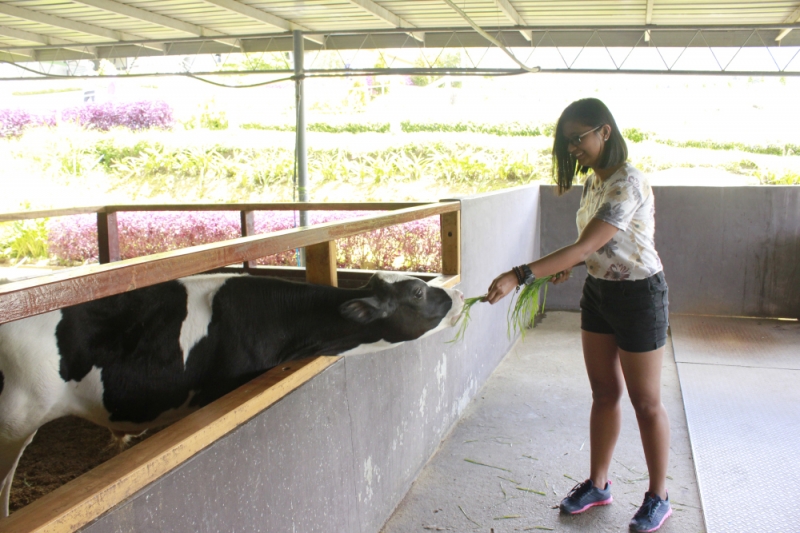 We had our lunch at a local restaurant. During this time, we got to know our fellow tourists and we all had a brief conversation during our lunch.
By 1pm, we went to the Poring Hot Springs. Before reaching it, you need to have a leisurely walk in nature.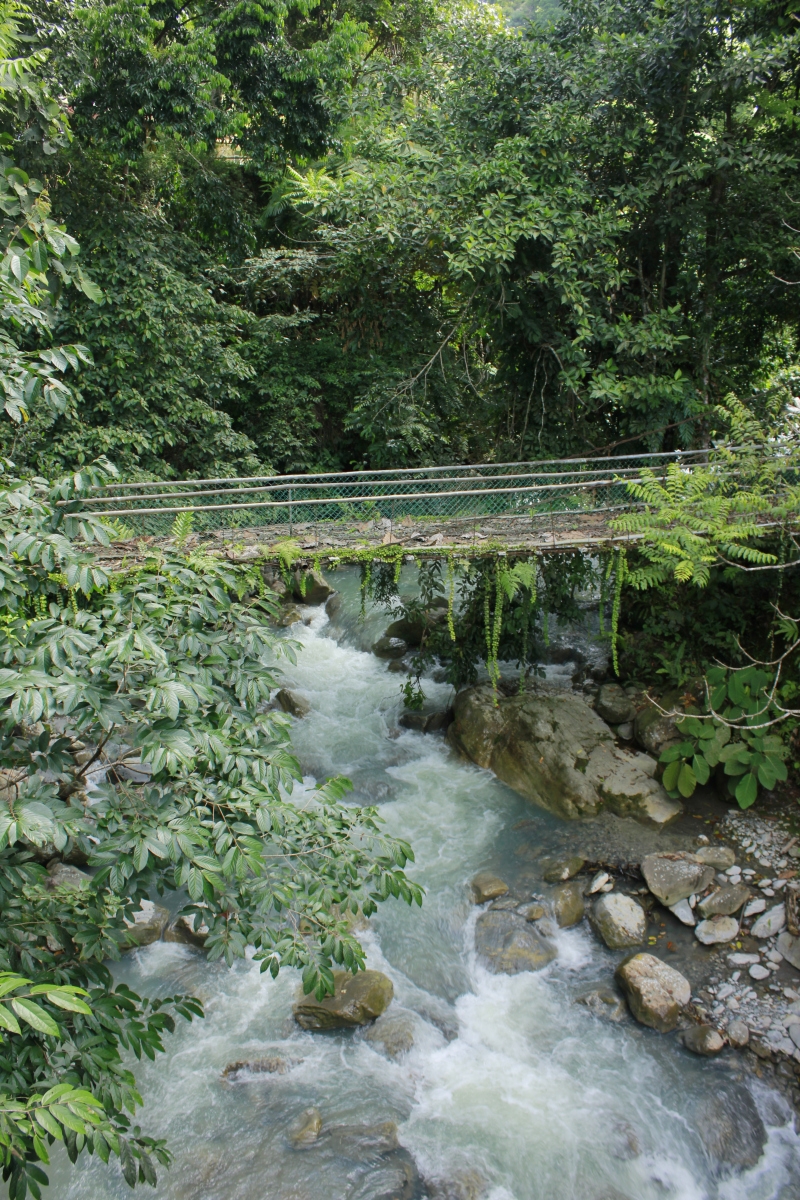 Poring in Malay means "pouring". Numerous pools and baths are available here. You can also try their sulfur bath.
Even though we brought some extra clothes, we decided not to take a bath in the hot springs. We just soaked our feet in the water and it was really relaxing.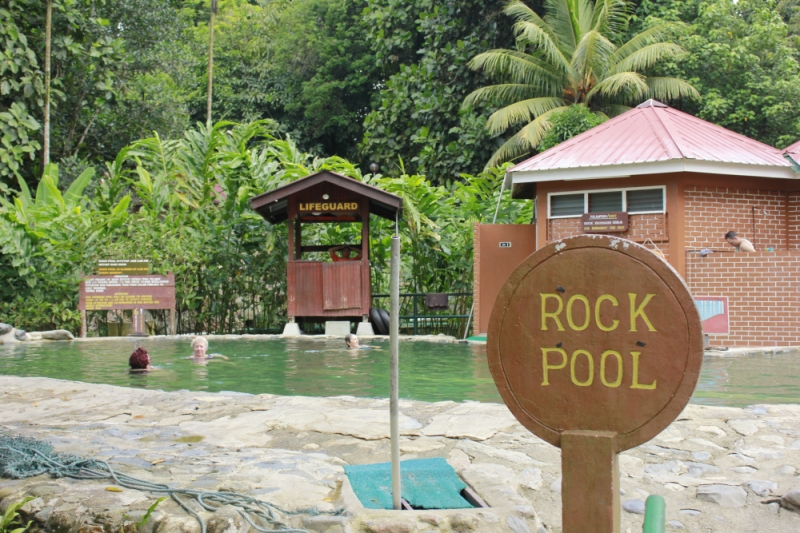 We also tried the famous canopy walkway. The entrance fee is RM3 for Malaysian adults and RM5 for foreigners. You also need to add another RM5 for your camera fee (each camera).
The canopy walk is one of the most visited destinations in Sabah. It is 175 metres long and 41-43 metres in height, which makes it higher than an eight-floor building. It can hold six people at a time. It is narrow and is made up of ropes, wood and aluminum planks, nets and steel cables.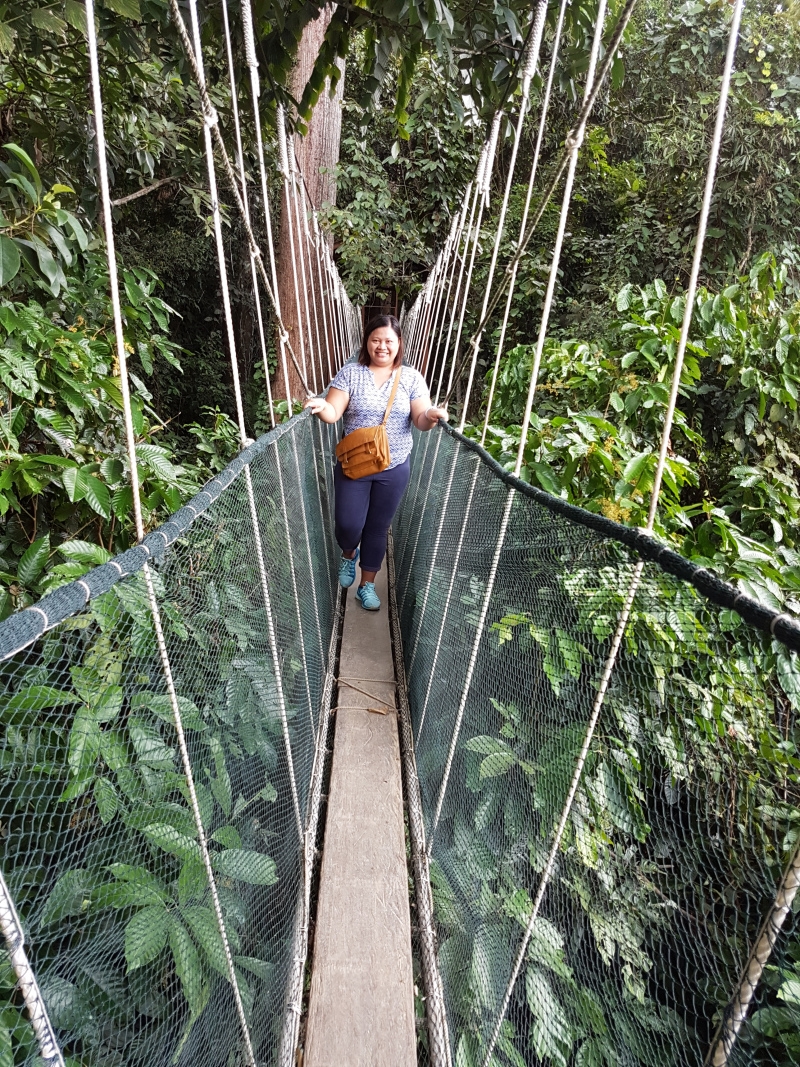 We were dropped off at our hotel early so we decided to stroll around the city. We visited Imago Mall, which was near our hotel. But because of being unfamiliar with the place, we hired a Grab ride for us to reach the mall. We ended up laughing at ourselves when we arrived at the mall about one minute later.
We also visited the Oceanus Waterfront Mall and didn't miss the chance to eat an eat-all-you-can dinner at Seoul Garden, because travelling is best when great food is involved.
Day 3
Tunku Abdul Rahman National Park covers 50 square kilometres and consists of five islands, namely Sapi, Mamutik, Gaya, Manukan and Sulug. These islands offer white sand and calm waters. All the islands are near Kota Kinabalu. The nearest one is just 15 minutes away by boat and the furthest an hour away.
You need to go the Jesselton Point to reach the marine park. Jesselton Point Waterfront is formerly known as the Kota Kinabalu Ferry Terminal.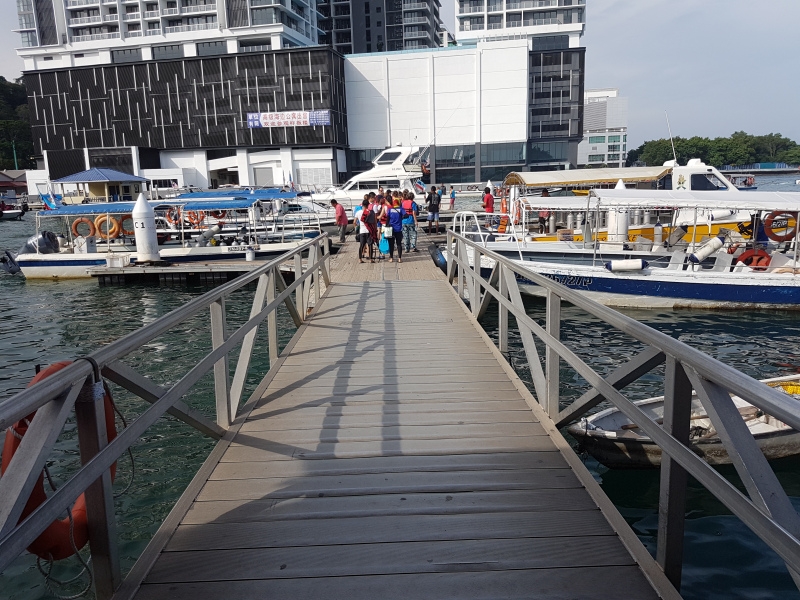 Upon arrival, you will see a building with numerous travel and tour agencies that offer island hopping tours, activities on each island and equipment to be used for the trip. You need to haggle to avail cheap packages.
The package we availed was a three-island tour with transfers and swimming gear. It amounted to RM179 for three people. That's around RM60 RM each (₱480-600). The conservation fee per island is excluded, which costs RM10.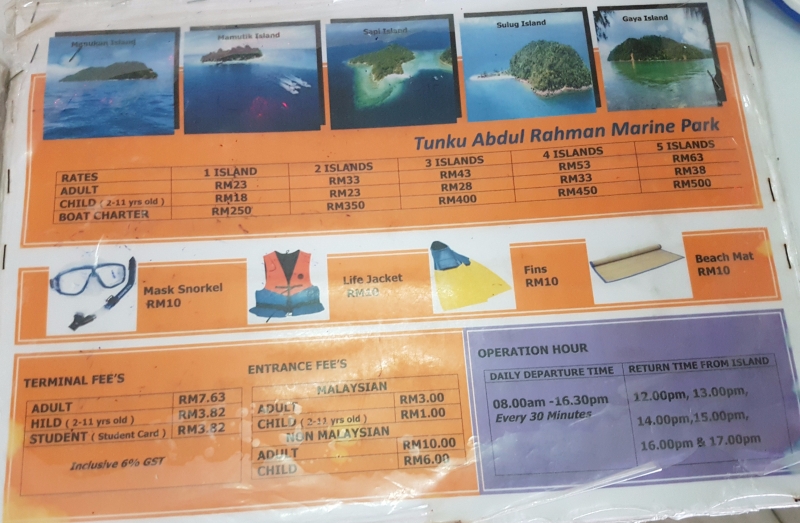 Our first stop was Sapi Island. Sapi is the second smallest island of the Tunku Abdul Raman Marine Park. It is only 25 acres big. When we arrived, we were all amazed by its beauty. In here, you can do some activities like snorkelling, camping, diving and more. It is also one of the favourite islands of tourists. No wonder it is a bit crowded.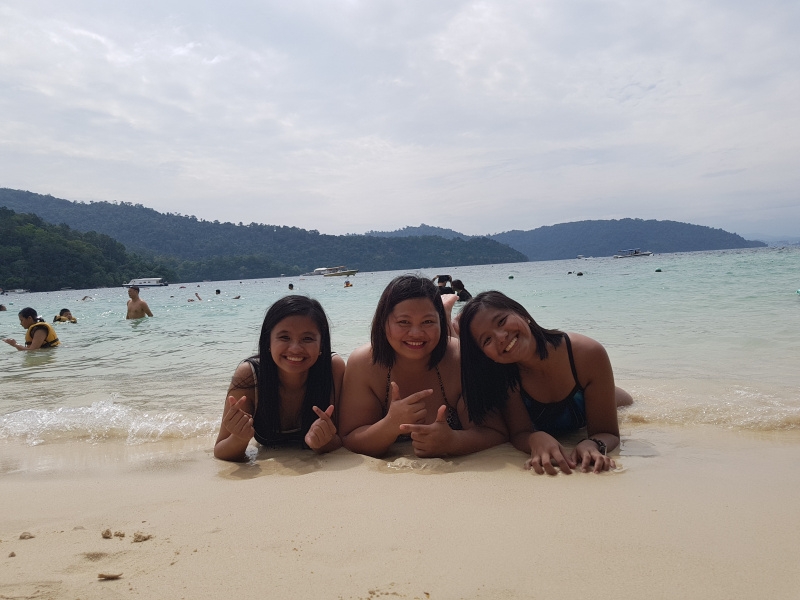 You can also ride the Coral Flyer, the longest island-to-island zip-line in the world. Coral Flyer is 235 metres long and will take you from Gaya Island to Sapi Island in less than a minute.
After two hours, we departed for Manukan Island from Sapi Island.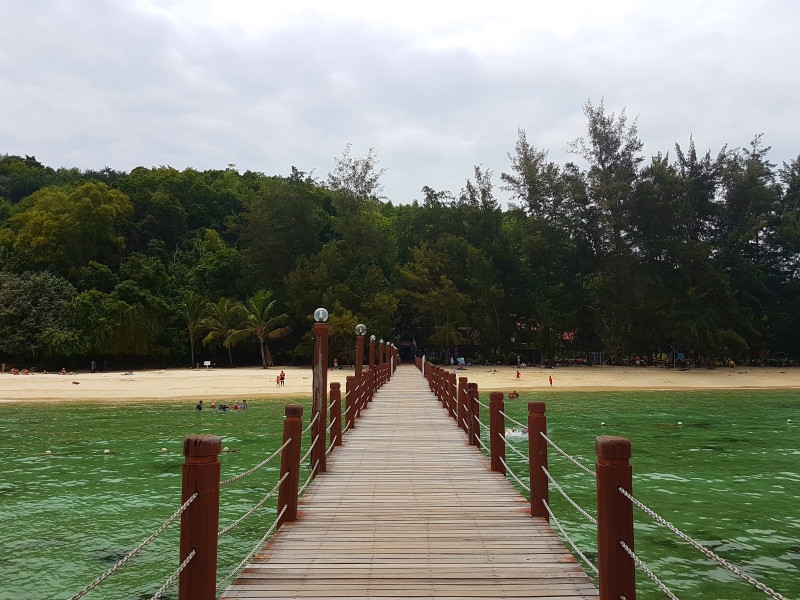 Pulau Manukan or Manukan Island is the second largest island in the park and also the most commercialised. It has a 1,500-metre long powdery white sand beach where tourists can unwind. You can also play frisbee and volleyball on this island. The best view of the beach is from its east side.
We ate our lunch here and just had a short leisure time. After that, we went to our last island, Mamutik Island.
Mamutik Island is the smallest in the Marine Park. It is not as popular as Sapi and Manukan so expect a smaller crowd.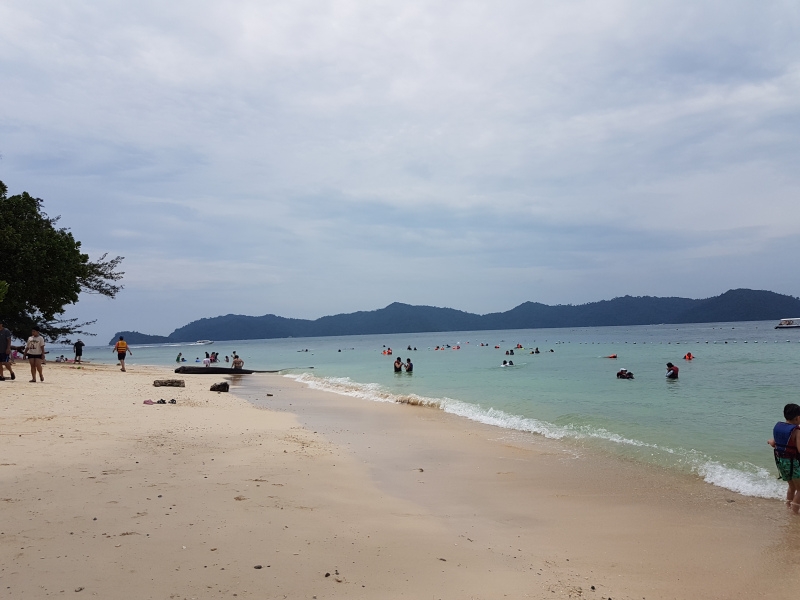 The other two islands in the park are Gaya, the largest of them all, and Sulug, which is the farthest. It is also known as "Rocky Island" and is still underdeveloped.
All the islands we went to have different facilities and activities to offer. You can do water sports, snorkelling, scuba diving, swimming, camping and hiking. A little bit of a setback was that the comfort rooms on each island are not properly maintained. But of course, all the islands are nice and perfect for relaxation, so it is a must to visit them.
Things to know
Some islands allow camping except for Manukan Island.
The last speedboat leaves at 4pm to 4.30pm. Be aware of your time.
One to three hours is enough to enjoy each island. Make the most of the time.
Buy food prior to your visit since their prices in the islands are quite high.
Always ask for a lower price when availing activities and tours.
Arrive early. A huge crowd can spoil your mood.
After our island hopping tour, we visited some famous landmarks around the city.
The Signal Hill Observatory Platform is the highest point in the city and offers a stunning view of it. It is best to go here during sunset.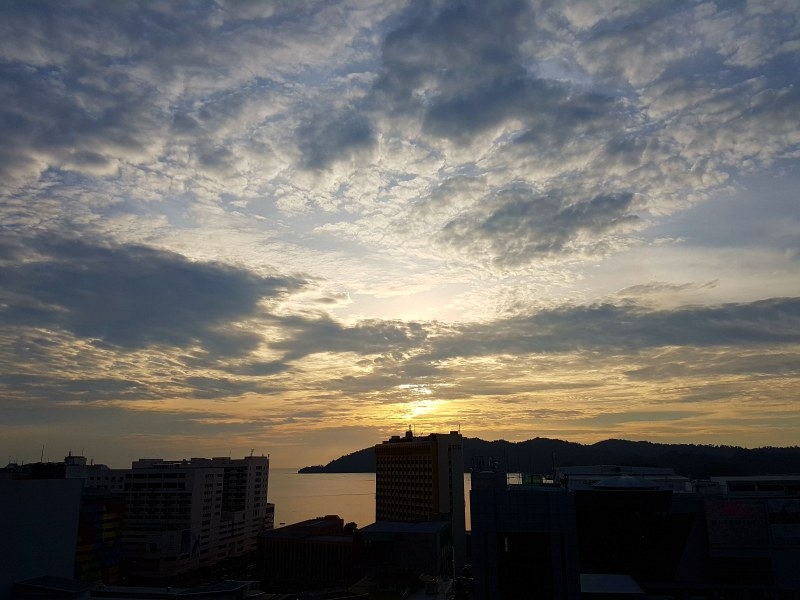 Atkinson Clock Tower is located near Signal Hill. We walked just for a few metres to reach it. It is the oldest building in the city which was built in 1902 to honour Francis George Atkinson, the first district officer of Kota Kinabalu.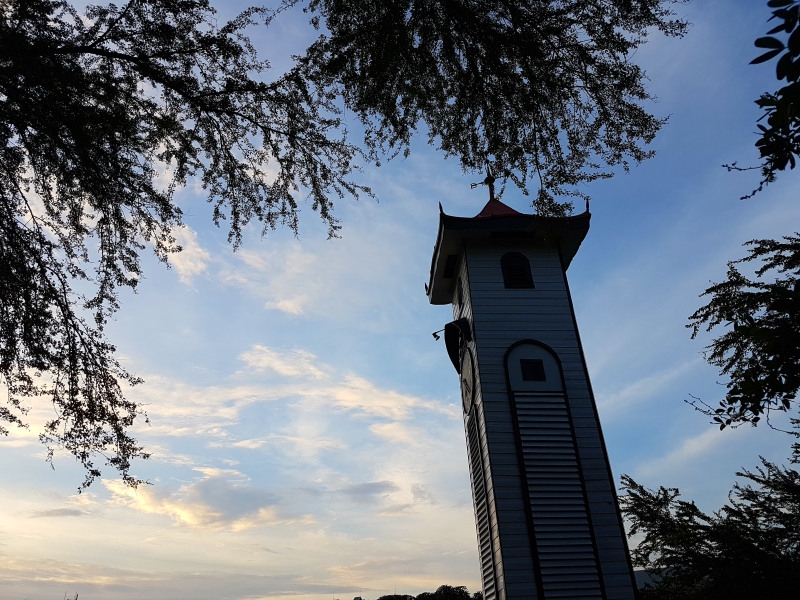 One of the best experiences I encountered on our trip was visiting and dining at Welcome Sea Food Restaurant. You shouldn't miss it! I'm going to give it a 10/10 as all the food here is fresh and really delicious!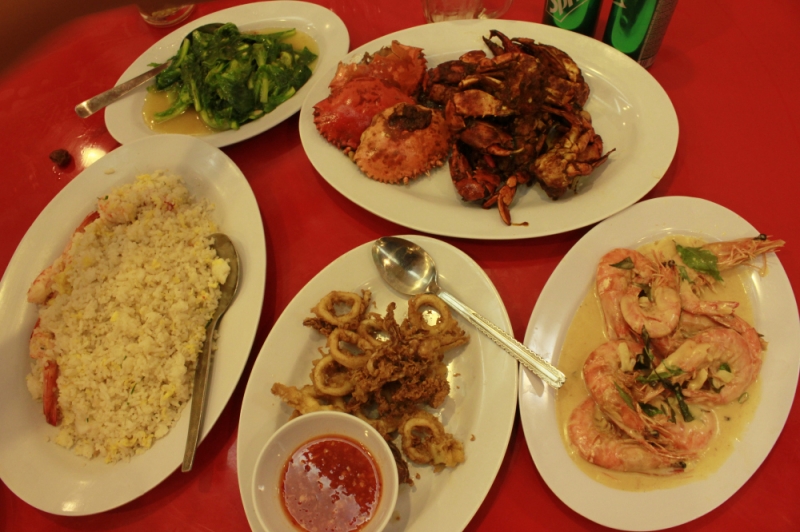 Day 4
Our last activity for our holiday was the Kiulu White Water Rafting, which we availed from Klook for ₱1,683 each.
Upon arrival, the staff will ask you to wear safety equipment. They will then conduct a safety briefing session and demonstrate rafting techniques as well as proper handling of equipment before the excursion.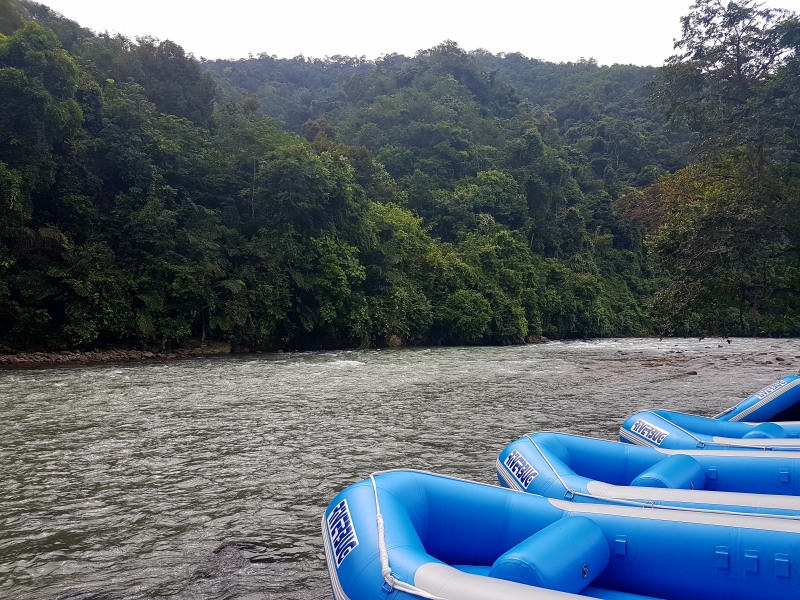 This is the longest white water rafting trip in Borneo. The journey will take about one and a half to two hours before reaching the endpoint.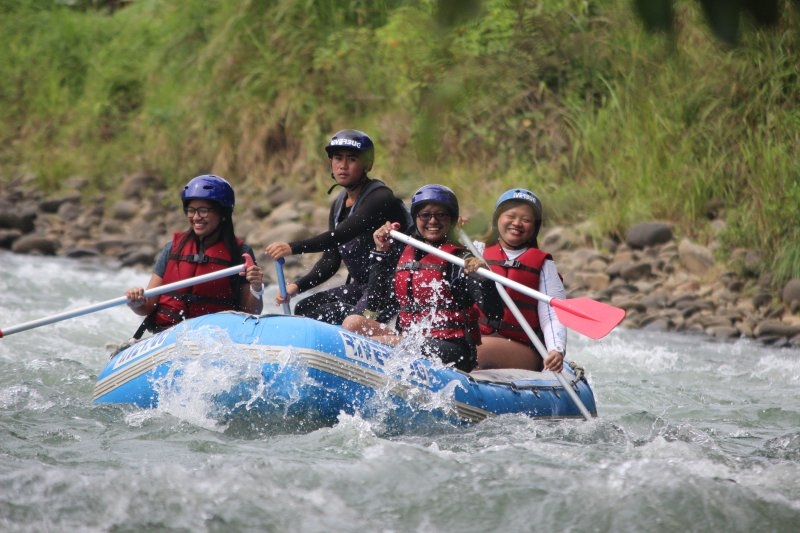 We also had extra fun because of our professional rafting guide, Zul. After the rafting experience, we had a barbecue lunch which is also included in the package. It was very satisfying.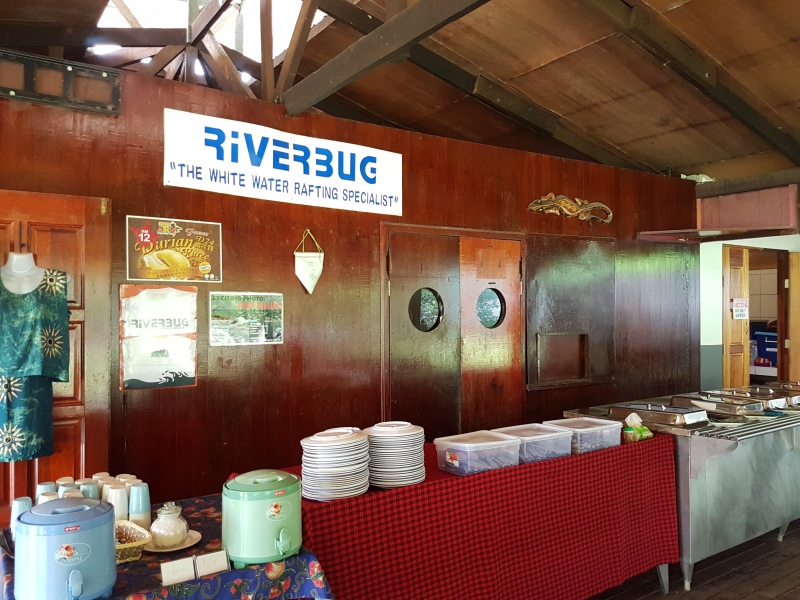 We went back to the city and were dropped off at the hotel early again so we took a rest for an hour. After resting, I went out alone to visit the Kota Kinabalu City Mosque. This is the second most important mosque in Kota Kinabalu. It is deemed as the "floating mosque" as it sits on a human-made lagoon and has a sublime architectural design. It has a maximum capacity of 12,000 worshipers.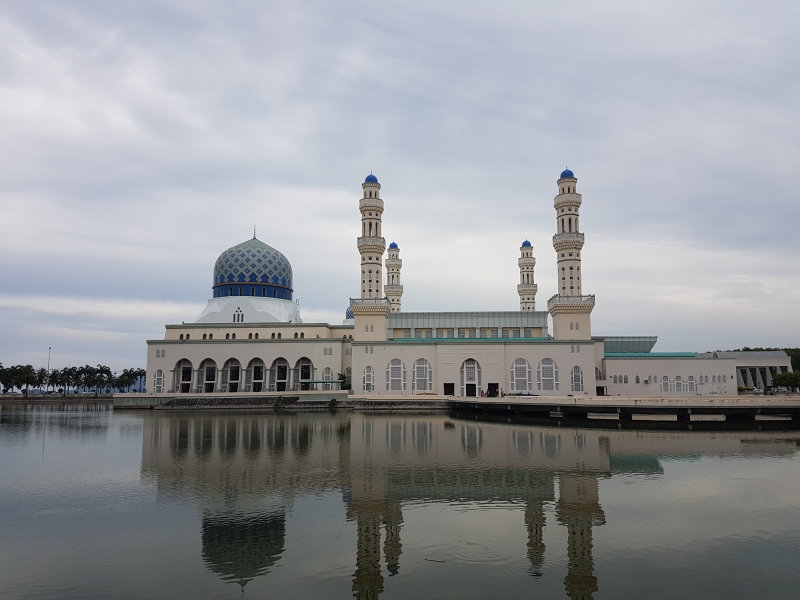 I had a hard time going back since there was no WiFi available. I went to a store for renting Islam clothes to ask if there was any WiFi around. Luckily, a store employee named Annissa Tesorio, who turned out to be a kababayan, helped me to get a ride. She is from Puerto Princesa, Palawan and married a local, which is why she's been living in Kota Kinabalu for more than 10 years now. I was so thankful for her.
After that, we went to Centre Point Sabah and strolled around the city. Then, we visited the Filipino Market.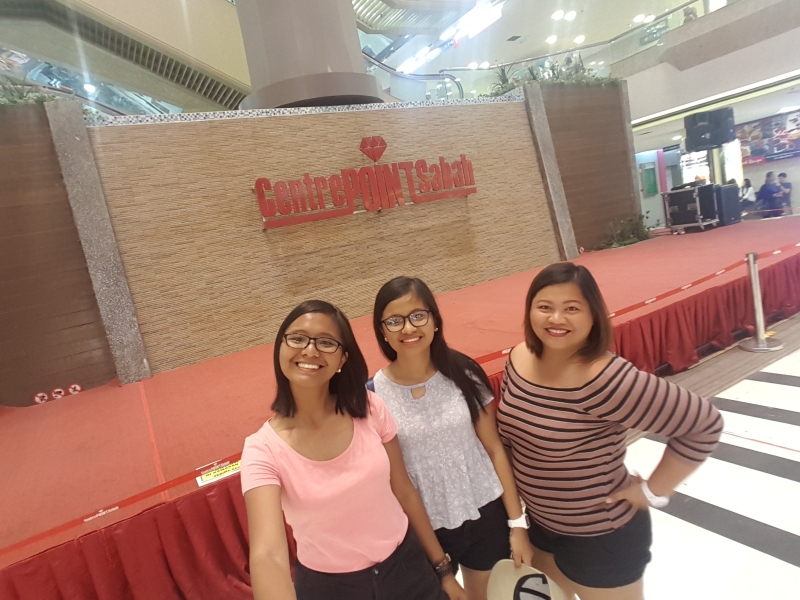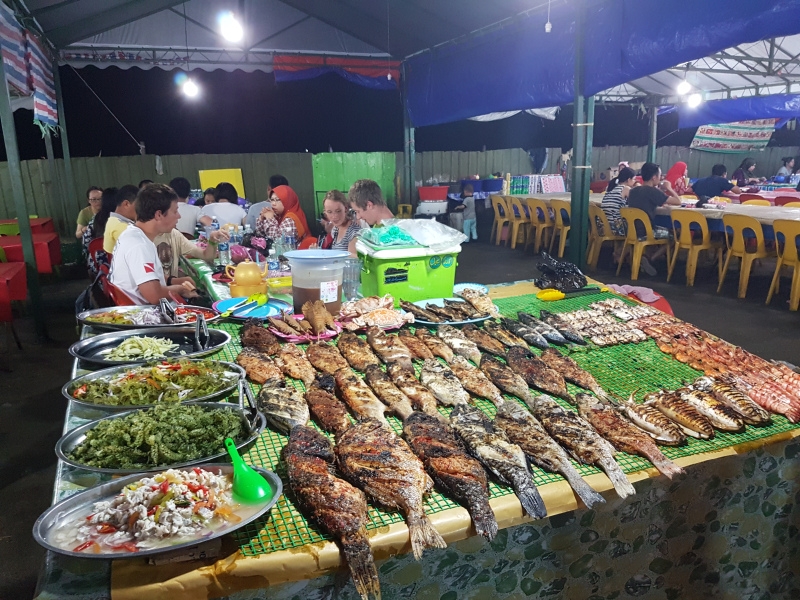 These foods are all offered in the market. Just pick your choice and they'll cook them for you for a cheap price.
After our dinner, we bought souvenirs near the market.
Day 5
We were fortunate to have a flight going back home on a Sunday. So before checking in at the airport and after checking out from the hotel, we went to Gaya Sunday Market. Every Sunday morning, Gaya Street is closed to make way for different vendors to sell goods.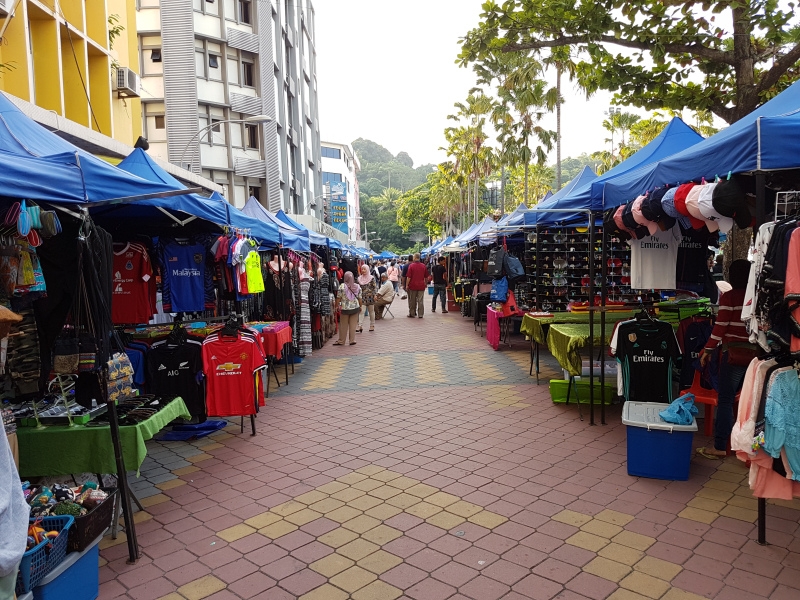 Gaya Street was originally called Bond Street. It is located at the Kota Kinabalu Central Business District. The Gaya Sunday Market is open from 6.30am to 1pm.
Whether it's footwear, fruits and flowers, everyday clothing, arts and craft, souvenirs, cakes, herbs and even pets – you can find all of them here. This is also a place to buy cheap pasalubongs. In our case, we bought some food to bring home.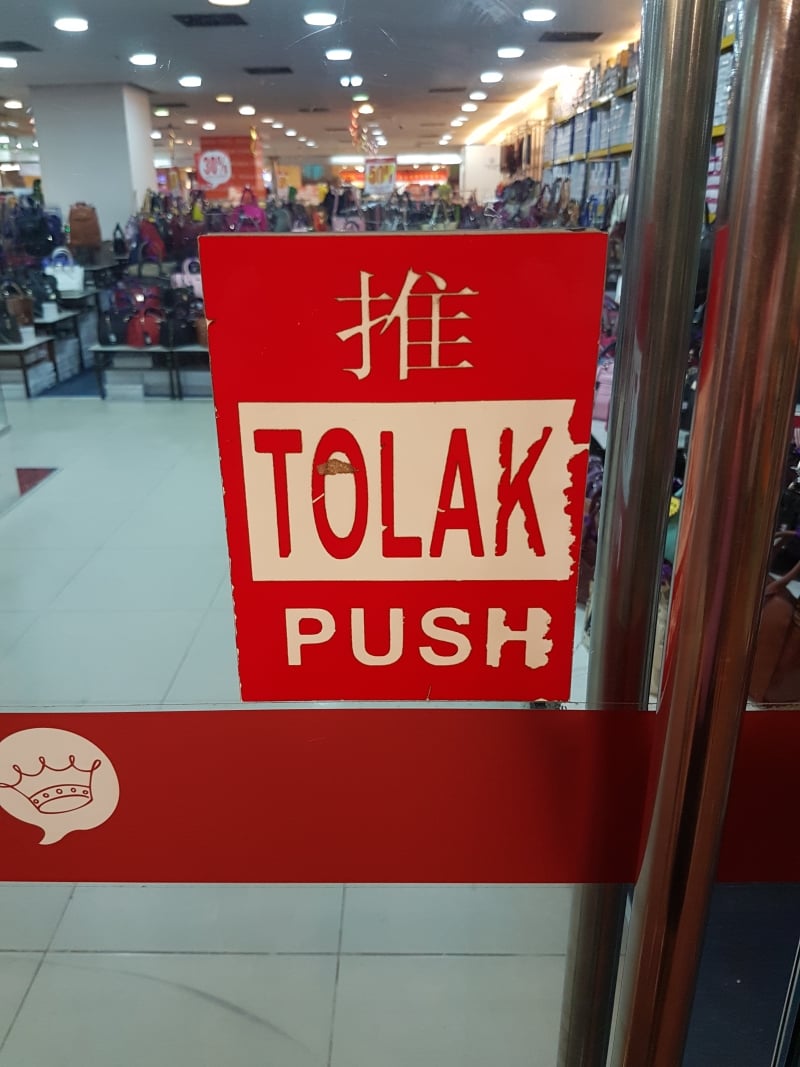 By 11.30am, we departed Malaysia and went back to the Philippines. It was an unforgettable five-day experience for us.
Sabah might be a place less travelled. But if you try to experience it – its different traditions,  the language, natural wonders and cuisine, you will never regret it.
Also read: How I Spent a Smashing Holiday in Kota Kinabalu for 4 Days & 3 Nights
More tips
Exchange your money in the Philippines or at the airport. Based on our experience, this is much better.  One Malaysian Ringgit (MYR or RM)  is equivalent to approximately  ₱11-12 or $0.24.
Kota Kinabalu is a very small city. Roaming and strolling around is easy.
Uber and Grab are the best way to get around. They will greatly help you to travel on a budget.
Only cabs are available around the city. Commuter vans (which they refer to as a bus) are for provincial destinations.
Doing a DIY trip to some destinations is a bit of a hassle. Book trips online for convenience, especially when going to Mt. Kinabalu National Park, Desa Farm, Poring Hot Spring and other farther destinations.
Try the foods. Kota Kinabalu offers exquisite dishes.
Visit the night markets. Aside from the Gaya Sunday Market, these are where you can buy cheap pasalubongs.
Since it is part of a Muslim country, expect that most restaurants don't serve pork.
Islam is the dominant religion in Sabah. Always wear not-so-revealing-clothes since the locals are conservative.
Locals consist of Bajau, Chinese, Brunei Malays, Kadazandusun and immigrants from the Philippines and neighbouring countries. There are lots of Filipinos around. They were all kind and helpful.
Talking to the locals is not a problem. Almost all of them speak English well.
Some locals even speak Tagalog. Some of our phrases and words are the same as theirs as well.
Helpful phrases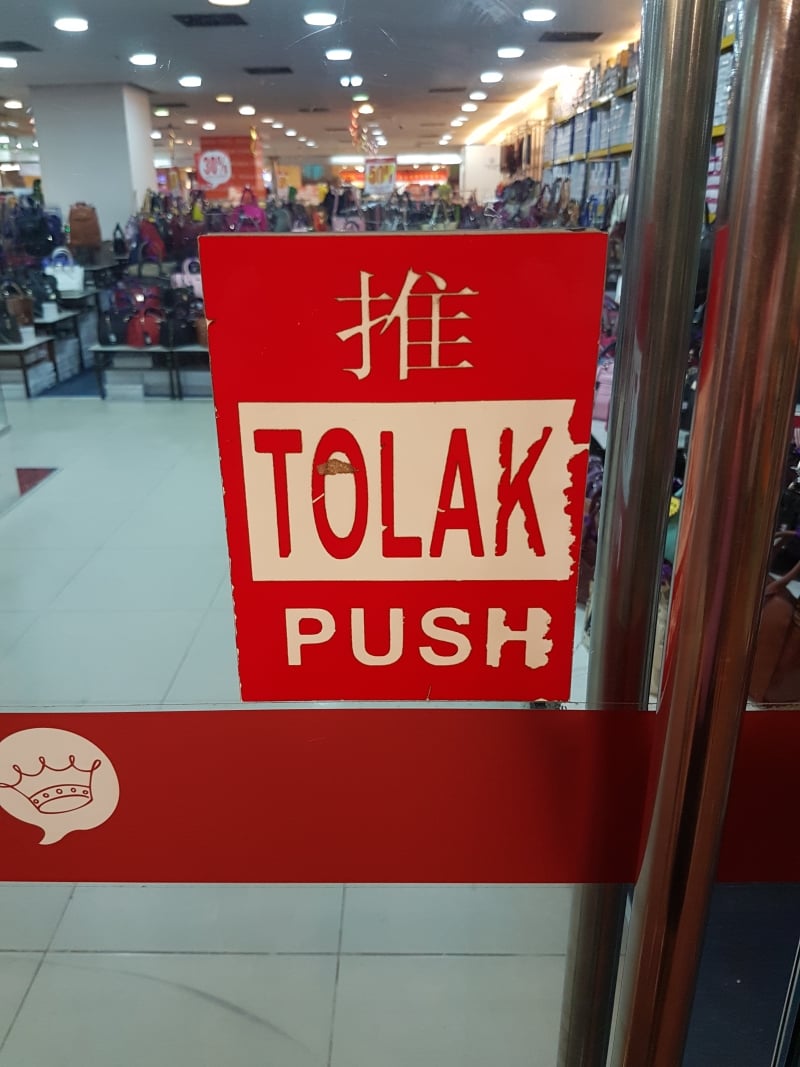 Hello (formal): Hello
Hello (informal): Hai (Hi)
Thank you: Terima kasih (tree-muh kah-seh)
Yes: Ya (yuh)
No: Tidak (tee-dah)
Good morning: Selamat pagi (pag-ee)
Good afternoon: Selamat tengah hari (teen-gah har-ee)
Good evening: Selamat petang (puh-tong)
Good night: Selamat malam (mah-lahm)
Goodbye: Selamat tinggal (tin-gahl)
Excuse me/I'm sorry: Maaf (mah'ahf)
Accommodation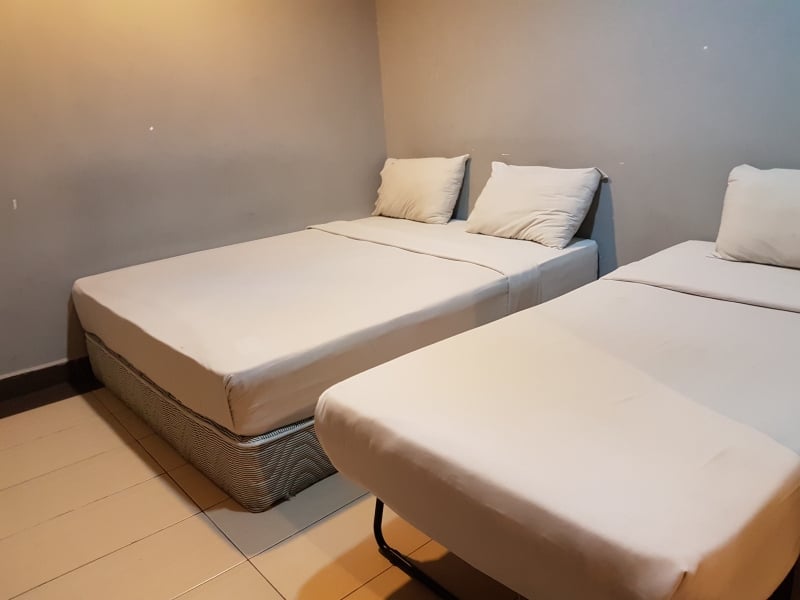 Yomi Hotel
Lot 14 Jalan Pasar Baru, Kampung Air, Kota Kinabalu
The hotel we booked was cheap. We availed our 5D4N accommodation for ₱3,170.62 (tax and service charge included) for three people which came with free buffet breakfast. That's ₱264.22 for each of us per night!
Itinerary and expenses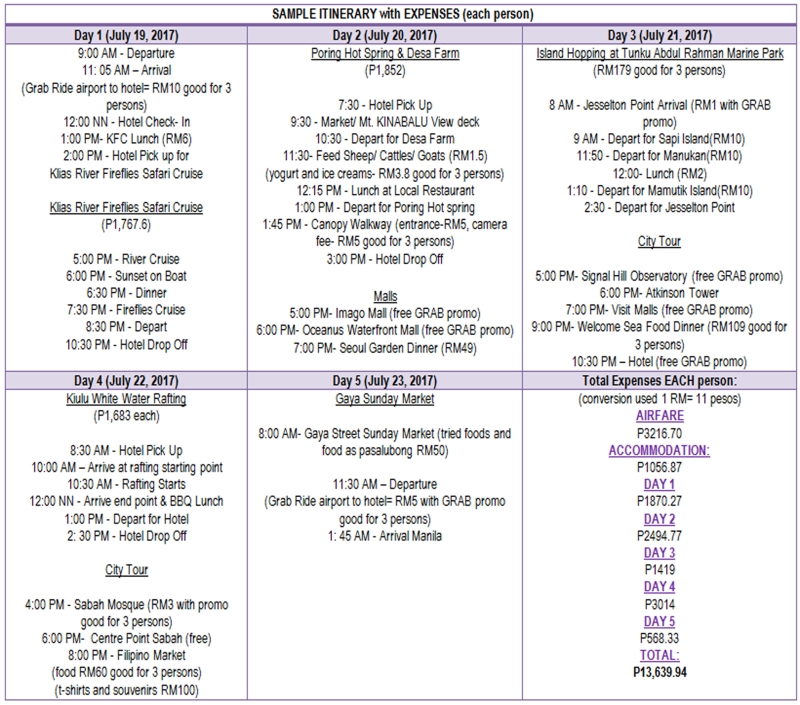 If you have questions, feel free to leave a comment!