While it's true that exercising makes you feel good (hello, endorphins!), having the right outfit for it can make you feel even better. Anyone who has bought workout clothes can surely attest that it's a great way to motivate even the most tamad-gumalaw type. Fortunately, there are a lot of activewear brands in the Philippines to choose from; whether you're into sleek single-hued pieces or eye-catching sets with unique details. 
So, not only will you look and feel great, but you also get to #SupportLocal. And since we're all about doing both of these things, we've rounded up local brands for activewear and athleisure — all of which you can shop online! 
Also read: How Does One Effectively Do a Home Workout? Fitness Coaches Answer
Best activewear brands in the Philippines
1. MillennX
Our top pick: These multi-coloured separates that you can wear from the gym to brunch 
You've probably seen pieces from MillennX donned by some of your fave local celebs, and it's easy to see why! It's one of the most stylish local activewear brands out there, what with their workout sets that you can even have customised with graphics or your name. These also come in different colour combos that are both form-flattering and eye-catching. 
Shop here. 
2. Lotus Activewear
Our top pick: These breezy mesh-detailed sets that come in soothing hues
Lotus Activewear is all about flattering cuts and refreshingly bright colours to spruce up your workout look! We also love how the mesh vents in the crop top and the front-zip bra further add breathability. Staying cute and fresh has never been this effortlessly cute, that's for sure. 
Shop here. 
3. Bunny Bodies
Our top pick: These matching pieces with unique, bold patterns 
If you're thinking of getting new workout clothes that look far from your regular ones, then look no further than Bunny Bodies. Among the activewear brands from the Philippines, this one has perhaps the most varied selection that caters to different styles and preferences. Who says you can't express yourself even with your exercise gear? 
Shop here. 
4. Pinch Fitness
Our top pick: These two-toned sets that come in different combos
How cute are the vibrant dual colours of these workout clothes from Pinch Fitness? If these don't motivate you to get moving, then we don't know what will! Oh, and did we mention that they come at relatively affordable prices, too? 
Shop here. 
5. Sunnysix
Our top pick: These crop tops with eye-catching straps
Thank goodness for local activewear brands like Sunnysix that offer cute, interchangeable straps for their sports crops. This definitely makes mixing and matching our workout OOTDs a lot easier! Take your pick between four nature-inspired designs. 
Shop here. 
6. Andi Activewear
Our top pick: These sports bras featuring a strappy back
This piece from Andi Activewear mixes minimalism and functionality with "party in the back" details. It's made with quick-dry Alpha Lite fabric, making it ideal for both yoga and HIIT workouts. It also boasts a hook enclosure that makes adjusting the fit even easier! 
Shop here. 
Also read: Where to Buy Yoga Mats in Metro Manila: All Local Brands!
7. Shape Active
Our top pick: These ribbed, seamless sets that come with trendy necklines 
A sports bra with a neckline apart from the usual square, scoop, and V-neck styles is something we never knew needed. We can't get over how these pieces from Shape Active look like something we could wear to the beach or a pool party, too! These also feature slimming ribbed material designed to carve your figure. 
Shop here. 
8. Sassa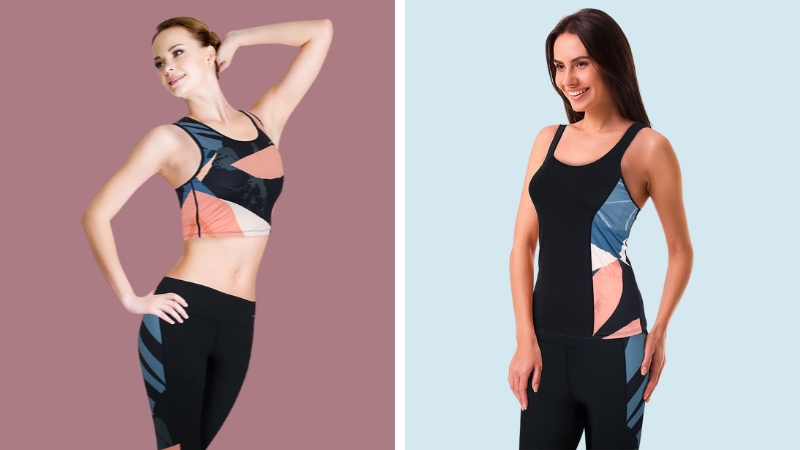 Our top pick: This Pop Collage Collection with trendy prints and colours  
If you haven't heard of Sassa, then are you really a frequenter at local department stores? Being one of the most popular activewear brands in the Philippines, you can now shop their workout essentials from the comfort of your own home. 
This well-loved Filipino sports apparel brand proudly carries an extensive selection of sports bras, tank tops, cycling shorts, and more. Their products come in a variety of designs and styles, giving you great options to choose from. Swimwear, activewear, essential dancewear; you name it, they've got it! 
Shop here.
9. TheShapeShop
Our top pick: These reversible and eco-friendly workout staples
As far as overall versatility goes, TheShapeShop takes the cake among activewear brands in the Philippines. Case in point: A bra with reversible necklines and removable pads that's perfect for workouts, swimming, and other outdoor activities. The same goes for their reversible sleeveless top made with über-soft cotton twill. 
All their products are handcrafted upon order, so you can be sure that you're getting newly sewn pieces! 
Shop here. 
Also read: Home Gym Essentials: What to Buy, Depending on Your Needs
Casual looks to shop from local athleisure brands
10. Recess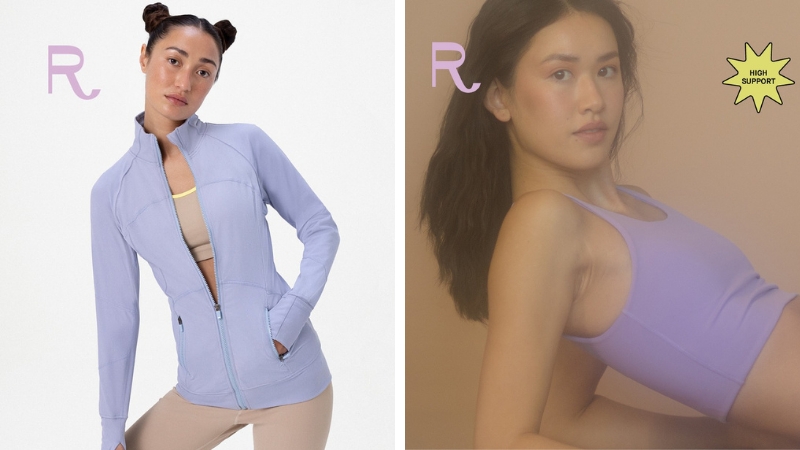 Our top pick: This jacket and padded crop top in soft pastels
Having launched only in late 2020, Recess is quite the newcomer among local activewear brands. Although, you've probably been already seeing it everywhere since then — especially because one of its founders is Anne Curtis. As for their collection, we can't get enough of the sorbet colour options and the silhouettes that work for every body type! 
The jacket looks sleek enough to wear on casual workdays, while the crop top is a godsend for those who aren't used to wearing a bra anymore since lockdown started. So, if you're looking for workout staples that are also comfy enough to be pambahay and/or athleisure, then these are the way to go. 
Shop here. 
11. Inka Atletika
Our top pick: This #TeamCosy sweater-and-shorts combo 
Whether it's chilling at home on a rainy day, or working at a cafe with the aircon on full blast, these looks from Inka Atletika are your best bet. Their sweaters also feature cute, minimalist designs that are just the right amount of street-chic. It's enough to convert even those who aren't into local athleisure brands. 
Shop here. 
12. Flexit PH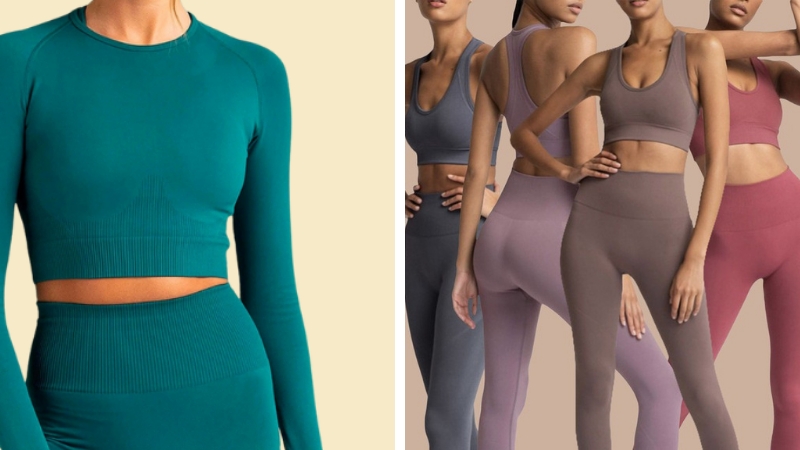 Our top pick: These solid coloured two-piece activewear set 
Looking for activewear pieces that are ultra stretchy and breathable for your workout sessions? Flexit PH's activewear collection is designed with four-way stretch fabric that allows for maximum comfort and support. Additionally, their yoga sets are made from a quick-drying fabric blend that easily absorbs moisture. If you're on the lookout for athleisure wear that's cute, comfortable, and cheap, then you might want to check them out!
Shop here. 
13. Sugar Rush Athleisure
Our top pick: These leggings and lounge shorts with side pockets
We don't know about you, but we think workout bottoms that come with pockets are one of the best things ever invented. Okay, we might be exaggerating a bit — but you can't deny that it makes a huge difference! Hence, you can certainly take these staples from Sugar Rush Athleisure from your morning jog to a full day of errands. 
Shop here. 
14. Deliver Deliver Daily
Our top pick: These highlighter-toned athleisure pieces
Sometimes, it only takes bright, bold colours to easily elevate your look — and these coordinates from Deliver Deliver Daily do exactly that! It's the perfect balance between casually minimalist and unexpected, whether you opt for the tee-and-bike shorts combo or the sweater-and-track pants one. Either way, it's a good choice for those who want to stand out sans effort. 
Shop here. 
15. Mojo Activewear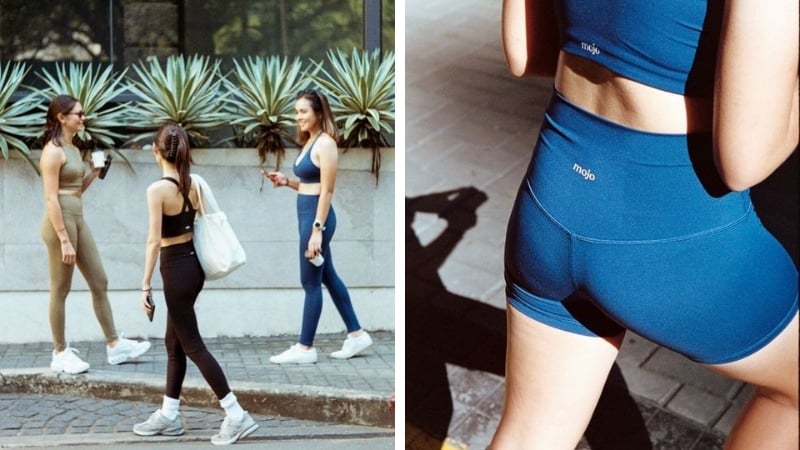 Our top pick: These buttery soft high-waisted legging and cycling shorts 
Mojo Activewear offers a great selection of sports bras, leggings, and cycling shorts that come in a variety of colours. Take your pick between sleek muted colours or bright pastel hues, and break a sweat with style!
Their activewear pieces come in smooth and stretchy fabric that hugs you in the right places for the ultimate support. Sporting an athletic yet casual look for the day? Their high-neck sports bras and high-waist legging combo are an absolute must-have! 
Shop here.
Also read: 15 Best Local Sandals & Cute Slippers for Your #PambahayChic Looks
If these local activewear and athleisure brands don't help you stay on track with your fitness goals, then we don't know what will! But hey, while you're at it, you might also wanna shop for equipment for your home gym. 
Thinking of trying out more stuff for your workout routine? Here are some ideas on how to stay fit and avoid that pandemic weight gain. 
---
This article contains affiliate links. When you make purchases through these links, we may earn a small commission at no additional cost to you.
Featured image credit: Sunnysix  | Official Instagram Page