Contributed by Musings and Pathways
While Zambales is mostly known for its famed coves like Nagsasa and Anawangin–which are close to an hour away from mainland Pundaquit, San Antonio–there is a cove just minutes away from the known surfing spot.
A 20-minute boat ride from Pundaquit will lead you to Agnaem Cove, which is the most accessible cove and is near perfect for quick getaways with friends, family, couple, and even for solo travellers.
If Nagsasa Cove or Anawangin Cove is your real plan for camping and you arrive in Pundaquit on an afternoon where the waves get a little crazy (or during the later part of the year where storms often visit the country), chances are, the boatmen will often suggest you stay in Agnaem for the night. If the waves (and the weather) permit the next day, you can proceed to Anawangin or Nagsasa.
Also read: Camping in the Philippines: 10 Sites with the Most Incredible Views
In other words, you end up being in Agnaem Cove when the sea won't allow you to have a glimpse of the other famous coves in Zambales.
In going there, the boat will pass by the mountains of Pundaquit, which boasts of its lush greenery. A number of waterfalls can also be seen cascading from the top of the mountain to its foot.
I think there is a trail in the mountains from the mainland to the cove. I mean, if Nagsasa and Anawangin can be reached via trek through Mt. Nagsasa and Mt. Pundaquit, which takes up to six hours, then there must be a way from the mainland to Agnaem Cove which is way nearer. But I guess, that's up for another experience.
The cove from a distance is picturesque. From afar, you can see an array of cottages that differ in sizes. In the far right end, there are several secluded kubos (cottages) with a spacious beach good for bonfires. These kubos are isolated by a stream that flows to the sea.
The stream that flows to the sea. Photo by Ramir G. Cambiado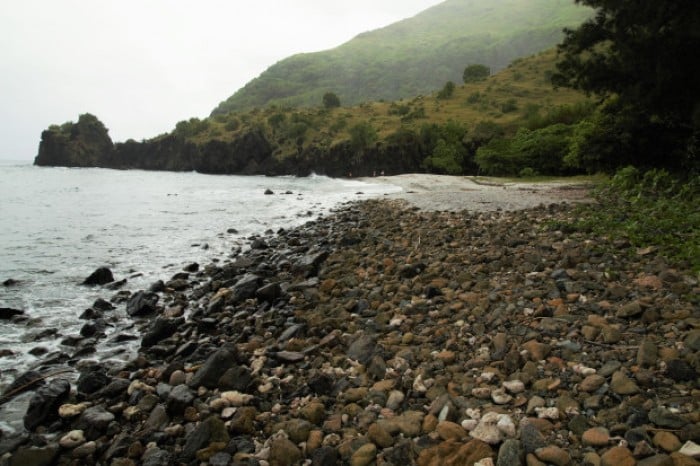 Rocky part of Agnaem Cove Photo by Ramir G. Cambiado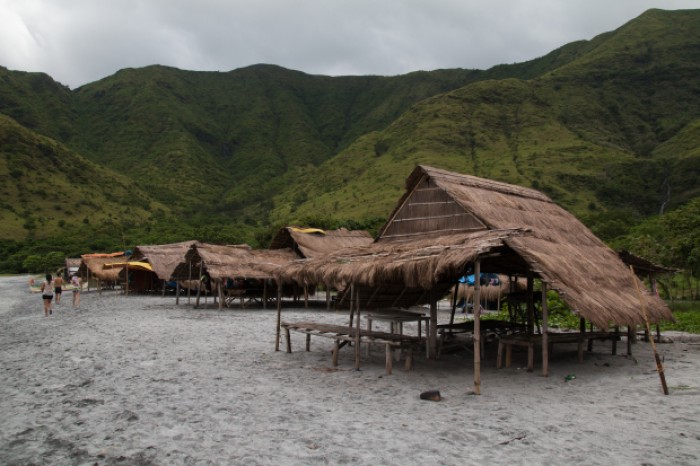 An array of huts along the beach. Photo by Ramir G. Cambiado
The stream is actually perfect for people who want to take a dip in the freshwater after swimming in the salty sea. It looks like a long pool that goes up to three to four feet high depending on the tide, with small rocks resting in its bed. While most people frolick by the sea, we took the opportunity to have a dip and float there all by ourselves early morning and by midnight for some serene conversation over bottles of beer.
Also read: How I Spent 3 Days in San Antonio, Zambales with My Friends for Only PHP 3,500 Each
The night swimming in the stream, though, is my favourite. You can just dip your body in the chilling water partnered with the cold gush of air coming from the movements of the waves by the sea, while you revel in the beauty of the mountains in front of you. The view will leave you speechless. Breathtaking, even. Okay, I am being sentimental here.🙂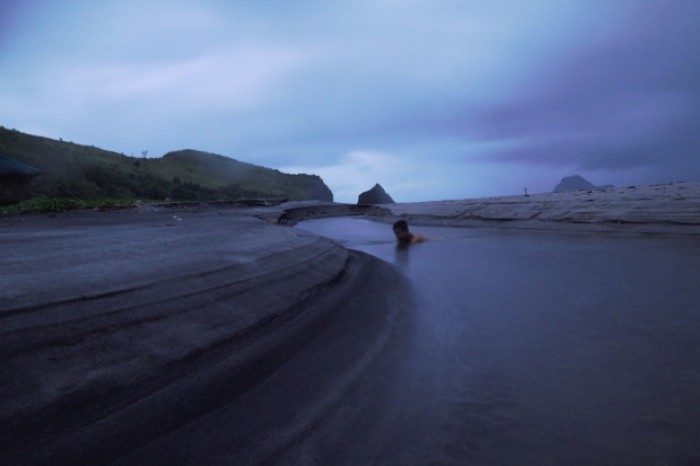 Midnight dip Photo by Ramir G. Cambiado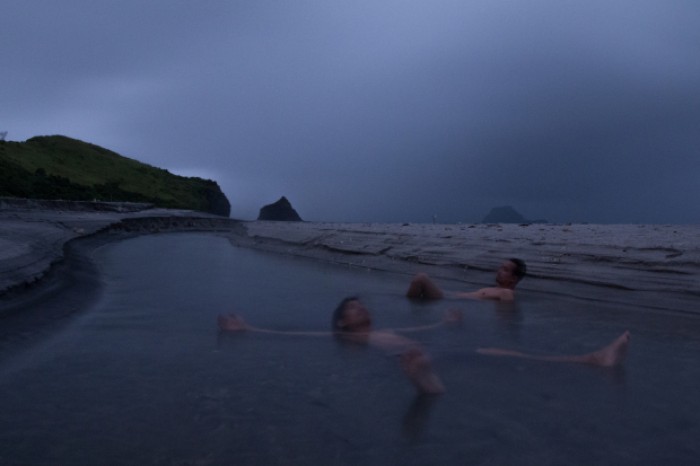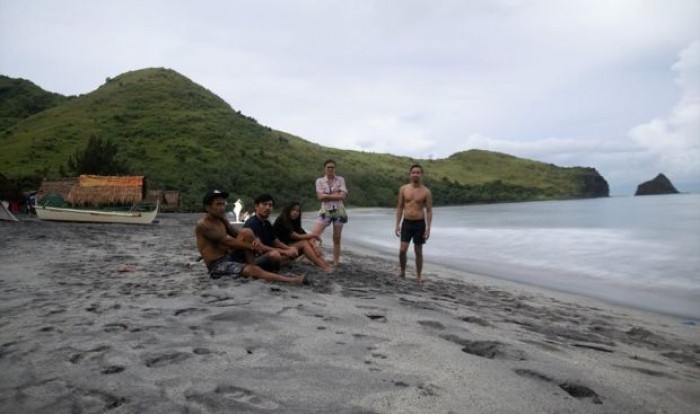 Midnight chilling by the beach. Photo by Ramir G. Cambiado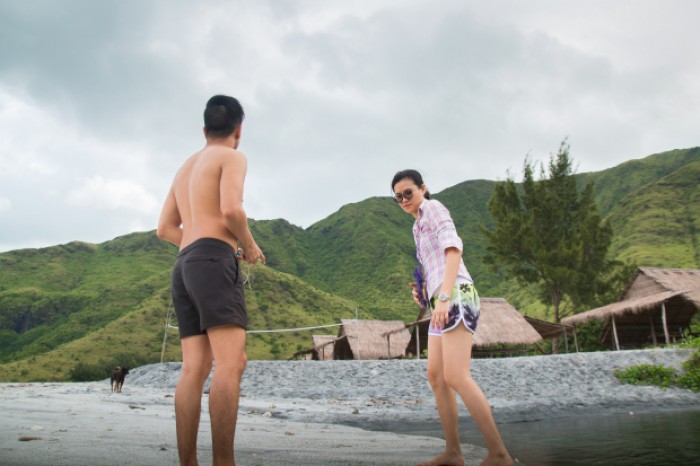 Camping there is also quite an experience. Our group camped for two nights ala Survivor. We love how we immersed into the beach life–sans the electricity, a complete detox from the internet–with only food, drinks, waves, the sand, and the stunning green backdrop as your sight, and more food, of course.
And if you are worrying about call of nature, Agnaem Cove has a number of makeshift comfort rooms (with toilet bowls, yes!), which made me heaved a sigh of relief. Haha! Some locals there also offer water for those who want to take a shower. Also, there is a place in the cove, in the middle part of the beach, where people can wash their plates and cook sets.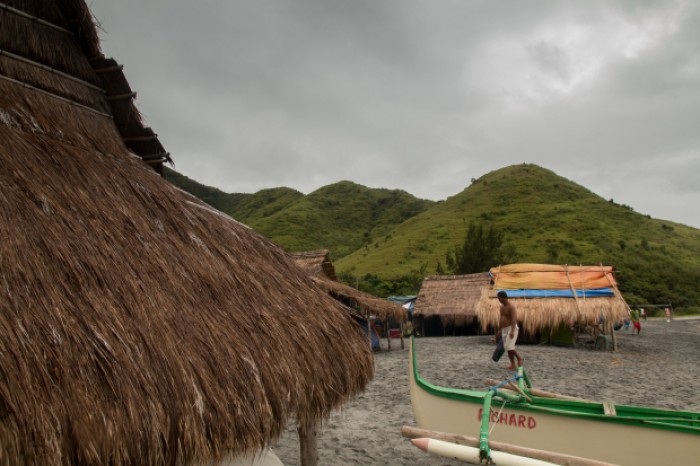 Kubos differ in sizes. The one we rented costs ₱500 per night. Photo by Ramir G. Cambiado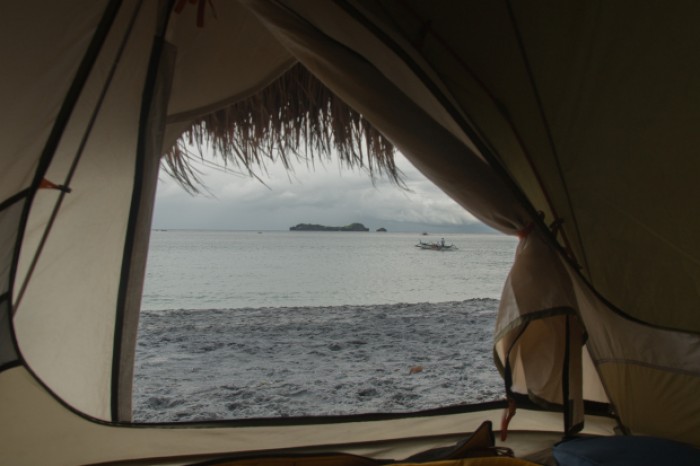 Morning view. Photo by Ramir G. Cambiado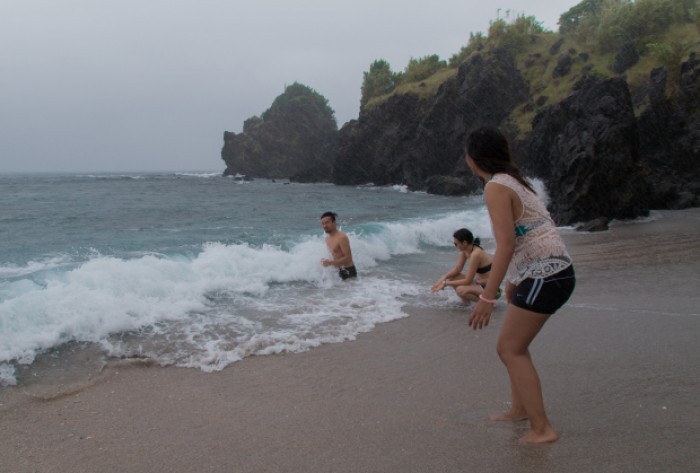 Playing in the rain! Photo by Ramir G. Cambiado
While the heavy rains and the big waves might have prevented us from going to Nagsasa Cove (for now), staying for three days and two nights in Agnaem Cove is still something we would be glad to experience again.
Also read: 12 Romantic Campsites in the Philippines to Get Away with Your Special Someone
Below is my suggested itinerary and some details for a trip to Agnaem Cove for three days and two nights:
Itinerary
Day 1
5:00am-10:00am – Travel to San Antonio
10:00am-11:00am – Brunch in San Antonio
11:00am-12:00pm – Buy goods in San Antonio Market good for two night of camping
12:30pm-12:15pm – Tricycle to Pundaquit (30pesos,)
12:15pm-1:00am – Negotiate for boat, prepare for travel to Agnaem Cove
1:00pm-1:30pm – Travel to Agnaem Cove
1:30pm – ETA Agnaem Cove arrival
1:30pm-2:30pm – Pitch tent/cook
2:30pm-3:30pm – Late lunch
3:30pm-6:00pm – Swim, take photos, beach bum, explore area
7:00pm – Dinner
Day 2
Anything goes! Bum by the beach, dip in the stream, climb the hill, explore the rocky paths, picture taking, relax, eat, converse with the locals, (even accompany them while they go fishing), and drink all day!
Day 3
7:00am – Breakfast
8:00-9:00am – Beach bum
11:00am – Capones Island
12:00pm – Camara Island and explore sand bar
1:00pm – Go back to Pundaquit
2:00pm-3:00pm – Freshen up/ Take a bath
3:00pm-4:00pm – Late lunch
4:00pm – Back to Manila
Breakdown of expenses
Victory Liner from Pasay – ₱280 x 2
Tricycle going to Pundaquit – ₱30 each x 2
Boat rental – ₱400 each
Entrance fee – ₱100 (one day only)
Cottage – ₱500 (per night); *food not included
Capones Island and Camara Island Hopping Side Trip — ₱1,500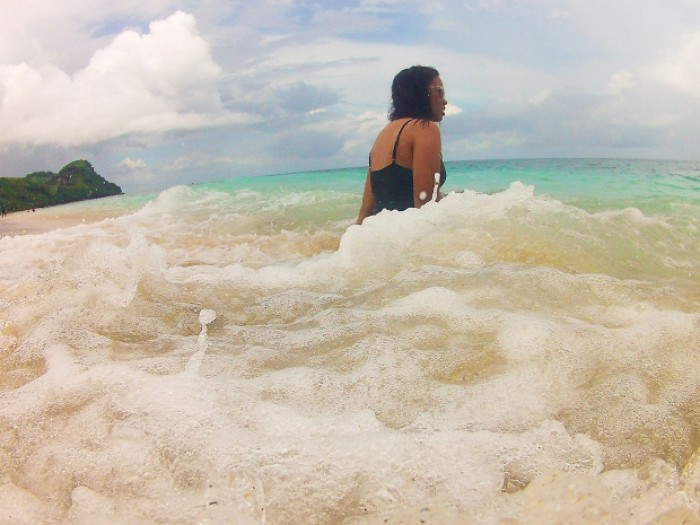 Capones Island at noon. Photo by Ramir G. Cambiado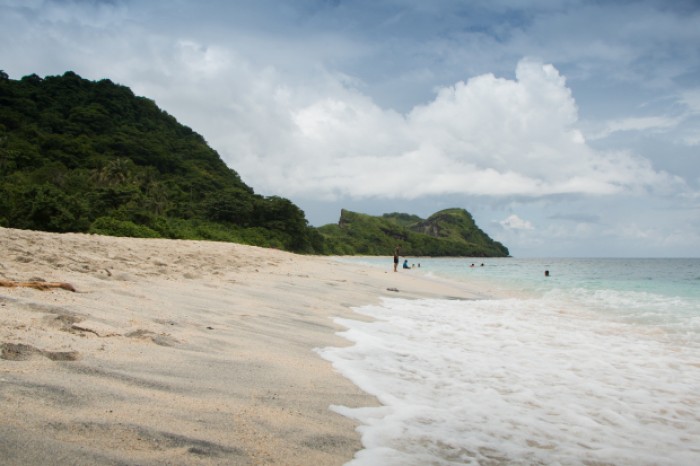 The long stretch of beach in Capones Island. Photo by Ramir G. Cambiado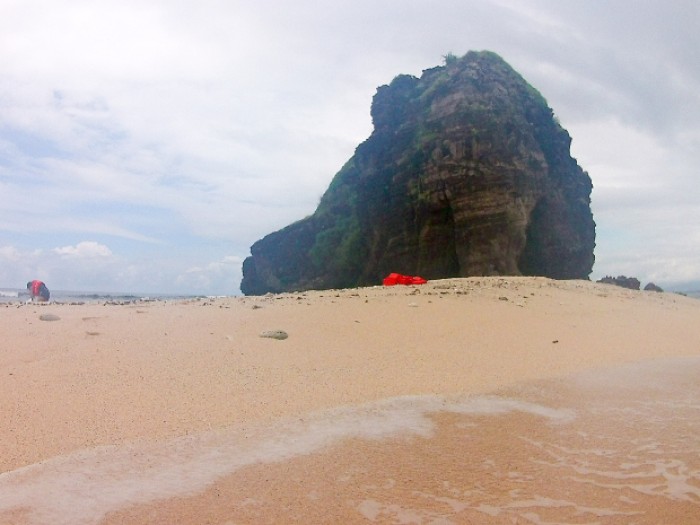 Camara Island has a long sandbar that connects to a large rock formation. You can cross this sandbar during low tide. Photo by Ramir G. Cambiado