Ready your wallets! AirAsia is holding its first BIG Sale for 2020, from 9 to 15 Mar 2020. A total of six million promo seats are up for grabs, and base fares go as low as ₱1 for both domestic and international destinations. These include direct flights from Manila, Clark, Cebu, and Cagayan de Oro.
Even more discounts for AirAsia BIG members
During the ongoing AirAsia BIG Sale, those with AirAsia BIG accounts will also be able to enjoy further discounts for flights from Manila to Bangkok; as well as Cebu to Taipei, Kuala Lumpur, Singapore, Caticlan, Puerto Princesa, and Cagayan de Oro; Clark to Kaohsiung, and more. So, don't hesitate to create an account if you haven't yet!
Discounted baggage fees
The AirAsia BIG Sale also offers 10 percent discounts on pre-booked baggage weighing 25kg and above (except for flights to and from Japan) — perfect for travellers who never pack light, or plan to do some shopping!
Does this all sound too good to be true? I was able to find a flight from Clark to Kaohsiung with a base fare of ₱1 myself, and I have the screenshots to prove it! Plus, because I made the booking with my AirAsia BIG account, I was even able to enjoy additional discounts for both my departing and return flights.
Important details
Booking Period: 9 to 15 Mar 2020
Travel Period: 7 Sep 2020 to 1 Jul 2021
AirAsia BIG sale: Sample booking
Flights to Taiwan: Clark – Kaohsiung – Clark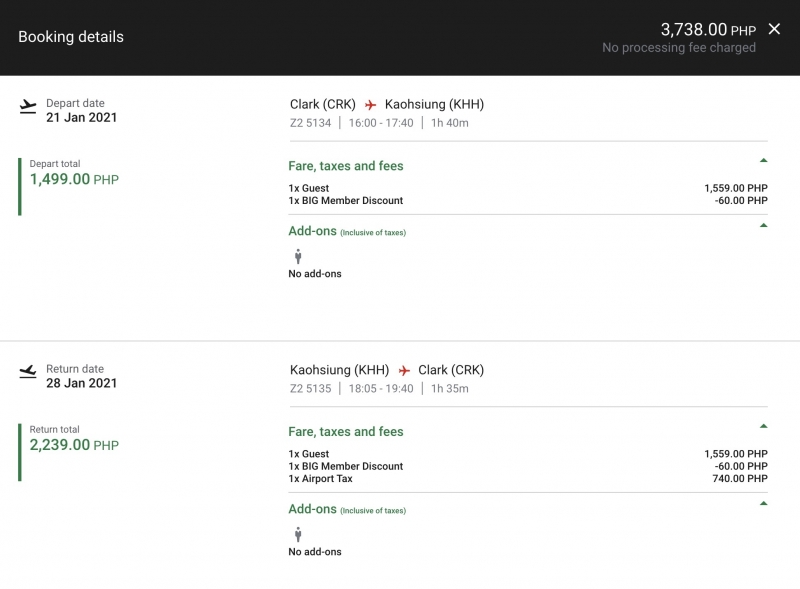 Log into your AirAsia BIG account, and you'll be able to avail of these exact same fares! If you don't have an account yet, then I recommend that you sign up — it's super simple and will help you score further discounts.
Of course, if you'd like to check in your luggage, choose your seat, purchase in-flight meals, or avail of travel protection. Additional fees will apply.
Is this a good deal?
Upon first glance, you'll find a lot of cheap one-way flights from the Philippines; return flights can be a little pricier. However, if you look hard enough, you can definitely stumble upon flights with base fares as low as ₱1 — take my Clark to Kaohsiung round trip, for example! On a regular day, I've seen round-trips from Clark to Kaohsiung as low as around ₱5,000 and as high as about ₱20,000. 
To add to that, any domestic flight with a base fare under ₱1,000 (like my Kaohsiung to Clark flight with a base fare of ₱741) sounds like a pretty good steal to me! While it may take a little patience to find those low base fares, it'll certainly be worth it. Happy booking!
Also read: 3 Flight Booking Hacks Filipino Travellers Should Know
For more great flight deals and flight news, visit our Travel Deals section and join Flight Deals — Philippines on Facebook.