Yielded from volcanic eruptions, Camiguin holds the moniker, Island Born of Fire. Having its origins rooted in lava and ash, the province has inevitably borne pristine beaches across its lands. Volcanoes and shores combined, Camiguin has even been deemed a worthy contender to Hawaii. At least, that's what foreigners have to say about the island.
But beyond its breathtaking topography, the island holds a particular appeal for travellers in the 21st century: It's teeming with virgin acreage, sprawling with lands ideal for solitary retreats and definite escapes from the hubbub of the city.
In other words, Camiguin is mystifyingly remote and relatively under the radar. These attributes make the properties on the island mostly budget-friendly even as they are paradisiacal. Hard to believe? Let these Airbnb homes in Camiguin speak for themselves.
Also read: 10 Airbnb Homes in Siquijor That You'll Want to Book ASAP
Airbnb homes in Camiguin to book for your next trip
1. This lofty volcano house perched on a hill
Listing name: Camiguin Volcano Houses – Entire A-Frame House
Listing type: Entire home
Max. no. of guests: 16+
No. of bedrooms: 5
One of the most highly-rated Airbnb properties in Camiguin, this volcano house has received nothing but compliments on the booking platform. Perched atop lush hills, the A-framed mahogany cabin boasts views of both mountain and sea — and of course, the Hibok-Hibok volcano.
Its structure is one of the more non-traditional Airbnbs in Camiguin, but it nevertheless gushes a native charm. Perhaps, this stems from the fact that the whole house brings the outdoors in. Not to mention, the Internet connection and cellular reception here aren't the best, either. But we're all for a good digital detox, right? With all the amenities in this house, you'll most likely forget about your phone, anyway. Learn more about this Airbnb here.
2. This ethereal glamping spot for the 'gram
Listing name: Bintana Sa Paraiso Dome GLAMPING in Camiguin
Listing type: Private room in dome house
Max. no. of guests: 3
No. of bedrooms: 1
Arguably, the best way to experience nature is through camping out. Minus the inconveniences of that idea, Bintana Sa Paraiso offers a glamping experience that's almost fairytale-like: pixie lights over the bed frame, shaggy rugs and white throw blankets, colourful floor pillows, and an unbelievably scenic view.
The glamping geodomes look out to an ocean and garden view, making disconnecting from the tumults of life fairly easy. The property also has a garden sprawling with herbs and ferns, which the host uses to prepare healthy meals. Learn more about this Airbnb here.
Also read: 10 Glamping Sites in the Philippines for Your Next Trip with Friends
3. This solar-powered rustic cottage
Listing name: Living like in Bali
Listing type: Entire house
Max. no. of guests: 2
No. of bedrooms: 1
As with most Airbnb homes in Camiguin, this tiny home encourages guests to embrace the simplicity of island life. The whole place is solar-powered, without television, and even barely equipped with any appliances. But, its natural features certainly compensate for the lack of amenities.
Located at the heart of rice paddies, this home has a natural pool and lily ponds — both of which overlook Camiguin's volcanoes and oceans. Birds flock to this area too, completing the idyllic experience you're seeking. Learn more about this Airbnb here.
4. This luxe villa over the sea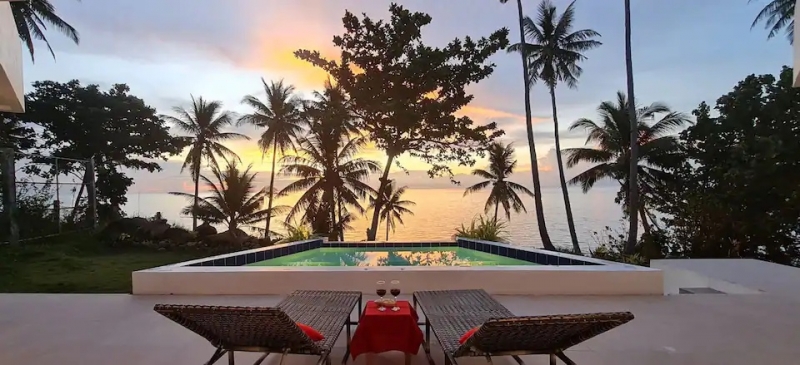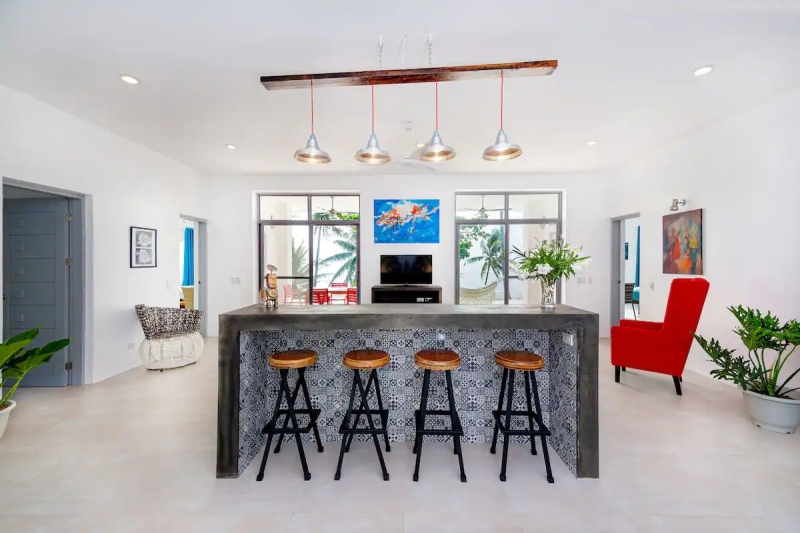 Listing name: Luxury & modern Artvilla w/ pool
Listing type: Entire cottage
Max. no. of guests: 4
No. of bedrooms: 2
Sounds of nature envelop this luxurious villa: the rustling of trees, the chirping of birds, the crashing of waves from the ocean. Perched on Tongatok Cliff with spectacular views of the sea, its surroundings have everything that one needs for a good vacation — including one of the best sunsets on the island.
At the same time, this Airbnb in Camiguin features luxuries one won't typically find in a basic provincial rental. A few examples: an infinity pool over the water, an espresso machine, and artworks by European and local artists. Learn more about this Airbnb here.
5. This coastal home with spectacular views
Listing name: Grand Tiki Camiguin Island Bintana Sa Paraiso
Listing type: Room in a hotel
Max. no. of guests: 2
No. of bedrooms: 1
How about waking up to serene views from your bedroom window? Resting on a cliffside, the Tiki Hut brings that experience to the next level. Bedrooms have private porches where you can laze around all day. Each has an infinity pool that overlooks the lush mountains and calm seas of Camiguin. There's even a natural hot spring in front of the property! Learn more about this Airbnb here.
6. This minimalist and modern nipa hut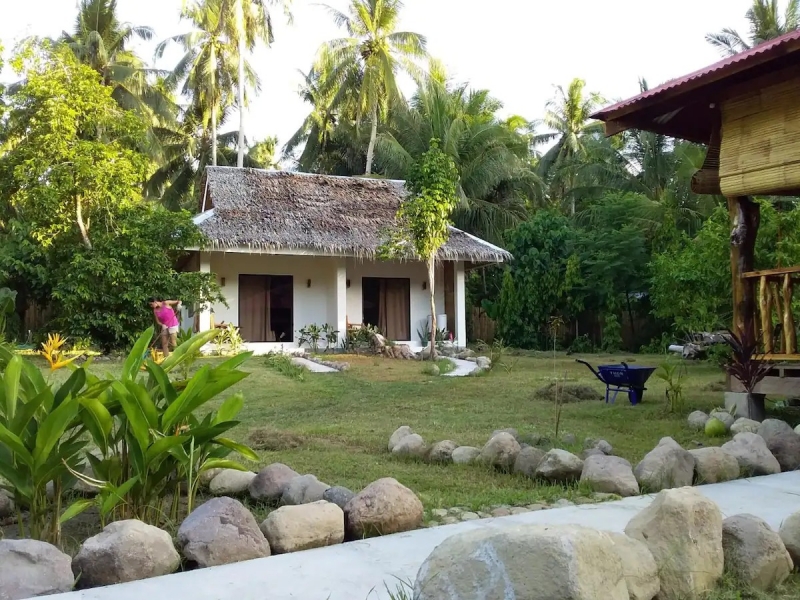 Listing name: Happy Coconut Camiguin double room 2
Listing type: Private room in bungalow
Max. no. of guests: 2
No. of bedrooms: 1
Inspired by a mix of modern and native Filipino architecture, Happy Coconut offers simple and stark Airbnbs in Camiguin. Among their various units, this particular property is a bungalow good for two guests. If you're seeking a laid-back vacation, this home is definitely for you.  Surrounded by coconut and lanzones trees, and within walking distance to the beach, this bungalow has all you can ever ask for. Learn more about this Airbnb here.
Also read: 10 Airbnbs in the Philippines That Will Make You Fall in Love
7. This homely bahay kubo for big gatherings
Listing name: Charming ILA VICENTE Balay Bakasyunan
Listing type: Entire house
Max. no. of guests: 16+
No. of bedrooms: 5
Several Airbnb homes in Camiguin take pride in their no-frills abodes. Most of the time, these places let their surroundings shine. Take, for example, this Ila Vicente in Catarman. This property is actually the home of a lovely elderly couple who welcome guests with home-cooked meals and good conversations. Learn more about this Airbnb here.
8. This vibrant hostel with sunrise and sunset views
Listing name: Lanzones Cabana: Modern Cabana Queen
Listing type: Room in a hostel
Max. no. of guests: 2
No. of bedrooms: 1
Among all the Airbnb homes in Camiguin, Lanzones Cabana boasts of being the most colourful and vibrant home. Not only do the shacks don splashes of colour, but the property also boasts of being a spectacular spot for viewing the sunrise and sunset of Camiguin. Learn more about this Airbnb here.
9. This beach villa in the middle of rice paddies
Listing name: Guerrera, Beach villa, volcano, top cuisine + you
Listing type: Room in a boutique hotel
Max. no. of guests: 3
No. of bedrooms: 1
Yet another one of the Airbnb homes in Camiguin that put the spotlight on nature, this beach villa was built at the heart of rice paddies. Encircling it are the special views of the Hibok-Hibok volcano and White Island. This home is perfect for foodies, especially for those who appreciate organic meals, as a farm-to-table Asian restaurant sits close by. Learn more about this Airbnb here.
10. This eco-resort for paradise stays
Listing name: Ysla Beach Camp and Eco Resort Room 2 of 4
Listing type: Private room in bed and breakfast
Max. no. of guests: 2
No. of bedrooms: 1
​Lounge in a pool with coconut tree views. Gather around a campfire and share stories. Stroll along the shores of Camiguin. Ysla Beach Camp offers a luxurious beach camping experience; but if you're not into camping out, you can check-in at one of their cosy private rooms instead. Learn more about this Airbnb here.
Also read: 8 Airbnb Homes in Zambales That You'll Never Want to Leave 
We can't wait for the day when we can finally take our digital detox retreat in these beautiful Airbnb homes in Camiguin!
Got a property you'd like TripZilla to feature? Inquire with us here.

---
This article contains affiliate links. When you book through these links, we may earn a small commission at no additional cost to you. All images courtesy of the respective property listings.