Who hasn't dreamt of running away to Zambales? Just the name brings to mind images of pristine coves, majestic stretches of sand, billowing waves, sweet mangoes, and endless days of frolicking under the sun. Truly, what more can anyone ask for? 
If you're hoping to break free from the clutches of Metro Manila (only when it's finally safe to travel again, of course!), these Airbnb retreats in Zambales will help you immerse in the full beauty of the province. Whether it's exploring idyllic coves or taking a stroll under the stars, a weekend in Zambales might be what you need to slow down and breathe. Bookmark these homes for the future, so that you can come back to them when the time is right! 
Also read: Experience the Best of Island Life at These Tropical Airbnbs Around Asia
Airbnb homes in Zambales for a memorable stay
1. This eco-friendly hut in a mellow surfing town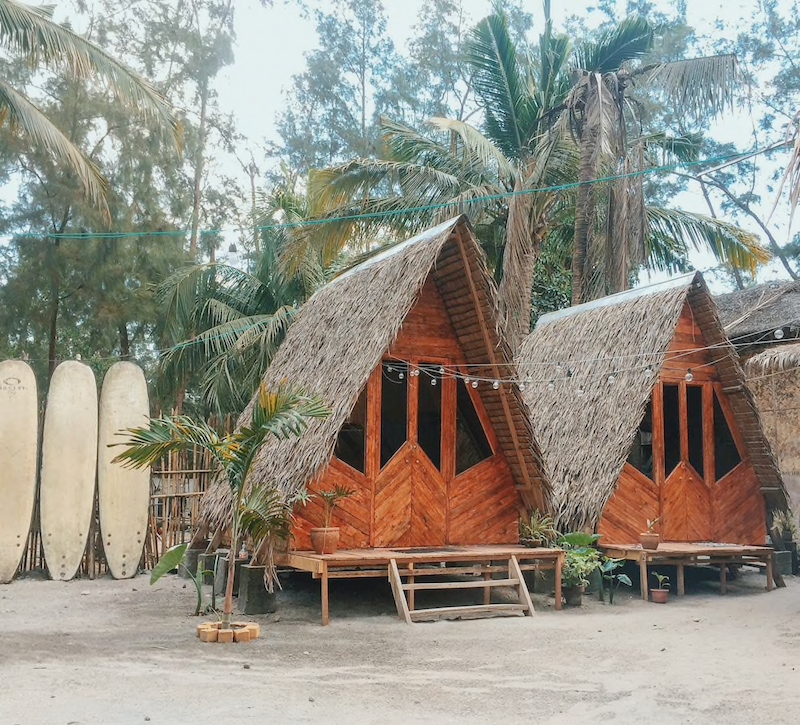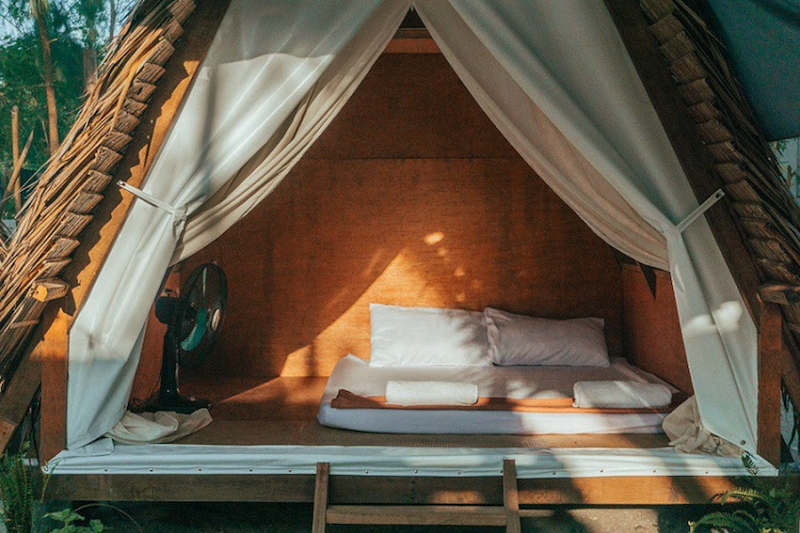 Listing name: The Fishers Hut @ Liwliwa San Felipe Zambales
Listing type: Private room in hut 
Max. no. of guests: 2
No. of bedrooms: 1
Glamping gets a uniquely Filipino twist at The Fishers, an enclave of huts where you can enjoy your quiet time and take in the playful atmosphere of Liwliwa, San Felipe. Once a low-key surfing town, Liwliwa has recently become a magnet for travellers hoping to chase some awesome waves. In turn, these huts place you in an ideal spot to experience the local culture and warm hospitality in Zambales. 
Thanks to owners Kay and Carlo, you'll also find eco-friendly soap bars and gentle tips on how to care for the environment during your stay. Indeed, this sustainable hideout is spreading the good vibes in all the ways that count! Learn more about this Airbnb here.
2. This serene beachfront home for your next barkada trip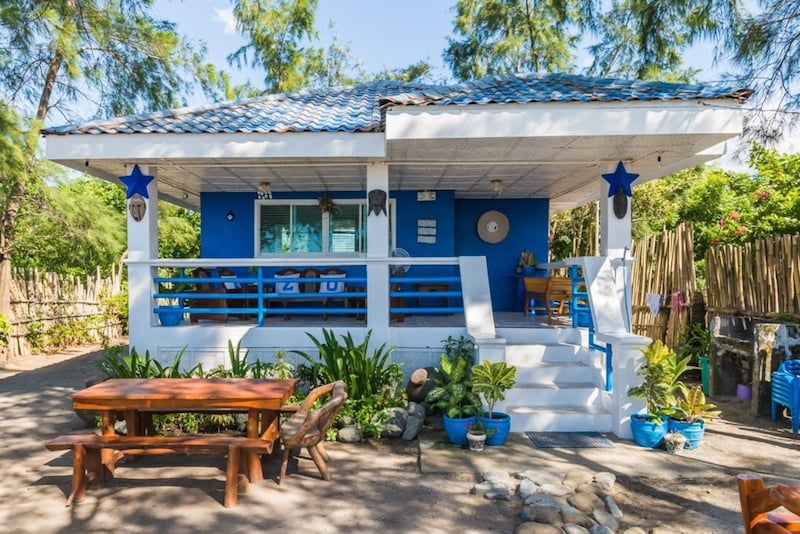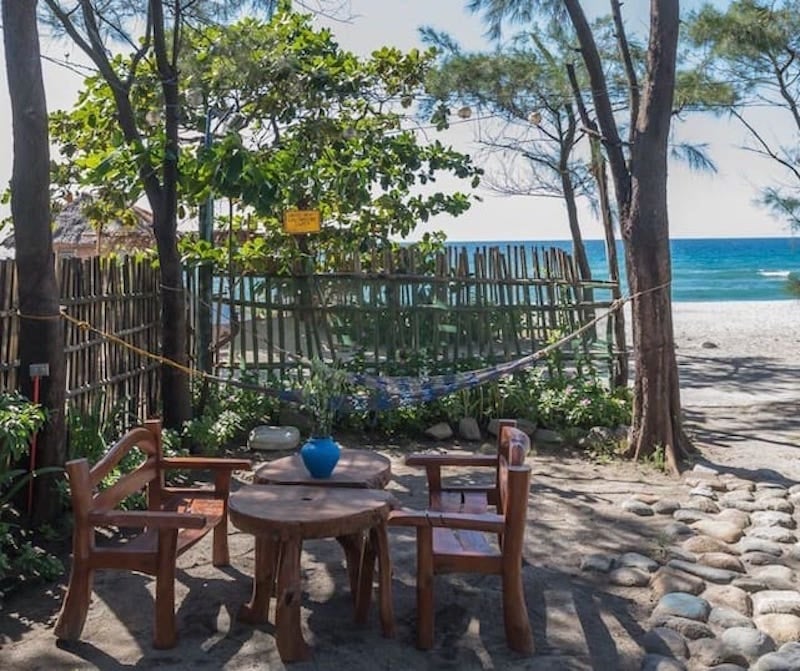 Listing name: Whole BeachFront Property @ZambalesBeachHouse
Listing type: Entire home 
Max. no. of guests: 16+ 
No. of bedrooms: 3
Escape the city life at this seaside cottage that's large enough to host your barkada get-togethers! Complete with modern amenities, this Airbnb in Zambales flaunts an outdoor dining area, a barbecue grill, hammocks, spacious rooms, and a veranda that's only a few steps from the shore. 
Additionally, it offers many recreational options for big groups. You can play beach volleyball with friends, kick back with a picnic in the sand, sleep in the hammocks, grill your own seafood, or admire the spectacular sunsets over the West Philippine Sea. On second thought, forget renting — can we live here instead? Learn more about this Airbnb here. 
Also read: For Your Next Staycation Near Manila: 10 Barkada-Friendly Airbnbs
3. This boho-chic studio for chilling out in Subic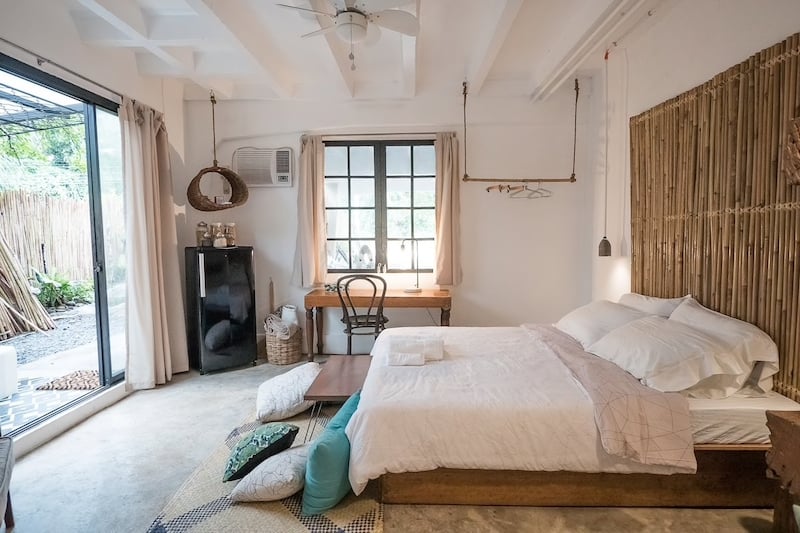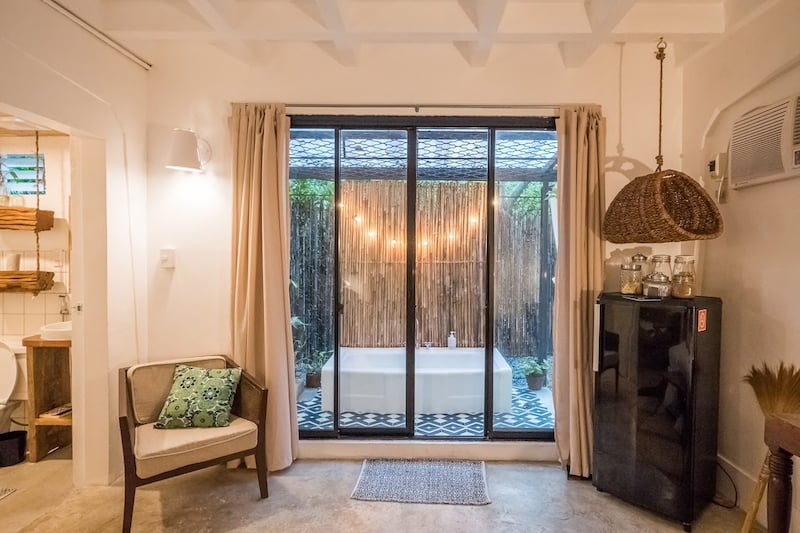 Listing name: Garden Nest in SBFZ: Clean, Pet Friendly, Netflix!
Listing type: Entire home 
Max. no. of guests: 3
No. of bedrooms: 1
Stylish and boho-chic interiors, mood lighting, fairy lights, and a reading nook — now, isn't that a staycation straight out of our Pinterest dream boards? Set in a rainforest in Subic Bay, this studio has a calming woodsy vibe that's perfect for cosying up with a book and tuning out the rest of the world. Dreamy lights hang over the bathtub outside, where you can soak away the stress while listening to the sounds of nature. Plus, good news for pet lovers: Your furry pals are welcome to relax here, too! 
Don't be shy to rent bamboo bikes from Airbnb owners Tamara and Martin, who are more than happy to point you in the right direction towards the best diving spots, hiking trails, and waterfalls in Zambales. Learn more about this Airbnb here. 
4. This adorable cottage with delicious Filipino food by the sea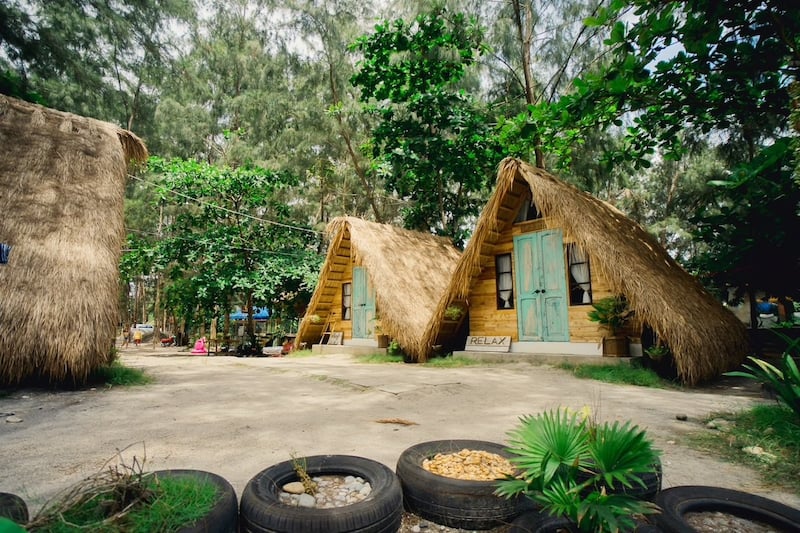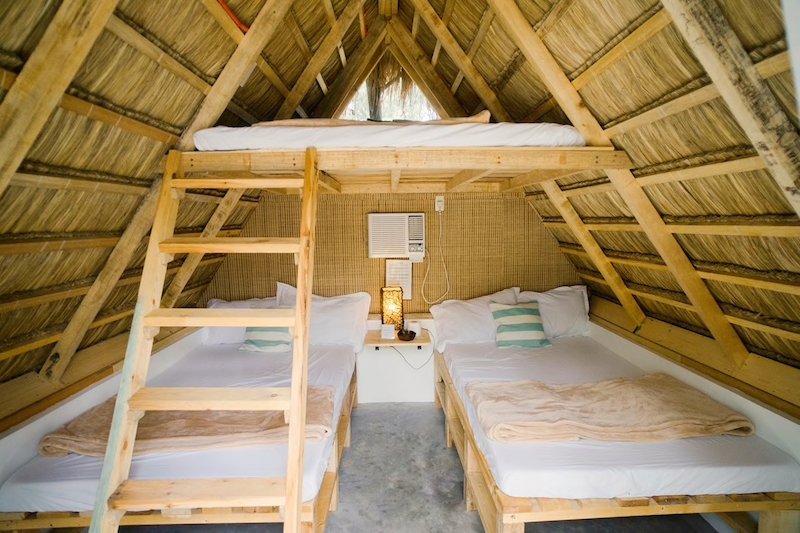 Listing name: Kwentong Dagat Resort Nipa Cabin
Listing type: Room in resort 
Max. no. of guests: 6
No. of bedrooms: 1
While you won't find a shortage of eateries in Zambales to choose from, Kwentong Dagat holds the honour of being one of the first vegan-friendly accommodations in the province! Many guests have left raving reviews about the mouth-watering Filipino food, as well as the postcard-worthy views from this cottage. 
You can bring as many as six guests to this Airbnb in Zambales, which is only five minutes away from a prime surfing destination. But don't worry about being packed too tightly inside, as the room comes with air-conditioning to keep everyone cool and fresh on sweltering days! Learn more about this Airbnb here. 
5. This laid-back cabana that attracts all the millennials in town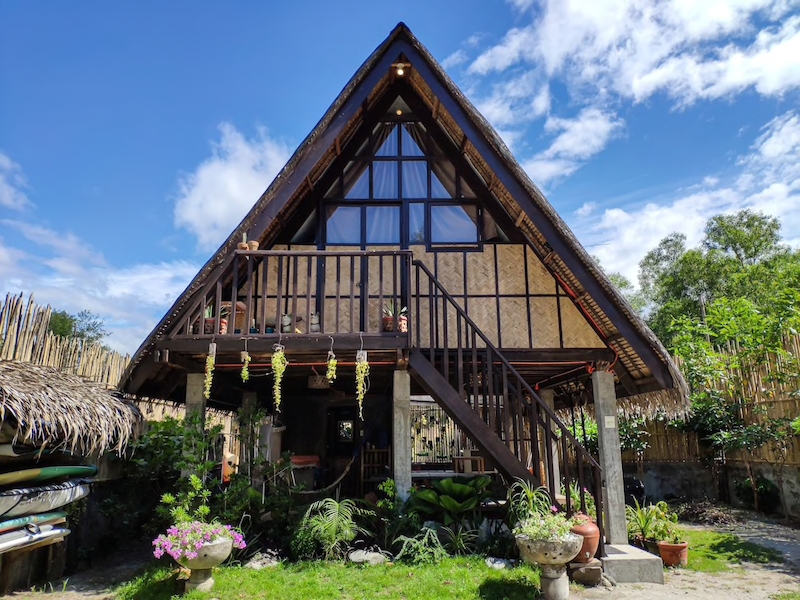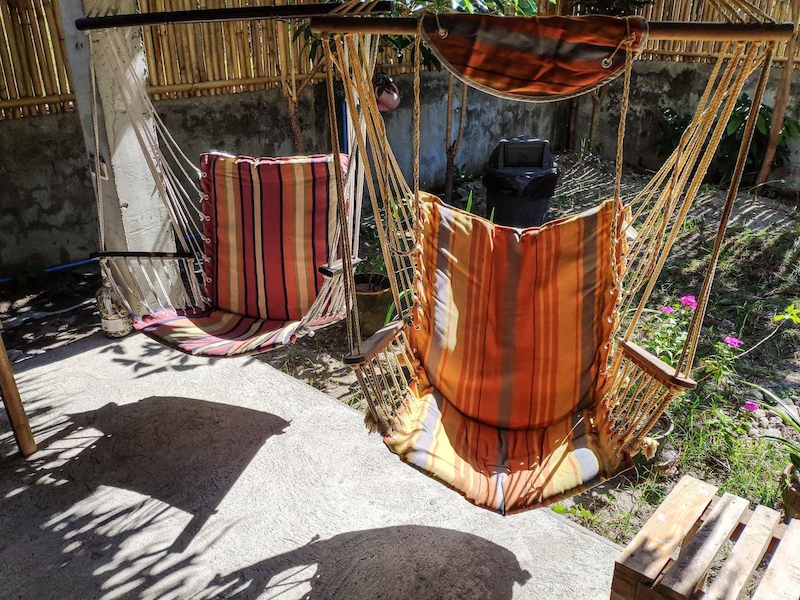 Listing name: Tadhana Zambales
Listing type: Entire home 
Max. no. of guests: 8
No. of bedrooms: 1
Tadhana Food Shack started out as a humble restaurant in San Felipe before opening its doors to curious travellers looking for an escape from the city. For a very affordable price, up to eight people can hang out at this Airbnb in Zambales. You can spend the hours lazing on the bean bags and swinging chairs, or have a game night with your friends over various board games and sungka. 
Anytime you feel like heading out for a splash, you're just a short walk to the beach. And if this ideal tambayan setting sounds right up your alley, who knows? Maybe that's destiny calling! Learn more about this Airbnb here. 
6. This sleek and modern beach house for reunions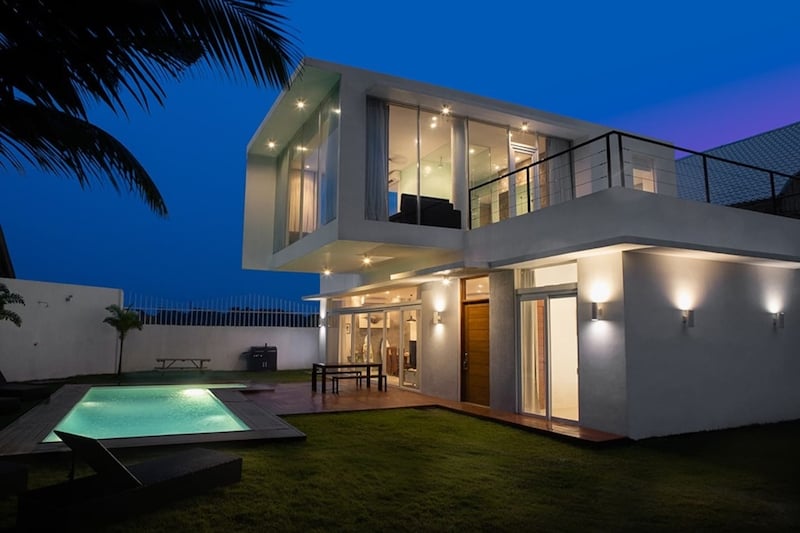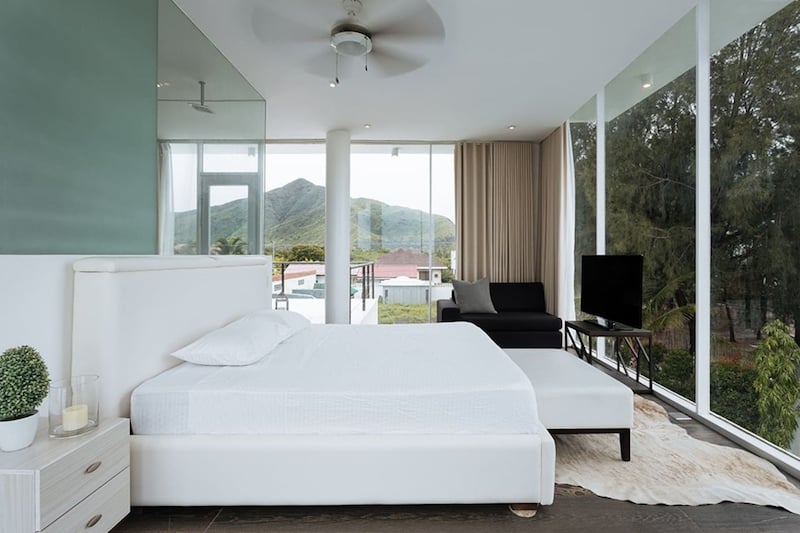 Listing name: Beach House Zambales
Listing type: Entire home
Max. no. of guests: 8
No. of bedrooms: 2
Some travellers prefer the beach, while others find solace in the mountains. But at this secluded retreat in San Antonio, you'll never have to choose between the two! You can wake up every morning to an unbeatable view of a mountain range, all without rising from your comfortable king-size bed. Meanwhile, the white sands of Capones Island are only 10 minutes away by boat. 
For a family-friendly home that doesn't let go of modern comforts, the White House is worth the splurge. It boasts a spacious living room, a flat-screen TV, a fully-equipped kitchen, free Wi-Fi, a barbecue grill, and a swimming pool that's practically begging for you to jump in! Learn more about this Airbnb here.
7. This romantic villa with a terrace overlooking the forest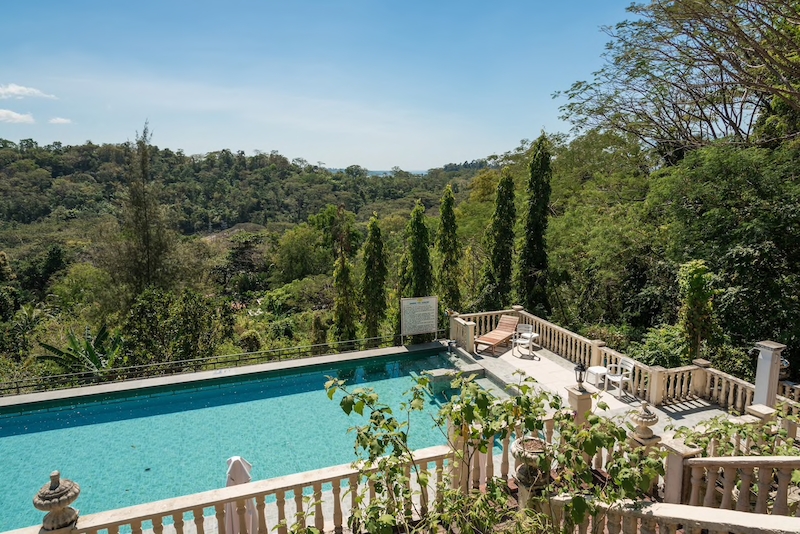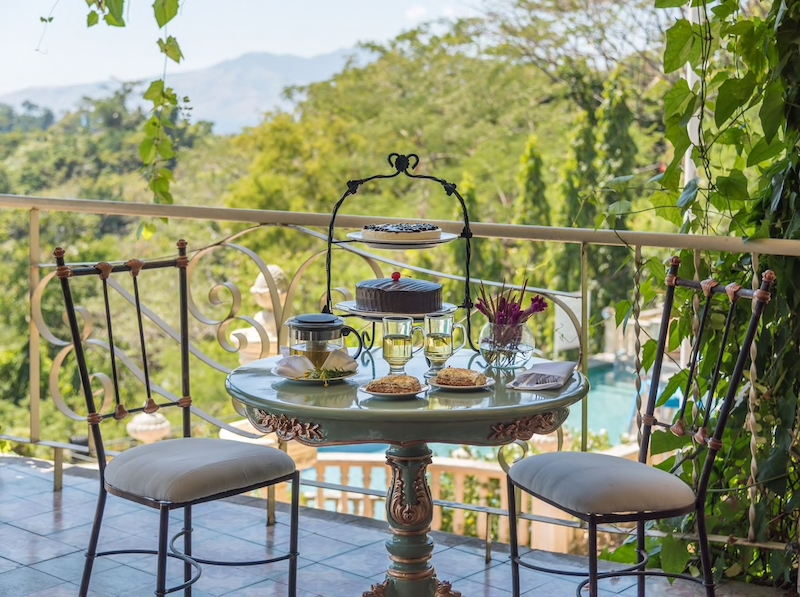 Listing name: Private Room with Garden Terrace & Forest View
Listing type: Room with boutique hotel 
Max. no. of guests: 2
No. of bedrooms: 1
Thinking of a romantic getaway for two? Look no further. It's hard to believe that this isn't actually an Italian villa in the Tuscan countryside, but this Airbnb is still very much in Zambales. 
Nestled in a private subdivision in Subic, this tropical sanctuary features a gorgeous pool, herb gardens, and a restaurant that serves mouth-watering Filipino food. Savour a cup of coffee at the terrace overlooking the forest, where you can bask in a different side of Zambales altogether. Learn more about this Airbnb here.
8. This dreamy bamboo home that brings the ocean to you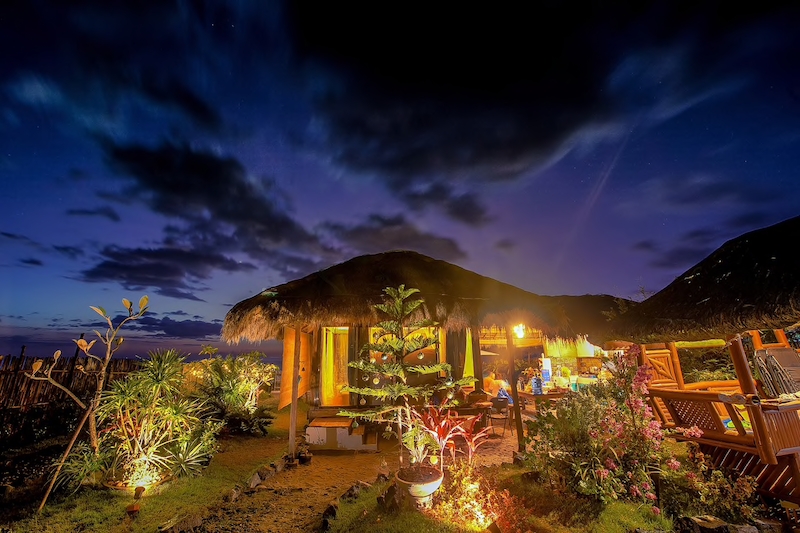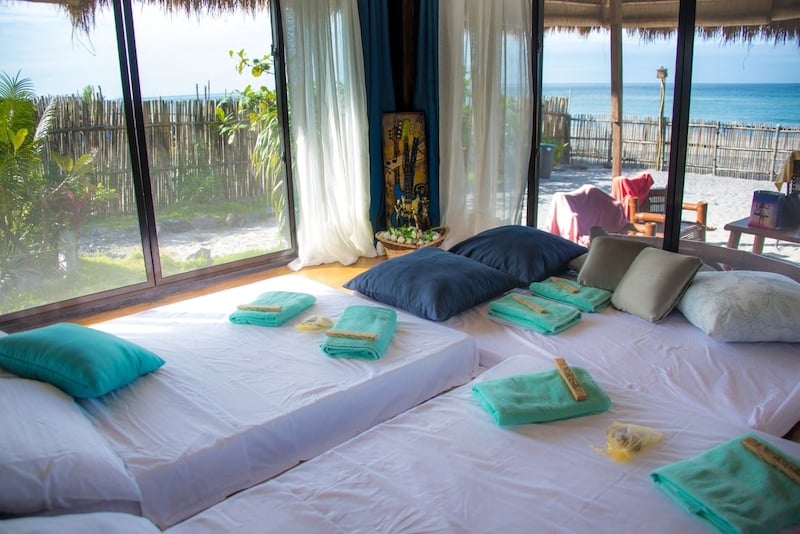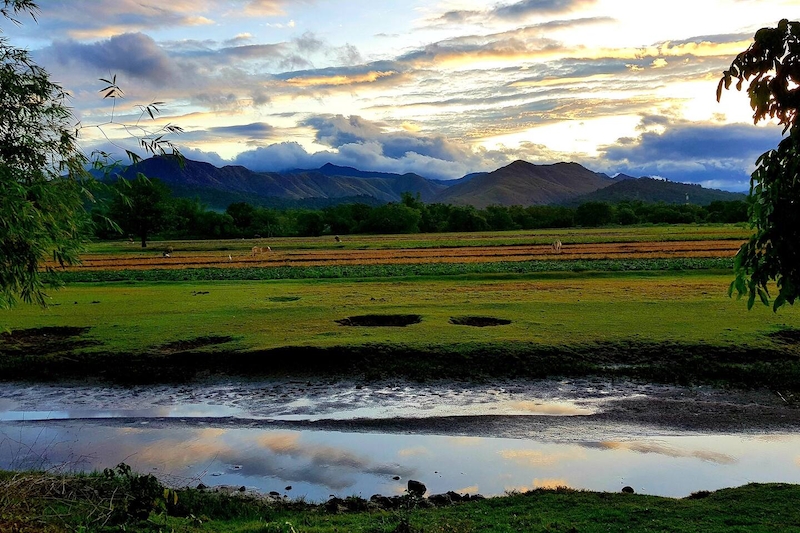 Listing name: Yellow Slipper Beach Villas, Cabangan Zambales, PH
Listing type: Entire home
Max. no. of guests: 12
No. of bedrooms: 3
When it comes to finding the right home in Zambales, we believe there's no such thing as being too close to the beach. Take, for example, this rustic seaside kubo in Cabangan. It sits in the middle of a lush garden and directly faces the ocean, allowing you to watch the sun melt into the horizon in the most magical way. 
But what we love most about this Airbnb is how secluded it is. Here, you can feel the sand on your toes a few steps and count all the stars blanketing the night sky — all without leaving your doorstep. Learn more about this Airbnb here.
Also read: 10 Airbnbs in the Philippines That Will Make You Fall in Love
Until the day comes when we can finally build sandcastles on the beach again, we'll be keeping our eyes on these Airbnb homes in Zambales. 
Looking for more travel inspiration for your future vacays? Check out these beautiful homes in La Union, Baguio, El Nido, and Siquijor, too!