All work and no play makes us feel very dull, indeed. Now that the pandemic has forever changed the way we work, many of us are starting to look for beautiful places in which we can tap into our creativity. If you are fortunate enough to be working remotely, we've rounded up the best residences on Airbnb to help you work from home in comfort. 
Let's get one thing straight: Working from home doesn't mean that you have to stay in the same place you've been stuck in all year. From modern cabins in Batangas to a lakefront retreat in Laguna, these Airbnbs embrace flexibility by providing a space for both work and leisure. Here are the best Airbnbs near Metro Manila to work from home right now. 
Also read: Work from Home Burnout Is Real: 10 Signs You Should Take a Vacation
Airbnb vacation rentals near Manila to rent and work from home
1. This sun-drenched cabin with panoramic views of Calaca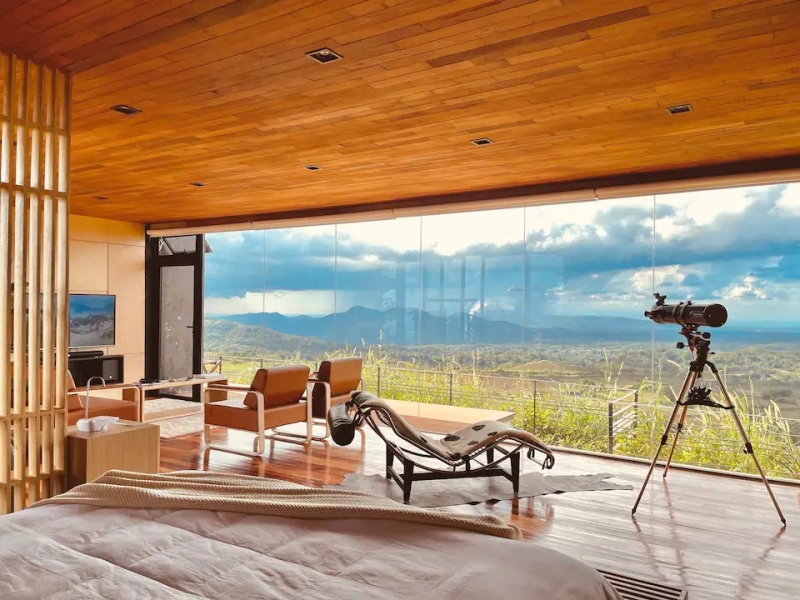 Listing name: Modern Cabin with Panoramic View
Listing type: Entire cabin
Max. no. of guests: 4
No. of bedrooms: 1
When the bathroom looks like a stunning place to take a Zoom call, that's how you know you've struck gold. This dreamy 84sqm cabin brings uninterrupted views of Calaca and Nasugbu — so immaculate and inspiring, your biggest concern will be figuring out where to lay down your laptop. There's even a telescope in the living room if you want a closer look at the rolling fields ahead. 
Designed with wooden ceilings and panoramic glass windows, the cabin features thoughtful perks such as an outdoor grilling area, eco-friendly bathroom amenities, a viewing deck with a hammock and a breakfast nook. If you're drawn to sweeping vistas and you're resourceful enough to bring your own pocket WiFi, this is the place to be. 
Also read: 18 Airbnbs in Batangas for When You Need a Quick Escape
2. This cosy one-bedroom suite with a smart TV and Netflix
Listing name: Pepper's Place- Relaxing 1BR in Splendido Tagaytay
Listing type: Entire condominium 
Max. no. of guests: 8
No. of bedrooms: 1
Looking for a relaxing place to get away for the weekend? Try this work-friendly Airbnb in Tagaytay that feels like a home away from home. Found within the Splendido Taal Country Club, this one-bedroom suite is equipped with strong WiFi, a smart TV, and a Netflix subscription to keep you entertained as you do your tasks.
Additionally, the condominium offers an ideal jumping-off point for exploring popular attractions in Tagaytay. Who says you can't work as hard as you play?
Also read: 12 Tagaytay Airbnbs for a Chilly Weekend Vacation
3. This scenic farmhouse on a hill in Tanay, Rizal
Listing name: Blackbird Hill (Stunning Mountain View)
Listing type: Entire house
Max. no. of guests: 16+
No. of bedrooms: 2
If you're already imagining what it's like to work with a view of the Sierra Madre mountains, you're not alone. Sometimes what you really need is a rural escape that helps you clear your mind and get back to the basics. Luckily, there are farm stays like Blackbird Hill that encourage guests to take in the fresh air and reconnect with nature. 
Located in Tanay, Rizal, this serene farmhouse with a gazebo is perfect for admiring the sweeping vistas of Pililla Windmills and Laguna Lake. Inspiration comes naturally when you grab a seat in front of the writing desk by the bedroom window — so you can say goodbye to that pesky writer's block.
Also read: 12 Airbnbs in Tanay That Are Perfect for a Weekend Getaway 
4. This lakefront retreat in Cavinti, Laguna
Listing name: The Lake House at Caliraya
Listing type: Entire cabin 
Max. no. of guests: 12
No. of bedrooms: 6
How about a lakeside Airbnb where you can work from home and bring your entire family along? Just around three hours from Metro Manila, this nine-bedroom vacation home in Cavinti, Laguna runs on solar power and offers a serene escape from the city. 
What we love about this modern lake house is how it allows remote workers to station themselves anywhere. Maybe today, you'll work from the open-air lounge or the poolside hut; tomorrow, the al fresco dining area facing the water. As soon as work hours are over, there's nothing to stop you from bonding with your family and going kayaking in the lake. 
Also read: 14 Airbnb Homes & Vacation Rentals Near Manila with Private Pools
5. This family-friendly Airbnb in Taytay where you can play and work from home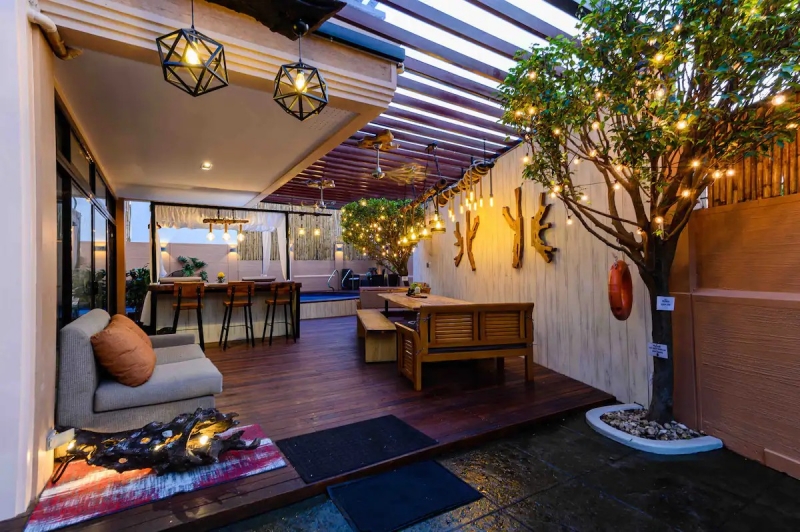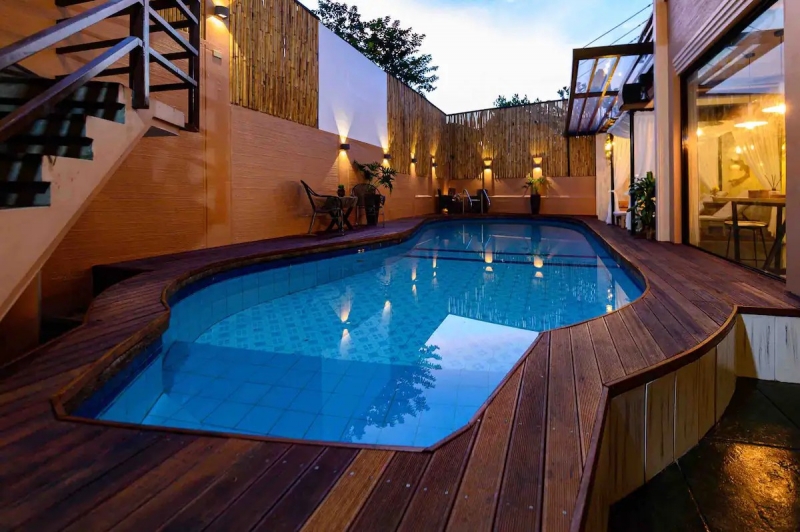 Listing name: Michael's Place @Ortigas Ext'n for FAMILY USE ONLY
Listing type: Entire guest suite 
Max. no. of guests: 11
No. of bedrooms: 1 
Here's another spacious vacation home that can serve either as a family-friendly getaway or a romantic couple's retreat. Located in a quiet neighbourhood in Taytay, this Airbnb strikes the perfect balance between work and recreational activities from home. 
Remote workers can expect complete amenities and stable Internet connection throughout this sunny property. More importantly, you can also spend quality time with your loved ones — whether that's movie nights in the entertainment room to chilling by the pool. 
6. This mountainside chalet in Tagaytay with views of Taal Lake
Listing name: Chalet de Tagaytay
Listing type: Entire chalet 
Max. no. of guests: 10
No. of bedrooms: 1
Tired of working in the same place you've been stuck in for the past year? Trade the four walls of your home for this rustic chalet on a mountain in Tagaytay. Complete with a well-equipped kitchen and WiFi, the open floor plan creates a comfortable and laid-back environment to help you bring out your best ideas. 
Take note, however, that the steps to this Airbnb in Tagaytay are not recommended for travellers with disabilities. On the other hand, the views of Taal Lake are quite breathtaking once you get there. Anytime you're ready to ditch your phone and forget about emails, there's an outdoor yoga deck for a total mental reset. 
7. This Pinterest-worthy studio with indoor plants and a balcony
Listing name: Bali Inspired Peripheral Taal View 21st flr
Listing type: Entire condominium 
Max. no. of guests: 4
No. of bedrooms: Studio 
Creative professionals are going to love this boho-chic studio in Tagaytay that exudes playful and youthful energy. WiFi is available throughout the property, as are potted plants and Bali-inspired decorations that bring a personal touch to the space. You can easily channel your inner artist or designer at this studio, thanks to the aesthetically pleasing interiors that will fuel your inspiration. 
8. This glass house with a terrace in Baguio's pine forest
Listing name: Garden Terrace at Tudor in the Pines
Listing type: Entire house 
Max. no. of guests: 4
No. of bedrooms: 2
Count your lucky stars if you get to work from home at this highly coveted glass house Airbnb in Baguio City. Fitted with glass windows that reflect its lush surroundings, Tudor in the Pines embraces cottagecore vibes with its timbre deck, where you can swing on the hammock or read a book. "If you're looking for a place to be alone for work or just to relax, this place is for you," says one reviewer on Airbnb. 
But if you prefer working from high up in the treetops, try the Twin Glass Treehouse instead. No matter which lodging you choose, you can come home to well-decorated interiors and leaves rustling in the cool Baguio breeze. 
9. This stunning Airbnb for work-from-home staycations in Makati
Listing name: @zipcodephl's Stunning Makati Wood House
Listing type: Entire condominium 
Max. no. of guests: 3
No. of bedrooms: Studio 
Sneaking a break from work but can't leave the metro just yet? Don't worry, we won't tell your boss. If you can't get out of Metro Manila, a staycation at this cosy and light-filled condominium in Makati City works just fine. 
Not only does this Airbnb offer amazing views of the city, but it also comes with a dedicated workstation and soft couches for you to laze around. Anytime you're in the mood for al fresco dining, it's only a short walk to popular restaurants and cafes in Poblacion.
Also read: 13 Coolest Airbnbs in Makati for Your Next Staycation
10. This mid-century cabin with 360° views of Mount Batulao and Nasugbu
Listing name: Cabin 1 – Mountainside luxury cabin w Batulao view
Listing type: Entire cabin 
Max. no. of guests: 8
No. of bedrooms: 2
Have you ever seen a place this spectacular? In this mountainside cabin where jaw-dropping views of Mount Batulao and Nasugbu are visible from the living room, work is not merely an obligation but a delight. Every photograph will make your fingers itch to book this Airbnb, from the comfy bedrooms with their hotel-worthy amenities to the well-equipped kitchen with a Smeg espresso machine for replenishing your coffee. 
If you and your co-workers have to be summoned to a team-building session in a remote destination, let this be this stunning piece of architecture. Once the clock hits 5pm or 6pm — or whenever your shift ends — you can head to the infinity pool and turn that "workcation" into a real vacation. Learn more about this Airbnb here. 
Note: The Internet connection at this cabin can be slightly erratic, though past guests claim that it's strong enough to send emails and browse the internet. Anything more high-stakes than that, like a video call or a meeting, and you might have to bring your own pocket WiFi. 
Also read: 20 Airbnb Glasshouses in the Philippines With Spectacular Views
11. This cosy lakefront cottage in the heart of nature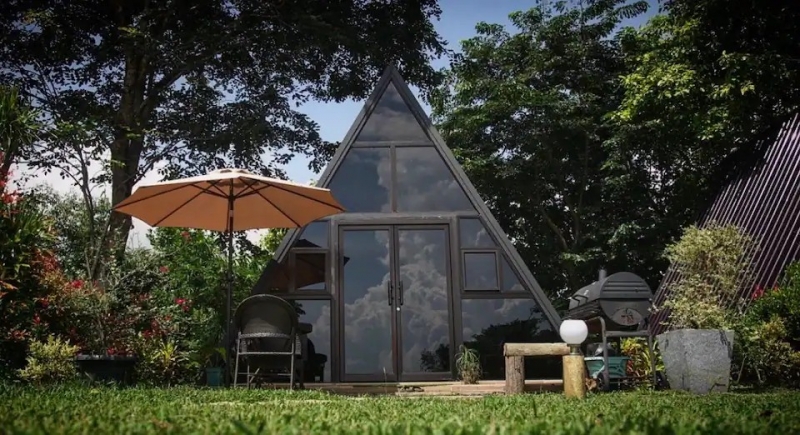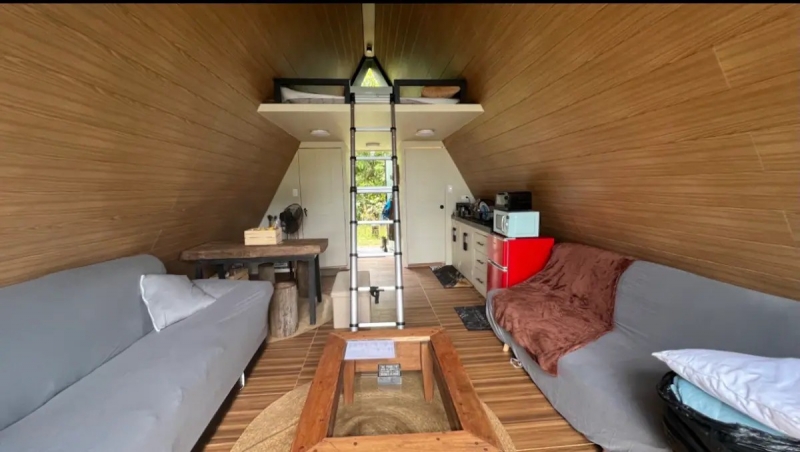 Listing name: Dreamy A-Frame cabin. The perfect nature getaway
Listing type: Room on an island
Max. no. of guests: 5
No. of bedrooms: 1
At this serene little hideout in Kalayaan, Laguna, there's nothing but the chirping birds and beautiful views to disturb your peace. So, we think it's the ideal place to think, write, and indulge in creative pursuits! The loft-style Airbnb is small, but it's smartly designed with quality furnishings, comfy beds, and even a desk if you need to work from home. 
Once you're done with all your deadlines, unwind by swimming, boating, and exploring the island. Sunsets are especially gorgeous at this vacation home, so make sure to look up from your laptop and take a breath to take in the sights during the golden hour. 
12. This pretty penthouse apartment in La Union near the beach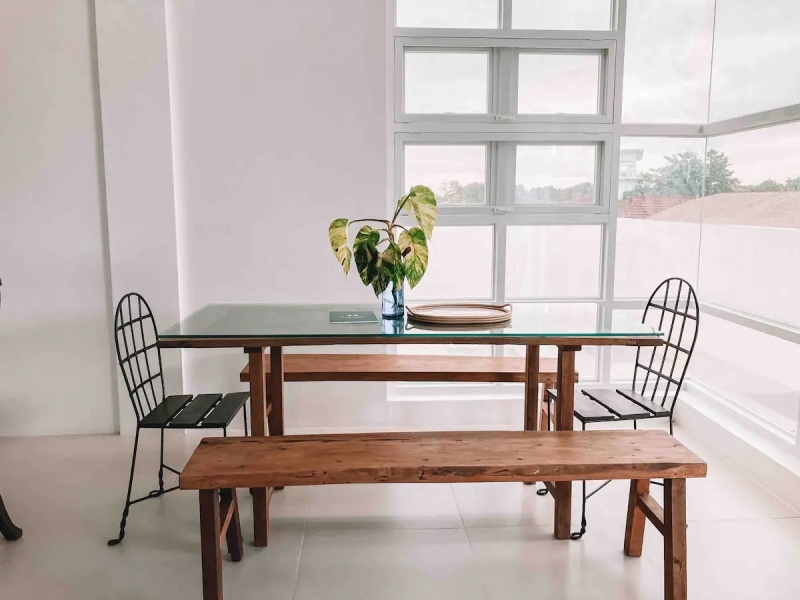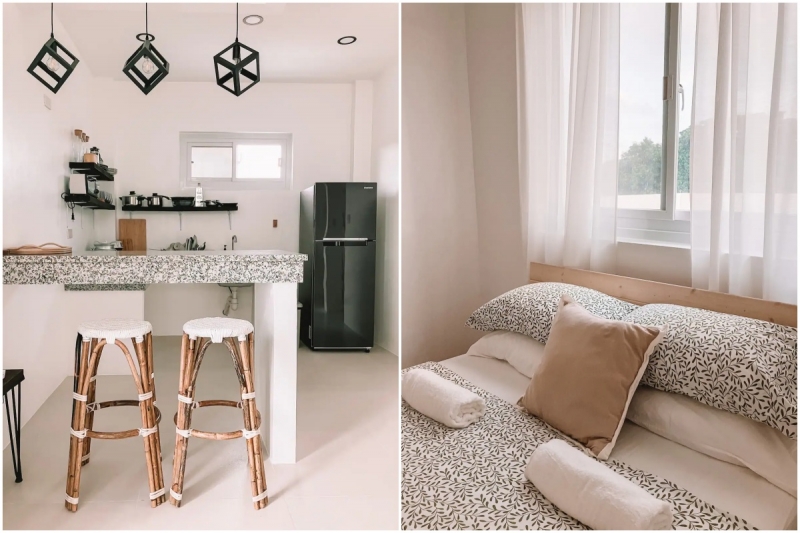 Listing name: Hidden Gem 2BR Penthouse, walk to beach, parking
Listing type: Entire rental unit
Max. no. of guests: 4
No. of bedrooms: 2
Planning a surf trip to La Union on weekdays? Make sure you book an Airbnb with a good work from home setup so you don't fall behind your workload. For instance, this light-filled penthouse that promises speedy WiFi, a pristine workspace, and close proximity to surf spots for paddling out when you're on your merienda break. Nestled in a quiet neighbourhood in San Fernando, it's only a five-minute drive to Urbiztondo, the famous bustling surfing area of La Union. A beach also lies at the end of the road! 
13. This Instagrammable nest for solo travellers and couples in Subic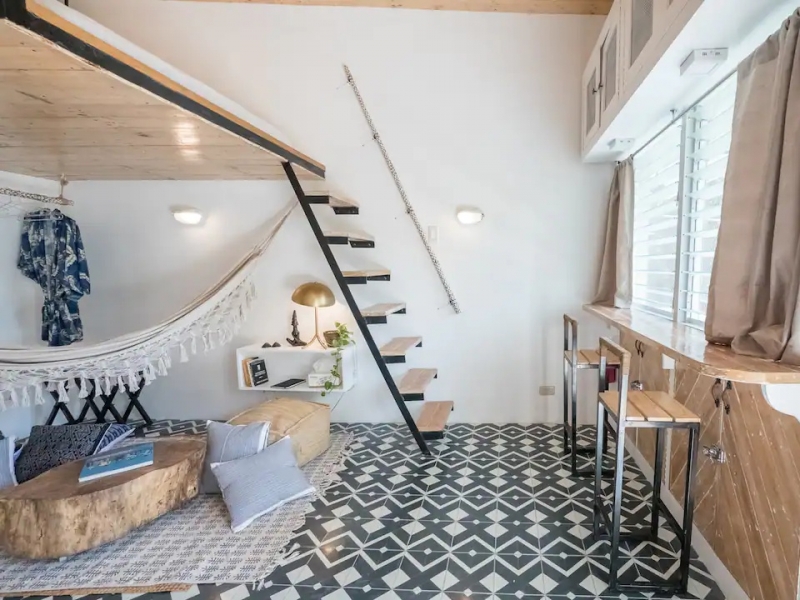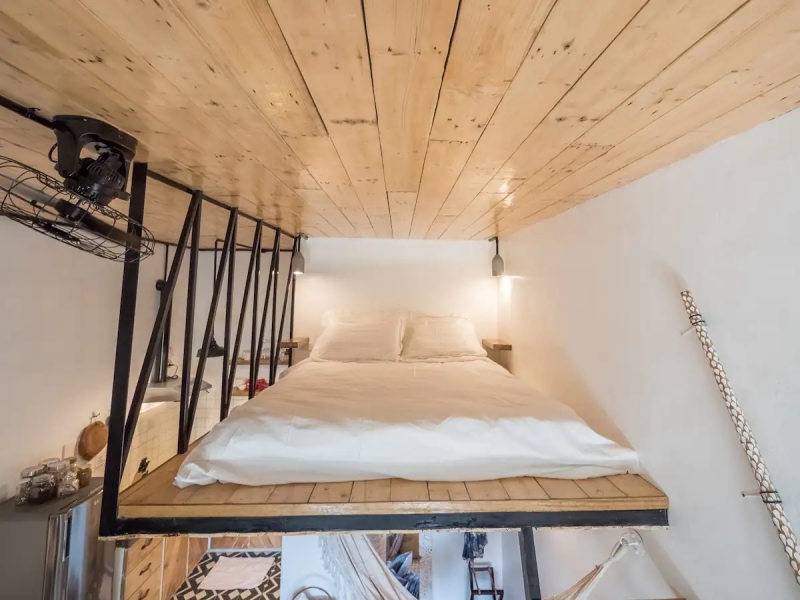 Listing name: Agta Nest: Pet Friendly, Loft, View, Breakfast!
Listing type: Entire loft
Max. no. of guests: 2
No. of bedrooms: 1
Solo travellers searching for a place to call their own will fall in love with this swoon-worthy escape in Subic. The super-cosy Agta Loft looks like it came out of our boho dreams, with cute Instagrammable decor, a tiny kitchen, a cosy bathroom with a bathtub, and an indoor hammock. Books, games, and Netflix are on hand for entertainment after working. Beloved pooches are welcome, too! 
Taking a few more people on your weekend getaway? Check out other Insta-worthy Airbnbs by the same Superhost, including Tuki Nest, Umi Nest, Eiwa Nest, Hillside Nest, Ocean Nest, Kahilom Nest, Garden Nest, Virya Nest, and Cahaya Nest.
14. This dreamy Airbnb with a private pool near Clark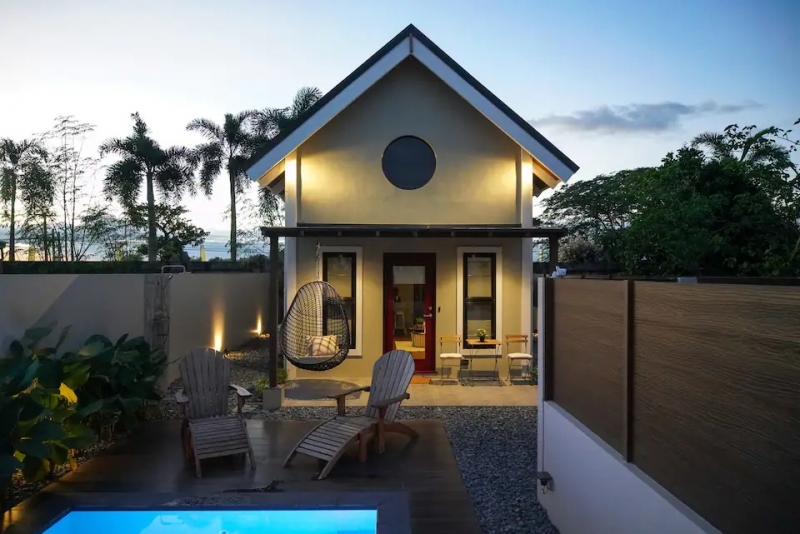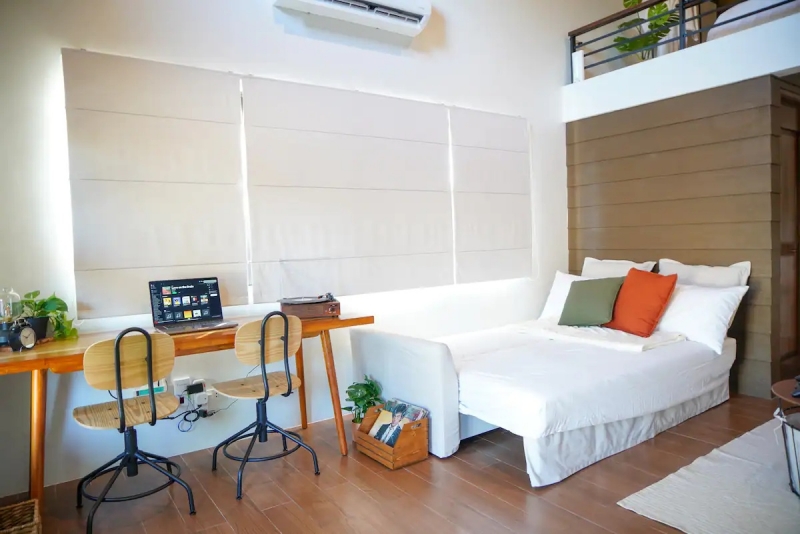 Listing name: Tiny House by The Modern Escape
Listing type: Tiny home
Max. no. of guests: 5
No. of bedrooms: 1
Travellers who are lucky enough to work from home can book this charm-filled retreat on Airbnb with other remote-working friends. There's fast WiFi for shooting emails and long Zoom calls, plus ample desk space for typing away with a pal side by side. 
Other highlights include a TV with Disney+, Netflix, and video games, board games, and a fully stocked kitchen. Guests can also jump into the private pool for a refreshing dip any time of the day. Moreover, travellers can look forward to a plush memory foam mattress to sleep on at the end of a tiring workday. 
15. This tropical Bali-inspired abode in Alaminos, Pangasinan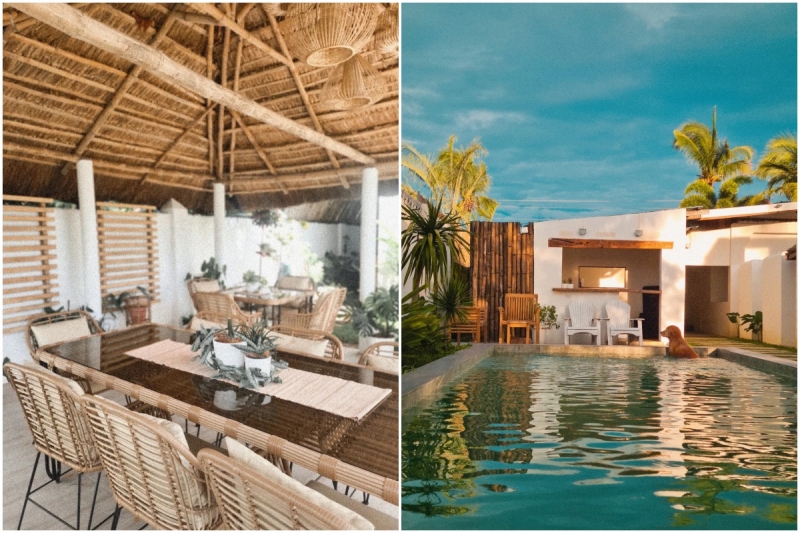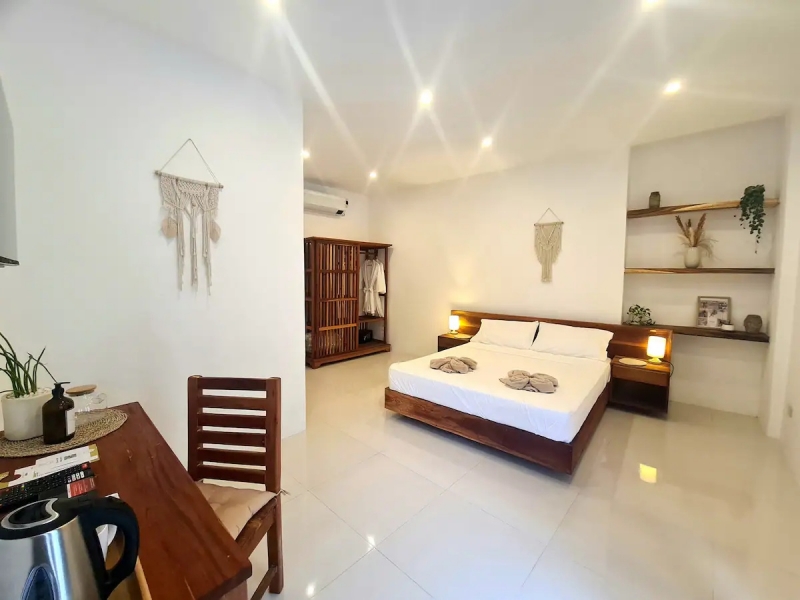 Listing name: 148 Guesthouse | Superior Queen Room
Listing type: Room in a bed and breakfast
Max. no. of guests: 6
No. of bedrooms: 1
Whenever we long for a change of scenery, this relaxed sanctuary is on top of our list. A Bali-inspired guesthouse near the Hundred Islands National Park, 148 Guesthouse feels like an oasis in Pangasinan. Here, you'll be in the heart of the Hundred Islands with a pool just a few steps from your room. A desk, a safe for your gadgets, and reliable WiFi are also on hand for remote workers.
No need to worry about anything because all the essentials are within reach, including a hearty English breakfast under the open-air kubo every morning. Meet fellow travellers in this sun-soaked home away from home — some will be in this Airbnb to sightsee, while others are in town to enjoy the work from home lifestyle on the road, like you! 
Also read: 8 Airbnb Rentals for Team Building Activities Near Metro Manila
Ideally, we work to live and not the other way around. That's the beauty of renting one of these scenic Airbnbs near Metro Manila: If you have the opportunity to work from home, then you can work anywhere. 
If you enjoyed this list, check out our best picks in La Union, Baler, Antipolo, Zambales, and other homes near Metro Manila for more travel inspiration. 
Got a property you'd like TripZilla to feature? Inquire with us here.
---
This article contains affiliate links. When you book through these links, we may earn a small commission at no additional cost to you. All images courtesy of the respective property listings unless otherwise mentioned.