Because I lived in the City of Pines for a while, many people have turned to me for advice on where to stay in Baguio. But honestly, I'm just as clueless as most of you! You can ask me where to live in Baguio, because I've hopped from one apartment to another throughout my four years in college. But as for staying in the city for a short vacation, I'm no pro because I only ever crash in my friends' living rooms when I visit there.
But, don't leave this article just yet! Although I'm not all-knowing when it comes to accommodations in Baguio, I can still offer some insights on whether a place is worth its price or has a premium location. So after a bit of research and nitpicking, my answers are finally here. 
To all my sosyalin titas who want an extravagant family vacation and to my kuripot friends who just want to escape the heat, here are my top picks on where to stay in Baguio — 10 Airbnb homes in Baguio for any type of budget!
Also read: Life in Baguio City: Here's What It's Really Like
Where to stay in Baguio if you're willing to spend over ₱5,000
1. This luxurious Baguio penthouse with exquisite views
Listing name: Executive Penthouse w/ AC Netflix Nintendo Switch
Listing type: Entire home
Max. no. of guests: 10
No. of bedrooms: 3
While many of our Baguio memories are etched with old cabin homes, the city has, in fact, evolved into a cosmopolitan centre. But, that doesn't mean that Baguio has completely lost its rustic charm. An epitome of present-day Baguio City, this Airbnb presents the perfect fusion of modern luxury and old town Kankanaey. 
Sitting vis-à-vis the Burnham Park and Hangar Market, the Executive Penthouse gives a breathtaking panorama of Baguio City from its private roof deck, where guests are more than welcome to sit and dine as they indulge in the views. And while it's hard to match the exquisite cityscape and natural breeze Baguio has to offer, this Airbnb remarkably shows that it is just as superb inside with its luxury hotel grade beds and linens and air-conditioned rooms.
Guests also have access to an impressive amount of features, including Netflix (available across four TVs), WiFi, and even a Nintendo Switch. Needless to say, the host has made sure to go above and beyond for guests to enjoy their Baguio staycation amid the new normal. Learn more about this Airbnb here.
2. This magical glass treehouse in the pinewood forests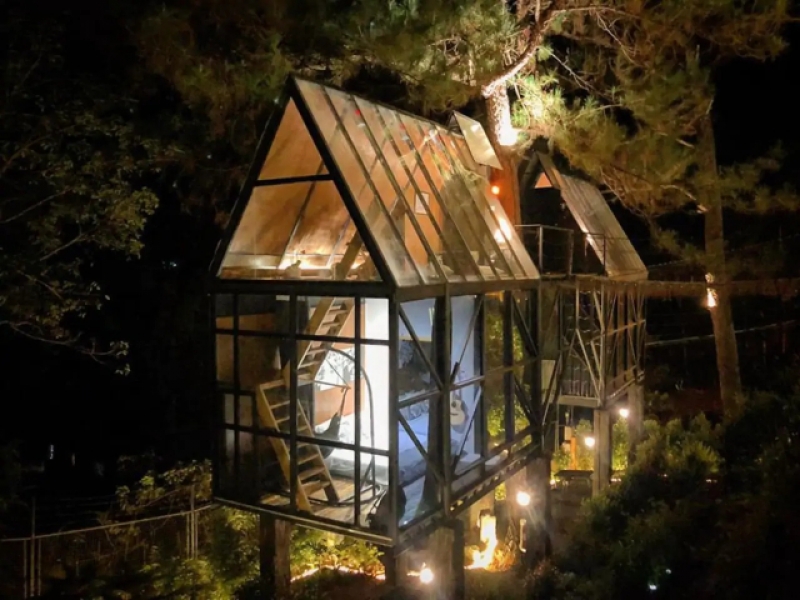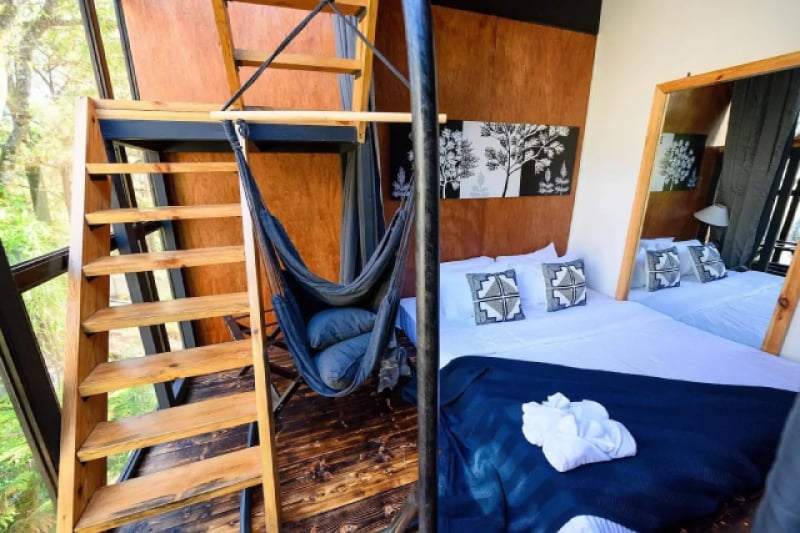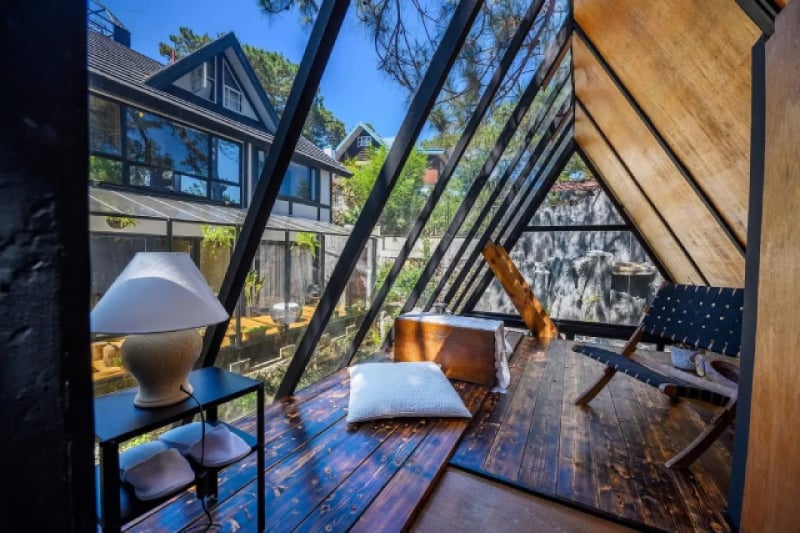 Listing name: Twin Glass Treehouse at Tudor in the Pines
Listing type: Entire home
Max. no. of guests: 4
No. of bedrooms: 2
A glass treehouse perched on top of Baguio's pinewood forests? There's no questioning why this Baguio Airbnb has drawn much attention. Indeed, the place is unlike any other; while its architecture mirrors modernity,  it remains steeped in the simplicity of the city.
Tudor in the Pines offers several exclusive amenities for its guests to enjoy: a private garden, a fully-equipped barbecue pit, a glasshouse lounge — even a viewing tower! And although the Baguio Airbnb bestows the particular serenity only nature can offer, it is also a haven for the audacious: it features hammocks and an open sky shower, as well as a hanging bridge and a timbre deck settled 30 feet above the ground.
The next time you need to seek peace and quiet amid a cluttered, boisterous world, you should definitely consider retreating to this glass treehouse. Learn more about this Airbnb here.
3. This homey cabin by the woods in Camp John Hay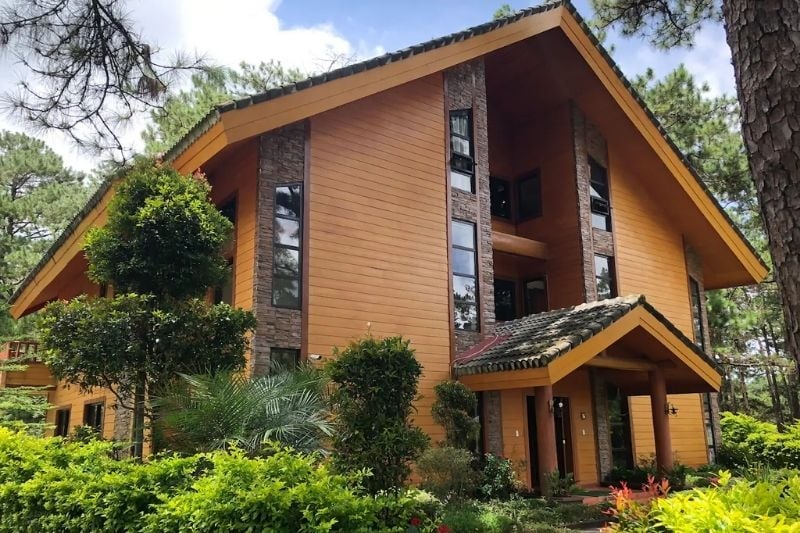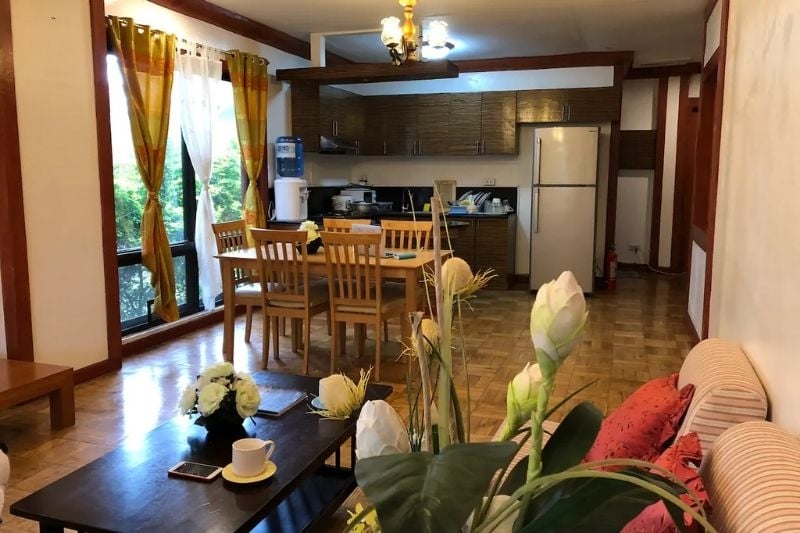 Listing name: Camp John Hay Forest Cabin 16 B101 (ground floor)
Listing type: Entire home
Max. no. of guests: 10
No. of bedrooms: 3
Back in the 20th century, Baguio City was "developed" by Americans under their colonial rule. This is why one of the many facets that distinguish this city from the rest of the country is the heavy presence of American influence.
In particular, Camp John Hay was once a recreational facility for the Americans. Hence, it oozes with Western influences to date. Nowadays, Camp John Hay is known for its food spots, landscape, and architecture that remind tourists that Baguio was, once upon a time, known as "Little America."
If you want to taste this version of the city, then this forest cabin in Camp John Hay is just where to stay in Baguio. It takes mere minutes of walking to get to restaurants, coffee shops, groceries, golf courses — you name it! Plus, its log cabin style is super reminiscent of the culture of Western camping in the woods. Learn more about this Airbnb here.
4. This country-style home perfect for campfire nights
Listing name: Cozy & Serene Country House in Baguio City
Listing type: Entire house
Max. no. of guests: 6
No. of bedrooms: 3
Baguio is beautiful all year round. But there's something particularly magical about the city during the Yuletide season. The wind is cooler, the nights are brighter, the spirit is livelier. 
When I lived in Baguio, I'd celebrate my Christmas nights with my friends, in an Airbnb that looks just like Balai Ruthanna. We'd huddle around a bonfire — grilling hotdogs, playing the guitar, exchanging gifts, telling stories. 
Located inside a quiet neighbourhood, Balai Ruthanna is definitely an Airbnb where guests can enjoy the serenity of Baguio City — just like how we did back then. And like Baguio, it's beautiful all year round. It has an expansive garden, cosy interiors, and an impressive location with the best nature views. Learn more about this Airbnb here.
5. This museum-like refuge for the artsy tourist
Listing name: Forest Terrace at Tudor in the Pines
Listing type: Entire house
Max. no. of guests: 6
No. of bedrooms: 3
Modern Baguio thrives in its art scene, and this Airbnb undoubtedly showcases this creative culture. A secret refuge amid a bustling city, The Forest Terrace is nestled in a dense pinewood forest. Through a garden tunnel, guests are led to a designer home filled with paintings and flooded with natural light.
Aside from its art pieces, The Forest Terrace spoils its guests with an expansive floor area. There are two guest and one master's bedrooms, a private garden with a barbecue pit and fire pit, and unbelievably scenic views. Learn more about this Airbnb here.
6. This vibrant glasshouse with calming views
Listing name: Baguio HillHouse
Listing type: Entire house
Max. no. of guests: 6
No. of bedrooms: 1
Arguably, the best charm of Baguio is its altitude. Up there, we're treated to crisp air, mountain views, and a flood of city lights. Perched atop a high terrain, Baguio Hillhouse celebrates all these with floor-to-ceiling windows that offer the most beautiful sceneries.
While its surroundings are hard to beat, Baguio Hillhouse makes sure that its interiors are just as stunning. It boasts an industrial rustic design that makes a gorgeous contrast against the pine trees outdoors. The home is also equipped with a flat-screen TV, a fully functional kitchen, and a spacious roof deck. Learn more about this Airbnb here.
Also read: Baguio Facts: 7 Things About the City of Pines
Airbnb homes in Baguio for under ₱5,000
7. This cinematic American home for some classic Baguio feels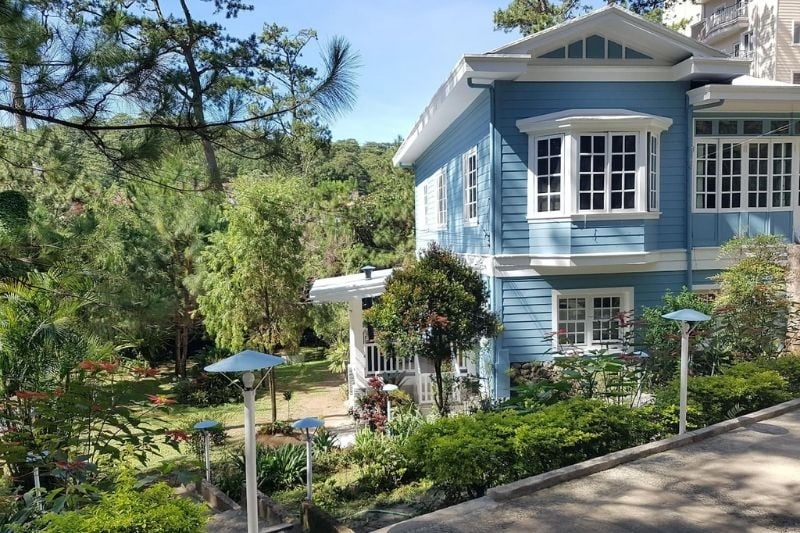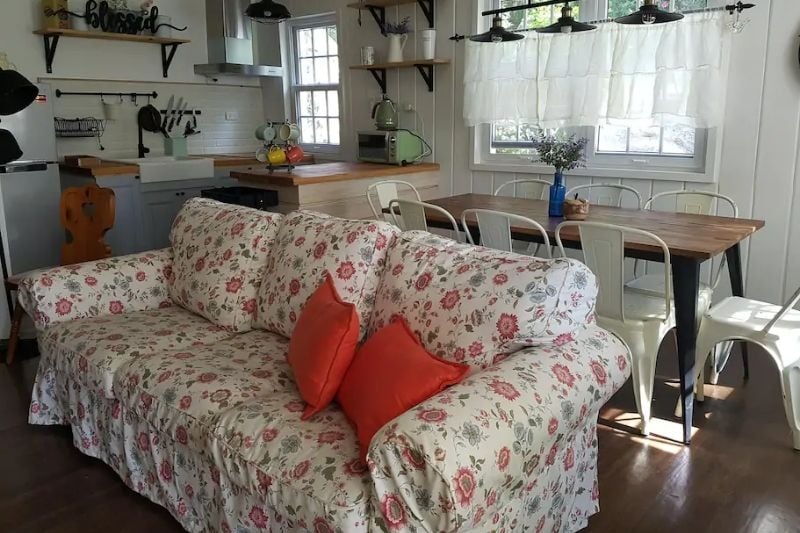 Listing name: American Heritage Baguio Home w/big Pine tree lawn
Listing type: Entire home
Max. no. of guests: 8
No. of bedrooms: 2
If you're a movie junkie, you're probably wondering why this house looks so familiar. This heritage home has made special appearances in multiple films including Honor Thy Father, Citizen Jake, and Glorious. With the charm of this blue-and-white abode, it's no wonder why.
Built with century-old Baguio pinewood, this listing just screams cosy country chic. Its interiors are just as endearing with the whitewashed walls, floral furnishings, and bay windows. Another accommodation ideal for families, this Baguio Airbnb has a master bedroom, a shared bedroom with bunk beds, and a bedroom that serves as staff quarters. For a warm family night, gather by the bonfire and exchange nostalgic stories. Learn more about this Airbnb here.
Also read: 23 Local Destinations Where Your Favourite Pinoy Romcoms Were Filmed
8. This quirky and colourful residential loft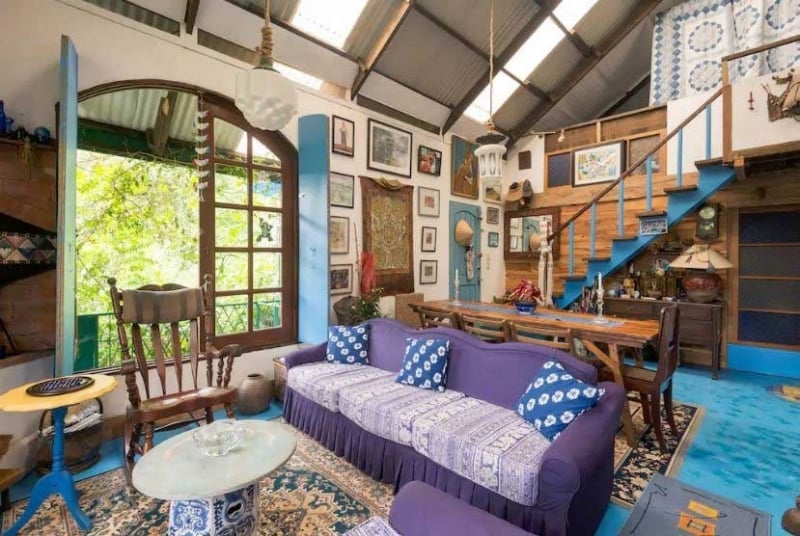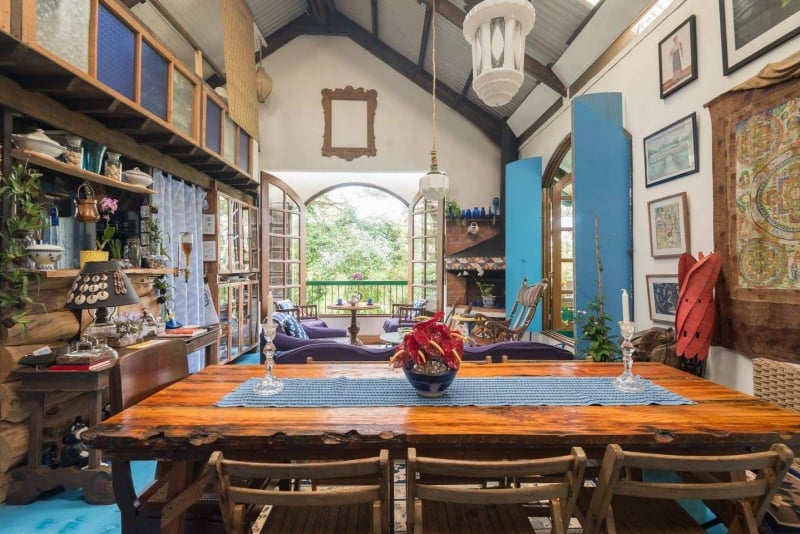 Listing name: Le Coq Bleu, a French home. LOFT room
Listing type: Entire home
Max. no. of guests: 4
No. of bedrooms: 1
Remembering my trips to Baguio's museums and heritage spots, I reckon that it'd be a challenge for any destination to compete with the city's art scene. As a melting pot of cultures, Baguio takes pride in a staggeringly wide range of craftsmanship. In fact, the Department of Tourism has hailed the city as the "creative economy" in the Cordillera region. Upon entering this Baguio Airbnb, you'll shortly understand what I'm talking about.
It's an understatement to call Le Coq Bleu beautiful. The loft goes beyond conventional beauty. Home to a French migrant named Chantal Pangilinan, this residence offers a unique cultural experience; yet, it remains homey and quintessentially Baguio. Learn more about this Airbnb here.
9. This whimsical and blossoming farmhouse for the artsy tourist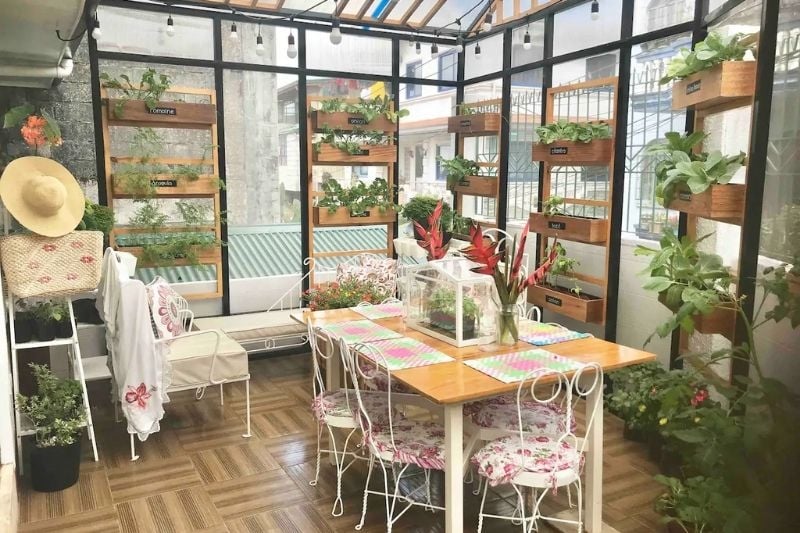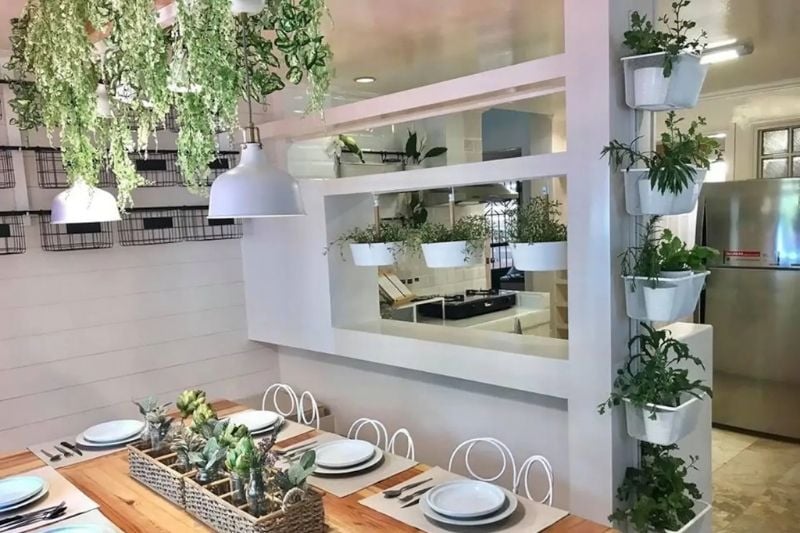 Listing name: BaguioFarmhouse|Parking|garden|wifi|near to town
Listing type: Entire home
Max. no. of guests: 16+
No. of bedrooms: 3
Unknown to most, I have a fantasy of becoming vegan. As to why I'm not is an article for another day, but if I were to imagine myself to be one, I'd love to be vegan in Baguio. This may sound silly at first, but if you visit the Baguio Public Market, you'd get what I'm saying. 
Whenever I visit the city, I hoard lemons and lettuce from the market because they're so affordable and fresh there. Baguio is just a hotspot for all things healthy and green, and I love how this Baguio Airbnb celebrates that. Functioning as a private greenhouse as much as a transient home, this residence is flourishing with herbs and flowers. Just imagine waking up to their fragrance! The best part? You can actually pick the herbs to season your home-cooked meals!
Sip coffee and read poems as you take in the ambience of this farmhouse. Saunter down the property and find yourself on the patio where you can grill your own food. Convinced yet? Learn more about this Airbnb here.
10. This cottage-inspired home with charming interiors
Listing name: Baguio CottageHouse|garden|WiFi|parking|near town
Listing type: Entire house
Max. no. of guests: 10
No. of bedrooms: 3
Nothing screams cottagecore quite like Good Morning Baguio CottageHouse. Popping with personality, this Airbnb is intimately decorated with flowers, pastels, and rustic fittings. But beyond its aesthetic, the cottage house is known for its welcoming atmosphere, with the superhost even providing guests with unlimited freshly-brewed coffee. 
Good Morning Baguio CottageHouse sits minutes away from Burnham Park and Session Road. The host recommends its guests to enjoy their stay after horseback riding at Wright Park and strawberry picking at the La Trinidad Strawberry Farm. Learn more about this Airbnb here.
11. This luxury unit with endless amenities
Listing name: Forest Lodge (Superior Room #469)
Listing type: Room in hotel
Max. no. of guests: 4
No. of bedrooms: 1
Widely known for offering grand experiences, The Forest Lodge provides you free access to countless desirable amenities, including the Manor's spa, sauna, and gym. This Airbnb, in particular, is a single unit that can fit a small family.
Aside from its amenities, its location is even more enviable. As The Forest Lodge sits in Camp John Hay, it's a short walking distance to most of Baguio's commercial hotspots. You can also enjoy numerous recreational activities around the area, including horseback riding, mini golf, the butterfly sanctuary, and the treetop adventure. Learn more about this Airbnb here.
12. This rustic loft facing the mountains
Listing name: Rustic Loft with the BEST Mountain View
Listing type: Entire condominium
Max. no. of guests: 6
No. of bedrooms: 2
Built atop a high rock, this Airbnb listing takes pride in its spectacular views of both Mount Santo Tomas and the West Philippine Sea. With two bedrooms, Rustic Loft is commodious enough to fit families or barkadas; meanwhile, it's also affordable enough to accommodate solo travellers who want the extra space. Equipped with free WiFi and comfortable furniture, guests can even work remotely from this Airbnb. 
Learn more about this Airbnb here.
Where to stay in Baguio for under ₱2,000
13. This brutalist studio for the modern traveller
Listing name: Modern Minimalist Studio Unit in Baguio City
Listing type: Entire apartment
Max. no. of guests: 4
No. of bedrooms: 1
Studying for the board exams? Preparing for an important event? Brainstorming for a passion project? While Baguio is known for its bed weather, it is also a destination conducive to productivity. After all, the Summer Capital is also a university town — students have been populating the city for years. And, unknown to most, many alumni continue to flock to the city whenever they need to get into the right headspace. (Rumours have it that even Nick Joaquin travelled all the way to the city for this very purpose!)
If you're gearing up for something and need motivation and inspiration, I recommend booking an Airbnb in Baguio like the Modern Minimalist Studio. Owned and furnished by a professional architect, this listing doesn't disappoint. It has a straightforward but practical style, making it the perfect refuge for those seeking solitude or needing focus. Learn more about this Airbnb here.
14. This simplistic and vibrant loft for the young and hip traveller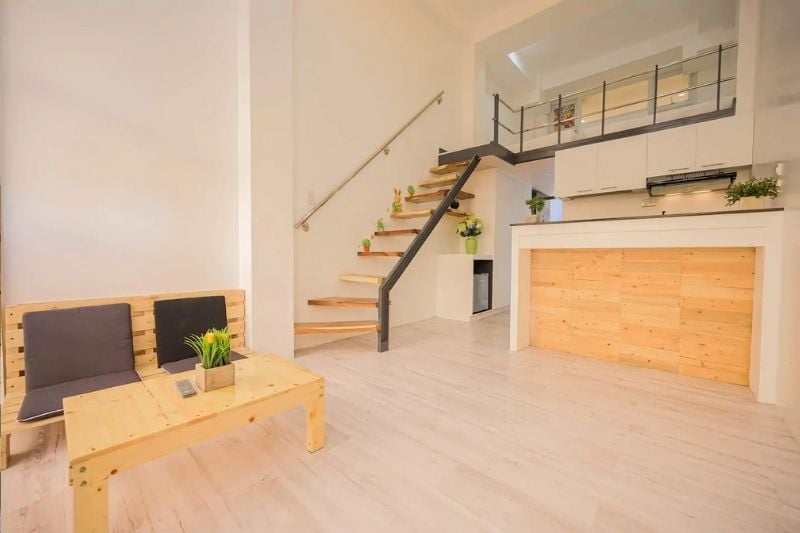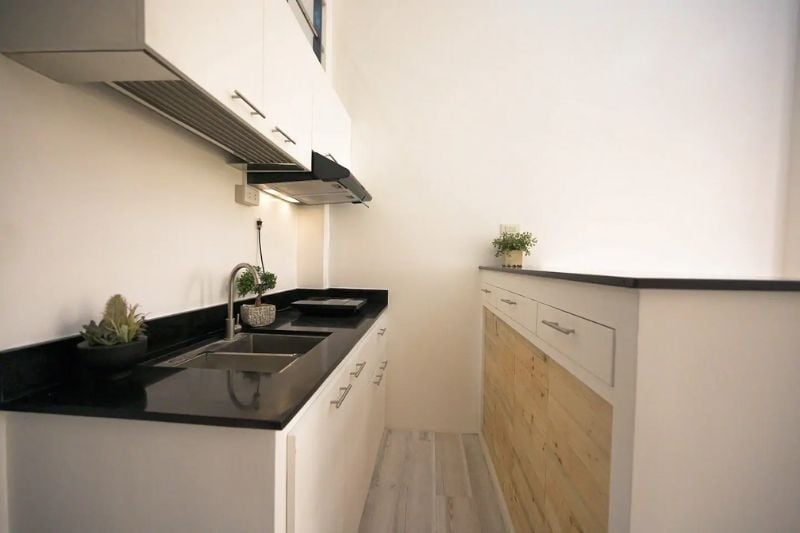 Listing name: (1) Newly built apartment 1.4km away from Burnham
Listing type: Entire home
Max. no. of guests: 4
No. of bedrooms: 1
While the previous listings were more stereotypically Baguio, this one brings out the modern take of the city. And when I say modern take, I mean the Baguio version that is heavily inspired by its Korean residents.
Actually, several Koreans study in Baguio for years. It's unsurprising that hallyu is overtaking the city. In fact, I've been eating samgyupsal in the city years before it trended across the Philippines. And, this Baguio Airbnb proves that Korea isn't only influencing the restaurants and cute cafés in the city.
Evidently inspired by Korean interiors, this residence is light, airy, and minimalist — everything most millennials look for in a home. It features tiny chairs but huge windows, basic lines but vibrant colours. It even has a mini garden so you can take in the fresh Baguio breeze whenever you want! Learn more about this Airbnb here.
15. This sleek den for the minimalist at heart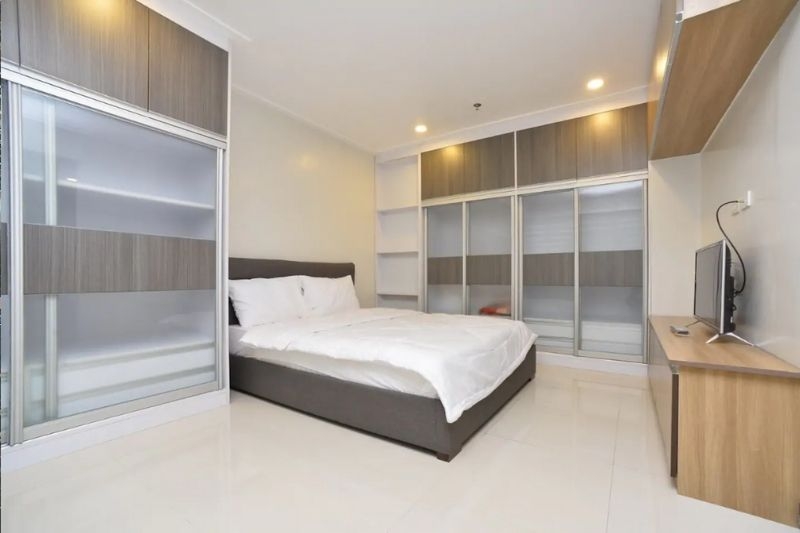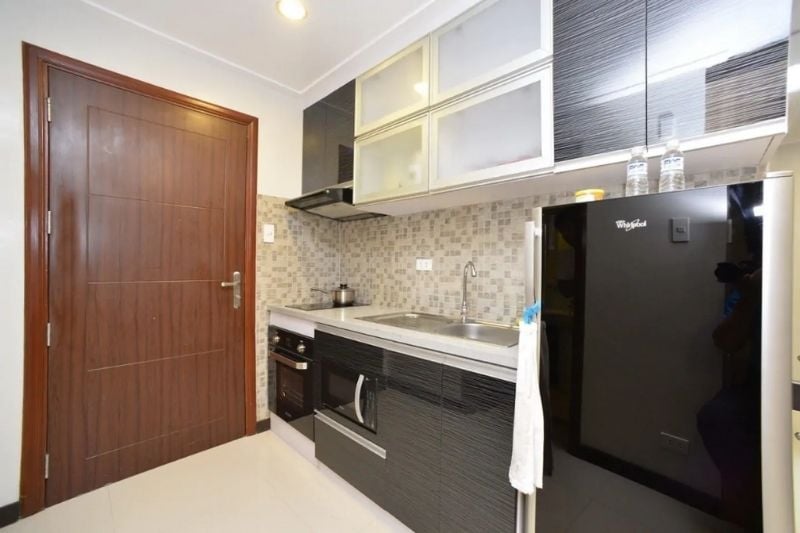 Listing name: Best location in Baguio! SALE SALE SALE!!! 🙂
Listing type: Entire home
Max. no. of guests: 4
No. of bedrooms: 1
Another modern home, this listing is as straightforward as can be. It's sparkling clean and spacious, but its main selling point is that it's located at the MegaTower Residences — a prime location for those who want to regularly walk to Session Road, Burnham Park, SM Baguio, UP Baguio, and the like. So, foodies and shopaholics (read: ukay-ukay fanatics) asking where to stay in Baguio, this is my final answer.
Since this is a condominium, the building itself has several amenities including a coffee shop, restaurants, a laundry shop, and a 24/7 convenience store for all your late night cravings. Learn more about this Airbnb here.
16. This flourishing loft overlooking the mountains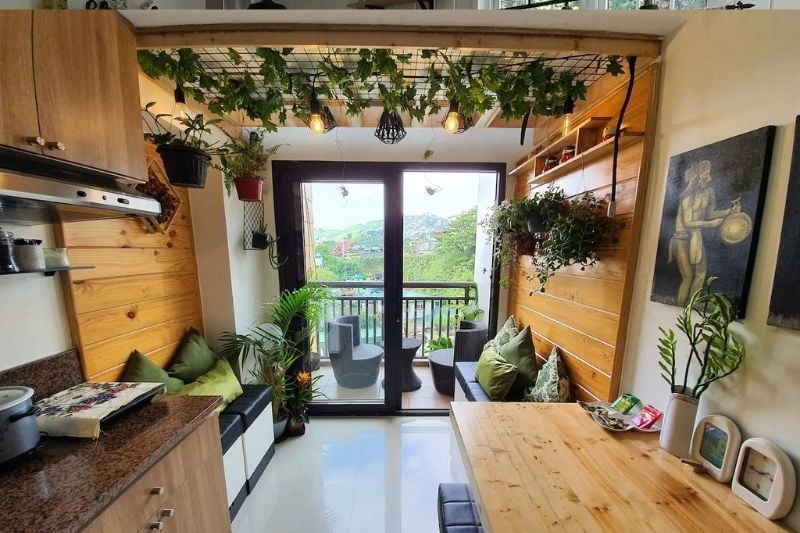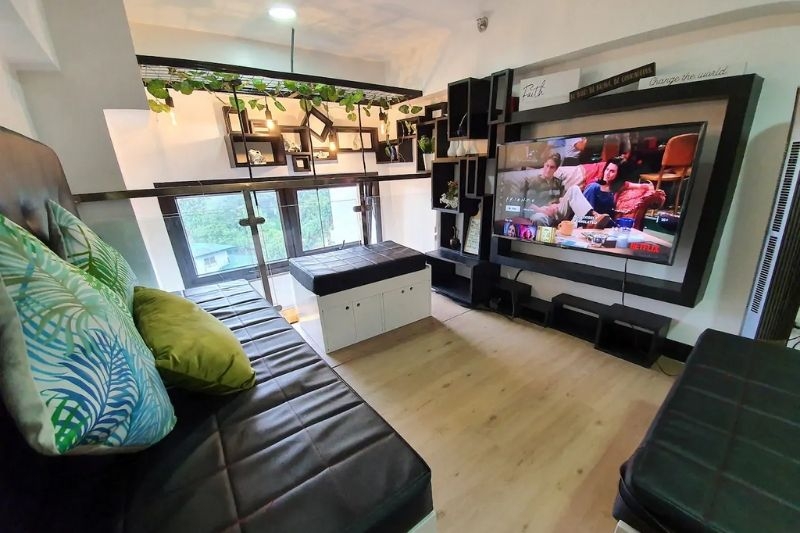 Listing name: Lush and relaxing loft. A real Baguio feels space.
Listing type: Entire home
Max. no. of guests: 4
No. of bedrooms: Studio
If you've ever visited the BenCab Museum, the Oh My Gulay restaurant, or the Ililikha Artist Village, then you'll agree with me that this loft seems touched by all the same elements: greens, art, and a practical use of space.
Planning a staycation with your closest friends? How about a private getaway with your significant other? A simple birthday bash for your mom? Or just a solo trip to escape the noise of Manila? With one queen-sized bed and one sofa bed, this loft makes a mellow spot for all these special occasions. Its location isn't bad, either, as Marcos Highway is easily accessible through public transportation. Learn more about this Airbnb here.
Baguio Airbnb homes for under ₱1,000
17. This archetypal Baguio home tucked away in a tranquil subdivision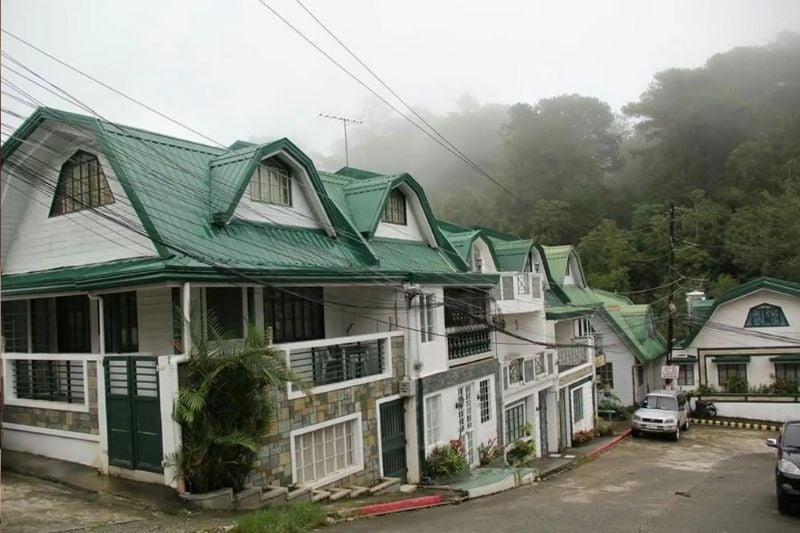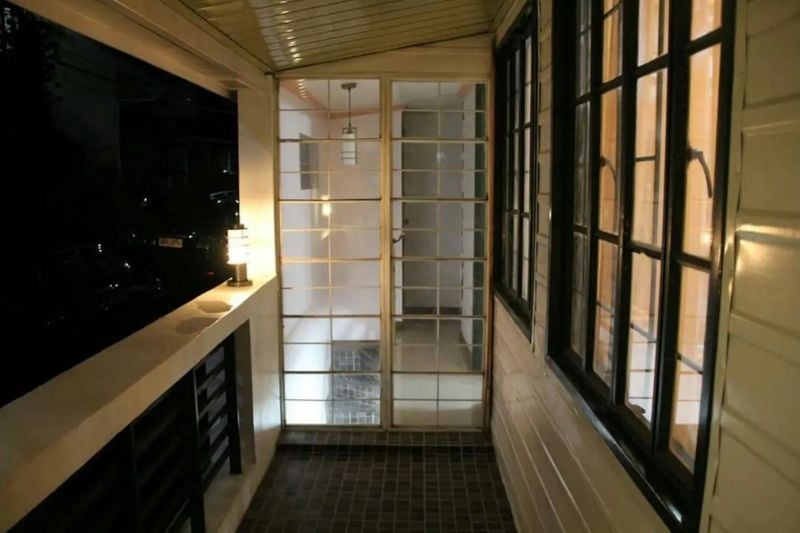 Listing name: Eve's Baguio Transient House
Listing type: Entire home
Max. no. of guests: 6
No. of bedrooms: 1
Upon seeing this listing, I got a bit nostalgic. This transient house reminds me of my favourite apartments back in college. You see, you don't need much when in Baguio. Most times, a couch, a kitchen, and a veranda will suffice (and even satisfy). 
If you're looking for where to stay in Baguio and you aren't too fussy about it, then this transient house might be the perfect one for you. It's spacious enough for a whole family or barkada. It has its own kitchen, too, so maximise it as you cook your palengke-bought vegetables (or longganisa for breakfast!). Make sure to bring a French press along so you can enjoy your Baguio beans as you chill in the veranda. Learn more about this Airbnb here.
Also read: 10 Airbnbs for Your Next Barkada Staycation Near Manila
18. This Instagrammable rooftop glamping area for the sociable wanderer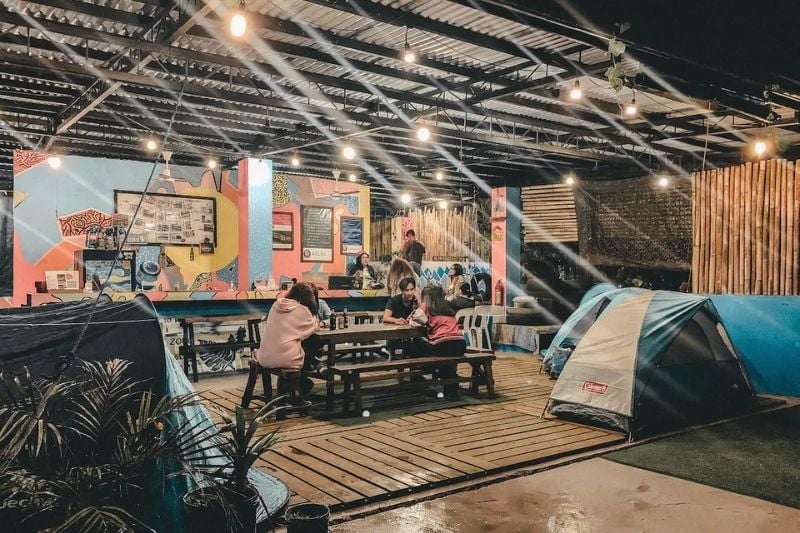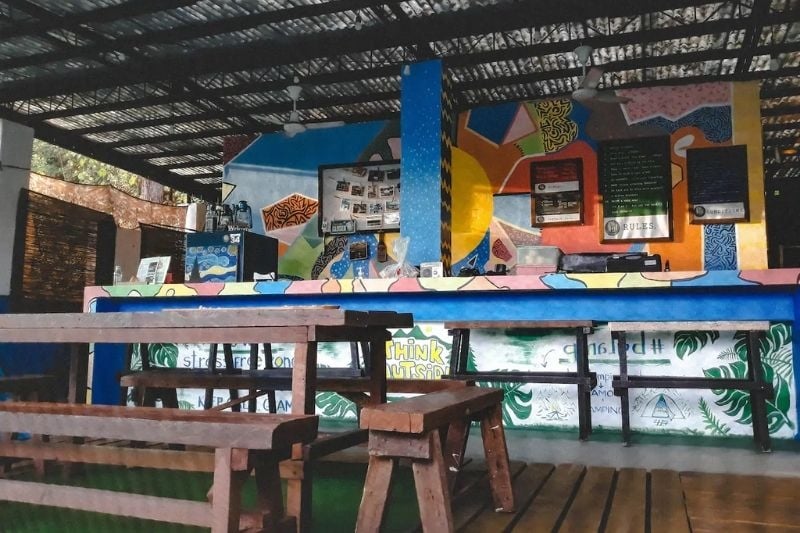 Listing name: B.GLAMP – Rooftop GLAMPING B&B
Listing type: Shared room in tent
Max. no. of guests: 16+
No. of bedrooms: 1
Are you in for a unique staycation in Baguio? Then go rooftop glamping at this Airbnb. Yes, you've probably only heard of rooftop glamping today, because this area in the Philippines that offers this experience! 
Like most camping spots, this area has a beautiful campfire that gets lit at night — only this Baguio Airbnb brings you way closer to the stars than most glamping spots ever will. Stuff your face with smores and marshmallows by night, and fill your stomach with their complementary brewed coffee and toast in the morning.
Tents and sleeping bags are already set up here, so you don't need to carry loads of stuff with you as you head to Baguio. Learn more about this Airbnb here.
Also read: 10 Glamping Sites in the Philippines for Your Next Trip with Friends
19. This modest studio apartment for the budget traveller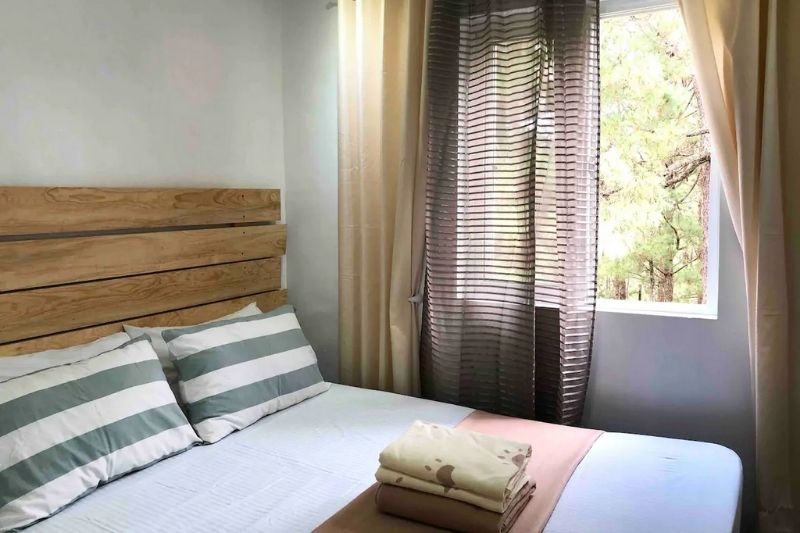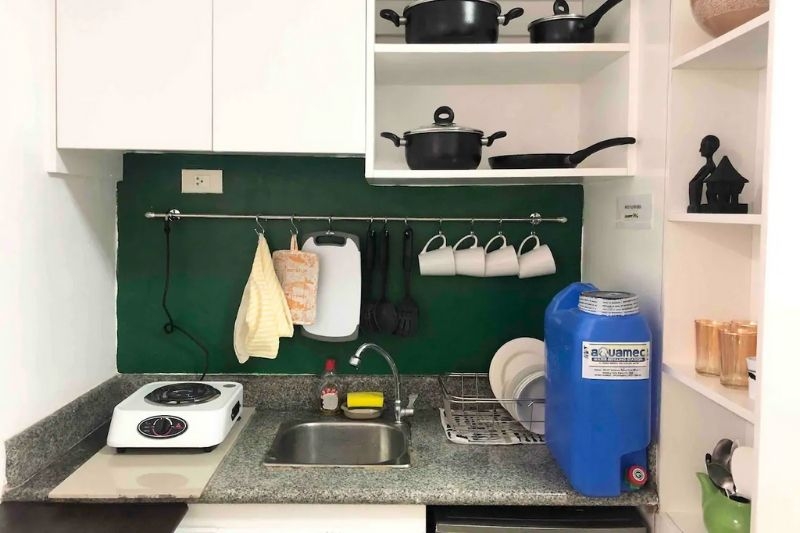 Listing name: Baguio Hideaway Kitchen/Parking/Wifi/Self Check In
Listing type: Entire home
Max. no. of guests: 3
No. of bedrooms: Studio
Some solo travellers thrive in the energy of strangers in hostels. Others just aren't as comfortable. Most of the time, I belong to the latter group. I rarely travel solo to meet friends; instead, I do so to cherish time with myself. So when I think of where to stay in Baguio for this particular need, I'd definitely consider this listing.
Because it's a bit farther than the rest of the places in this article, I can't recommend this accommodation for travellers keen to explore Baguio. While there are certainly places to eat around the area, the most of the best food experiences are really located at the heart of the city.
That said, the name of this Airbnb says it all: It's a Baguio hideaway. It offers a retreat from the busyness of life. Its location is perfect if you're craving for the Baguio breeze and the scent of pine trees. In the morning, you can stroll along the quiet neighbourhood and delight in your own company. Learn more about this Airbnb here.
20. This simple and budget-friendly unit with everything you need
Listing name: unit 6/Visita Accredited/Near BURNHAM/Night Market
Listing type: Entire apartment
Max. no. of guests: 3
No. of bedrooms: Studio
If you're looking for where to stay in Baguio but are on a tight budget, this Airbnb might be just for you. Affordable as it is, it can fit up to three people comfortably. It has a fully functional kitchen, where you can cook as you want. (Tip: Buy ingredients from the public market, which is only a seven-minute walk from the Airbnb!) The apartment is also complete with a TV, WiFi, and a workspace. 
Want to experience living in Baguio City? This Airbnb is also available for long-term stays — with a 5% discount, too! Its rate, amenities, and location make it a prime homestay for budget travellers. Learn more about this Airbnb here.
Also read: Where to Eat in Baguio: Top Tips for the Wandering Foodie Heading Up North
I hope this list inspired those of you looking for where to stay in Baguio. Plus, if you're planning on making a stop in La Union on your way back home, then make sure to check our list of La Union Airbnbs here. Have a great, chilly journey ahead!
Got a property you'd like TripZilla to feature? Inquire with us here.