May libre pa ba sa panahon ngayon? Well, our list of free tourist spots in Baguio proves that you can still have an exciting adventure even on a tight budget! From charming nature parks to Instagrammable attractions, the Summer Capital of the Philippines is packed with incredible experiences that come at no cost. Keep on reading to find out more! 
Also read: Baguio Travel Guide 2023: Best Things to See, Eat, and Do
Free tourist spots in and near Baguio City
1. Burnham Park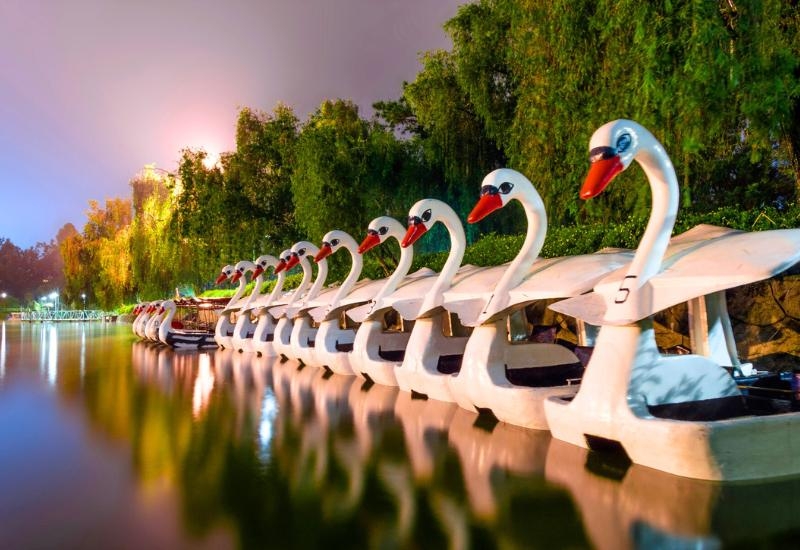 First up on our list of free tourist spots in Baguio is the open green space of Burnham Park! Located along the city's downtown area, it remains consistently popular among tourists looking for a refreshing and picturesque atmosphere. Inside this 32-hectare urban park, you'll find various attractions like a playground, gardens, and a picnic grove. Its main draw, however, is an artificial lake at the centre of the park where visitors can enjoy a leisurely swan boat ride. 
Location: Jose Abad Santos Drive, Baguio, Benguet
2. Wright Park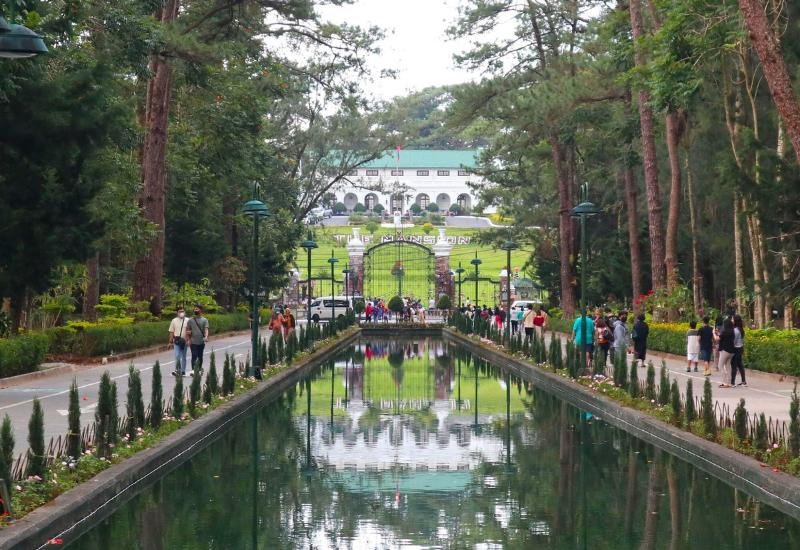 Baguio City boasts a wealth of beautiful green spaces that beckon visitors with their beautifully landscaped surroundings. Situated in the wooded area of the city lies Wright Park, which has gained popularity for its horseback riding opportunities and scenic charm.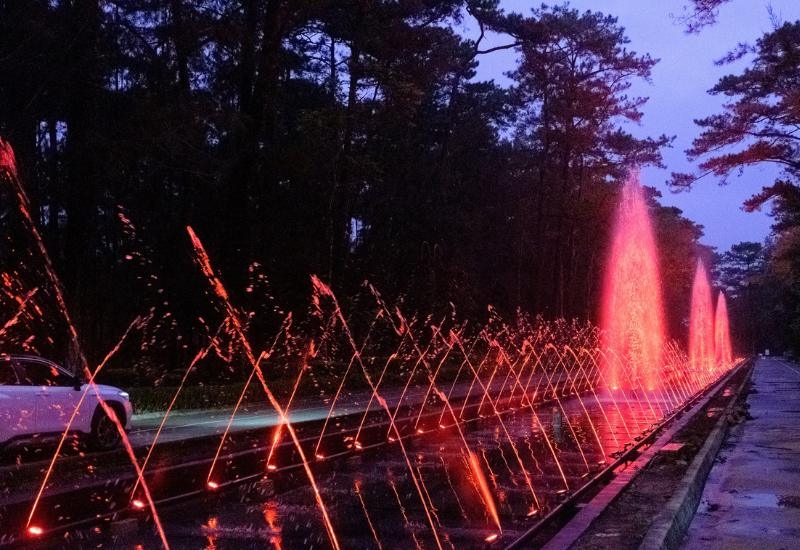 Recently, the park underwent several months of renovation to refurbish its Pool of Pines, an elongated reflecting pool lined with towering evergreens. Now, visitors can even enjoy a dazzling lights and fountain show for free!

Lighting schedule: 7–9pm, Friday to Sunday
Location: The Mansion, Romulo Dr, Baguio, Benguet
3. Bamboo Sanctuary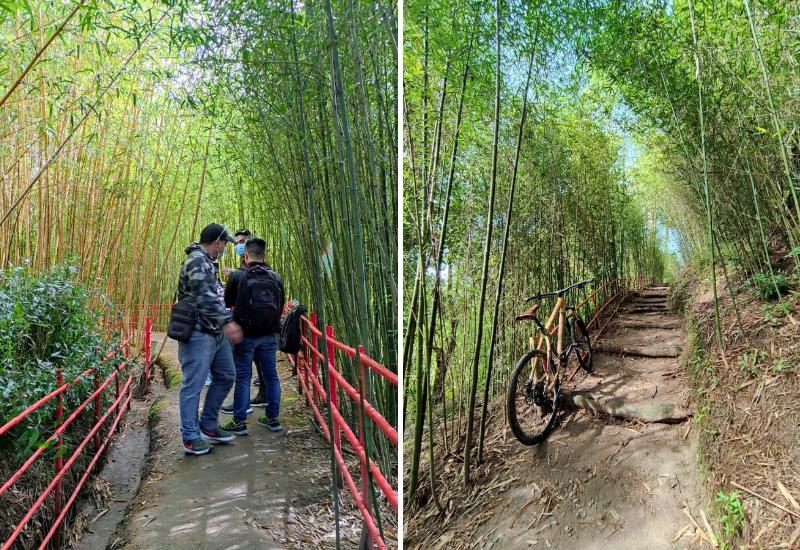 Who knew you could experience Japan right in Baguio City? Resembling the iconic Arashiyama Bamboo Forest in Kyoto is the Baguio Bamboo Sanctuary! This enchanting oasis of bamboo grooves features bike trails and walkways, which lead to an open overlooking spot. If you're on the hunt for free tourist spots in Baguio to spice up your travel photos and witness exquisite cityscape views, you can't miss this place! 
Location: Pacdal Liteng, Baguio, Benguet
4. La Trinidad Strawberry Farm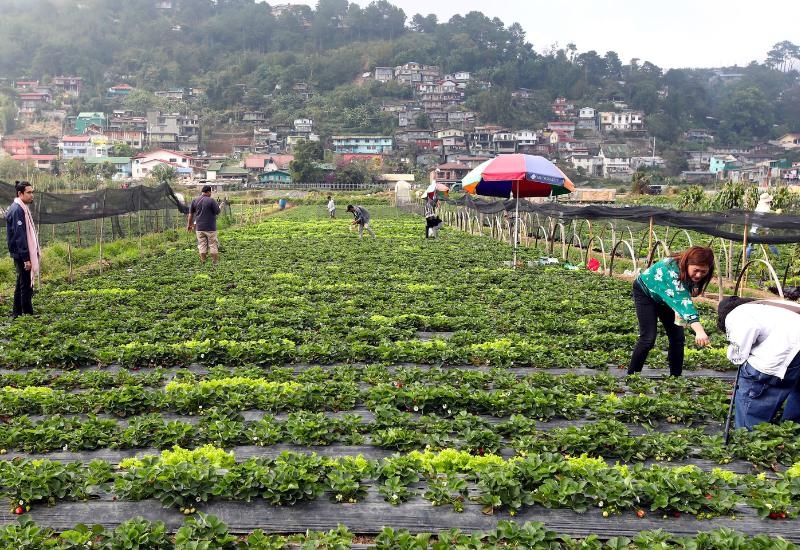 Surely, no trip to Baguio will ever be complete without experiencing strawberry picking. You can do just that for a fee (from ₱500 per kilogram) at the La Trinidad Strawberry Farm, just a few kilometres away from the city! But, did you know that you can also simply explore the plantation without charge? Aside from its strawberries, you can also admire the farm's beautiful flower fields and snap photos of its colourful foliage. 
Location: Barangay Betag, La Trinidad, Benguet 
5. Valley of Colors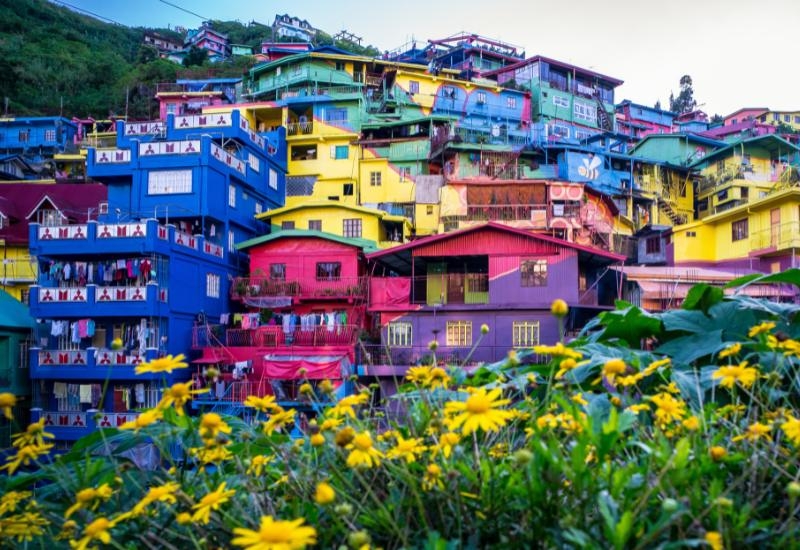 Adding a burst of colour to Benguet's landscape, the Valley of Colors is not just a feast for the eyes but also one of the most Instagrammable cultural spots in the province. This community artwork designed by the Tam-awan Village group takes inspiration from the Favelas of Rio de Janeiro and the Gamcheon Cultural Village of Busan. 
Although most people believe it's located in Baguio City, the Valley of Colors actually lies a few kilometres away from the city centre. Nonetheless, it's definitely worth checking out for a dose of artistic inspiration! 
Location: Barangay Pico, La Trinidad, Benguet
6. Baguio Night Market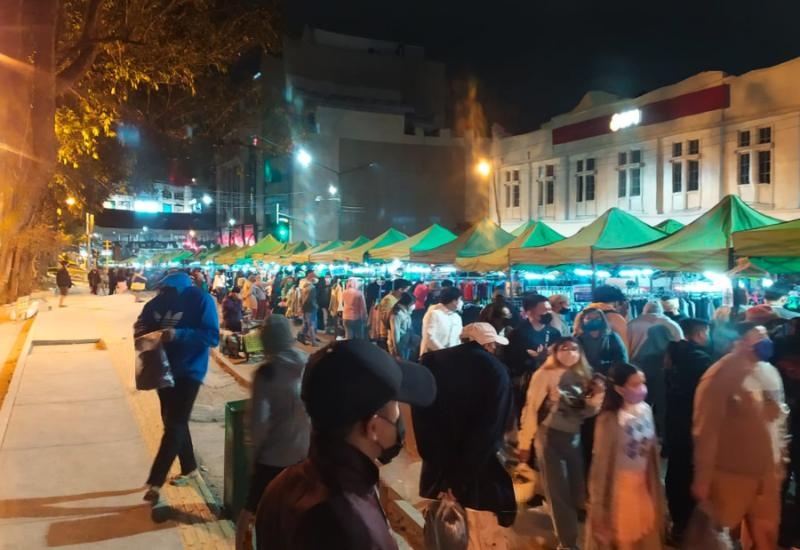 Exploring Baguio by sundown can be just as exciting as touring it during the day. Every night, Harrison Road transforms into a vibrant marketplace filled with stalls selling all sorts of goods, from souvenirs to street food to ukay-ukay products! The market attracts thousands of foodies, thrifters, and bargain hunters alike. However, it's also the perfect place for pretty much anyone looking to simply experience the local market culture. 
Location: Harrison Rd, Baguio, Benguet
Also read: Cafes in Baguio: Where to Get the Best Coffee and Hot Chocolate in the City of Pines
7. Lion's Head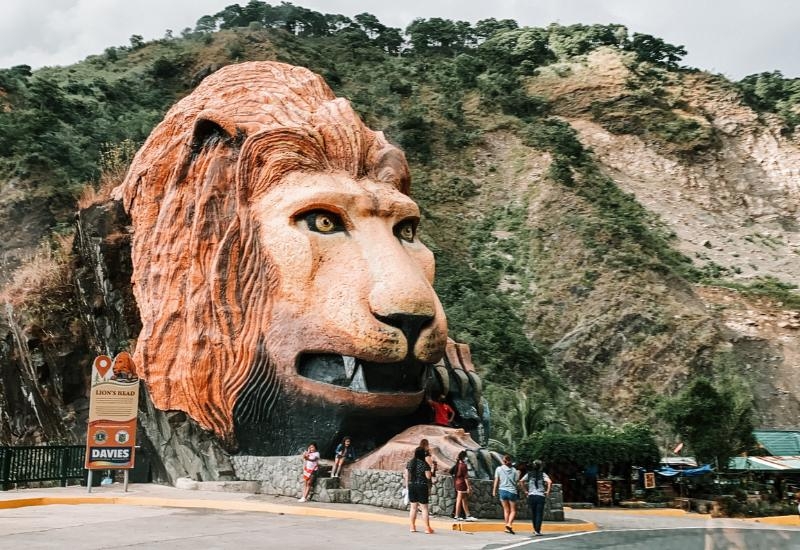 Nestled along Kennon Road lies one of the most famous tourist spots in Baguio: Lion's Head. This 40-foot man-made landmark was carved from a limestone boulder by an Ifugao artist in the 70s. Right next to the gigantic sculpture, an amazing view awaits tourists making their way toward the city. So, make sure to stop over and take photos of this legendary monument and its nearby road view deck! 
Location: Purok 7, 104 Kennon Rd, Baguio, Benguet
8. Ili-Likha Artist's Watering Hole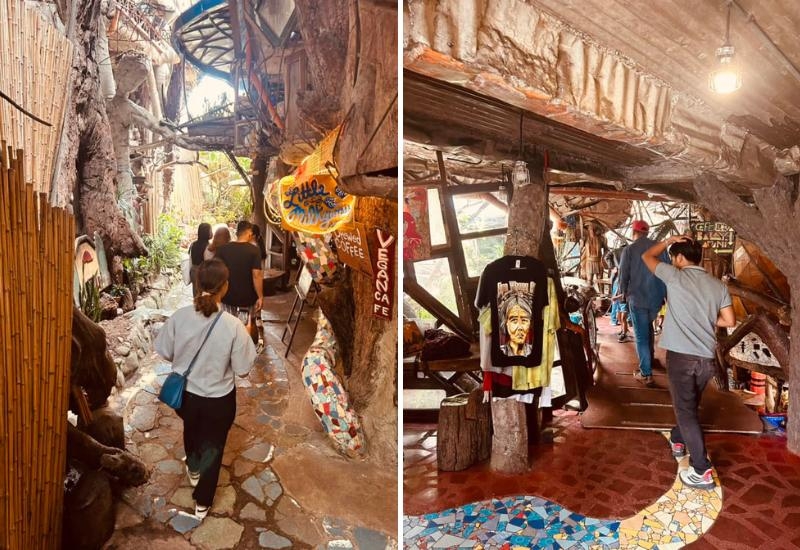 If you're looking for hidden wonders in Baguio, the Ili-Likha Artist's Wateringhole is sure to shake up your trip! It's an art space and food park owned by National Artist and film director Kidlat Tahimik. Nestled within a unique treehouse-like architecture, Ili-Likha puts a spotlight on Cordillera's rich culture and tradition through food and art.

Location: 32 Assumption Rd, Baguio City, Benguet
Also read: 10 Attractions in the Philippines to Awaken Your Inner Artist
9. Baguio Cathedral (Our Lady of Atonement Cathedral)
Nestled amidst the bustling main street of Session Road is the Baguio Cathedral, also known as the Our Lady of Atonement Cathedral. Its facade features a pair of spires and beautiful stained glass windows. In its expansive courtyard, you'll find an observation deck that overlooks the downtown area. More importantly, it serves as a place of worship and reflection for those of the Catholic faith. 
Location:  2600 Steps To Our Lady Of Atonement Cathedral, Baguio, Benguet
Also read: 10 Stunning Churches in the Philippines Every Pinoy Must Visit
10. Session Road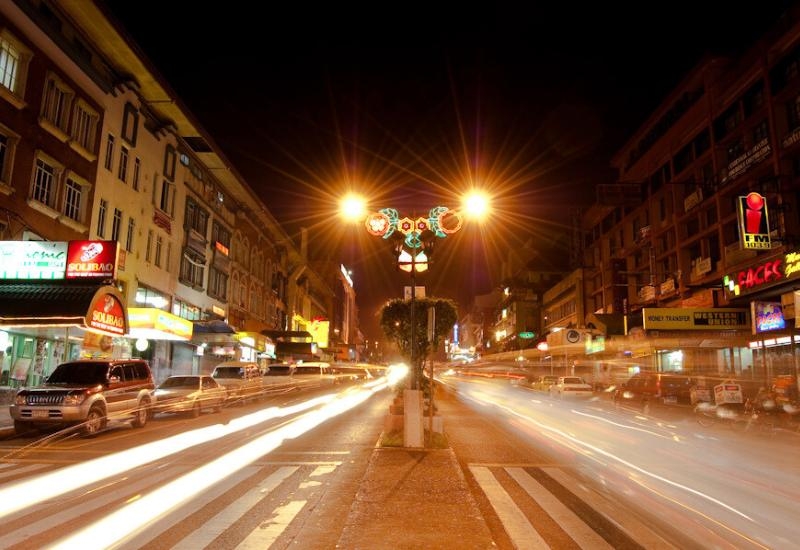 Last but definitely not least on our round-up of free tourist spots in Baguio is the ever-so-popular Session Road! As the city's main hub for all things commercial, it abounds in boutiques, restaurants, cafes, and hotels. But, what sets it apart from other commercial centres in the Philippines is its promenade of mid-20th century, American-inspired facades and Art Deco buildings. Add to this Baguio's naturally refreshing climate, and your walk along Session Road becomes a delightful experience! 
Location: Session Road Area, Baguio, Benguet 
Also read: Baguio Barkada Itinerary: 5D4N for Less Than ₱5K Each
Already eyeing which places to hit up? By opting for these free tourist spots in Baguio, you can definitely save more for other expenses like food and souvenirs! While you're at it, check out our Baguio travel guide to make the most out of your road trip. Ano, tara? 
---
Facebook image credit (R): Neil Ongchangco via Baguio City Public Information Office | Official Facebook Page