As a country greatly influenced by an eclectic mix of Asian, European, and Western cultures, the Philippines is indeed a great venue for art. From great maestros to grassroots artists, Filipino talent abounds when it comes to artistic expression. For most, art is not a usual consideration for mainstream travel, but we encourage you to expand your horizons and have those travel shoes walk the halls of very interesting art installations. As you tour around the country, here is a list of art attractions in the Philippines that will surely inspire and delight the artist in you.
Also read: Street Art in the Philippines: 10 Spots That Tell Stories and Expressions
Art attractions in the Philippines worth travelling for
1. Prado Farms – Lubao, Pampanga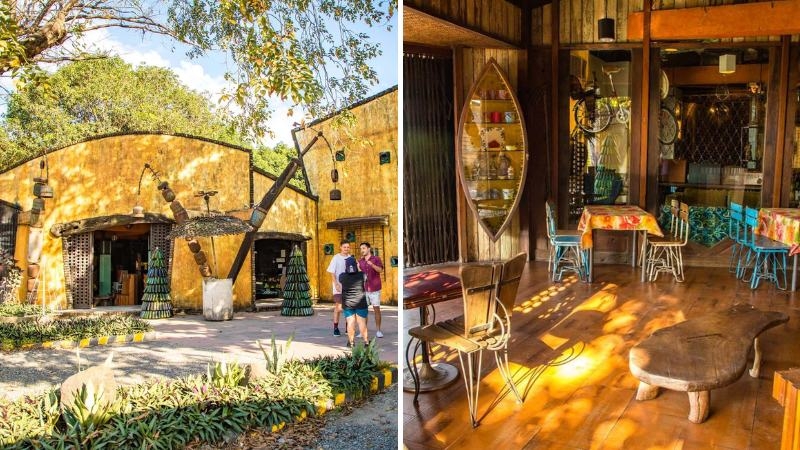 Who would have thought that an industrial warehouse for gas tanks could be repurposed into a family-run farmhouse that combines art and farming? Located in the Province of Pampanga in Central Luzon, Prado Farms is a destination tastefully decorated with art pieces made from recycled materials. Here, the fertile imagination becomes a creative masterpiece to transform what is commonly seen as junk into beautiful artefacts.
Address: Prado Farms, Prado Siongco, Lubao 2005 Pampanga
Also read: Have You Heard of Bale Batu, the "Little Cambodia of Pampanga"?
2. Kalui Restaurant – Puerto Princesa, Palawan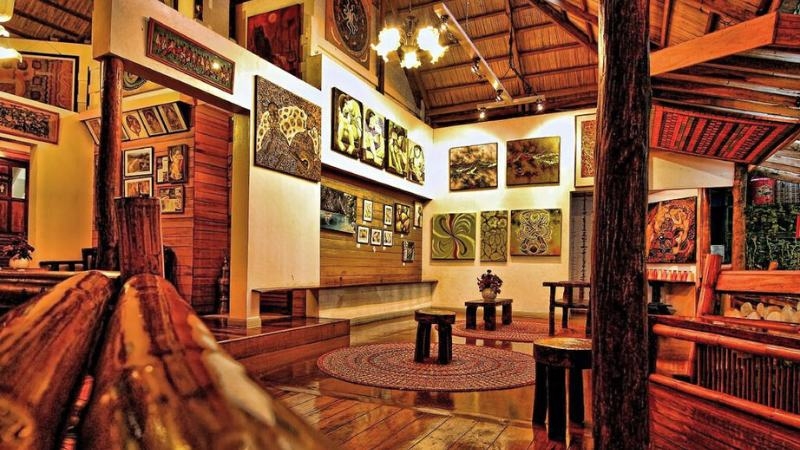 Feeling hungry and artsy at the same time? Kalui Restaurant is probably the most popular restaurant in Puerto Princesa. Any visit to the Province of Palawan should include this unique dining spot, especially for art-loving travellers. Impeccable service, plus a unique ambience with paintings and other art pieces, make this dining destination both a visual and gastronomic experience.
Address: 369 Rizal Avenue, Barangay San Miguel, Puerto Princesa, Palawan
3. Ili-Likha Artists' Wateringhole – Baguio City, Benguet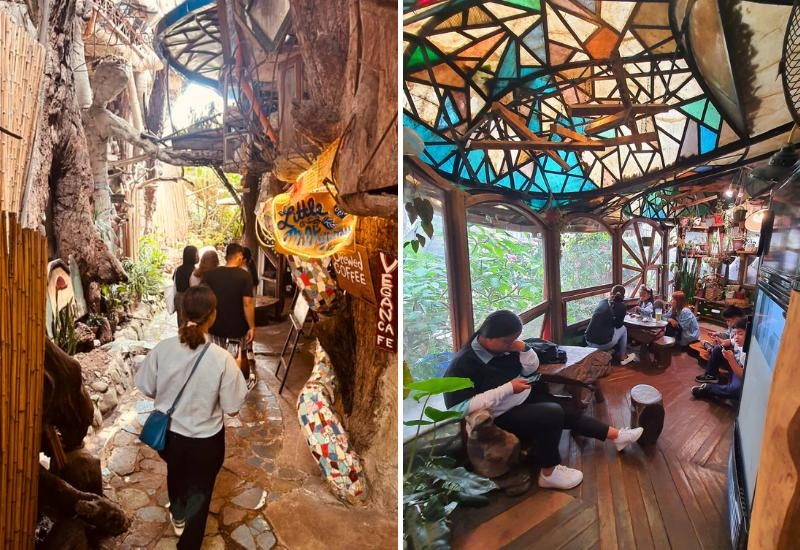 An art space owned by writer Kidlat Tahimik, the Ili-Likha Artists' Wateringhole highlights eco-architecture infused with the rich Cordilleran culture, as well as colourful nationalistic roots. From the mosaic tiles that adorn the walls and stairs to the artworks that blend with the trees, this place really gives you a feel for not just art, but also for local history and a sense of rootedness. This must-visit place will definitely shake up any Baguio trip.
Address: 32 Assumption Rd, Baguio City, Benguet
Also read: Baguio Travel Guide 2023: Best Things to See, Eat, and Do
4. Casa San Miguel – San Antonio, Zambales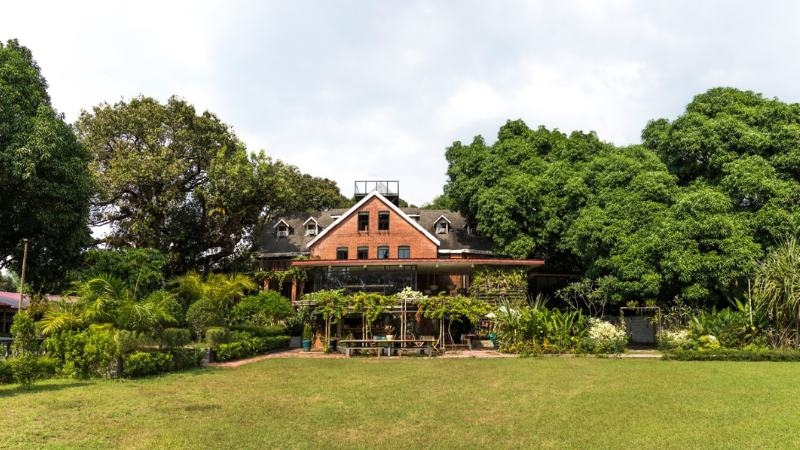 Who would have thought that beneath the calm and gentle winds that caress the coves of San Antonio, Zambales lies a community-based school that hones culture and art as a method of improving the community? At Casa San Miguel, they provide lessons in music, theatre, dance, and many more. 
Tourists can enjoy a visit to the school, which is located within a 15-hectare farmland and a seaside estate owned by Alfonso Bolipata. Take a stroll around the Museum of Community Heritage, which offers a preview of the stories and folklore that arose from the town's culture and heritage.

Address: Evangelista St, Brgy. San Miguel, San Antonio, Zambales
5. Pinto Art Museum – Antipolo, Rizal
A diverse collection of modern art pieces, such as sculptures and modern paintings, can be found at the Pinto Art Museum in Antipolo, Rizal. Pinto means "door," and this place literally opens the senses of guests and enables them to embrace inspiration for artistic expression. It features a beautiful collection of sculptures carefully integrated into the existing natural environment, making every nook a visual treat. An open-air destination, the museum exudes a very natural and earthy vibe, thanks to the well-maintained gardens and Mediterranean-influenced structures.
Address: 1 Sierra Madre St, Grand Heights Subdivision, Antipolo, Rizal
Also read: 10 Antipolo Restaurants With Beautiful Interiors & Breathtaking Views
6. Nemiranda Arthouse and Blanco Museum – Angono, Rizal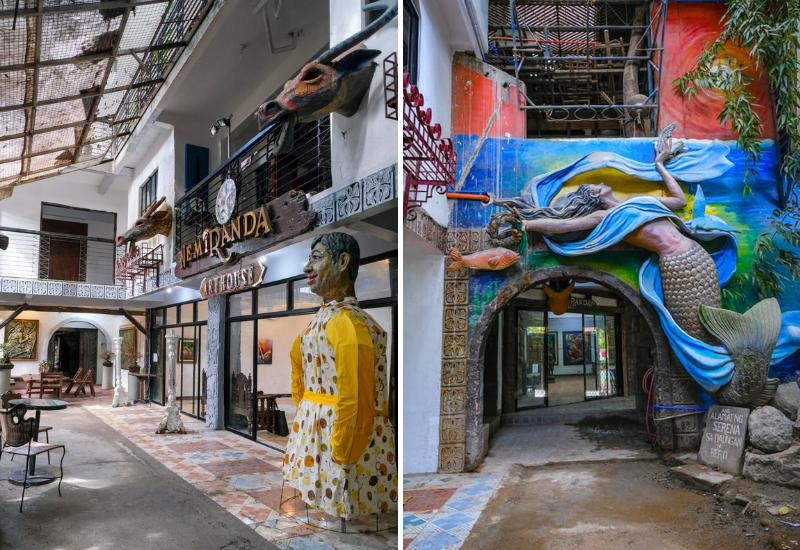 Angono, Rizal is a place bursting with art references, and you can see artistic touches almost everywhere. When you're here, pay a visit to the Blanco Museum and Nemiranda Arthouse to get in touch with your inner Picasso. After that, head over to the restaurants nearby, such as Balaw-Balaw Restaurant and Art Gallery, for a taste of the delectable local cuisine.
Address: 312B A. Ibañez St, Angono, Rizal
7. Alitaptap Artists Community – Amadeo, Cavite
More than just one of the unique art attractions in the Philippines, Alitaptap Artists Community is a dynamic collective of talented creatives who are passionate about the arts. This community-slash-compound in Amadeo, Cavite serves as a haven for artists of various disciplines, from visual arts and literature to music and theatre. Surrounded by lush nature, it also provides visitors with a peaceful and calming respite. Don't forget to drop by the Alitaptap Art Cafe for meriyenda! 
Address: Halang-Alingaro Road, Purok 7, Brgy. Halang, Amadeo, Cavite 
Also read: Biyaheng South: A Fun-Filled Tour to Weekend Spots in Cavite and Batangas
8. Tam-awan Village – Baguio City, Benguet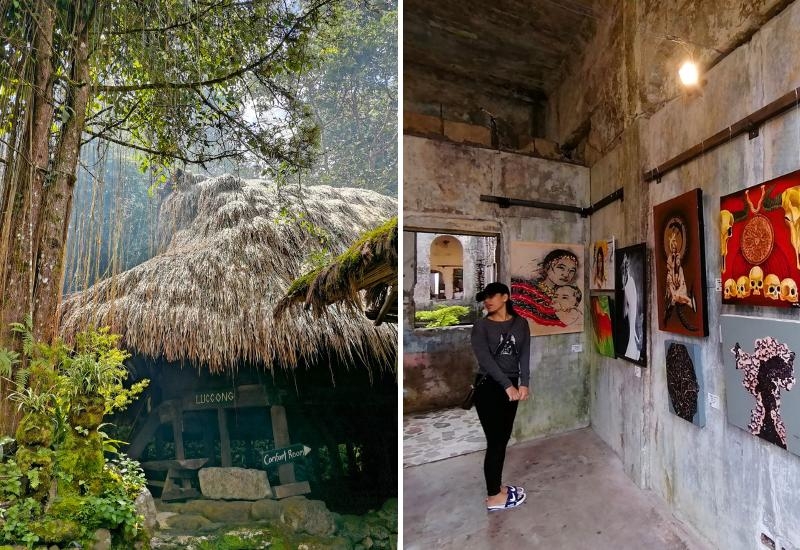 Another art attraction worthy of your attention in Baguio is the indigenous art and culture hub of Tam-awan Village. Nicknamed the Garden in the Sky, it offers visitors a unique experience that combines traditional Cordilleran culture, breathtaking sceneries, and artistry. Tam-awan is perched up a hill, featuring a collection of traditional bahay kubos, art galleries, and nature trails. Not to mention, it also has an in-house cafe where you can enjoy classic Pinoy eats and native Benguet-blend coffee.
Address: Tam-awan Village, 366- C Pinsao Proper, Baguio City
9. Kalye Artisano – El Nido, Palawan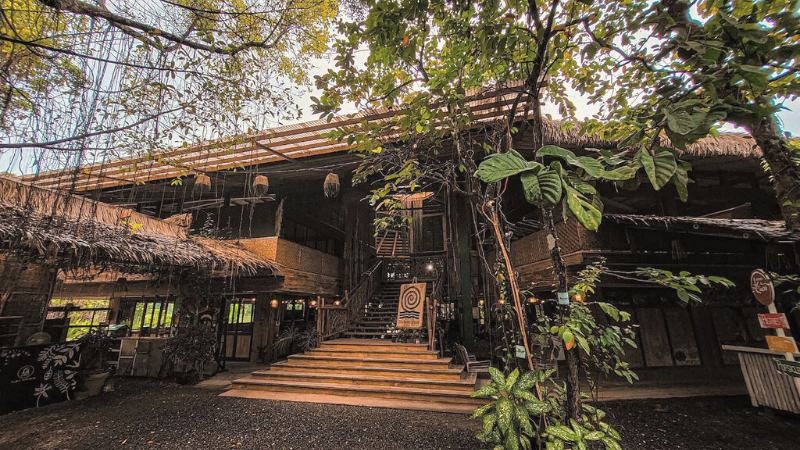 Situated amid the stunning natural beauty of El Nido, Kalye Artisano lets visitors in on a blend of craftsmanship and cultural immersion. Aside from being an art-filled hotspot in Palawan, it aims to "build meaningful spaces and experiences" for local business owners, artists, and travellers alike.

At Kalye Artisano, a wide range of activities await you! Take delight in dining local eats, shopping for handmade products, and joining in art workshops that ultimately reflect Philippine culture. Undoubtedly, an art lover's trip to this island paradise wouldn't be complete without a visit here!
Address: Kalye Artisano, Lio Tourism Estate, El Nido, Palawan
Also read: Palawan Travel Guide 2023: Best Things to See, Eat, and Do
10. Escolta Street – City of Manila, Metro Manila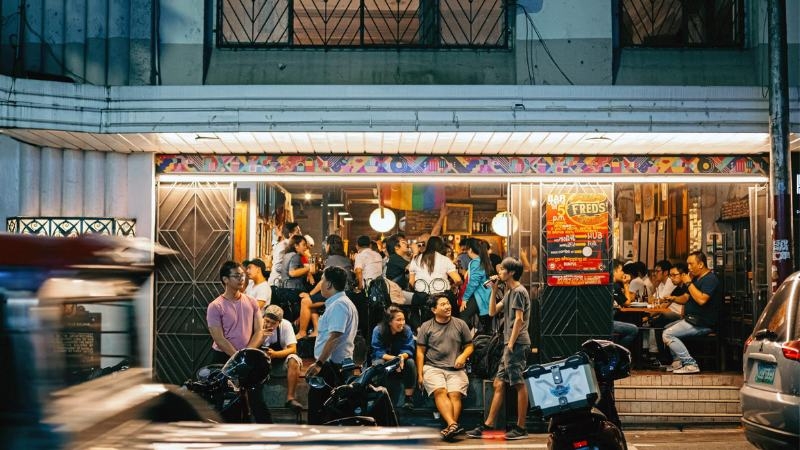 For Manileños seeking to appease their senses with local art and history, you don't have to look further! Escolta Street, aka the Queen of the Streets, is a vibrant hub for craft and culture right at the heart of the old-town district of Binondo in Old Manila.

The First United Building, in particular, is often frequented by artists, musicians, and like-minded creatives to showcase their talent and find inspiration. Here, you can shop for local handicrafts and vintage pieces at HUB: Make Lab, grab coffee at The Den, indulge in eats at Fred's Revolucion, or visit the Calvo Museum for a trip through Philippine history. 
Also read: 15 Must-Visit Museums in the Philippines to Celebrate Pinoy Heritage and History
Art appreciation is a very personal experience. But, with these art attractions in the Philippines as part of your starter kit, it becomes so easy to go on an art excursion while collecting positivity and inspiration. 
---
Featured image credit: Kalye Artisano | Official Facebook Page
Facebook image credit (L): Kalye Artisano | Official Facebook Page