Raring to take a breather from your everyday routine? How about a quick getaway to Cavite?
Cavite is known as the "Land of the Brave" because of its rich history and a long list of heroes hailing from this province. The abundance of historical sites, plus its lush natural landscapes and wide coastlines, make Cavite an ideal weekend destination. The best part? It's just a few hours' drive from Manila!
Thanks to Airbnb, escaping the hustle and bustle of the metro is just a few clicks away. From country-style interiors to villas surrounded by nature, these Airbnb homes in Cavite will give you the staycation you need.
Also read: 10 Cosy Airbnbs in Tagaytay for Your Next Out-of-Town Trip
Must-book Airbnb homes in Cavite
1. This Instagrammable chalet in Silang for a relaxing family holiday
Listing name: Ridgetop Resthouse
Listing type: Entire chalet
Max. no. of guests: 16+
No. of bedrooms: 3 
A quick escape to the Swiss Alps may not be possible; but thanks to this Airbnb in Cavite, you don't have to go out of the country to enjoy a family vacation in an amazing chalet. This rest house in Silang is situated on a slope with awesome views of the countryside and a pineapple farm just beside the property.
 Its high wooden ceiling with overhanging eaves, wide timbre floorboards, rustic stone fireplace, and Instagrammable cabin decor make this home the ideal place to unwind with your family and friends. A well-equipped kitchen and BBQ grill let you prepare meals for the whole family. Sip your coffee and read a book in the garden or veranda. Do note that the rest house does not have air conditioning, only electric fans. But all rooms, including the three bedrooms, have screened windows that keep the house cool with the cold Silang breeze. 
2. This budget-friendly boho chic home in Imus
Listing name: Private room in Imus w/ Wifi and Netflix- Rm#2
Listing type: Private room in home
Max. no. of guests: 2
No. of bedrooms: 1
For a much-needed change in scenery, this tropical-themed townhouse can be your home away from home. Situated in a quiet and safe subdivision in Imus, this plant-filled house is equipped with all basic amenities to give you a comfortable staycation.
Binge on Netflix shows as you chill on the brightly decorated living room. Cook your meals in the fully equipped kitchen. Comfy sleep is guaranteed in the spacious bedroom upstairs. There's even plenty of storage space for long-term stays. All these for less than ₱1,000 per night! 
Also read: Here's Why Imus, Cavite Should Be Your Next Day Trip Destination
3. This lovely country cottage in an Amadeo farm
Listing name: Idyllic farmstay (Duplex Cottage)
Listing type: Private room in farm stay
Max. no. of guests: 4
No. of bedrooms: 2
For a serene weekend away from the crowds, check out this duplex cottage inside a gated farm. Here, you can enjoy the farm breeze, pet and feed farm animals, and learn organic farming from the owners and caretakers. Fresh produce like lettuce, herbs, and other vegetables, which you can harvest yourself, can be bought for a reasonable price.
Perfect for a family of four, the bedrooms, with aquamarine and wooden furnishings, are warm and inviting. Time to eat? Explore neighbouring restaurants, including Ricardo's Coffee and Classic Cuisine for classic continental fare and Samgyupsal sa Farm for your Korean favourites. This Airbnb in Cavite is also conveniently located 15 minutes away from Metro Tagaytay. 
4. This rustic family villa in Indang
Listing name: Carasuchi Villa Tagaytay
Listing type: Entire villa
Max. no. of guests: 16+
No. of bedrooms: 4
Searching for an Airbnb in Cavite that can accommodate your large family? Look no more. This two-storey villa with rustic interiors and a garden pool is perfect for your family retreat.
Set in the middle of a landscaped garden, adults and kids alike will enjoy the large kidney-shaped pool with an adjoining kids' pool. After dipping in the pool, you can settle down in one of the clean, spacious bedrooms. Hungry? You can cook in the kitchen; but for your convenience, meals can be prepared and delivered by the villa's staff. Barbecue parties by the pool are totally possible, thanks to the small grill bar. 
5. This cosy travel-themed studio in Dasmariñas fit for solo travellers
Listing name: travel inspired studio FREE*Wi-Fi*Parking
Listing type: Entire apartment
Max. no. of guests: 4
No. of bedrooms: 1
We all have those days when we just want to recharge away from home and on our own. Travelling with friends and family is definitely fun; but when you need a solo respite, this charming studio in Dasmariñas is waiting for you.
Apart from the scattered reminders of European destinations, the unit is otherwise minimalist — perfect for a quiet staycation. This Airbnb in Cavite is equipped with basic needs, such as a 32-inch television with Netflix access; dinnerware and cutleries; toiletries; and some snacks for sale. And while this studio is ideal for solo wanderers, it's spacious enough to accommodate up to four guests. 
6. This private hut with a pool in Kawit for a weekend respite
Listing name: Nano Feriejo HutRoom …Cozy and You'll love it…
Listing type: Private room in hut
Max. no. of guests: 2
No. of bedrooms: 1
Cavite is one of the most popular summer destinations if you're a fan of pool resorts. But some of these resorts can get crowded, not leaving you as relaxed as you'd want to be. Fortunately, this Airbnb in Kawit lets you take a break from the city while living in relative privacy.
Take a dip in the swimming pool that starts at 3ft and deepens to 5ft, and snap Instagram-worthy pictures with the large swan floater. And retreat to the private, cosy hut that's equipped with a queen-sized bed, fresh sheets, towels, a flatscreen television, air conditioning, and a private bathroom — all for a little over ₱1,000! Guests can use the kitchen, but the place is also close to restaurants and cafes if you wish to eat outside. 
7. This quaint house in Amadeo made for nature-lovers
Listing name: Little Ajumma's Bed and Breakfast | Room 5
Listing type: Private room in house
Max. no. of guests: 2
No. of bedrooms: 1
Take a break from your laptop and mobile screens and revel in some downtime close to nature. Surrounded by trees and flowers, this cosy home in Amadeo features a welcoming room with a comfy queen-sized bed, wooden furnishings, and rattan chairs and a table by the window where you can read a book while sipping coffee.
Enjoy breakfast while gazing at tall palm trees; breathe in fresh Cavite air from the hanging chair in the garden; or, hang out at the kubo as you indulge in authentic Korean food and snacks prepared by the host. This place is perfect for two so grab your BFF or significant other and enjoy a peaceful trip in nature. 
8. This secluded home with a huge front yard in Alfonso
Listing name: Villa Jimena:Pool+Heated Jacuzzi 15min fr Tagaytay
Listing type: Entire house
Max. no. of guests: 12
No. of bedrooms: 4
Landlocked Alfonso strategically sits close to Tagaytay and Nasugbu, Batangas. Tourists often choose to go to these two destinations. But if you're after a laid-back staycation with your family and friends, staying in this unfrequented town is recommended. 
Located in a peaceful neighbourhood, this house is large enough for 12 guests. The rooms are pristine and spacious, and you have access to not one but two kitchens. The house itself is huge, but the yard is even bigger — perfect for a game of soccer, volleyball, or badminton. Conjure up memories of trips to the province as you pick fruits from the mango, banana, and calamansi trees in the backyard. 
Also read: 18 Airbnbs in Batangas for When You Need a Quick Escape
9. This house with a Jacuzzi in General Trias for a couple's getaway
Listing name: Jk-Staycation Luxurious Stay with Jacuzzi,king bed
Listing type: Entire villa
Max. no. of guests: 2
No. of bedrooms: 1
Longing for a couple's getaway close to home? This studio in General Trias is just what you need for a relaxing trip with your sweetheart!
Fitted with basic amenities, this Airbnb in Cavite has everything a couple needs for a lovely staycation. Netflix and chill as you enjoy a meal for two at the bar-type dining table. Sleep in the comfy king size bed. And for maximum relaxation, soak your stress away in the Jacuzzi. 
10. This barkada-friendly room surrounded by mahogany and mango trees
Listing name: Nature Lodge at Tagaytay / Event Space
Listing type: Entire villa
Max. no. of guests: 10
No. of bedrooms: 3
Looking for some peace and quiet with your besties? How about a trip to this villa with a huge yard? Situated in Mendez, you're close enough to Tagaytay but far enough if you want time away from touristy places. The villa, although barely decorated, is very spacious and can accommodate a group of 10.
Thanks to the mahogany and mango trees surrounding this property, you can breathe in fresh air. You can even hear crickets at night — that's when you know you're spending time in nature! Of course, this villa is still equipped with modern amenities like the television; but for good ol' fun, we suggest playing board games with your friends or having a BBQ outside. 
Also read: 10 Airbnb Wedding Venues for Your Intimate Celebration
11. This classic Filipino-style home in Rosario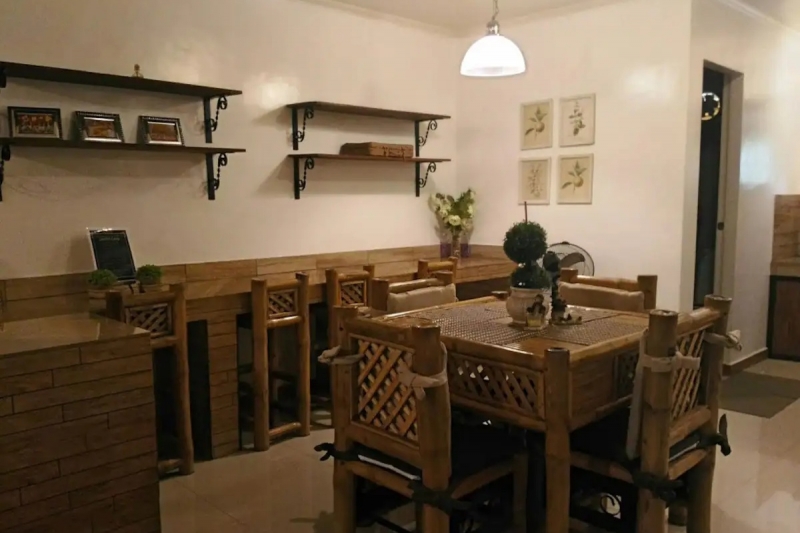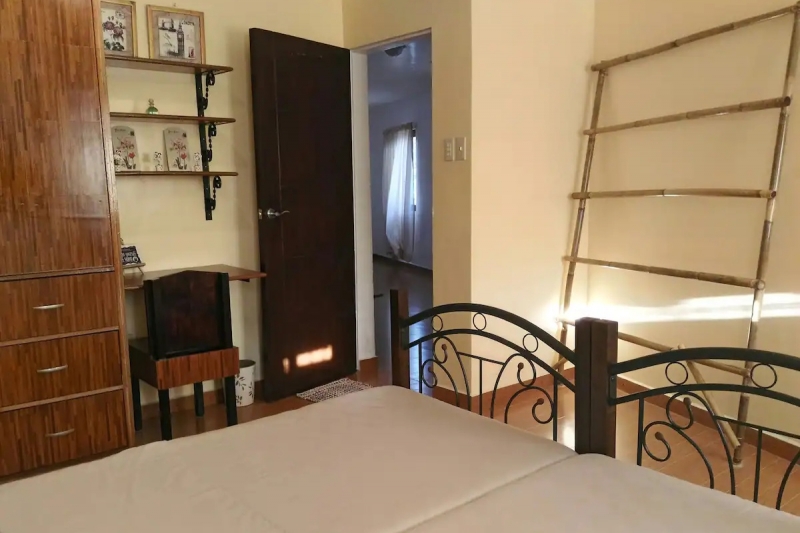 Listing name: A Filipino Rustic Style Duplex in Cavite (UNIT B)
Listing type: Entire home
Max. no. of guests: 4
No. of bedrooms: 2
Spend a few days in this two-storey duplex, a comfortable home away from home furnished lovingly with native Filipino materials. Relax in the open living, dining, and kitchen space, or step outside to enjoy fresh air in the lounge area. The two air-conditioned bedrooms are small yet comfortable, while digital nomads can get some work done in the working area on the upper floor. 
Another perk of staying in this Airbnb in Cavite: great location. It's a reasonable drive from the Manila Airport and nearby malls, making it a convenient base for travellers who want easy access to city spots. 
12. This charm-filled tiny cabin in General Emilio Aguinaldo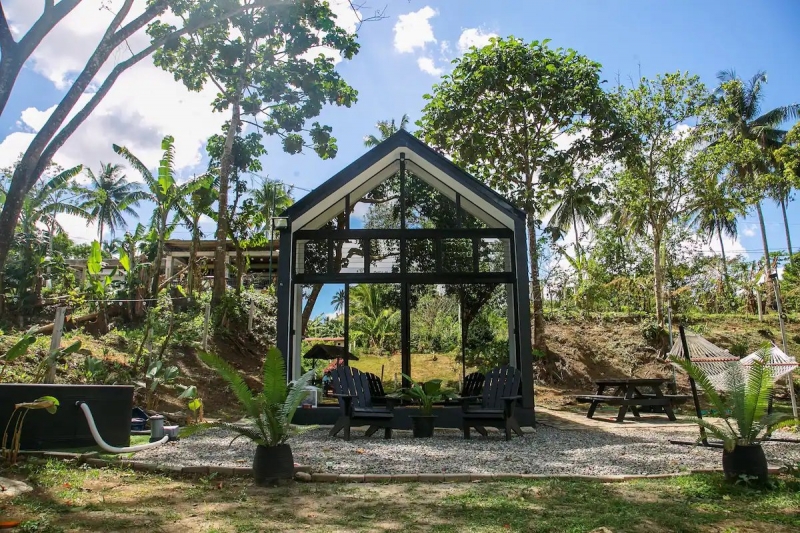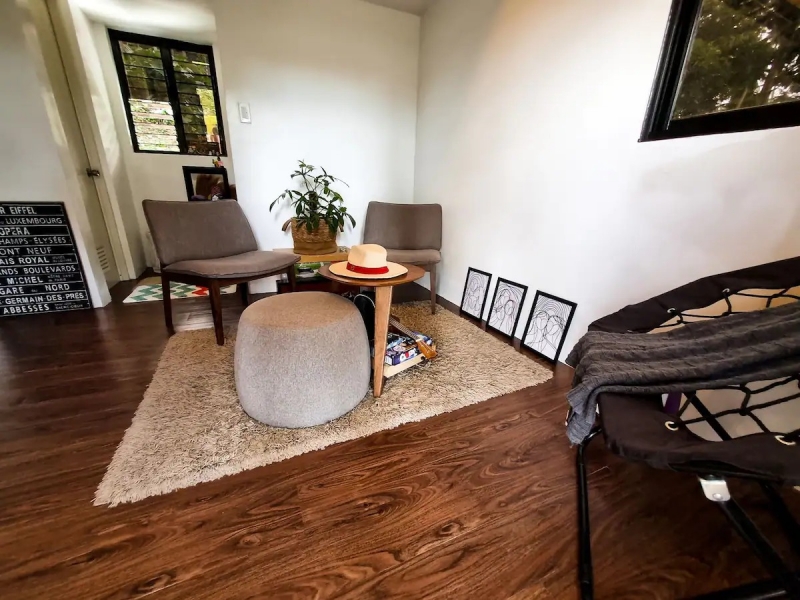 Listing name: Làgom by JVK Stealth Tiny Cabin w/ DIY Tank Pool
Listing type: Tiny home
Max. no. of guests: 6
No. of bedrooms: Studio
After a quiet getaway in a remote location? If so, consider this laidback micro cabin Airbnb in General Emilio Aguinaldo, known as one of the most isolated towns in Cavite. Fresh air, fruit trees, and open space — it has everything you need to unplug and unwind away from your busy regular life. 
The loft-style tiny home is easy to love, with modern amenities and minimalist interiors. There's even a DIY tank pool for refreshing dips during scorching summer days. And if you really want to make the most of your outdoor getaway, guests are free to pitch a tent and sleep under the stars outside the cabin. 
13. This stunning glasshouse in General Trias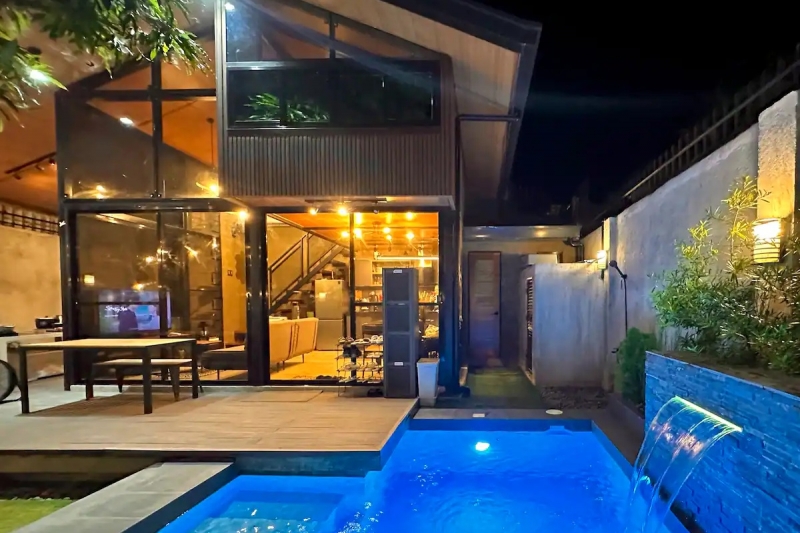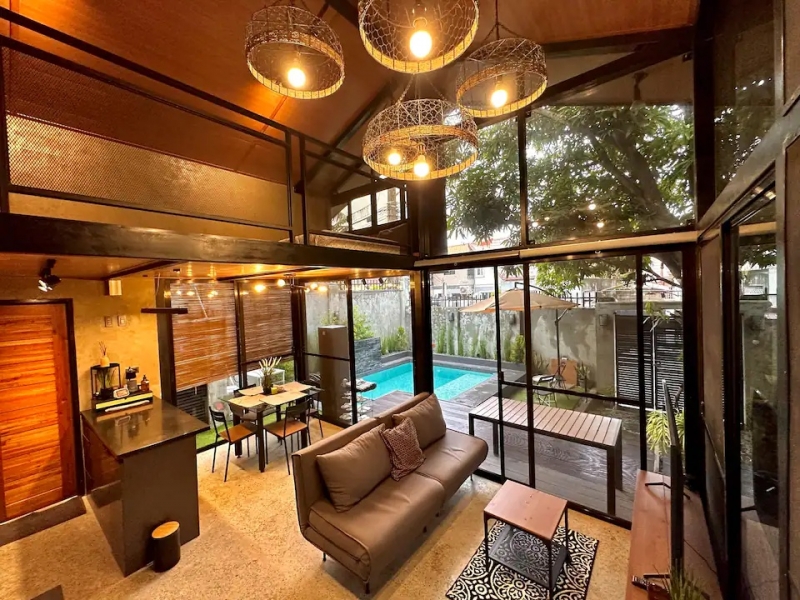 Listing name: Glasshouse Loft with Pool
Listing type: Entire home
Max. no. of guests: 8
No. of bedrooms: 1
For an Instagrammable spot with the barkada, grab this beautiful modern loft in Tierra Nevada, General Trias. The whole place feels built for a fun and Insta-worthy bonding experience with pals, with spacious indoor and outdoor hangout spaces, a pristine kitchen, and a large swimming pool. Sure, there's only one loft-style bedroom — but all the better to continue gossiping with friends well into the night!
Also read: 11 Airbnbs for Your Next Barkada Staycation Near Manila
Whether you're in need of some me time or you want to unwind with your family and friends, this province down south has lots to offer. Choose from these Airbnb homes in Cavite and get that break you deserve!
Got a property you'd like TripZilla to feature? Inquire with us here.
---
This article contains affiliate links. When you book through these links, we may earn a small commission at no additional cost to you. All images courtesy of the respective property listings.