Need a break? Most of us do! If you're feeling stir-crazy and itching to travel, a quick road trip somewhere close to the metro can scratch that travel itch. Thankfully, there are plenty of staycation opportunities that are only a drive away — and with these breathtaking Airbnb homes and vacation rentals near Manila with private pools? We have no problem sticking close to home!
Also read: 13 Airbnb Homes & Vacation Rentals in Manila for a Well-Deserved Vacation
Airbnb homes & vacation rentals near Manila with private pools
1.  This sunny villa with a skylight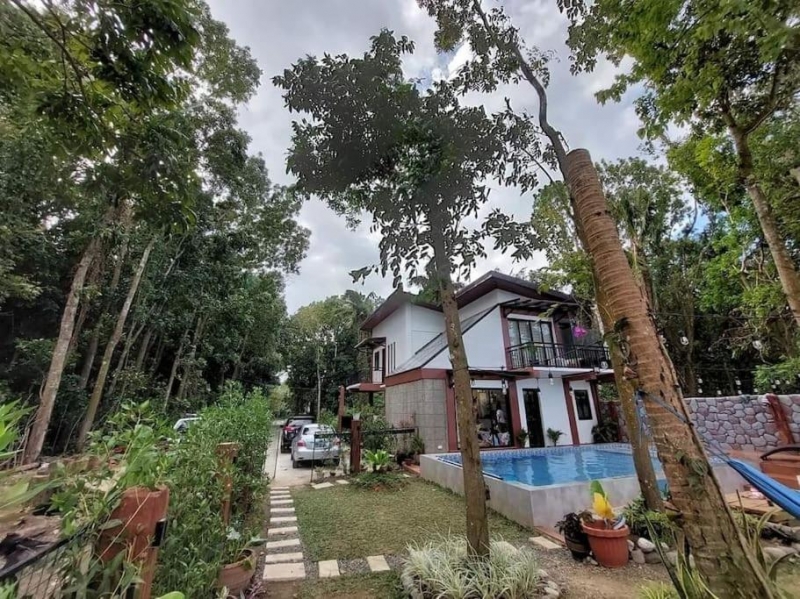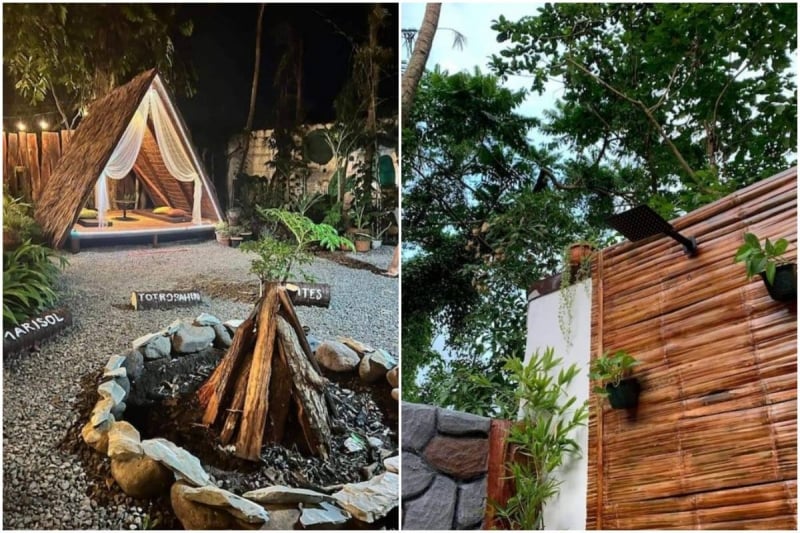 Listing name: Skylight Hidden Resort
Listing type: Entire villa
Max. no. of guests: 12
No. of bedrooms: 3
A newly-built sunlit home in Lipa City, Skylight Hidden Resort has a mellow charm perfect for quick escapes. Just two hours away from the city, this Batangas vacation home has a vast garden, a private pool, and endless amenities.
As it is packed with a Netflix-ready TV, a videoke machine, and a fire pit, fun is guaranteed for everyone. Make sure to bring your friends and family — even your pets are welcome!
Also read: 18 Airbnbs & Vacation Rentals in Batangas for Quick Escapes
2. This Insta-worthy sanctuary in Antipolo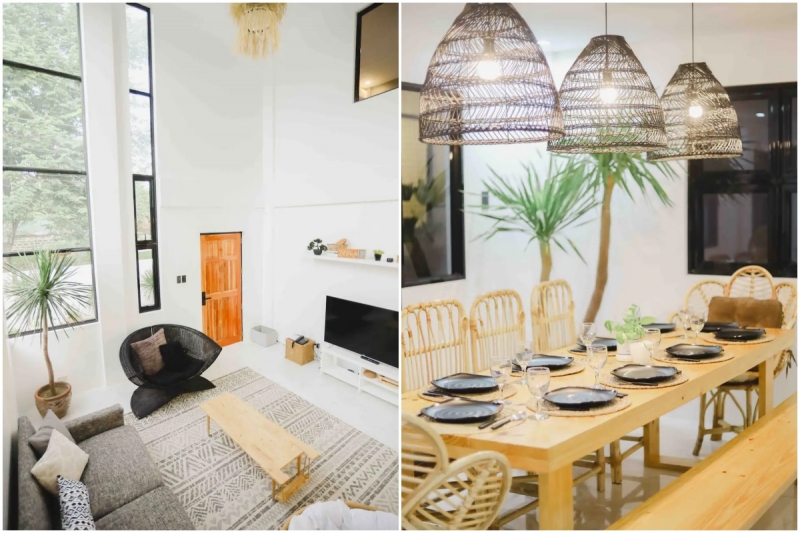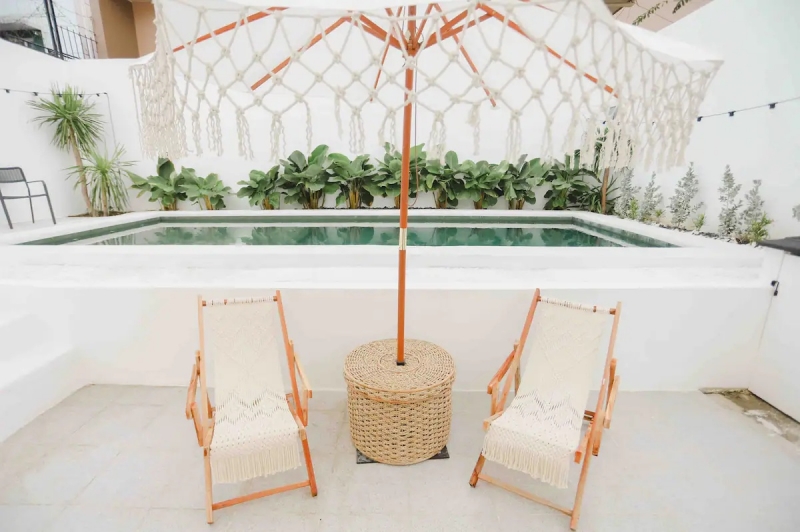 Listing name: 3BR villa with pool in Antipolo (Miras Villa)
Listing type: Entire villa
Max. no. of guests: 10
No. of bedrooms: 3
Need to take a breather? Head over to this charm-filled villa nestled the quiet suburbs of Antipolo. With a private plunge pool, this Instagrammable Airbnb near Manila lets you cool off while relaxing in the quiet environment of the mountains. It's easy to feel at home in the cosy airconditioned rooms, but we honestly can't bear to leave the aesthetic pool area — it's definitely got the potential for our next profile pic!
Also read: 12 Airbnbs in Antipolo for Your Next Stargazing Trip
3. This scenic farmhouse overlooking Taal Lake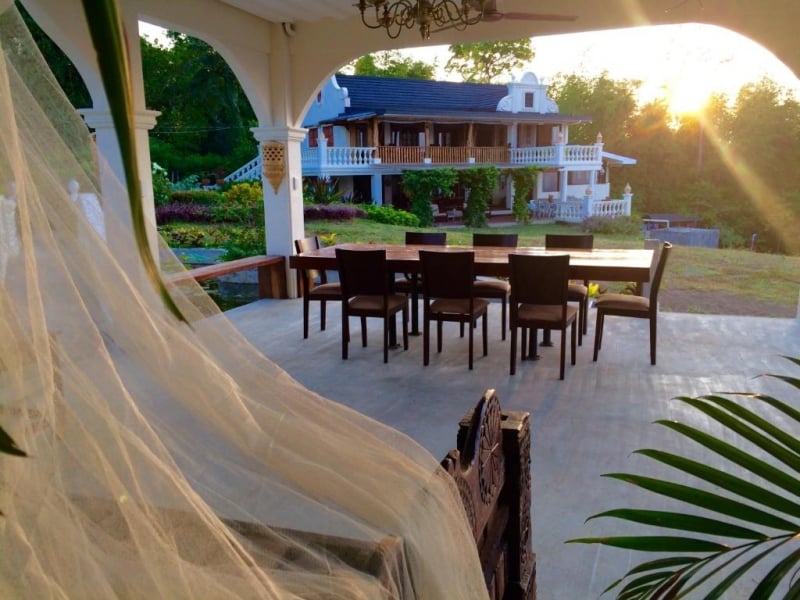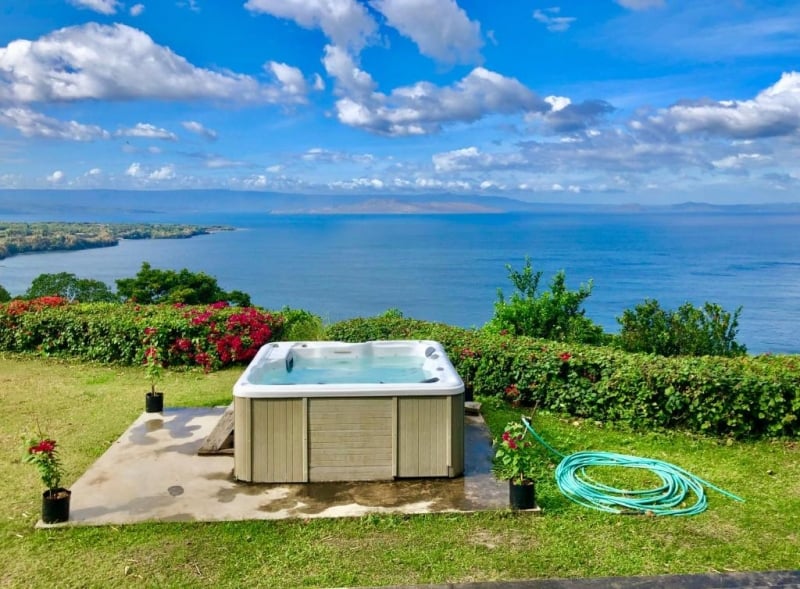 Listing name: Fabulous Taal Lake Views – Ataalaya Farmhouse
Listing type: Entire bed and breakfast
Max. no. of guests: 8
No. of bedrooms: 3
Old Batangas meets modern living in this stunning farmhouse in Tagaytay. Rested at a luscious green cliff, Ataalaya Farmhouse has views of the famous Taal Lake, Taal Volcano, and Mount Maculot. One of its most treasured facilities is its Jacuzzi pool with an impeccable view — we can already imagine ourselves chilling in their hot tub amid the cool Tagaytay breeze!
4. This jungle dome that's perfect for R&R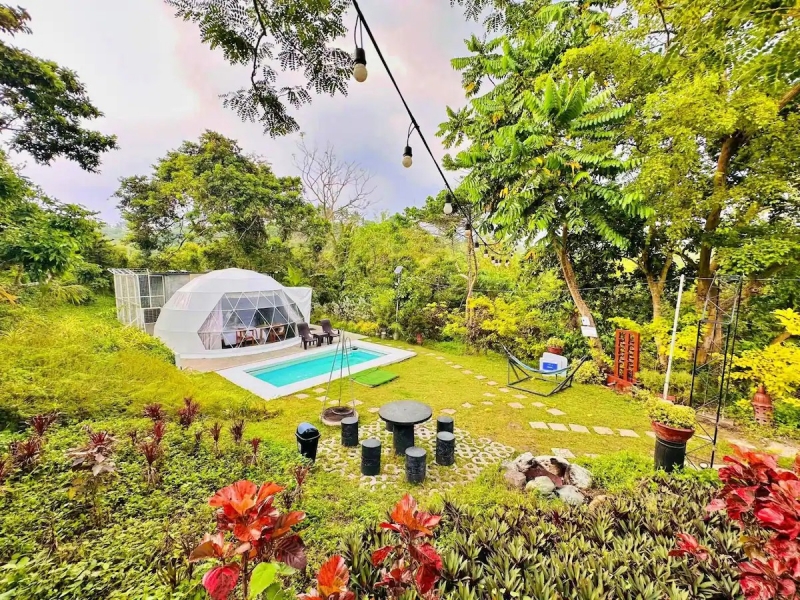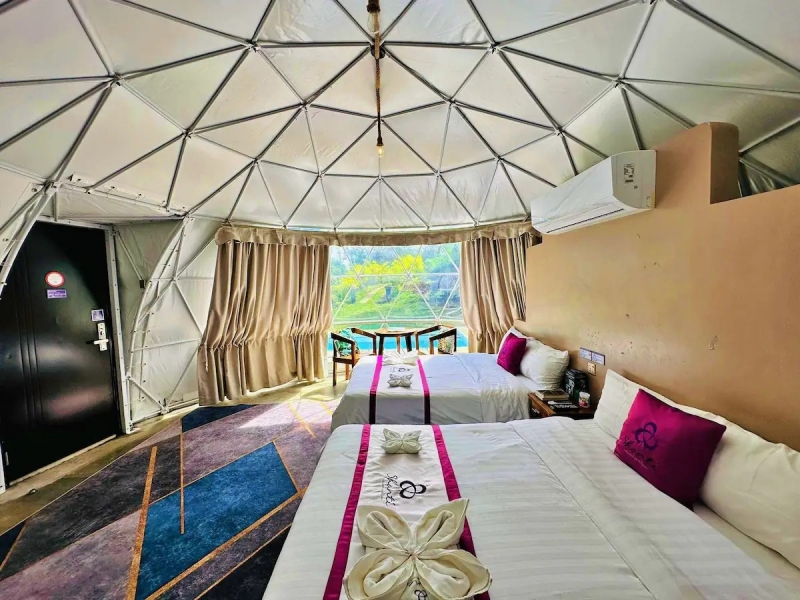 Listing name: Single Dome Pool Villa – Prana by Shanti
Listing type: Dome
Max. no. of guests: 6
No. of bedrooms: 1
Glamping at its finest! The enchanting Shanti Wellness Sanctuary in Lemery, Batangas invites guests to a rejuvenating escape in nature. Aside from tranquil surroundings, this Airbnb near Manila offers a private pool in each dome-type villa.
Villas also feature a well-equipped kitchen, a patio, and a private bathroom with a bathtub. Larger groups can rent a two-dome property to accommodate up to 12 guests. Mountain views provide privacy and utmost relaxation. What a promising experience!
Also read: Campsites Near Manila: 15 Refreshing Stops for Your Next Getaway
5. This glamorous residence for modern travellers in Pampanga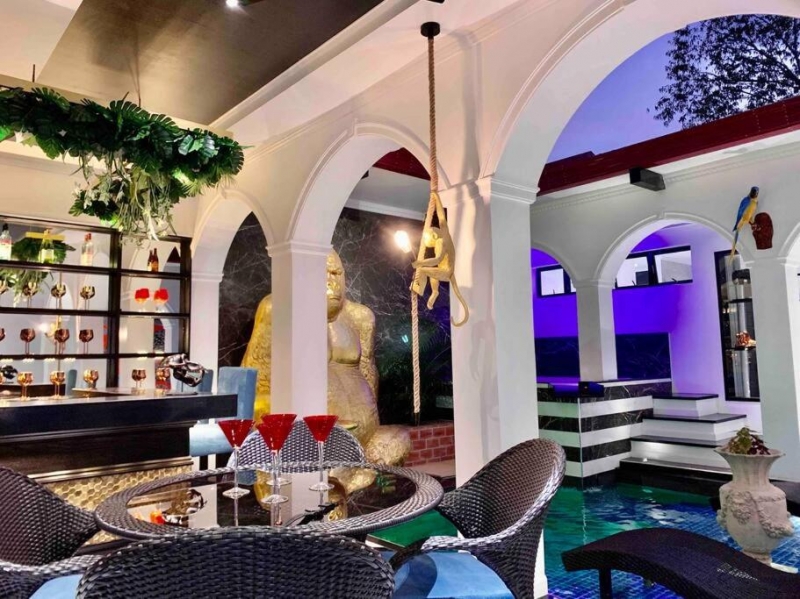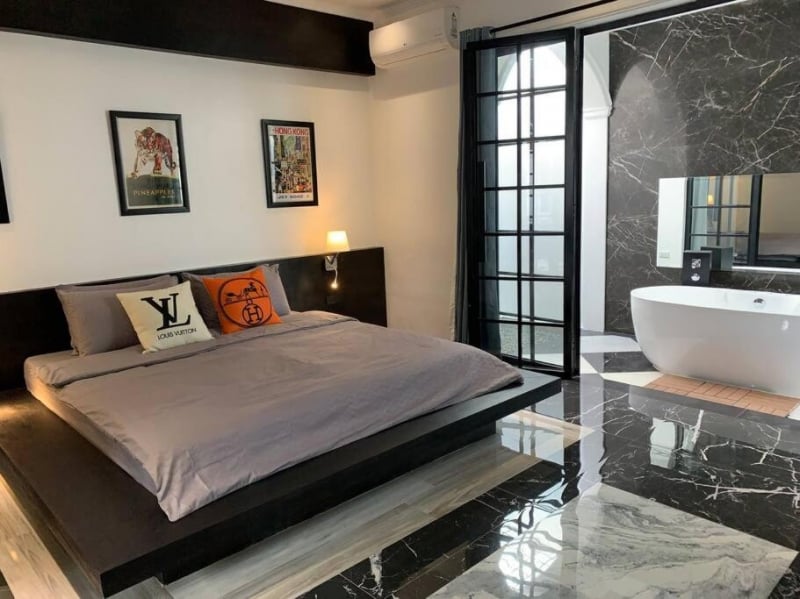 Listing name: Golden Gorilla Villa with private pool & jacuzzi
Listing type: Entire bungalow
Max. no. of guests: 12
No. of bedrooms: 2
Spacious rooms. Stylish furnishings. High-quality amenities, including a private pool and hot tub. This holiday home in Angeles, Pampanga known as Golden Gorilla Villa is exquisitely designed to host travellers who appreciate style and luxury.
Take a dip in the hot tub, mix drinks at the bar, and snap new photos for your Instagram in the art-filled villa. Whether you're vacationing with family or friends, you can't go wrong with this vacation rental near Manila with a private pool. Don't forget to check out Pampanga's thriving foodie scene while you're there!
6. This sophisticated home with chic furnishings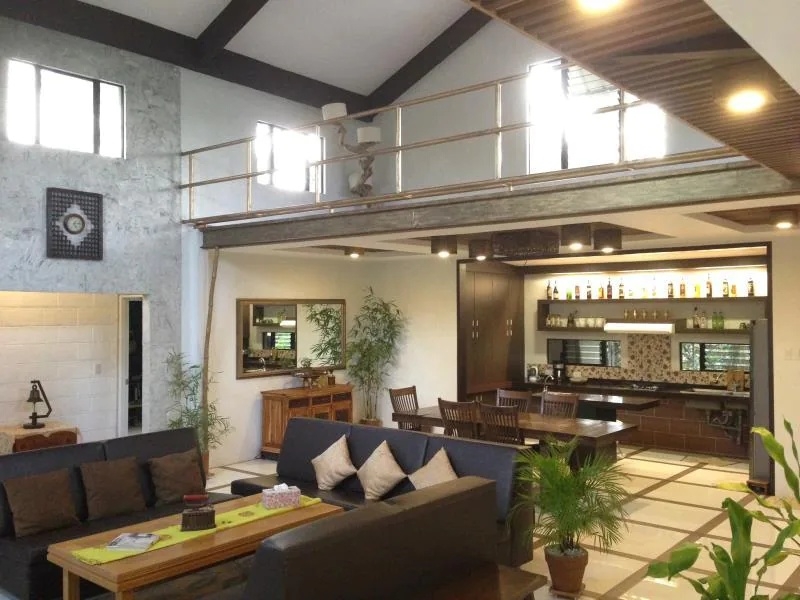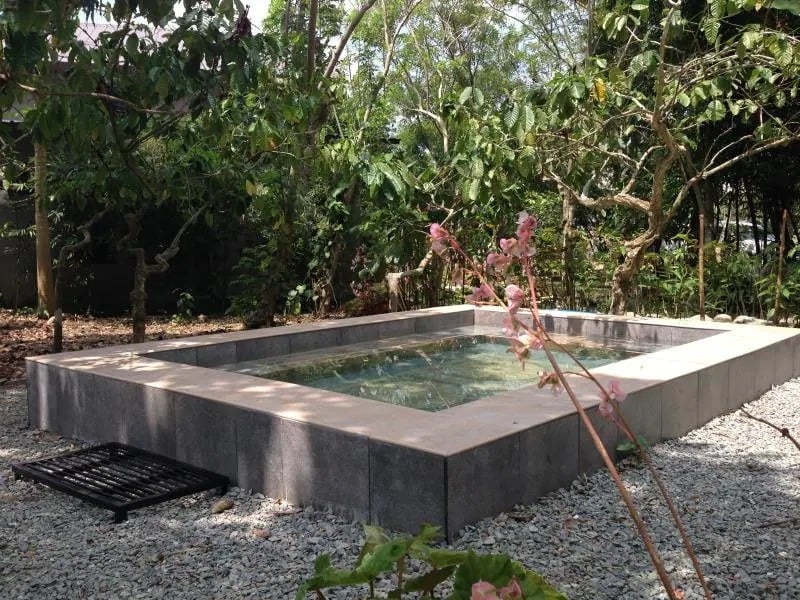 Listing name: John's Hammock Vacation House in Tagaytay
Listing type: Farm stay
Max. no. of guests: 16+
No. of bedrooms: 5
Airbnb homes near Manila with private pools seem to be a trend, but this vacation home stands out above the rest. A modern chalet perched atop Tagaytay, John's Hammock Vacation House has all we can ask for: a refreshing pool surrounded by nature, barbeque facilities, expansive bedrooms with floor-to-ceiling windows… the list goes on! Plus, stylish interiors make it a rental worthy of our Instagram feeds. What else do you really need?
Also read: 15 Coffee Shops in Tagaytay That You Have to Visit
7. This forest hideaway in an expansive farm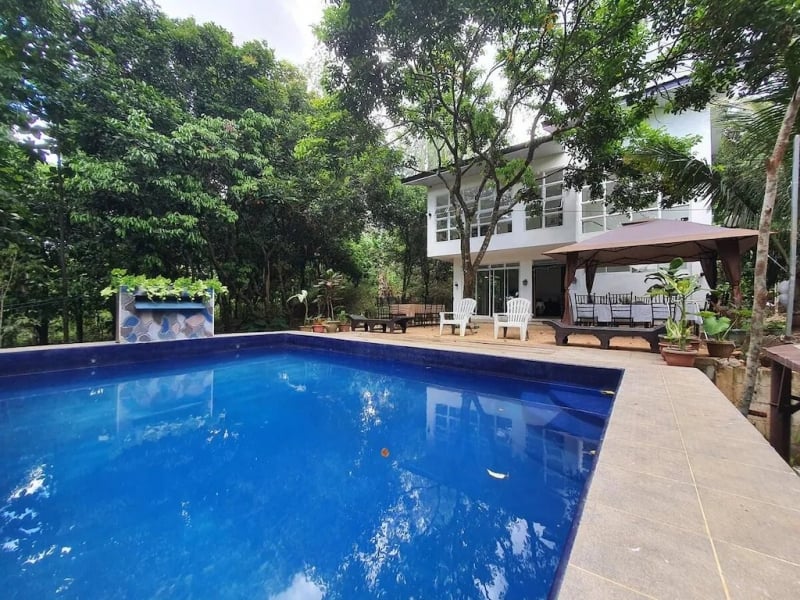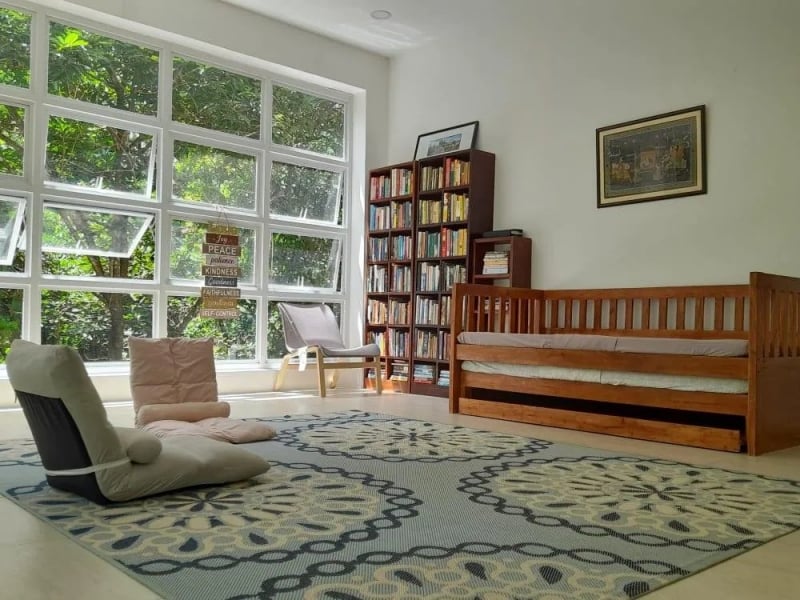 Listing name: Balay Natu Country Home w Private Pool at Antipolo
Listing type: Entire villa
Max. no. of guests: 16+
No. of bedrooms: 2
A tranquil country home in Rizal, this glass house in Antipolo shows us why farm stays deserve all the love! Balay Natu Country Home is tucked within the 30-hectare Pestano Farm in Antipolo, a nature escape where guests can relax away from the noise and endless bustle of the city.
The mini library is a quiet spot to spend a few hours solo, then venture out to the private outdoor pool to splash around with the family. Balay Natu guests can also access some facilities of Philip's Sanctuary, such as the children's playground, hanging bridge, and biking and hiking trails.
8. This sprawling Airbnb in the forest near Manila with a private pool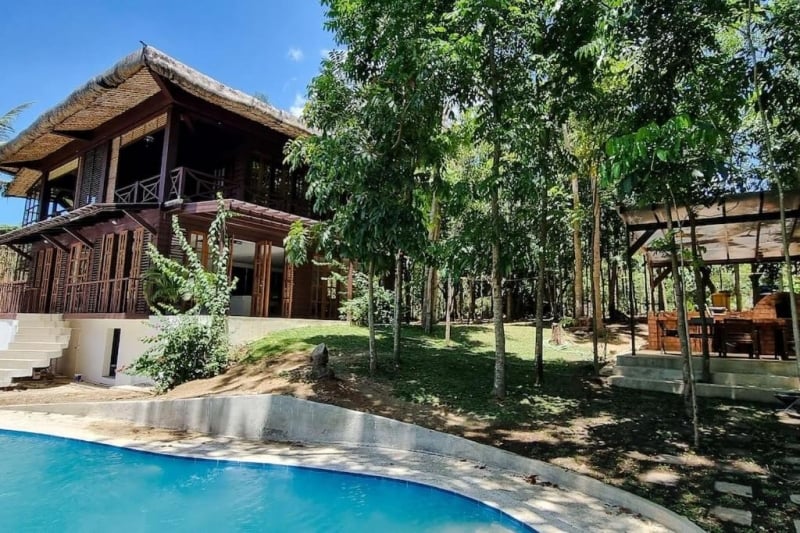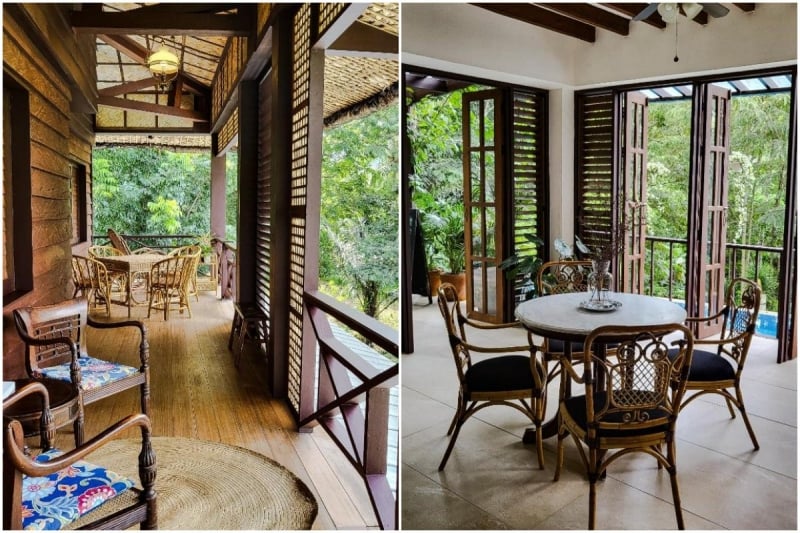 Listing name: The Red Hen Homestead
Listing type: Farm stay
Max. no. of guests: 16+
No. of bedrooms: 2
If you're part of a bigger household that's in need of a change of scenery, then the Red Hen Homestead is a great choice for you. Packed with amenities, this sprawling Airbnb in Batangas City is one of the prettiest places near Manila with private pools. It also comes with a fully-fitted kitchen and four spacious rooms overlooking lush views of nature! Bask in fresh air and sunshine, whether enjoying meals in the alfresco dining area or reading a good book from the terrace.
9. This humble abode with private access to waterfalls
Listing name: THE CLIFF at Naculo Falls (20 Mins from Pagsanjan)
Listing type: Entire guesthouse
Max. no. of guests: 7
No. of bedrooms: 1
A minute eco-sanctuary in Cavinti, Laguna, The Cliff doesn't awe its guests with spectacular architecture. Instead, this Airbnb lets nature do the talking. And nestled in the heart of virgin forests, this secluded retreat offers guests exclusive access to the Naculo Falls.
The Cliff even features its own swimming pool, along with a private view deck and an outdoor dining area. Even the bedrooms are al fresco, creating the perfect nest for nature lovers. Indeed, The Cliff is a hidden gem worth visiting if you're looking for an Airbnb near Manila with a private pool.
Also read: 10 Airbnbs & Vacation Rentals in Laguna That Are Staycation Goals
10. This picturesque casita by the sea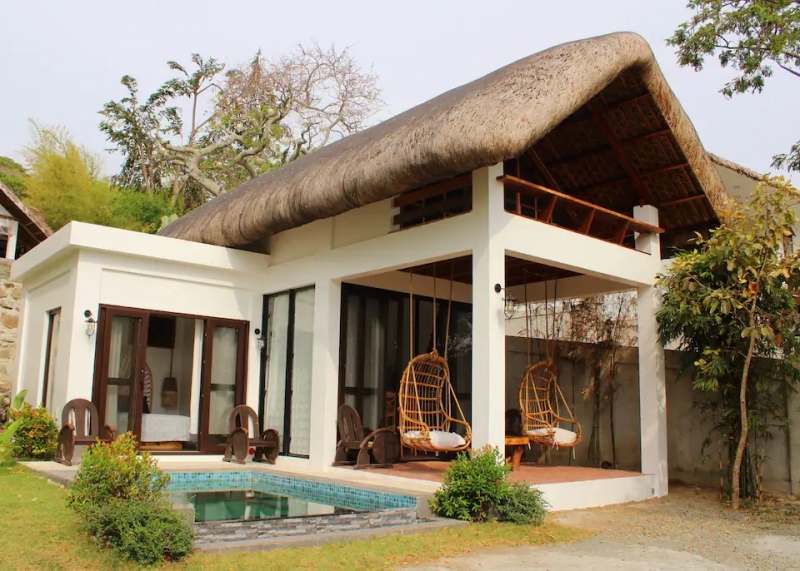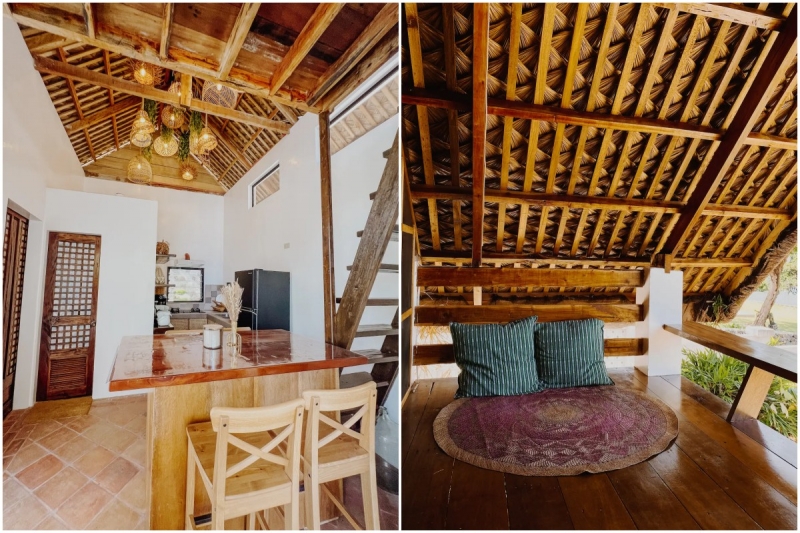 Listing name: Batalang Bato Beach Retreat Casita Loft
Listing type: Entire home
Max. no. of guests: 4
No. of bedrooms: 2
Looking for beach houses near Manila with private pools to rent on Airbnb? You're not alone. This casita by the ocean might just be the staycation of our dreams! Nestled in a premium beachfront location in a marine sanctuary, this tropical home is proudly Filipino — and it cherishes the best of the Philippines, too! Besides the beachy interiors and cosy loft-style room, it's just a few steps from a house reef perfect for snorkelling, free diving, and scuba diving. Beach babies, this one's for us. 
11. This Santorini-inspired Airbnb near Manila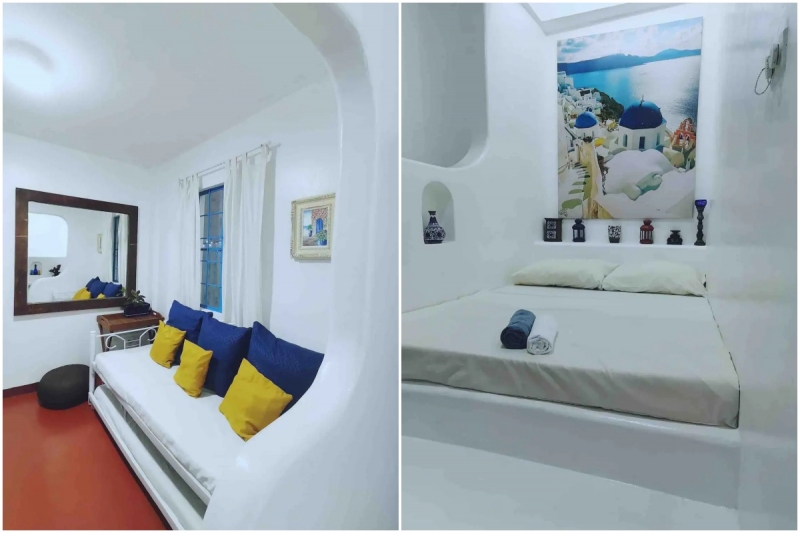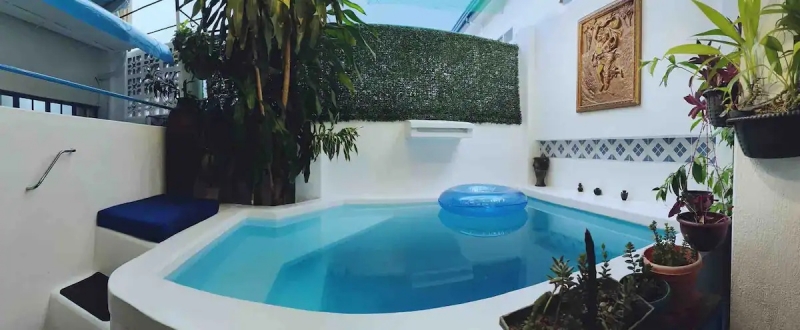 Listing name: Isobelle's Place, Santorini themed w/ private pool
Listing type: Entire guest house
Max. no. of guests: 5
No. of bedrooms: 1
Santorini dreaming? We've got just the escape for you: Isobelle's Place lets you indulge in the spirit of the Greek Islands without having to splurge on a Euro trip! From white-washed walls to Santorini-inspired artworks, every corner pays homage to the Mamma Mia aesthetic.
When it comes to Airbnb homes near Manila with private pools, you definitely won't go wrong with this studio that's all about comfort and convenience. There's a kitchenette, a queen bed and daybed, and a plunge pool with a barbecue and garden area. Located in Cainta, Rizal, it's only a short drive away from most cities in the metro.
12. This beautiful mountain retreat in Binangonan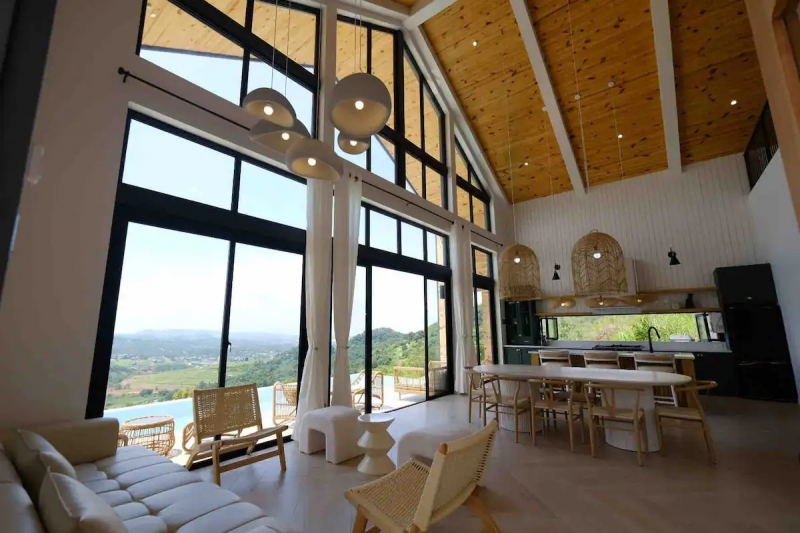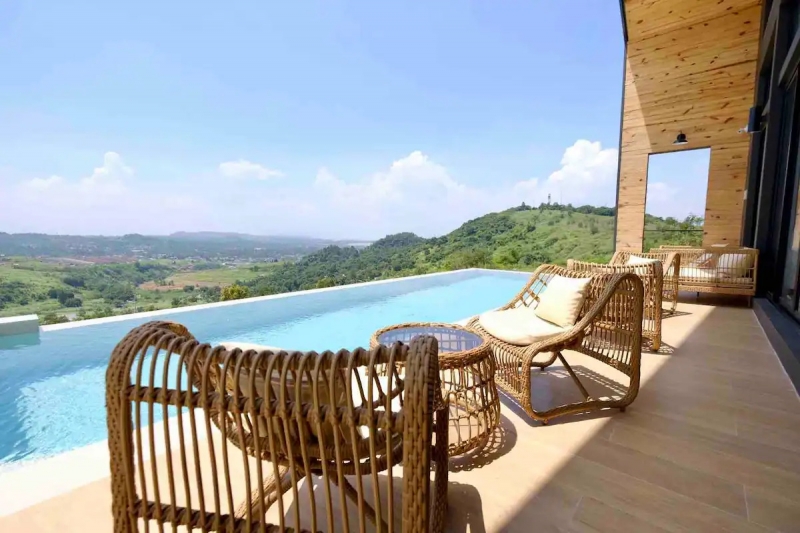 Listing name: The Black Gable
Listing type: Entire cabin
Max. no. of guests: 14
No. of bedrooms: 3
Welcome to Black Gable, a stunning modern cabin surrounded by unspoiled natural views. Lush mountains and the sparkling Laguna Lake provide a scenic backdrop for holidaymakers, whether you're enjoying a dip in the outdoor pool or relaxing indoors with the family. Pretty bohemian decor, pristine bedrooms with smart TVs, and top-of-the-line appliances complete the picture — this is definitely one of the best Airbnb picks near Manila with private pools.
13. This picture-perfect tiny home in Tarlac City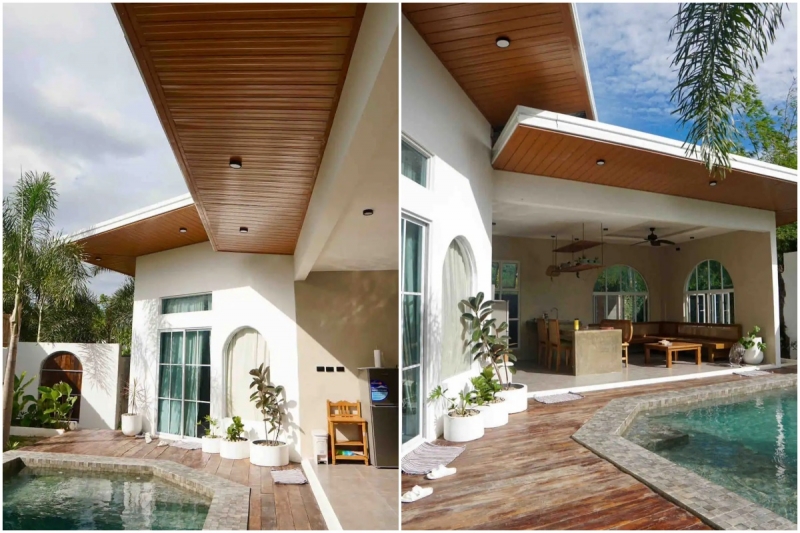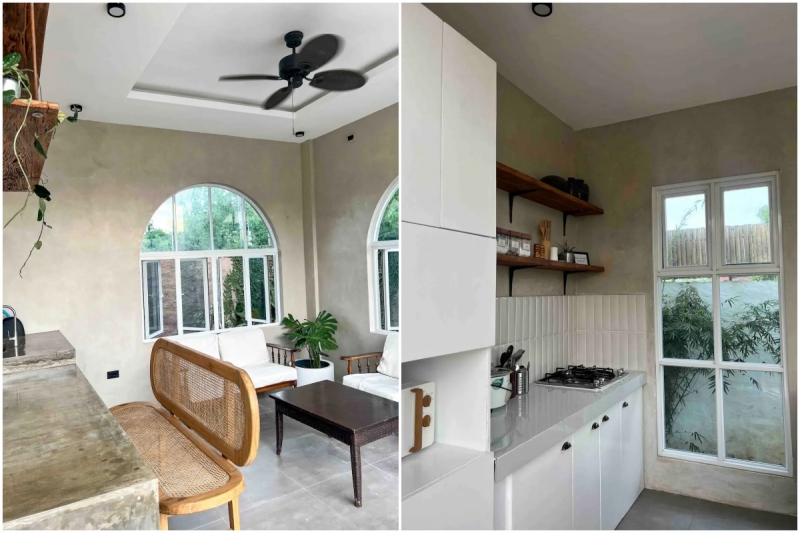 Listing name: Casita by Uma Private Villa (with pool)
Listing type: Entire villa
Max. no. of guests: 6
No. of bedrooms: 1
Exploring Central Luzon? It's hard to find a more perfect home away from home than this Mediterranean-inspired villa in Tarlac City that's carefully curated for Instagram feeds and relaxed getaways. There's a private pool, of course — one surrounded with a sun-soaked garden and an outdoor living space. Inside, chic interiors make it as delightful to hang out indoors as it is to swim outdoors.
14. This gorgeous bahay kubo for nature lovers in Cavinti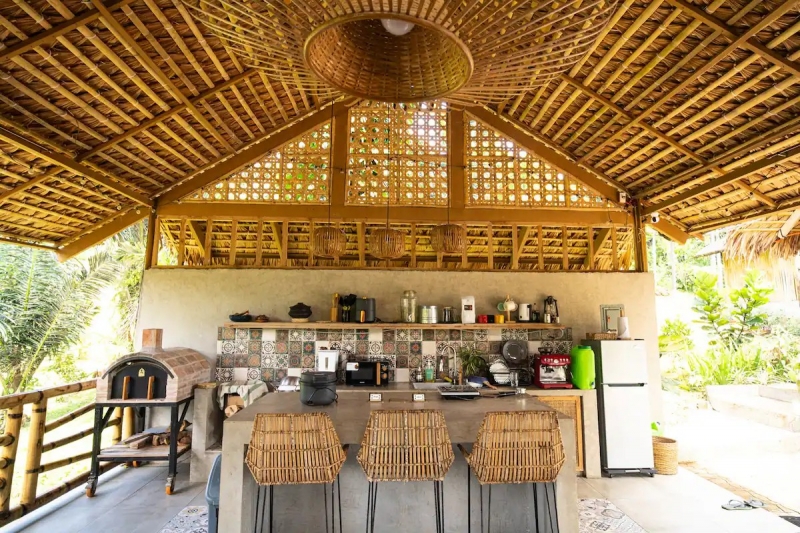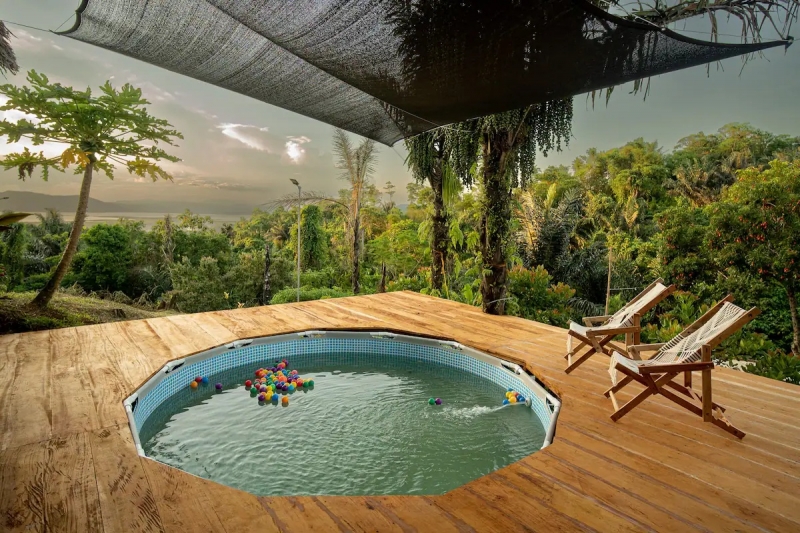 Listing name: Nature's Retreat at Casa Vela
Listing type: Farm stay
Max. no. of guests: 5
No. of bedrooms: 1
Beautiful design and nature — the two ingredients for the perfect vacation rental, we say! Luckily, Casa Vela has both. Every nook and cranny of this Airbnb is thoughtfully put together, from the sprawling outdoor kitchen to the pool deck overlooking the unspoiled vistas. And if private pools are a non-negotiable for your upcoming vacation, then this gorgeous bahay kubo is the ideal Airbnb near Manila for a quick getaway. Casa Vela not only has a private pool, but it also features a private hot tub and a firepit.
Also read: 10 Airbnbs & Vacation Rentals in Manila With Pools Worth Dipping Into
When travelling, there's no need to go far to have fun. Especially when you're booking staycations at these Airbnb homes and vacation rentals near Manila with private pools. Fun and safe travels, everyone!
---
This article contains affiliate links. When you book through these links, we may earn a small commission at no additional cost to you. All images courtesy of the respective property listings.