Itching for a break from city life? A road trip is always a good idea! And since Batangas is just a few short hours away from Manila, it's the perfect option for a quick escape. (I mean, how could any of us say no to a quick pit stop in Tagaytay on the way there and back?) Check out these bookmark-worthy Airbnbs and vacation rentals in Batangas for your next getaway!
CHECK VACATION RENTALS IN BATANGAS
Top Airbnb & vacation homes in Batangas
1. This beachfront home just a drive away from Tagaytay
Who says you can't enjoy the best of both worlds? At this Airbnb in Batangas, you can spend time by the beach and go on a Tagaytay food trip! To be specific, this beachfront casita is located at the border of Lian and Nasugbu and is just a 30-minute drive away from Twin Lakes Tagaytay.
What's more, despite having countless establishments within easy reach, this home is well-loved for offering guests with utmost privacy. It's been thoughtfully designed to make guests feel right at home — whether you're on a romantic getaway or vacationing with a group. So, what are you waiting for? Fresh ocean breezes and breathtaking sunsets await! Learn more about this Airbnb here.
2. This homey, sustainable cottage in a marine sanctuary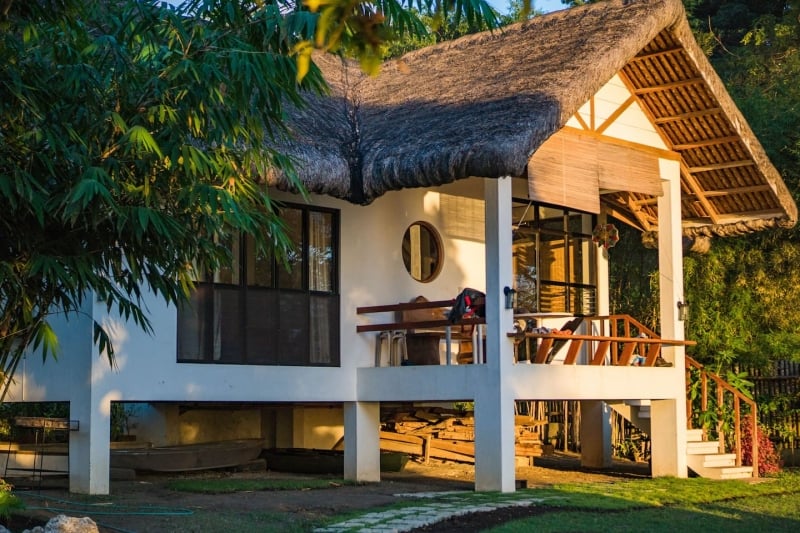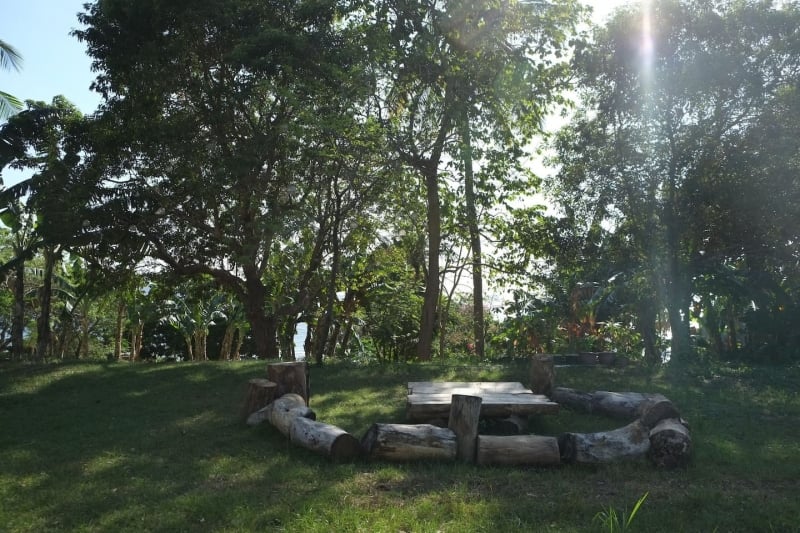 We're all about being responsible travellers, and Batalang Bato Beach Retreat allows us to do just that. While offering an exciting escape from city life, this sustainable home reminds its guests to give back and be kind to the environment. Make sure to pack your towels and toiletries — and remember to stay away from single-use plastics!
Enjoy a guilt-free vacation as you enjoy every bit of the marine sanctuary this property is located in. Treat yourself to days spent at the beach and nearby mountains, and activities like snorkelling, kayaking, and scuba diving; then, end your days with some of the most breathtaking sunsets you'll ever witness. We guarantee you'll get back home feeling absolutely rejuvenated! Learn more about this vacation rental here.
3. This luxurious cabin that offers the ultimate countryside experience
Your eyes aren't deceiving you — it's absolutely true. This is, indeed, a vacation rental in Batangas; you don't have to leave the Philippines to enjoy a stay at a country cabin as luxe as this!
This Camper & Cabin retreat has everything you could ever ask for, too: Interiors straight out of IKEA, panoramic mountain views, hotel-quality beddings, and so much more. To add to that, it's located close to Tagaytay's popular restaurants and Nasugbu's beaches! Learn more about it here.
4. This sleek, private villa with mountain views
Have you been on the lookout for a pet-friendly resort near Manila? We know those aren't so easy to come by, so this particular stay in Batangas should definitely be considered a gem! And that isn't all there is to love about it, either. According to reviews, every corner is Instagrammable and the hosts are absolutely hospitable! What more could anyone ask for?
By booking a stay at Kayama Mountain Resort, you'll get to enjoy four beautifully designed bedrooms all to yourselves — plus, best of all, an infinity pool that overlooks the stunning Mt. Batulao. It'll feel like having a slice of nature all to yourselves! Learn more about it here.
5. This secret paradise in the middle of a lush forest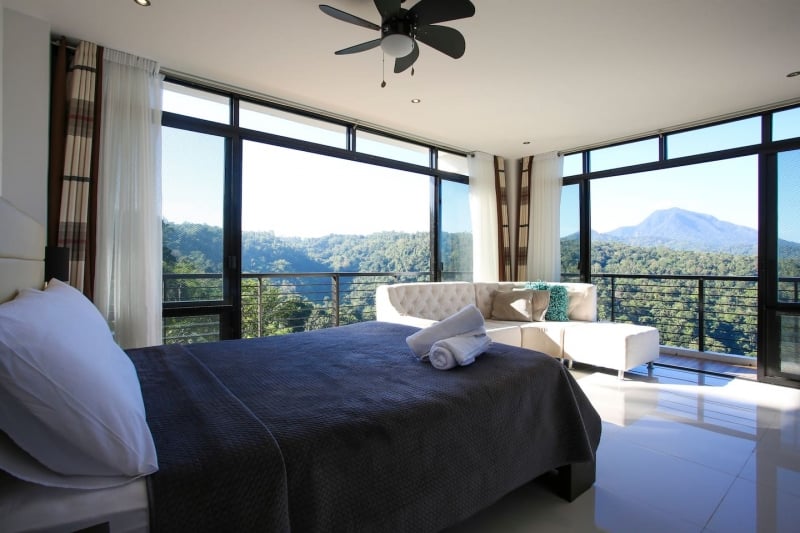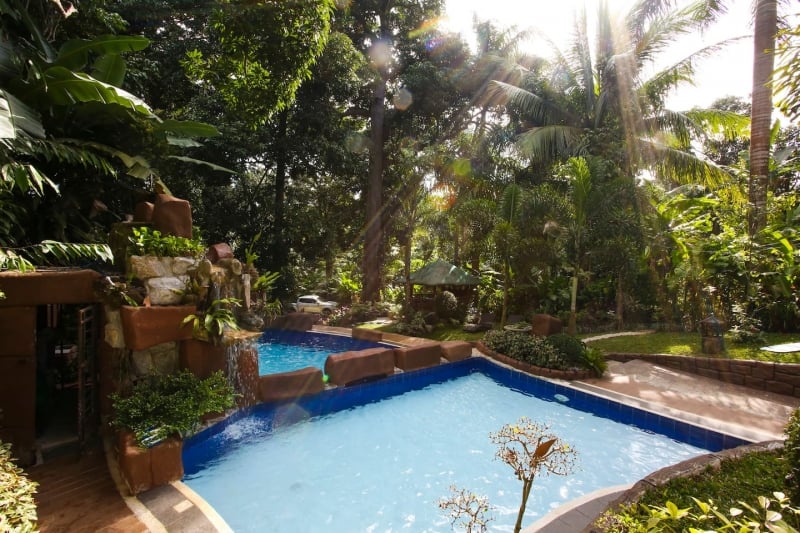 Fancy an enchanting, middle-of-nowhere type of escape? Set in what feels like a mystical forest, this gorgeous Airbnb in Batangas will most likely be your cup of tea! A spacious and secluded paradise tucked in the middle of lush greenery, it's practically a little resort you and your travel buddies can enjoy all to yourselves.
This Airbnb is made up of a three-bedroom home, and outdoor facilities that include a cabana, several pools, and a bubble spa. It's also equipped with a lounge area, entertainment room, dining room, and kitchen! With so many amenities for you to enjoy, you'll probably want to book more than just a short weekend at this picture-perfect home. You won't regret it! Learn more about this Airbnb here.
6. This amazing airstream with hilltop views
My first thought upon spotting this rental in Calaca, Batangas: How is this not an Airbnb in Joshua Tree? For a unique travel experience that's just a short drive away from the metro, Camper & Cabin's amazing airstream makes for an excellent choice! 
Not only is every inch of this trailer Instagrammable (yes, even the bathroom!); its surrounding areas are breathtaking, too. Take advantage of the private deck and outdoor dining area — it's the best way to enjoy the hilltop views. The fresh air will certainly do you good as well! Learn more about this vacation rental here.
Also read: 5 Airbnb Trailers in the Philippines for the #VanLife Experience
7. This stylish dome that doesn't scrimp on comfort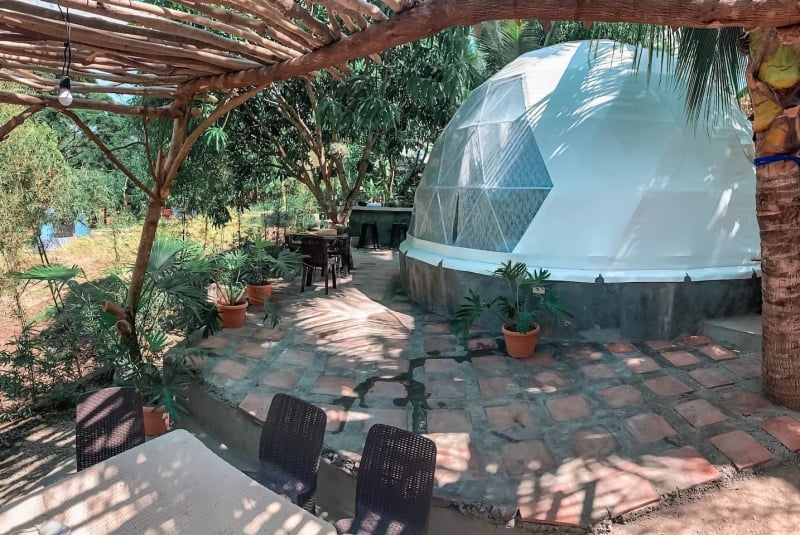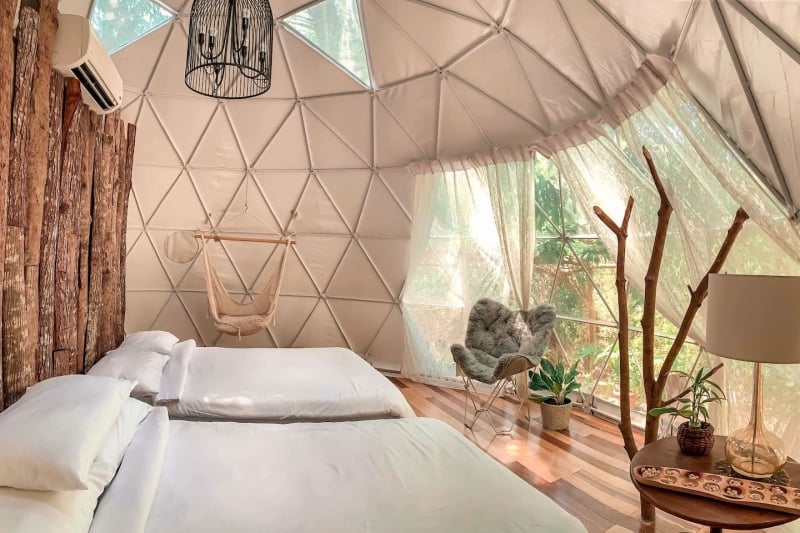 Glamping, anyone? This vacation rental at Domescape Glamping is certainly one to consider! Guests will get a dome and a natural swimming pool all to themselves. Domes are furnished with beds, air conditioning, and more Insta-worthy touches. Yes, here you are invited to find your bliss in the middle of nature — minus the need to sacrifice comfort!
At night, guests are welcome to hang out with fellow travellers in the common area, where a bonfire is set at night. Meals are also provided at the glampsite, and reviews reveal that their menu offerings are delicious and worth every penny! Learn more about it here.
SEE MORE BOOKING OPTIONS IN BATANGAS
8. This spacious dream home that's perfect for large groups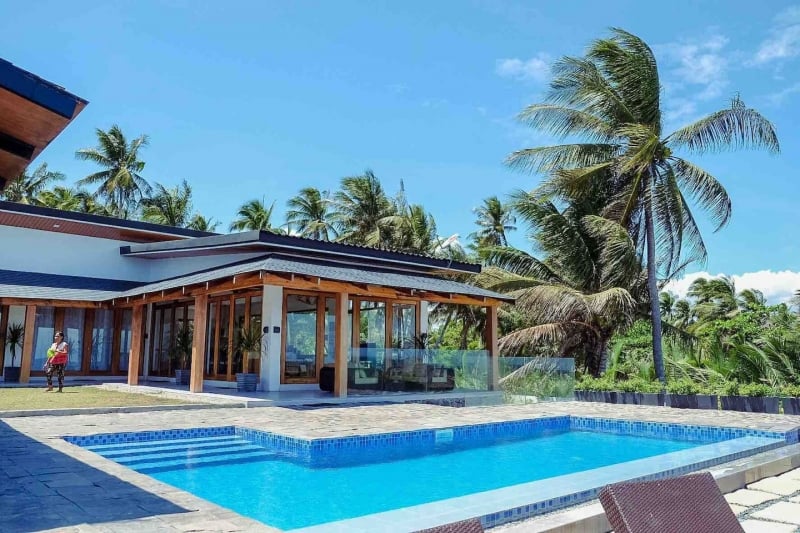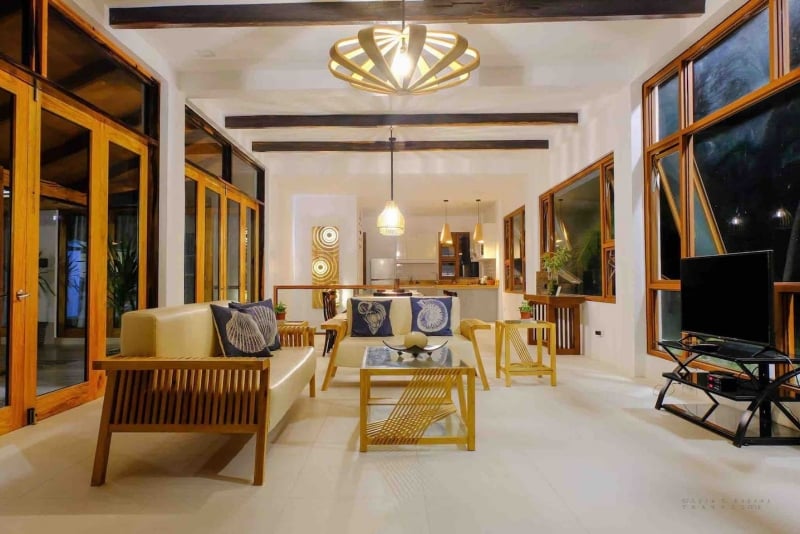 Family reunion? Team building? Just have a really huge barkada? Well,  look no further because Casa Kalinaw is perfect for you. Set amidst countless palm trees, this home practically screams tropical vibes!
With five bedrooms, a luxurious pool, and lots of space, this hidden gem was definitely built for fun vacations filled with family or barkada bonding. Pack delicious bites to whip up in the kitchen, your favourite card or board games, your pool inflatables, and get ready for a trip to remember! Learn more about this Batangas vacation rental here.
9. This traditional Pinoy treehouse located just steps from the beach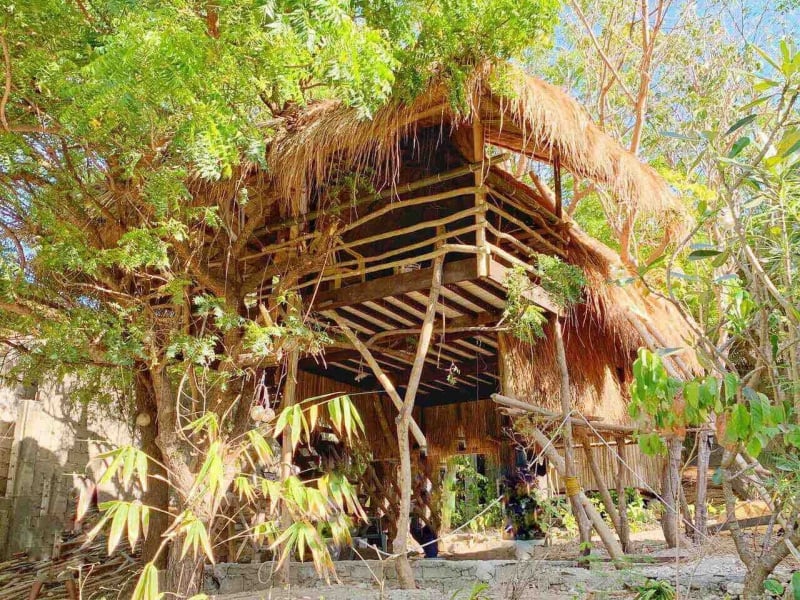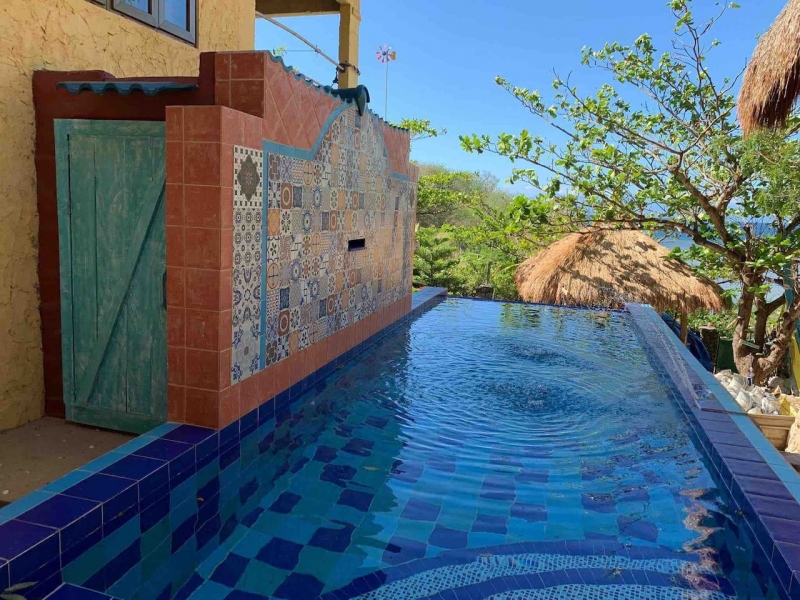 Minimalist travellers, this one's for you — a traditional Filipino treehouse, where you'll need nothing but the bare essentials. (And your swimming gear, of course!) While there isn't any air conditioning, we swear you won't even miss it! By the end of your trip, you'll miss enjoying the sea breeze from the comforts of your own bed.
From this Airbnb in Batangas, you'll have access to a beautiful pool, as well as a coral reef beach. The historic Cape Santiago Lighthouse is nearby, so you may want to add it to your itinerary, too! Enjoy local fishermen's fresh catch of the day for just about any meal, revel in gorgeous sunsets as the day ends, and bask in the lovely ambience come nighttime. What more could any of us ask for?  Learn more about this Airbnb here.
10. This drop-dead gorgeous cabin for your much-awaited barkada trip
After missing so many months' worth of barkada trips, why don't you and your friends treat yourselves to a luxurious staycation? There's no doubt that a stay at Camper & Cabin's mountainside retreat will help make up for lost time — it's got all the makings for a memorable trip!
From an infinity pool with a view to amazing amenities like a Smeg espresso machine and a vinyl record player, this cabin is definitely a dream home. How could any of us not want to live here, even if just temporarily? Learn more about it here.
11. This beachfront home that's fit for ocean lovers
Has your inner mermaid or merman been longing for the ocean? This rustic hideaway in Batalang Bato Beach Retreat is located right across a reef that practically invites you to go snorkelling and scuba diving. Guests get private and direct access to the beach, too!
With two bedrooms that feature bunk beds, this villa is yet another excellent pick for a barkada trip. Reviews show that you won't regret booking a stay here — especially if you've been deprived of sand and the sea for way too long! Learn more about this Airbnb here.
12. This tranquil villa that's an intimate staycation
Looking for somewhere restful and serene? This Airbnb in Batangas may just be up your alley. The perfect picture of zen, it offers more than enough peace, quiet, and privacy — a great choice for when you're in dire need of a break from work and stress. We recommend bringing your significant other or your closest friends along with you!
On top of the serene ambience, this home is both cosy and Instagrammable. We're pretty sure the outdoor deck will be your favourite part — it's got a private pool and a luxurious daybed where you'll want to lounge all day long! Learn more about this Airbnb here.
13. This dome house with super-cute boho interiors
For a stay that's both comfortable and perfect for the 'gram, we recommend this dome house in Nasugbu. To say that it offers an elevated camping experience would have to be an understatement — for starters, it's got two whole floors!
This particular Domescape rental is favoured for its vibrant bohemian interiors. But more than that, it's basically a beautiful little home away from home. Here, you'll have your own natural pool, bedroom, bathroom, and kitchenette all to yourselves! Learn more about this Batangas Airbnb here.
14. This uber-stylish glasshouse that brings the outdoors in
Summer getaways can't get any better than this! Located in Natipuan, Nasugbu, Forest Cove Beach House sits right beside Terrazas de Punta Fuego, providing direct access to the white-sand beachfront. It has three air-conditioned bedrooms that can accommodate up to 16 people, but its glass walls give an illusion of a grander villa. 
From its modern bohemian interiors to its outdoor forest views, this private beach house definitely promises a memorable vacation. Learn more about it here.
15. This A-frame cabin for an IG-worthy glamping experience
Perched 1,000 feet above sea level, Noni's Resort is a go-to place for restful staycations. Serving guests for several years now, the establishment has perfected the art of hospitality. 
Expanding its accommodation options, this vacation home in Alitagtag, Batangas now offers quaint A-frame cabins too. Each is fully air-conditioned and provides floor-to-ceiling views of Taal Lake and Mt. Maculot. With private heated pools overlooking picturesque views of Batangas, you can expect nothing less than a fun-filled experience in these glamping villas. Learn more about this Batangas vacation rental here.
16. This expansive private estate with exclusive beach access
If you're looking for a spacious vacation rental in Batangas away from crowds, your best bet is The Resthouse Laiya. Sprawling nine hectares, the property ensures tranquillity and privacy, without scrimping on convenience. This villa on an abandoned beach even has WiFi connection and a 48-inch HDTV. On top of that are cottages, hammocks, and other amenities to guarantee big waves of fun.
Ready to have your much-needed family or barkada getaway? Learn more about this Batangas vacation rental here.
Also read: 10 Airbnbs for Your Next Barkada Staycation Near Manila
Which one of these Airbnb homes and vacation rentals in Batangas will you be bookmarking? We vote that you save them all for future reference!
MORE VACATION HOMES IN BATANGAS HERE
Got a property you'd like TripZilla to feature? Inquire with us here.
---
This article contains affiliate links. When you book through these links, we may earn a small commission at no additional cost to you. All images courtesy of the respective property listings.