When the Manila heat becomes a bit too much, many of us find comfort in knowing that Tagaytay and its refreshingly cool temperatures are just a few hours away. Whether you're headed there for Sunday brunch, a last-minute weekend escape with the fam, or a long-planned barkada outing, you're pretty much guaranteed to head back home feeling absolutely refreshed!
So, for the next time you decide to take a quick out-of-town trip, we've rounded up some of the most covetable Airbnb homes and vacation rentals in Tagaytay. From Instagram-worthy interiors to stunning nature views, these rentals have got it all. Trust us — you'll be tempted to move in permanently!
Must-book Airbnb homes in Tagaytay
1. This delightfully designed studio for plant lovers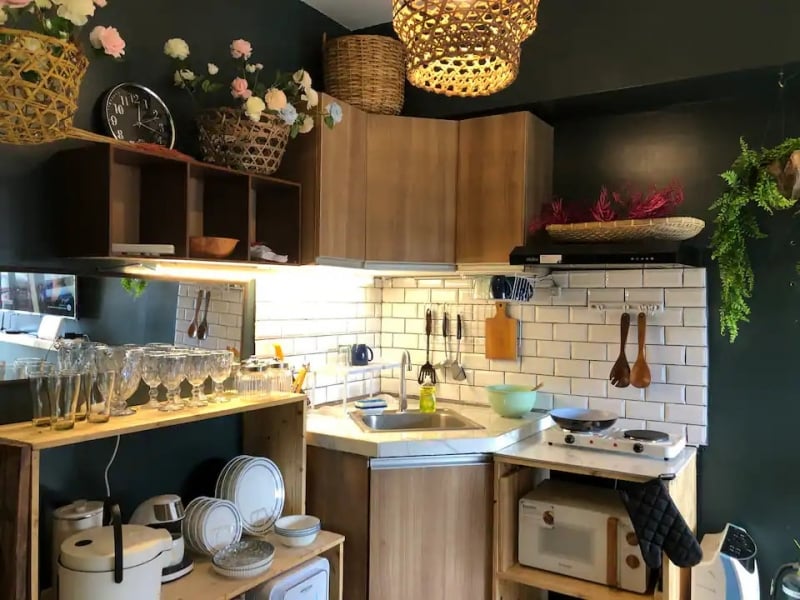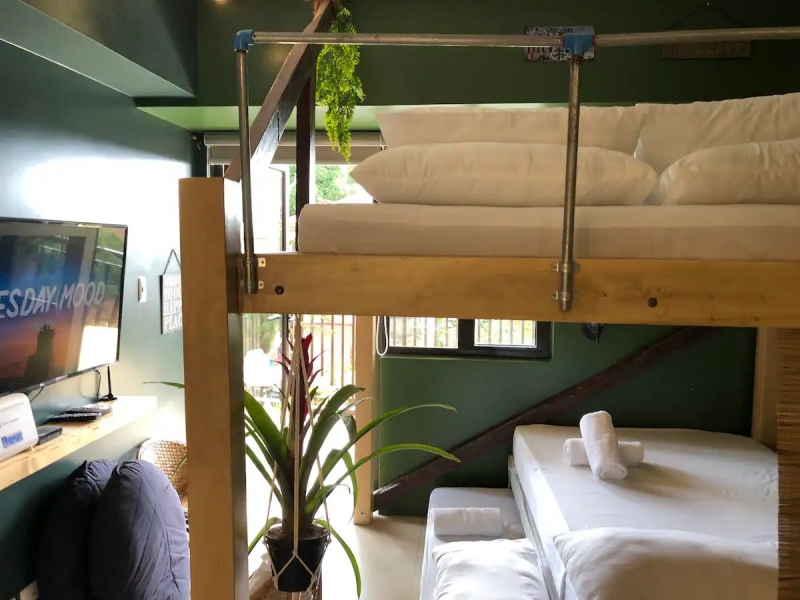 Listing name: Tagaytay Unique Studio w/ Balcony | 100MBPS Wi-Fi
Listing type: Entire condo
Max. no. of guests: 6
No. of bedrooms: Studio
You don't need a lot of space to have a good time in Tagaytay, and this relaxed tiny home proves our point! First of all, it looks good. A personal design project of the Superhost, the studio features lush indoor plants and wooden furnishings paired with green and blue hues inspired by Taal Volcano and Tagaytay's tasty pineapples. Additionally, the balcony is the perfect spot to bask in the cool Tagaytay air.
It's also well-appointed with all the essentials, including a kitchen where guests can whip up basic meals. But travellers who don't want to cook — you are on vacation, after all — can go out instead; this Tagaytay Airbnb enjoys easy access to some of the best cafés and restaurants in town.
2. This rustic chalet overlooking Taal Lake
Listing name: Chalet de Tagaytay
Listing type: Entire chalet
Max. no. of guests: 12
No. of bedrooms: 1
For a stay that's out of the ordinary, head on over to this breathtaking mountainside chalet. Whether you're after a romantic retreat for two or a vacay with your best buds, this one's definitely an excellent choice. They can accommodate up to 12 guests!
With its old-school charm, rustic elements, and unmatched nature views, this Airbnb in Tagaytay is almost unreal. Its wide windows and open-plan setting allow you to enjoy the cool breeze — plus, it's even got a fireplace and outdoor yoga deck that doubles as a lounging area! How amazing does that sound?
3. This vacation retreat made for you and your barkada
Listing name: John's Hammock Vacation House in Tagaytay
Listing type: Entire house
Max. no. of guests: 16+
No. of bedrooms: 5
Barkada staycation, anyone? This spacious vacation home is an excellent choice for large groups — and your pets are welcome, too! Guests are also welcome to hold small celebrations or events here. Since this Airbnb in Tagaytay is located on a quiet stretch of farmland, you won't be disturbing any neighbours!
Just want a laid-back weekend with friends? No problem! There's lots of room for lazing around, playing board games, and just overall enjoying each other's company. The outdoor space, especially the little gazebo with a cosy hammock, is an instant favourite!
4. This country home set on a private farm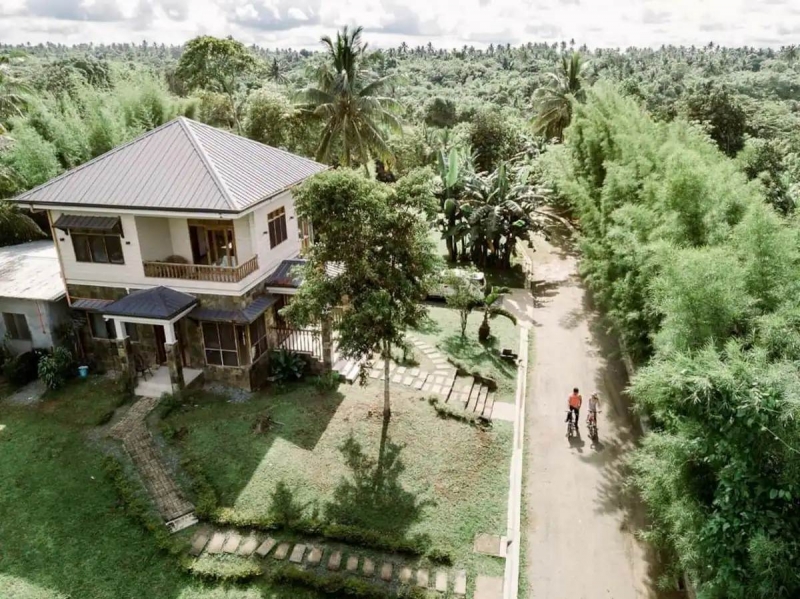 Listing name: Private Modern Suite at Nana's Farm
Listing type: Private room in a bed and breakfast
Max. no. of guests: 4
No. of bedrooms: 1
Perfect for those looking to get away from it all, this charming country home is located on a private one-hectare farm. Enjoy the spacious second floor all to yourselves — with enough room to comfortably fit four guests, it comes complete with a bedroom, living room, kitchenette, and balcony. 
This Airbnb in Tagaytay, surrounded by lush greens, will instantly put loads of distance between you and all your worries. With glass windows all throughout your suite, you'll be able to enjoy enchanting views of the sunrise and sunset. We're pretty sure you won't ever want to leave!
Also read: 15 Farm Stays in the Philippines for a Nature Escape
5. This Scandi-industrial home for the ultimate staycation
Listing name: SCANDIA GRANDE near Balay Dako & Memory Lane
Listing type: Entire residential home
Max. no. of guests: 10
No. of bedrooms: 2
Style meets comfort at this Instagrammable home that exudes warmth and vacation vibes. With two bedrooms (one of which has its own spacious balcony) and a living room with pull-out beds, this Airbnb has enough space for up to 10 guests. It practically calls out for a barkada trip!
The generous amount of space and IG-worthy interiors aren't all there is to look forward to, either. The house includes a 10-seater dining area perfect for meals and games; it can even be converted to a workstation if necessary. There's also a backyard area with a foosball table, grill, and a smaller dining table for outdoor hangouts. Location-wise, the home is near Balay Dako, Serin, and Sky Ranch.
Also read: 10 Airbnbs for Your Next Barkada Staycation Near Manila
6. This family-friendly apartment in the centre of Tagaytay
Listing name: Modern Tropical 2BR with Taal View for Big Family
Listing type: Entire rental unit
Max. no. of guests: 10
No. of bedrooms: 2
Fancy  a stay in the middle of all the action? Book a stay at this rental unit situated at the very heart of Tagaytay, where restaurants, supermarkets, and other notable establishments are not more than five minutes away.
The Airbnb itself is quite the gem, too! It boasts a stunning Nordic design with a tropical touch, overlooking views of Taal Volcano, and enough space for up to 10 guests. To level up the fun, the apartment's amenities also include a karaoke system that you're more than welcome to take advantage of!
7. This modern kubo in the middle of nature
Listing name: Narra Hill – Kubo 1 Suite 
Listing type: Private room in bed and breakfast
Max. no. of guests: 5
No. of bedrooms: 2
Hoping to spend some uninterrupted time with your significant other? This modern kubo provides just the romantic setting you'll need for reconnecting with your special someone. Set in the midst of nature, this Airbnb in Tagaytay offers some of the most captivating scenes you'll ever see — and the infinity pool doubles as an excellent viewing point!
With no cable and no Wi-Fi, this bed and breakfast encourages guests to be one with nature — and to spend some quality time with one another. Grasp this opportunity to unplug, take in the gorgeous surroundings, and treat yourselves to the R&R you know you deserve.
8. This house with a "stairway to heaven"
Listing name: Tagaytay Chill Chill House (Taal side room)
Listing type: Private room in guesthouse
Max. no. of guests: 2
No. of bedrooms: 1
For a step up from your usual staycation experience, we recommend booking a stay at this Airbnb in Tagaytay — it has an actual stairway to heaven! How cool is that, right? Basically, the house's roof deck has a staircase that leads to an empty doorway. Take a seat at the top step, and it'll feel like you're relaxing in the clouds — plus, it's got amazing views of Taal!

You may opt to book one of five private bedrooms and meet fellow travellers while staying in the house's beautiful common spaces. Or, if you happen to be travelling with a big group, you can get the entire house to yourselves by reserving each of the bedrooms! 
Also read: 10 Coffee Shops in Tagaytay for Your Next Road Trip
9. This home that is the epitome of boho chic
Listing name: The White Cabin at Amberfields
Listing type: Entire cabin
Max. no. of guests: 14
No. of bedrooms: 4
In love with bohemian design, rattan furniture, and beach-inspired decor? Let this spacious cabin in Amberfields Farmhouse be your home away from home! Not only is the Airbnb super Instagrammable — it's private, cosy, and packed with amenities like medicine, a first aid kit, and a fogging device for disinfection to make sure guests can vacation with ease. 
Perfect for family trips and barkada outings, this house can accommodate up to 14 guests. With a pool, grill area, and lots of space for lounging, it practically invites you and your loved ones to make memories you can fondly look back on.
10. This minimalist yet Instagrammable studio
Listing name: NYU Dorm w/ Breakfast, Netflix & Free Parking
Listing type: Entire condominium
Max. no. of guests: 8
No. of bedrooms: Studio
If  your motto is "less is more", then this minimalist studio may be the perfect choice for you. This apartment is equipped with the bare necessities, but only in the most stylish sense! Inspired by chic New York City dorms, it comes with wood-furnished bunk beds, a smart TV, and JBL speakers (the last two are definitely essentials, if you ask us!).
You'll also have your own private balcony, where you can take in Tagaytay's famous views and enjoy the lovely breeze. As if all that wasn't enough, guests may also enjoy access to the property's pool, viewing deck, and kids' play area!
11. This charming Filipino cabin with Taal views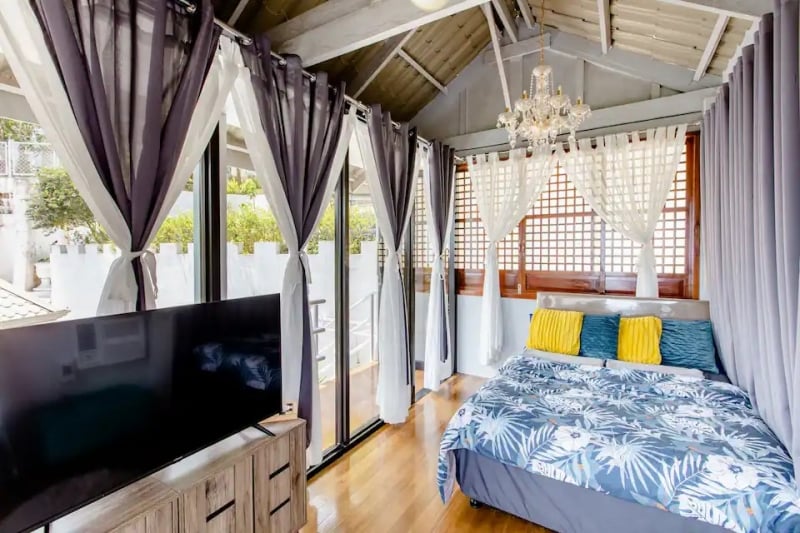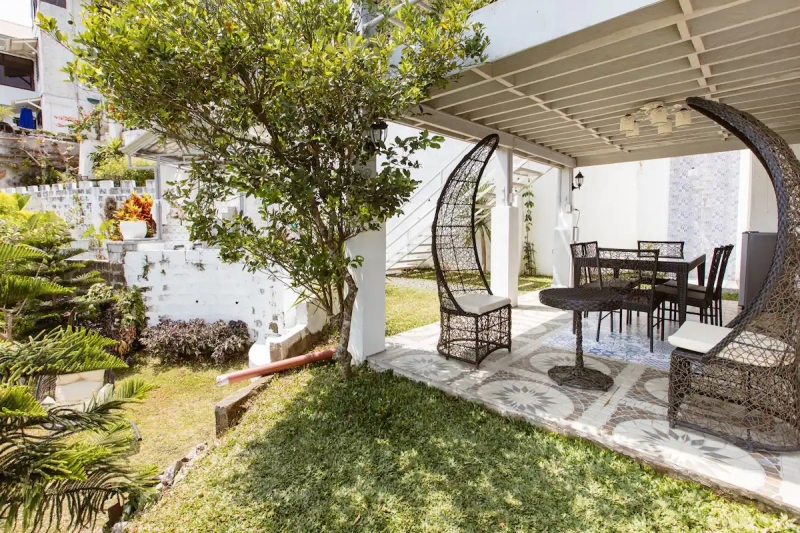 Listing name: Cabin with Taal view and Netflix – Casa Segundino
Listing type: Private room in a condo
Max. no. of guests: 3
No. of bedrooms: 1
Take a look at Casa Segundido, a delightful Airbnb cabin surrounded by the lush natural landscape of Tagaytay. Light-filled and beautifully designed with a proudly Filipino eye, the private guest suite is ideal for a romantic getaway away from the city crowds. At night, enjoy a soak in the room's exclusive hot tub under the stars! Other notable perks of this vacation rental include a smart TV with Netflix and free WiFi.
12. This cool loft-style Airbnb near Tagaytay with a private onsen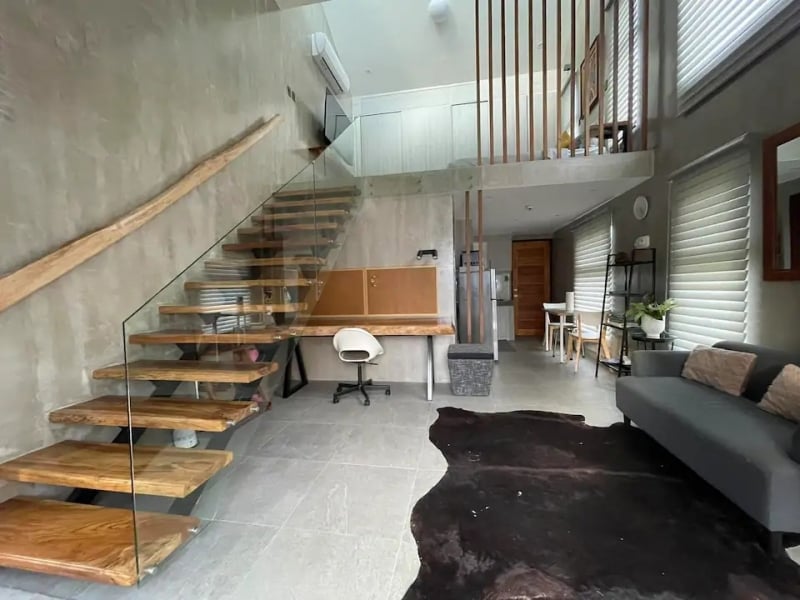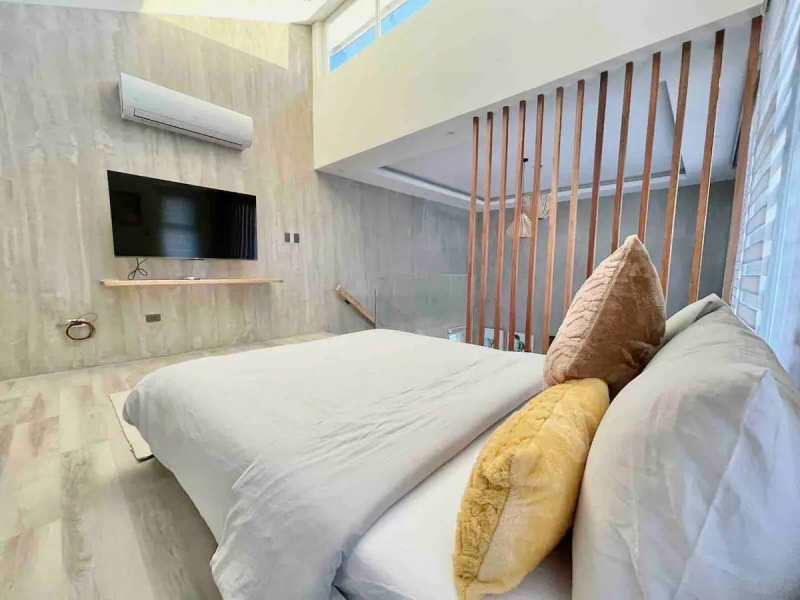 Listing name: Cozy, Romantic Loft (with Private Onsen)
Listing type: Entire guesthouse
Max. no. of guests: 4
No. of bedrooms: 1
If you don't mind being about 15 minutes away from the Tagaytay City centre, then this chic loft is worth booking on Airbnb. The modern industrial-inspired design is impeccable: The natural palette is easy on the eyes, while distressed wooden touches and thoughtfully curated art pieces add to the stylish vibe.
No need to worry about anything when you're staying at this Airbnb. It comes with all the essentials, including a fully equipped kitchen, a tranquil workspace, and even boardgames, books, and toys for the kids. Truly an escape worthy of a family vacation!
We're just about ready to hop in the car and head to one of these Airbnb homes and vacation rentals in Tagaytay! And on that note —why not make it a multi-stop trip and head to Batangas, too? Check out our list of Batangas Airbnbs and start planning the ultimate weekend vacay!
Got a property you'd like TripZilla to feature? Inquire with us here.
---
This article contains affiliate links. When you book through these links, we may earn a small commission at no additional cost to you. All images courtesy of the respective property listings.