Itching for a break from city life? A road trip is always a good idea! And since Batangas is just a few short hours away from Manila, it's the perfect option for a quick escape. (I mean, how could any of us say no to a quick pit stop in Tagaytay on the way there and back?) Check out these bookmark-worthy Airbnb homes in Batangas for your next getaway!
Also read: Road Trips Made Easier: Barkada Trips You Can Take Aboard This Premium Bus!
Top Airbnb homes in Batangas
1. This homey, sustainable cottage in a marine sanctuary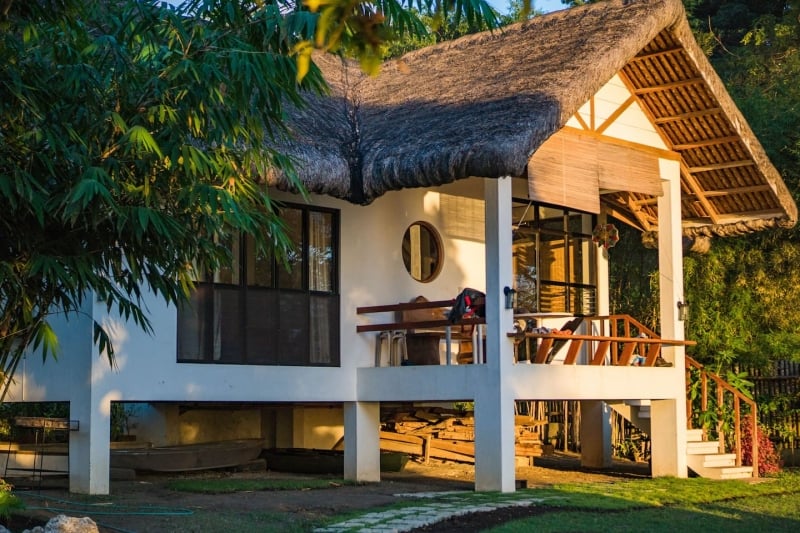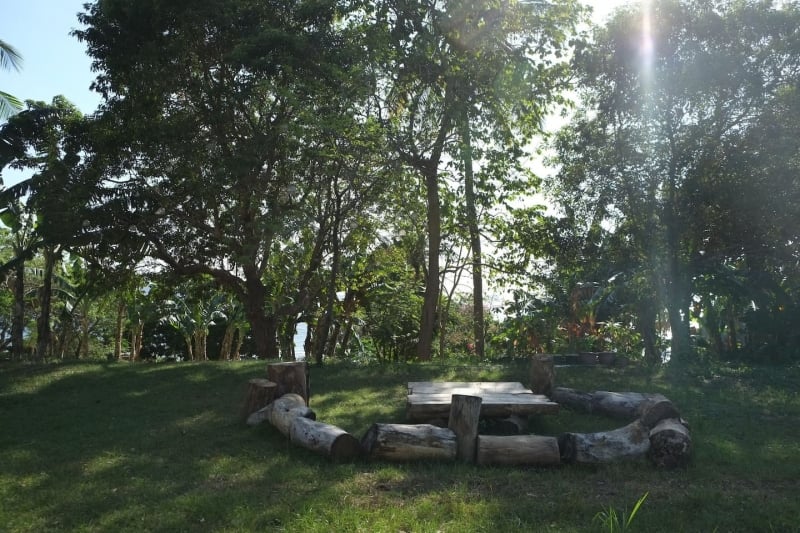 Listing name: Batalang Bato Beach cottage-Private and Serene
Listing type: Entire home
Max. no. of guests: 12
No. of bedrooms: 1
We're all about being responsible travellers, and this Airbnb in Batangas allows us to do just that. While offering an exciting escape from city life, this sustainable home reminds its guests to give back and be kind to the environment. Make sure to pack your towels and toiletries — and remember to stay away from single-use plastics!
Enjoy a guilt-free vacation as you enjoy every bit of the marine sanctuary this property is located in. Treat yourself to days spent at the beach and nearby mountains, and activities like snorkelling, kayaking, and scuba diving; then, end your days with some of the most breathtaking sunsets you'll ever witness. We guarantee you'll get back home feeling absolutely rejuvenated! Learn more about this Airbnb here.
2. This romantic hideout that faces a dreamy ocean scene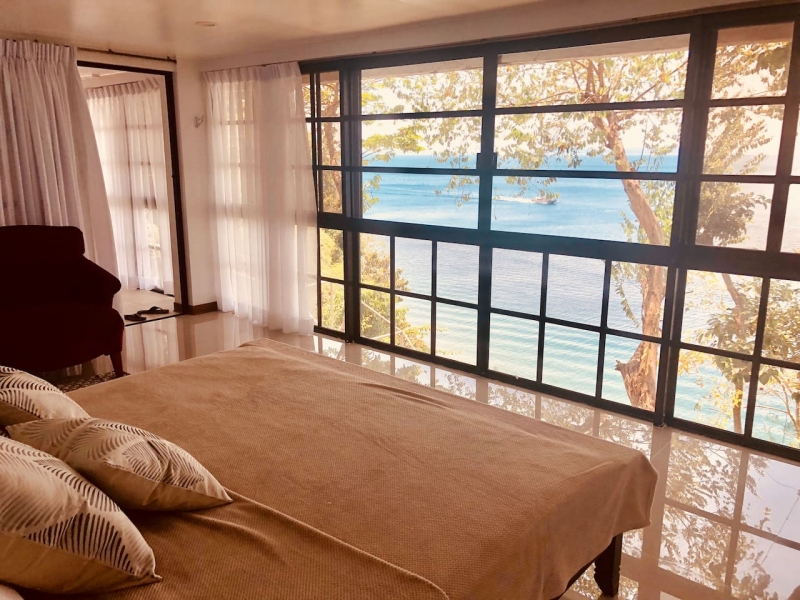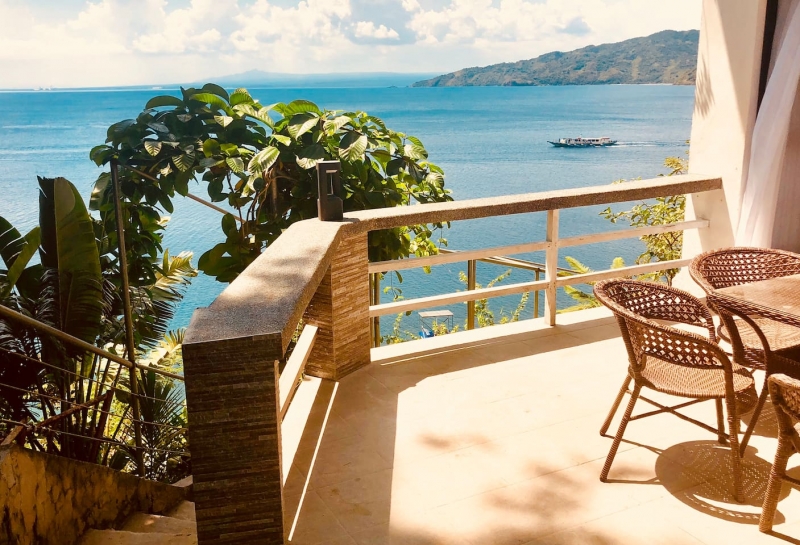 Listing name: Anilao Romantic Hideaway
Listing type: Entire home
Max. no. of guests: 3
No. of bedrooms: 1
What could be more romantic than spending your time at a secluded hideout with your significant other? You definitely can't go wrong with this private home with floor-to-ceiling windows that look out onto the Anilao oceanfront!
Perfect for couples with a shared love for adventure, this Airbnb in Batangas allows you to enjoy some of the country's best scuba diving destinations in just minutes! Spend the duration of your trip marvelling at the magic Anilao has to offer, and find yourselves instantly recharged by the end of your stay at this restful retreat. Learn more about this Airbnb here.
3. This drop-dead gorgeous home you'll want to move into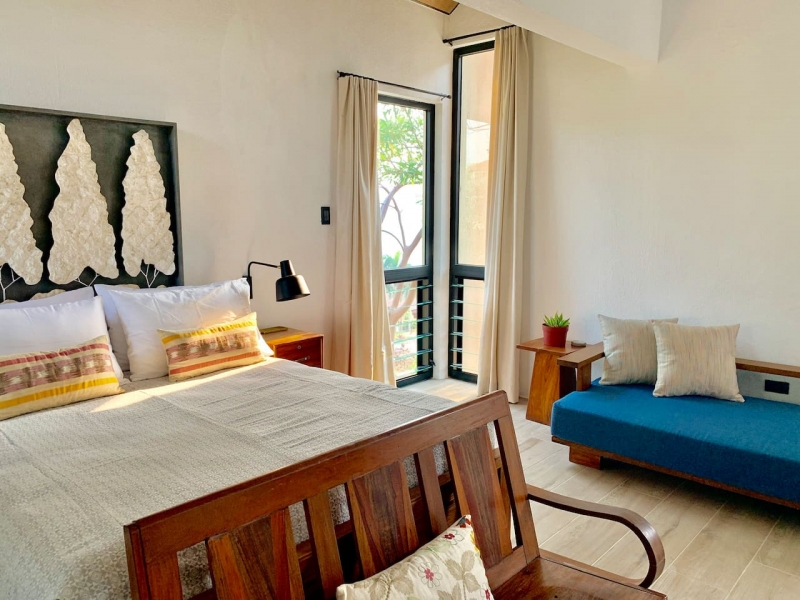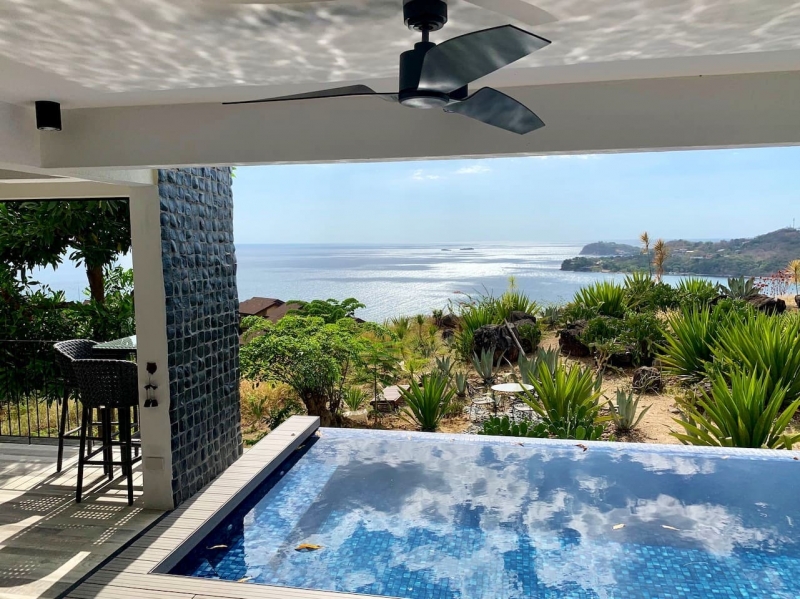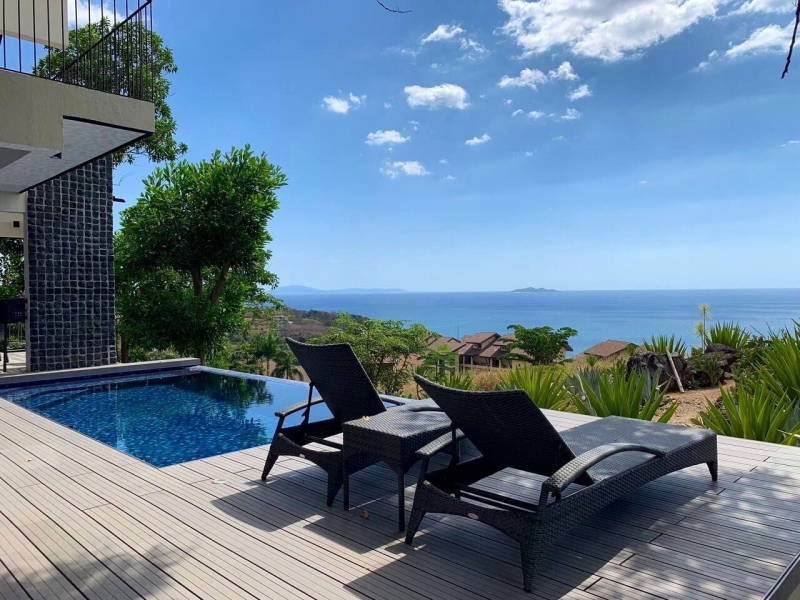 Listing name: SEA ESTA Suite for 8 w/ Pool — Sea & Sunset View!
Listing type: Entire home
Max. no. of guests: 8
No. of bedrooms: 1
If we were ever asked to visualise our dream beach house, we wouldn't have to — this Airbnb in Batangas is the epitome of everything we'd ever want and need in a vacation home. With rustic elements married with beautiful Mediterranean touches, it looks like something straight out of a magazine. Just imagine all the Instagram-worthy photos that await at this gorgeous abode!
The home, set in Terrazas de Punta Fuego, is an ideal choice for group vacations. Its many features include a patio, pool, and sunset with 180-degree views of the sea. The cactus garden, which comes complete with a lounge setup, is yet another great spot for hangouts. Plus, don't forget to take advantage of the outdoor BBQ, too! Learn more about this Airbnb here.
4. This spacious dream home that's perfect for large groups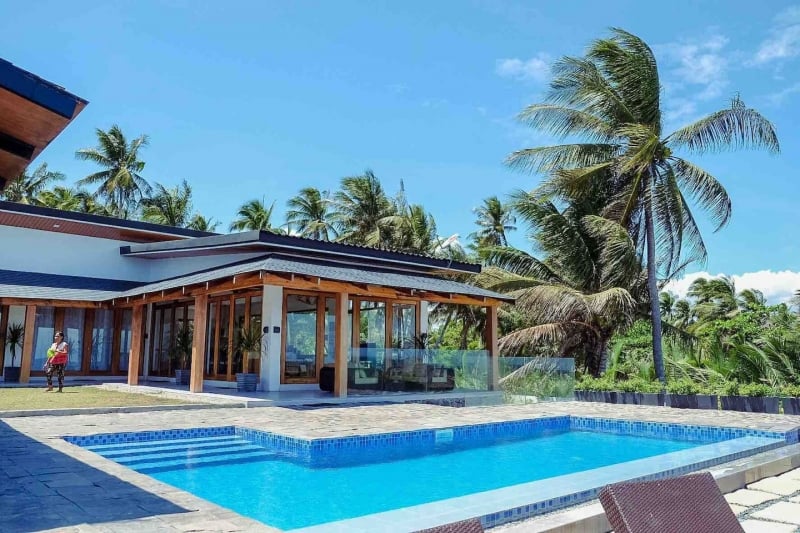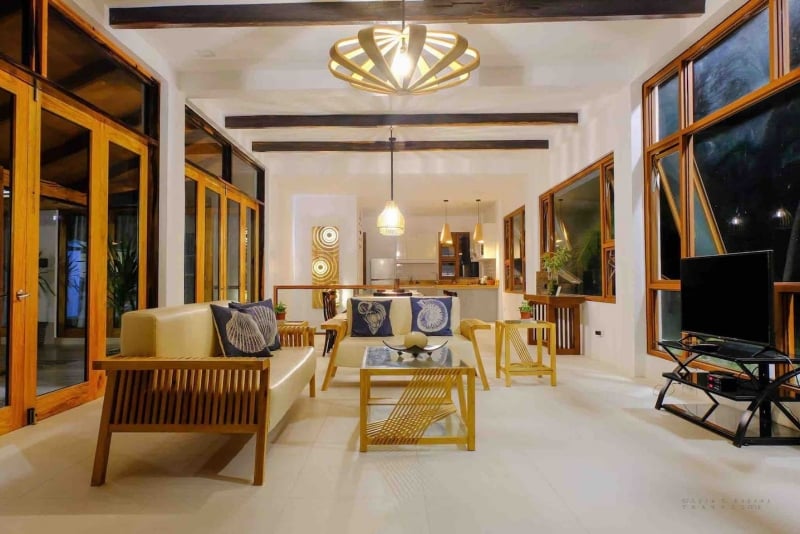 Listing name: Casa Kalinaw – San Juan, Batangas (4-Bedroom)
Listing type: Entire home
Max. no. of guests: 16+
No. of bedrooms: 4
Family reunion? Team building? Just have a really huge barkada? Well,  look no further because this Airbnb in Batangas is perfect for you! Set amidst countless palm trees, this home practically screams tropical vibes!
With five bedrooms, a luxurious pool, and lots of space, this hidden gem was definitely built for fun vacations filled with family or barkada bonding. Pack delicious bites to whip up in the kitchen, your favourite card or board games, your pool inflatables, and get ready for a trip to remember! Learn more about this Airbnb here.
5. This stylish dome that doesn't scrimp on comfort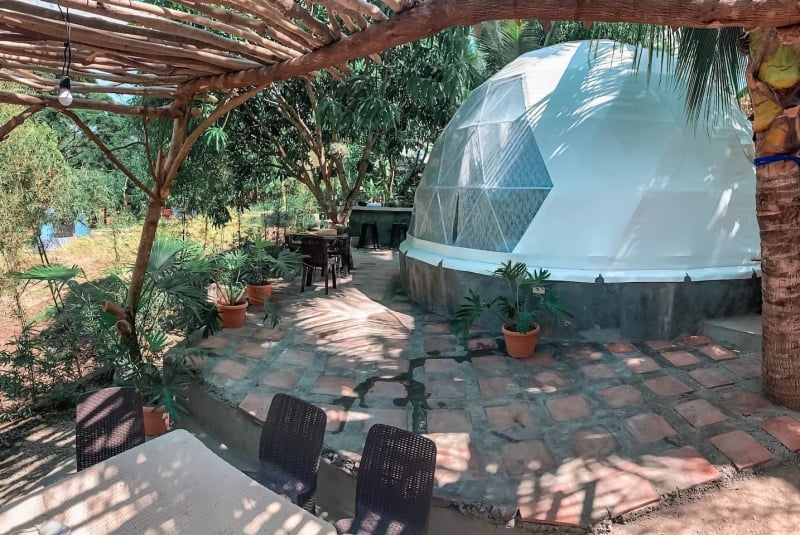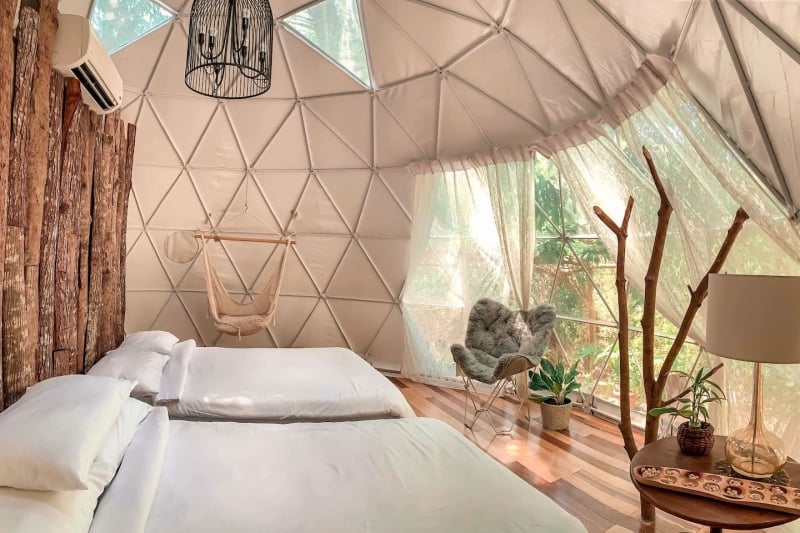 Listing name: Domescape – Glamping (2)
Listing type: Entire home
Max. no. of guests: 4
No. of bedrooms: 2
Glamping, anyone? This glampsite in Nasugbu is certainly one to consider! Guests will get a dome and a natural swimming pool all to themselves. Domes are furnished with beds, air conditioning, and more Insta-worthy touches. Yes, here you are invited to find your bliss in the middle of nature — minus the need to sacrifice comfort!
At night, guests are welcome to hang out with fellow travellers at the common area, where a bonfire is set at night. Meals are also provided at the glampsite, and reviews reveal that their menu offerings are delicious and worth every penny! Learn more about this Airbnb here.
Also read: 10 Unique Airbnbs for an Unforgettable Travel Experience
6. This secret paradise in the middle of a lush forest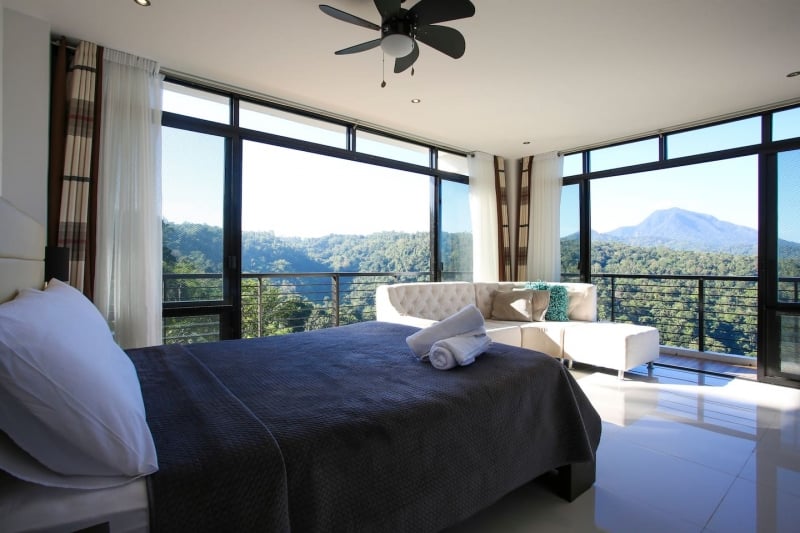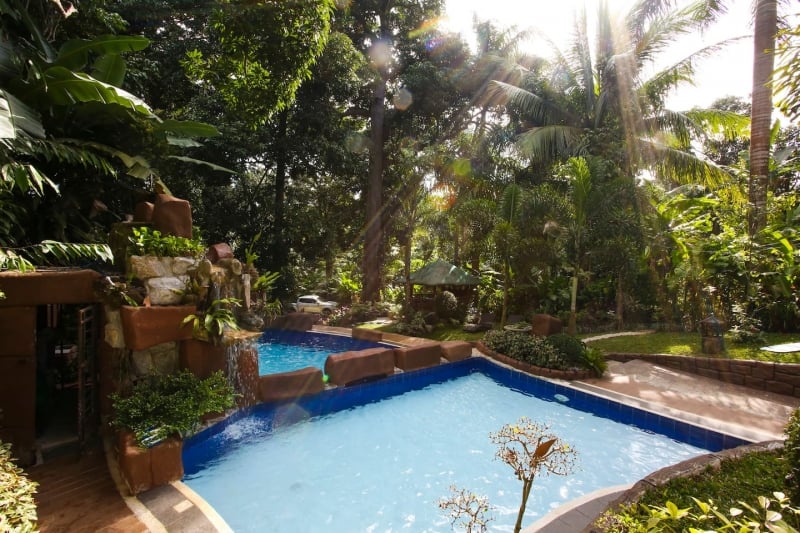 Listing name: Own a little paradise for a day or two
Listing type: Entire home
Max. no. of guests: 15
No. of bedrooms: 3
Fancy an enchanting, middle-of-nowhere type of escape? Set in what feels like a mystical forest, this gorgeous Airbnb in Batangas will most likely be your cup of tea! A spacious and secluded paradise tucked in the middle of lush greenery, it's practically a little resort you and your travel buddies can enjoy all to yourselves.
This Airbnb is made up of a three-bedroom home, and outdoor facilities that include a cabana, several pools, and a bubble spa. It's also equipped with a lounge area, entertainment room, dining room, and kitchen! With so many amenities for you to enjoy, you'll probably want to book more than just a short weekend at this picture-perfect home. You won't regret it! Learn more about this Airbnb here.
7. This relaxing retreat surrounded by nature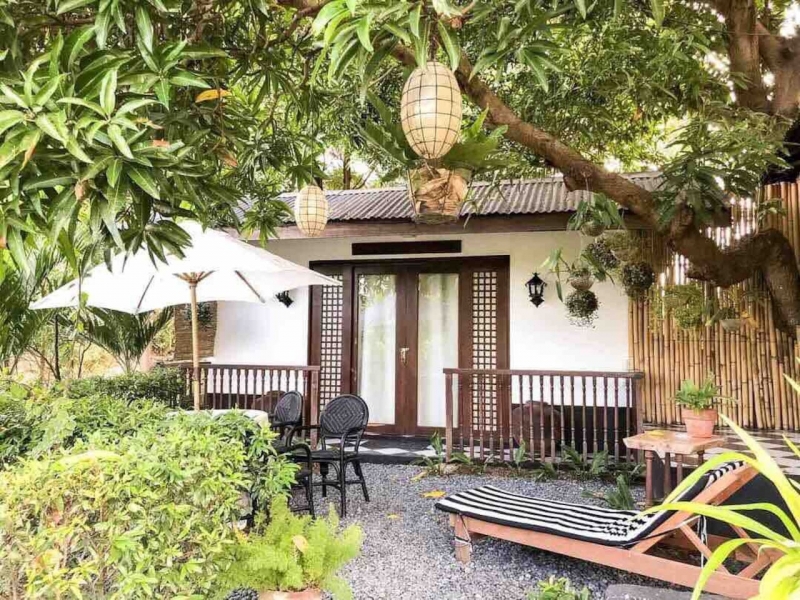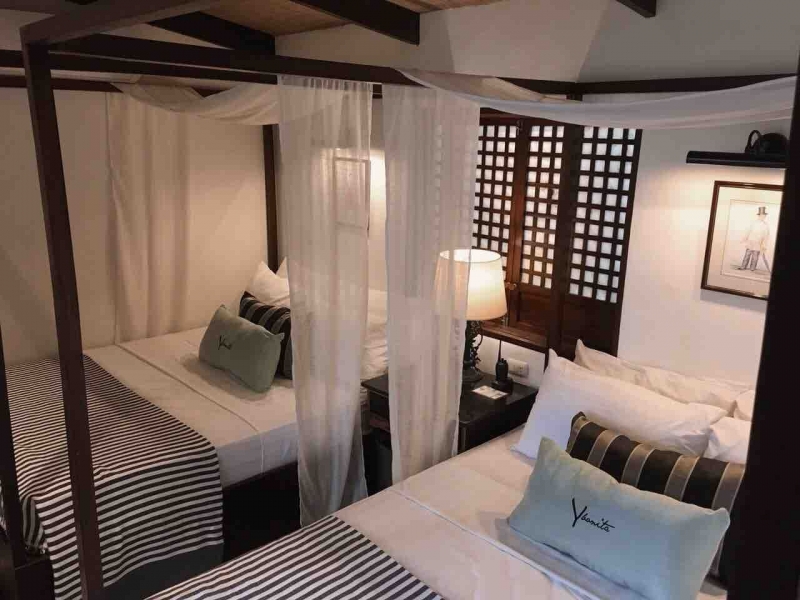 Listing name: Ybonita Farm and Villas (Caceres Villa)
Listing type: Entire home
Max. no. of guests: 4
No. of bedrooms: 2
If a peaceful weekend on a farm sounds like your kind of getaway, then we believe you should definitely book a stay at this Airbnb in Calatagan. Here, uninterrupted relaxation awaits — there's little to no Wi-Fi or mobile signal, allowing you to unplug and forget about work for the time being. Instead, take advantage of the peace and quiet as you're surrounded by fresh air and adorable animals that guests are welcome to feed.
To add to all that, the beach is just a five-minute drive away, so don't miss out. According to previous guests, you shouldn't skip out on the tours of the surrounding sand bars, either! Learn more about this Airbnb here.
8. This traditional Pinoy treehouse located just steps from the beach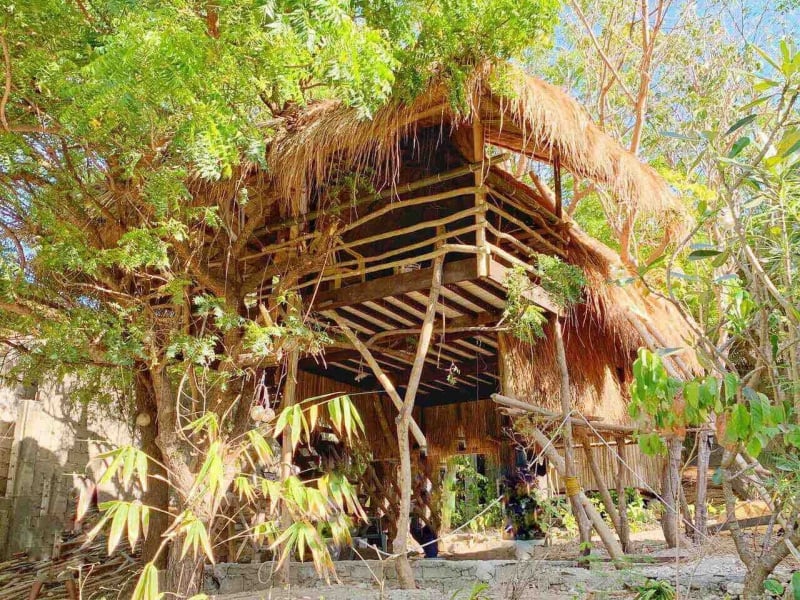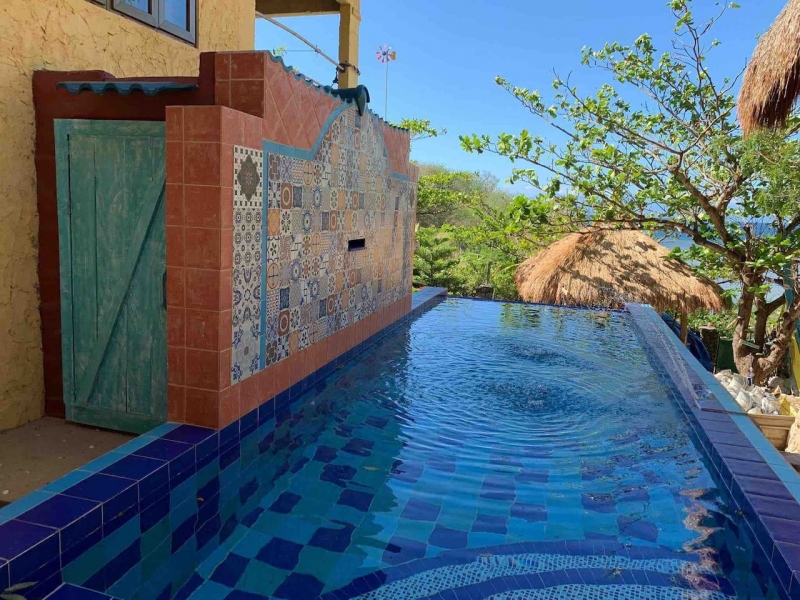 Listing name: Tree House by the ocean with pool
Listing type: Entire home
Max. no. of guests: 3
No. of bedrooms: 1
Minimalist travellers, this one's for you — a traditional Filipino treehouse, where you'll need nothing but the bare essentials. (And your swimming gear, of course!) While there isn't any air conditioning, we swear you won't even miss it! By the end of your trip, you'll miss enjoying the sea breeze from the comforts of your own bed.
From this Airbnb, you'll have access to a beautiful pool, as well as a coral reef beach. The historic Cape Santiago Lighthouse is nearby, so you may want to add it to your itinerary, too! Enjoy local fishermen's fresh catch of the day for just about any meal, revel in gorgeous sunsets as the day ends, and bask in the lovely ambience come nighttime. What more could any of us ask for?  Learn more about this Airbnb here.
9. This beachfront home just a drive away from Tagaytay
Listing name: Casita Beachfront Staycation
Listing type: Entire house
Max. no. of guests: 8
No. of bedrooms: 3
Who says you can't enjoy the best of both worlds? At this Airbnb in Batangas, you can spend time by the beach and go on a Tagaytay food trip! To be specific, this beachfront casita is located at the border of Lian and Nasugbu, and is just a 30-minute drive away from Twin Lakes Tagaytay.
What's more, despite having countless establishments within easy reach, this home is well-loved for offering guests with utmost privacy. It's been thoughtfully designed to make guests feel right at home — whether you're on a romantic getaway or vacationing with a group. So, what are you waiting for? Fresh ocean breezes and breathtaking sunsets await! Learn more about this Airbnb here.
10. This sleek, private villa with mountain views
Listing name: Villas at KAYAMA Mountain Resort (nr Tagaytay)
Listing type: Private room in bed and breakfast
Max. no. of guests: 12
No. of bedrooms: 4
Have you been on the lookout for a pet-friendly Airbnb near Manila? We know those aren't so easy to come by, so this particular stay in Batangas should definitely be considered a gem! And that isn't all there is to love about it, either. According to reviews, every corner is Instagrammable and the hosts are absolutely hospitable! What more could anyone ask for?
By booking a stay at Kayama Mountain Resort, you'll get to enjoy four beautifully designed bedrooms all to yourselves — plus, best of all, an infinity pool that overlooks the stunning Mt. Batulao. It'll feel like having a slice of nature all to yourselves! Learn more about this Airbnb here.
Also read: 10 Airbnbs for Your Next Barkada Staycation Near Manila
Which one of these Airbnb homes in Batangas will you be bookmarking? We vote that you save them all for future reference!