In the Philippines, the beach is always calling. And who are we to resist? Lucky for us, there's no shortage of coastal destinations to explore in the archipelago, from the pristine beaches of Palawan to surf-friendly Siargao facing the Pacific Ocean. If you're like us and you're always game for a beachy escape, then read on. We've compiled some of the best beach Airbnb homes in the Philippines to bookmark for our next trip to the sea. 
Beach Airbnb homes in Luzon perfect for your summer trip
1. This modern beachfront villa in a serene corner of La Union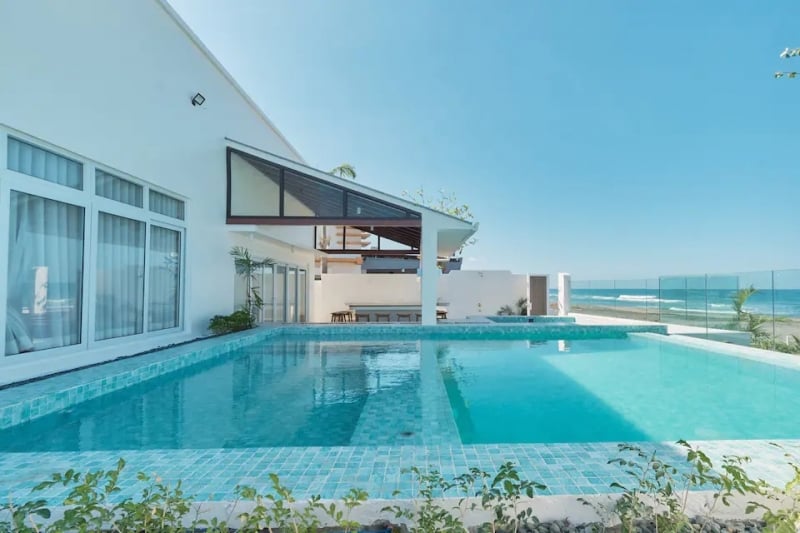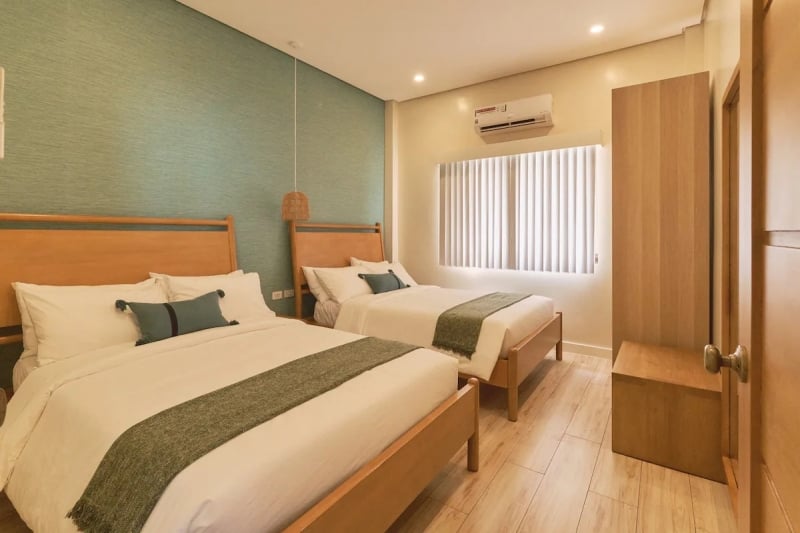 Listing name: Private Modern Beachfront Villa: Pool, Sunset View
Listing type: Entire villa
Max. no. of guests: 12
No. of bedrooms: 3
These days, La Union is always top of mind for beach vacations near the metro. Most beachgoers and surfers make a beeline for the thriving surf town of San Juan, but travellers who want to escape the crowds can opt to stay in neighbouring Bacnotan instead. The coastal town features sun, sand, and surf, and it's only a short drive away from the thriving dining and nightlife scene in San Juan. Plus, it has this sprawling pool villa that looks like a dreamy setting for a family getaway or friendcation.
Nestled right on the shores of Bacnotan, this beach Airbnb promises a memorable seaside experience in the Philippines. It's furnished well with modern amenities like a top-notch kitchen with electric burners, designer mattresses in the bedrooms, and high-speed internet. At the end of the day, gather at the sea-facing patio and infinity pool for spectacular sunset views. 
2. This romantic secluded cottage in San Vicente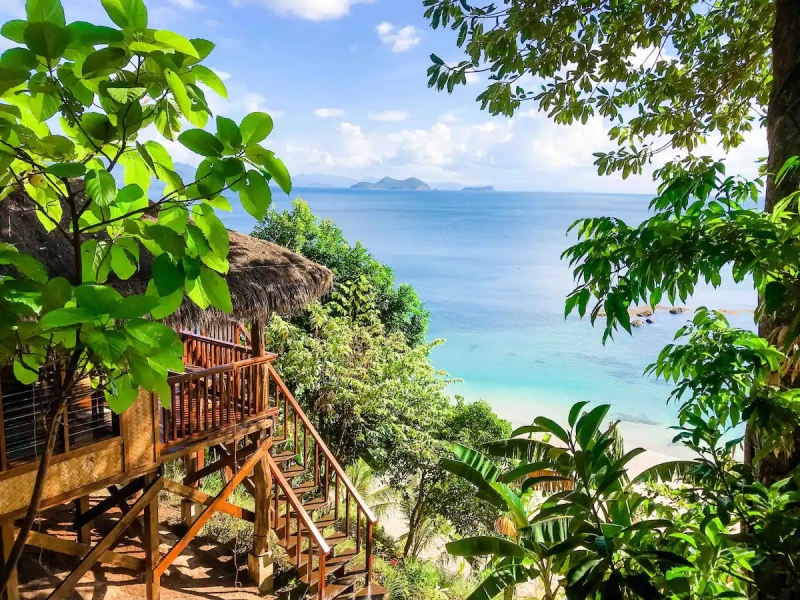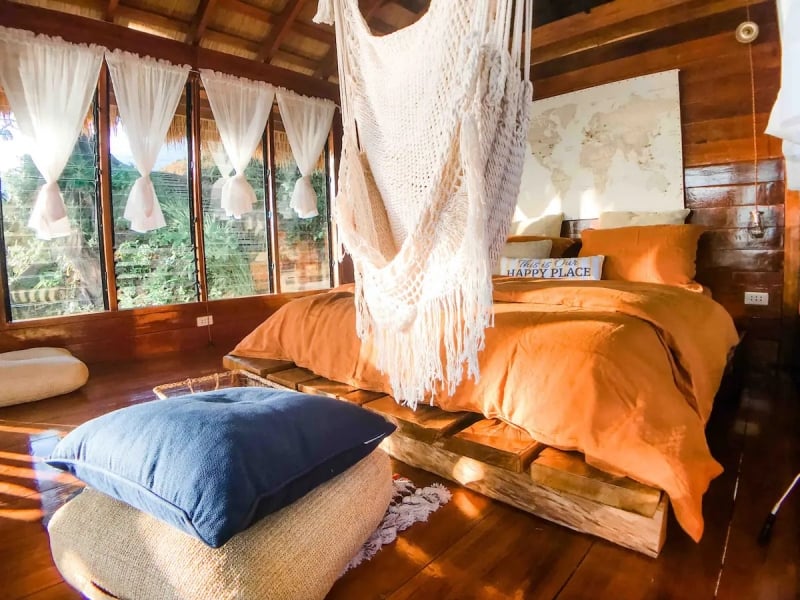 Listing name: Romantic Beach Front Cottage in a Secluded Cove
Listing type: Entire cottage
Max. no. of guests: 2
No. of bedrooms: 1
We can't get enough of Palawan, honestly. Done with exploring El Nido and Coron? This cosy tropical haven lets you escape the buzzy Palawan towns and slow down in a remote part of the province that many tourists have yet to discover. Tucked in a white-sand cove in quiet San Vicente, it's a place where you can spend your days swimming, snorkelling, and hiking in the unspoiled surrounds. 
Inside, this tropical cabin is cosy and thoughtfully designed. The hosts pay tribute to Filipino craftsmanship with natural materials and local decor. Our favourite spot? Absolutely the hammock overlooking the beach. It's the perfect spot for a breezy afternoon nap!
3. This private island resort in Palawan for VIP travellers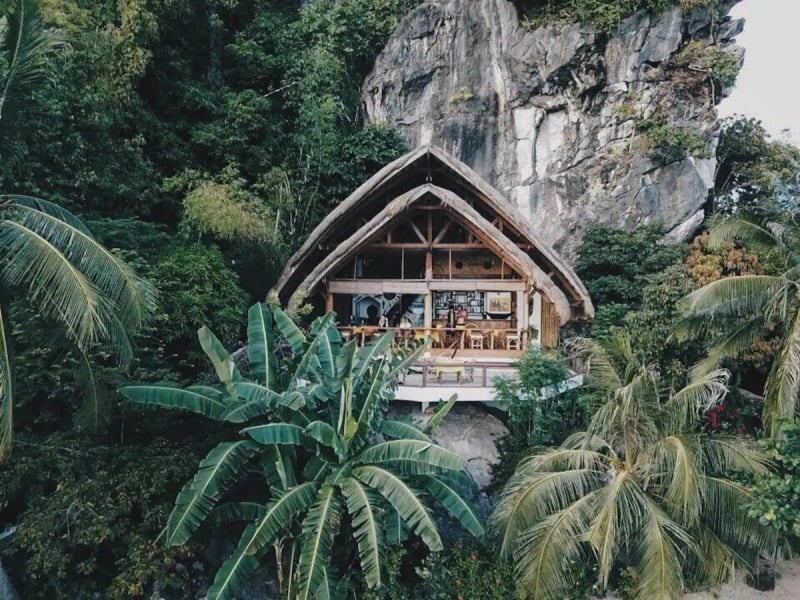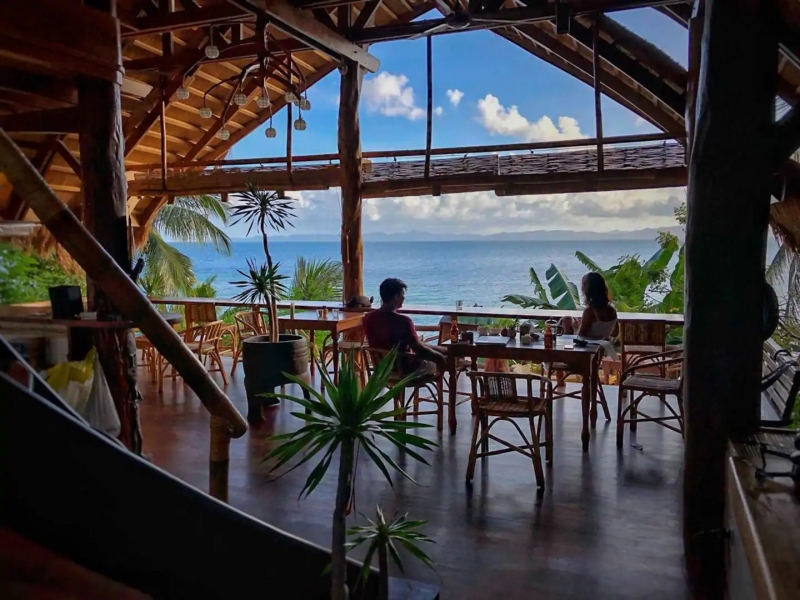 Listing name: Exclusive & Private Island Resort: Floral Island
Listing type: Island
Max. no. of guests: 24+
No. of bedrooms: 8
Got a little more cash to spare? Then you might as well rent out an entire island for your crew! Meet Flores Island, an exclusive island retreat in Palawan that definitely offers one of the dreamiest beach Airbnb experiences in the Philippines. If you're seeking seclusion and complete serenity, then this is the way to go. 
Days on Flores Island are spent lazing on the white beach, splashing in the turquoise waters, and snorkelling with a variety of vibrant tropical fish. Later in the day, you might want to slow down for a massage in a quiet hut overlooking the sea. All meals are included in the price tag, with hearty dishes of Pinoy favourites served for breakfast, lunch, and dinner. And don't worry about bringing water sports gear like snorkels and kayaks — the Airbnb host has them on hand. 
Also read: 17 Secluded Hotels & Resorts in Palawan That Are Off the Tourist Radar
4. This family-friendly Bolinao Airbnb with beach access and a saltwater pool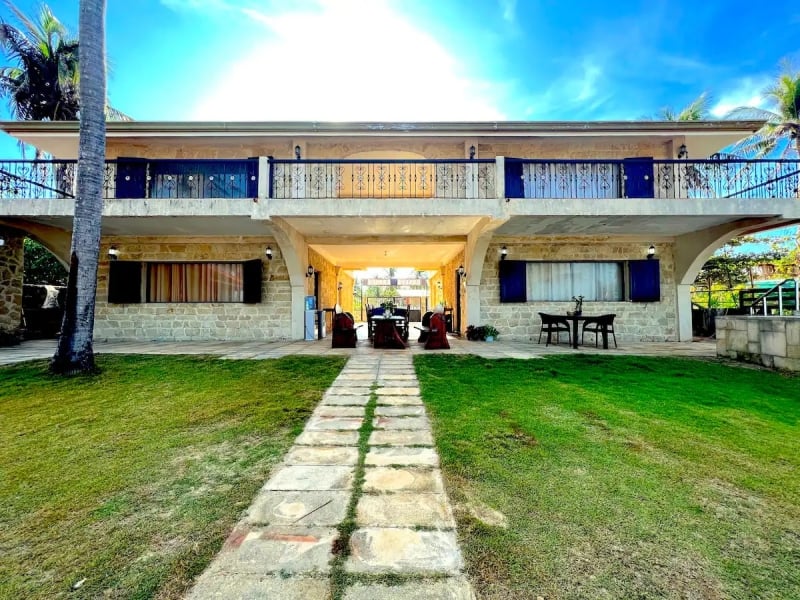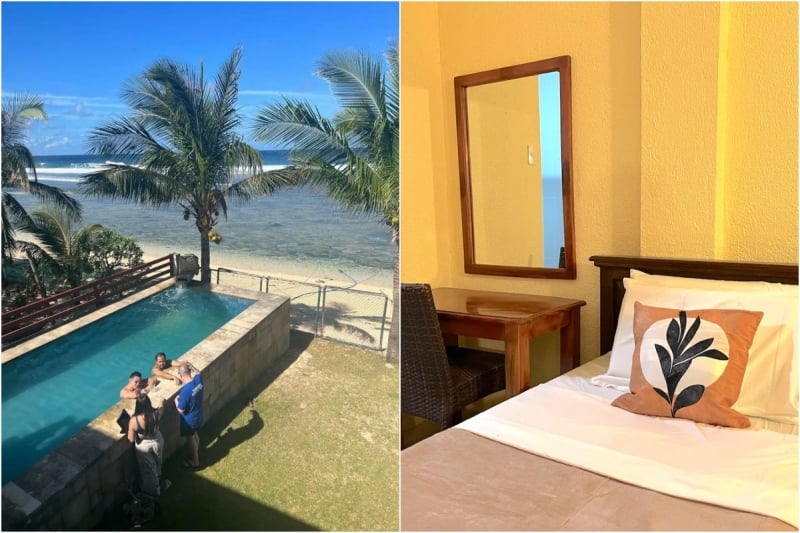 Listing name: Beach Villa w/ Garden & Pool for 18pax w/ 6BR+6T&B
Listing type: Entire villa
Max. no. of guests: 16+
No. of bedrooms: 6
Here's another Airbnb beach retreat in the Philippines for big groups, and this time, it's a faster and easier trip from Manila. This Spanish-style villa lets families enjoy the pristine white-sand beach of Bolinao, Pangasinan right in their backyard. Then, after swimming in the ocean, keep the fun going by jumping into the private outdoor pool. 
Spacious bedrooms, each with its own toilet and bath, guarantee plenty of space to keep large families comfortable. An open-air dining area lets guests bask in the salty ocean breeze while savouring freshly cooked food — the ultimate recipe for a delicious lunch, we must say!
Also read: Where to Stay in Ilocos: 12 Best Hotels, Resorts & Vacation Rentals
Best beach Airbnbs in Visayas for your island escape
5. This cosy beach house close to Apo Island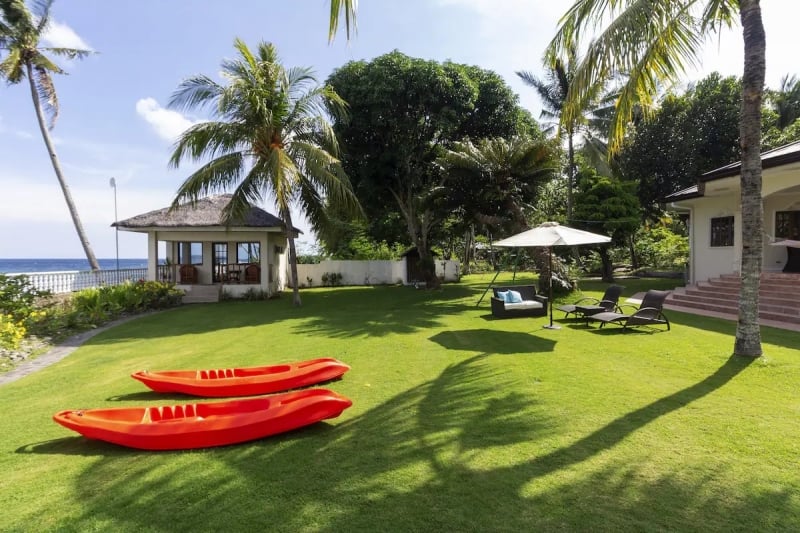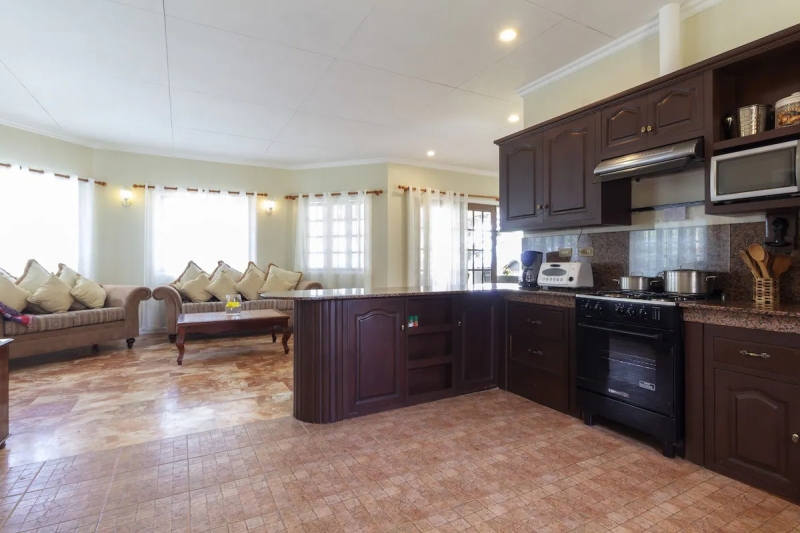 Listing name: Villa Amani Vacation Beach House
Listing type: Entire home
Max. no. of guests: 6
No. of bedrooms: 2
If you've never been to Dumaguete, then this is your chance to visit this coastal city. The ideal base for adventures in southern Negros, it's perfect for your next Visayan trip. Here for underwater expeditions? This two-bedroom beachfront abode even puts you right across the famous Apo Island.
Groups are sure to feel right at home in this spacious beach house, equipped with all modern essentials: spacious bedrooms, a full kitchen, and even a safe parking area. Make sure you give the kayaks a go — previous guests have rowed out and spotted turtles in the waters in front of this Airbnb!
6. This luxe villa for your own slice of Boracay paradise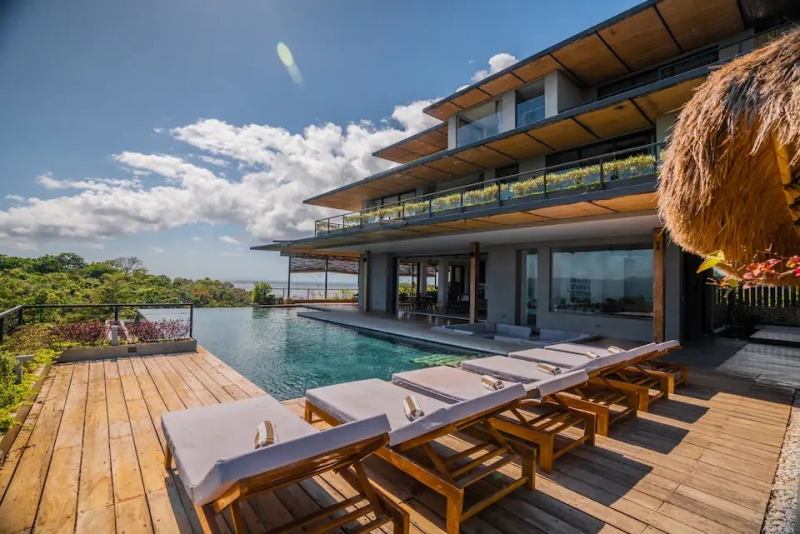 Listing name: 9 double bedroom luxury villa with infinity pool
Listing type: Entire villa
Max. no. of guests: 16+
No. of bedrooms: 9
Beach accommodations dot the entire coast of Boracay, but this stunning hilltop villa is truly something special. Few places on the island combine luxury with a natural barefoot vibe like Kalamansi Villa. Yes, you'll be far from the busiest parts of the island, but it doesn't matter when the house is decked out in premium recreation options: an 18-metre infinity pool, a bar and cabana, a barbecue area, and a billiard room. 
If you're ready to splash some cash on your beach holiday, this Airbnb will give you a VIP experience in the Philippines. Stunning views and spectacular digs aside, the rental also comes with a full staff to make your stay stress-free and unforgettable.
7. This tropical hideout in southern Cebu with a private beach and reef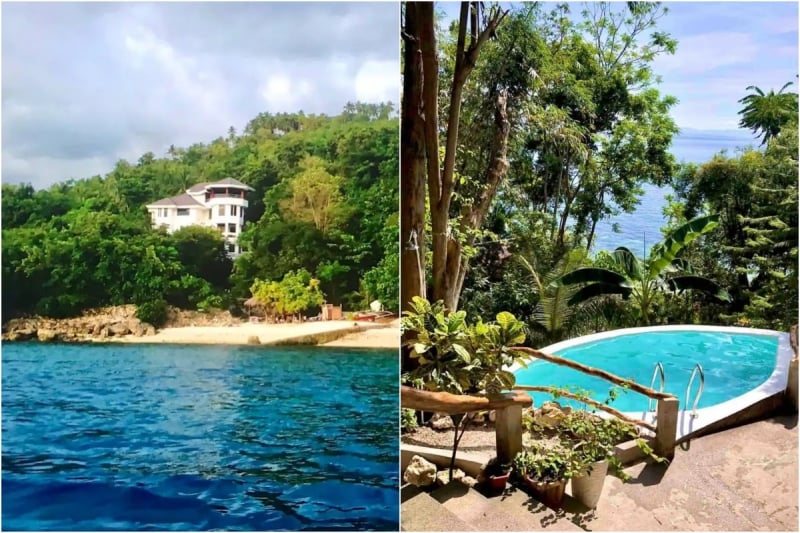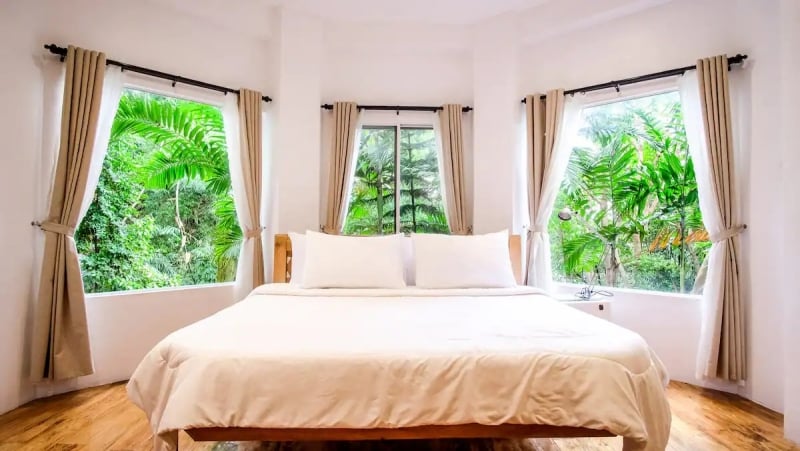 Listing name: Pacific Lounge Cebu: Exclusive Beach & Coral Reef
Listing type: Entire serviced apartment
Max. no. of guests: 8
No. of bedrooms: 2
Discover a quieter side of Cebu and go south to this off-grid villa for an exclusive tropical getaway in a picturesque bay. The resort-style amenities that you can call your own take Pacific Lounge to another level, from the outdoor infinity pool to an entire private beach. There's even a house reef right off the shore for snorkellers up for aquatic encounters. 
Inside the Airbnb apartment, the interiors are bright and tasteful. The outdoor lounge and open-air dining area sit on the top floor, offering a breezy space to relax and eat. Plus, Pacific Lounge serves free breakfast! It's also a great base for travellers headed to southern Cebu destinations like Aguinid Waterfalls and Oslob. 
Top beach Airbnb rentals in Mindanao to explore southern shores
8. This Insta-friendly haven for two on the shores of Siargao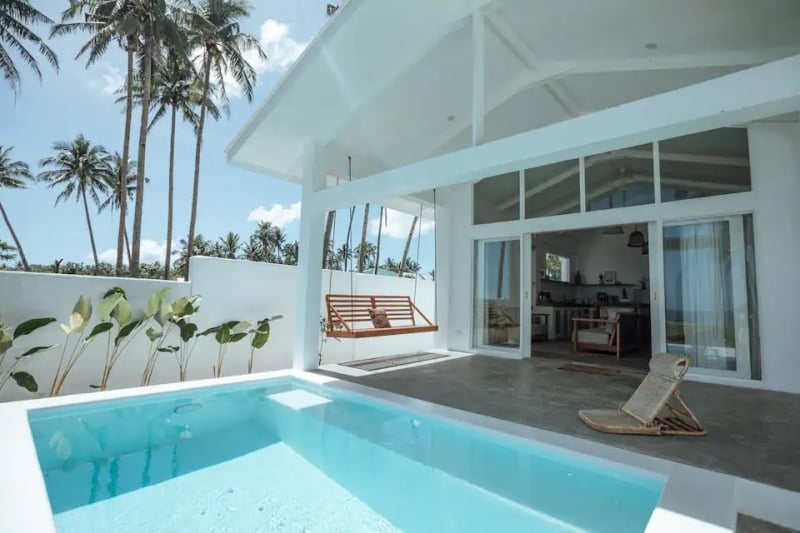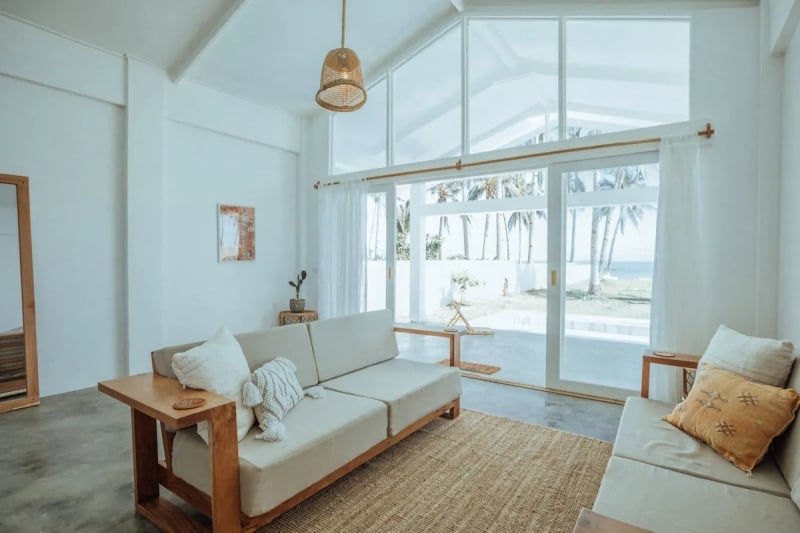 Listing name: Private Modern Tropical Villa with Infinity Pool
Listing type: Entire villa
Max. no. of guests: 12
No. of bedrooms: 4
Get your cameras ready; this chic little villa looks like something out of a magazine! Dubbed Casita Blanca, this beach Airbnb is the perfect escape for solo travellers or couples visiting the Surfing Capital of the Philippines. 
Stylish interiors inspired by Filipino, Grecian, Moroccan, and Mexican design create a blissful and snap-worthy stay in Siargao. The ocean is in full view of the living room, bedroom, and private pool — and the scenery is especially stunning during sunrise! And while the casita is set apart from the busy parts of General Luna, it's close enough to the action that wave chasers can simply take a peek outside to check the surf at popular Siargao spots, including the iconic Cloud 9. Convenient, right?
9. This beautiful Siargao sanctuary on the beach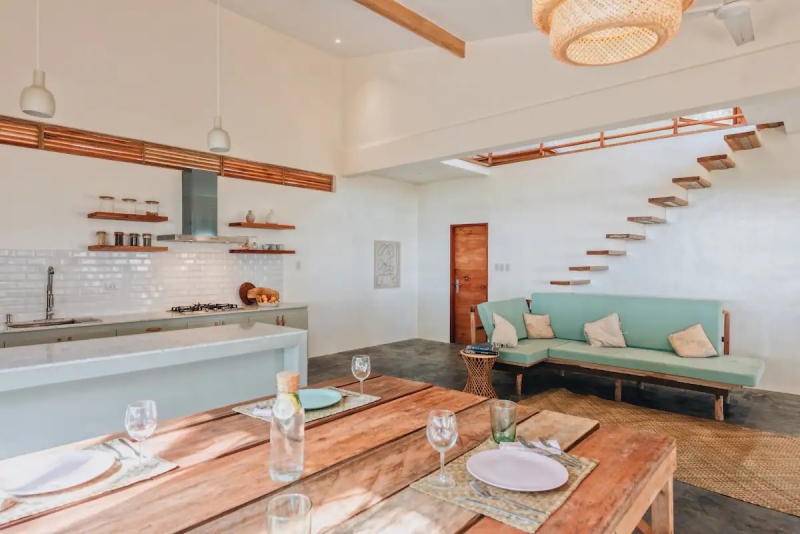 Listing name: Two-Bedroom Waterfront Villa with Plunge Pool
Listing type: Entire home
Max. no. of guests: 5
No. of bedrooms: 2
Taking a couple more people on your surfing expedition? This new beachfront villa in Siargao is a real find. Floor-to-ceiling windows promise an abundance of natural light throughout the day, as well as postcard-pretty views of palm trees framing the ocean. It's definitely the perfect sight to wake up to, whether you're in town to surf or not!
Direct beach access may be the biggest draw of this Airbnb, but the sprawling patio and private pool are fun places to hang out with the barkada, too. And if you prefer indoor hangs, the large open-plan kitchen, dining, and living area also offer an excellent setting for dinner parties.
Also read: 15 Best Things to Do in Siargao That You Can't Miss
10. This serene stone house in beautiful Camiguin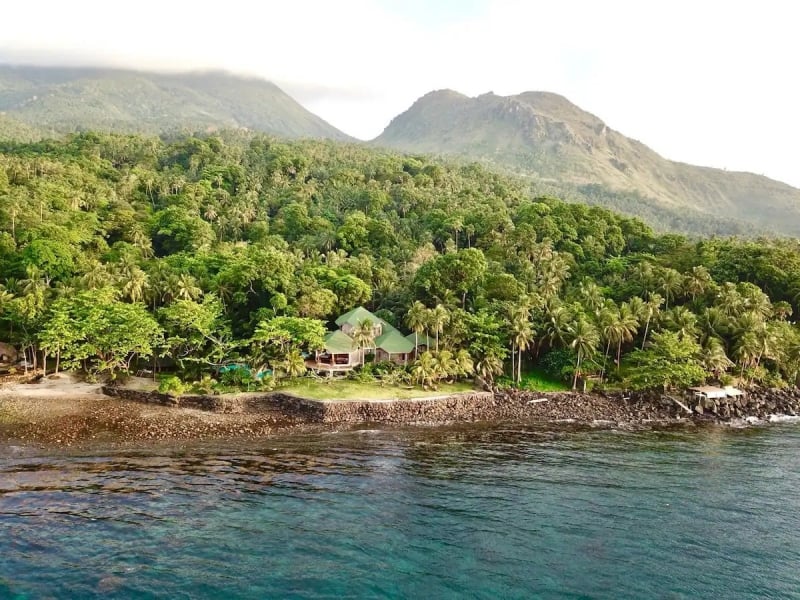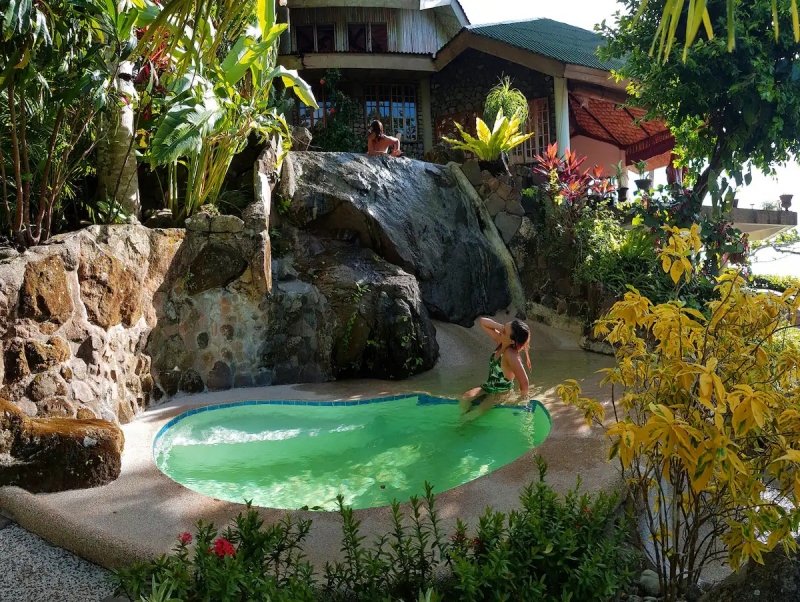 Listing name: Aninipot Villa – Private Bungalow with Ocean Views
Listing type: Guesthouse
Max. no. of guests: 3
No. of bedrooms: 1
Finally, let's sail to captivating Camiguin. Famously known as the Island Born of Fire, the volcanic isle is a lush natural playground with endless opportunities for swimming, diving, and trekking volcanoes. It's relatively untouched, too, so you won't have to worry about hordes of tourists ruining the view, especially if you book the Aninipot Villa. 
For nature and outdoor lovers, this secluded clifftop bungalow has it all: beach access, beautifully landscaped gardens, and sweeping views of the sea. There's also a swimming pool for guests who want to take a dip closer to the house. But be ready, this Airbnb is designed for a true escape. That means, no mobile networks, no WiFi, no TV. Are you up for it?
Also read: Island Hopping in the Philippines: Top Destinations & Tips for Planning Your Trip
There you go, some of our favourite beach houses on Airbnb that you can rent across the Philippines. What's your pick?  
Got a property you'd like TripZilla to feature? Inquire with us here.
---
This article contains affiliate links. When you book through these links, we may earn a small commission at no additional cost to you. All images courtesy of the respective property listings.