7,000 islands and endless seas to explore. If it's an adventure at sea you're seeking, there's nothing better than island-hopping in the Philippines. From a trusty old bangka, you'll sail from the mainland and watch the sublime tropical seascape unfold before your eyes: crystal clear waters as far as the eye can see, palm-fringed beaches on empty islands, and reefs teeming with tropical life beneath the ocean's surface. Even for us Filipinos, it's a paradise that feels worlds removed from regular life. 
Off on a seafaring expedition? Read on for the top island-hopping destinations in the Philippines, as well as some tips to help the journey go a little more smoothly.
Also read: 7 Private Islands You Can Rent in the Philippines Right Now
Top destinations for island hopping in the Philippines
El Nido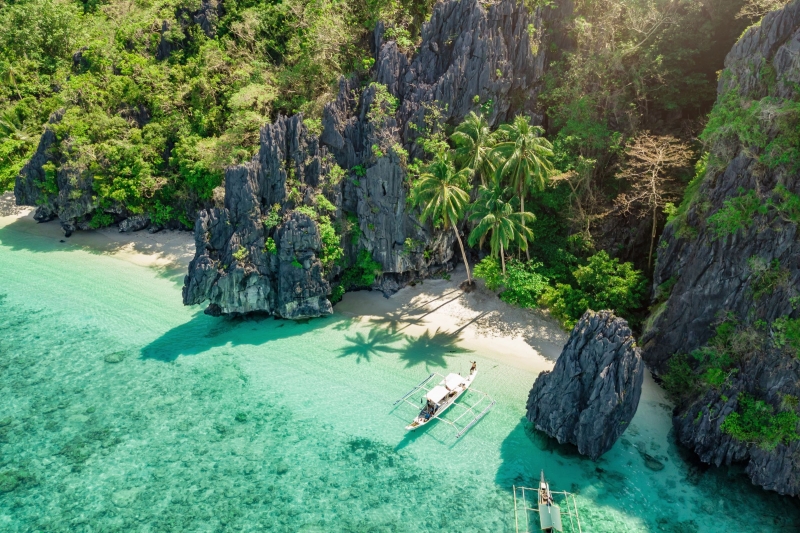 Known as the Philippines' final frontier, Palawan is widely considered one of the most beautiful islands in the world. Sun-seekers fly to El Nido from around the world for a sailing expedition in the Bacuit Archipelago, with its enchanting lagoons and beautiful beaches. It's impossible to pick favourites, but the Big and Small Lagoons are two of the most popular. Secret Beach and Entalula Island are also personal highlights.
Palawan's popularity skyrocketed in recent years; in fact, you've probably seen photos of the best-known spots of El Nido's island-hopping tours. But trust us when we say postcards pale compared to the real thing.   
Also read: 17 Secluded Hotels & Resorts in Palawan That Are Off the Tourist Radar 
Coron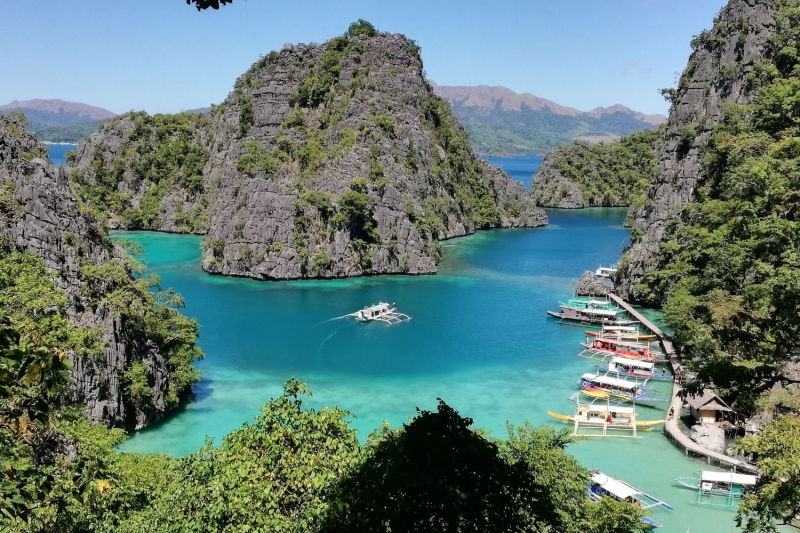 Although a part of the Palawan Province, Coron is on a separate island that's usually an entirely separate trip. Like El Nido, it's packed with gorgeous tropical spots that make it among the best island-hopping trips in the Philippines. 
The most famous Coron site is undoubtedly Kayangan Lake, boasting emerald waters and limestone formations. But there's far more to see here, from the sugar-white beach of Malcapuya Island to the towering underwater cliffs of Barracuda Lake. Additionally, divers flock to Coron not just for its colourful tropical life but also for the WWII-era Japanese shipwrecks lying in recreational diving depths. 
Siargao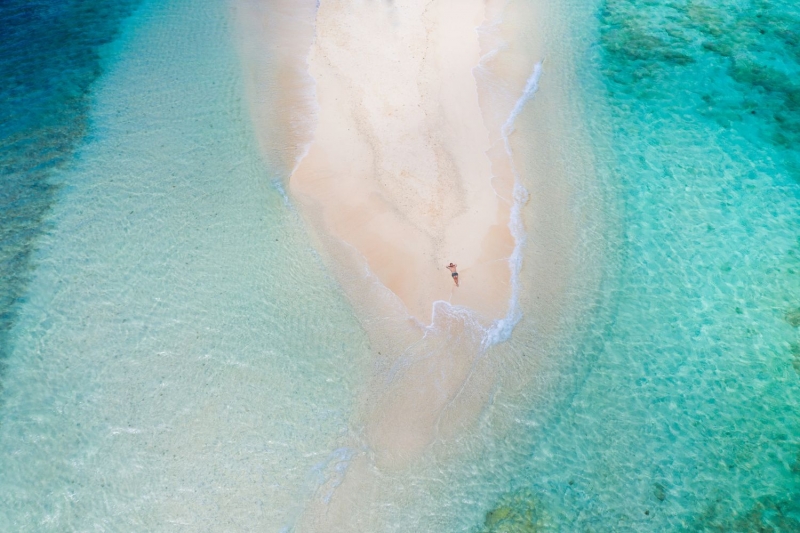 In case you didn't know: The Surfing Capital of the Philippines is home to more than just the best swells in the country. Even for surfers on Siargao Island who are here to catch some waves, one of the must-do things is exploring three off-coast isles: Daku, Guyam, and Naked. 
Daku Island, the only inhabited isle of the trio, is a laid-back spot for lunch. On the other hand, the palm-covered Guyam and the empty white shores of Naked Island are both picture-perfect tropical escapes.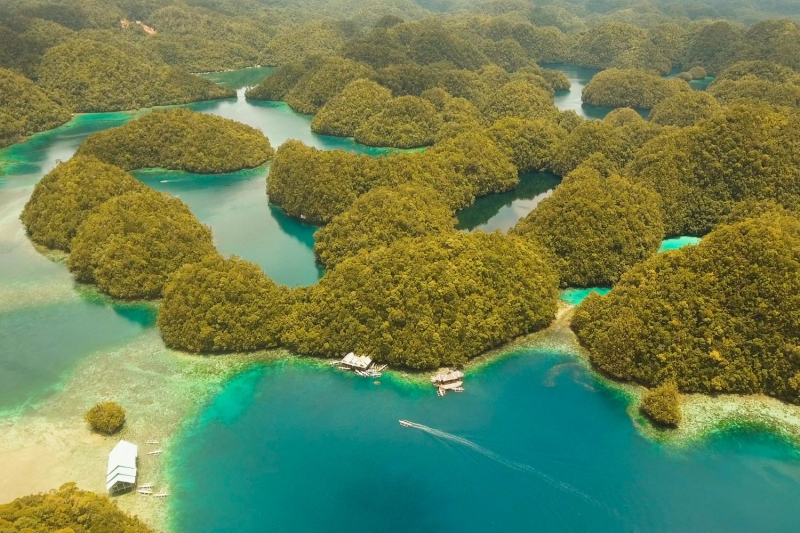 Willing to go a little further? Sail from Siargao to the remote Bucas Grande Island, one of the island-hopping destinations in the Philippines that will still make you feel like you're exploring uncharted waters. From the Sohoton Jellyfish Sanctuary to the bioluminescent waters of Hagukan Cave, the dazzling array of natural wonders of Bucas Grande is worth the lengthy trip.
Also read: 15 Beautiful Airbnbs in Siargao to Complete Your Island Experience
Panglao, Bohol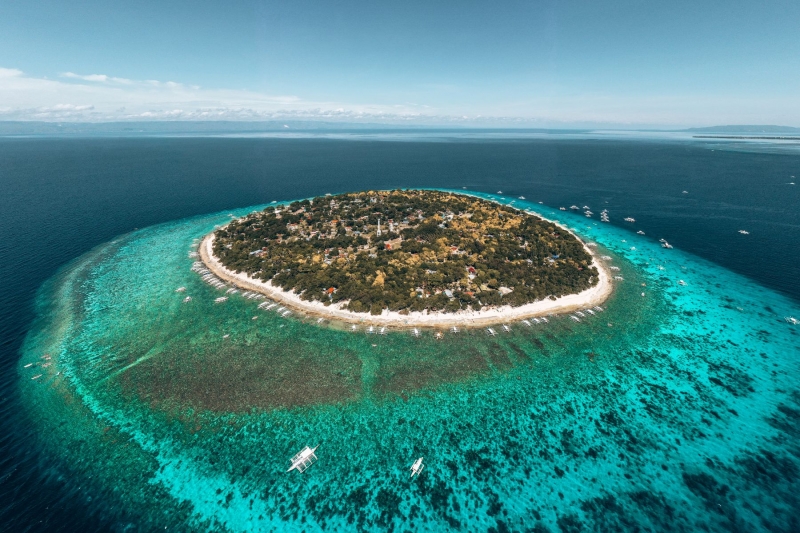 Although Chocolate Hills and adorable tarsiers often take the spotlight in Bohol, it's also an incredible destination for island-hopping in the Philippines. The first stop of expeditions jumping off from Panglao is usually Pamilacan Island; if you're lucky, you'll spot wild dolphins playing and leaping in the waters around the isle. Sometimes, these playful mammals will even race alongside boats to the delight of guests!
Then, it's time to dive underwater in the sparkling waters around Balicasag Island. Travellers can swim in crystalline blue waters with abundant marine life — including beautiful sea turtles. And when the low tide rolls around, Virgin Island emerges. Relax on the pristine sand bar as the day winds down and snap Insta-worthy photos before ending your island-hopping trip in the Philippines.
Romblon, Romblon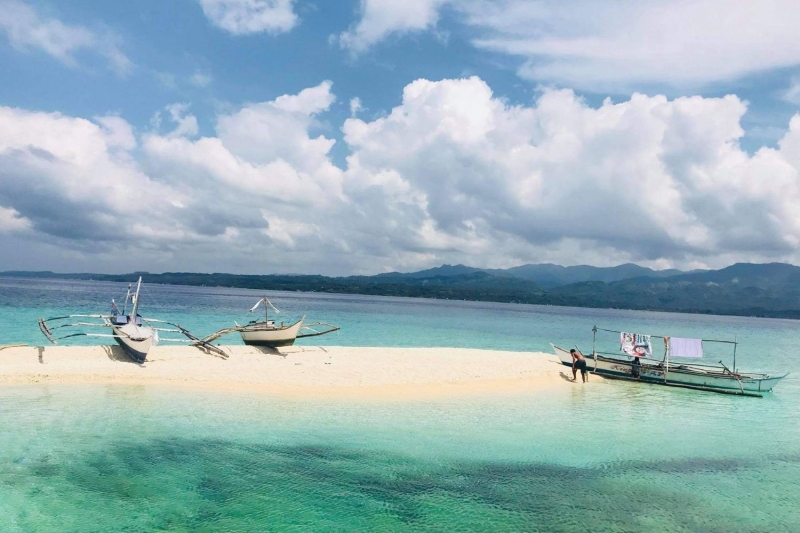 Romblon is found close to the world-famous Boracay Island, but only a fraction of tourists make their way to this quieter tropical idyll. For better or for worse, it remains somewhat off the beaten track. The breathtaking Bon Bon Beach is reason enough to visit Romblon, but going island-hopping will also let you uncover a handful of amazing gems: Cobrador Island, Logbon Island, and Alad Island.
Caramoan, Camarines Sur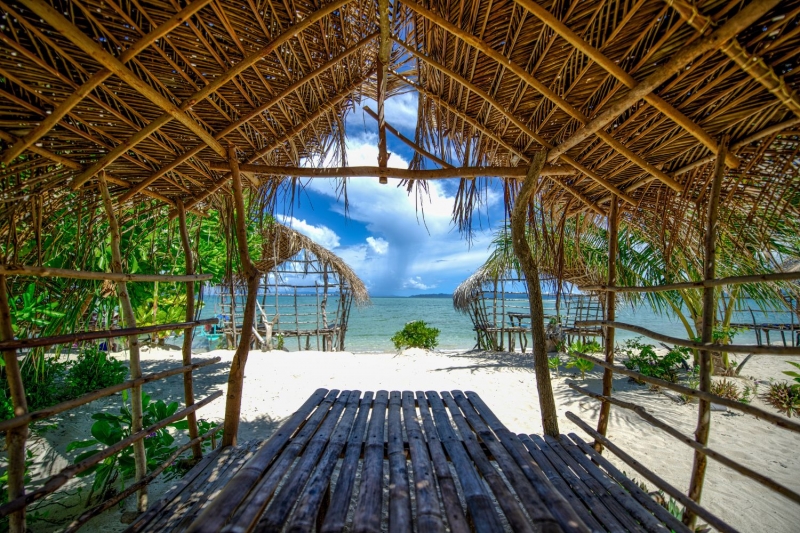 Travellers who can't find the time to leave Luzon can visit the Caramoan Islands instead, famously picked as a filming site for the reality show, Survivor. Expect unspoilt beaches framed by rugged rock formations, diverse marine life, and very few crowds. 
When you're not resting and relaxing on the quiet shores of Caramoan, travellers can embark on one of the underrated island-hopping tours in the Philippines. Scramble up the rocks of fine-sand Matukad Island and get a glimpse of the mystical Matukad Lagoon. Other island-hopping highlights include Hunongan Cove, Lahos Island, and Cotivas Island.
Also read: 12 Tropical Airbnb Homes in Asia to Experience the Best of Island Life
Tips for island-hopping in the Philippines
1. If you're prone to motion sickness, drink meds before getting on the boat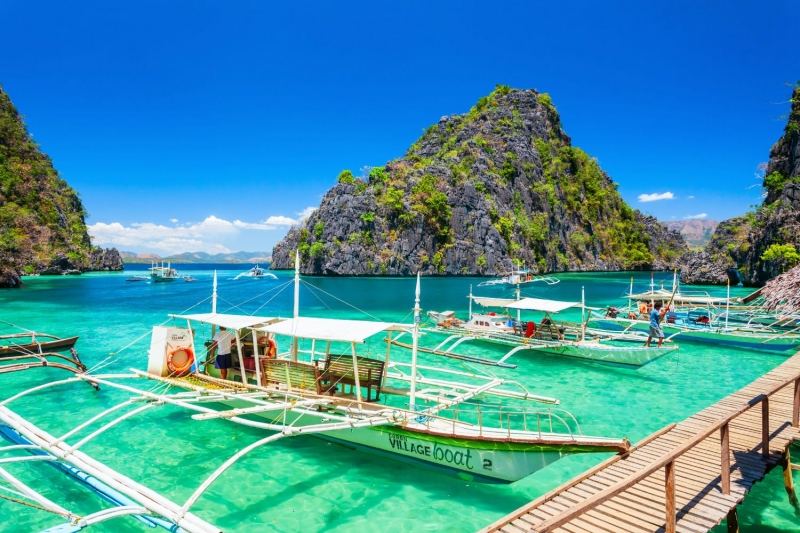 Trust us, if you think you need motion sickness medication, then you probably do. When it's time to sail in the open sea, the rolling waves can cause nausea, especially for travellers unused to the constant motion. It won't hurt to take medication after breakfast and before hopping aboard.  
2. Check the weather forecast
Before embarking on your much-deserved tour, check the weather to make sure you're getting clear skies and sunshine in your island destination. Tour operators will usually cancel trips when the weather is bad, so you might not even get to leave the coast if a storm signal is up.  
The best time for island hopping in the Philippines is generally from November to April. But even the wet season from late May to October will have plenty of sunshine — just check the forecast before booking your tour.  
3. Join a tour with lunch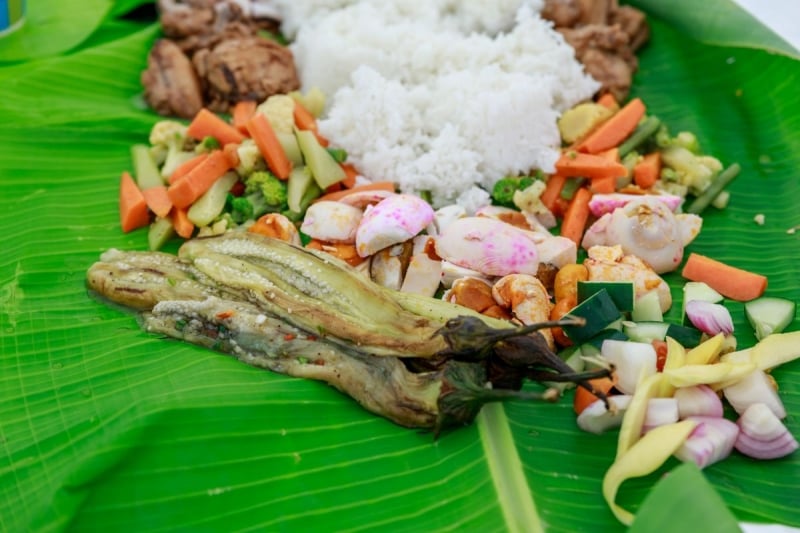 It's tempting to save a few pesos and just bring a sandwich on the boat, but believe us when we say the lunch spread is one of the best parts of island hopping in the Philippines. Whether you're on a private or shared tour, the boatmen will set up an incredible boodle fight for tourists. Grilled fish and meat, grilled vegetables, super-sweet native fruits, and plenty of rice — it's a feast that's as tasty to hungry explorers as any fine-dining menu.
4. Bring all your waterproof gear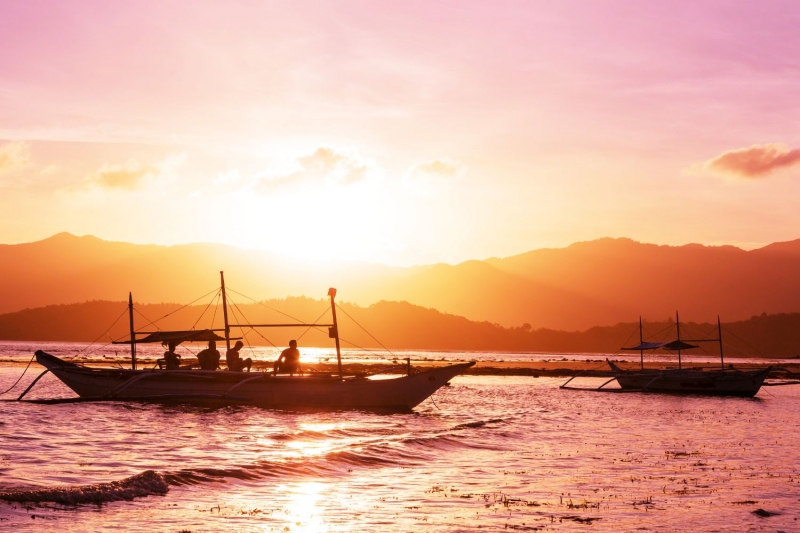 If you're going on an island-hopping trip in the Philippines, expect to get wet. Thus, pack all your water-ready gear, from GoPros and camera cases to waterproof mobile phone bags. A dry bag is also infinitely useful; if you don't have one, bring a couple of Ziploc bags to keep your valuables safe. 
5. Make sure you have cash in your wallet
It goes without saying, you won't find any ATMs on any of the islands. So, bring a bit of cash on the boat. While there won't be restaurants or cafes in most of your island stops, vendors sometimes mill around bigger islands selling coconuts or cold drinks. And while tourists aren't strictly obligated to give tips to the boatmen, they're always appreciated!
6. Take nothing but pictures…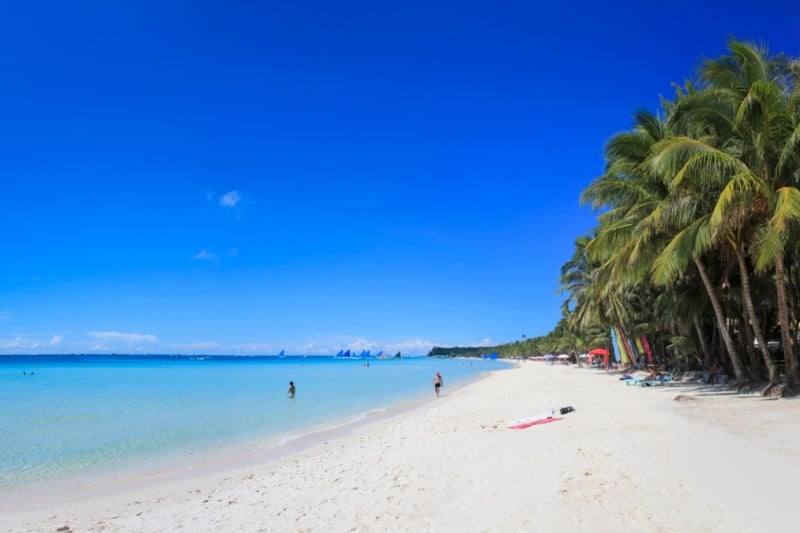 …Leave nothing but footprints. The golden rule, right? Let's do our part in preserving the natural beauty of the Philippine Islands by leaving it undisturbed and pristine for the next set of travellers who make their way here.
7. Go where the tide takes you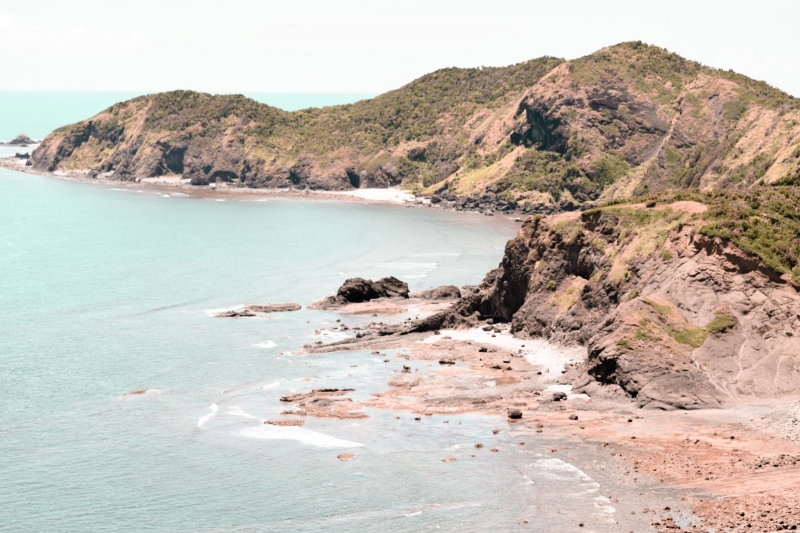 Tourists often have their sights set firmly on major tourist spots — and trust us, we understand! The magical lagoons of Palawan and the tiny white isles around Siargao truly are some of the most beautiful sights in the world. (We're fully biased.)
But the Philippines is home to thousands and thousands of islands. If you're up to feeling more like an explorer than a tourist, consider venturing off the tourist radar. There's no shortage of empty beaches and remote spots in the archipelago, from Palaui Island in the far north to Panampangan Island in Tawi-Tawi. Even in tourist hotspots like El Nido and Bohol, there's bound to be a multitude of unexplored spots waiting for you. 
Also read: 10 Gorgeous Islands & Beaches in Leyte for Sun, Sand & Surf
Well, the islands are calling. Ready for island hopping in the Philippines? 
---
Featured image credit: Alena Ozerova via Canva Pro