Looking to go off-grid? For us, Palawan remains our favourite destination for a true escape. Travellers may flock to the wild beaches and pristine islands, but a good chunk of Palawan remains blissfully provincial. Between the busy tourist towns sit empty coastlines and unspoiled forests that remain isolated from the tourist circuit. If you truly want to leave the world behind, this is a good place to start: Our picks of secluded Palawan resorts, hotels, and Airbnbs, ranging from private islands to jungle retreats.
Top secluded Palawan resorts
1. Vellago Resort (El Nido)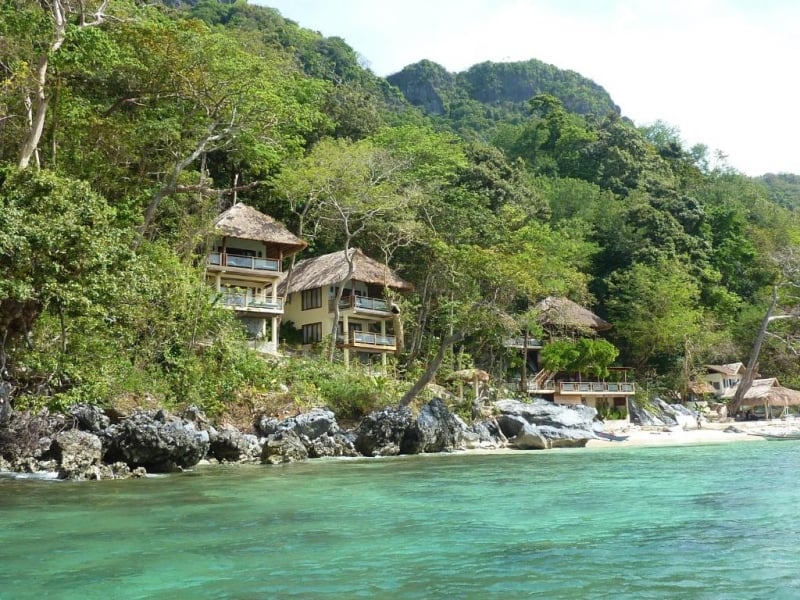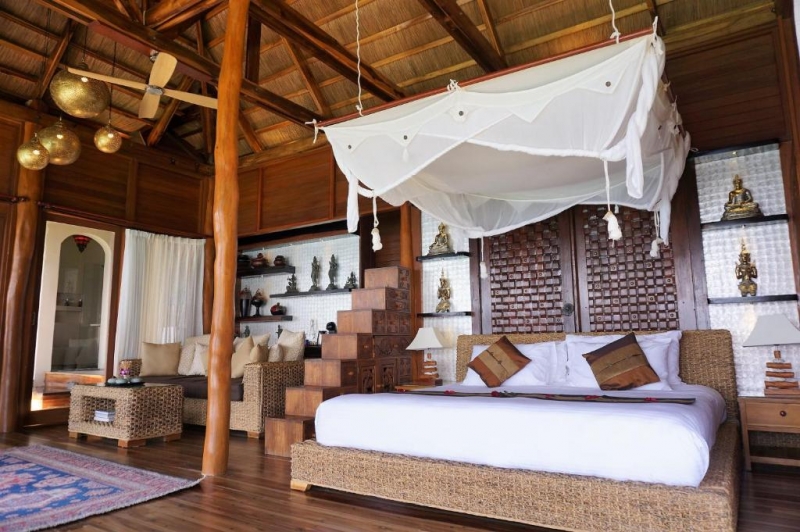 There's a reason why Seven Commandos Beach is a staple in El Nido island hopping tours: Fine white sand, turquoise waters, and a backdrop of stunning limestone cliffs. Vellago Resort is the only resort on this strip, and although this beach is technically a part of the El Nido mainland, there's no other way to get here except by boat. Located on the far end of Seven Commandos, the resort remains delightfully isolated from the comings and goings of tourists stopping by this perfect cove.
The boutique resort only offers six rooms, each with a balcony overlooking the dazzling waters of Bacuit Bay. Travellers rave about Vellago's restaurant and beach bar, too, which serves everything from fresh seafood to delicious cocktails.
2. Cauayan Island Resort and Spa (El Nido)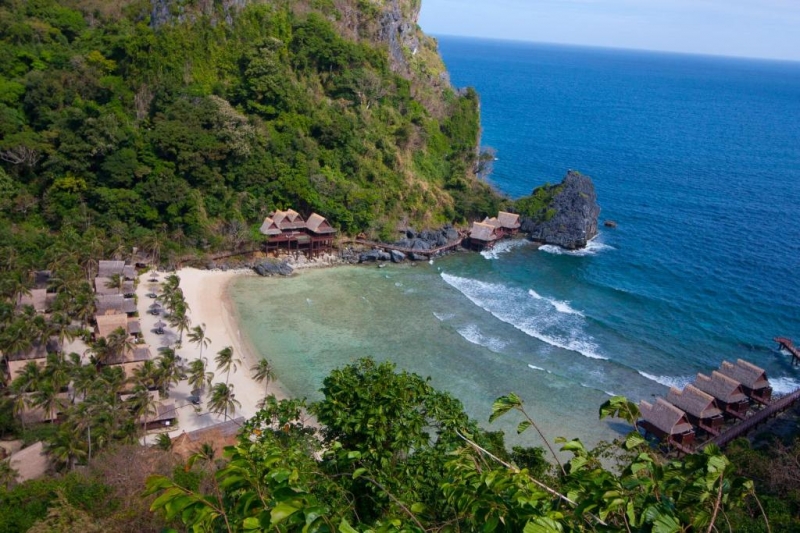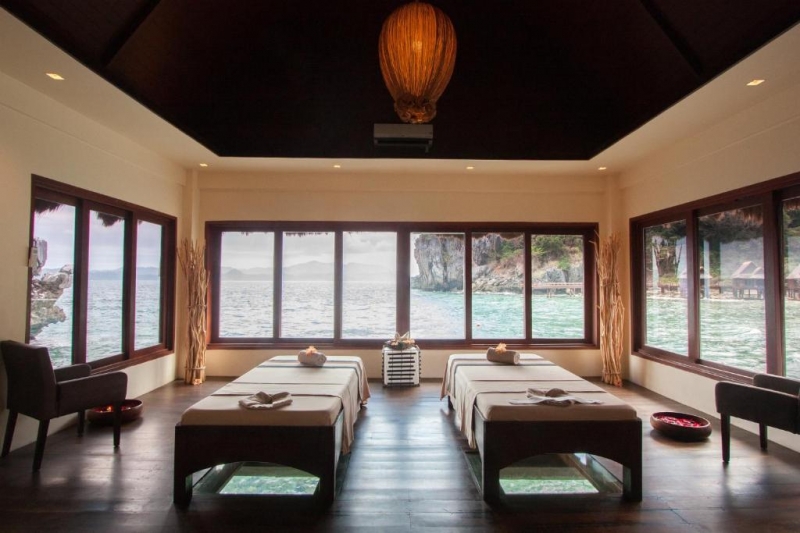 Searching for a serene escape to disconnect from work and life in general? The luxe Cauayan Island Resort and Spa creates an atmosphere of calm and utter bliss in an island setting that's only accessible by speedboat from El Nido Pier. Here, you'll be completely sequestered away from the rest of the province in a private cove.
Sleep in one of 29 stylish villas, each one a seamless flow of indoor and outdoor beauty. At Cauayan Island Resort, you can spend days swimming, doing yoga in an open-air studio, or indulging in massages in the glass-bottomed spa. Island tours and diving are also popular activities in this little slice of paradise. 
Also read: 12 Stunning Villas in the Philippines Where You Can Stay Right on the Water
3. Duli Beach Resort (El Nido)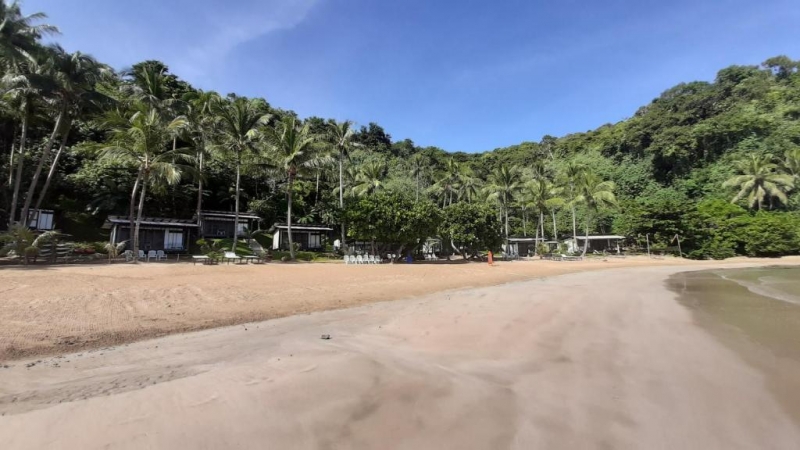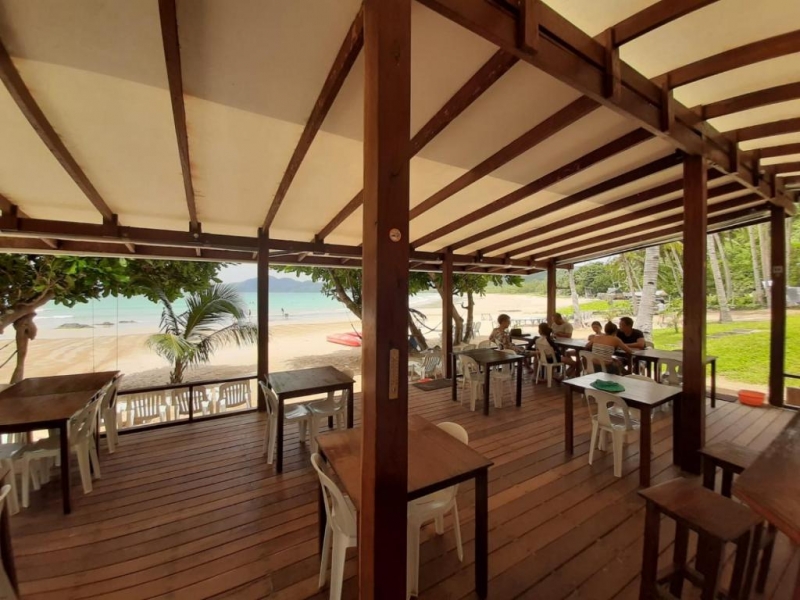 Travellers visiting Palawan resorts to unplug at the beach can go to Duli Beach, a beautiful surf beach about an hour away on a motorbike from the El Nido town proper. But the relatively long trip is worth it, with Duli Beach Resort waiting. Six well-designed bungalows sit on powder-fine sand, each one facing the sea — you can wake up to views of crashing waves every day.
Keep in mind that electricity and WiFi are limited. But we think this is a plus: Take the opportunity to disconnect from regular programming completely. Enjoy a dip in the warm waters, explore on a kayak, or paddle out to catch a wave. Swells in El Nido tend to be far and few in between, but Duli Beach offers the best surfing around.
Also read: 10 Best Siargao Hotels for the Island Vacation We All Need Right Now
4. Dryft Darocotan (El Nido)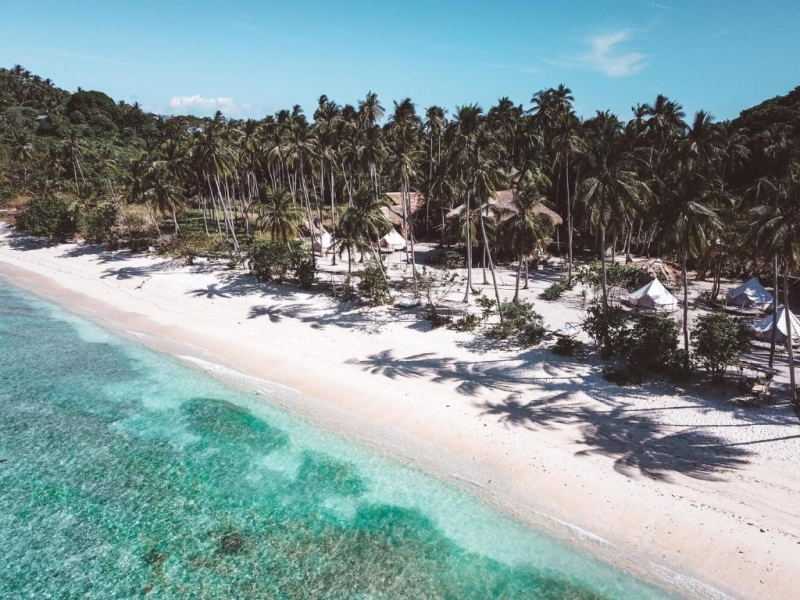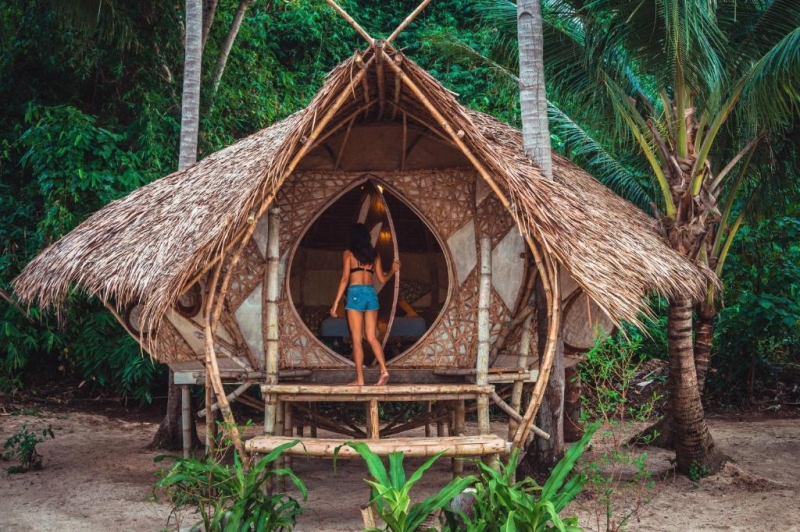 Nestled on an island off the coast of north El Nido, Dryft Darocotan is one of the most exciting Palawan resorts: remote, beautiful, and never crowded. Cosy glamping tents and strikingly designed huts blend effortlessly into the natural tropical setting.
Days are spent exploring the white-sand island, playing board games, or relaxing on hammocks. Standup paddleboards, volleyballs, and yoga mats are available for more active guests, while divers and snorkelers can get a glimpse of a World War II shipwreck at a nearby spot. This is where your Castaway fantasies come to life, in the best way possible.
5. Brother Island (El Nido)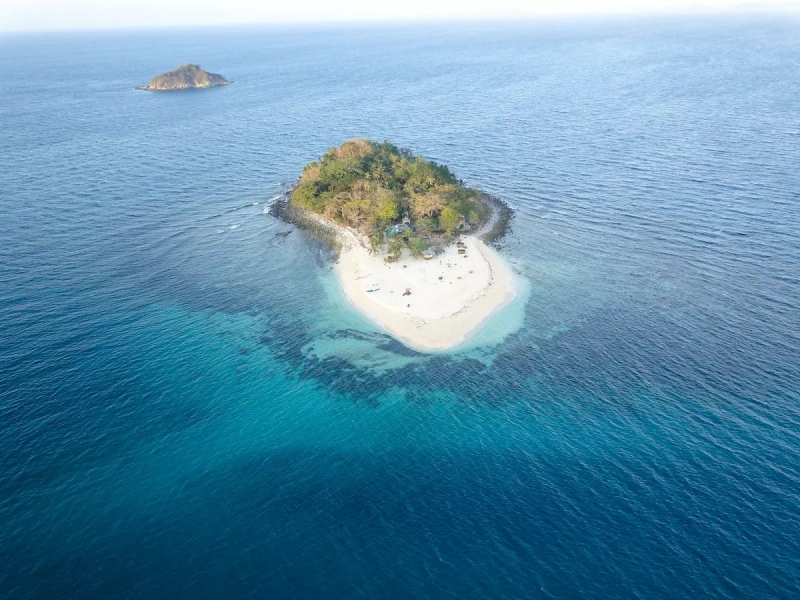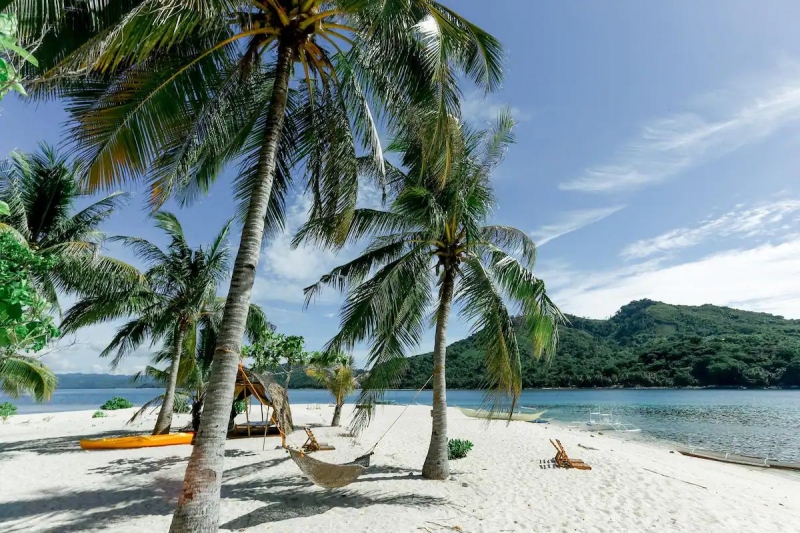 Is there a more indulgent vacation than renting out your own private island in El Nido? Bringing your VIP dreams to life, Brother Island lets you own a tiny isle for a little while. You won't find the fancy trappings of a five-star resort, but there's a yellow ancestral house under the trees that's full of charm and offers enough space to host up to 16 guests. Solo travellers and couples can rent the hilltop Honeymoon Suite for a smaller space. Either way, you'll have the entire island to yourself.
Besides, the true highlights of Brother Island are the great outdoors. A few steps will take you onto the pristine white beach. Snorkelling is a treat, with vibrant corals all around. Up for a challenge? Take a kayak and row around the pint-sized island in under an hour.   
6. Isla – The Island Experience (El Nido)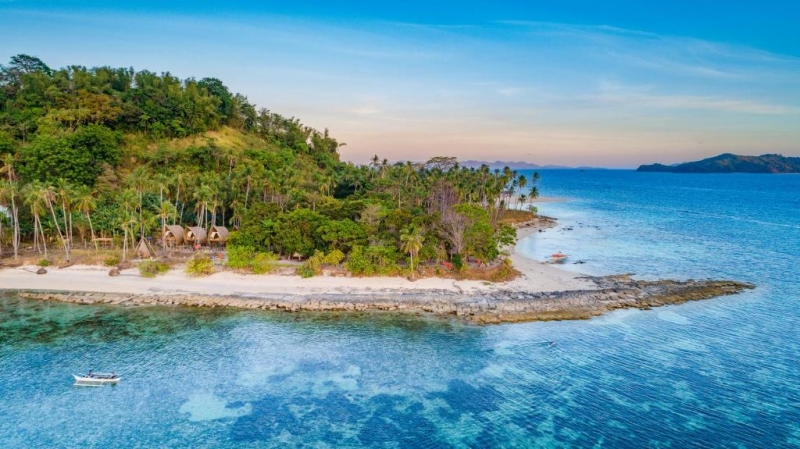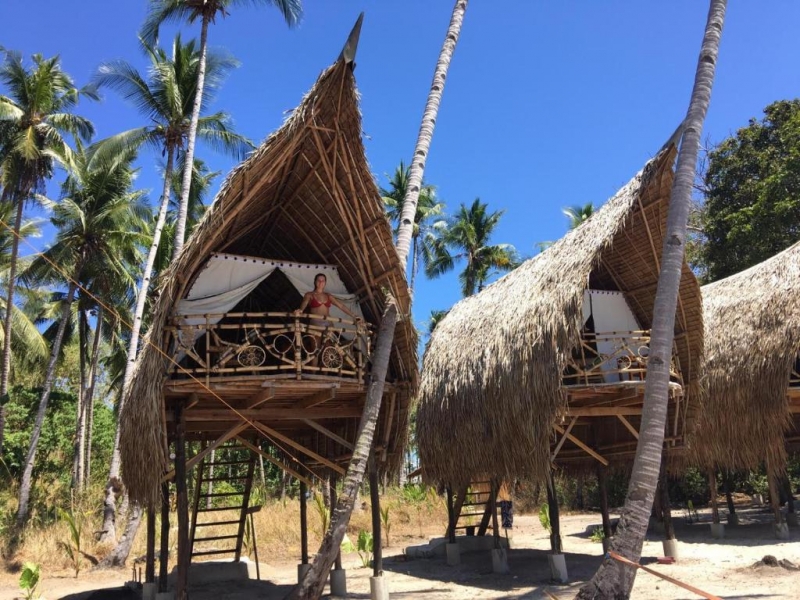 Don't mind skipping the fancy Palawan resorts and roughing it? Head to Darocotan Island for a sun-soaked experience at Isla – The Island Experience. This one's for travellers looking for an authentic local experience and sun-chasers who never want to leave the beach. Huts are simple yet comfortable, with priceless views of the ocean. Trust us: You don't really need many frills when the white shores and crystal blue waters are calling.
7. Miniloc Island – El Nido Resorts (El Nido)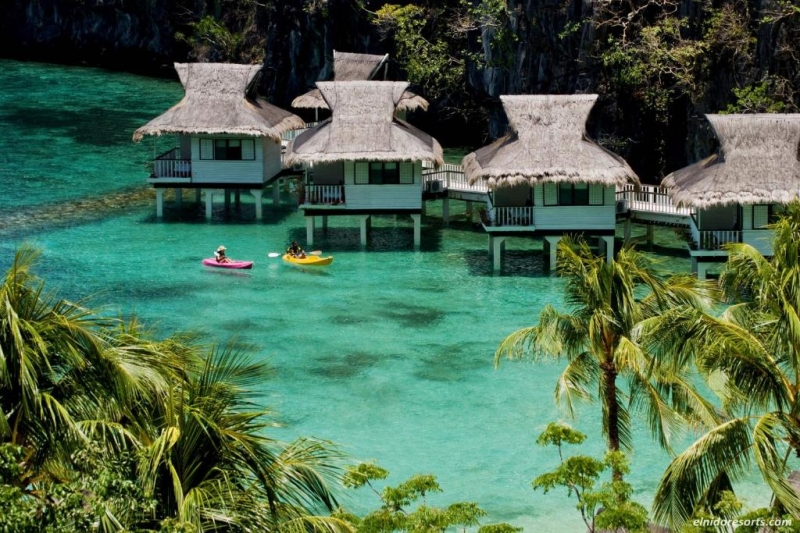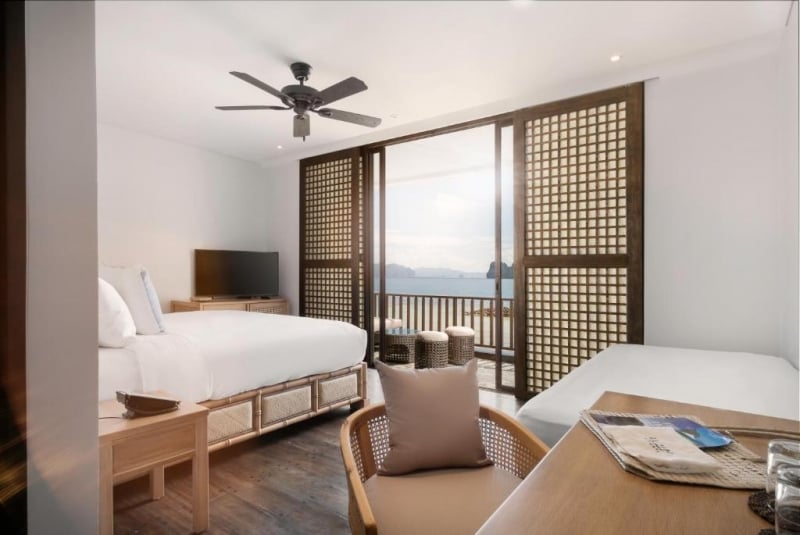 Nothing says finer things in life than staying in one of the famed El Nido Resorts. Our pick is Miniloc Island, a luxe resort that's a 45-minute boat ride from the town centre. From the minute you land on this secluded private island, you can't help but instantly go into vacation mode amidst the postcard-worthy views and elegant Filipino-inspired villas.
Superb experiences await: snorkelling with 1.5-metre jackfishes at the resort's house reef; exploring secret beaches around the island on a kayak; and watching sunsets from your over-water villa. Miniloc is also the gateway to several classic Bacuit Bay attractions, like the Big Lagoon and Small Lagoon. Even with all the spectacular Palawan resorts, this one's hard to top.
Also read: 15 Airbnb Homes & Vacation Rentals in El Nido Where You Can Live Out Your Island Dreams
8. Floral Island Resort (Taytay)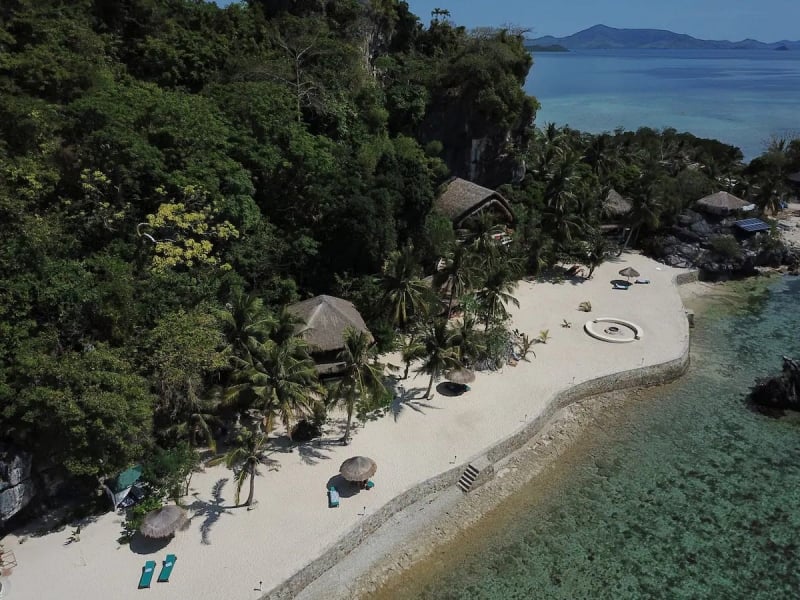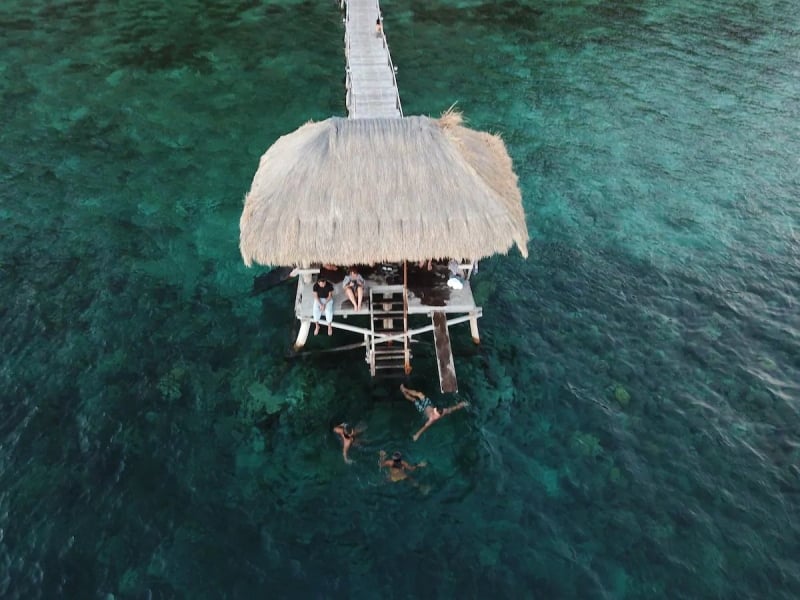 For anyone searching for a dreamy tropical escape, Floral Island Resort should make the must-visit list. Seated on Talacanen Island, it's a little out of the way — a few hours by road plus a 45-minute boat ride. But if you're looking for secluded, the off-grid location only adds to the resort's appeal.
Along with perfect white beaches, this idyllic hideaway offers activities like snorkelling, kayaking, and a bonfire spot. The solar-powered resort features eight cosy rooms, each one with a private shower and electric fans. Meals are even included! Best of all, you can have Floral Island Resort all to yourself. Paradise? This may be it.
9. Sunset Beach Resort (San Vicente)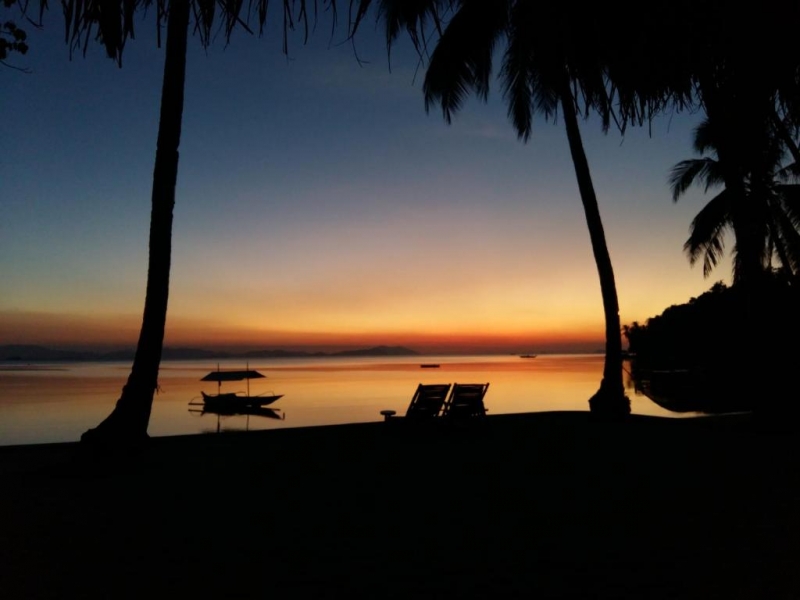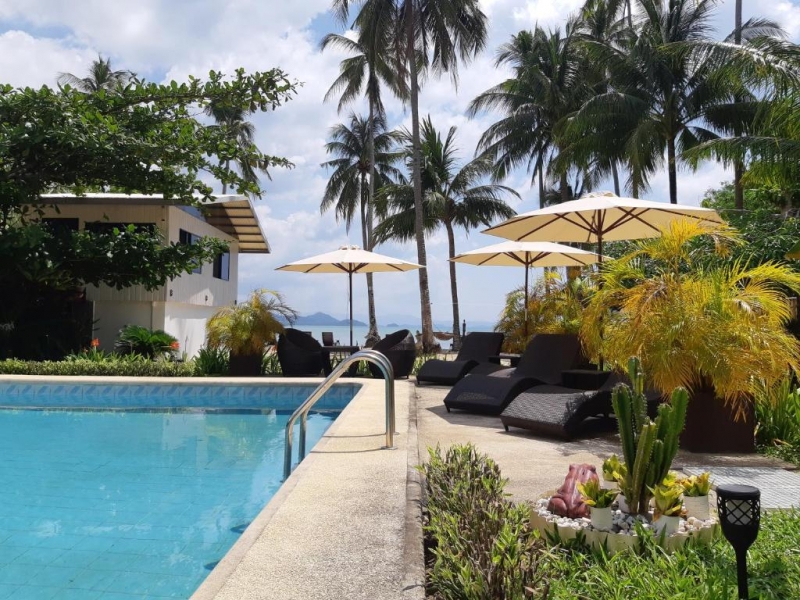 Unlike the more popular destinations of Palawan, San Vicente remains relatively untouched. And when you're here, few resorts are more delightful than Sunset Beach Resort. It sits on the quiet Macatumbalen Beach, where guests can lounge under coconut trees and gaze at the tranquil West Philippine Sea.
Relax in the deluxe bedrooms, well-appointed with air-conditioning and private bathrooms for your utmost comfort. There's an in-house restaurant for meals, but if you want to explore more of the neighbourhood, hop on one of the bicycles for rent at Sunset Beach Resort. Try to make it back to the resort for the breathtaking sunset at the end of the day.
10. This beachfront cottage for two (San Vicente)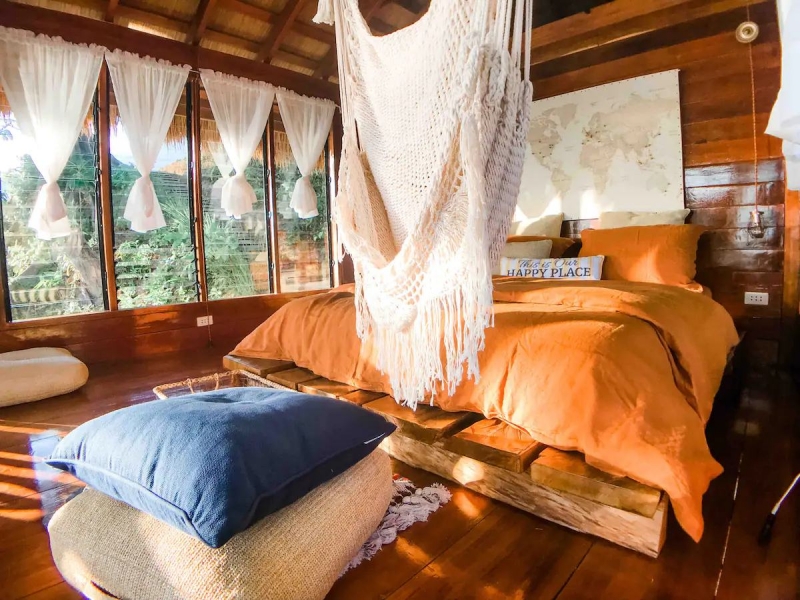 If you want more privacy than most Palawan resorts can give you, this charming hilltop cottage in a secluded cove in San Vicente may be the ideal escape. Guests may find it tricky to get to this beachfront haven, but those who make it will be rewarded by having the run of the place. Here, you'll be the only guest in the property, and usually the only traveller in the cove. Plus, guests say the staff serves incredible food.
11. Atremaru Jungle Retreat (Puerto Princesa)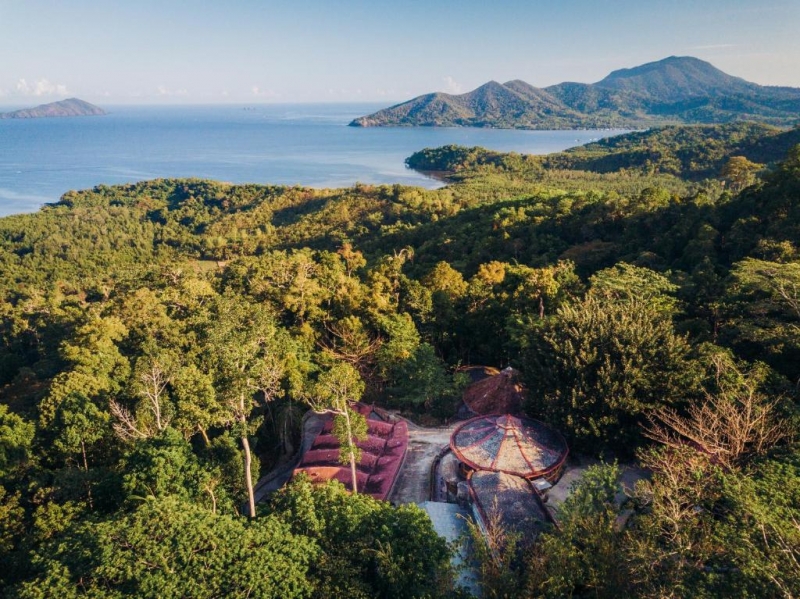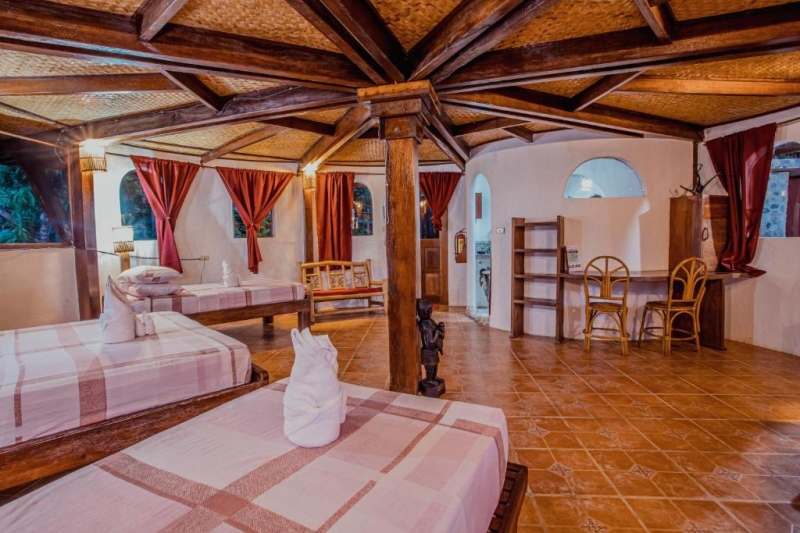 Most Palawan resorts sit beachside, but Atremaru Jungle Retreat carves out a place in the lush forests of Puerto Princesa. Twelve uniquely designed suites and villas create the perfect place to unplug and connect with nature. Each accommodation features a balcony and sensational views.
While Atremaru may be secluded, there's plenty of recreation to enjoy in the sanctuary, from playing darts and billiards to singing karaoke. Make time to hike and explore the trails around the resort. And although the sea isn't within arm's reach, there's a private beach you can reach with a short stroll through the jungle. Other facilities include a restaurant, an outdoor pool, and a shared lounge.
12. The Cabins at LVF (Puerto Princesa)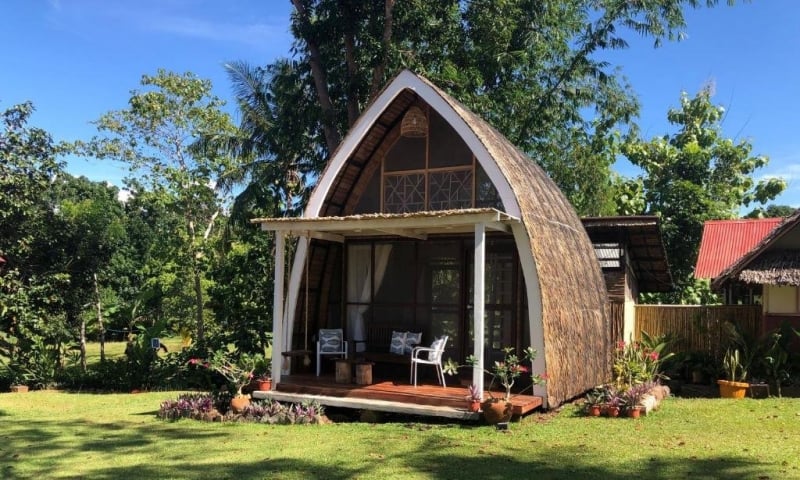 To make the most of Palawan's tranquillity, choose The Cabins at LVF and discover what it feels like to live on a fully-operational organic farm. The serene farm setting makes for a unique stay in Puerto Princesa, with experiences like farm-to-table dining, vegetable picking, and even Filipino cooking lessons. 
At the same time, The Cabins at LVF are far from being back-to-basics. The tropical-inspired rooms come with modern comforts like free WiFi, flat-screen TVs, and well-appointed private bathrooms. And beyond the farm experiences, guests can indulge in resort amenities such as a swimming pool and a bar.
13. Al Faro Cosmio Hotel (Busuanga)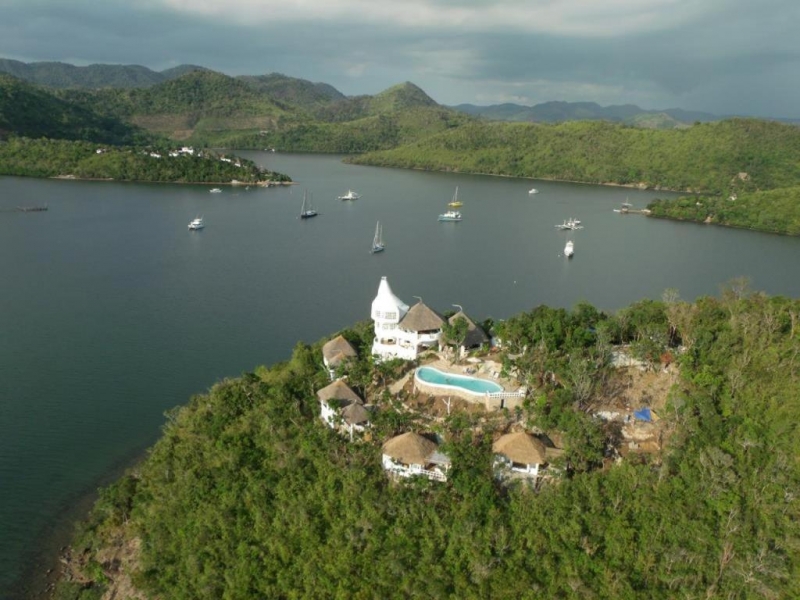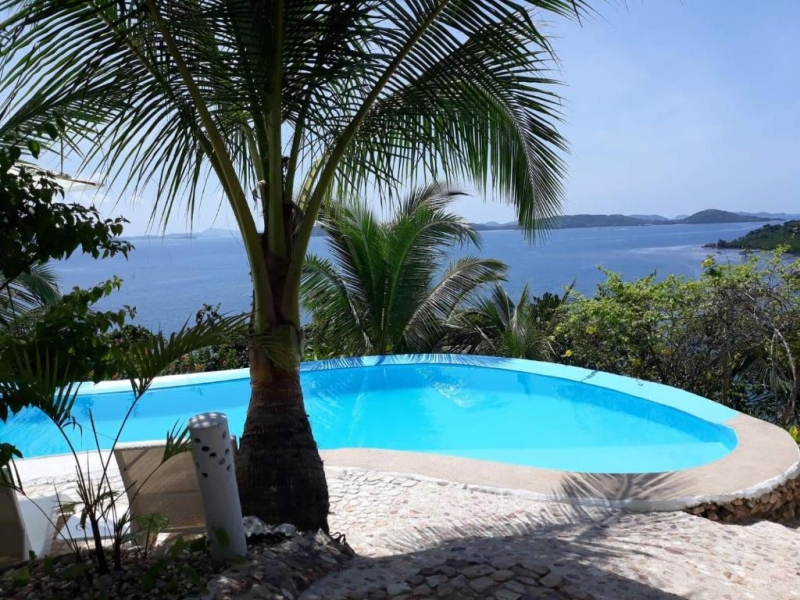 When you're planning your getaway to beautiful Busuanga, Al Faro Cosmio Hotel is worth considering as a base. The upscale resort lies in a bay with other premium resorts, but it's perched clifftop in a private location only accessible by a quick boat ride. Travellers would need to scale a well-paved hill, which quickly pays off with the fantastic views at the top.
Whether you'd rather swim in the infinity pool, get a massage, or join island-hopping or scuba diving tours, days in Al Faro are full and satisfying. Food-focused travellers will be happy, too: The in-house restaurant is among the best in Busuanga.
14. Club Paradise Palawan (Coron)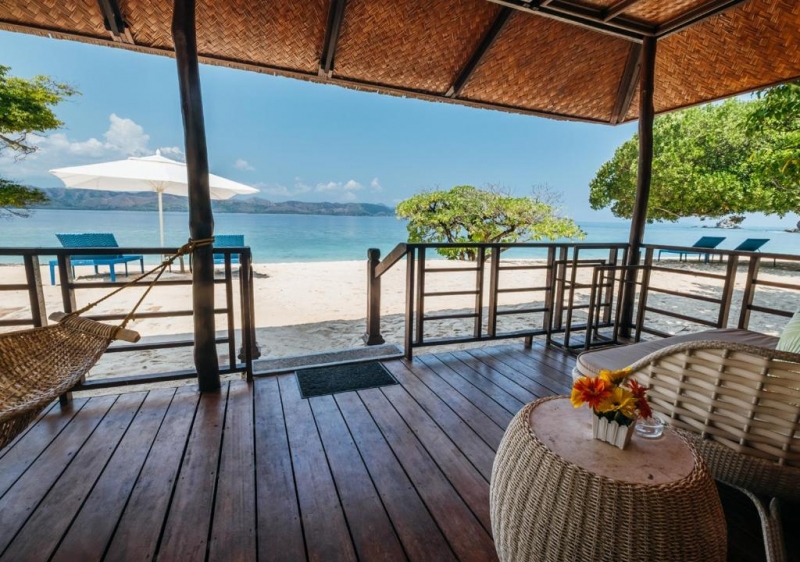 One of the most well-loved Palawan resorts, Club Paradise Palawan is an exclusive island resort sitting on a UNESCO Biosphere Reserve. There are 62 rooms for guests, but with 19 hectares of lush, white-sand playground, the island resort never really feels crowded.  
No matter when you visit, Club Paradise has everything you need for an unforgettable Palawan vacation. A few of the highlights include an in-house spa and wellness retreat, multiple white sand beaches, a vibrant house reef, and exciting activities like paraw sailing, hiking, and kayaking.
Also read: 10 Airbnbs in Coron That Are the Epitome of 'Island Life'
15. Two Seasons Coron Island Resort (Coron)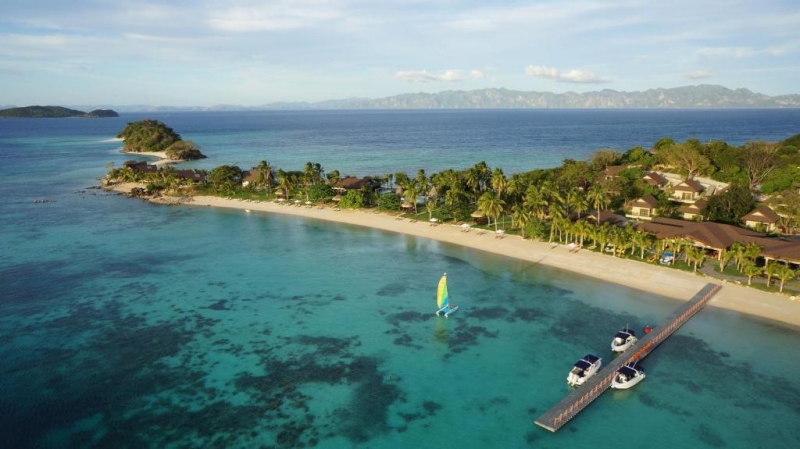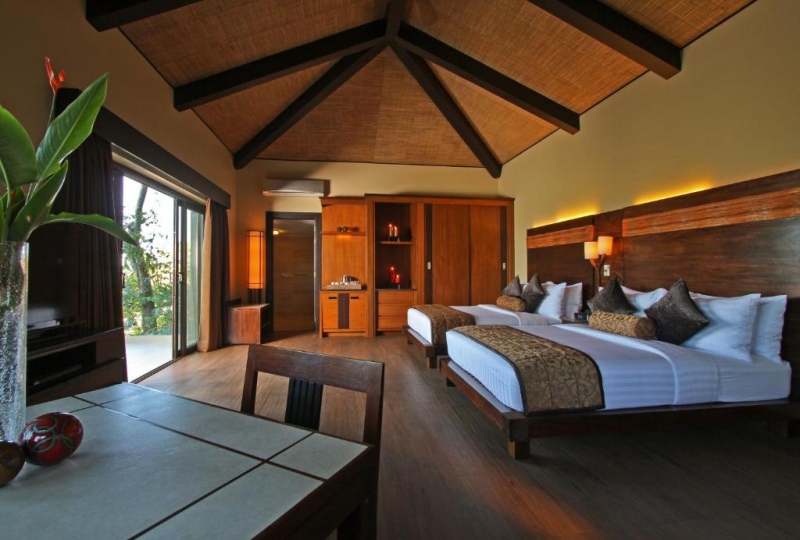 At this secluded 42-bungalow resort on Bulalacao Island in the Malaroyroy Peninsula, travellers can slow down and surrender to island life. Travellers enjoy exclusive access to an entire island embraced by verdant tropical flora and fringed by fine white shores. And set on a turtle and giant clam sanctuary, Two Seasons Coron Island Resort is as much an ecological escape as it is a luxury resort.
Step outside your luxe tropical bungalows for days full of sun and sandy fun. There's plenty to love about Two Seasons, from the pristine beaches and sandbars to the colourful house reef for snorkelers and divers. Every water activity you can imagine is on hand, including submersible scooters and dive tours. When it's time to wind down, a treatment at Narra Spa will pamper you back to life in time for your next adventure.
16. Surya Beach Resort (Aborlan)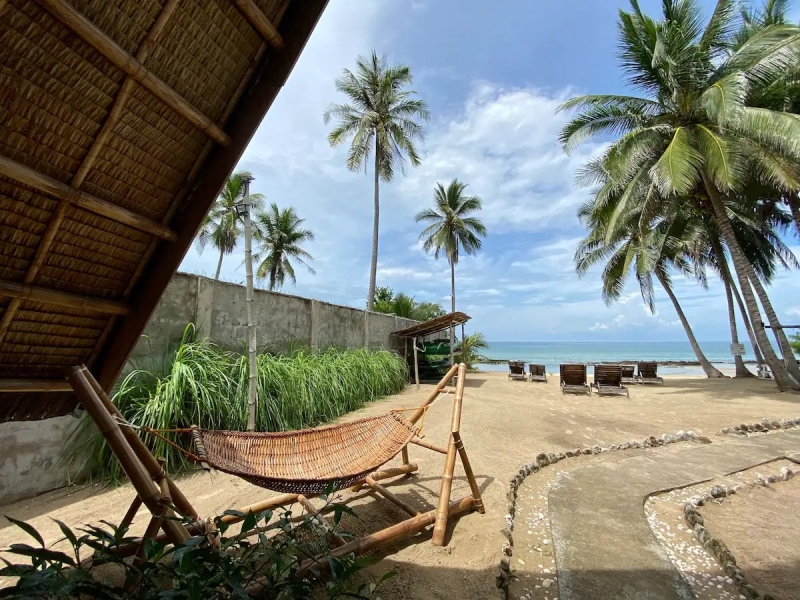 Right next to Puerto Princesa is a small coastal town Aborlan, where you'll find Surya Beach Resort in a two-hectare beach community. This hidden gem offers spacious cottages and rooms, with the golden-sand beach just steps away from your door. Although there's a lot to explore in Palawan, it's just as satisfying to sit back, relax, and unplug at the beach, especially in a tranquil spot like Surya.
Each cottage comes with a private bathroom, air-conditioning, and a refrigerator. Guests also enjoy access to an outdoor kitchen, for cooking meals at their leisure.
17. Palawan Ecolodge Habagat (Rizal)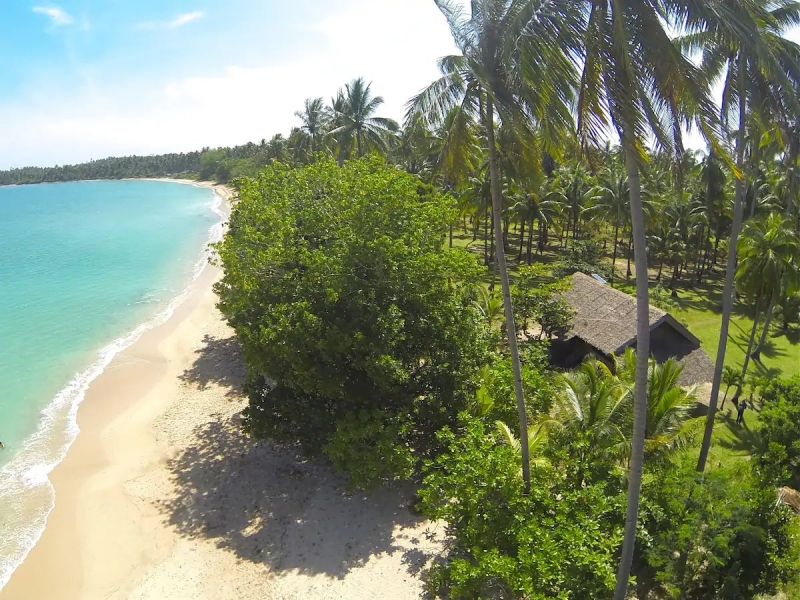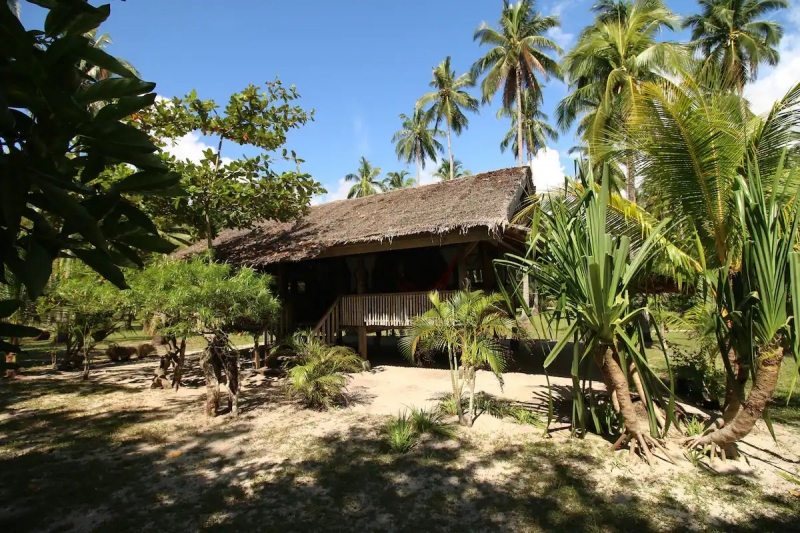 Out of all the Palawan resorts on this list, you can't go more off-grid than the Palawan Ecolodge Habagat. Located on a deserted beach in southern Palawan, this rustic hideaway invites adventurers to visit and get a taste of local life on the islands. This eco haven is completely solar-powered, so don't expect air-conditioning and hot water.
Instead, luxuries at the ecolodge come from nature: a sandy beach in front of the house for swimming, coral reefs for snorkelling at the end of the bay, and a lush mangrove forest nearby where monkeys live. Activities include surfing, windsurfing, kitesurfing, kayaking, and jungle trekking. The property also has another lodge dubbed Amihan, separated from Habagat by a strip of vegetation.
Also read: These Airbnbs in the Philippines Will Inspire You to Travel Local
There you have it, our picks of remote Palawan resorts and hideaways for when you need to disconnect from the rest of the world. Ready for a true getaway in the last frontier? 
Got a property you'd like TripZilla to feature? Inquire with us here.
---
This article contains affiliate links. When you book through these links, we may earn a small commission at no additional cost to you. All images courtesy of the respective property listings.