It goes without saying that the Philippines boasts some of the best beaches and beach resorts in the world. And overwater villas take the tropical experience to another level! Imagine gazing into azure waters, dozing off to the sound of gentle waves, and waking up to views of the sea — there's nothing more magical! Leave the world behind and set yourself up for an unforgettable escape in these spectacular overwater villas in the Philippines that are the epitome of barefoot luxury.
1. San Rafael River Adventure (San Rafael, Bulacan)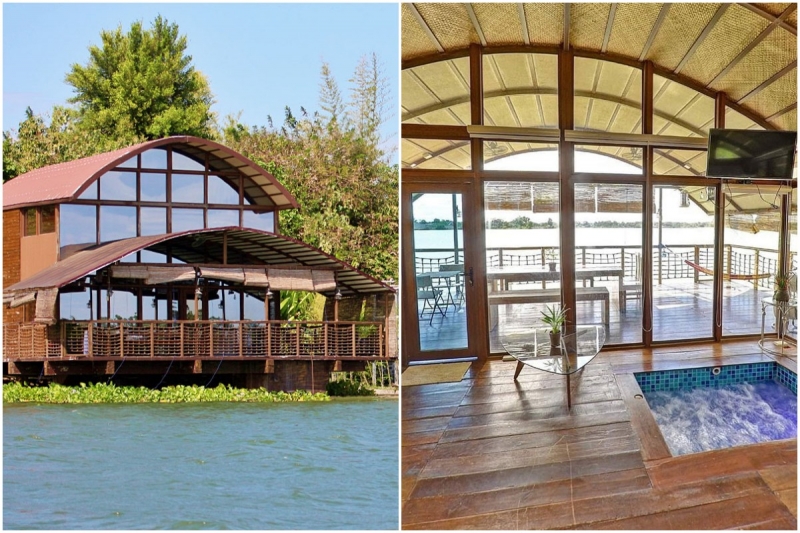 Let's start with something a bit out of the ordinary: San Rafael River Adventure, an overwater villa that's not over the ocean but a river. Trust us when we say it's no less extraordinary than if it were on a beach. Tucked in the serene forests of San Rafael, this picturesque resort makes the most of its natural surroundings.
There are a variety of charming accommodations available, but we're quite partial to the Stilt Glass Cabin and Stilt Glass Cottage. Both are bright, airy, and spacious, with private bubble pools and pretty views of the tranquil river. Guests also enjoy access to the resort's infinity pool, floating pool, swimming falls, and water sports like paddle boarding and kayaking.
Also read: Bulacan Tourist Spots and More: 8 Exciting Places You Can't Miss 
2. Tugawe Cove Resort (Caramoan, Camarines Sur)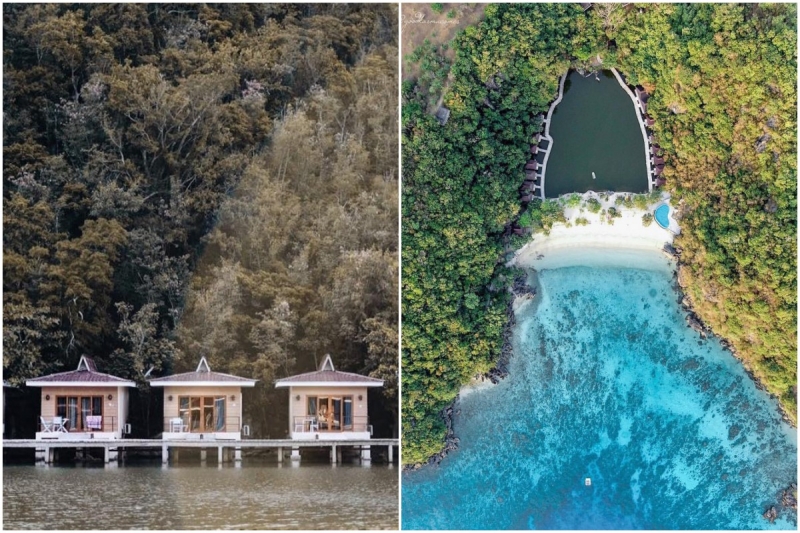 Tugawe Cove Resort is not a Survivor escapade. The luxury resort shares the same scenic Caramoan setting as the hit reality show, but you won't have to rough it even a little bit when you're in this secluded idyll. Accessible only by boat, this overwater villa is an excellent option for city dwellers.
Stay in one of the six Lakeside Cabanas, perched over the still waters of a quiet lake. There's a white sand beach separating the lake and the sea; if you stay in these cabanas, you're never more than a few steps away from either one. Meanwhile, take a dip in the outdoor infinity pool overlooking sweeping views of the sparkling ocean and surrounding forest. 
3. El Nido Resorts, Apulit Island (El Nido, Palawan)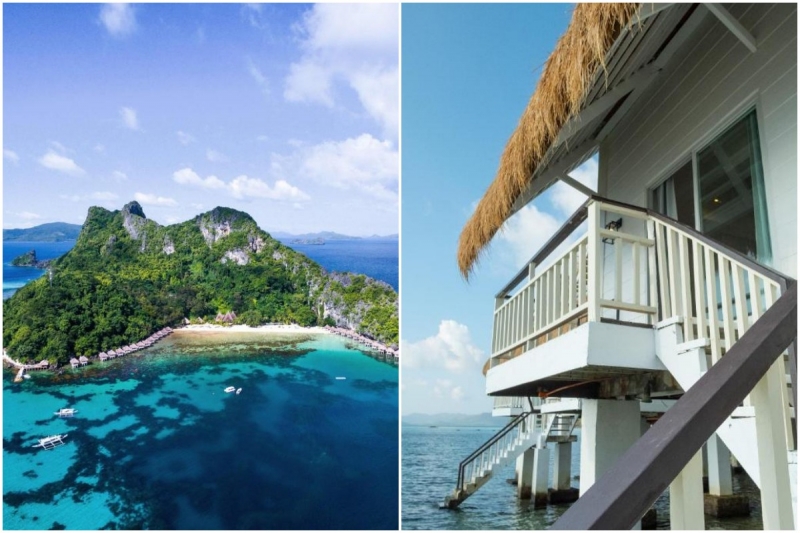 Falling in love with Palawan is inevitable. When visiting Taytay, El Nido Apulit Island Resort is the perfect place for this love affair. The luxury eco-adventure retreat offers 50 overwater villas nestled in two unspoiled coves. Highlighting modern Filipino design, each thatched-roofed Water Cottage features cosy neutral tones, wood furnishings, and plush beddings. Larger groups can opt for the Loft Water Cottage for extra space.
Limestone cliffs and dazzling azure waters create a postcard-pretty setting for travellers on their dream vacation. Adventurers can rappel down 60-metre cliffs and dive underwater to explore vibrant marine life and an old Japanese shipwreck. Dive courses are available, while caving, snorkelling, and island hopping offer more activities for active travellers.    
4. El Nido Resorts, Lagen Island (El Nido, Palawan)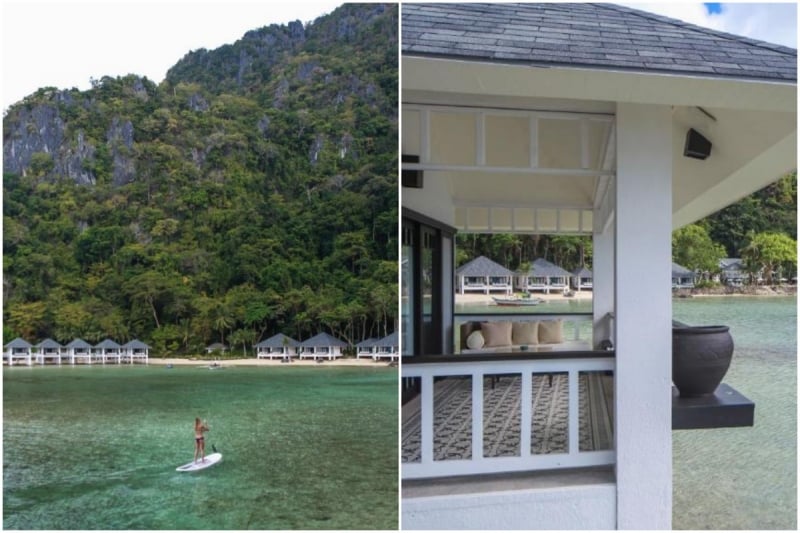 El Nido Resorts is clearly a powerhouse in creating some of the most stunning overwater villas in the Philippines. Tucked amidst the lush jungles of a private island, El Nido Lagen Island Resort is another luxurious sanctuary that sets the stage for a blissful Palawan getaway.
Book one of the 18 spacious Water Cottages that open onto a private terrace overlooking the clear, shallow waters of the lagoon. Every room, including the Forest Suites and Beachfront Cottages, feature floors and furnishings made from repurposed timber sourced from old Filipino homes.
During the day, get lost in this unspoiled isle with popular activities like birdwatching and mangrove exploration. A sanctuary for exotic birds, marine life, and other wildlife, Lagen Island is a delightful escape for nature lovers. At night, get pampered with an in-room massage before getting a perfect night's sleep to the sound of lapping waves just outside your overwater villa.
Also read: 10 Restaurants in El Nido That Will Complete Your Palawan Experience
5. El Nido Resorts Miniloc Island (El Nido, Palawan)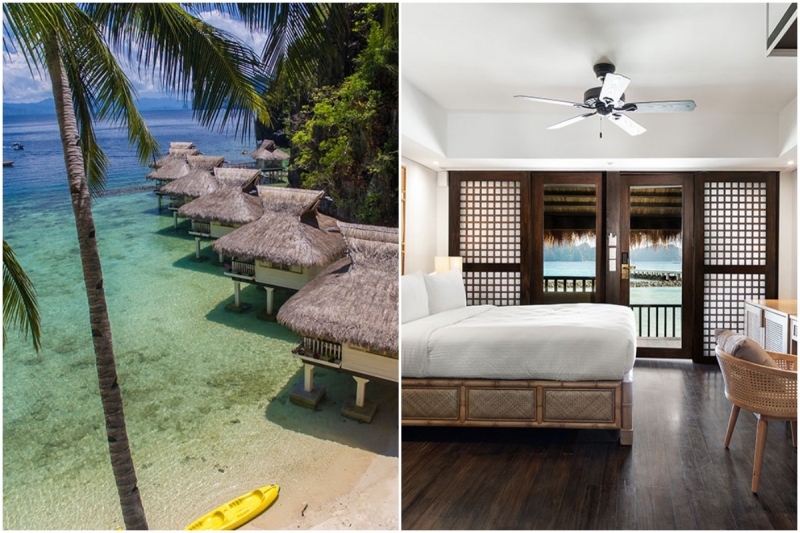 Make your way to one of Palawan's most captivating retreats, El Nido Miniloc Island Resort. Hidden in one of El Nido's perfect white-sand coves, this island resort blends natural beauty and five-star amenities with tasteful coastal decor. High-end villas hover above the sparkling azure waters, with private verandas overlooking the ocean. Inside, wooden furnishings and sawali touches keep the native tropical vibe.
Travellers seeking to explore world-famous El Nido attractions will appreciate Miniloc's accessible location, with spots like the Big and Small Lagoons just a quick boat ride away. But beach lovers who prefer staying put will have plenty of top-notch facilities to enjoy in the resort, too. Some favourites include the outdoor swimming pool, as well as table tennis and billiards tables.  
6. Cauayan Island Resort & Spa (El Nido, Palawan)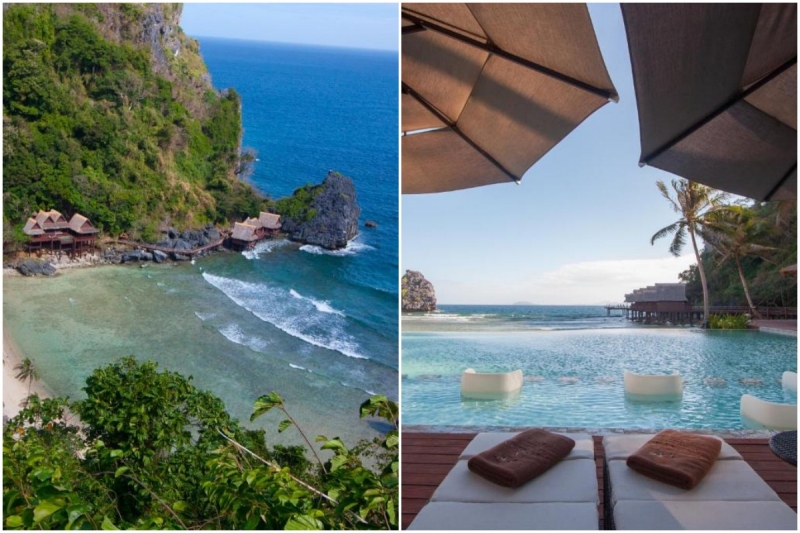 Another five-star hideout that reigns supreme in El Nido is Cauayan Island Resort & Spa. The luxury resort maximises its location in a tropical idyll by building bungalows right on the ocean. Wake up to views of the turquoise ocean from the Water Villas, or opt for the overwater Lagoon Villas looking onto the tranquil man-made lagoon and artificial waterfalls. Travellers can bask in spectacular views from every corner of Cauayan Island Resort, whether you're indulging in a soothing spa treatment, swimming in the outdoor pool, or sweating it out at the fitness centre.   
7. Sunlight Eco Tourism Island Resort (Culion, Palawan)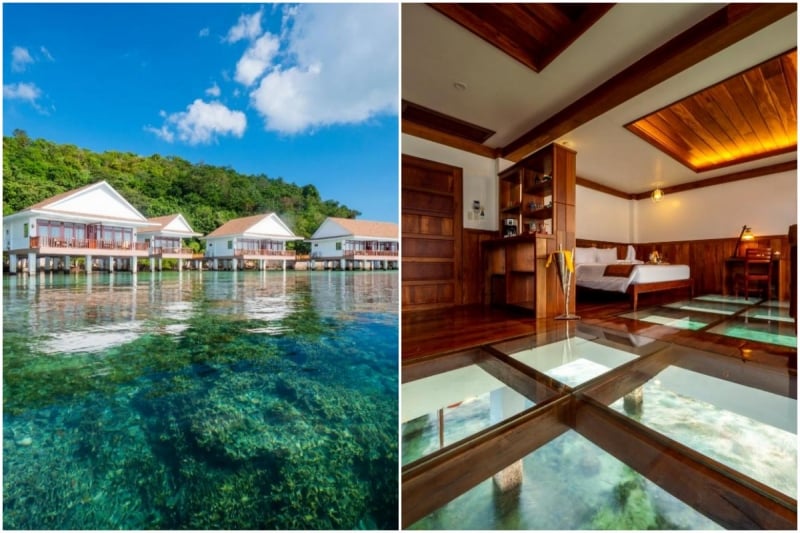 Elsewhere in Palawan, Sunlight Eco Tourism Island Resort is home to luxe Maldivian villas on stilts meticulously designed to make the most of its mesmerising natural surroundings. Modern Filipino-inspired decor keeps the interiors cosy and elegant, while sprawling balconies are ideal for admiring Palawan's awe-inspiring beauty. Some villas even have a unique feature: glass panels on the floor, so ocean lovers can get a glimpse of marine life swimming under their feet throughout the day.
Sunlight Eco Tourism Island Resort boasts all the premium facilities you want in a luxury escape: a serene spa and sauna, a gym with sea views, an infinity pool and children's pool, a dive shop, and a boutique shop.
Also read: I Travelled to Palawan in a 'Travel Bubble' and This is What It Was Like 
8. Stilts Calatagan (Calatagan, Batangas)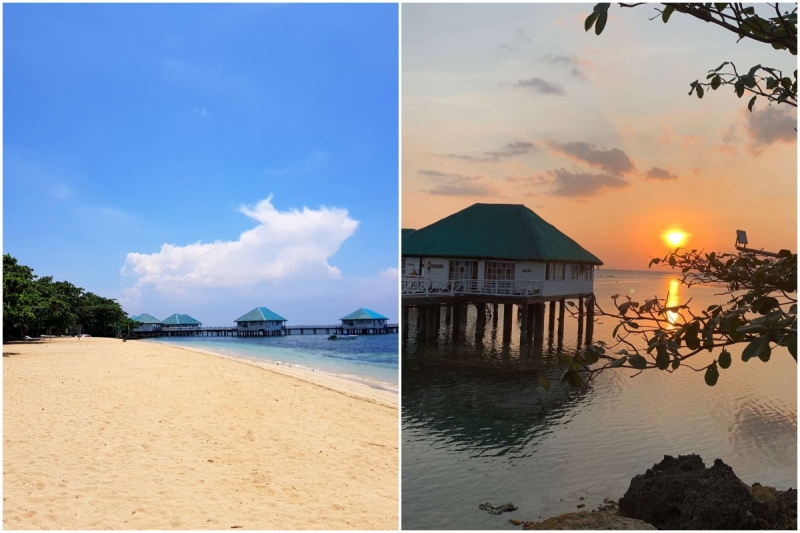 Looking for overwater villas in the Philippines that won't break the bank? Stilts Calatagan is the beach hideaway for you. This blissful escape in Batangas is only a two- to three-hour drive from the metro, making it the perfect destination for weekenders looking for a quick beach trip.
From the eight breezy Floating Cottages, you can spend virtually all of your time at sea. Each one has one or two bedrooms, plus a loft sleeping area; you'll enjoy ample space for the whole family or barkada! Spend the day swimming, canoeing, or lounging at the white sand beach. Calatagan is famous for vibrant sunsets over the water — at Stilts Calatagan, you can bask in the view from the comfort of your cottage.
9. Kamana Sanctuary Resort & Spa (Subic Bay, Bataan)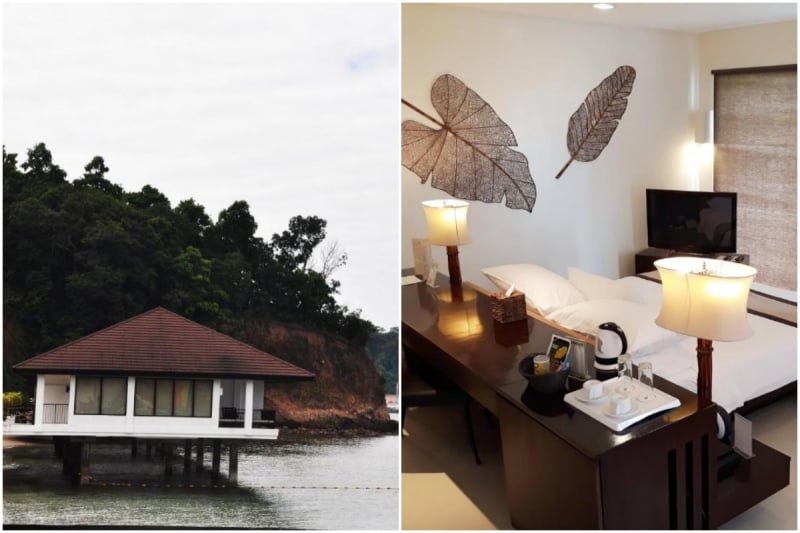 Nestled on Nabasan Beach with Ilalin Forest in the backdrop, Kamana Sanctuary Resort & Spa is a Subic Bay hideaway with a handful of beautifully designed overwater suites. Each suite is designed with earthy hues complementing the wood furnishings and tropical-inspired touches. A private veranda provides the perfect spot for early morning coffee before you dive straight into the clear blue waters. Lavish amenities include an ensuite bathroom with a bathtub.
It's easy to be captivated by the stilt casitas in Kamana Sanctuary, but there's plenty to explore in the resort, too. The beautiful pool overlooks the beach, while beach hammocks offer refreshing spots for some alone time. Other top-notch resort facilities include beach tennis, a basketball court, a children's playground, kayaking, and beach volleyball. 
10. Grace Island Resort (San Jose, Occidental Mindoro)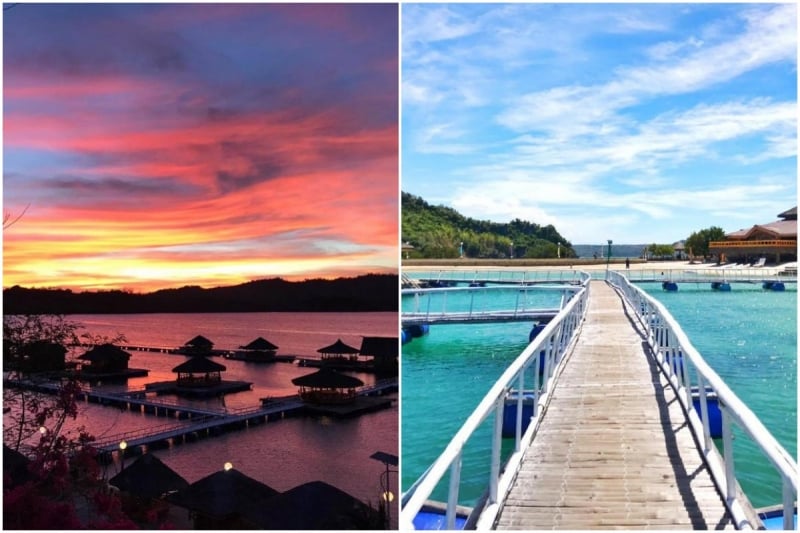 Hop on an hour-long boat ride to the private Ambulong Island for one of the lesser-known overwater villas in the Philippines. Grace Island Resort is a gem in Occidental Mindoro, with cosy floating cottages where you can relax in your own space and jump straight into the ocean whenever you want. Even if you're just planning to visit the island for a day trip, the laidback resort is a great option for a quick swimming getaway. Snorkelling enthusiasts will also love drifting through the colourful coral garden.
11. Club Tara Island Resort (Socorro, Surigao del Norte)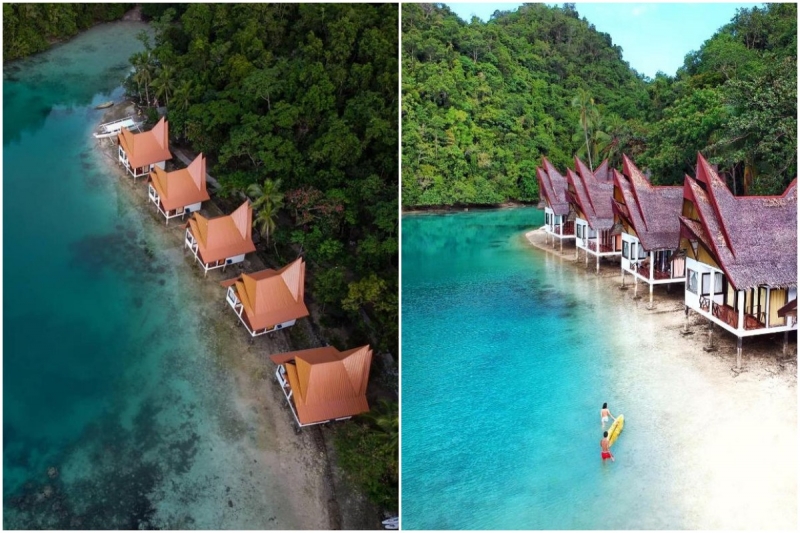 Set in the waters of the remote Bucas Grande Island in Surigao del Norte, Club Tara Island Resort is where we want to be when we want to unplug and escape daily life. Few overwater villas in the Philippines are more ideal for quiet contemplation than this resort's stilt bungalows, which all feature tasteful interiors, private balconies, and awe-inspiring views of gorgeous turquoise waters. Some of the Instagram-friendly huts even come with a hot tub overlooking the natural scenery.
If you tire of splashing on the resort's private beach, indulge in tropical activities and discover the treasures of Bucas Grande. The famed Sohoton Cove is a 15-minute boat ride away, and other attractions like Magkukuob Cave and the Socorro Rock Formation are less than an hour from the resort.
12. Pearl Farm Beach Resort (Samal Island, Davao del Norte)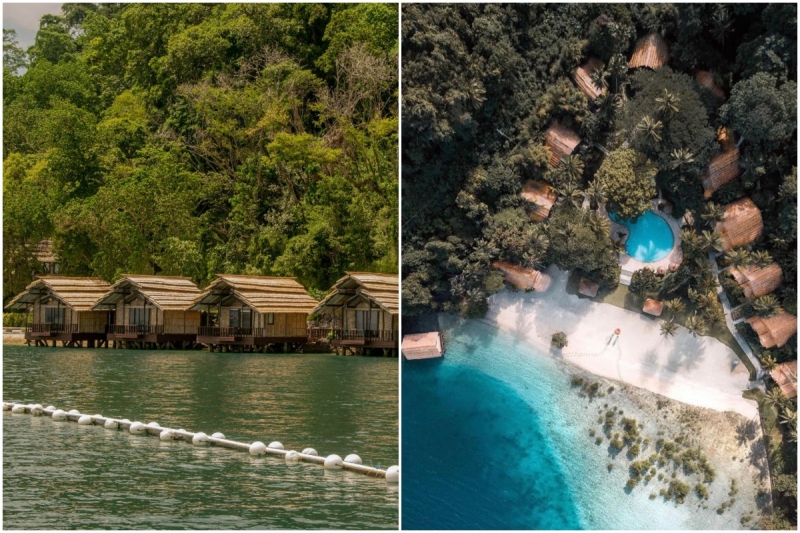 Find paradise at Pearl Farm Beach Resort, a lavish resort off the coast of Davao City that was once home to a pearl farm (hence the name). Nowadays, this Samal Island idyll is one of the premier resorts in the province. The luxurious overwater bungalows are a standout, with beautiful local-inspired interiors and high-quality furnishings. Each one is designed by local artists Ar. Francisco and Bobby Mañosa. Fun-filled activities are part of the draw, including kayaking, snorkelling, paddle boarding, and coral tours.
Also read: 15 Bali-Inspired Resorts in the Philippines That You Need to Visit
We're pretty sure these overwater villas in the Philippines popped straight out of our dreams. Which one is on your list of resorts to visit? See you there!
---
This article contains affiliate links. When you book through these links, we may earn a small commission at no additional cost to you. Images courtesy of the respective property listings unless otherwise stated.