Ahh, Palawan. Home to the Philippines' finest shores and spectacular sights (both on land and underwater). It's an adventurer's paradise that has everything exciting you can ask for: caves, beaches, coral reefs, gigantic limestone formations, exotic wildlife, local delicacies, hiking trails, and heritage sites. 
Regardless if it's your first or nth visit to this island province, there are always plenty of fresh and exciting things to see, do, and experience! Don't believe us? Here's a list of things to do in Palawan — whichever town you're headed to.
Puerto Princesa
A good thing about the capital of the Palawan archipelago? It provides both the comforts of city life and beach life. While most tourists make a beeline northwards to El Nido or Coron, a visit to Puerto Princesa is a must-add to your things to do in Palawan, especially if it's your first time!  
Also read: 10 Airbnbs in Puerto Princesa We'd Love to Live In
1. Go on an underground cruise and see a World Wonder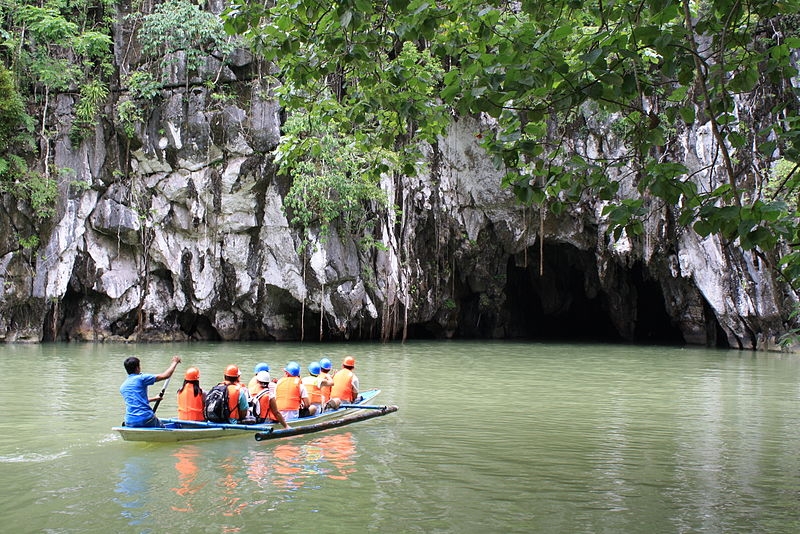 The Puerto Princesa Subterranean River National Park is definitely a must-see for first-time visitors! It boasts of a limestone karst landscape, an eight-kilometre underground river, and a UNESCO World Heritage title. While it's just half an hour's drive and a boat ride away from the city, it's best to book a tour in advance as schedules are almost always full. 
Hop aboard a paddle boat that will take you inside the Puerto Princesa Underground River. Marvel at the stalactites and stalagmites and learn about these formations from your guide as you go along. Watch out for the bats and swiftlets around the cave, and don't worry about the smell — it's not as bad as they say it is. 
Tip: If the short standard tour left you wanting more, you could actually proceed 4.3km further! Just be sure to secure a permit at least two days in advance from the Subterranean National Park Office.
Outside, the rainforest is teeming with wildlife from the monitor lizard (aka bayawak) to the crab-eating monkey, and the endemic species like the Palawan porcupine and the Palawan bearded pig. If you're into bird-watching, keep your eyes open for over a hundred different bird species of different sizes and colours. 
Also read: Historical Places Around the World Every Pinoy Should Visit
2. Zoom across crystal clear waters in Sabang Beach
The Sabang X Zipline takes you on a scenic ride at 150 feet above sea level. And since the zipline is at a relatively low speed, you can take in the aerial views of the sea and mountains. This is definitely a plus for those who aren't heavily into adrenaline-packed activities!
3. See the sweeping hillside views, then have some baked goodies too!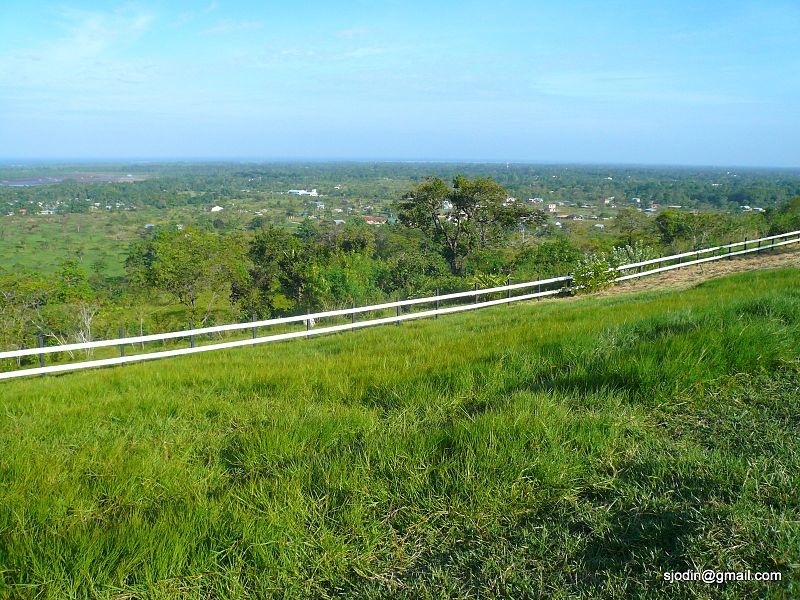 Enjoy views of the city and the sea from the hillside Mitra's Ranch. Though the property is privately owned, most of it is open to the public — including the viewing deck and the sprawling grounds where you can have a picnic! Other activities include horseback riding and a hanging bridge.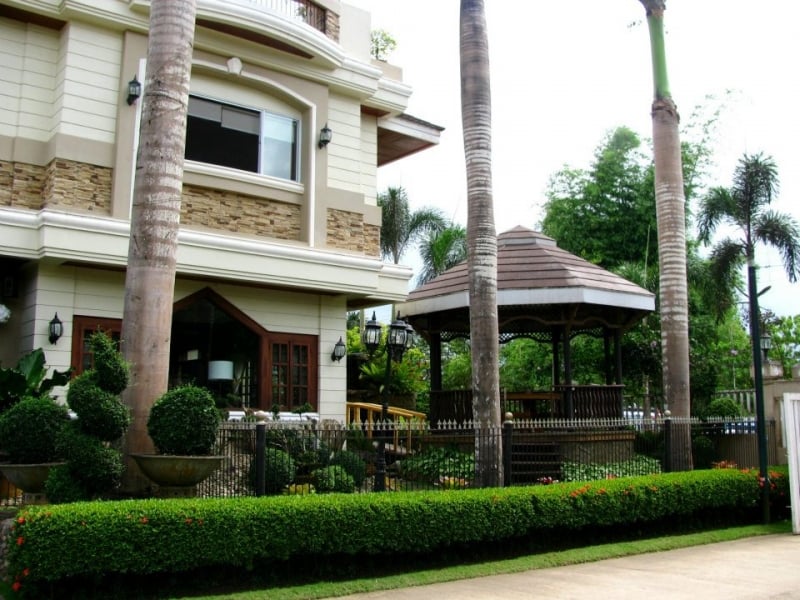 Just down the street is Baker's Hill, where you can find all sorts of freshly baked goodies that you can pack for the road or even take home. It also has a small park of sorts, with life-size Disney statues, a playground, a garden that is lit up at night, and peacocks. It's like the grandparents' house you wished you had as a kid, if your grandparents also baked best-selling hopia every day! 
4. Taste authentic Vietnamese dishes, with a history lesson on the side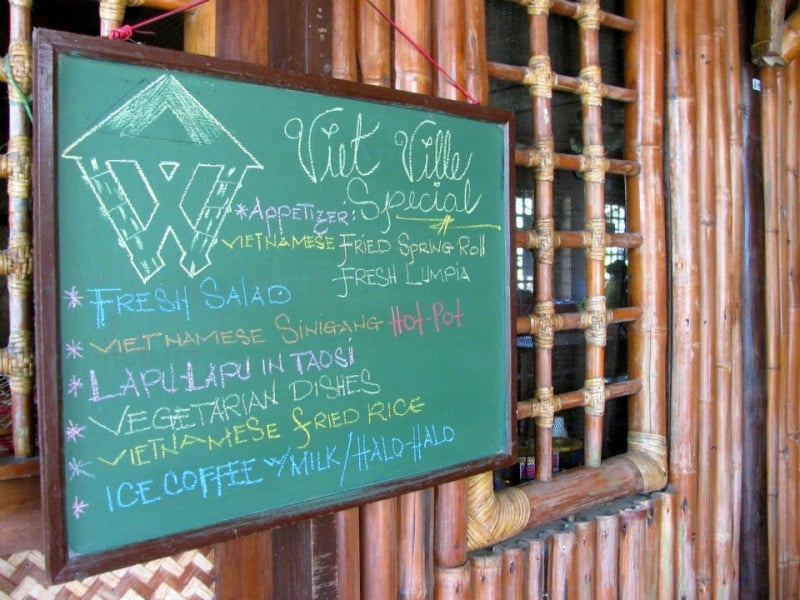 The Vietnamese cuisine in Viet Ville Restaurant is as authentic as it gets. Located in a village that used to be home to refugees of the Vietnam War, this establishment is a former joint cooperative between Vietnamese immigrants and Palawan locals. Though the rest of the village is now somewhat a ghost town, many tourists flock to this decades-old eatery for its mouthwatering banh mi, spring rolls, and pho. 
5. Witness a firefly light show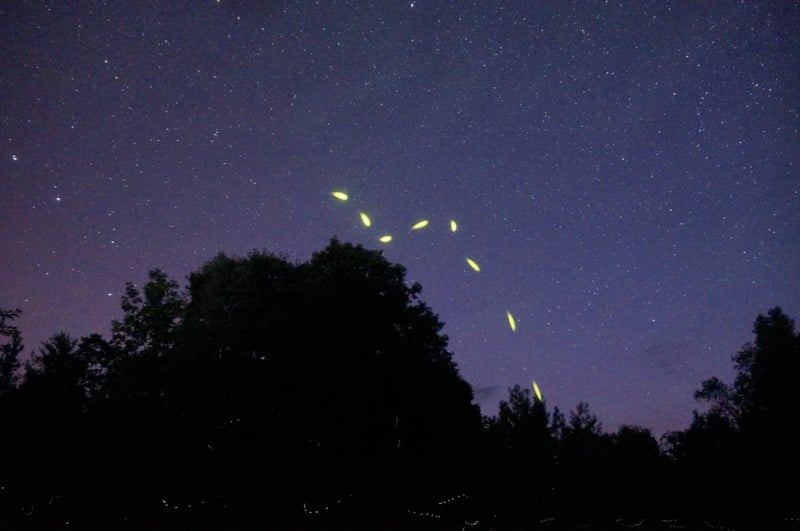 As you cruise along the Iwahig River, you'll find a captivating display of fireflies glowing around the mangroves on the riverbank. If you enjoyed that scene in Rapunzel where they go to the Rivers of Light, then you'll have a magical time here. Apart from firefly-watching, you can also stargaze at constellations in the night sky. (If you're lucky, your local guide might even help you identify a constellation or two!)
6. Enjoy a good ol' food trip downtown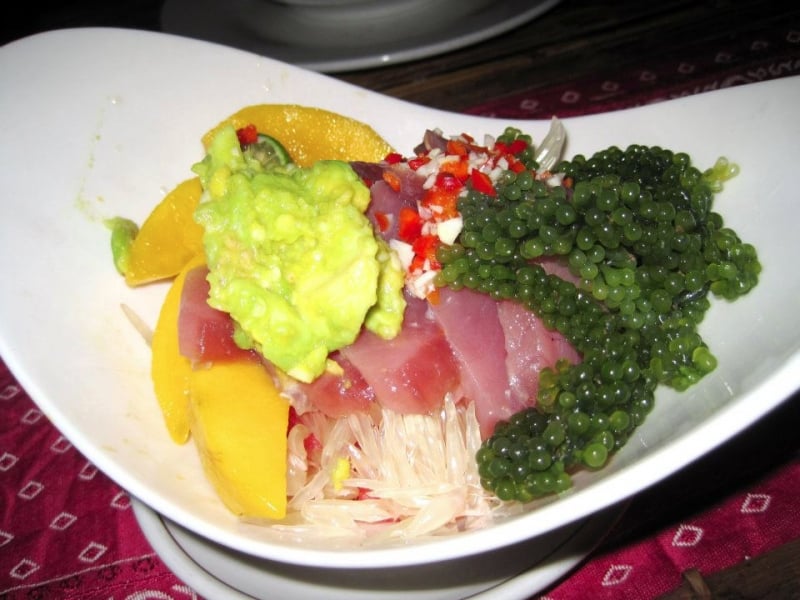 Fresh seafood is always a must for things to do in Palawan. Good thing the streets of downtown Puerto Princesa are filled with homegrown restaurants offering local cuisine, some standing out from the rest. One of these is KaLui, a native-style restaurant decorated with showcased Palawan artworks. Prepare to leave your shoes at the door for a barefoot dining experience, and then dig into their seafood and veggie specialities (their menu's pescatarian!). Their housemade fruit shakes are also a bestseller. 
Up for some exotic delicacies? Head over to the über-laid back Kinabuch's Grill & Bar and order their best-selling crocodile sisig and tamilok (a type of mollusk living inside mangrove trees). Meanwhile, Palaweño Brewery offers craft beer infused with homegrown ingredients like Palawan mangoes, tangguli (local palm candy), and wild Palawan honey. Aside from being the only craft beer place in Palawan, it's also the first female-run craft brewery in the Philippines!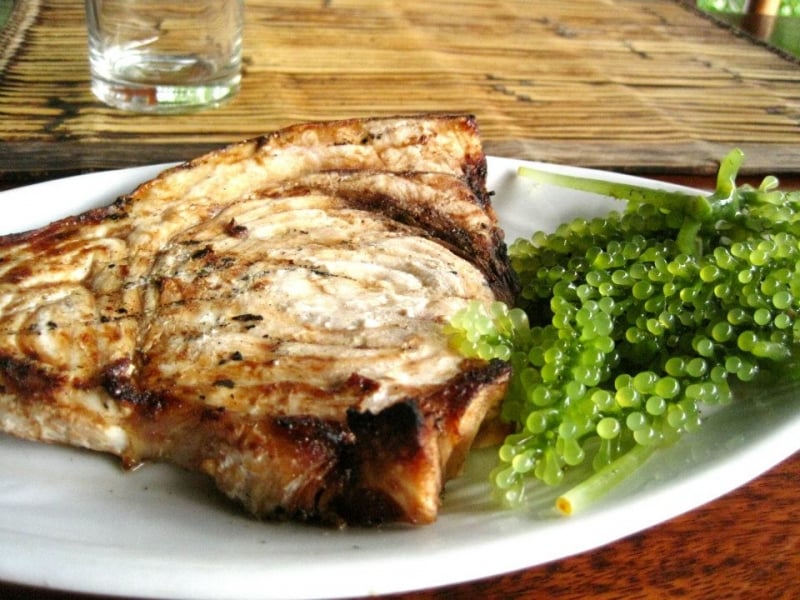 Enjoy some fresh catch of the day at Badjao Seafront, a floating restaurant situated in a mangrove forest. Take in the calming view of the ocean while having hefty servings of grilled seafood, best paired with lato (a type of seaweed that looks like grapes). The restaurant often becomes packed right before sunset, so if you'd rather skip the queues, we recommend coming here for lunch instead. 
7. Get to know the local crocs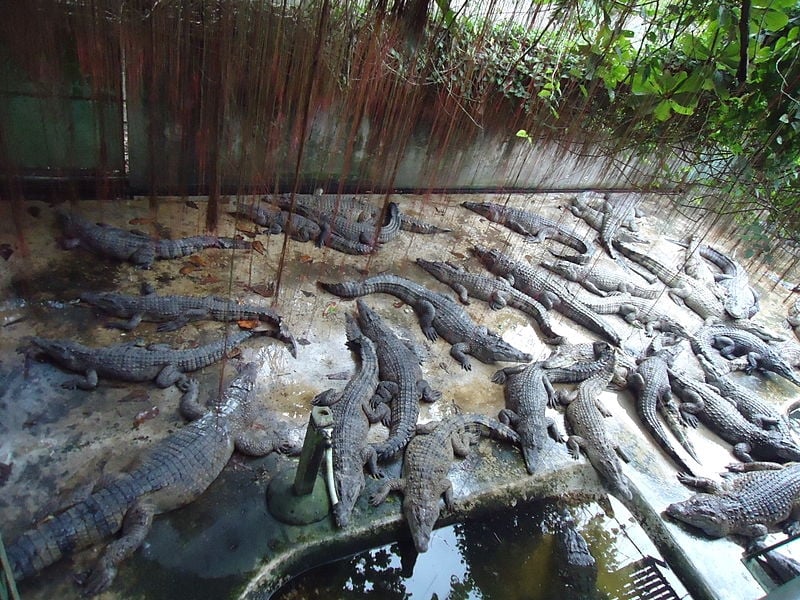 The Palawan Wildlife Rescue and Conservation Center is home to some endangered or abandoned animals in the Philippines, most notably local crocodiles. It's best known for its Crocodile Farm, where they raise several young crocs until adulthood. Here, you'll find two species of crocodiles: the Philippine crocodile and the saltwater crocodile, the former being endangered. If you're lucky, you can watch as the massive adult ones are fed. But if not, there are baby crocodiles that you can see up close and even pet (with handler supervision, of course). 
8. Go spelunking in Tagabinet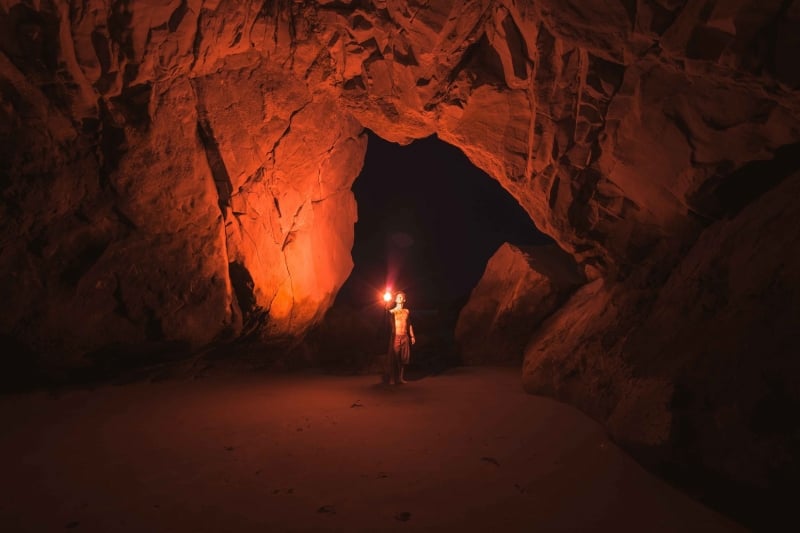 The Hundred Caves of Tagabinet earned its name for its countless interconnected and multi-storied passages that thrill cave explorers and adventurers. As you walk and climb your way through, your guide will share interesting details about the rock and mineral formations — many of which date back to millennia ago. 
El Nido
To say that El Nido is a tropical paradise is an understatement. After all, it's hard to find a place quite like it anywhere else! A six-hour drive from the capital, it houses some of the most breathtaking tropical locations. Though tourists from all over the globe often flock here to go island-hopping, you'll be surprised to know that El Nido has a few other tricks up its sleeve.
Also read: 10 Airbnb Homes in El Nido Where You Can Live Out Your Island Dreams
9. Discover the islands of the Bacuit Archipelago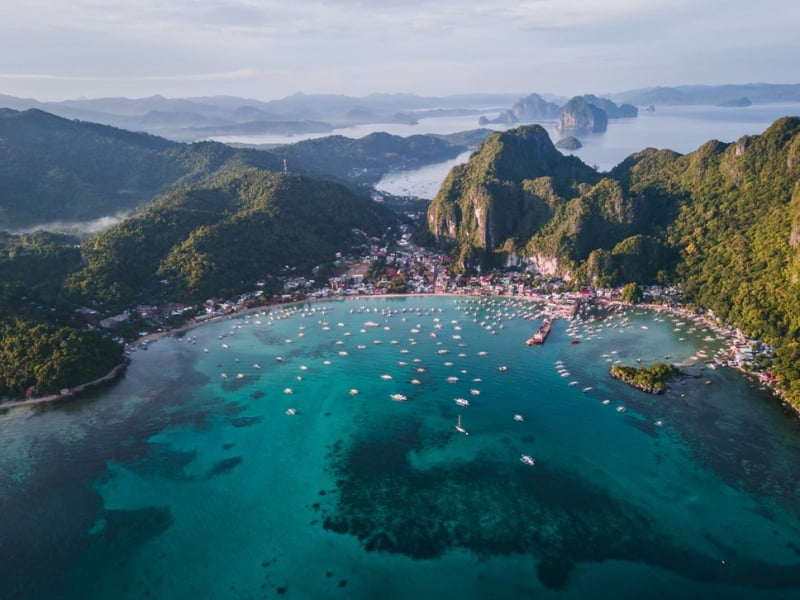 Island hopping is often on the top of a globetrotter's list of things to do in Palawan. Arguably the main attraction amongst all Palawan tourist spots, the protected Bacuit Archipelago hosts 45 limestone islands and countless white-sand beaches, lagoons, and coves. There are four standardised tours and the popular must-sees are scattered throughout these four, so it's highly recommended you allot a day per tour. But if time is of the essence, then might as well charter your own boat (around US$85) and visit the best spots of your choosing.  
Upon docking in Miniloc Island, the best way to explore its idyllic Big Lagoon and Small Lagoon is to kayak around them. It also has a Secret Lagoon, which you can enter through a hole in the cliff, and it's like entering another world in the movies. There's also the Secret Beach of Matinloc Island, where you have to swim a bit through the opening to get inside. According to popular belief, this is also the inspiration of British author Alex Garland for his novel-turned-movie The Beach. 
Also read: 10 Underrated Philippine Beaches to Add to Your Bucket List
Tip: Rent a clear kayak if you can, as to fully appreciate what's beneath those crystalline waters.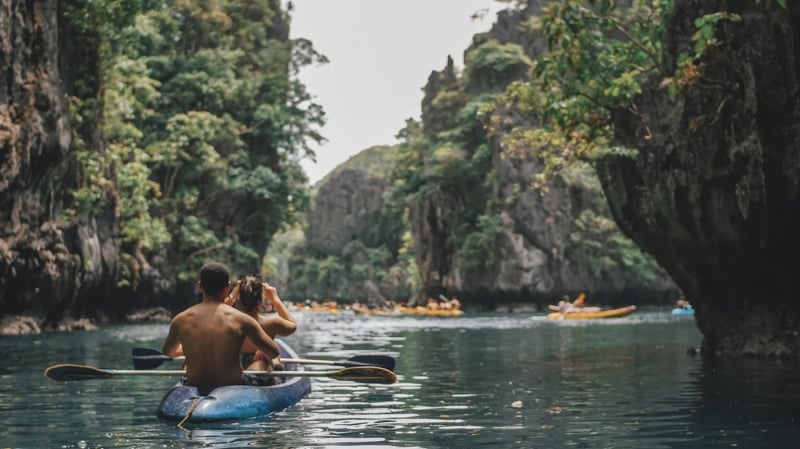 Shimizu Island is often packed at noon, since it's the scheduled lunch spot on some of the tours. It's an ideal snorkelling spot with an abundance of coral reefs and colourful fishes off its coast. Another crowd favourite for snorkelling? Cadlao Island, which is close enough to the El Nido town proper that you can simply take a kayak to get there (if the weather permits it).  
If you're the type who prefers to simply chill by the shores and bask in the sun, then the Seven Commando Beach is your best bet. It's usually the last stop in most of the tours, so if you arrive here separately, you can have a quiet time for most of the day. There are also stalls and bars if you're looking for some food and refreshments — from fresh coconut juice to halo-halo and ice cold beers. 
Note: Taking plastic bottles on the El Nido island hopping tours is strictly prohibited.
10. Stay in a cottage over the ocean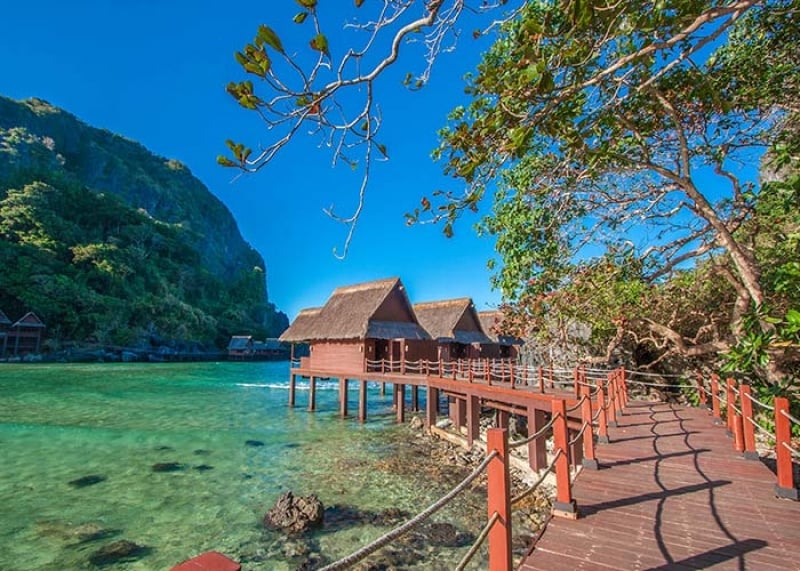 After all, why settle for a beachfront hotel when you can opt for an overwater villa? After a long day of exploring the stunning isles, it's best to unwind in some of the dreamy island resorts of El Nido. There's Cauayan Island Resort, which is one of the more popular ones for its close proximity to the El Nido main bay. If you're looking for eco-luxury with some outdoor adventure on the side, then Lagen Island Resort is a perfect choice. If you're up for some hiking, take the Mountain Trail and get to see some of the wildlife. 
11. Trek to the highest point of El Nido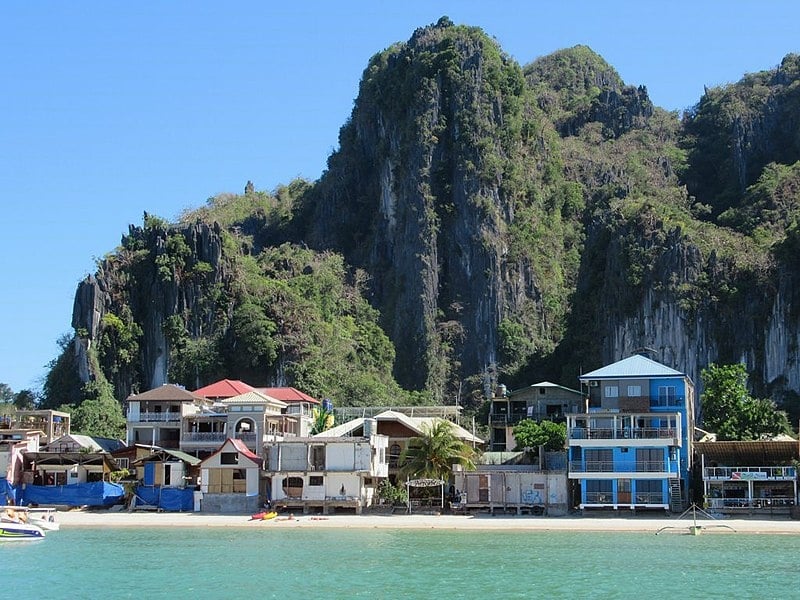 Speaking of hiking, if you're up for something a bit intense, then Taraw Cliff is the way to go! Climb through sharp rocks and steep boulders, and you'll be rewarded with a sweeping view of the islands nearby. Best to take the hike at dawn, so you can catch the sunrise by the time you get to the top. 
Tip: Don't forget to get a tour guide for safety! In fact, some of the hiking guides are also the same guides for when you go island-hopping in the area. 
Itching to see the view but not sure if you're cut out for bouldering? The Ferrata Canopy Walk offers an easier (but still exciting) climb. It features suspension bridges, forest staircases, and even a giant makeshift spiderweb for your adventure posts on Instagram!
12. Experience a boodle fight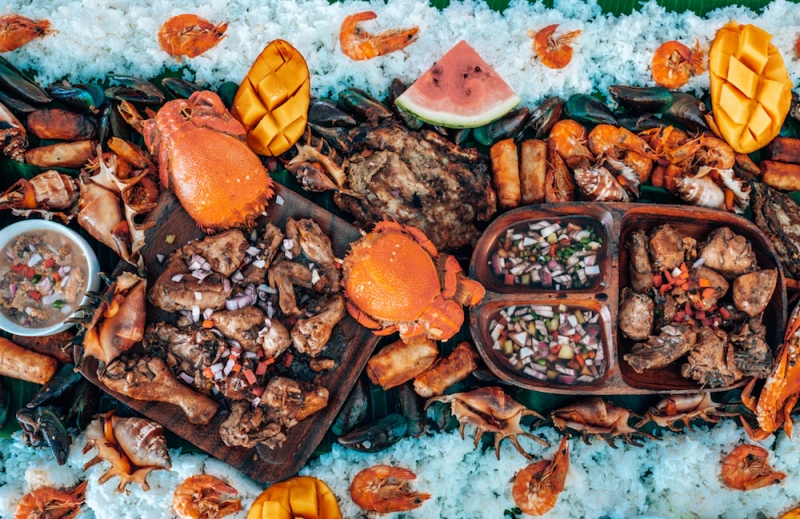 No, it's not really a fight. In Filipino culture, a boodle fight (aka kamayan) entails eating with your bare hands, with all the food laid out on banana leaves. It's a good way to bond with the locals and get to know more about this communal tradition. Dine in at Boodle Fight Resto & Bar, and you'll see why this local practice is worth trying — not that the delicious fresh seafood isn't enough to convince you. 
Coron
Far and (sort of) beyond up north lies Coron, where even more magnificent beaches await you. Aside from beaches, it also has seven lakes, some of which are deemed one of the cleanest in the Philippines. But the main event in Coron is underwater, where history and sightseeing come alive.
Also read: 8 Airbnbs in Coron That Are the Epitome of 'Island Life'
13. Explore the Coron Bay Shipwrecks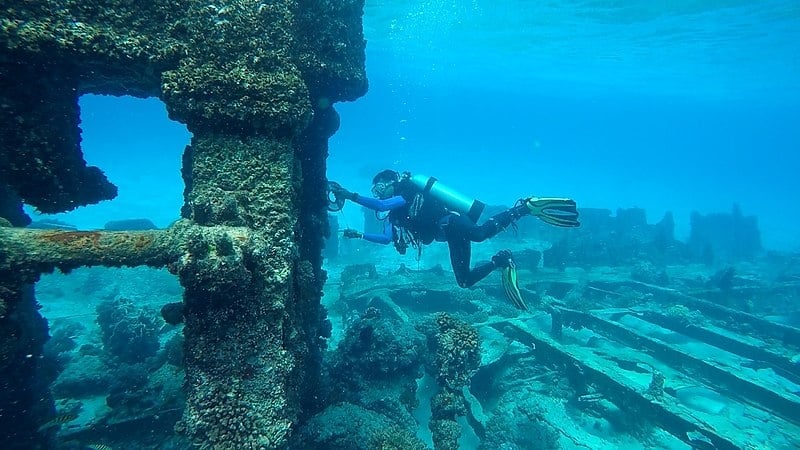 You can find 13 diving sites right beneath the turquoise waters of Coron Bay. It's no wonder this place is a must-visit for wreck divers everywhere! Back in September 1944 during World War II, the U.S. army bombarded the Japanese army's supply fleet hidden on these islands. Decades later, the well-preserved machinery and equipment left scattered around the area make for a spectacular sight. You'll find massive wreckages of gunboats, aircraft carriers, tanks, and ammo alongside coral reefs and other marine life. 
Whether you're an experienced or beginner diver, you can explore some of the diving sites around the area. Some are as shallow as 10-20 feet, while some go as deep as 140 feet. Depending on your skill level, expert guides will help you see the most out of the many shipwrecks. Along the way, you might even run into some interesting creatures like the sea turtle, yellowfin tuna, and scorpionfish. 
14. Witness the beauty of Kayangan Lake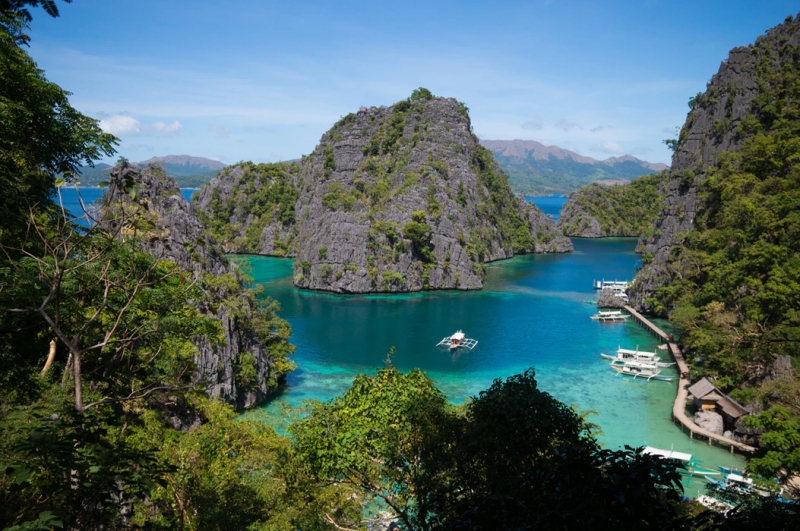 This crystal-clear semi-freshwater lake is nestled between limestone walls and is accessible by a 10-minute climb. Enjoy wading in its warm waters and taking photos of the pristine surroundings. It's a popular spot that you can find on countless Instagram travel feeds, making it one of the more #millennial things to do in Palawan. 
You can also go diving or snorkelling and see the impressive scene underwater. On the left side, you'll find the Awuyuk Cave, which you can enter by swimming through a narrow entrance under the lake. 
Tip: If you want to avoid crowds during peak season, best to go either early morning or late afternoon. 
15. Unwind at the Maquinit Hot Springs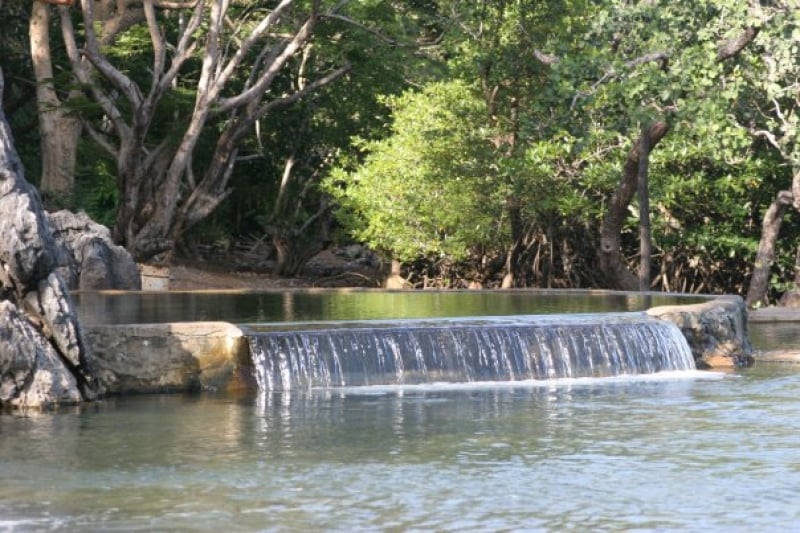 After a long day of exploring what Coron has to offer, head over to Maquinit Hot Springs, located about half an hour away from the town proper. It's one of the very few saltwater hot springs in the world, and its water comes from an underground water volcano. Take a dip to soothe your tired muscles, and surround yourself with mangrove trees while breathing in warm air. 
16. See the hidden gems of Lusong Coral Garden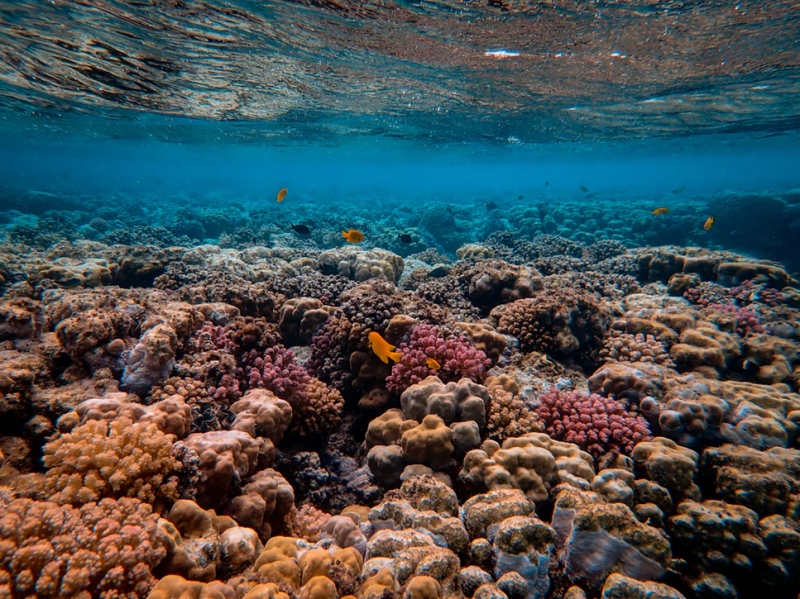 Dive into the cerulean waters and feast your eyes upon the wonders of this underwater garden. Actually, Lusong Coral Garden is more like an underwater forest with an abundance of densely packed corals teeming with different colours. The lush reef system seems to go about as far as the eye can see, and the sight of it rivals those over the surface. Definitely worth adding to your things to do in Palawan bucket list! 
17. Have a lobster feast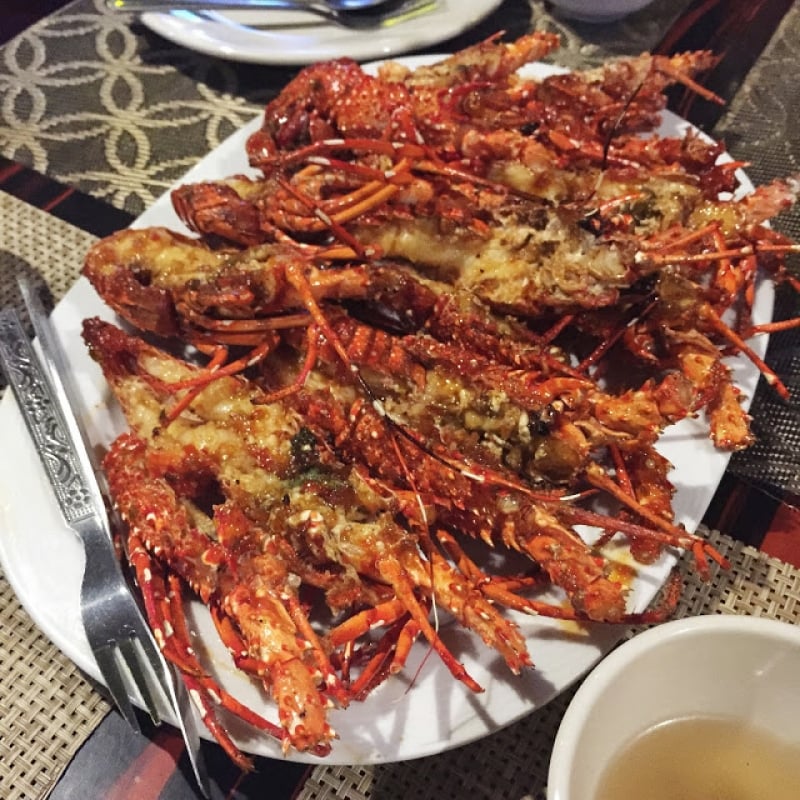 Dig into fresh lobsters (that you can even pick out yourself!) at Lobster King. True to its name, its must-try dish is the lobster, which they offer at an attractive price. You get to pick how the lobster is cooked, but we recommend having 'em soaked in glorious golden butter garlic. 
Honourable Mention
Because yes, there are still more places to see and things to do in Palawan beyond the three main areas! 
18. Discover the archipelago's prehistoric beginnings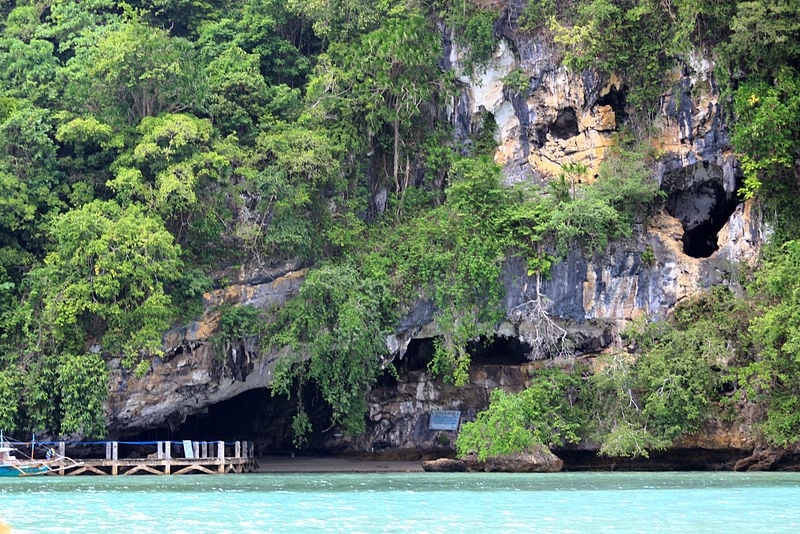 The Tabon Cave in the Lipuun Point Reservation is a fixture in Philippine history books as the Cradle of Philippine Civilisation. After all, it's the site where the remains of the earliest life in the Philippines — the 'Tabon Man' — have been found. The Tabon Cave, combined with  214 other caves on the reservation, make up the Tabon Cave Complex. Though among those caves, only seven are open to the public. There have been countless archaeological artefacts discovered here, and some caves are believed to have been used as ritual sites or burial grounds before. 
19. Marvel at the beauty of the Tubbataha Reefs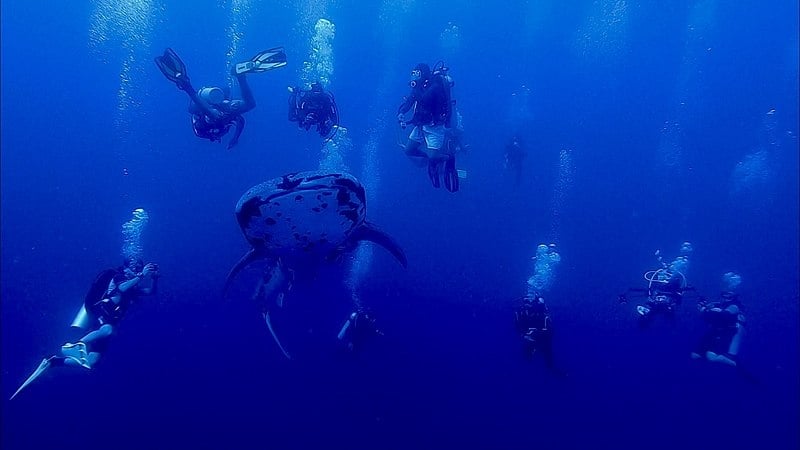 Isolated and underwater, this Palawan UNESCO World Heritage Site contains world-class marine biodiversity. It's home to approximately half the world's coral species, as well as over 500 species of fish and countless other sea creatures. It's no wonder this is on the bucket list of many scuba divers from around the globe. Diving season in the Tubbataha Reefs is from March to June, when the waters are quite calm and liveaboards are allowed within the marine park. 
Note: Yes, diving in the Tubbataha Reefs can only be done with the help of liveaboards.
Also read: 9 Best Diving Spots in the Philippines for Aquaventurers
20. Check out the underrated scenery of San Vicente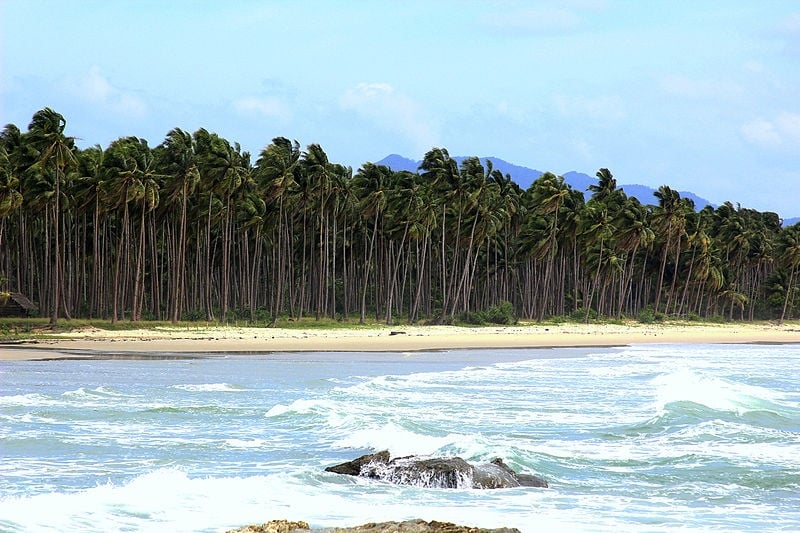 Between El Nido and Puerto Princesa sits this quiet town slowly making itself known as a rising tourist destination. It's one of the more underrated things to do in Palawan, so make the most out of the rare tranquillity. The nearby fishing village of Port Barton is the low-key counterpart of El Nido and Coron. Here, you can go island hopping, snorkel amidst its thriving reefs, or simply enjoy a quiet time. 
Book a night or two at the Secret Paradise Resort & Turtle Sanctuary. Apart from the usual outdoor/beach activities you can do, communing with the pawikans (sea turtles) is definitely a must. You can find them while out snorkelling or wait for the hatching season between November to May.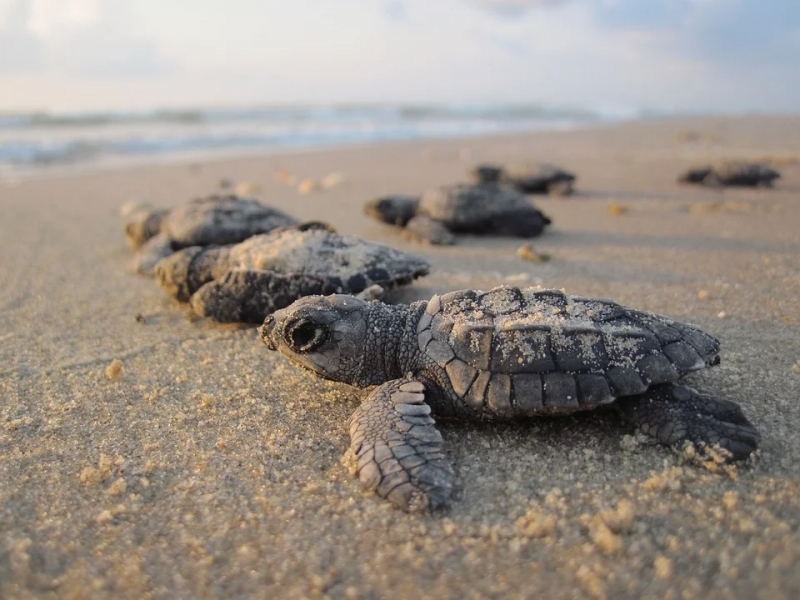 Don't leave San Vicente without visiting Long Beach, the town's crowning glory. Spanning over 14 kilometres, it's the longest white-sand beachfront in the Philippines. Underneath its palm trees, you can definitely leave your worries. 
Excited to visit all these places in Palawan and see why it's a favourite among globetrotters? Better book a trip soon and don't forget to cross these items off your bucket list. We'd love to hear your fantastic stories afterwards!
---
This article was originally published on TripZilla.