There are many diving spots in the Philippines worth booking a trip for. And thanks to a childhood friend, I've had the chance to go scuba diving in a well-loved spot right after graduating from college.
It was in Boracay and her father was spearheading a campaign to help save the dying Boracay coral reef. This involved regrowing coral and visiting their coral-planting sites. When she asked us if we wanted to see what they've been doing, I said yes in a heartbeat!
Expectations vs. reality
Little did I know that this would be one of the most heartbreaking trips I would go on. I didn't know what to expect underwater — all I had were images of vibrant reefs and slopes, mysterious caverns with odd sea creatures, and schools of fish successfully imprinted in my head thanks to National Geographic, Discovery Channel, and of course, Finding Nemo.
In this case, I couldn't have been more wrong. About 25 feet below the surface, all I could see was grey. And not a single fish was in sight. What greeted us instead were coral carcasses, a mere reminder of what once was a beautiful reef teeming with life.
While what I witnessed there was a complete eye-opener about how our lifestyles and activities affect our oceans, the experience also left me with a fervent hope that this would encourage more sustainable tourism practices. And definitely, it also left me with a hunger to see more of our underwater wonders. The Philippines, after all, is an archipelago, and diving fanatics are right to think that there's a whole other world under there waiting to be explored. Here are a few dive destinations you might want to check out the next time you plan a trip to one of our islands:
Also read: Boracay Closure: Latest Updates & Advisories
1. Apo Island, Negros Oriental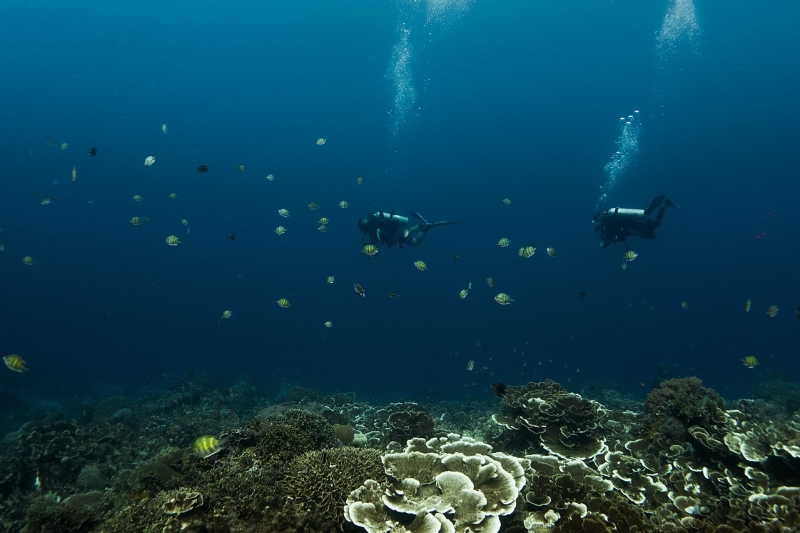 A foolproof choice when it comes to planning the perfect dive experience, Apo Island in Dauin, Dumaguete is home to several sites that cater to divers of all levels. It's definitely among the top diving spots in the Philippines. If you're a newbie, get your feet wet with Apo Island's Marine Sanctuary, a protected area and no-fishing zone that only allows a maximum of 15 divers every excursion. This sloping reef is one of the first declared marine sanctuaries in the country so you'll also get to learn more about marine conservation while you're there.
Looking for something more advanced? Then discover what has been dubbed the Chapel, because of the church that overlooks the diving site. It covers a larger area — the gentle slope suddenly drops into an impressive wall with overhangs and ledges that serve as natural habitats for White-Eyed Moray Eels and Clearfin Lionfish. It also features a cavern and a reef flat, where Green Turtles are often seen grazing.
Other diving sites in the area are Katipanan, Cogon Point, Baluarte, Rock Point West, Rock Point East, Coconut Point, and Mamsa Point, where you can spot schools of mamsa or jackfish.
2. Danjugan Island, Negros Occidental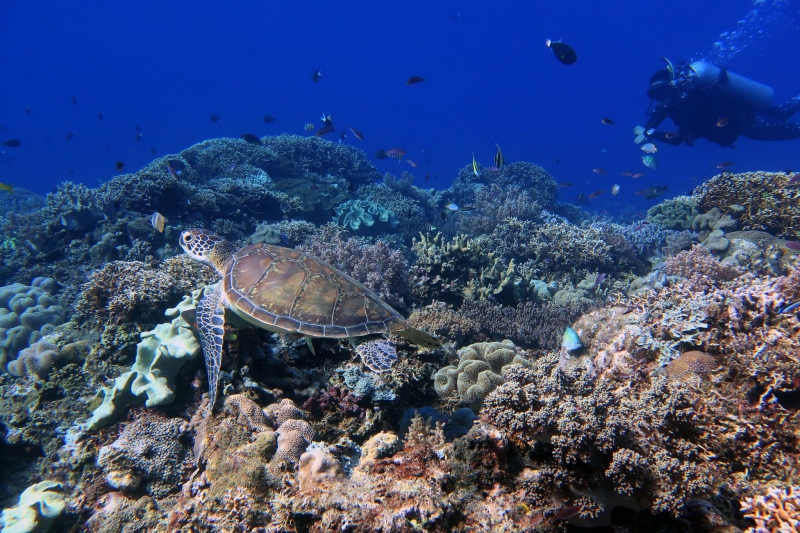 A marine reserve and wildlife sanctuary managed by the Philippine Reef and Rainforest Conservation Foundation, Danjugan is a feast for the eyes both on land and underwater. It's a perfect example of what happens when sustainable and ethical tourism practices are implemented in an area that's in dire need of environmental rehabilitation. The island's tagline is enough to give you an idea of what their efforts are all about: "We saved an island. Now we invite you to explore it." And explore it, we shall.
Tourists are asked to coordinate with accredited diving groups such as Easy Diving, Bluewater Expeditions, and Scuba Planet Philippines for a fuss-free experience. According to researchers and scientists who've studied the area, there are about 244 species of corals and 572 species of fish that can be found in the island's waters. Small sharks, turtles, and giant clams abound in the area so remember to make your way carefully whether you're scuba diving or snorkelling. You wouldn't want to disturb these wonderful creatures in the wild.
3. Malapascua Island, Cebu
Malapascua is quite the popular diving site for locals, but well-travelled divers consider it South East Asia's best-kept secret because it doesn't get quite as jam-packed. A lot of people head over here to watch Thresher Sharks in Monad Shoal, where they swim by very early in morning to have themselves groomed by small cleaner fish. Think of it as a fish clinic and wellness spa that they visit daily. In fact, experts say that Modad Shoal is the only area in the world where you can observe Thresher Sharks closely and regularly despite the fact that they live in deeper waters and are nocturnal. You can also spot some Manta Rays and Mobulas in the same area, although that would be later in the day.
Aside from Monad Shoal, there are other diving sites to visit in Malapascua. Among them are Kemod Shoal, Deep Rock, and Lighthouse, a can't-miss for those who love a good night dive. If you also want to check out a sandbar destination, drop by Calanggaman Island and spend some time admiring its waters' well-maintained coral growth. 
4. Anilao, Batangas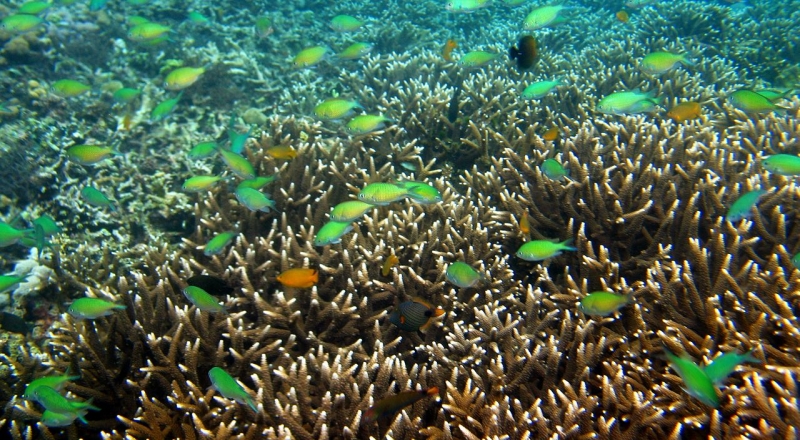 Definitely one of the more established and commercialized diving spots in the Philippines, Anilao is the place to go to if you want an introduction to the country's rich underwater biodiversity. Many of the resorts here have diving amenities and services, and others even have scuba centres and dive shops. First-timers can be easily trained by resident certified diving instructors. Before you know it, you'll be enjoying the calm and cool of Anilao's turquoise waters while floating along its more forgiving undersea currents.
If Apo Island boasts of a Chapel, Anilao has its very own Cathedral, a marine sanctuary that also undergone rehabilitation after almost succumbing to extensive environmental damage. Be greeted by schools of fish waiting to be fed, and colourful coral regrowth that took years to bloom. Other dive sites to see are Kirby's Rock, Eagle Point, and Twin Rocks, where the remains of a capsized barge lie.
5. Tubbataha Reef, Palawan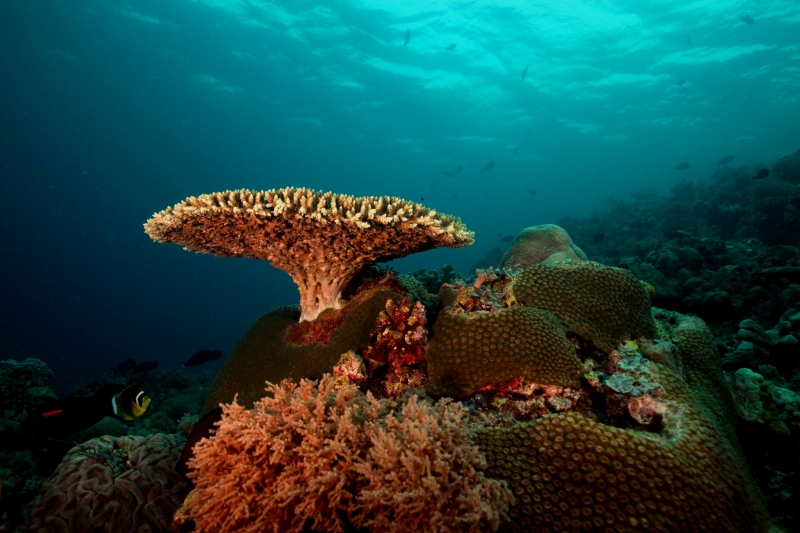 Tubbataha Reefs National Park is a marine sanctuary that has been declared by UNESCO as a World Heritage Site. Because of this, it is most certainly among the best diving spots in the Philippines.
It's a 130,028-hectare atoll reef, also known as a coral atoll, which means it boasts of a coral rim that covers an inner lagoon. Tubbataha doesn't only have expansive lagoons, it is also home to two coral islands and an arresting 100-metre perpendicular wall that's covered with thousands of colourful polyps. Its high density of marine life — over 600 species of fish and 300 species of coral — makes it one of the most vibrant diving destinations in the whole world. But since the natural underwater park is isolated, it can only be accessed via a liveaboard boat. Booking this trip might seem a tad tedious, but we assure you the trouble is worth it.
If you're lucky, you can also see Green Turtles and Hawksbill Sea Turtles make their way home. The area is a nesting site for these astonishing reptiles and should definitely be on any diving bucket list.
6. Balicasag Island, Bohol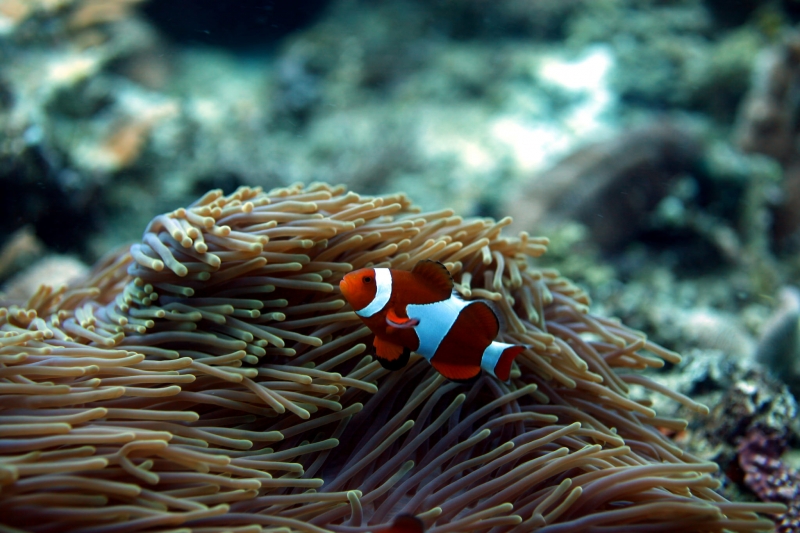 There is a diver's paradise in Balicasag Island, Bohol that is literally called Diver's Heaven. If that doesn't entice you to visit this sweet spot, then I don't know what will. The site is located northeast of Balicasag and is the natural habitat of a wide variety of underwater creatures, such as Midnight Snappers, Big-mouth Mackerels, Bucket Sponges, Brown Daisy Coral, and Barracudas.
It's a relatively easy dive, and a very picturesque one, too, which is probably why it's a favourite for many water babies regardless of diving level. Although the island is tiny compared to major beach destinations in the country, its undersea experience packs a punch. It's only a 45-minute boat ride away from Panglao Island, too, so you can also plan a quick vacation there after you've had your fill of diving.
7. Tablas Island, Romblon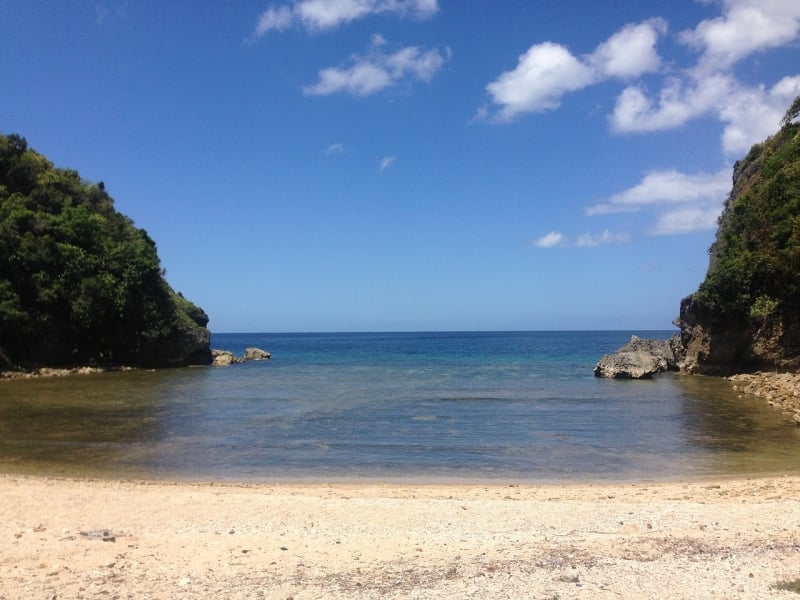 Any person who's been on this particular diving adventure will tell you to go see this spectacular underwater feature called the Blue Hole. It isn't as hyped as other local diving sites and there isn't much written about it yet, but let us tell you that it's definitely one of the Philippine seas' gems. Be warned, though: The Blue Hole isn't for anyone looking to cure thalassophobia through diving.
It really is that — a massive chamber under the ocean that entrances you with its changing shades of deep blue. Well, sometimes it actually looks more like a big black hole ready to suck you into the dark unknown, but that just adds to the thrill, especially for those who love a good adrenaline rush. There are other diving sites to visit near the Blue Hole, too, such as Gordo's Point, where turtles and huge schools of fish can be observed.
8. Sarangani Bay, Sarangani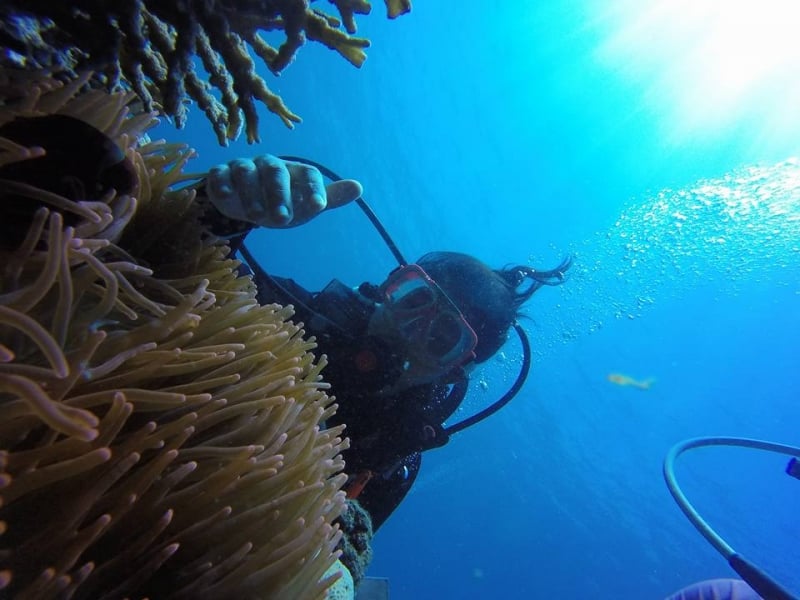 When thinking of popular diving spots in the Philippines, Sarangani in Mindanao doesn't easily come to mind. But it really should. Since diving here is underrated, you'll find the experience a rather refreshing one, not marked by busy lines and difficulties in booking. A group called Sarangani Divers can assist you if you want to explore Sarangani Bay's many diving go-tos. Perhaps the most known is Maasim Reef, but take note that this area is for more advanced divers. Those who're willing to take on the depth and the stronger currents, though, will be rewarded by stunning views of a coral garden found at the bottom.
Other friendlier alternatives are Rocky Beach, Lemunay House Reef, and Tuka Marine Park, which also has a shallow part dedicated to snorkelers. Its deeper area is a habitat for schools of giant Bumphead Parrotfish, definitely a sight to see especially as they swim about in groups.
9. Puerto Galera, Mindoro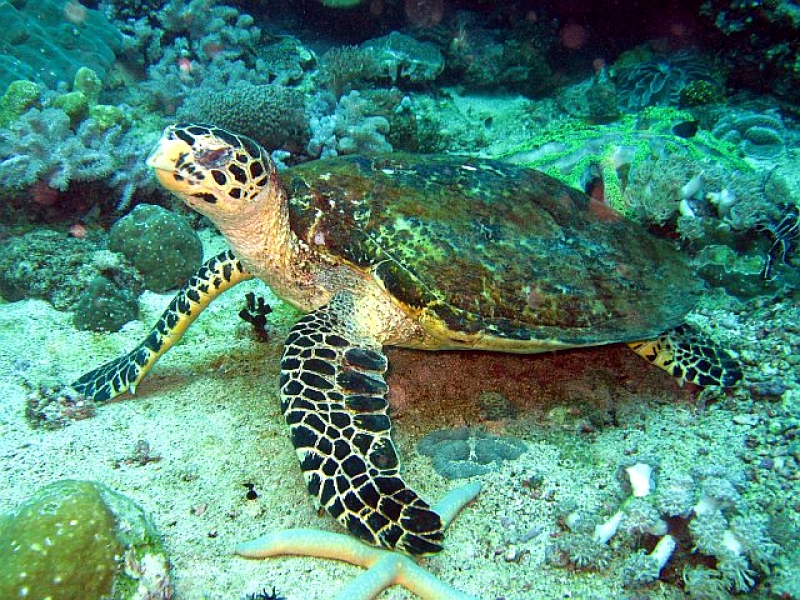 Puerto Galera is just as known for its sandy stays as it is for its exciting diving destinations. With over 40 diving sites to choose from, it's difficult to visit only one. If you're out to see some sizable Fan Corals and Tuna, make your way from Hole in the Wall to The Canyons, an area which has a maximum depth of 27 metres. Other sites to check out are Monkey Beach, the Verde Island Dropoff, and the Sinandigan Wall, a must for enthusiasts who enjoy observing marine macro life.
If you're an avid fan of shipwrecks, book a dive to Monkey Wreck, where what's left of a pigboat that sank in 1993 remains to this day. It is now home to Snappers and Groupers, and is frequented by a school of Batfish. But keep in mind that this particular diving spot is for more experienced divers, with its challenging depth and tricky currents.
Check out the best diving spots in the Philippines!
Surely there are more awe-inspiring diving spots in the Philippines, especially when there is still much to be discovered in our oceans. So tick one off this list when you can, and tell us all about your underwater adventure when you get back. It's undeniably fun under the sun, but going deeper into the blue is an otherworldly experience you wouldn't want to miss.
Also read: 5 Reasons You Should Start Scuba Diving