When word got out that Amanpulo, one of the most glamorous beach resorts in the Philippines, has an island for sale, local social media exploded. Not particularly because a lot of Filipinos were scrambling to buy it then and there, but because of how ridiculously expensive it was. Which, for a luxurious retail estate, is completely normal.
Believe it or not, that very frenzy also revealed a small group of people who were interested in buying the property or similar private islands in the Philippines. Renting for short-term stays as a hotel guest was another option. The latter is especially ideal for those looking for wedding venues, team building sites, or lush getaway destinations.
Also read: 10 Underrated Philippine Beaches to Add to Your Bucket List
Island rentals and private islands in the Philippines
If that's the direction you're more comfortable with, then the following private islands in the Philippines are worth checking out. Way cheaper than buying an Amanpulo island, these are available for rent from just ₱2,100 to ₱41,000 per night.
1. Pandan Island (From ₱2,100 per night)
Starting this list of private islands in the Philippines for rent is Pandan Island in Occidental Mindoro. Unlike most luxury resorts in the country, this location doesn't bank on plush amenities, but rather on its personalised atmosphere and simple yet peaceful quality of stay that it offers its local and international guests.
You won't find mainstream party spots, infinity pools, or high-definition televisions sets here. In place of those, there are colourful native birds, towering palm trees, and relaxing hammocks that you can choose to lay on as you watch the day go by. The coral reefs surrounding Pandan Island are a sight to behold, but taking a quick diving trip to Apo Reef close by is no less satisfying, either!
Pandan Island consists of more than 20 bungalows good for one up to eight guests, and rates start from just ₱2,100 per accommodation exclusive of fees and other services. You can enjoy utmost privacy in each one, especially since you're likely to stay here with other guests. Otherwise, there's a restaurant, a beach bar, and a dive centre that will keep you company.
How to get to Pandan Island: The best way to get to Pandan Island is by travelling to Sablayan. From this municipality, you can arrange for a water taxi service that will take you to the island. Other land and sea transportation options are also available from the municipality of San Jose in Occidental Mindoro, Busuanga in Palawan, and more.
Also read: 10 Dreamy Treehouse Stays in the Philippines for a Magical Vacay
Who said island living necessarily had to be in the middle of the sea? Sometimes, it just takes a road trip to Laguna, known for its stunning falls and other inland water attractions. One such attraction is called Sundang Island in Lumot Mahipon Lake, Cavinti, home to one of the most beautiful island retreats in the Philippines.
What makes Sundang Island so special and different from other private islands for rent is it really is just about a three-hour drive from Metro Manila. Yet once you're in this tranquil location, it will feel like a completely new planet altogether. Not to mention, upon your arrival, you'll be welcomed by a grassy knoll instead of a white sand beach. It's actually pretty romantic!
With 80sqm of space for the on-site bungalow alone, Sundang Island has managed to fit a spacious bedroom, a kitchen, two bathrooms, and a living area. All this room can accommodate up to 15 people. Although, that doesn't mean you can't have it for yourself or with just a significant other. In fact, one of the best ways to enjoy Sundang Island is to have a romantic meal by the lake. This alone will make for an exclusive island experience to remember!
How to get to Sundang Island: The best way to get to Sundang Island is by driving to Barangay Lumot, Cavinti from Tagaytay, Calamba, or the National Capital Region. Once there, you will need to hop on a boat that will bring you to the island. Another option is by taking a bus to Santa Cruz-Pagsanjan.
Also read: 10 Airbnbs in Laguna That Are Staycation Goals
3. North Cay Nature Island (From ₱5,000 per night)
Tucked away in Busuanga, North Cay Nature Island is one of Palawan's best-kept secrets. The island, known to locals as Pagtenga Island, is home to pristine coral reefs, crystal-clear water, and stunning rock pools. If you're lucky, you can even catch a glimpse of sea turtles, stingrays, or dolphins!
Enjoy some much-needed peace and quiet at your own little slice of paradise, as the island has been kept as unspoilt as possible. At just ₱5,000 per pax per night, guests will be treated to the whole package: accommodations, land and speedboat transfers, full board meals, and use of all the island's available amenities. This special rate is available for groups of at least four people; bigger groups can enjoy discounted rates.
Besides all the natural beauty that the island has to offer, your stay also includes free use of their snorkelling, beach volleyball, table tennis, and kayaking facilities. At a pretty affordable rate, you can enjoy the full experience at one of the most gorgeous private islands in the Philippines!
How to get to North Cay Nature Island: The best way to get to North Cay Nature Island is by flying into Busuanga, Palawan. From there, take the land and boat transfers provided by the accommodation. These are already included in their overnight rates. However, should you be coming from Coron town proper, you can also choose to travel there by boat at your own expense.
4. Rock Island (From ₱15,000 per night)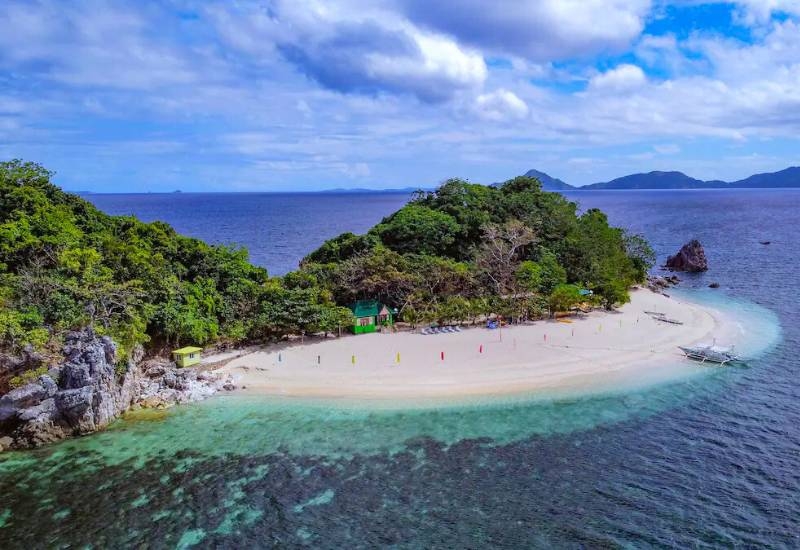 Don't let the "rock" part of the island's name intimidate you. It mostly comes from the fact that this island rental in Coron is simply abundant in these geological formations which protect the humble lodging that lies on it from natural forces not unknown to island living. Plus, they can be pretty scenic at select points of the day!
Rock Island Eres Bella, which is the name of the property occupying this Palawan attraction, promises serene stays for couples, families, solo travellers, and other large groups. But also, quick escape opportunities for tourists on island hopping trips from Coron or Culion. Although, you'll probably be too enamoured with the island's beauty to notice them at times.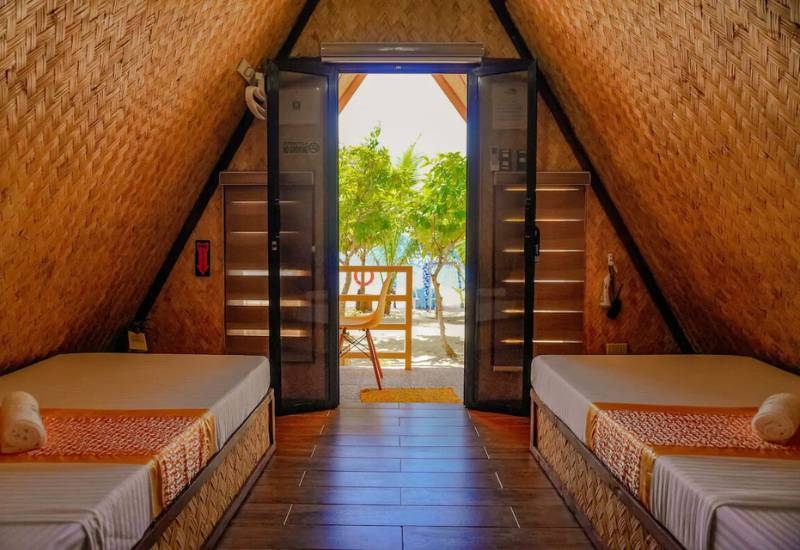 Accommodations at Rock Island range from camping tents to an air-conditioned room in a bungalow, which can house up to three people. Enjoying fresh seafood with a view will never be a problem here, as the property has a kitchen and dining area that directly faces the ocean. The island is also great for mountain climbing and unlimited snorkelling.
How to get to Rock Island: The best way to get to Rock Island is by flying into Busuanga, Palawan. You may then arrange for land and sea transfers to Rock Island directly from Busuanga Airport or from Coron.
Also read: 10 Airbnbs in Coron That Are the Epitome of 'Island Life'
5. The Island Buenavista (From ₱149,000 per night)
There's more to look forward to in Mindanao than the surfing capital of Siargao, and The Island Buenavista is living proof of that. Located in the Davao Gulf, this gorgeous island is known for one of the more promising day trips from Davao. But you can also book it for overnight accommodations great for a maximum of 34 guests.
The Island Buenavista is on the pricier end of this list of (relatively affordable) private islands in the Philippines for rent; but that's because you'll actually get to own it during your stay, including its suites, villas, and huts. Not to mention, the island screams "tropical getaway" no matter which angle you look at it from, thanks to its stellar blue waters, ample vegetation, and even its own tiny sandbar.
As mentioned, a group of more than 30 guests can stay on The Island Buenavista per booking, which means it's a great destination for private occasions such as weddings. That being said, a fixed rate of ₱149,000 per night good for 10 people doesn't sound like a bad deal. This is considering you'll have exclusive access to the island, full use of its leisure facilities, round-trip boat transfers, plus three meals for the stay.
How to get to The Island Buenavista: The best way to get to The Island Buenavista is by flying into Davao City. Already covered by your booking, a van will pick you up from Davao International Airport to take you to Sasa Wharf. From here, a ferry or barge will take you to the island. Advance arrangement is required.
Also read: 10 Charming Airbnbs in Davao for a Southern Adventure
Let's go back to Coron, where the stunning sanctuary that is Club Paradise Palawan lies. Popular among high-profile travellers, this private island resort has rightfully gained prestige over the years for its many impressive amenities. And while it has that "exclusive" vibe, it's surprising that you can temporarily live on the island for less than ₱20,000 per night!
Coron has been packed with tourists in the past years, so you'll be thrilled to know that Club Paradise Palawan is located far from all this thriving town's hustle and bustle. Geographically, it's closer to the towns of Busuanga and Calauit. What's more, it's located within a UNESCO Biosphere Reserve that's home to mesmerising dive sites and rich natural resources — great for eco-friendly travels.
Club Paradise Palawan has four types of accommodations: Sunset Villa, Sunrise Villa, Oceanview Suite, and Garden Suite. Their names pretty much describe what each of them is all about; but if you're most concerned about budget, then go for the Garden Suite. With a balcony overlooking the island's lush greenery, plus access to the resort's restaurant, white beach, and other facilities, it'll only cost you at least ₱13,000 for an overnight stay here. This is exclusive of taxes and fees. For the best available rate, be sure to book directly on their website!
How to get to Club Paradise Palawan: The best way to get to Club Paradise Palawan is by flying into Busuanga. Included in your booking, a service will pick you up from Francisco B. Reyes Airport and take you to the resort, then back. You may also arrange for a pickup outside the airport if you're already in the vicinity.
Also read: What's It Like to Stay in a Tropical Oasis Amid a UNESCO Biosphere Reserve
Known for the whitest beach in El Nido that's said to change shape every season, Brother Island is as secluded as you can imagine. There are seven bedrooms that don't only come with endless views of nearly untouched nature, but also the comfort you'll find in rustic staycations even the likes of Bali and Phuket don't get to take pride in.
Brother Island can only hold up to roughly 16 guests per booking at a time. However, it's possible to rent the entire property for yourself and just three other people. Either way, you can get the place exclusively for your group. That means no other tourists will be around you during the duration of your stay. It truly feels like living in your own island home!
Booking Brother Island already covers the following, too: Filipino breakfast, lunch, and dinner; daily housekeeping; use of kayak and snorkelling equipment; coffee and tea bar; and use of the library and board games. It likewise features its own preserved jungle, bamboo forest, and corals circling the island. For your safety, just don't eat anything unfamiliar while exploring them!
How to get to Brother Island: The best way to get to Brother Island is by flying into El Nido. From there, take the complimentary shuttle and boat transfers to the island. Getting to Puerto Princesa is also an option, but the van ride to El Nido is excluded from the price. Also, the trip takes a lot longer.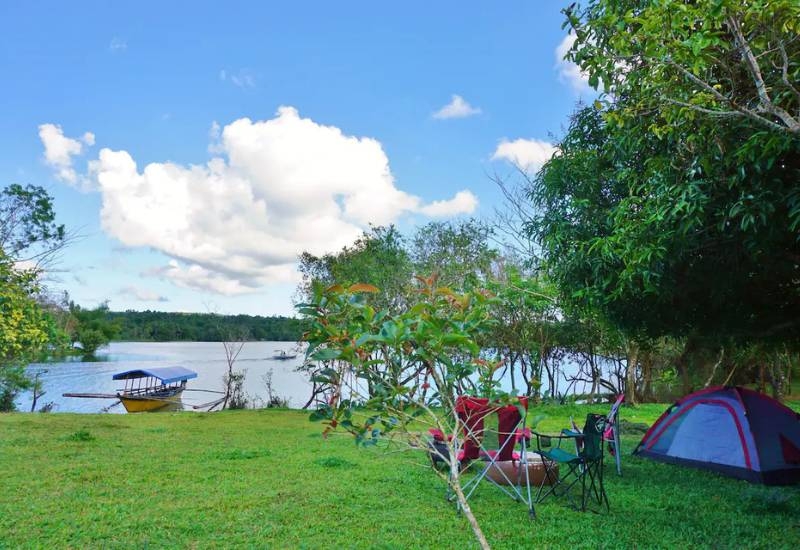 For those seeking private islands in the Philippines that can offer an exclusive glamping experience, Isla Serenidad in Cavinti, Laguna allows for just that. Situated in Lumot Lake just four hours away from Metro Manila, the island is enveloped by lush trees and pristine freshwater. Since there is no WiFi available, you can unplug and enjoy a host of outdoor activities like swimming, fishing, kayaking, and kite flying!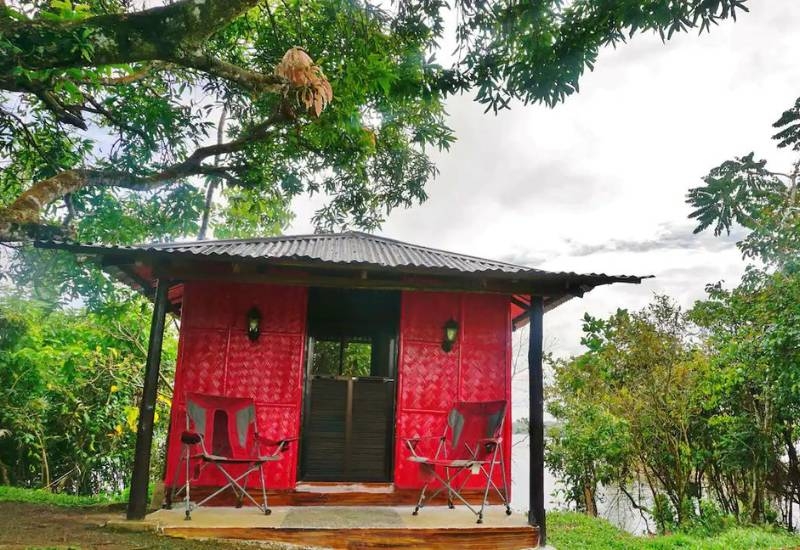 Isla Serenidad provides guests with two signature huts and a native kubo. The Cabana Hut is a bright red hut with a square frame and glass windows that look out into the lake, while The Lakeside Hut is a white hut propped up on stilts with glass panels, a sliding door, and a front porch. Lastly, The Nipa Hut is a traditional kubo with one bedroom, a dining area, and a sink.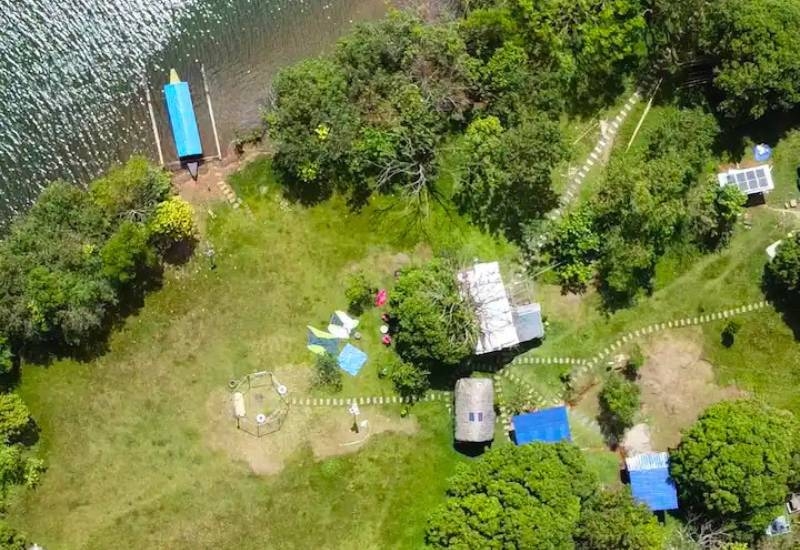 All accommodations feature a blend of traditional bahay kubo elements with more modern furnishings, using locally-sourced materials to create a peaceful and nature-inspired stay. Do note, however, that only one group of six to ten persons will be accommodated per booking, considering the island's exclusive setting. For larger groups of 11 to 20 persons, you will be advised to bring your own tents or rent out the family tent for a traditional camping experience.

How to get to Isla Serenidad: The island is located in Lumot Lake or Cavinti Lake, in Cavinti, Laguna. To get to the island, ride a private boat from Lumot Lake Boat Terminal. 
9. Ginto Island (From ₱15,000 per night)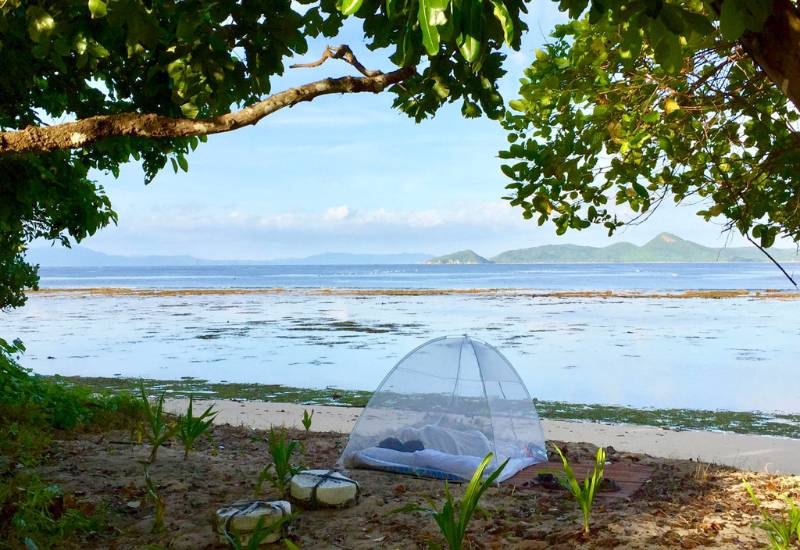 Among the unspoiled islets of Linapacan, Palawan is the picturesque haven of Ginto Island. This privately-owned property provides guests with a quiet and secluded island retreat. Regarding its lodging options, its unique stays can accommodate two people, making it quite ideal for couples.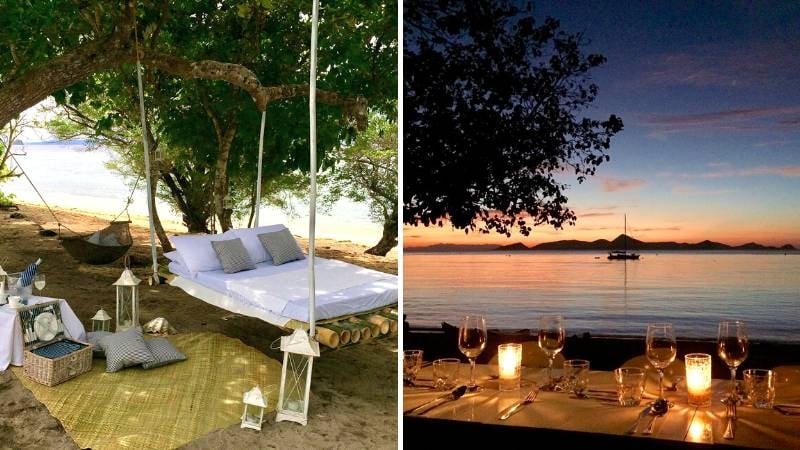 Ginto Island boasts a beautiful bamboo hanging bed suspended amidst trees. Come nightfall, you have the option of setting up their transparent tents by the shore or on the swing bed itself. With an open-air accommodation like this, guests can fully experience the island's natural surroundings while still being comfortable! 
Additionally, there is a basic bath available and an in-house chef who can prepare meals for you. Craving an elevated island experience? Let the host know so they can arrange a serviced camping experience for you! 
10. Floral Island (From ₱41,000 per night)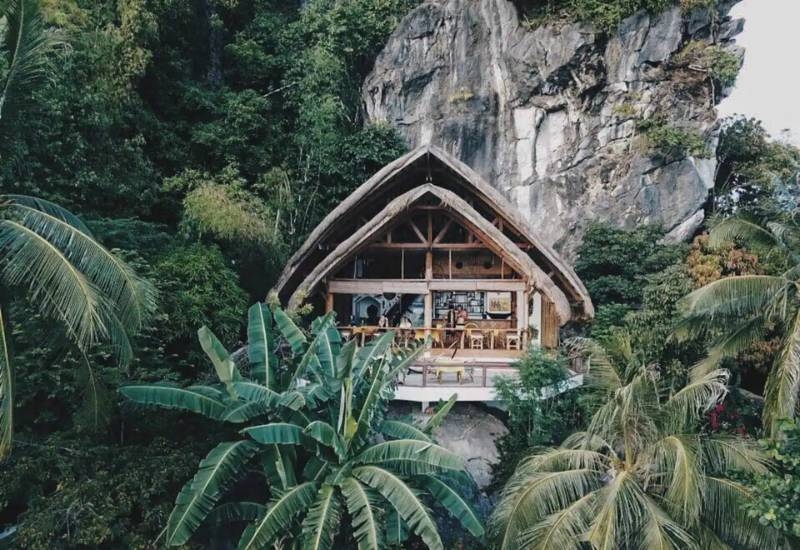 Got a special occasion coming up? Perhaps you're looking for an idyllic paradise for an oceanfront wedding or birthday bash! Consider the exclusive and private resort of Floral Island in El Nido, Palawan. Nestled in the middle of Talacanen Island, it offers a secluded and peaceful atmosphere far from the hustle and bustle of the city.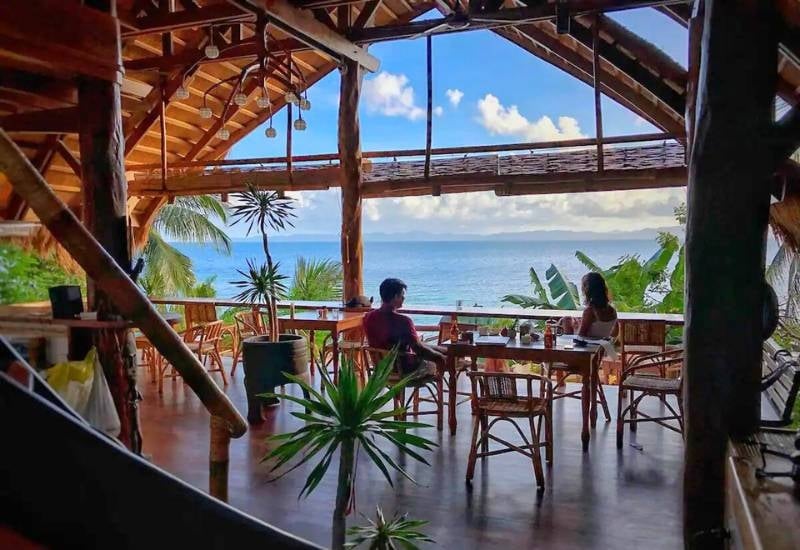 Floral Island offers eight spacious and comfortable guest rooms, which can accommodate small groups of up to 24 persons. Apart from this, some of its notable features include a restaurant serving all-Filipino cuisine and dishes native to the region, a bonfire and grill area by the beach, and an overlooking massage hut. Additionally, guests can enjoy kayaking here for free! However, other water activities like island hopping, fishing trips, and scuba diving may be arranged upon request.
How to get to Floral Island: If you're coming from Metro Manila, there are several airlines that offer flights directly to Puerto Princesa City and El Nido. Hire a private van to Caniqui Wharf from these entry points, then take a 15-minute boat ride to the island. 
Also read: Island Hopping in the Philippines: Top Destinations and Tips for Planning Your Trip
Book these budget private islands in the Philippines for local island living
As far as island rentals go, you don't have to look far as there are tons of destinations that offer them. Because they presumably come at hefty prices, people tend to forget these private islands in the Philippines exist at all. When really, some of them cost as little as your budget international trips — except they're so much more accessible!
Got a property you'd like TripZilla to feature? Inquire with us here.
---
Featured image credit: Brother Island | Official Airbnb Page
Facebook image credit (R): The Island Buenavista | Official Facebook Page