Blessed with boundless blue seas and unlimited sunshine, the Philippines is a paradise for water sports enthusiasts. Sun-seekers who aren't content to lounge on pristine shores will find plenty of activities to occupy them in the country, from diving under the surface to riding waves. Dare to dive in? Here, a roundup of the different water sports in the Philippines for travellers ready to get wet and wild.
1. Scuba diving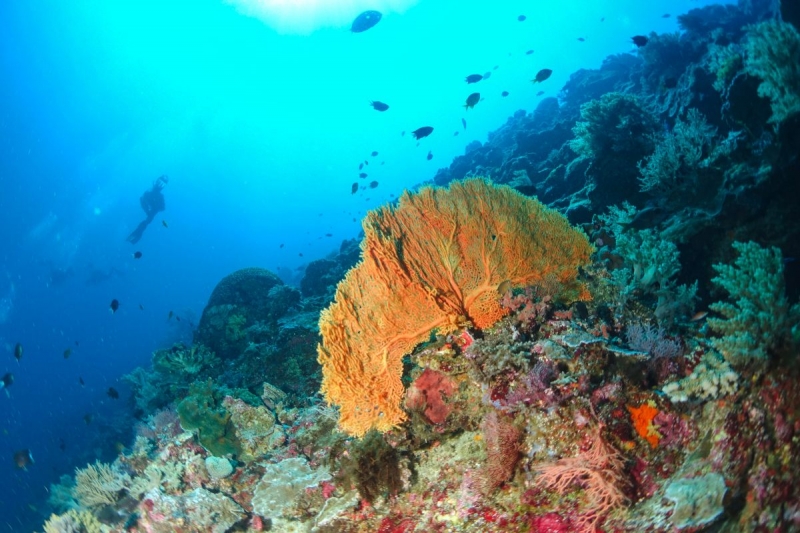 If you're in the Philippines, you never have to travel very far to enjoy scuba diving. Lying in the famed Coral Triangle, the country boasts a stunning array of dive spots from Luzon to Mindanao. Plus, warm waters and tropical weather make it a suitable year-round destination. The only question is: What do you want to see?
The world-renowned Tubbataha Reef Marine Park in the Sulu Sea is the Philippines' most famous dive spot. Divers from all over the planet flock here for liveaboard experiences exploring reefs that offer some of the highest density of marine species in the world. Alternatively, head to Apo Reef to see the second largest contiguous reef in the world or Coron, Palawan to enjoy WWII wreck diving. In Cebu, the sardine run in Moalboal and thresher sharks in Malapascua make for unforgettable experiences in the water. Other well-loved diving destinations in the Philippines include Anilao in Batangas, Puerto Galera in Mindoro, and Anda in Bohol. 
Not keen on getting licensed? Most of these spots are exceptional sites for snorkelling, too.
Also read: Palawan Makes Global Headlines With These Spectacular Dive Sites
2. Freediving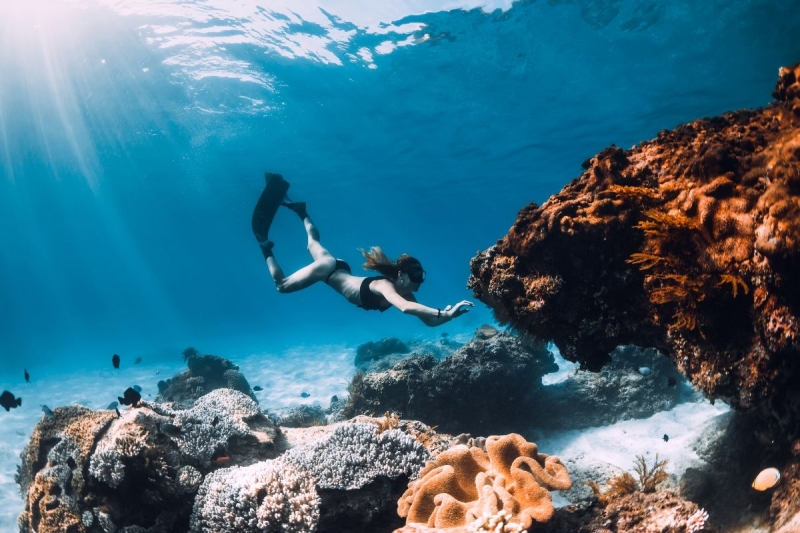 Freediving is the close sister of scuba diving, but the two are different disciplines. When you freedive, you take to the water without the oxygen tank. Instead, you'll have to hold your breath when you go under. Free divers can't go as long and deep as scuba divers, but the absence of all the scuba gear means that they can be faster and nimbler in the water. 
Ready to hold your breath? Many Manila residents drive to Mabini, Batangas for their freediving fix. Scuba diving sites like Coron and Apo Island are also popular among free divers. Divers also travel to Romblon to plunge down the Blue Hole on Tablas Island.  
Also read: How I Found Freedom As a First-Time Freediver
3. Surfing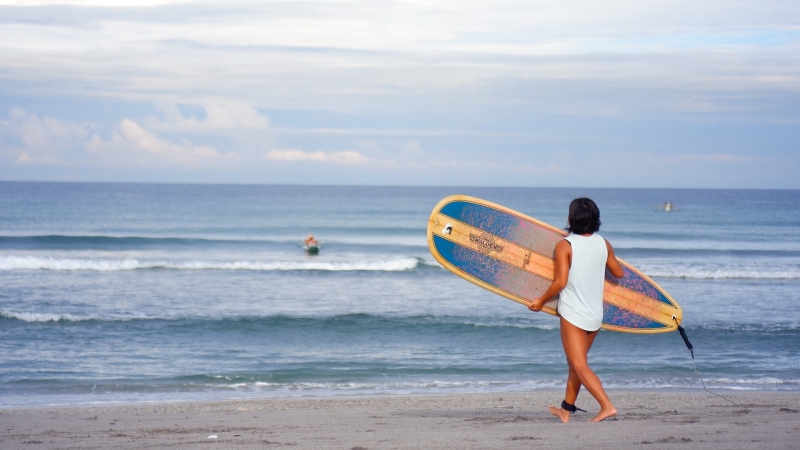 You can't talk about water sports in the Philippines without mentioning surfing. The endless coast and ready waves make the sport one of the most popular water activities in the archipelago, with plenty of surf breaks for travellers looking to catch waves. To be honest, the waves in the Philippines aren't as massive as in other exotic surf destinations. But the spirit of the stoke is naturally alive in the islands.
Not to mention, there are plenty of places to surf in the Philippines. Travellers who want to embrace the soul of the country's surf scene will typically head to Siargao, hailed as the Surfing Capital of the Philippines. Troop to Cloud 9 for the best waves in the country. La Union is another well-loved surfing destination, with fun beach and reef breaks throughout the province. Here, the town of San Juan stands out as the centre of all the action.
Other great surf destinations include Baler in Aurora, San Antonio in Zambales, Real in Quezon, and Guiuan in Samar, among others.
Also read: How to Surf: 10 Surfing Mistakes Most Beginner Surfers Make
4. Wakeboarding
Thrill-seekers, wakeboarding is one of the water sports in the Philippines you must try. Enjoying the sport involves being strapped on a wakeboard and then dragged in the water by a motorboat or cable system. It has all the elements you want from extreme sports: Speed, water, and even height, if you're ready to fly over those ramps. However, the extensive equipment required means the wakeboarding opportunities can be quite limited.
If you want to test the waters of wakeboarding, CamSur Watersports Complex (CWC) in Camarines Sur is one of the most popular spots for the sport. The sports complex also features other water sports, like water skiing and knee boarding. Other wakeboarding parks in the Philippines include Decawake Clark Cable Park in Angeles, Pampanga, Lago de Oro Cable Ski Park in Calatagan, Batangas, and Siargao Wakepark.
5. Kitesurfing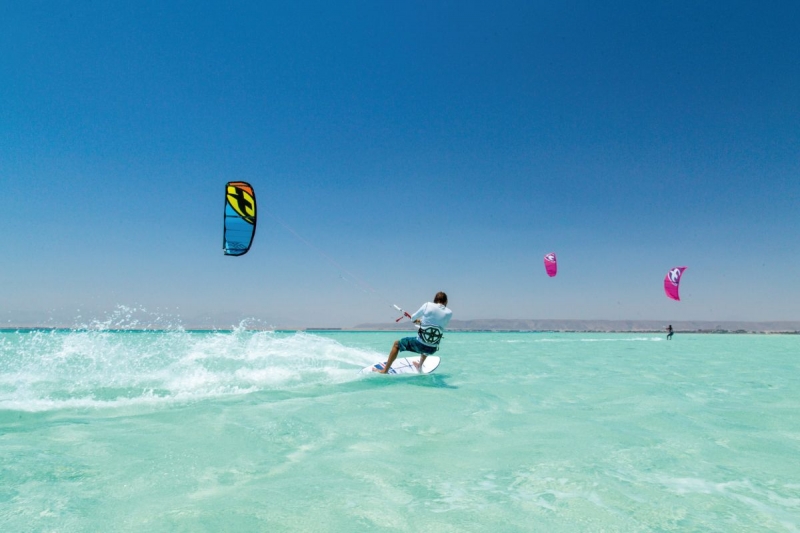 Kitesurfing is a beast! Not only do you have to navigate the ocean, but you'll also have to wrestle with the wind and your kite. It's a different experience than surfing, with kiters getting to enjoy stretches of relaxation while getting pulled by the sail. Complete beginners can try tandem kitesurfing at first, being attached to a kiting instructor just to get a feel of the sport.
The beaches of the Philippines have been luring kite surfers for a while now. Interested in trying it out? Beaches with consistent winds and shallow waters are your best bet, like Kingfisher Beach in Pagudpud and Bulabog Beach in Boracay. Besides featuring awesome kiting conditions, they offer kitesurfing shops for surfers who don't have their own gear.
6. Skimboarding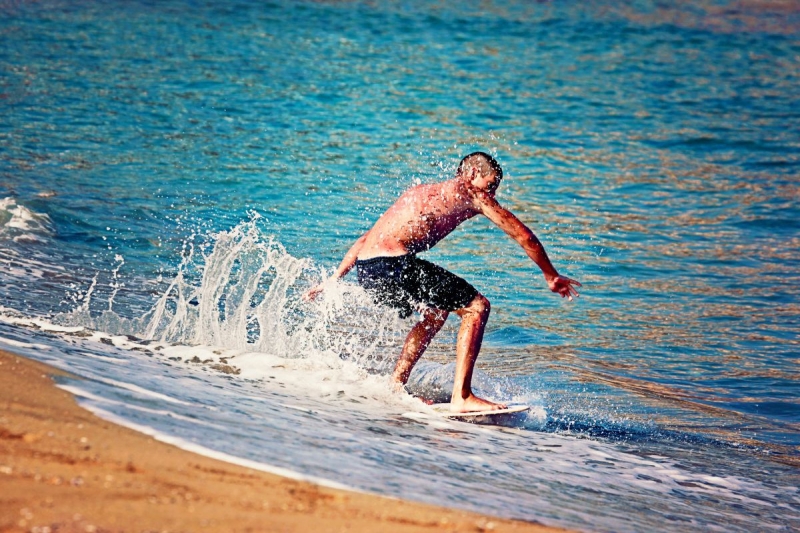 Can't surf the "shore break?" Well, these waters are perfect for skimboarding. Instead of paddling out like surfers, skimboarders start at the sandy beach, glide over the water into the ocean, and then ride the breaking waves back to shore. Fresh beginners typically just skim across the shoreline for as long as they can, instead of going into the water.
The Philippines boasts a crazy abundance of sandy beaches, so it's not surprising that there are also a couple of amazing skimming spots in the country. You'll want to look for long and flat shores, with no corals or seaweed that can prevent the board from sailing smoothly on the shoreline.
Boracay's famous White Beach is a fantastic skimming spot, probably one of the best spots in the country to learn the sport. Most skimmers venture out to play around sunset. Dahican Beach, a long white beach in Mati, Davao Oriental, is also especially popular among skimboarders.
7. Standup paddleboarding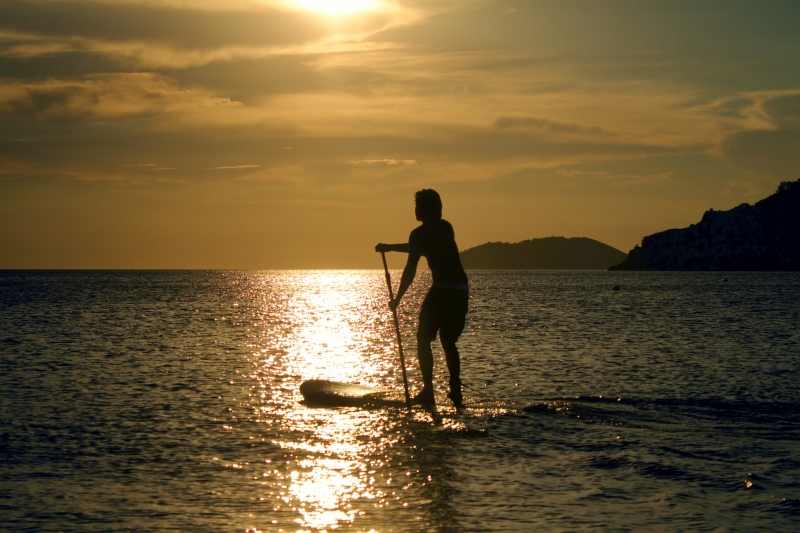 Not a fan of extreme sports? Standup paddleboarding is one of the more leisurely water sports in the Philippines, an activity that isn't too crazy of an adrenaline rush. That said, it's still a workout! If you're on the board for hours, expect a bit of soreness in your arms, back, and core when you wake up the next day.
Paddleboarding is possible in any body of water, from lakes to rivers to the sea. But while you can enjoy the sport practically anywhere in the Philippines, we recommend actually paddling somewhere for sightseeing! A unique expedition, SUP tours will take you to natural spots that a regular tour typically doesn't reach.
The scenic Loboc River in Bohol is one of the best standup paddleboarding spots in the country, with travellers getting to bask in the enchanting beauty of the famous river. Another great SUP spot: Taal Lake in Batangas, to witness Taal Volcano from a different angle. Palawan, Negros Island, and Boracay are also not to be missed for standup paddleboarding.
8. Kayaking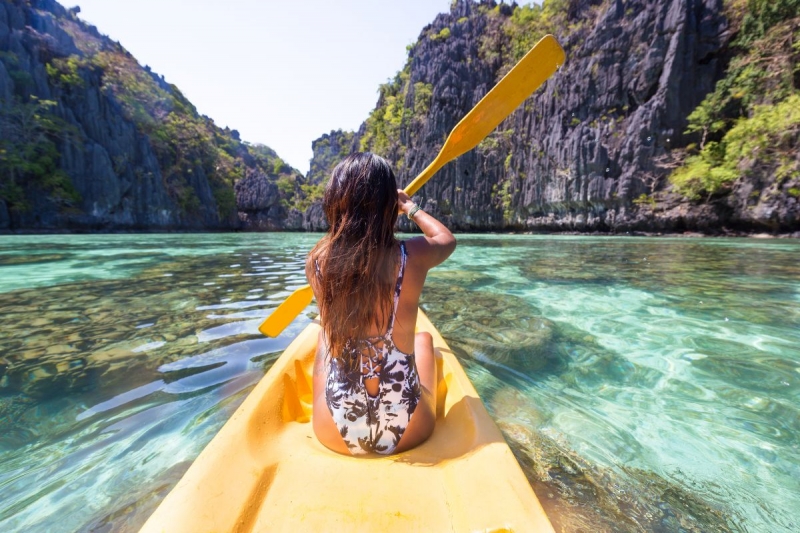 Like paddleboarding, kayaking is one of the water sports that you can enjoy as part of a tour. Hop on a kayak, then row away to coves, nearby isles, or even just open water. Practically every beach in the Philippines will have kayaks lying by the beach, and river tours on kayaks are also pretty common.
El Nido offers breathtaking kayaking experiences, especially in the Big Lagoon, where rowers are surrounded by brilliant waters and limestone cliffs from all angles. From El Nido town, you can also paddle out to nearby beaches that are inaccessible by foot or car. The nearest island is Cadlao Island, where a quiet beach awaits at every turn. Just make sure you have enough strength left to paddle back to town. Waters can get choppy in the afternoon, so expect a longer journey back to the main island.  
Also read: I Stayed in El Nido for a Month Solo — Here's What I Learned
9. White water rafting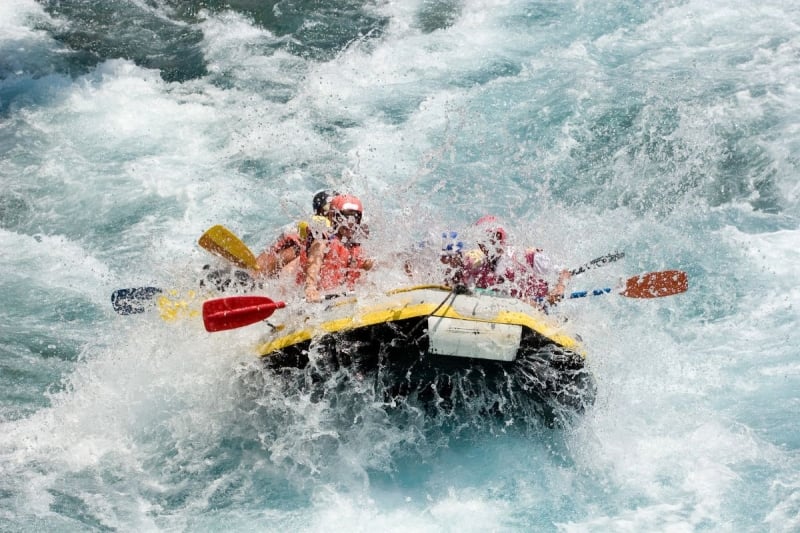 Nothing bonds a group quite like a near-death experience — or something that feels like it, anyway! The thrills of white-water rafting make it among the best water sports in the Philippines for big groups. Not only will you be able to admire the locale's natural scenery, but you'll also get a jolt of adrenaline rush as the raft dives through big water.
Adventure seekers typically head to Cagayan de Oro, dubbed the White Water Rafting Capital of the Philippines. Features nearly dozens of rapids on a 48km stretch, the Cagayan River is a prime spot for the heartstopping sport. Rides tend to be calmer in the dry season, then the river turns more turbulent and exciting for the white water rafting season from July to December. Rafters can also head to the Chico River in Kalinga for white water rafting adventures in the Philippines.
10. Swimming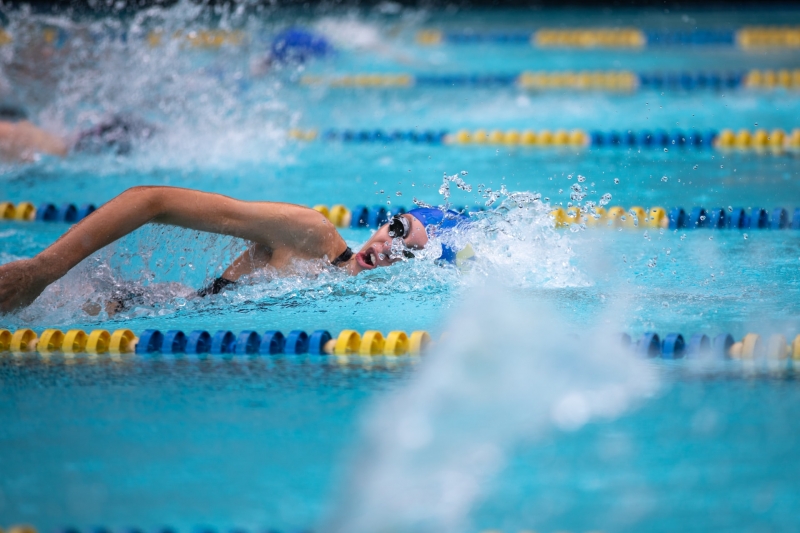 Sounds like a given, right? You can pretty much swim anywhere you are in the Philippines. Even in mountain destinations, you'll find swimming pools where you can indulge in a refreshing dip during extra hot summers. But if you want to take the sport more seriously, there are plenty of opportunities, too.
Swim Central organises classes for swim strokes and survival swimming for swimmers who want to take their skills in the water to the next level. And when you're ready to compete, open water swimming is a rising sport in the country. Events are regularly held in destinations like Subic Bay, Caramoan, and Boracay — and after your race, you can relax beachside in a beautiful tourist destination!
Also read: 21 Exciting Things to Do on Boracay Island
Summer or not, we can't wait to dive in! Are you interested in trying out any of the water sports in the Philippines?
---
Featured image credit: Farhan Sharief | Unsplash