Contributed by The Bisaya Traveler
Team Bang, since its inception, has been setting its sights on Pescador Island and the dazzling Sardine Run. With its vibrant underwater world and gorgeous waters, Moalboal's treasures have been, for months, luring us and teasing our wanderlust. And thankfully after almost a year of dreaming and yearning, we've finally experienced this underwater escapade in our recent Southern trip in Cebu. To make things even better, we took a dip into a refreshing and ice-cold cascade in Ginatilan – Inambakan Falls.
Also read: Can't Help Falling in Love with Cebu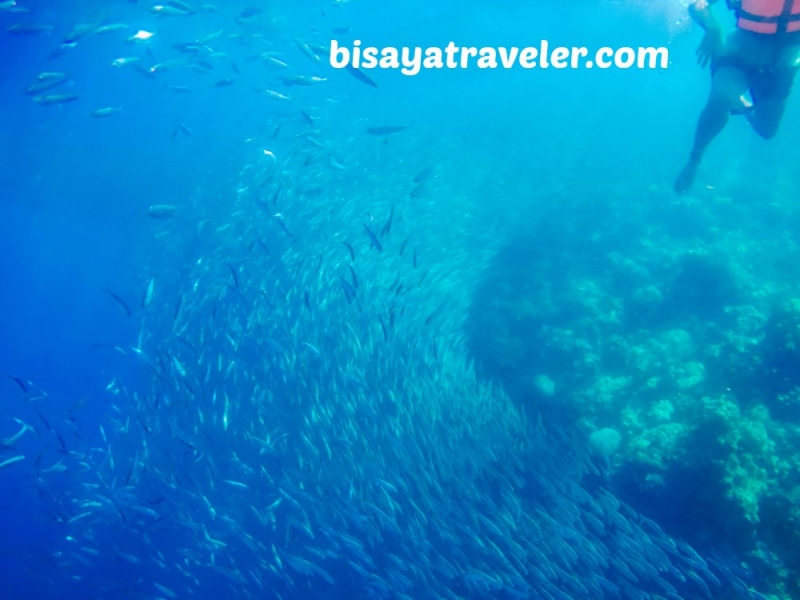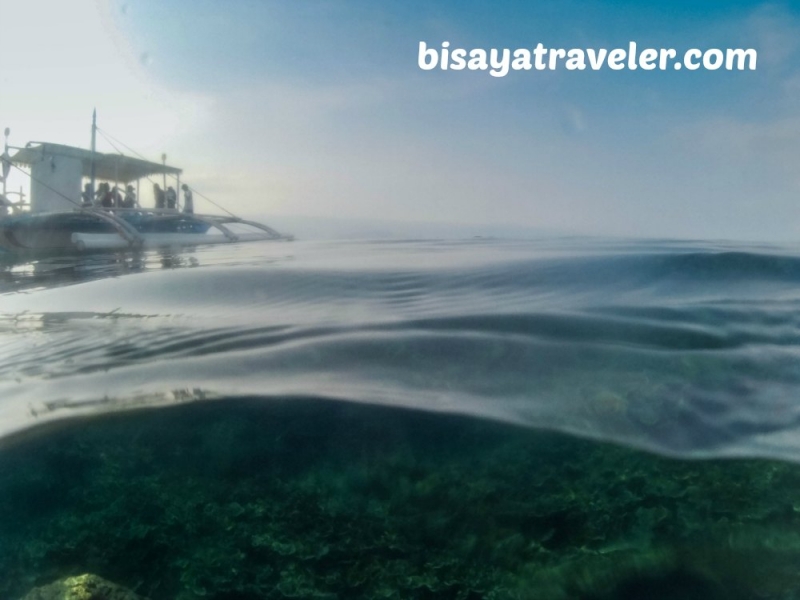 Truth be told, I wasn't as psyched as everyone else in Team Bang, leading to our island hopping tour to Pescador Island. Don't get me wrong, I love going on steep hikes and adrenaline-pumping adventures with my crew, but when it comes to swimming, I usually take a rain check. After all, I'm not a great swimmer, and the beach isn't exactly my cup of tea. And, let's face it, there's not much a non-diver or a not-so-great swimmer can do on this part of Moalboal.
Yet, somehow, I found myself submerging underwater gazing in awe at the wondrous corals of Pescador Island and the mind-blowing Sardine Run in Moalboal. I'm no Michael Phelps or a scuba diving icon, but I'm a savvy traveller who'll find ways to make the most of my trip. In other words, I wore a life jacket and grabbed onto a rope, so I can safely see Mother Nature's underwater masterpieces in Moalboal.
Team Bang's Pescador Island and Sardine Run experience
Our Pescador Island excursion was unlike most of Team Bang's recent trips. For starters, most of the clique's members were around for this weekend escape – Marzi, March, Lieve, Sadam, Jesh, Kevin, Wilfred, Sherlyn, Sheng, Christine, Noel, Donna, and Emile. What's more, my wife, Mrs. Bisaya Traveler, joined us for the first time. To top it all off, Sheng was accompanied by Milgred and JP, a like-minded travel junkie couple, who made the trip even more worthwhile and affordable.
Also, we rented a van, instead of taking a bus bound for Southside Cebu.
At first, our trip seemed like it started on the wrong foot. As always, there were some who were a little late on our meet-up time at 711 near Cebu City South Bus Terminal. Yep, Filipino time is a real thing, ladies and gentlemen!
But as a purebred Bisaya, I knew it was going to happen, so I set our meet-up a bit earlier than it should be.
Once everyone was inside the van, we wasted no time, said a prayer, and took a two-hour drive to Panagsama Beach in Moalboal. Afterwards, we waited for about less than 30 minutes for the boat to arrive on the shore of Panagsama Beach. While waiting, the team took a bunch of photos of the beach.
Also read: If You Only Have Two Days in Cebu
Moments later, the boat as well as Rowena, the person whom I contacted prior to our trip, arrived on the scene. Before hopping aboard the boat, though, Rowena gave me a quick rundown of what to do and expect on our island hopping tour.
With everyone sitting comfortably on the boat, we sailed and made our way to the first stop of our tour – Pescador Island.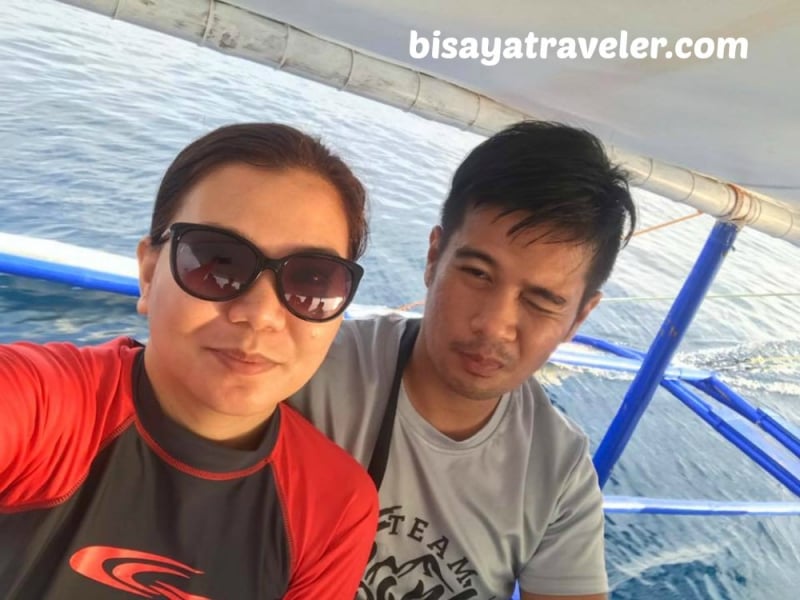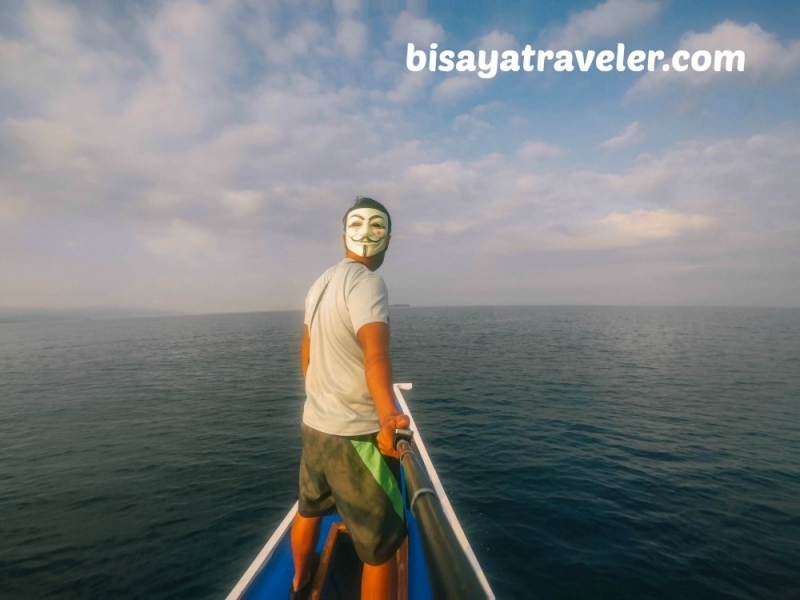 Fifteen minutes later, we docked on a snorkelling area on Pescador Island. From there, everyone, except for fellow millennial Noel, plunged into the crystal clear waters of Pescador Island.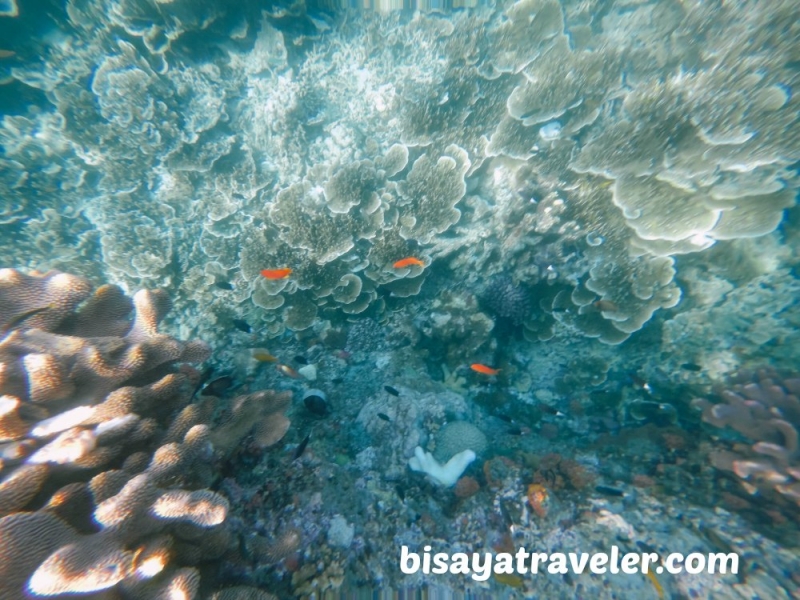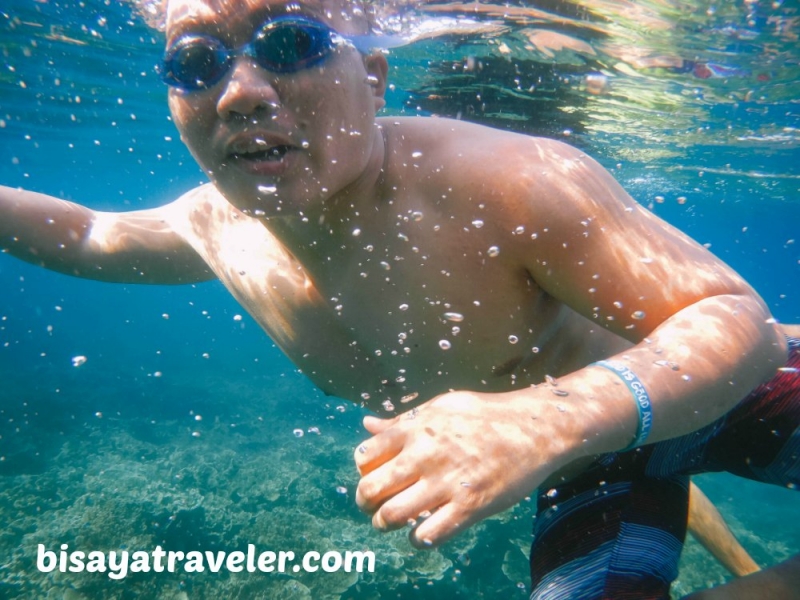 The sea current, however, was pretty strong. As a matter of fact, even our best swimmers had a difficult time weaving their way through the waters of Pescador Island. Still, it didn't stop us from frolicking and snapping photos of its lively corals and colourful schools of fish.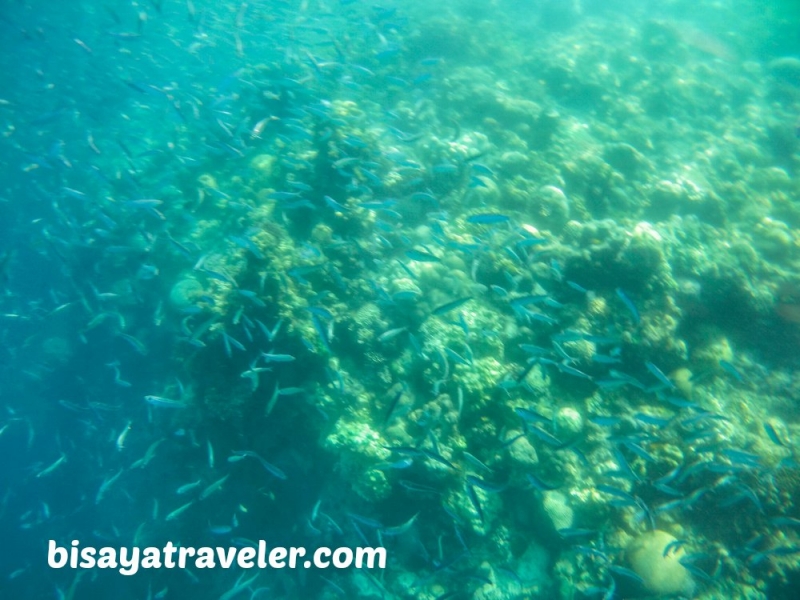 We then left Pescador Island and headed to our next layover, to see the charming sea turtles of Panagsama Beach. Sadly, the sea turtles of Moalboal were a no-show. Well, technically, they did show up, and we even caught a glimpse of them above the water's surface. But, we couldn't get good pictures of them because they would always steer clear of us, way before we could dive underwater.
Upon the captain's recommendations, we went to the final stop of our boat journey – the Sardine Run in Panagsama Beach.
I honestly thought that we were going to the deeper parts of the sea to see the famed flocks of sardines in Moalboal. Little did I know, these flocks of fish are just situated near the shore of Panagsama Beach.
And so, with enthusiasm, I jumped into the waters and enjoyed the fascinating run of sardines underwater.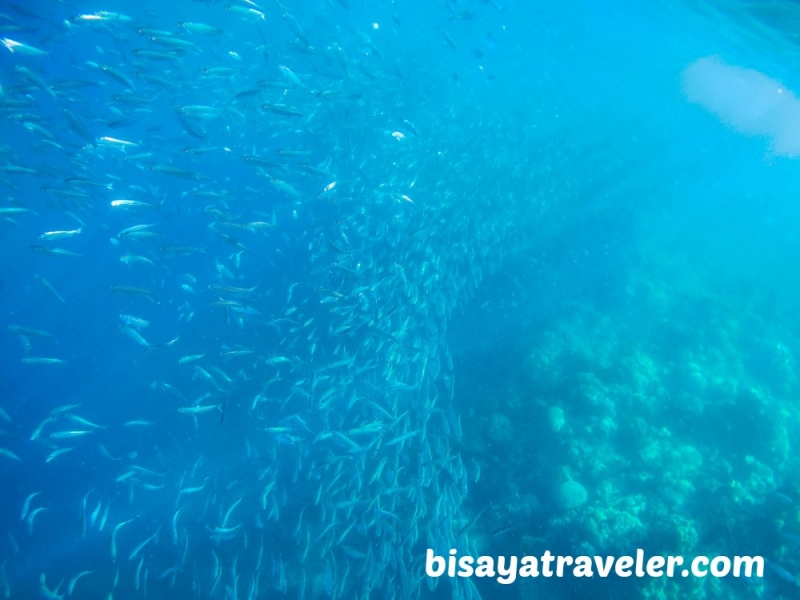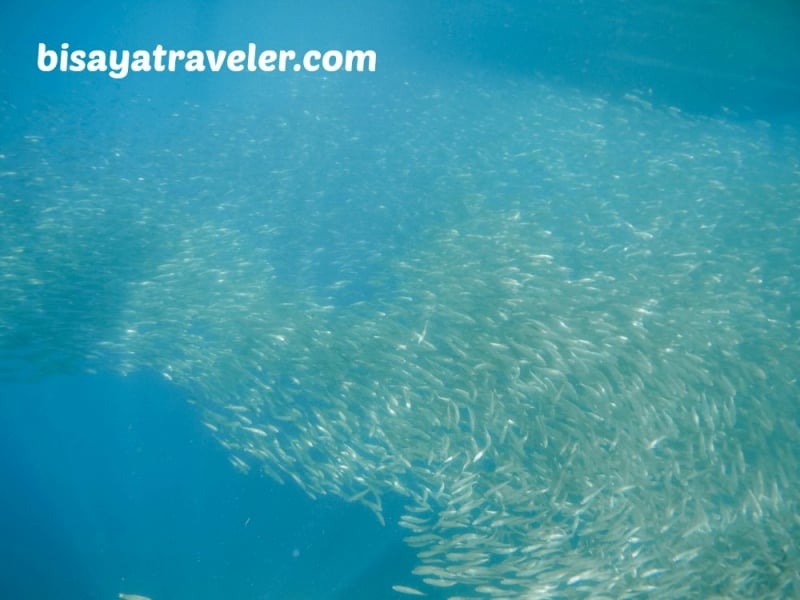 Dang, such a wonderful sight! I can't remember how much time I spent on the water, just admiring extraordinary movements and formations. In some cases, I felt I was staring at a sunken wall, with the legions of sardines in the area. I had to hold my breath for a while, to see these awe-inspiring creatures.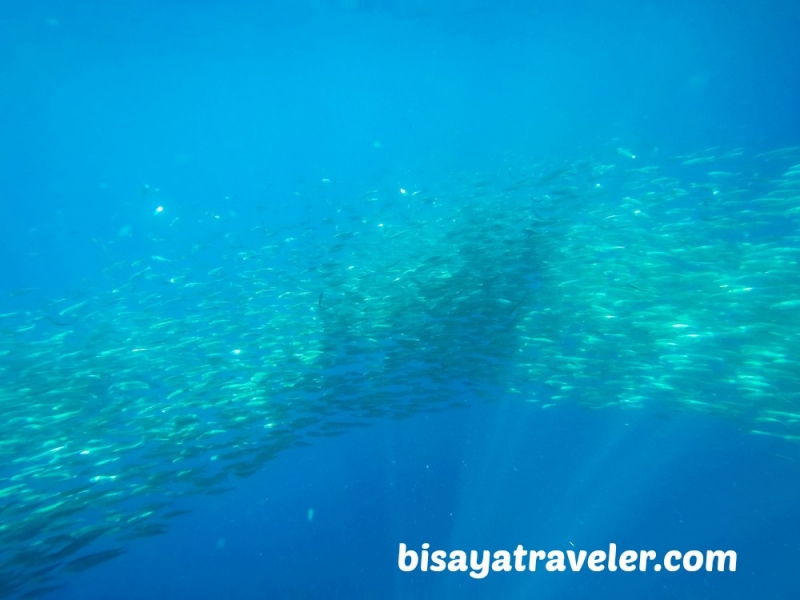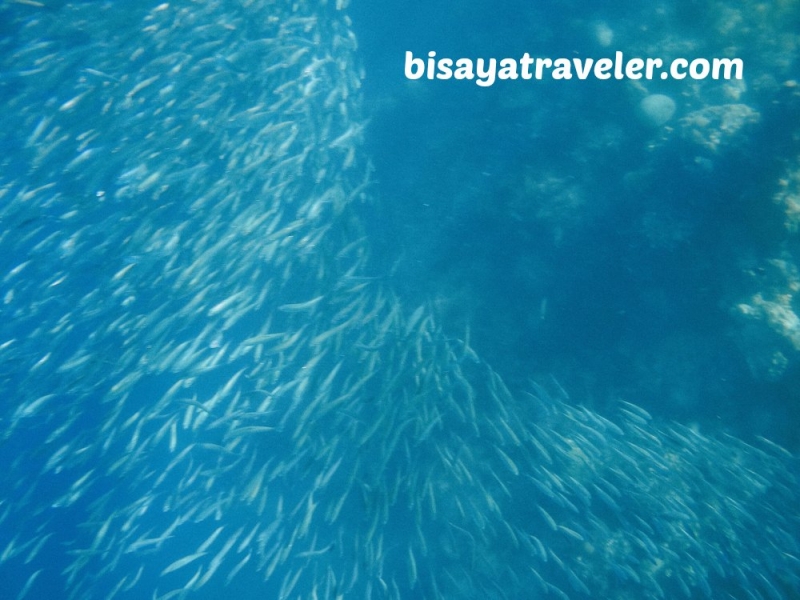 I'm not sure what the others were doing, but I'm pretty sure they also had a blast.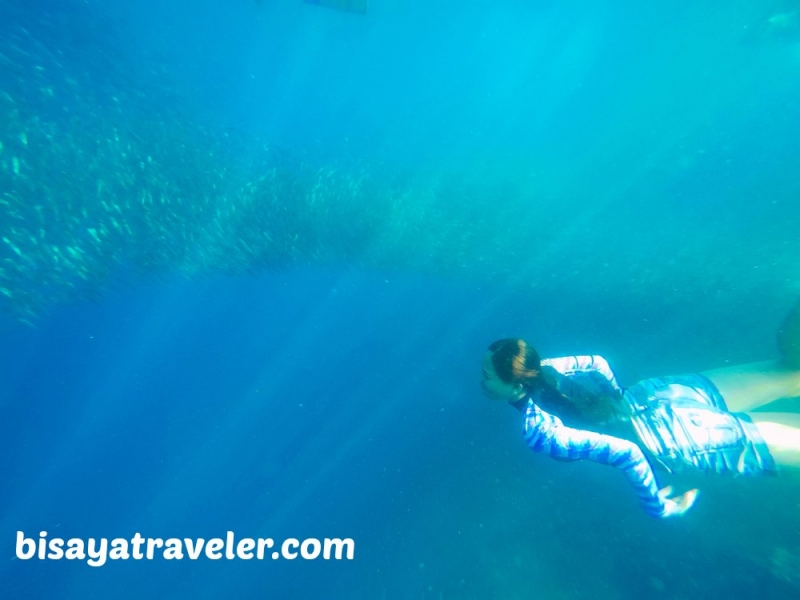 My wife didn't join our Sardines Run snorkelling adventure because her energy was drained after a week full of paperwork and meetings. Nevertheless, she enjoyed the view from the boat with the schools of sardines surrounding us (you can still see them, even when you're not swimming).
Also read: I Tried to Limit My 3-Day Cebu Trip Budget But Failed Miserably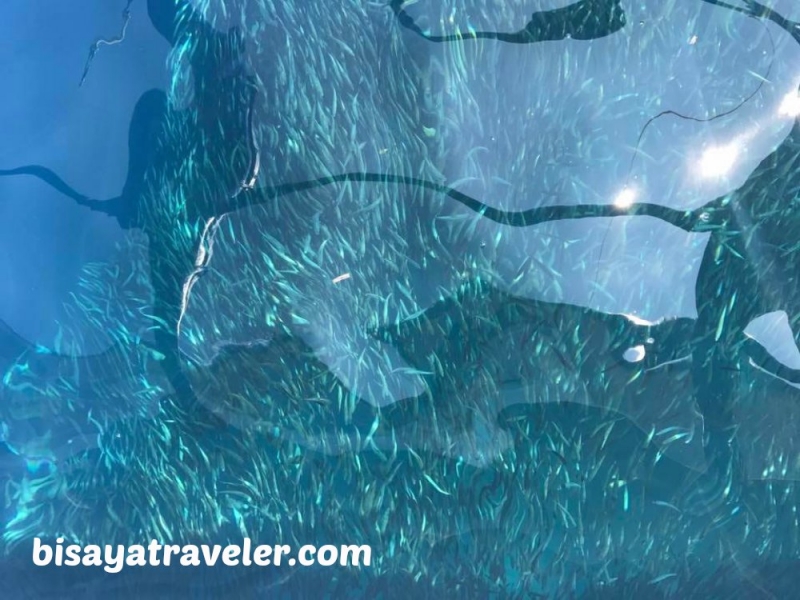 After a blissful island hopping tour, we went back to Panagsama Beach and paid our dues to the boat's captain/owner.
And as with all of Team Bang's trips, we made a quick group dab pose on Panagsama Beach.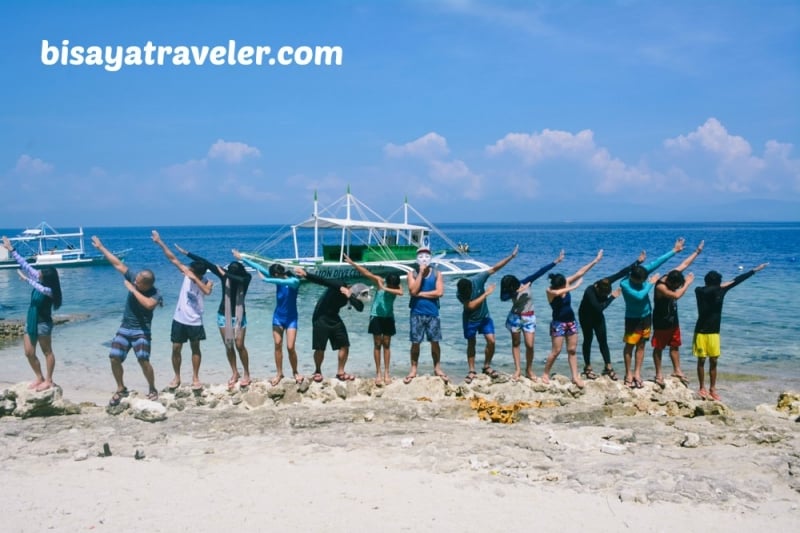 And the newly-dabbed barako boys with our Vendetta masks also made an appearance on the beach.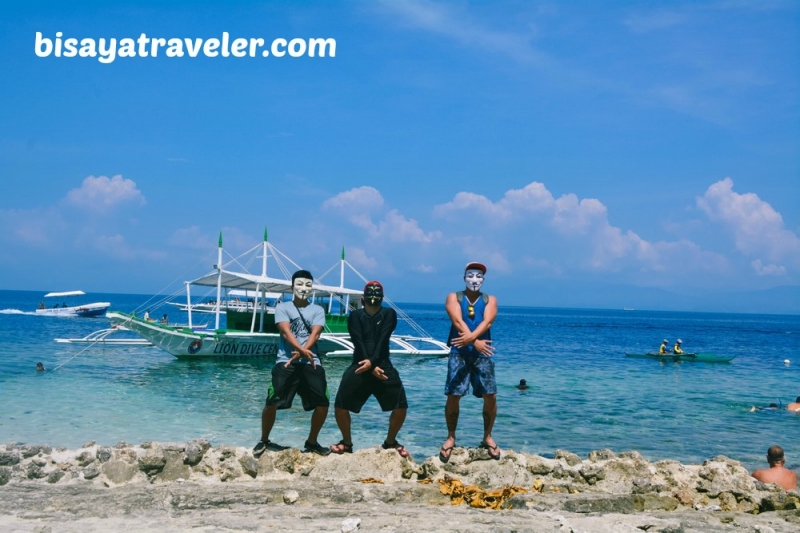 Later on, we took a quick drive to Ginatilan, to enjoy the refreshing waters of Inambakan Falls. Likewise, we snapped a glut of photos of the town's eye-catching church.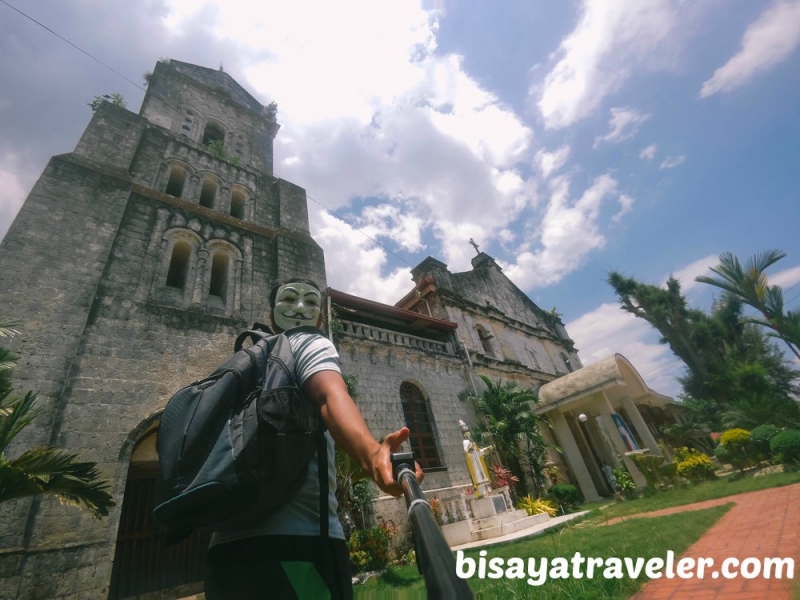 As I've said above, this was not a typical Team Bang trip. I was on chill on mode and a little passive for most of the day. Normally, I take lead and put on a great deal of effort to make sure that our trip is a breeze. This time, I just let the other guys take over, and allowed them to make decisions for our adventure. The way I see it, putting them in-charge and unleashing their inner ringleader would benefit everyone in the long run.
And who knows? Maybe, one of them will be a groundbreaking leader for a big-time international company or an honest politician (if there's one) in the future. On a serious note, I'm really proud to see these guys mature. And besides, I'm going to be pretty busy for the next few months, and the team needs someone who can carry the torch, whenever I'm unavailable. For me, this adventure is a big step for Team Bang.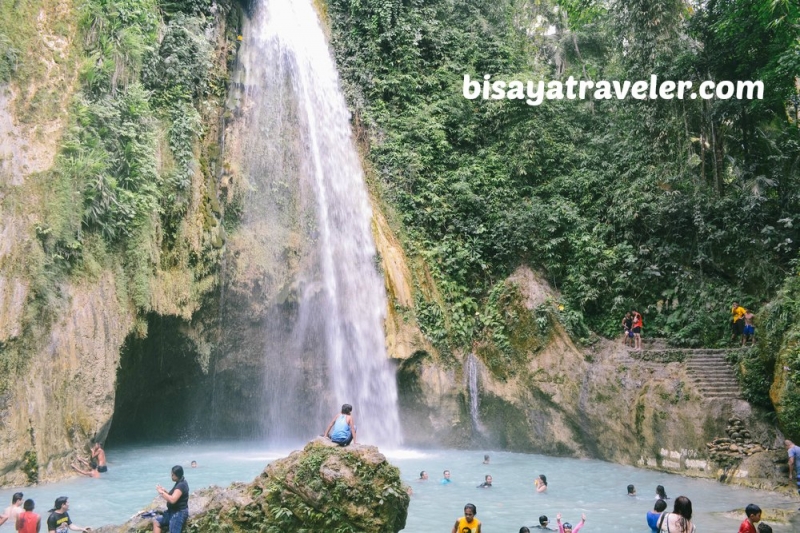 With Inambakan Falls in the books, we travelled to Samboan to take a dip at Binalayan Falls, and cap off our trip on a high note. Unfortunately, we weren't allowed to set foot in the area since the place was full of tourists, and they usually limit their number of visitors.
We had no choice, but to clean up, and travel back to the city. On the way home, everyone in Team Bang, except for me and Noel, was sleeping like a baby. And since we're bored AF, we took a bunch of pictures of the team sleeping with their mouths open wide. #PescadorIslandaftermath
Although they were planning to make a quick stopover in Ili Rock, we just didn't bother waking them up, so they can get some rest. And, eventually, we arrived at Cebu city around 8:00 PM with a sunnier vibe and cameras full of snaps.
Our Pescador Island itinerary
02:30 AM Meet-up at 711 near Cebu City South Bus Terminal
03:30 AM Depart from Cebu City
05:30 AM ETA Panagsama Beach
06:20 AM Start of Island Hopping Tour
10:00 AM ETA Panagsama Beach/Photo ops
10:30 AM Depart for Ginatilan
11:10 AM ETA Ginatilan town proper/lunch
11:30 AM Depart for Inambakan Falls
11:50 AM ETA registration center of Inamabakan Falls
12:30 PM ETA Inambakan Falls/photo ops and swimming
01:45 PM Depart from Inambakan Falls
02:20 PM ETA Binalayan Falls/ Wash-up and change
03:00 PM Depart for Cebu City (A tremendous amount of traffic in San Fernando delayed our trip back home)
08:00 PM Home sweet home
Our cost breakdown
Boat Rental – ₱2,500 good for 25 people (around ₱147 per person for us since there were 17 of us)
Round South Van Rental – ₱6,200 for the whole group (₱364.7 per person)
Total parking fees – ₱60 for the whole group (Inambakan and Binalayan)
Entrance to Inambakan Falls – ₱20 each
Total cost per person – ₱535. 29 (excluding lunch, drinks, and snacks)
Important notes:
There are smaller boats (good for 10 people) that cost ₱1,500 for this tour. This rate already includes rentals for life vests and snorkelling gears. For more information, please contact Rowena at 0932-747-2150.
For van rental services, you may reach out to Tawil at 0977-673-1812.
Bring your own snacks, lunch and drinks, if possible. Prices for food and drinks in Moalboal are exorbitant.
You may also take a bus to Moalboal (around ₱126 per way), and ask the driver or conductor to drop you off at the corner leading to Panagsama Beach. We opted to rent a van to make things more convenient on our end. In addition, it was surprisingly quite economical, considering we made some stops in Ginatilan and Samboan.
Both the sea turtles and sardines are located near the shore of Panagsama Beach. For ₱30, you can rent a set of snorkelling gear, and see these underwater spectacles. If, however, you don't know how to swim, I suggest that you rent a boat. Also, it's impossible to swim all the way to Pescador Island, meaning you need to rent a boat to get there.
Also read: Guintarcan Island: An Unexplored Gem in Cebu
My thoughts on our Pescador Island trip
I'm not as great as the rest of my team, as far as swimming goes. But, make no mistake about it – I'm not afraid to take risks, get dirty and get into uncomfortable situations. And personally, I think that should be everyone's mindset when they travel. Nowadays, I see a lot of people travelling for the sake of great IG snaps and creating some buzz on social media. Sometimes, they even carry a glut of heavy luggage, to accommodate all their clothes for their OOTD posts.
I'm not going to put these folks on blast, and I respect whatever it is that make them happy. But, I'm strongly encouraging them, to do more than just pose in front of the camera, when they are on the road. Take a hike in muddy trails, get your hair dirty, dive into the unknown, and step outside your comfort zone. Trust me, it's far more rewarding than getting a taste of the limelight online.