Time and again, the Pearl of the Orient Seas has been described as one of the best destinations in Southeast Asia for nature. Not limited to those that let one 'get away from it all', the natural wonders of the Philippines — like countless others across the globe — are proof that some things in the living world remain far more powerful and beautiful than any product of human progression.
In 2012, Puerto Princesa Underground River in Palawan shot to international fame by making it to the poll-based New7Wonders of Nature, a campaign initiated by the New7Wonders Foundation in Switzerland. Along with it are the Amazon Rainforest and River, Halong Bay, Jeju Island, Iguazu Falls, Komodo Island, and Table Mountain.
No more than two decades earlier, a separate official list recognised Mount Everest, Harbour of Rio de Janeiro, Great Barrier Reef, Victoria Falls, Paricutin Volcano, Grand Canyon, and Aurora Borealis. Better known as the "real" wonders of the natural world, the list was exclusively decided by CNN and the Seven Natural Wonders organisation.
Also read: 15 Nature-Themed Family Getaways in the Philippines
With thousands of islands making up the Philippines, it's only a matter of time before the rest of the country's exquisite ecological attractions gain suchlike acclaim. Until then, here are seven of the most breathtaking natural wonders of the Philippines; ranging from classic landscapes that tourists have grown to love through the decades to underrated sights found in obscure locations in the country.
The natural wonders of the Philippines — how many of them have you been to?
1. Palawan Islands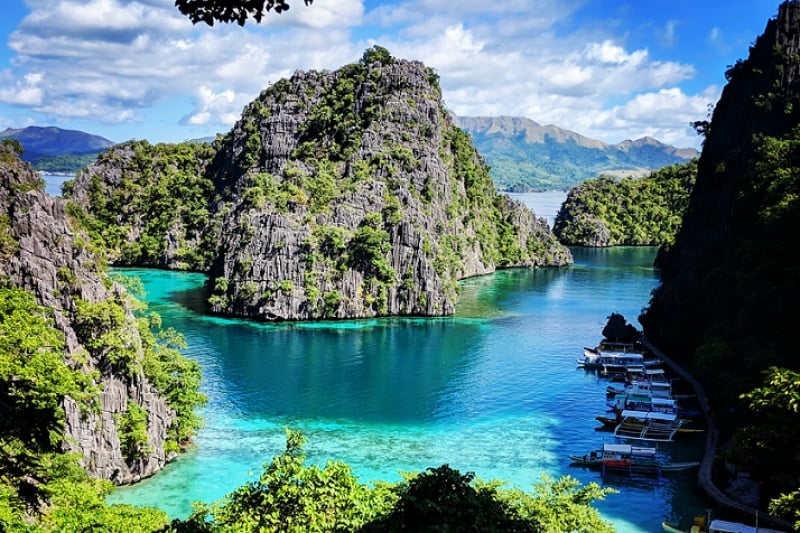 Home to the world's most stunning beaches, limestone formations, and diving spots, Palawan (as a whole) is a no-brainer in this list of natural wonders of the Philippines. To most travellers, a visit to its renowned municipalities of Coron and El Nido is enough to appreciate the rustic beauty the province has to offer. But there's no denying that Palawan's capital city of Puerto Princesa, whose reputation has sadly been reduced to a mere gateway from those destinations, is worthy of attention, too.
Barely separated from Borneo by the Sulu Sea, Palawan makes up part of the bio-geographical area called Sundaland, one of the world's richest areas in terms of flora and fauna. The province is also the site of the renowned UNESCO World Heritage Site of Tubbataha Reefs Natural Park, and the less-visited Balabac and Port Barton. Each of these destinations boasts of pristine ecological beauty one can only associate with the so-called "most beautiful island in the world".
2. Hinatuan Enchanted River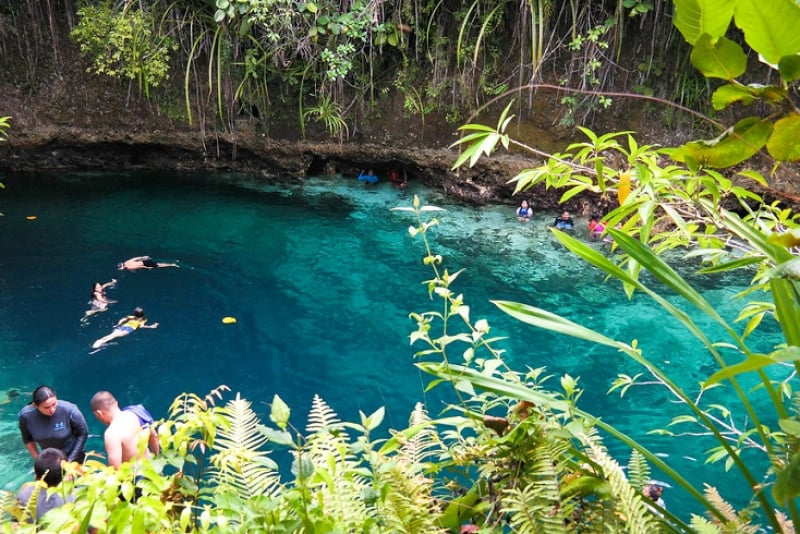 Tucked in the forests of Mindanao, the Hinatuan Sacred River is one of those natural wonders of the Philippines that seem to get more alluring the longer you stare at them. Famous for its unusually clear blue waters mostly centred in the Blue Lagoon (pictured above), it remains to be one of the most beautiful rivers in the country.
Largely unexplored, the river's mysterious depths have led to various assumptions of it being dwelled on by mythical spirits, hence its other more popular name, the Hinatuan Enchanted River. Just like Boracay, this renowned tourist spot underwent a two-month rehabilitation in 2017 to preserve its natural beauty and avoid further destruction. Swimming has since been prohibited in the Blue Lagoon. However, visitors can still take up a designated area 10 metres away, as well as enjoy watching the fish feeding held every afternoon from a constructed viewing deck next to the lagoon.
3. Mount Mayon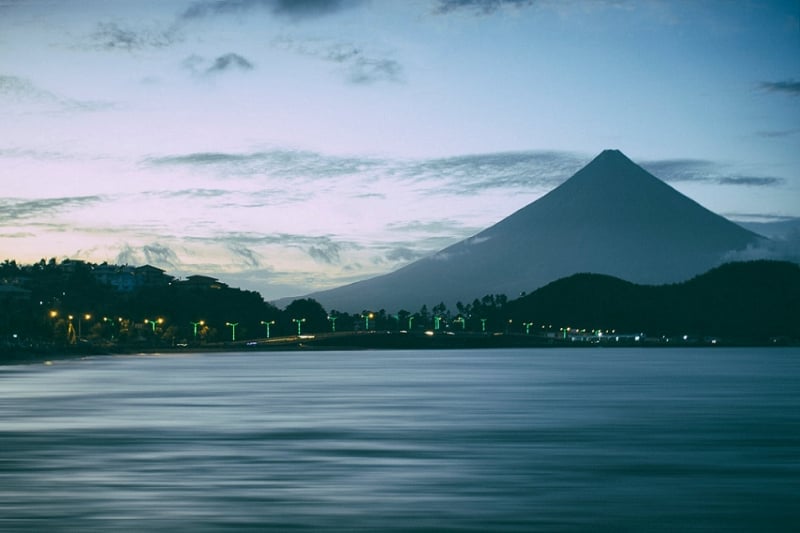 Often hailed as Mount Fuji's sister, Mount Mayon is one of a few mountains in the world that bear a symmetrical cone summit, easily making it one of the most picturesque natural wonders in the Philippines. It stands at 2,462 metres and was the first national park to be declared in the Philippines in 1938. Its name translates to "beautiful" in the Bicolano dialect.
Mount Mayon is the most active volcano in the Philippines, with close to 50 documented eruptions in 500 years. Unlike the Hinatuan Enchanted River, the only mystery surrounding Mount Mayon is that it takes quite some patience to witness it in its full glory as it's usually covered in clouds. This is why a day tour of Albay, where the monumental volcano is located, usually won't cut it.
If you're up to it, it's possible to summit Mount Mayon through an organised hiking tour. Otherwise, ATV packages are also offered to those who wish to experience the volcano beyond marvelling at its beauty from a distance.
4. Apo Reef Natural Park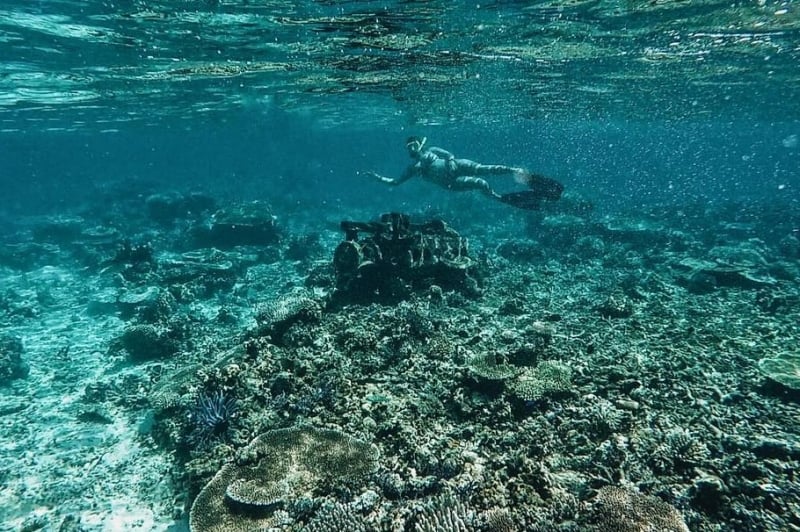 If you wish to see sea turtles in the Philippines, then look no further than the Apo Reef Natural Park. Measuring 34-square kilometres, it's the second-largest coral reef system in the world and the largest atoll-like reef in the Philippines! In 2006, it was added to the tentative list of UNESCO World Heritage Sites in the country following the recommendation of the Department of Environment and Natural Resources.
Not to be mistaken for Apo Island, which is actually one of three islands that mark the system from the surface, the reefs are accessible from the town of Sablayan in Occidental Mindoro. More than sea turtles, Apo Reef Natural Park's waters are home to various types of sharks, manta rays, triggerfish, and corals. This makes it one of the best diving spots and one of the most impressive natural wonders of the Philippines.
5. Biri Rock Formations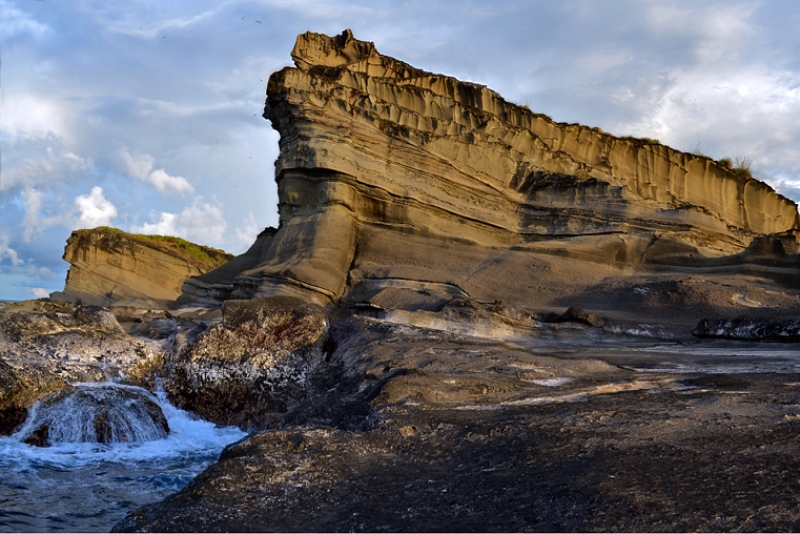 Surrounded by some of the world's greatest bodies of water, namely the Pacific Ocean, South China Sea, and Celebes Sea, the Philippines lies susceptible to all kinds of weathering activities all year long. Oftentimes, this leaves many of its coastal areas in unusual, albeit beautiful, forms. One of them is Biri Island in Northern Samar. This remote island-municipality takes pride in the Biri Rock Formations, a group of Herculean rocks that face the largest and deepest ocean of all.
Largely untouched by tourism, the Biri Rock Formations remain to be one of nature's most promising tangible creations on this side of the world. Visitors can take a day trip to Biri Island from nearby towns in Sorsogon and Samar, which include land and sea transfers. One can also opt to spend a night in Biri to get the earliest available Biri Rock Formations tour. Going as early as 4 or 5am is most recommended. This would allow you to witness the sunrise from the Pacific Ocean, ideally on the summit of one of the rocks.
6. Sulu Light Pillars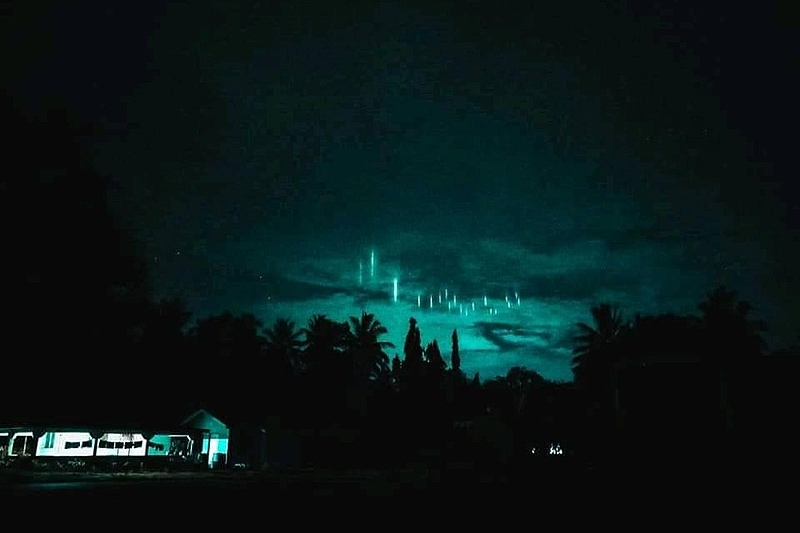 With the 1997 list consisting of the Northern Lights, there's no reason for us not to include its local counterpart in this list of natural wonders of the Philippines — the Sulu Light Pillars. Natively known as Lansuk-Lansuk, these illuminations result from ice crystals in Sulu's clouds reflecting moonlight, as explained by the Philippine Atmospheric, Geophysical and Astronomical Services Administration (PAGASA).
The end products are giant candle-like figures that seem to be floating in the sky at night, offering a natural light show throughout the Philippines' southernmost province. Seen two to three times a year — lasting for about 30 minutes each time — the Sulu Light Pillars have often been considered a bad omen by the older Tausug people.
The younger generation, on the other hand, has dismissed such presumption as nothing more than a myth. Regardless, the Sulu Light Pillars continue to be one of the most spectacular meteorological phenomena Filipinos have laid eyes on to this day.
7. Batanes Rolling Hills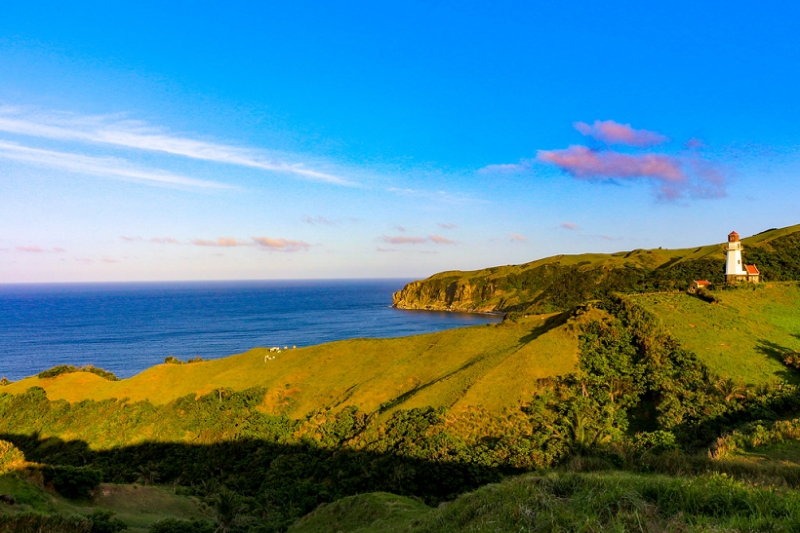 Where does one even begin to describe a paradise like Batanes, the Philippines' northernmost province? Although small in overall land area, half of which consists of mountains and hills, this island group south of Taiwan brims with infinite sightseeing possibilities. And there's almost always plenty of space for everyone to have their share of photos to take home.
Taking up its three main islands of Batan, Sabtang, and Itbayat, the verdant rolling hills of Batanes are artworks brought to life, glowing in refreshing hues any time of the day. For unmatched sunrise views, head to Marlboro Hills on the east side of Batan Island. For sunset, go to Vayang Hills in the west. Like in New Zealand and Scotland — which Batanes is often compared to — expect to encounter free-roaming animals such as cows and carabaos while scaling these iconic hills, along with plenty of others, in Batanes.
Also read: 8 Places in the Philippines That You Might Not Know About
If at first you think nature's miracles are too good to be true, then take a good look at these natural wonders of the Philippines, along with countless others that didn't make it to the list. They're about as real as one can get. There's the Chocolate Hills in Bohol, Donsol's whale sharks in Sorsogon, and Tinuy-An Falls in Surigao del Sur, to name a few.
Better still, experience them for yourself as you explore the nearly 8,000 islands of this magnificent archipelago in Southeast Asia. Hopefully, as a mindful and responsible traveller — we owe the world that much!