When it comes to road trips from Manila, destinations like Batangas and Tagaytay are often the first ones that come to mind. But there are still many others that you can travel to just as easily; chances are, they may even be less busy than your usual spots, making them perfect for a quiet break from everyday life. On that note, we've rounded up some of the most staycation-worthy Airbnb homes and vacation rentals in Laguna — from private islands to serene farm stays!
Also read: 10 Coffee Shops in Tagaytay for Your Next Road Trip
Airbnb homes & vacation rentals in Laguna that are perfect for staycations
1. This lakeside gem in the great outdoors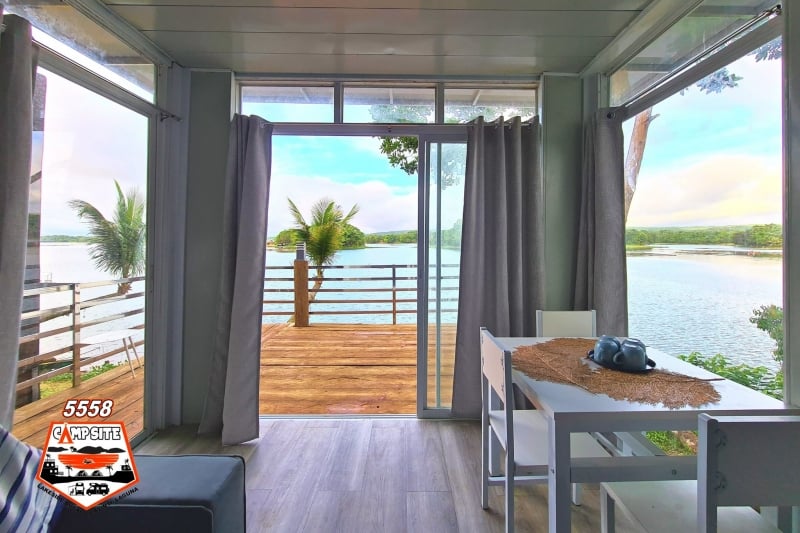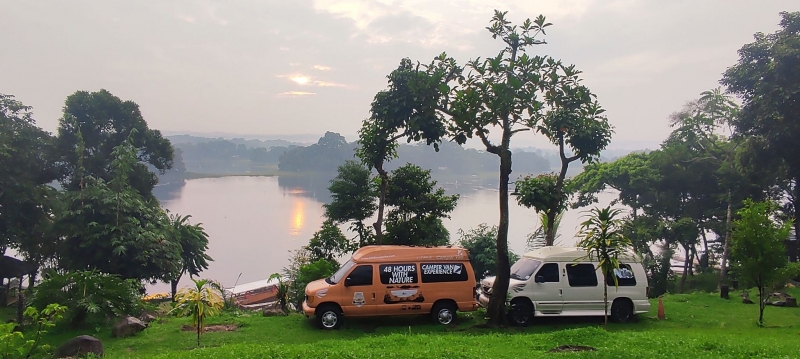 Listing name: 5558 Campsite
Listing type: Entire unit or private room
No. of bedrooms: Studio
Max. no. of guests: 5
Tiny home living meets camp vibes at 5558 Campsite. This sunny lakeside retreat in Cavinti is home to a collection of modern smarthouses, with the sparkling lake offering a picturesque backdrop.
It's easy to fall in love with this quiet setting; each smarthouse is a cosy abode with bright interiors, comfortable beds, and a private terrace. Guests renting the bigger units will enjoy a private bathroom, too. There's even a camper van for vagabonds who want a taste of the van life! And for those who'd rather sleep on the ground and under the stars, clean and spacious camping grounds await.
Tranquil surroundings let travellers disconnect and give in to nature's soothing beauty. Maybe try paddling a kayak in the still waters of the lake? That said, even if you'd like nothing more than to hole up in your private space and relax, this campsite is a great choice for some peace and quiet. We could all use a break once in a while. Tara?
2. This serene retreat that's perfect for nature lovers
Listing name: THE CLIFF at Naculo Falls (20 Mins from Pagsanjan)
Listing type: Entire home
No. of bedrooms: 1
Max. no of guests: 6
How about an Airbnb in Laguna that leads straight to a waterfall viewing deck? This home has exclusive access to a trail that leads all the way to the Naculo Falls — a super-cool feature you won't find just anywhere!
A private little eco-sanctuary, this house is tucked in the middle of an untouched forest. While the fan-cooled cabin is more than cosy, nature lovers may want to sleep outdoors — hanging beds are available in the veranda, which is surrounded by lush greenery. Needless to say, we're totally sold!
3. This rustic hut surrounded by nature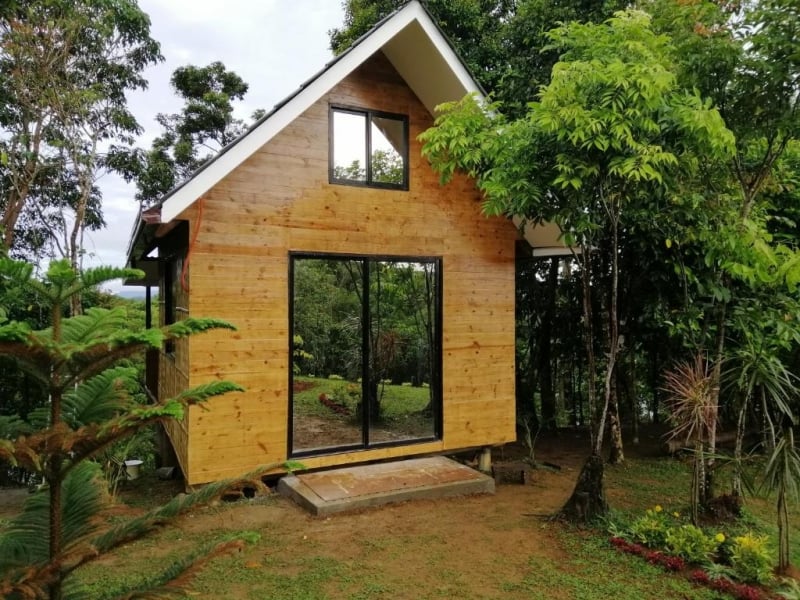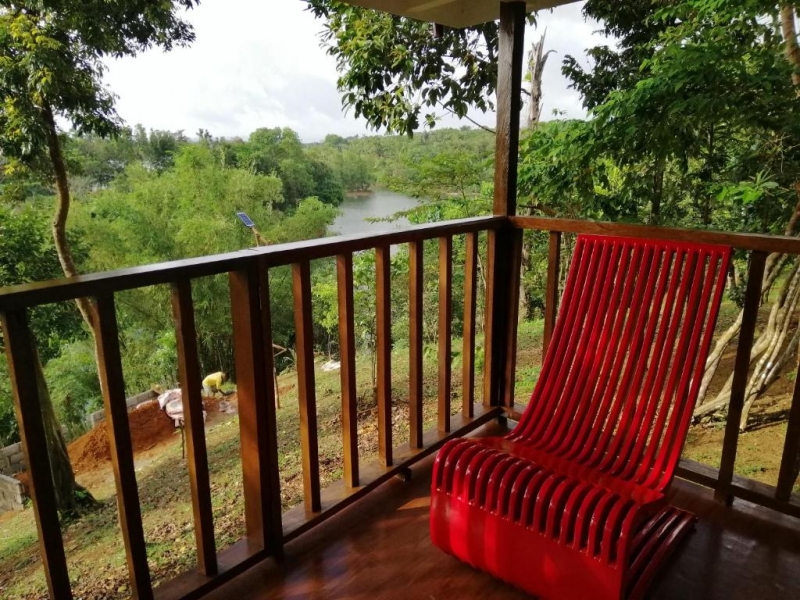 Listing name: Kalahi Lakeshore Camp
Listing type: Private room
No. of bedrooms: 1
Max. no of guests: 5 or 8
Native huts are the epitome of chill, don't you think? The rustic Kalahi Lakeshore Camp is surrounded by lake and mountain vistas — imagine waking up to nature views every day of your stay! We hear the sunset views are excellent, too. Sounds like the perfect excuse to stay in bed all day, if you ask me. On the other hand, travellers eager to get moving can try activities like hiking, kayaking, and fishing in the area.
Also read: 8 Dreamy Treehouse Hotels in the Philippines for a Magical Vacay
If you're travelling with family, then you're in luck! Family rooms in this Laguna vacation rental come with ample space for the whole family — even pets are welcome. We see no reason to think twice about booking a stay at this peaceful retreat! 
4. This island you can book all to yourselves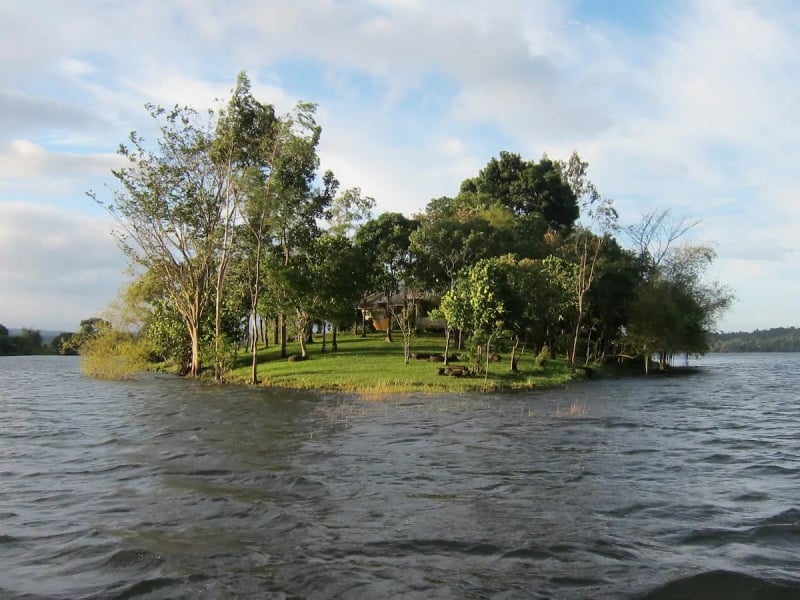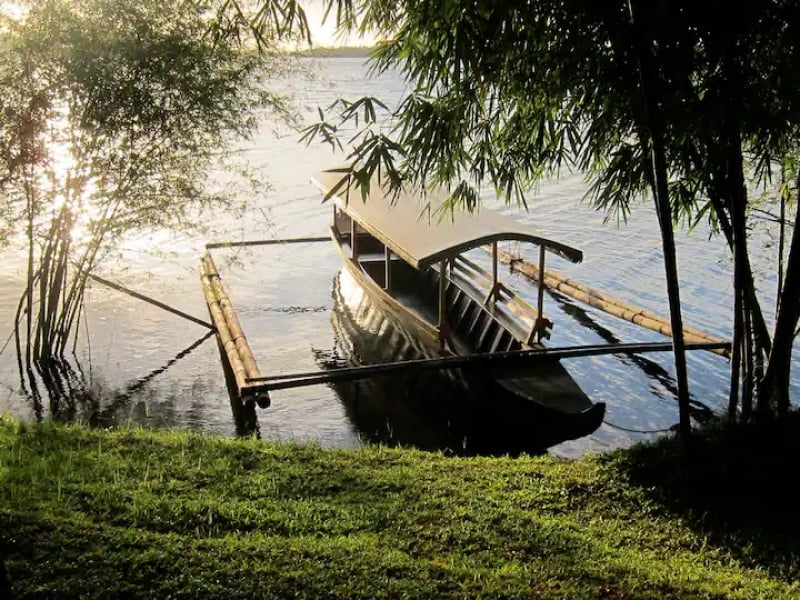 Listing name: Your own Island in lake near Manila
Listing type: Entire home
No. of bedrooms: 1
Max. no of guests: 15
Ever dreamed of having an entire island to yourselves? While not all of us can afford the luxury of owning one, we sure can rent one for just a few days — and just a few hours from Manila, too! This Airbnb in Laguna is located in Cavinti, home to the Cavinti Falls (which most of us '90s kids still know as the Pagsanjan Falls).
Guests can expect a rejuvenating nature getaway, where you can spend your days lazing around on a hammock while admiring views of Sierra Lake (an "extension" of Lake Caliraya). At night, stargazing is a must — you can even choose to camp out instead of the house, should you wish to take full advantage. The whole island is yours, after all! 
5. This modern villa by Caliraya Lake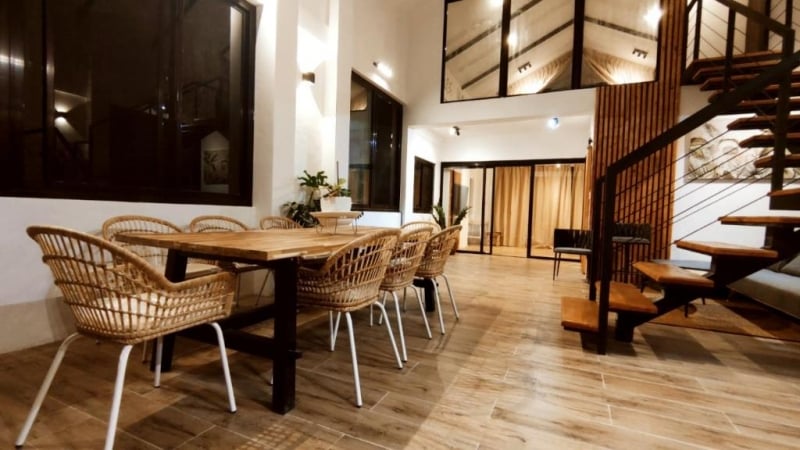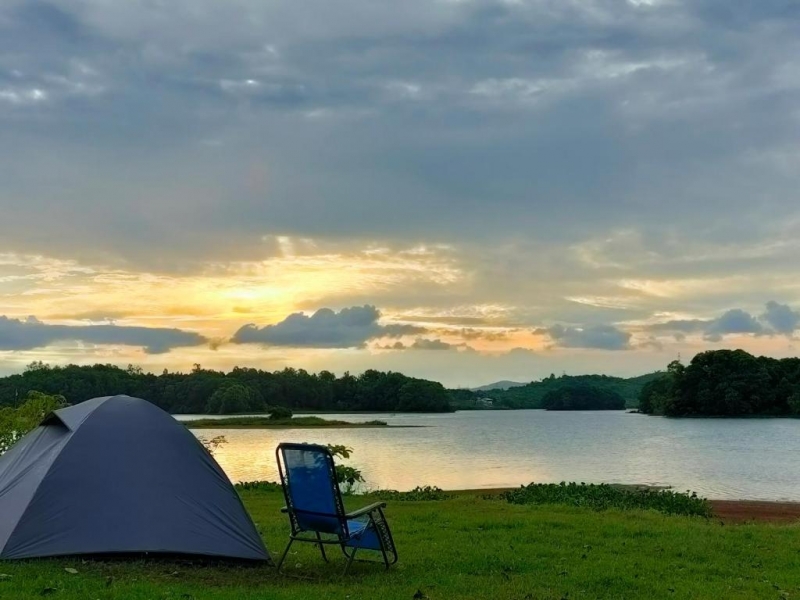 Listing name: Kaliraya Surf Kamp by Eco Hotel Laguna
Listing type: Entire villa
No. of bedrooms: 2
Max. no of guests: 7
A perfect choice for travelling groups, Kaliraya Surf Kamp provides modern lakeside accommodations for nature lovers who aren't keen on sleeping in tents. The two-bedroom villas are nice and spacious, so if you'd like to take the entire family, you're free to fit them all for a fun group vacay! Tiny homes and smaller rooms are also available for cosier stays.
An activity-packed stay awaits — your booking will include lots of fun amenities you can enjoy outdoors. Here's a preview of what's in store for you: windsurfing, kite surfing, jet skiing, and kayaking. Sounds exciting, right?
6. This home with a mix of modern and traditional Pinoy elements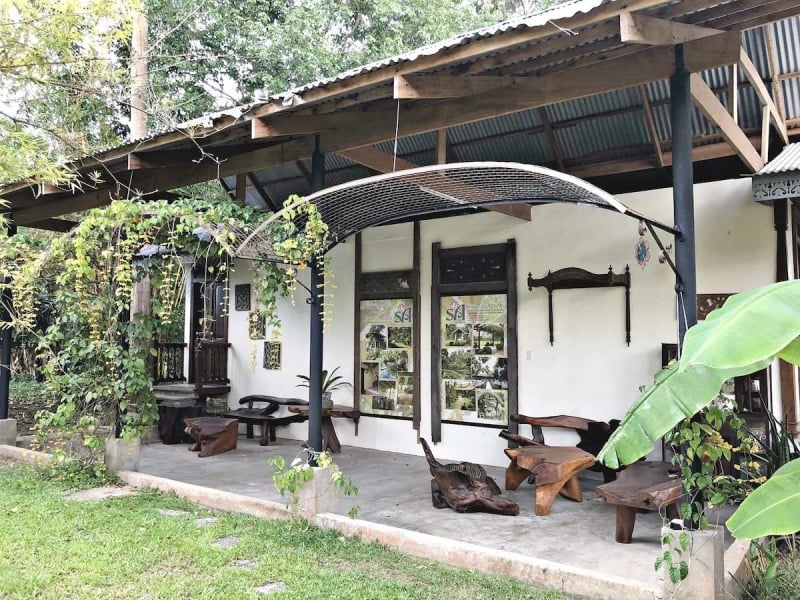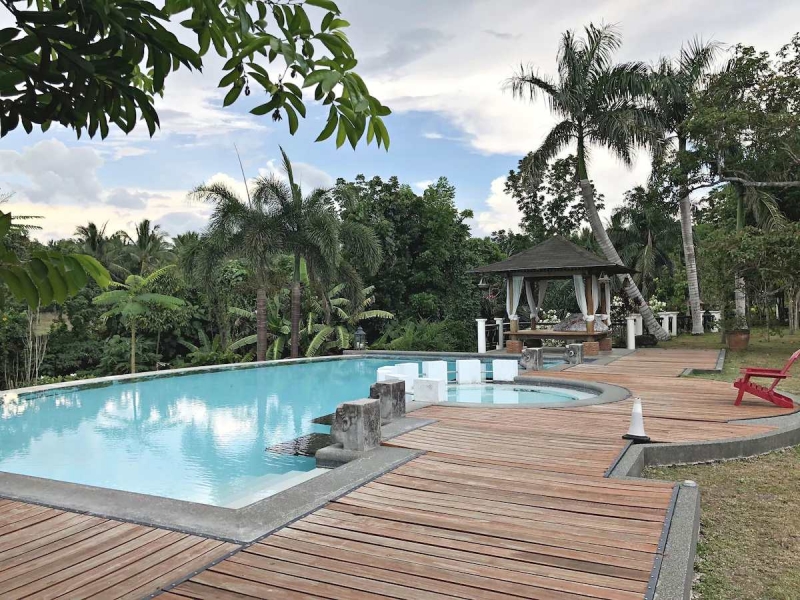 Listing name: Sitio de Amor Leisure Farm
Listing type: Private ooms
No. of bedrooms: 1
Max. no of guests: 2
Looking for a homey place to stay in Laguna? This multi-hectare leisure farm is much like your lola's house, but with a modern twist. We just love the traditional Pinoy feels — the vibe offers a sense of comfort that not many places can offer. Filled with precious antiques and heirloom pieces, the reconstructed old houses let you indulge in the charms of the past while enjoying the comforts of the present.
Unlike the lakeside vacation rentals on this list, Sitio de Amor Leisure Farm is tucked away in the lush Laguna countryside. It's a great place to rest and recharge with your nearest and dearest, especially if your fam is long overdue for a vacation. (We can relate!)
7. This lakeside dome for an elevated glamping experience
Listing name: Glamping Etc! Dome Mufli King Private Island
Listing type: Entire home
No. of bedrooms: 1
Max. no of guests: 2
We all know camping isn't for everyone — and so, glamping was invented. But even with more glamourised tent setups, some people still can't handle spending the night in the great outdoors. Hence, geodesic domes like this Airbnb in Laguna are now being offered as a "new take on glamping."
Basically, it's like having your own little bubble and a portion of Lake Sierra all to yourselves. The dome is furnished with luxury mattresses, soft linens, and it even has its own bathroom — so there's no need to worry about sharing with others! Your stay also comes with free breakfast and free use of their kayaks — plus, you can borrow their fishing gear and bodyboards as well! 
Also read: 12 Glamping Sites in the Philippines for Your Next Barkada Trip
8. This apartment that has everything you need for a staycation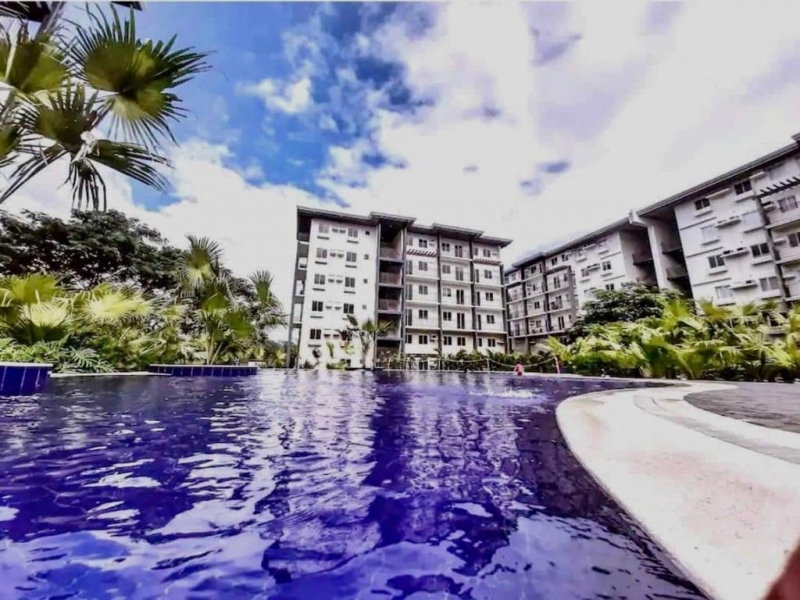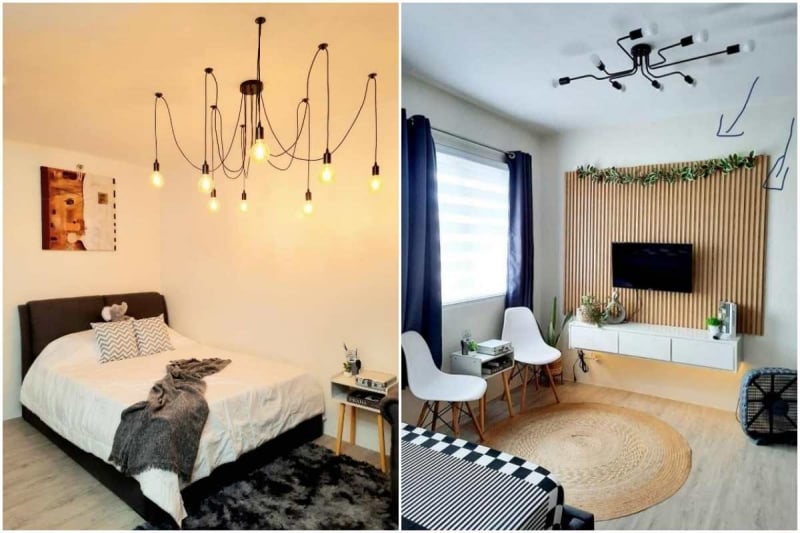 Listing name: Amaia Steps Nuvali fully furnished unit with swimming pool view
Listing type: Entire apartment
No. of bedrooms: 1
Max. no of guests: 3
It's easy to overlook a holiday home when it's an apartment — immediately, most of us assume that it's too small with not many amenities or much room to move around. But this particular vacation rental in Laguna is a total gem, and it's got raving reviews to prove it!
This spacious apartment is beautifully designed, with a well-lit living area, a fully equipped kitchen, and a cosy bedroom you won't want to leave. Free WiFi and Netflix are even provided, promising you won't get bored even if you stay indoors and opt out of exploring Nuvali. Basically, this condo has everything you need to feel right at home; in fact, we bet you'll wish you lived here all year 'round!
9. This well-furnished family home for big groups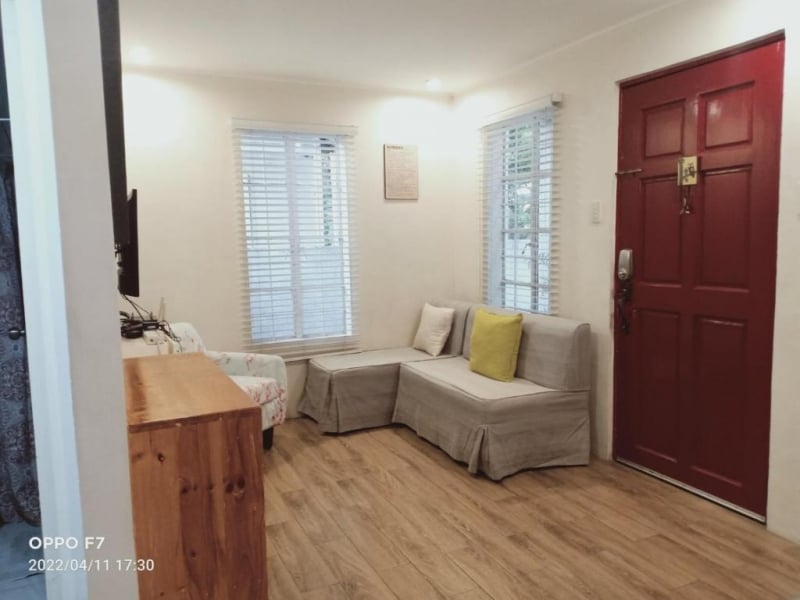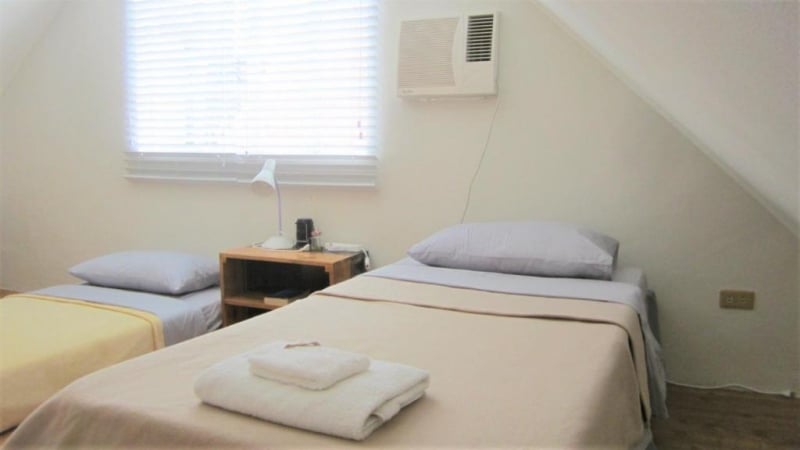 Listing name: Laguna Bel-Air Home in Sta Rosa #15 by Red Door House Rental
Listing type: Entire home
No. of bedrooms: 3
Max. no of guests: 9
This cosy home is yet another family-friendly vacation rental in Laguna. It's located in a safe, quiet community, where the children's playground and bike-friendly streets are close by. If an indoor staycation with fam and friends is your first order of business, this holiday home is worth considering.
The house has been thoughtfully put together to make guests feel as though they're in their own home. Each room is clean and comfortable, and reviews say that the owners tend to be very accommodating with guest requests. At the house, there's lots of room to kick back and relax.
10. This breathtaking farm stay just 15 minutes away from Tagaytay
Listing name: Farm Stay in Cabuyao Near Nuvali (Gabby's Farm)
Listing type: Entire home
No. of bedrooms: 3
Max. no of guests: 8
Enjoy a little bit of everything at this farm stay in Cabuyao. This home is basically a modern kubo set amidst nature, while at the same time just 15 minutes away from both Tagaytay in Nuvali. From here, you'll also be able to take in gorgeous views of Mt. Makiling and Laguna de Bay!
Upon checking out reviews, we discovered that this holiday home in Laguna is one of those places that guests — especially families — couldn't help but book repeatedly. It offers guests peace and quiet, and a whole lot of space for kids to run around and enjoy. To add to all that, the hospitable in-house caretaker Rodel has truly made each stay a pleasant one; he's received tons of special shoutouts in the reviews! 
Also read: Best Farm Stays in the Philippines for a Nature Escape
When it comes to selecting the perfect vacation rental or Airbnb home in Laguna, travellers are definitely spoilt for choice. With so many amazing listings to choose from, that you'll want to keep coming back!
Got a property you'd like us to feature? Contact us here.
---
This article contains affiliate links. When you book through these links, we may earn a small commission at no additional cost to you. All images courtesy of the respective property listings unless otherwise stated.