Coron, Palawan has long been on many Pinoys' travel bucket lists, including my own. There's just something so otherworldly about it — so much so that I wouldn't be surprised to see mermaids suddenly emerge from its mesmerising turquoise seas. While fantasising about future travels, I found myself scrolling through one Airbnb in Coron after the other — just to feed my wanderlust. Because finding a dreamy place to stay is always half the fun of planning, don't you think?
If you too are hoping to visit the dreamlike paradise of Coron, Busuanga, and other nearby isles, you've come to the right place. Below, we list some of the top Airbnb homes and vacation rentals in Coron that will surely help make your visit a memorable one!
Also read: Food, Scenery, Unbelievable Experiences: These Philippine Destinations Have Them All!
Must-book Airbnb homes in Coron, Palawan
1. This dreamy houseboat suite set in a private lagoon
Listing name: the only accom in Coron Island Houseboat Suite1
Listing type: Private room in houseboat
Max. no. of guests: 6
No. of bedrooms: 1
Life in Coron is truly nothing short of magical — imagine, you can even book an accommodation set within its famous turquoise waters! This charm-filled houseboat is located in a private lagoon just minutes from the famous Twin Lagoons and Kayangan Lake. Picture this: Waking up to views of Palawan's iconic limestone rock formations, relaxing in the sea breeze, and being able to dip your toes (or dive!) in the water. Ahh, sounds like the epitome of the perfect tropical getaway! 
2. This private island you and your travel buddies can enjoy all to yourselves
Listing name: Bamboo Private Island near Coron
Listing type: Entire island
Max. no. of guests: 16
No. of bedrooms: 7
Yes, you read that right — an entire island all to yourselves! For travellers who love nothing more than basking in the sun and the sea, this sunny island in Coron pretty much offers the kind of stay one only dreams about. You'll want to grab your nearest and dearest too, as this island can accommodate up to 16 guests! To make things even more fun, your booking fee also covers snorkel gear, kayaks, and stand up paddles. An exciting tropical adventure awaits! 
3. This cosy hostel room for travellers who love being out and about
Listing name: Clean & Cozy Fan Room for 2 | Starfish Eco-Hostel
Listing type: Private room in hostel
Max. no. of guests: 2
No. of bedrooms: 1
Solo travellers, extroverts, and those who simply love making the most out of every vacation were practically made for hostel life. Because they're often out and about, a hostel stay that offers a clean and cosy place to rest and freshen up is usually more than enough. A central location is ideal, too. This lovely Airbnb in Coron ticks all those boxes — plus, the free water, coffee, and tea is a much-appreciated bonus!
4. This rustic room at a seafront inn
Listing name: Coron Island Seafront Inn in Coron, Palawan
Listing type: Room in nature lodge
Max. no. of guests: 16 
No. of bedrooms: 10
A peaceful stay, complete with calming sea views? Count us in! We love that you can rent out this tranquil Airbnb in Coron with a big group — making it perfect for reuniting with good friends and family over sand, sea, and all the things we love about life in the tropics. Each booking comes with complimentary breakfasts, and you'll definitely want to take advantage of that. Some even say their in-house cook is the best in town! It wouldn't hurt to find out for yourself, right?
Also read: 10 Airbnbs in the Philippines That Will Make You Fall in Love
5. This peaceful bamboo hut by the sea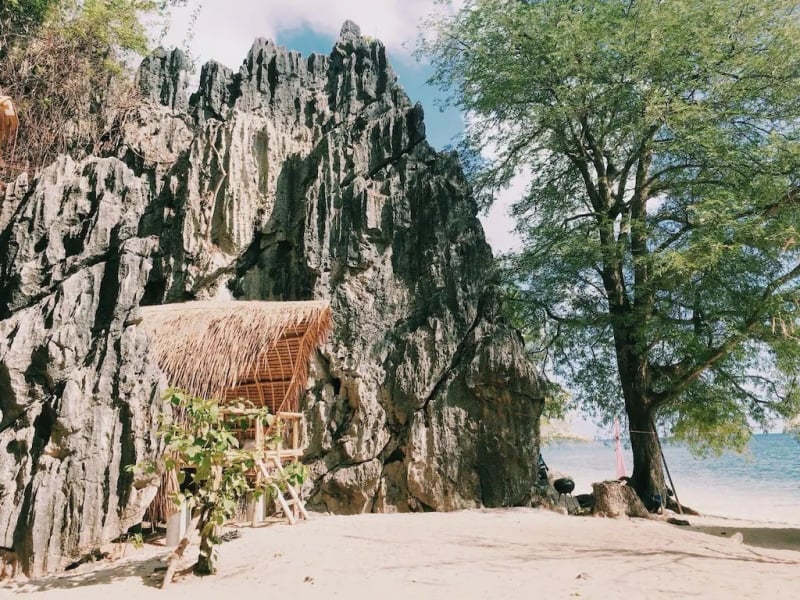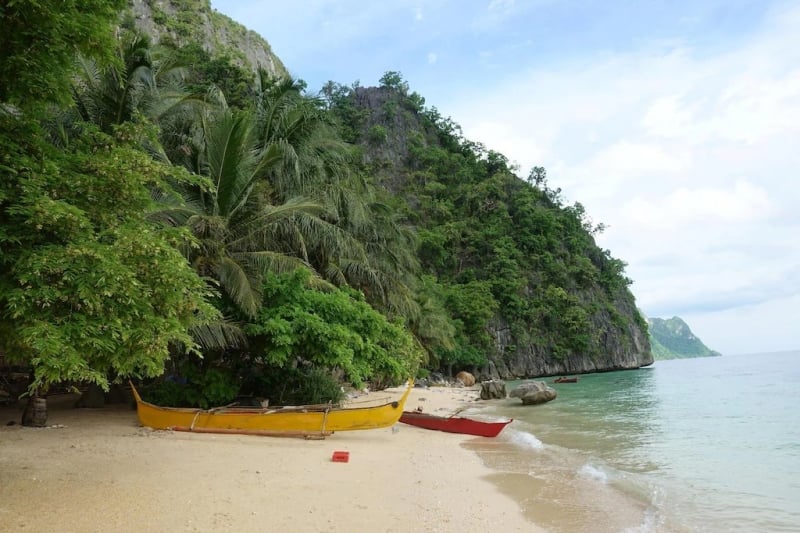 Listing name: Remote Coron Beach Huts
Listing type: Private room 
Max. no. of guests: 2
No. of bedrooms: 1
This is not your average Airbnb in Coron. The town proper happens to be the jump-off point to get to this secluded island escape, which is about 45 minutes away by boat. If you're after peace and quiet, and tend to veer away from busy tourist spots when on vacation, then this spot is the perfect choice for you. Snag a bamboo hut just steps from the sea, and enjoy a tranquil stay marked by fun beach activities and beautiful sunsets! 
6. This humble farmstay that's perfect for minimalist travellers
Listing name: Hacienda Paragua
Listing type: Farmstay
Max. no. of guests: 4
No. of bedrooms: 1
Set in a farm, this serene Airbnb in Coron will change the way you picture the Garden of Eden. Airbnb hosts Eden and Gunther bake their own bread, roast their own coffee, make fresh fruit juices, and are known to prepare delicious home-cooked Pinoy food over woodfire. (Honestly — based on this information alone, I'm all in!) Here, you can enjoy activities like swimming in the nearby river or horseback riding on the farm grounds — definitely a unique Coron experience.
7. This secluded kubo in an eco-conscious diving resort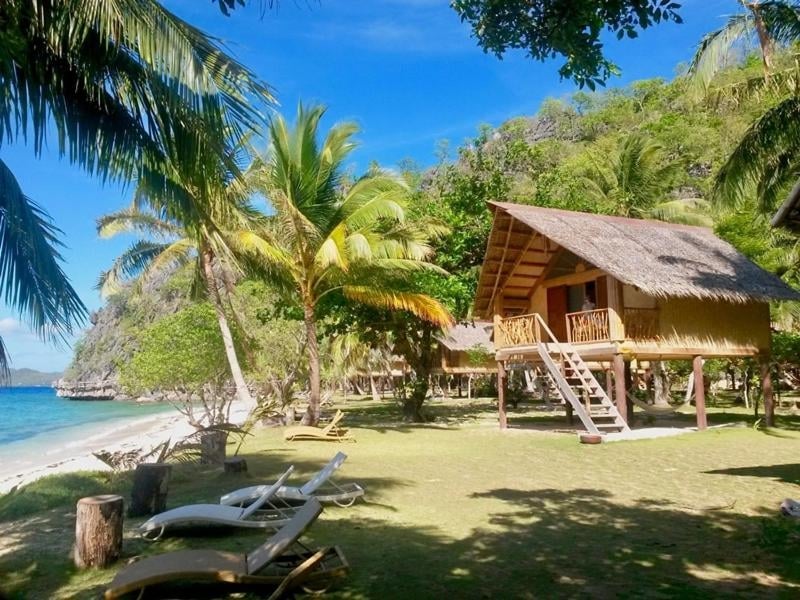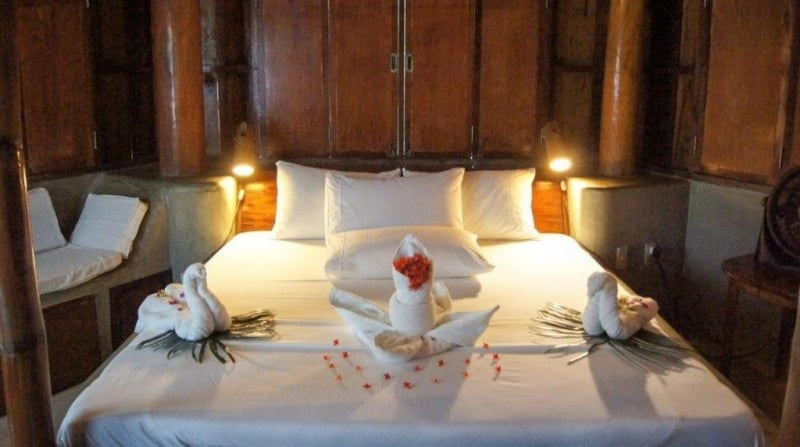 Listing name: Tao Sangat Island Dive Resort
Listing type: Room in resort
Max. no. of guests: 4
No. of bedrooms: Studio
Coming to Coron to explore its many dive sites? This quaint kubo is located in a diving resort thought to be one of Palawan's best-kept secrets. Rent out this home in Coron, and you'll find yourself a few steps from the beach and just minutes away from some of the island's top-rated scuba diving destinations. Of course, you're in for more island fun as well — expect a trip packed with sunbathing and activities like sailing, snorkelling, and paddleboarding! Does this sound like your cup of tea?
8. This tropical retreat close to Black Island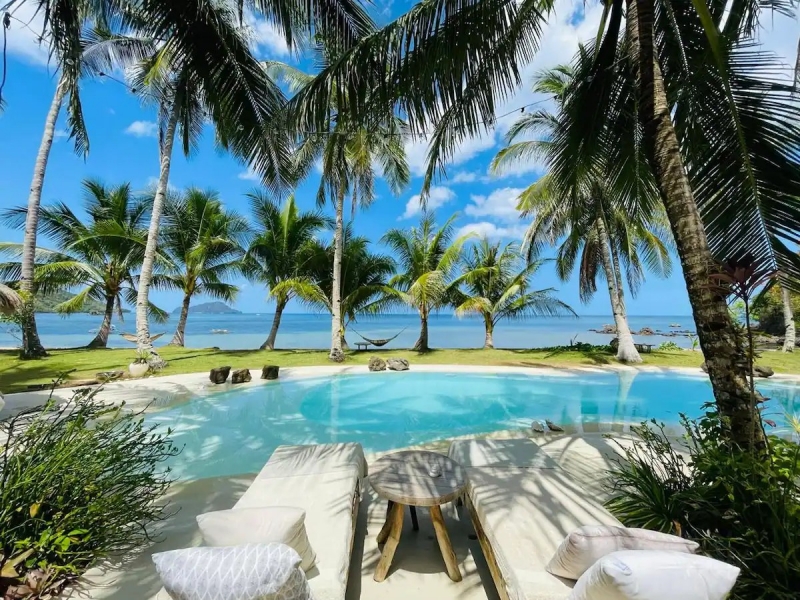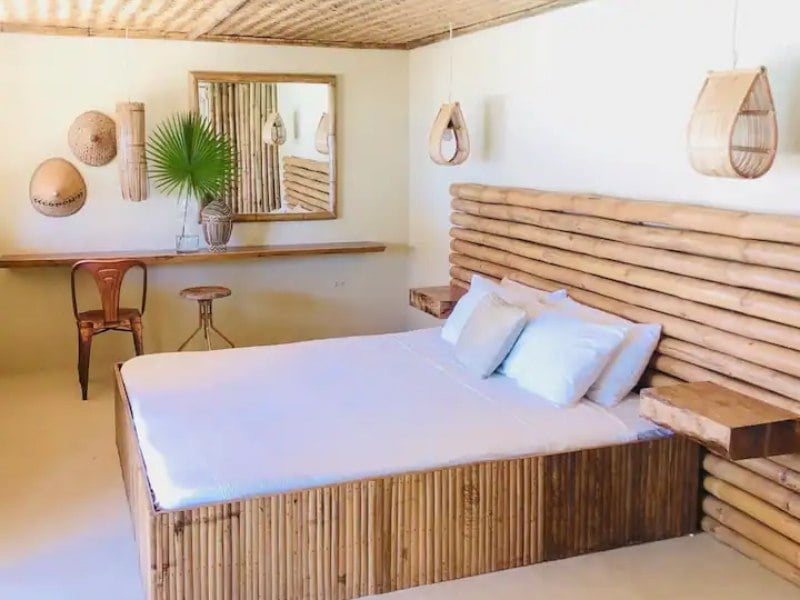 Listing name: The Beach House Ocam Ocam – Beachfront Room
Listing type: Room in boutique hotel
Max. no. of guests: 2
No. of bedrooms: 1
Situated away from Coron's busy town proper, this rustic beach house sits at the end of a long and tranquil sandy beach. The house is divided into several areas for rent — including this Beachfront Room. The sea-facing oasis offers all the makings of the perfect island accommodation: stylish yet cosy interiors, easy beach access, and loads of peace and quiet.
When staying at this Airbnb near Coron, guests will also get to enjoy the beach home's many common spaces, from the picture-perfect pool to the beautifully decorated lounge area. On top of that, previous guests rave about the home's gorgeous sunset views and the excellent cocktails on offer at the in-house beach bar. This being said, sounds like happy hours at this tropical retreat aren't to be missed!
9. This hidden gem by the beach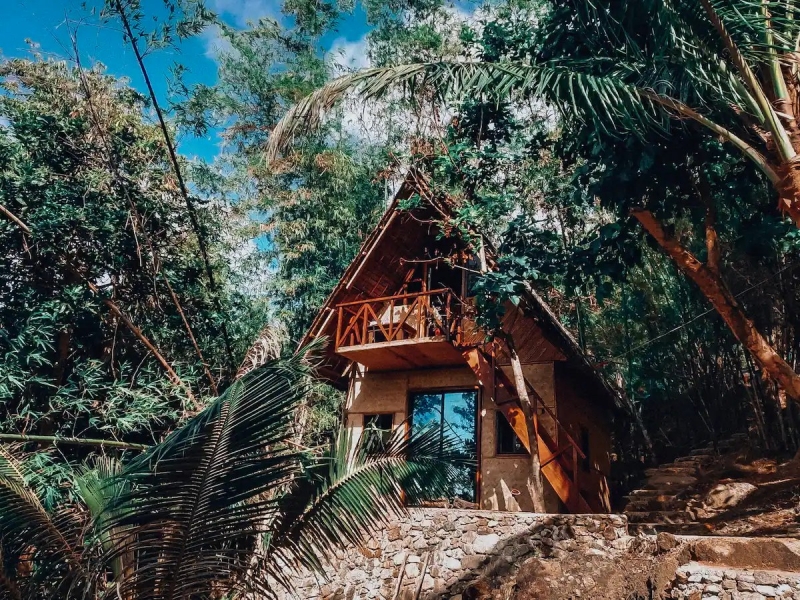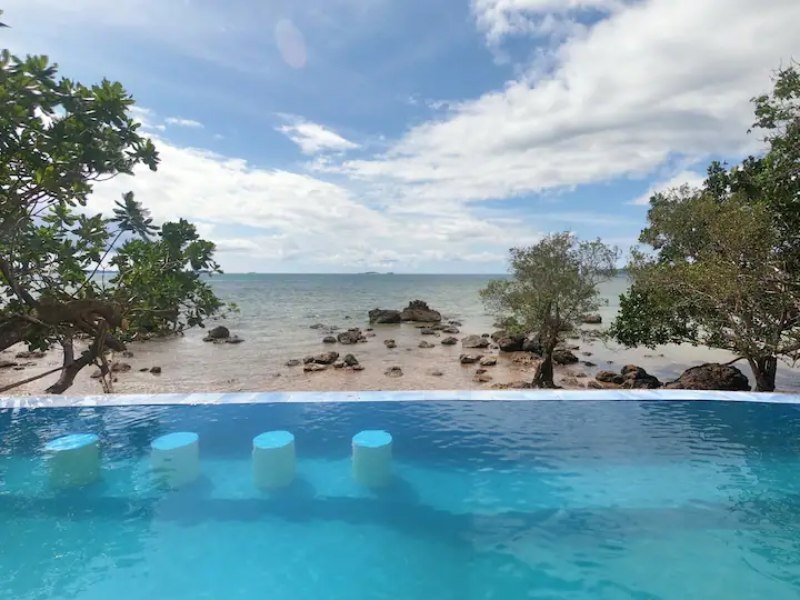 Listing name: Cocovana Beach Resort (Overlooking)
Listing type: Private room
Max. no. of guests: 2
No. of bedrooms: 1
Nestled along the highway in Busuanga, Cocovana Beach Resort is easily missed — but you're missing out if you drive past this collection of cottages perched over the sea. A pandemic project, it only opened its doors in 2020. And since then, many travellers have fallen for the charms of this seaside Airbnb near Coron. Tranquil with lush greenery overlooking a rocky beach, Cocovana is a quiet place designed to embrace the island's natural landscape.
Accommodations range from private rooms and shared hostel-type dormitories, all clean, comfortable, and air-conditioned. Other highlights include a freshwater pool, an open-air common area with ocean views, and hammocks scattered throughout the property. Guests rave about Cocovana's food, too — from the vegetable curry to the garlic butter lobster, the kitchen rarely disappoints. And the special Coco Rum is a refreshing alcoholic drink you should definitely try!
10. This secluded treehouse sanctuary in Busuanga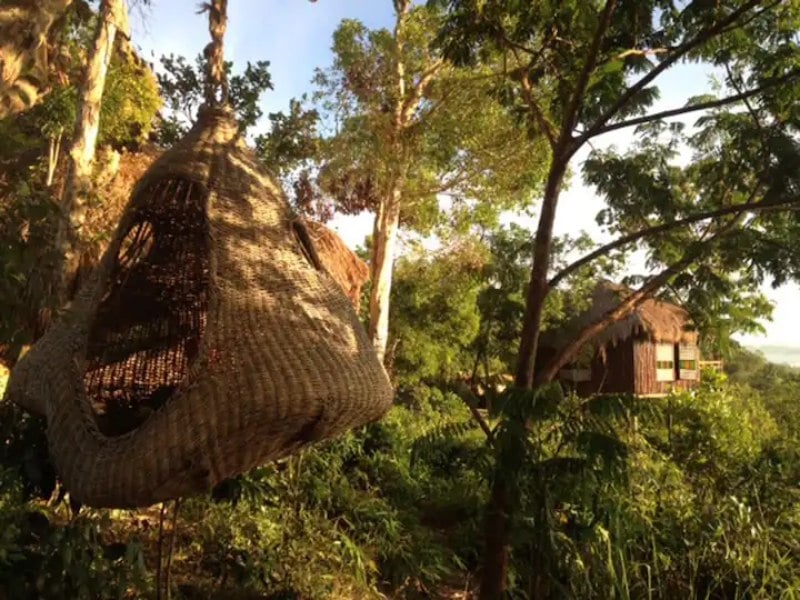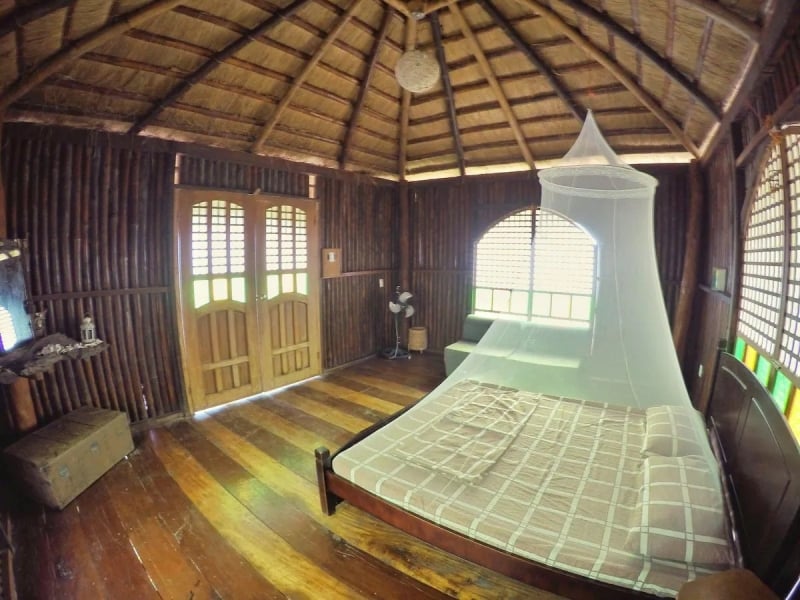 Listing name: Sanctuaria Treehouses
Listing type: Private room
Max. no. of guests: 2
No. of bedrooms: 1 
When you say Palawan, it's easy to think of the beach, right? Well, this hilltop Airbnb near Coron puts you among the trees instead. From the treetops of Sanctuaria Treehouses, you'll enjoy a bird's eye view of the island's unspoiled jungles and dazzling waters.
Cosy treehouses offer a home away from home surrounded by nature. Meanwhile, amenities like an outdoor bar, an open-air game room, and a private viewpoint keep guests entertained even without leaving the property. Swimming and kayaking are also popular activities from the pier.
Also read: 15 Airbnb Homes in El Nido Where You Can Live Out Your Island Dreams
Out of all these Airbnb homes in Coron, which would you say is your favourite? I just love that this list includes options for different types of people — from extroverts who prefer to be out on the town, to quiet travellers whose idea of the perfect vacation involves tropical views and the absence of busy crowds. Can't wait to hear where you'll be staying; be sure to tag us in your Instagram photos at @tripzillaph when you finally make your way to Coron!
---
This article contains affiliate links. When you book through these links, we may earn a small commission at no additional cost to you. All images courtesy of the respective property listings.