From a native hut inspired by Cuyunon culture to a luxurious yacht that will take you around Bacuit Bay, El Nido is the place to live out all your island life fantasies. Whether it's at a quaint nipa hut in a family farm or a treehouse overlooking the beach, a stay at the perfect Airbnb home in El Nido can help make your tropical dreams come true.
Be sure to check out our top picks of Airbnbs and vacation rentals — every home on this list guarantees a unique and most memorable stay!
Also read: 7 Airbnb Homes in Coron for Your Next Palawan Trip
Top Airbnb homes in El Nido, Palawan
1. This luxe villa overlooking Nacpan Beach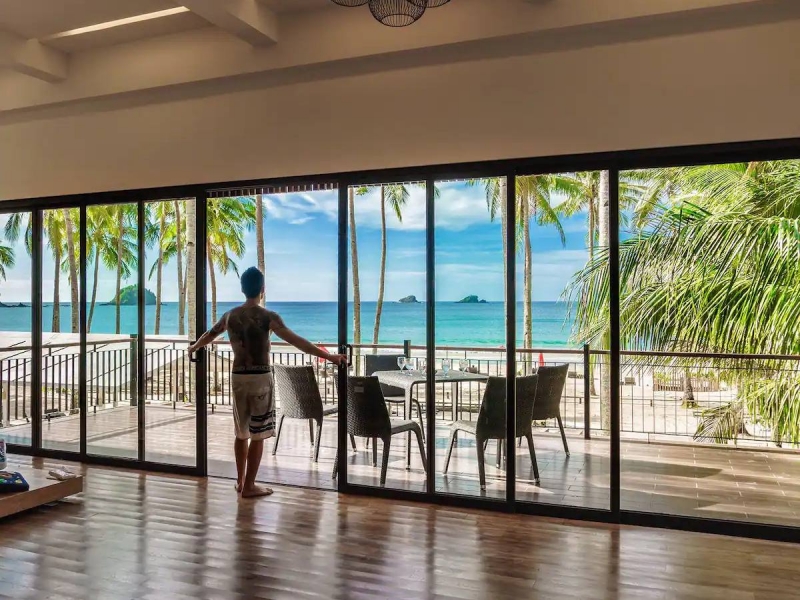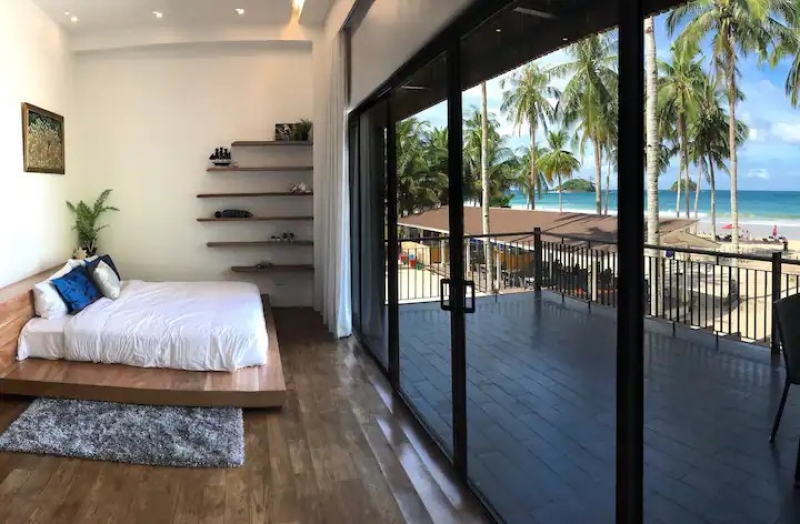 Listing name: The One and Only at Nacpan Beach, EL NIDO
Listing type: Entire villa
Max. no. of guests: 4
No. of bedrooms: 2
Nestled steps from the beach, there's plenty to love in this exquisitely designed villa. But while the interiors are beautiful, it's the views that make this one of the most sought-after Airbnb villas in El Nido. Every morning, you'll wake up to the crystalline waters and powdery white sand of Nacpan Beach. For travellers craving a vacation where they never leave the beach, this is the place to book.
2. This hilltop nipa hut inspired by Cuyunon culture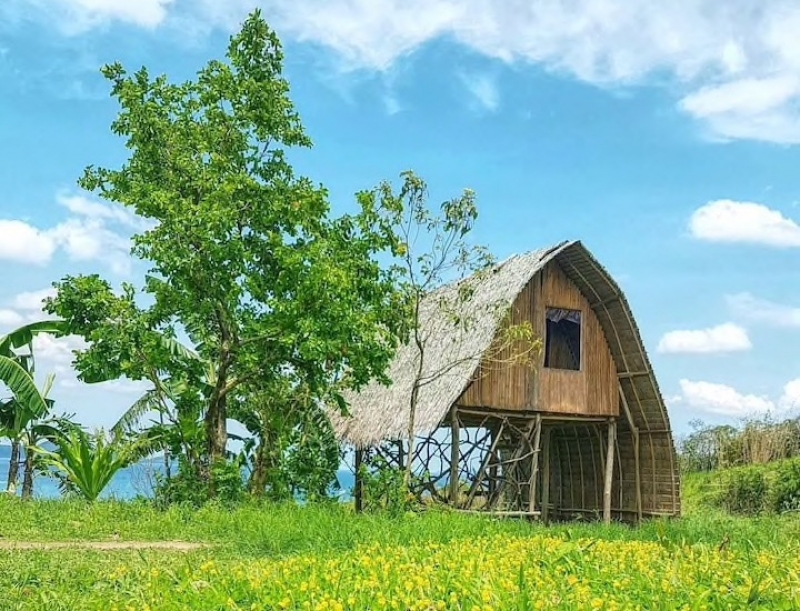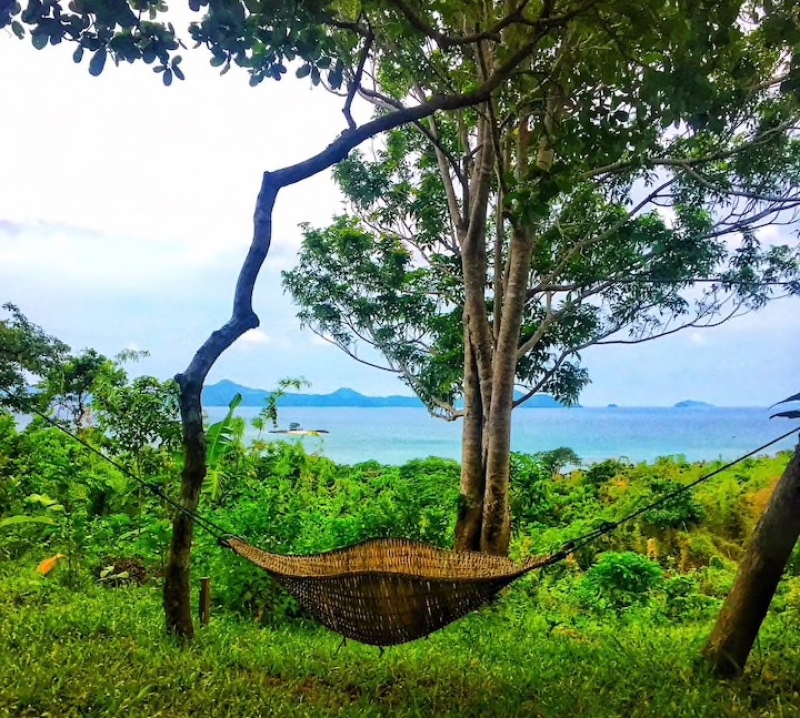 Listing name: Vue grand hilltop
Listing type: Private room in hut
Max. no. of guests: 2
No. of bedrooms: 1
Inspired by the traditional balay Cuyunon (Cuyunon house), this raised nipa hut will treat you to stunning sunrise and bay views right from the comfort of your balcony. It's located at the tip of mainland El Nido — perfect for travellers who prefer to situate themselves away from the crowds and tourists.
However, expect only the barest essentials here, as the hut is equipped with only a bed and a fan; and in true balay Cuyunon fashion, the bathrooms are separate from the huts. To complete your local experience, make sure to get a taste of tuba (coconut wine) — all you need is to ask your host!
3. This organic farm that offers the comforts of modern living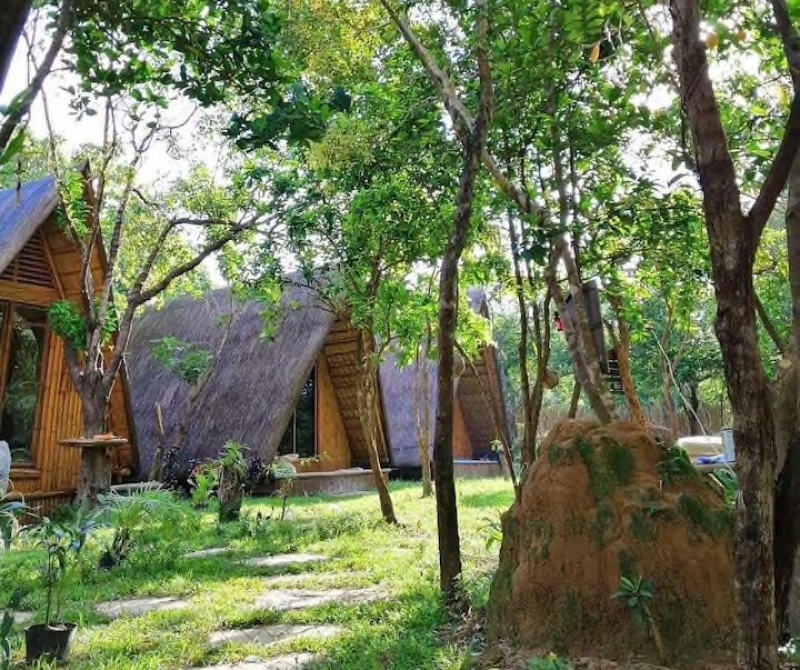 Listing name: Balili Farm Nacpan El Nido
Listing type: Entire home
Max. no. of guests: 2
No. of bedrooms: 1
For an authentic farm-to-plate experience, visit Balili Farm and interact with the organic growers. The nipa huts are also air-conditioned, which makes for an even more comfortable stay. This Airbnb is also just a few kilometres away from Nacpan Beach — so you can easily enjoy the sand and the sea after lounging all day at the farm! 
4. This bar that was converted into a stylish home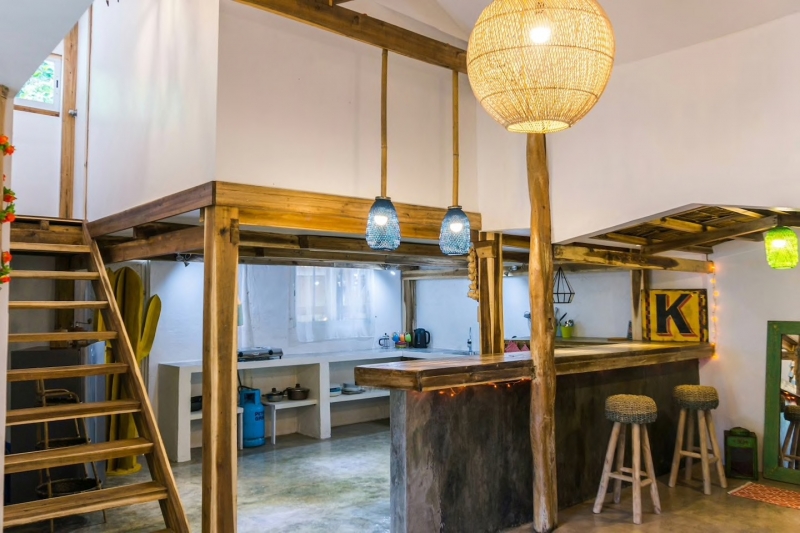 Listing name: Luxury family loft- 90sqm in El Nido town- 2 rooms
Listing type: Entire home
Max. no. of guests: 5
No. of bedrooms: 2
Travelling with family or with a close group of friends? This beautiful Airbnb in El Nido is perfect for intimate gatherings! Formerly meant to function as a bar, this home is perfect for those who want to stay indoors, lounge in the garden, and maybe host a few parties. Oh, and it's only three minutes away from the beach — a big plus! 
5. This home that will make you believe that happiness is a place on earth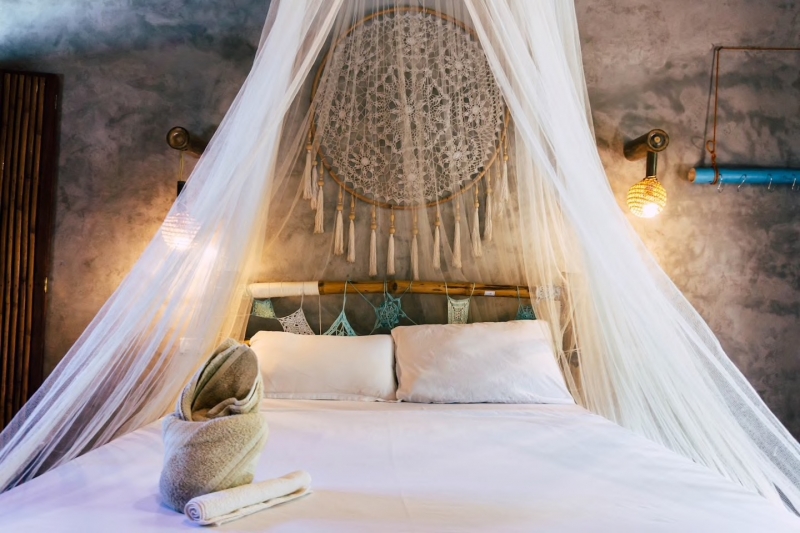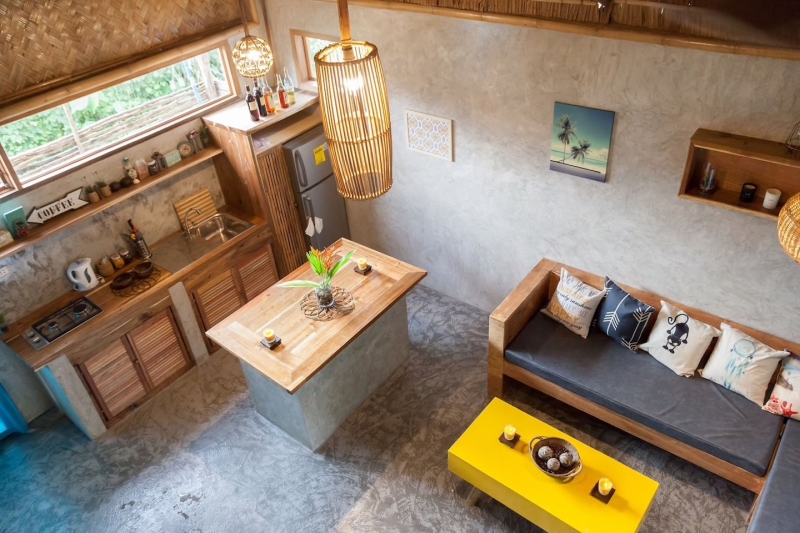 Listing name: El Nido Vacation Home Near Corong-Corong Beach
Listing type: Entire home
Max. no. of guests: 7
No. of bedrooms: 2
Another Airbnb in El Nido that's ideal for a group of friends and family, this spacious cottage is decked with rustic, gorgeous interiors. The living room will easily be one of your favourite spots — it's the perfect spot to relax and watch movies if you aren't up for the outdoors!
This two-bedroom home is also just a 10-second walk away from Maremegmeg Beach, where Airbnb host Saar has a paddleboard available for guests to use. What's more, Saar also partners with Blue Mango Resort and Restaurant — a great place for food, drinks, and enjoyable company. Guests at this home get a 10 percent discount on their breakfast menu! 
Also read: 10 Restaurants in El Nido That Will Complete Your Palawan Experience
6. This Pinterest dream come true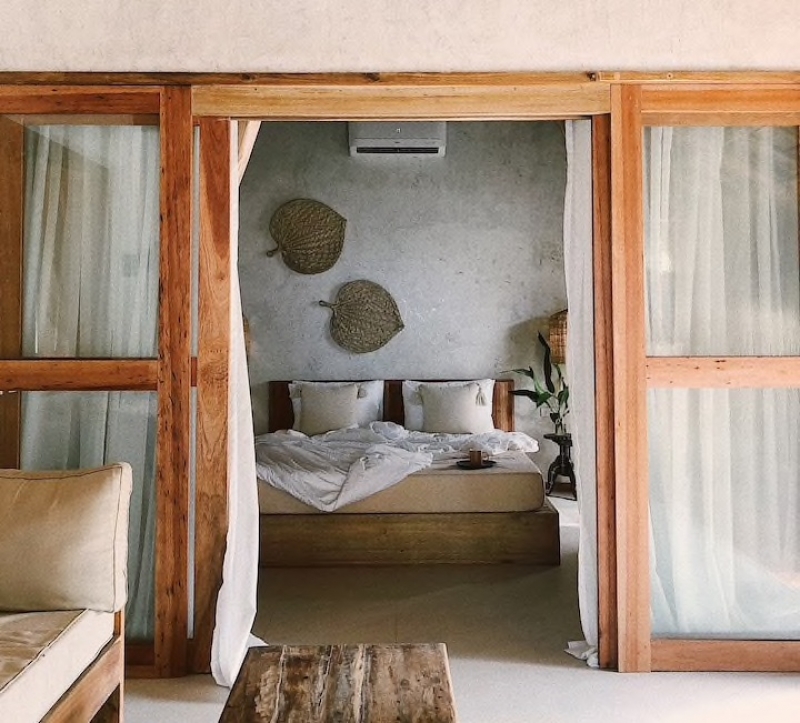 Listing name: 1Br Romantic Villa with pool / Casa Malaya: DOT ✔
Listing type: Entire home
Max. no. of guests: 2
No. of bedrooms: 1
Are you looking for a stylish, luxurious villa that's just a 10-minute walk to Nacpan Beach? Look no further than Casa Malaya, a Pinterest dream come true. With its Indian doors and Yakan furniture, this beautiful home has everything you need and more — in fact, the picture-perfect interiors are just a welcome bonus. It's even got a private pool to complete your experience! 
7. This Instagrammable home just three-minute walk from the beach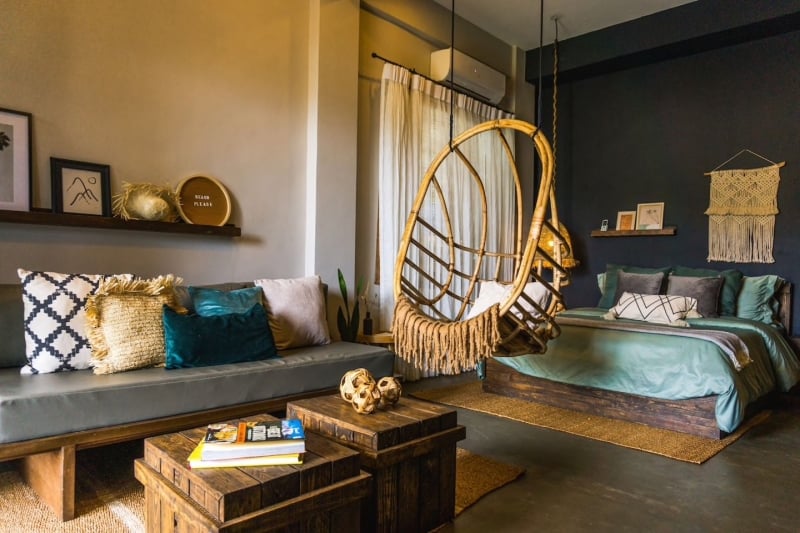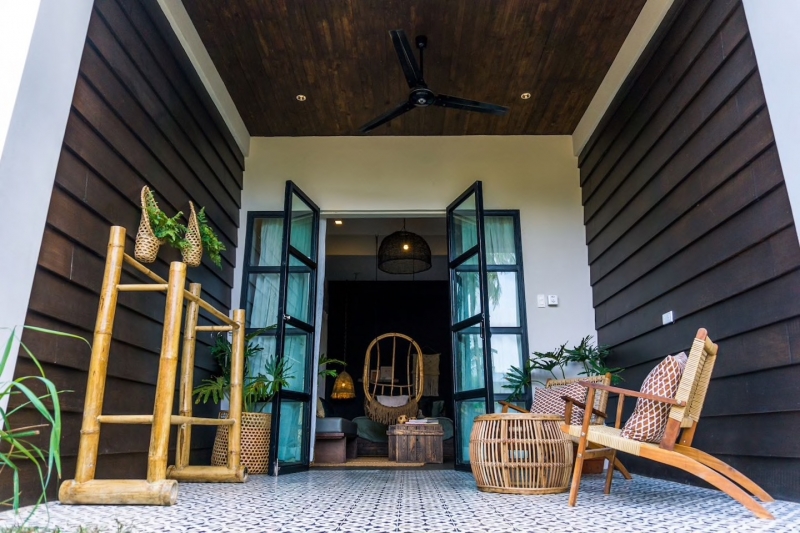 Listing name: Stunning Villa Near Corong-Corong Beach
Listing type: Private room in villa
Max. no. of guests: 3
No. of bedrooms: 1
Another picturesque villa, this time much nearer to the town centre, is certainly one you have to book! Located in Marimegmeg, where a growing number of bars and restaurants are popping up, this Instagrammable home has enough space for a party of three, and very comfortably fits two. The best part? There are some cute doggos that roam the garden, too. Dog lovers will definitely want to befriend them! 
8. This dreamy tropical home with an outdoor pool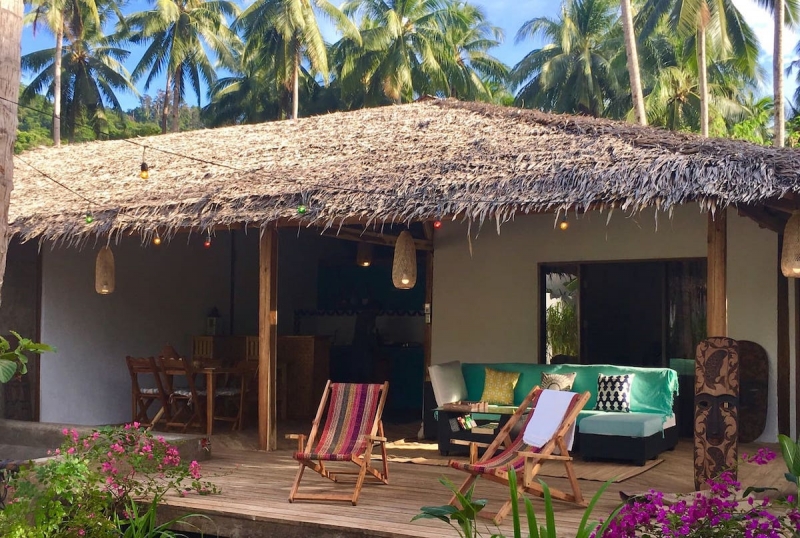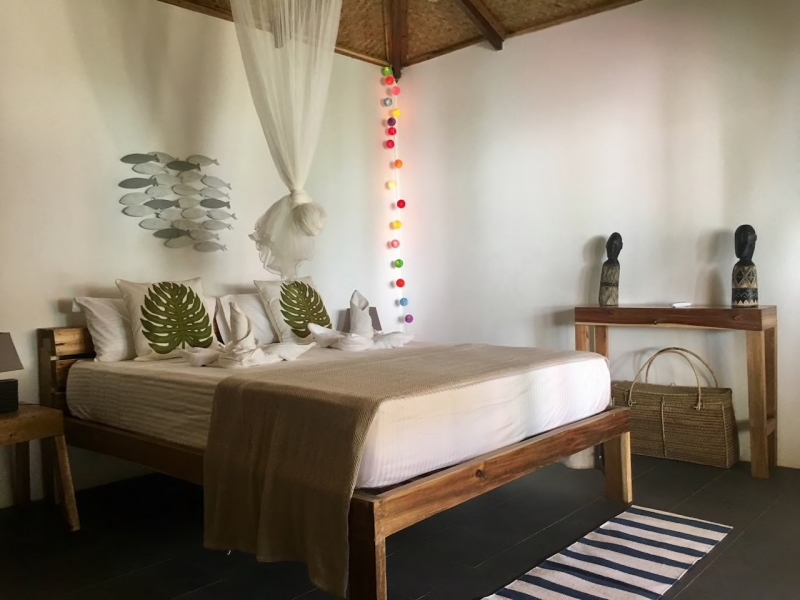 Listing name: El Nido Pool Villa beside the beach
Listing type: Entire home
Max. no. of guests: 2
No. of bedrooms: 1
Located just 30 minutes away from the beach and close to the town proper, this quaint Airbnb in El Nido is perfect for couples who don't want to spend too much. This cute yet budget-friendly home also features a fully-furnished kitchen and a small counter to serve as a bar. Minimalist travellers will certainly love this one! 
9. This private yacht that doubles as a perfect getaway for couples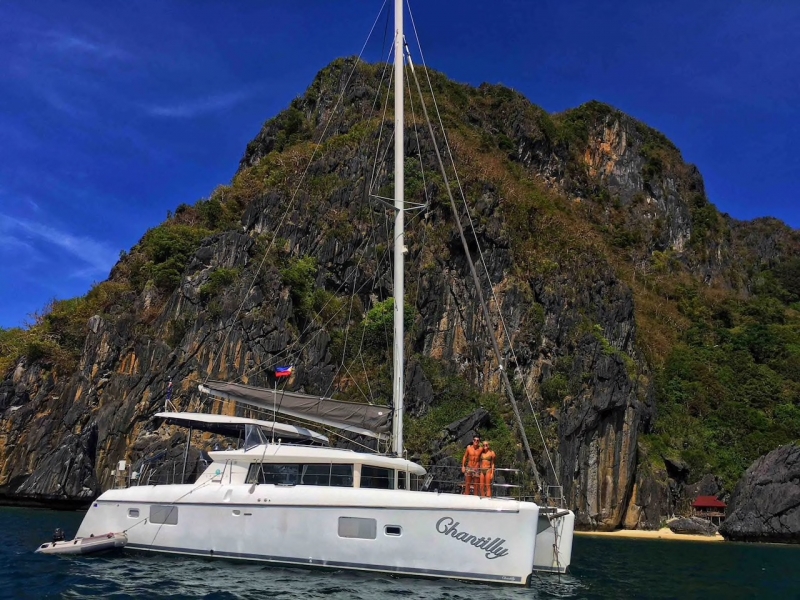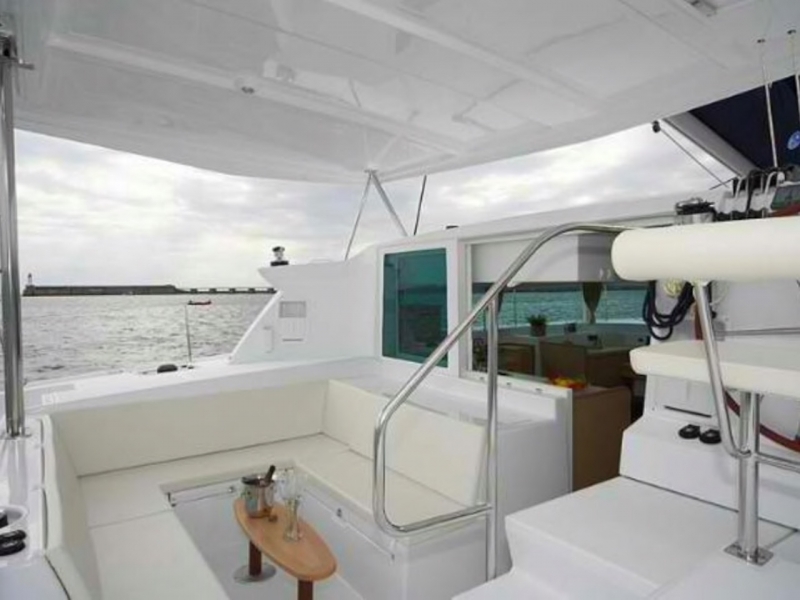 Listing name: Beds on a boat moored in El Nido With Breakfast
Listing type: Private room in boat
Max. no. of guests: 2
No. of bedrooms: 1
Hop on aboard the Chantilly, a gorgeous 42-foot catamaran with its own bedroom, bathroom, and kitchen! It's an absolute dream come true, if you ask us.
Guests stay at the starboard (right side of the boat) and can take a leisurely cruise around the bay, care of the onboard staff. And as if that all wasn't enough, this Airbnb is also the perfect place to sip on cocktails while watching the sunset and gaze at the Milky Way at night! 
10. This sailing beauty that offers style and comfort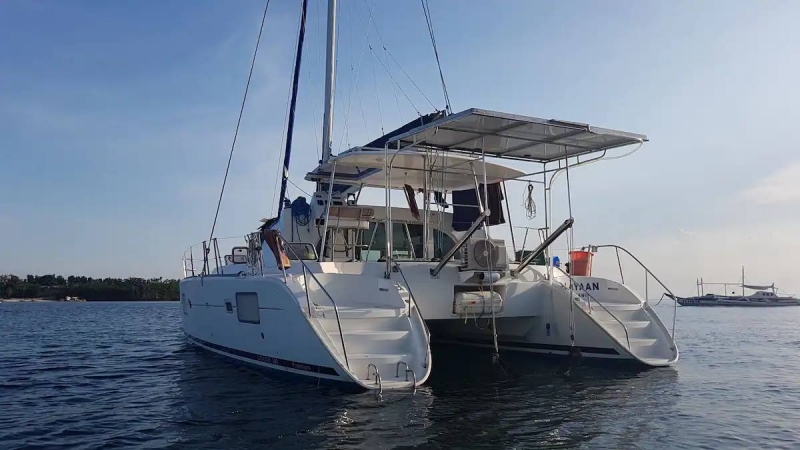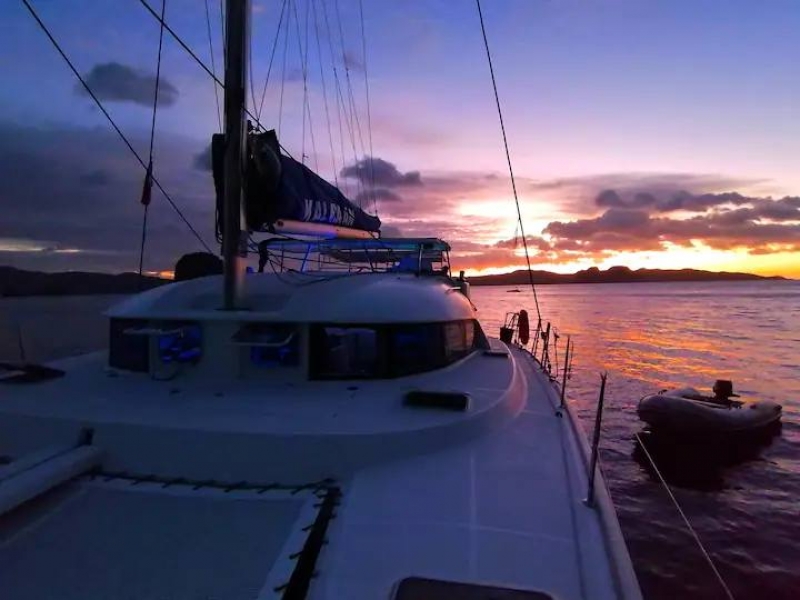 Listing name: Yacht Stay – w/ ensuite
Listing type: Entire home
Max. no. of guests: 4
No. of bedrooms: 1
This listing is yet another of our favourites — because who wouldn't want to spend their Palawan vacation aboard a yacht and living the dream? This cosy Airbnb in El Nido features a Captain's cabin with a queen-size bed, private ensuite, and sliding doors for privacy. What's more, guests enjoy free access to stand up paddleboards, kayaks, and a BBQ grill! What's not to love?
11. This treehouse that doubles as the ultimate home for kids at heart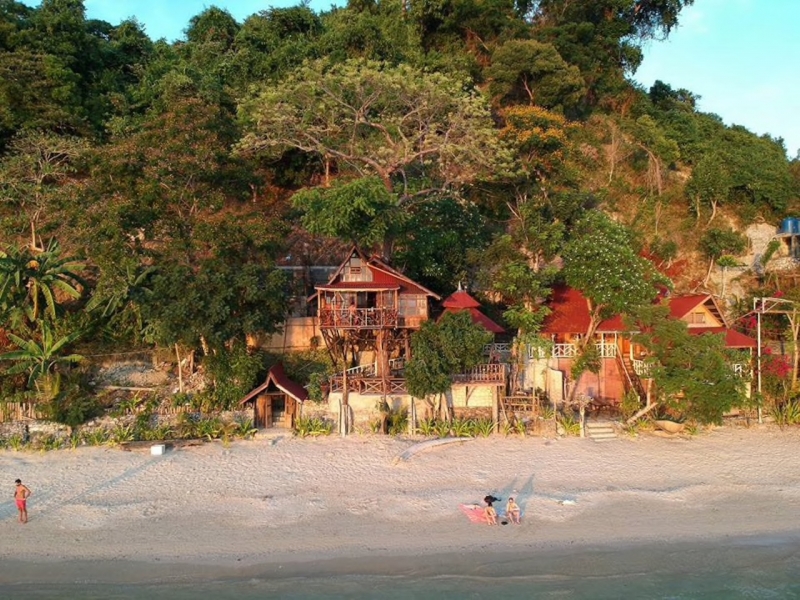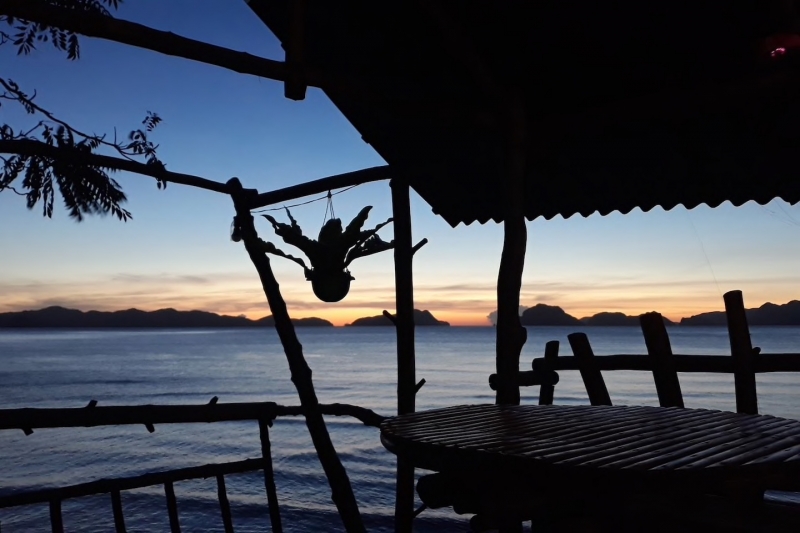 Listing name: Sunset Beach Treehouse w/ AC and Tub
Listing type: Entire home
Max. no. of guests: 2
No. of bedrooms: 1
Attention, kids at heart: at this Airbnb in El Nido, you can fulfil your dreams of spending the night in a treehouse! It overlooks the ocean and is situated right on the beach, too. Could anyone ask for more?
This treehouse is equipped with its own kitchen and living room, as well as a balcony where you can watch the fiery sunset. However, be sure you're up for a real adventure, as the home runs on a combination of solar energy and a generator — and electricity is reserved just for fans and charging your gadgets. You probably won't even notice, though, since you may be too busy doing yoga on the balcony or reading on the beach!
12. This picture-perfect villa in Corong-Corong for a private getaway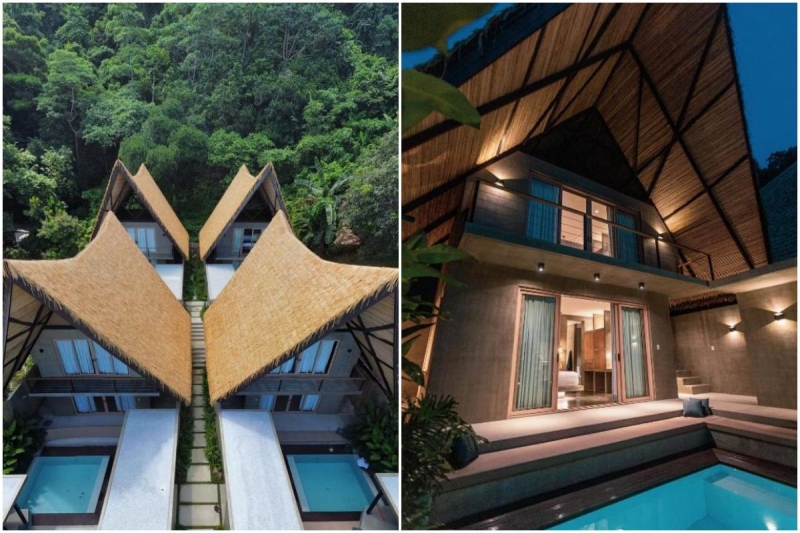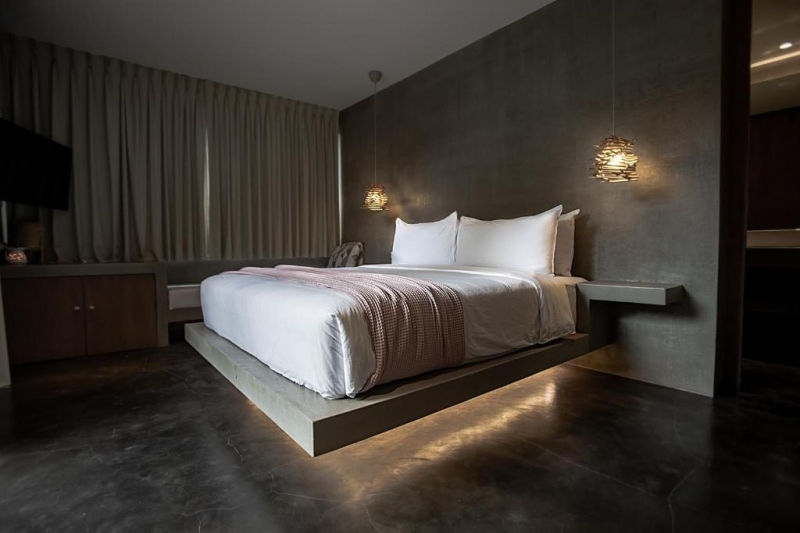 Listing name: Panorama Villas El Nido
Listing type: Entire villa
Max. no. of guests: 4
No. of bedrooms: 2
It's easy to fall in love with Panorama Villas, a space that gives travellers their own little slice of paradise in El Nido. A private pool lets you take a refreshing dip in peace. Inside, every corner is beautifully designed, from the elegant bedrooms to the sleek kitchen. And when you're ready for sun, sand, and sea, step out. Lapus Lapus Beach is only a kilometre away, while Corong Corong Beach is just a little bit further.
13. This bright apartment in a peaceful location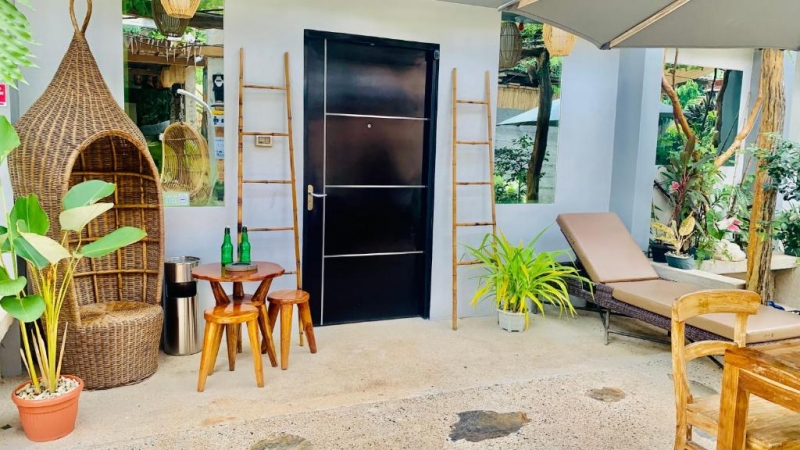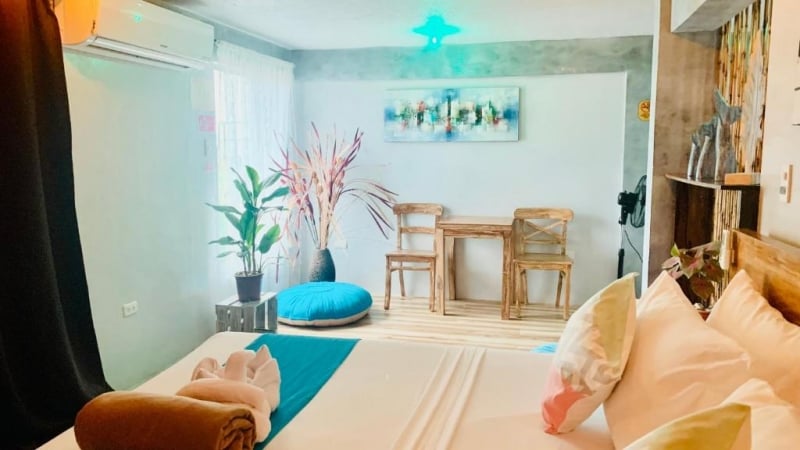 Listing name: El Nido Family Room of hidden
Listing type: Entire apartment
Max. no. of guests: 5
No. of bedrooms: 1 
A stay at this cheerful vacation rental in a quiet El Nido neighbourhood is always pleasant. This loft apartment is designed to be a true home away from home, with everything you need on vacation: clean interiors, comfortable beddings, attractive décor, and friendly owners who'll help you with anything you need when you're in town. At the end of your stay, there's a good chance you'll never want to leave.
14. This Bali-inspired villa for a slow, relaxing escape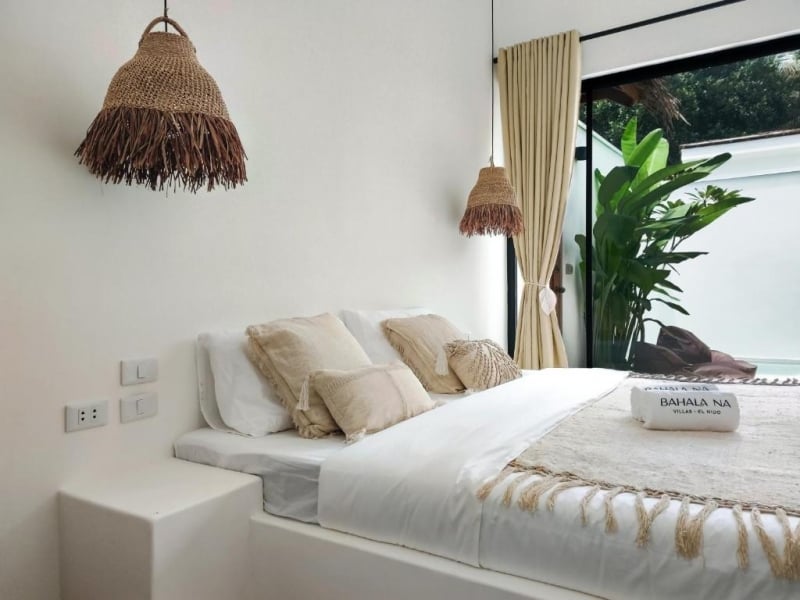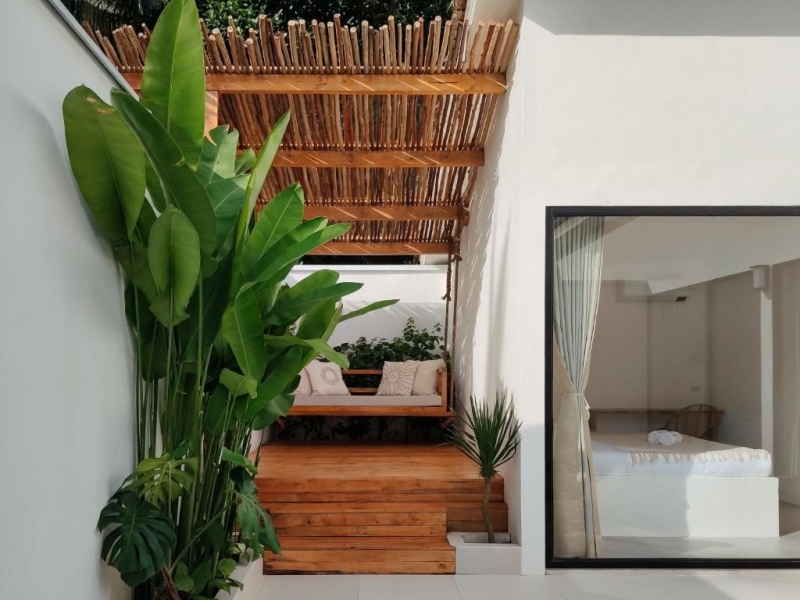 Listing name: Bahala Na Villas
Listing type: Entire villa
Max. no. of guests: 4
No. of bedrooms: 2 
Embrace the slow way of life in the tropics at Bahala Na Villas, a collection of eight two-bedroom villas inspired by the term "bahala na." Here, guests are encouraged to relax and go with the flow — which is quite easy to do in these Bali-inspired villas.
Hang out by your private pool and chill out under palm trees and blue skies, or explore nearby El Nido attractions with the free bicycles at Bahala Na. Breakfast options are available, but each stylish villa also comes with a well-equipped kitchen for guests who prefer whipping up their own meals.
15. This true island experience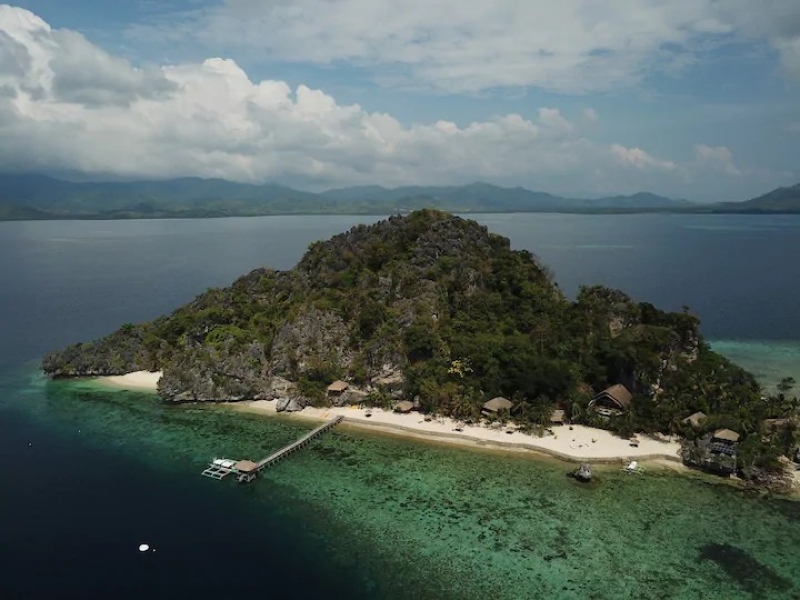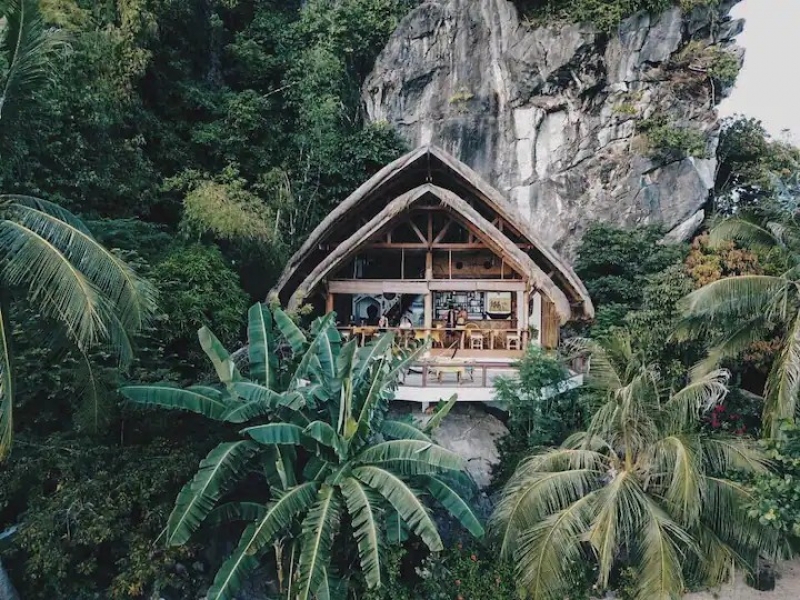 Listing name: Exclusive & Private Island Resort: Floral Island
Listing type: Entire villa
Max. no. of guests: 4
No. of bedrooms: 2 
Think, Survivor, but make it luxe. When you think about Airbnb rentals in El Nido, we bet you're not imagining a remote island paradise you'll get all to yourself. Floral Island Resort on Talacanen Island is a private island retreat offering a tropical escape like no other — away from the tourist circuit and steps from the clear blue sea. 
Eight rooms can accommodate up to 24 guests, although the island resort is just as ideal for small groups who want a secluded getaway in El Nido. Travellers won't have to worry about anything when they're here. Meals, kayaks and snorkelling gear, boat transfers, and bonfires — everything is provided!
Also read: 10 Airbnbs for Your Next Barkada Staycation Near Manila
Palawan is certainly full of natural wonders, and these equally stunning Airbnb homes in El Nido will guarantee a memorable stay in one of the world's most beautiful islands. Be sure to book one of these now!
---
This article contains affiliate links. When you book through these links, we may earn a small commission at no additional cost to you. All images courtesy of the respective property listings unless otherwise mentioned.