Fly to Cebu and you'll discover a sprawling island province with just about every kind of tourist attraction under the sun. Sandy white beaches and world-class diving beckon to sun-seekers, mountains invite climbers to scale rugged summits, and magnificent waterfalls hide in unspoiled forests. And if it's an urban experience you're seeking, you best not miss Cebu City.
Feel at home amid everything the province has to offer by carving out your own home away from home in Central Visayas. We've rounded up some of the best Airbnb homes in Cebu so you can feel like a local and stay in the loveliest corners of this stunning province.
Also read: These Airbnbs in the Philippines Will Inspire You to Travel Local
Airbnb rentals in Cebu, from Bantayan to Moalboal
1. This cheerful studio for two in the city centre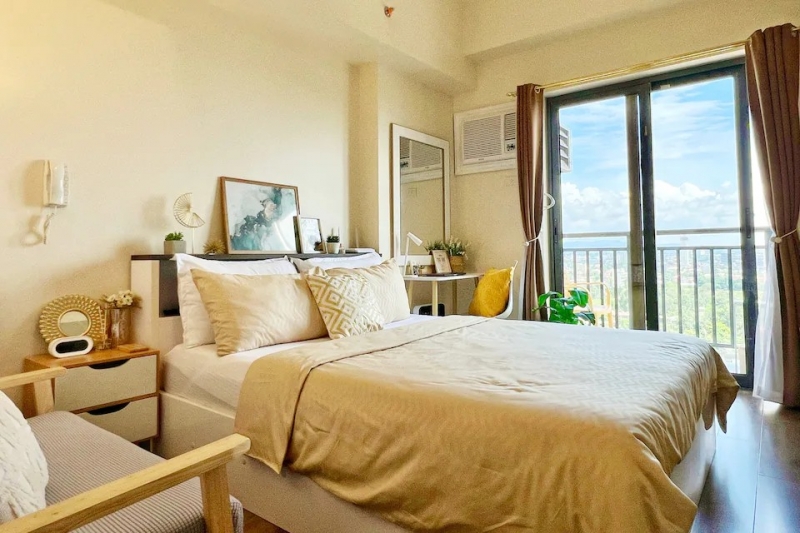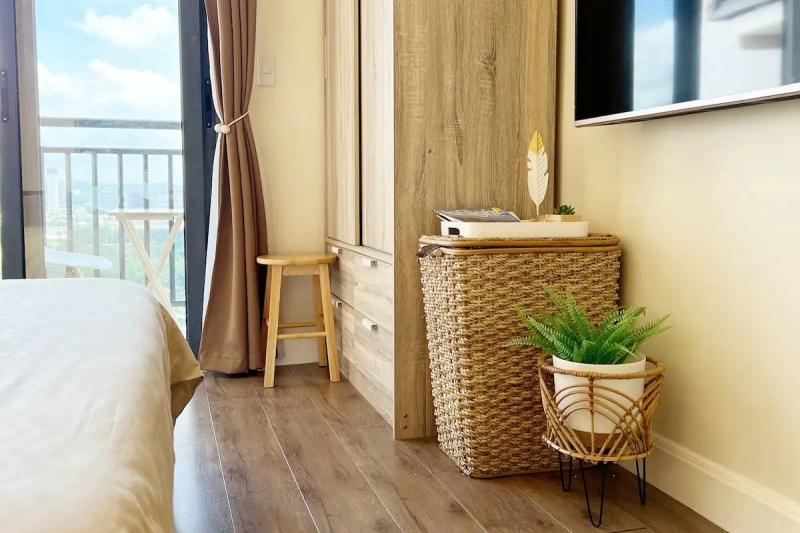 Listing name: Fully-Furnished Condo near IT Park & Ayala w/ Fibr
Listing type: Entire condominium
Max. no. of guests: 2
No. of bedrooms: Studio 
For an affordable weekend hideaway in Cebu City, this thoughtfully appointed studio in the heart of the city is a real gem. All the essentials are provided, from a queen-size bed with an extra layer of memory foam to a well-equipped kitchenette with a water filter ensuring easy access to clean drinking water straight from the tap.
Most studios are a tight fit, but not this one, which even has ample closet space for short- or long-term travellers. There's even a cosy balcony where you can sip morning coffee and enjoy stunning sunrise views daily.
2. This cosy space for solo travellers on a budget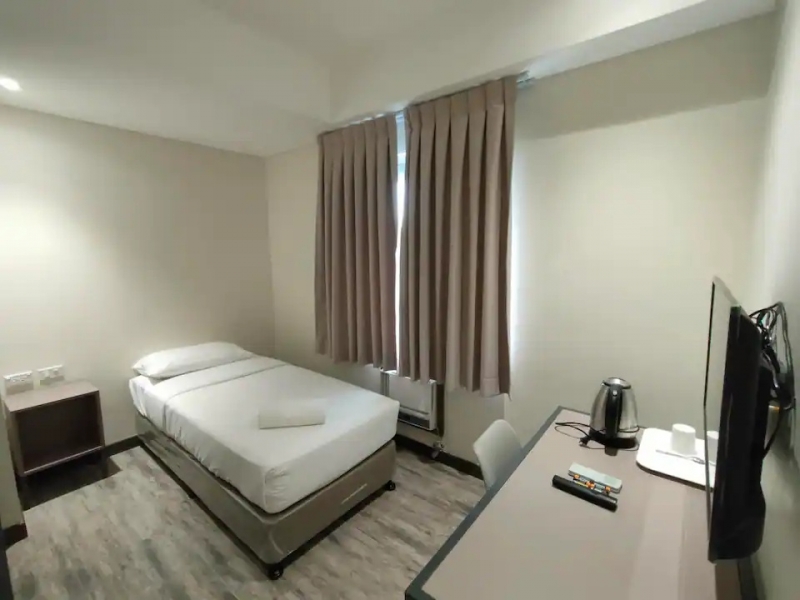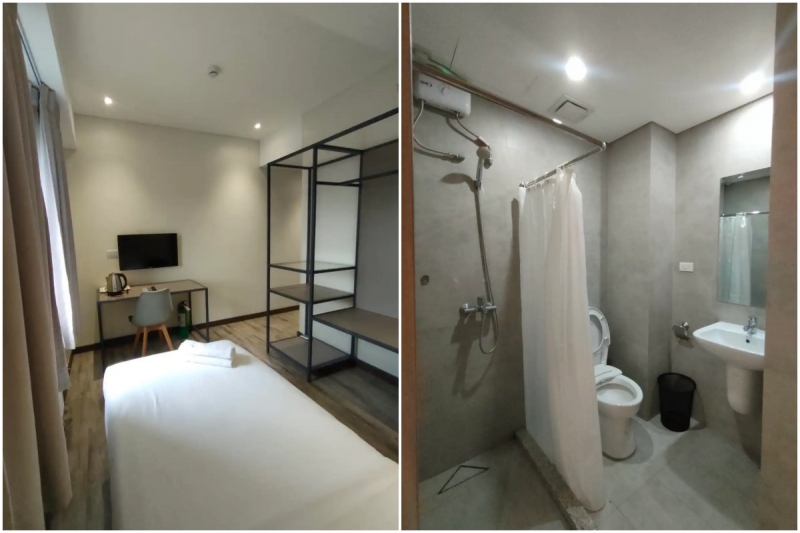 Listing name: MIT Residences – Studio @ Cebu near JY #609
Listing type: Entire unit
Max. no. of guests: 1
No. of bedrooms: Studio 
Setting off on your own? Consider renting this comfortable Airbnb in Cebu that's made for solo guests. With a large desk and free WiFi, this reasonably sized studio has everything business travellers or remote workers might need on out-of-town trips. There's no kitchen, but this studio has plenty of food options nearby, including JY Mall, restaurants, and a 7-Eleven.
Also read: 10 Overlooking Cafes and Restaurants in Cebu 
3. This luxurious villa with exceptional views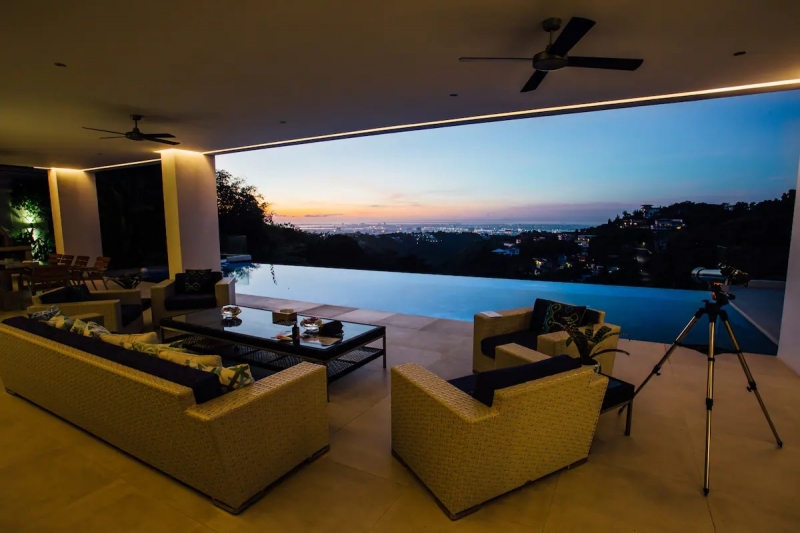 Listing name: Luxury Villa Busay
Listing type: Entire villa
Max. no. of guests: 8
No. of bedrooms: 4 
Blending the comfort and privacy of an Airbnb and the first-rate amenities of a Cebu resort, this luxury stay gives you the best of both worlds. Every room is fit for VIP travellers, from the beautifully designed bedrooms to the spectacular infinity pool overlooking Cebu City. 
Prepare to be pampered by the attentive staff during your visit. Whether you want them to prepare fresh brick oven pizza or arrange transportation and tours, they'll ensure your stay is memorable and stress-free. A welcome bonus: This villa boasts a fantastic wine selection, so you don't even have to step out for a nightcap. 
4. This modern city residence for big families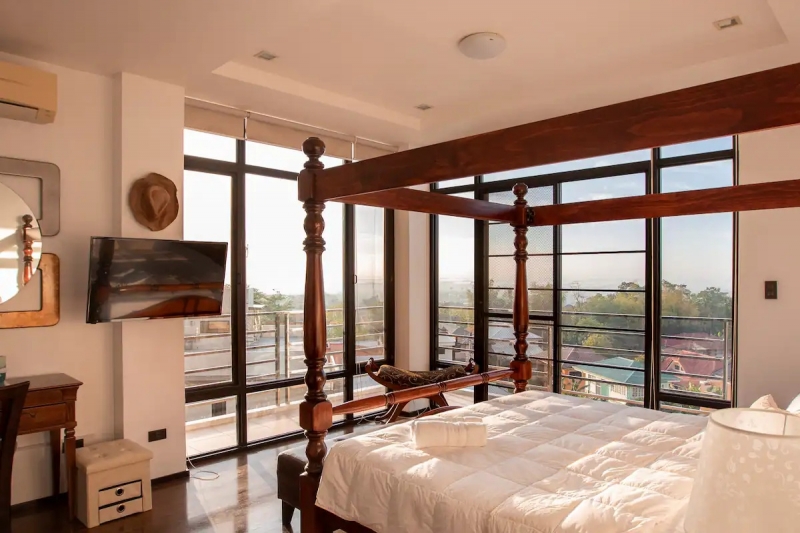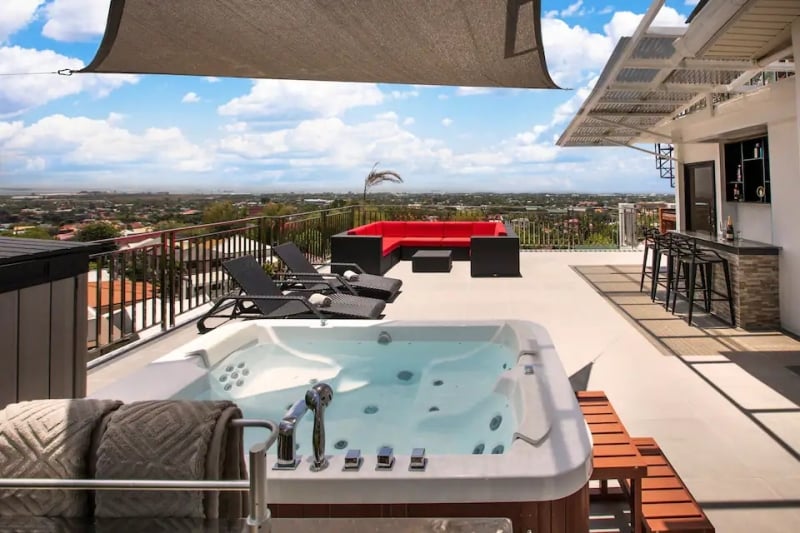 Listing name: Modern 6BR House ⭐️City & Ocean Views from Jacuzzi
Listing type: Entire home
Max. no. of guests: 10
No. of bedrooms: 6 
Taking your whole crew for a much-deserved vacation? Check out this wonderful find: An Airbnb in Cebu providing large common areas, multiple dining areas, and a fully-stocked kitchen with all your cooking essentials. Six bedrooms promise enough space for 10 guests, but the Airbnb Superhost says they can fit up to 15 with advanced notice.
Hang out with everyone on the private rooftop, which features cosy seating, a hot tub, a BBQ area, a bar, and a dining space. The sweeping scenery of the city makes for an exceptional backdrop to family bonding, that's for sure!
5. This elegant suite near the airport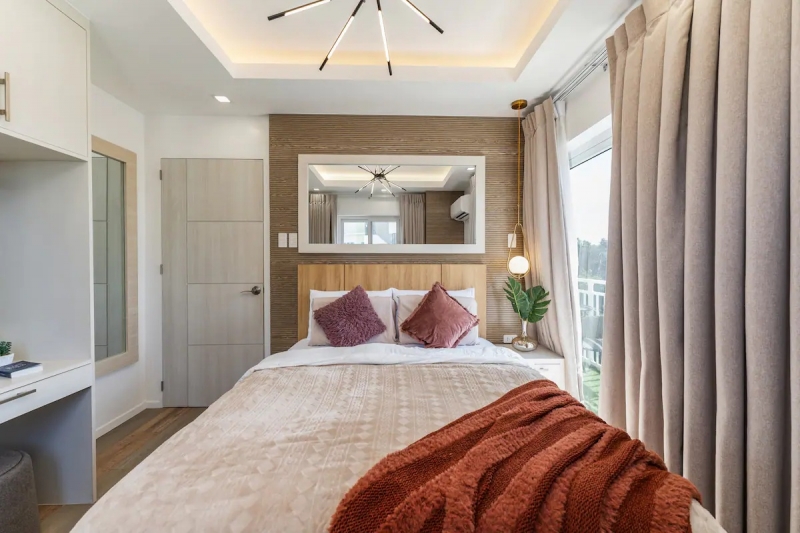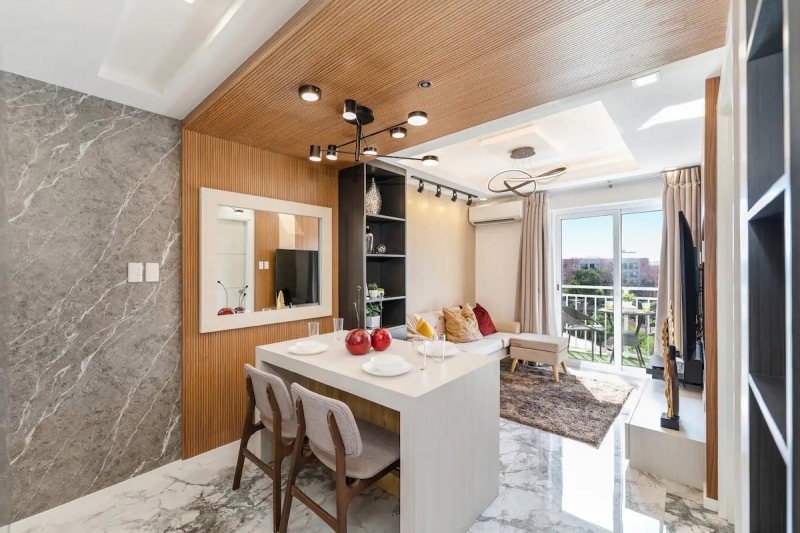 Listing name: Luxury Suite | Near Cebu Airport | 200 Mbps Wi-Fi
Listing type: Entire unit
Max. no. of guests: 4
No. of bedrooms: 1 
If you're looking for an Airbnb in Cebu that's just a five-minute drive from the Mactan International Airport, then this tastefully designed suite is one of your best bets. Luxurious yet compact, it's the perfect fit for solo travellers or pairs who want top-notch living in Lapu-Lapu City. Moreover, it offers reliable WiFi, making it perfect for business travellers jetting in and out of the province from all over the world.
6. This chic loft in a central location in Mandaue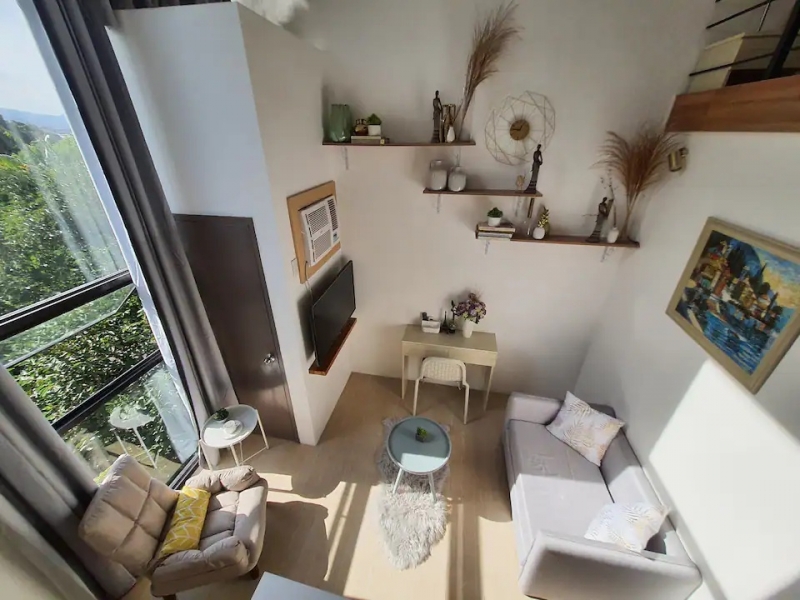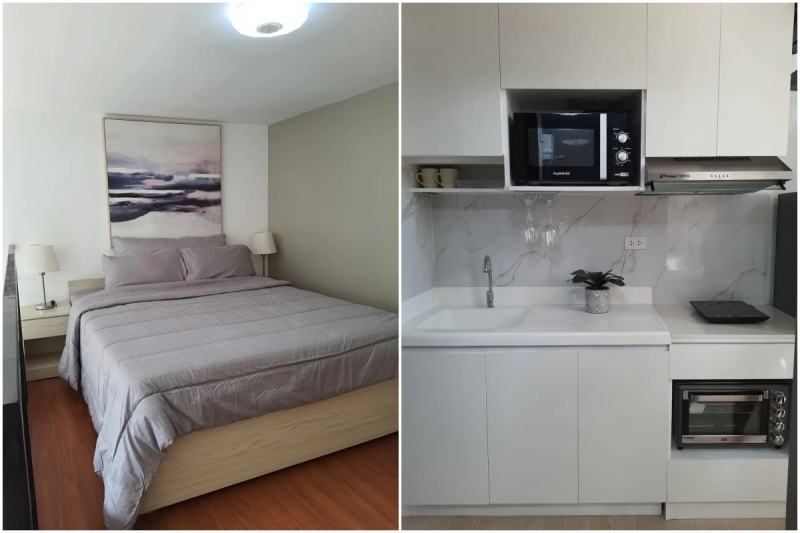 Listing name: Stylish and comfy 1 bedroom loft in Mandaue City
Listing type: Entire loft
Max. no. of guests: 2
No. of bedrooms: 1 
Known as the Furniture Capital of the Philippines, Mandaue City is one of the vibrant urban destinations in the province that's worth a visit. And when you're stopping by Mandaue, we recommend considering this stylish loft as a base. Although the space is limited, this sunlit Airbnb is smartly designed, with a pretty living room area and a well-appointed kitchen.
Moreover, the central location earns this rental major plus points. Expect a variety of restaurants nearby and easy access to cabs when exploring the city.
7. This Instagram-worthy farm stay in Carmen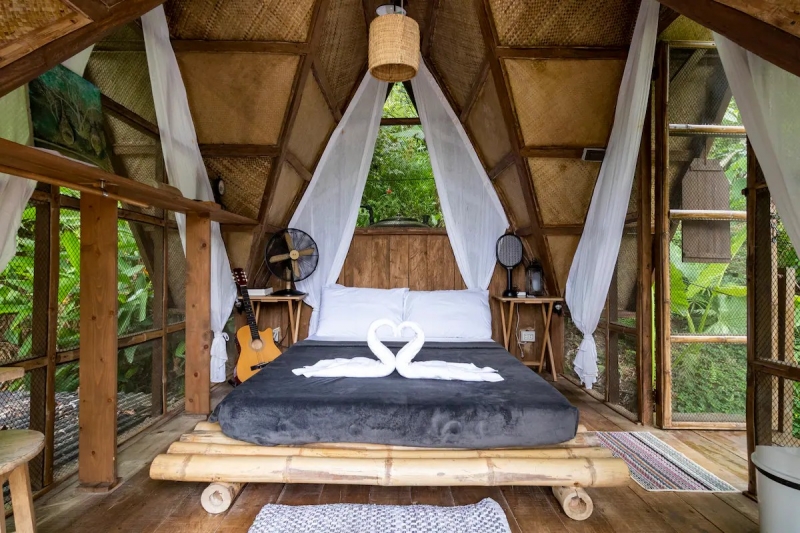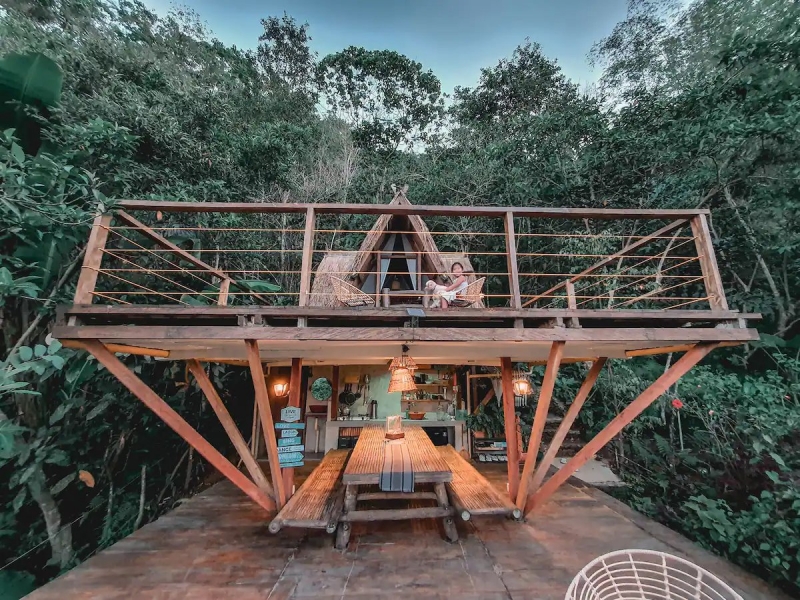 Listing name: Alhibé Farm Exclusive Homestay Accommodation
Listing type: Farm stay
Max. no. of guests: 6
No. of bedrooms: 1 
Travellers seeking an escape from the city can take refuge at this serene farm retreat in Carmen. Tucked away in a one-hectare mountain property, it's the perfect Airbnb rental in Cebu to unplug and relax. Fresh air, lush fruit trees, and a fresh spring-fed swimming pool allow travellers to bask in the natural beauty of the province. Other highlights include a bonfire pit, a yoga deck in the mini-forest, hammocks, and a forest trail.
Inside, creature comforts and stylish furnishings will make you want to stay an extra night or two. Each booking includes exclusive use of the whole farm, plus breakfast and dinner for up to six guests. Bigger groups can also be accommodated with glamping tents.
8. This beautiful townhouse in Bantayan with beach access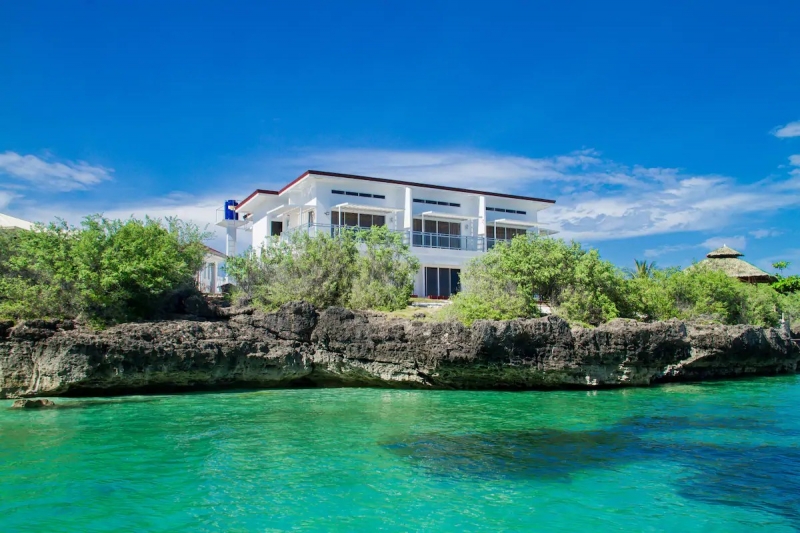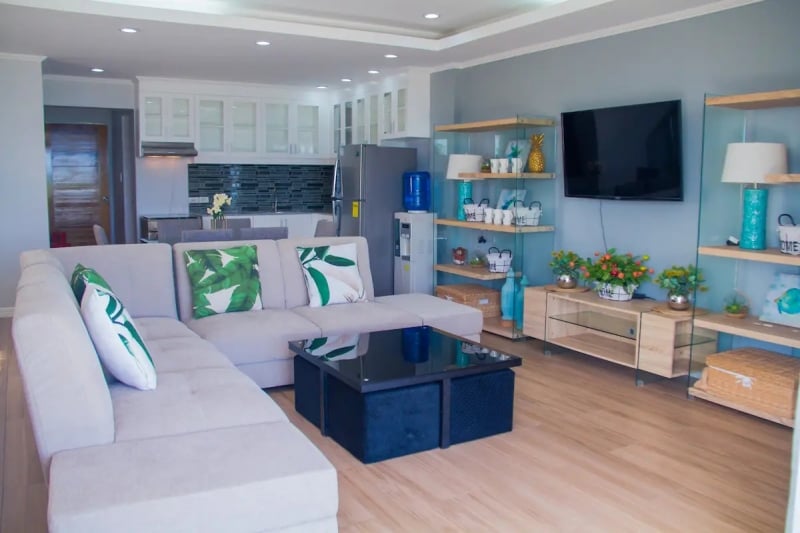 Listing name: Pearl of Santa Fe. Bantyan Island. Unit # 3
Listing type: Entire townhouse
Max. no. of guests: 10
No. of bedrooms: 3 
The beautiful sugar-white beaches of Bantayan Island should be on the list of every sun-seeker making their way through Cebu. And if you stay at one of the three townhouses on this delightful property in Santa Fe, you'll even have access to a private white-sand beach during low tide. That means you won't even have to leave to enjoy activities like swimming, kayaking, and paddleboarding. Then, when you're ready to explore, The Ruins are close by.
Also read: 10 Bantayan Island Resorts, Hotels, and Rentals for Your Tropical Escape
9. This Mediterranean-inspired retreat on a secluded beach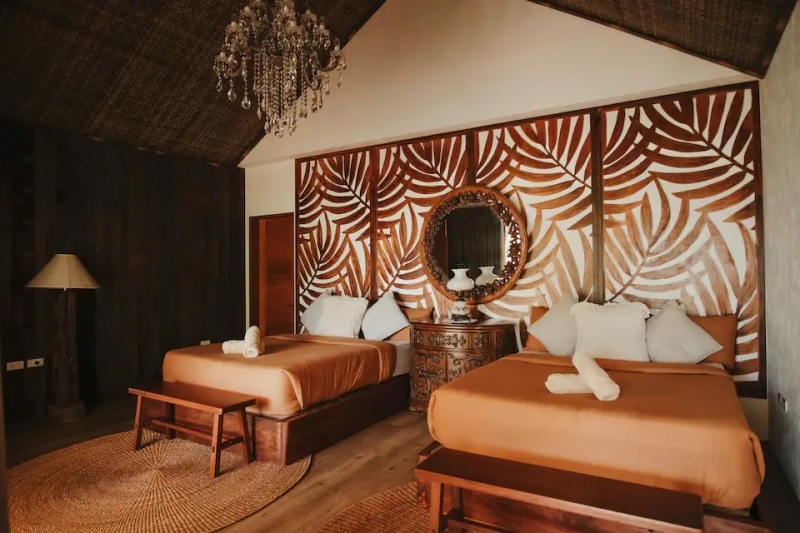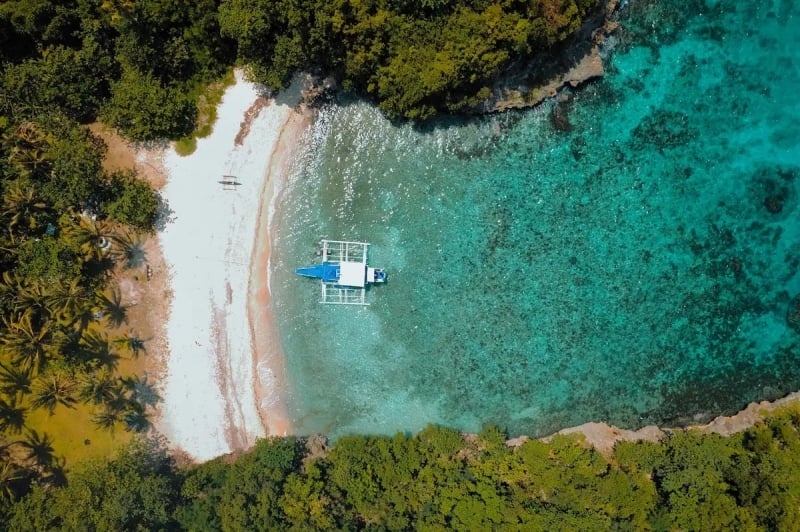 Listing name: Acropora Villa Ylang Ylang
Listing type: Private room in resort
Max. no. of guests: 5
No. of bedrooms: 1 
Although Medellin isn't as well-known as other Cebu destinations, the coastal town has been wowing travellers with sun-soaked white beaches and fun water activities. Case in point: This beautiful boutique resort with upscale villas tucked away from the city's bustle. Featuring stunning décor, premium wood furniture, and a private hot tub in each villa, this is one of the Airbnb rentals in Cebu you'll never want to leave.
10. This hobbit house near the Moalboal shores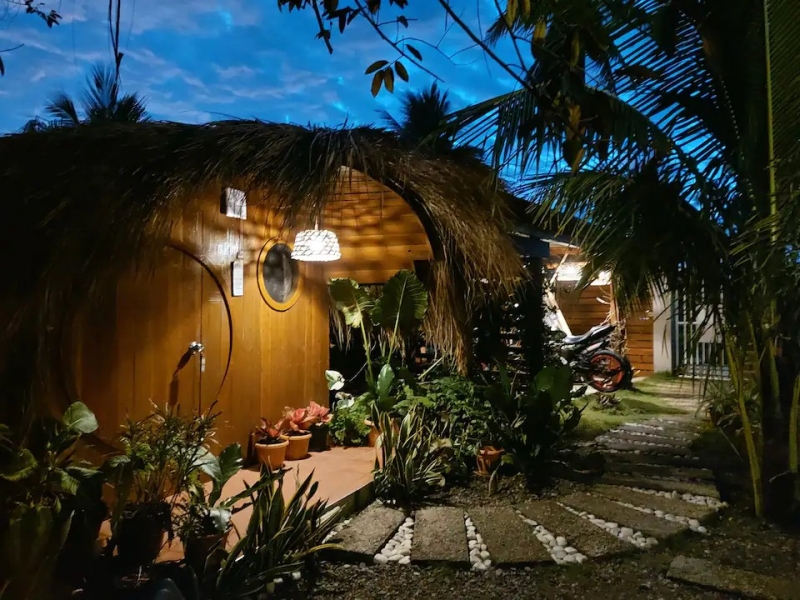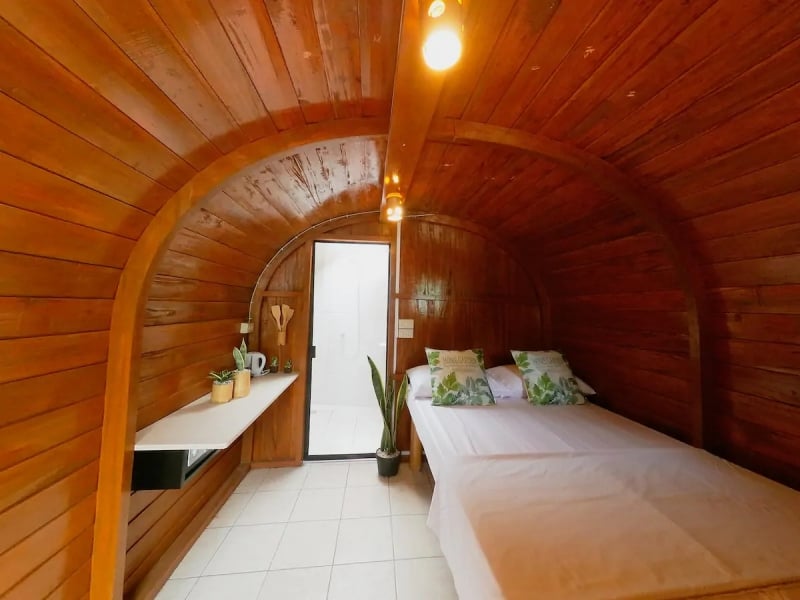 Listing name: LRS Hobbit House w/ POOL
Listing type: Private room in hut
Max. no. of guests: 2
No. of bedrooms: 1 
Stay near the ocean at this charm-filled hobbit house that's just the right size for two people — you don't have to be as small as Bilbo Baggins to enjoy the space. Cosy, clean, and comfortable, the room is a pleasant place to stay in the diving town of Moalboal.
Previous guests praise the friendly and helpful staff, as well as the outdoor pool, lush garden, and crowd-favourite floating breakfast. While this Airbnb in Cebu is in a quiet and secluded area, there's a lovely beach for snorkelling and sunset viewing just five minutes away on foot.
Also read: The 5 Guardians of Alegria: Cebu City's Mysterious Underwater Statues
11. This clifftop villa in Badian steps from a white beach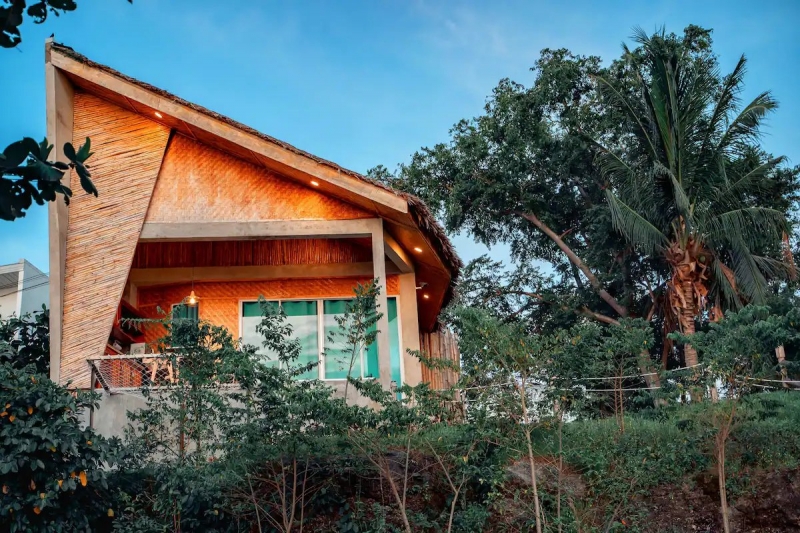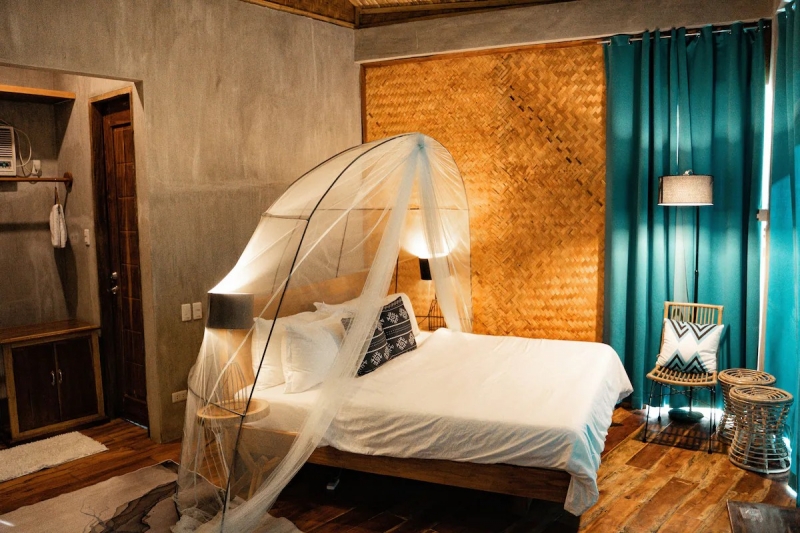 Listing name: Beach Villa, 15min to Kawasan Falls/Canyoneering
Listing type: Entire villa
Max. no. of guests: 6
No. of bedrooms: 1 
Sitting over the fine white shores of Lambug Beach, this clifftop villa is definitely one of our favourite Airbnb rentals in Cebu. It's perfect for romantic getaways and group vacations, with a plush king-size bed, a basic kitchen, an outdoor tub, and a hanging net with ocean views. There's even complimentary beer in the fridge! 
If you're curious about Cebu-style barefoot luxury, it looks like this. Wake up to views of the ocean, and wind down watching captivating sunsets over the dazzling waters. Adventure is nearby, too: World-famous Kawasan Falls and canyoneering are just 15 minutes away.
12. This sunny hostel room near the Moalboal beach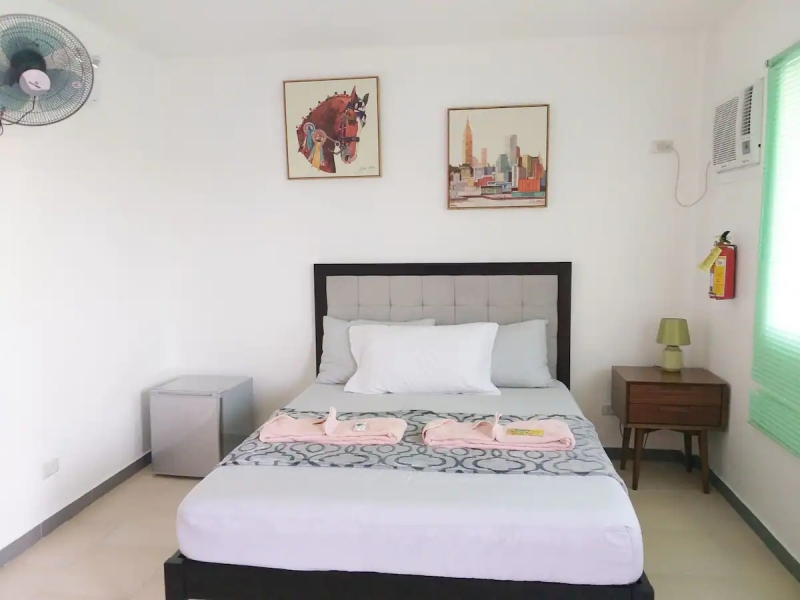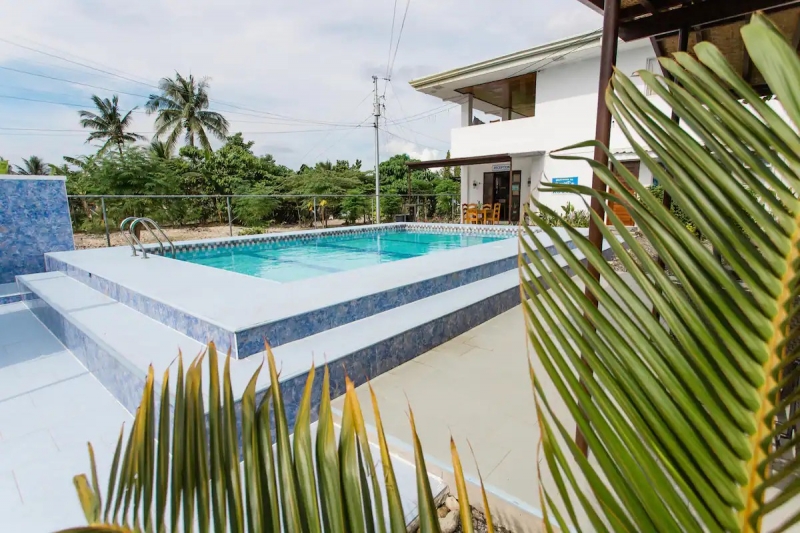 Listing name: Berni's Hostel, with Pool No 3
Listing type: Private room in hostel
Max. no. of guests: 2
No. of bedrooms: 1 
This isn't one of your bare-bones hostels; instead, the European-style Berni's Hostel makes for a pleasant stay in Moalboal. Tropical trees and fresh sea breeze create a relaxing atmosphere on the property, whether you're enjoying meals at Berni's Bar or taking a dip in the outdoor pool. Each room is spacious and clean, with a large bed, a TV, and a work desk.
13. This stunning dome with an outdoor Jacuzzi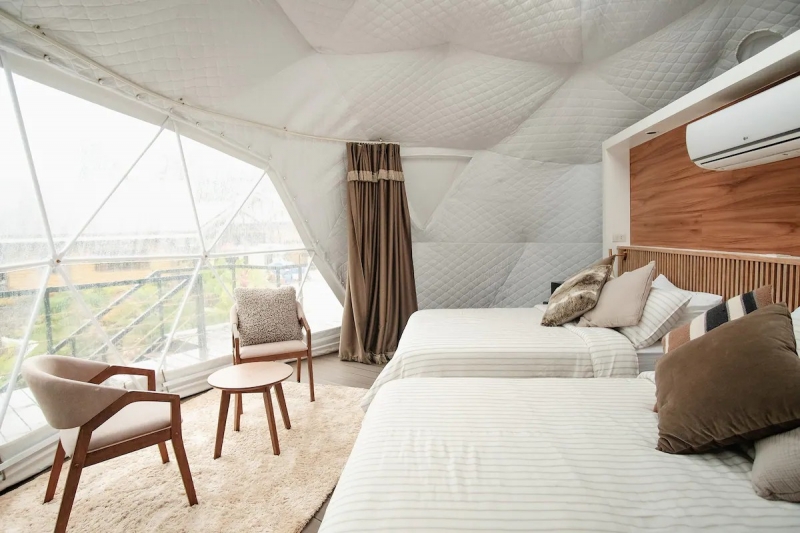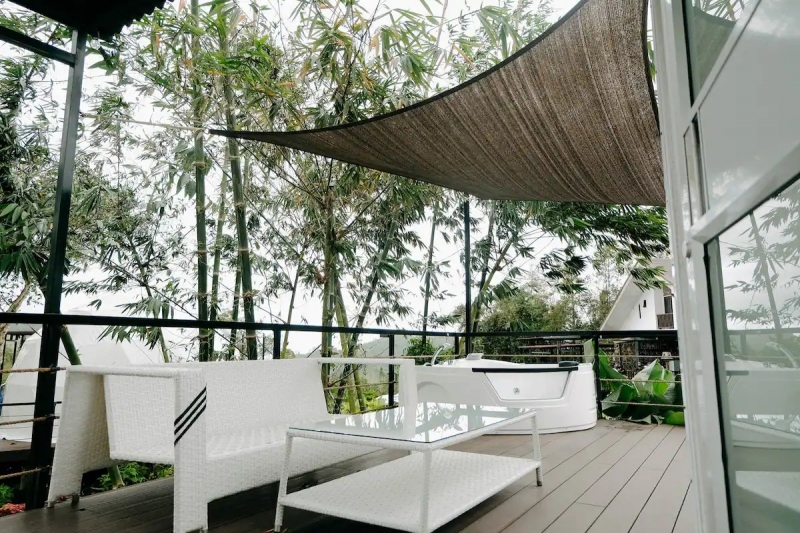 Listing name: 150 Peakway Dome w/ Outdoor Jacuzzi 1
Listing type: Dome
Max. no. of guests: 4
No. of bedrooms: 1 
Live in a bubble in your much-deserved getaway — literally! This beautifully crafted dome in Dalaguete is one of three dome suites at 150 Peakway. Step inside the dome furnished with high-quality amenities, including comfortable beds and a pristine bathroom.
A mountain home ideal for outdoor lovers, this Airbnb in Cebu features a sprawling deck with an outdoor tub, lounge, and dining area. Shared facilities with other Peakway rentals include an in-house restaurant, swimming pool, and outdoor lounge and dining areas.
14. This bohemian escape in southernmost Cebu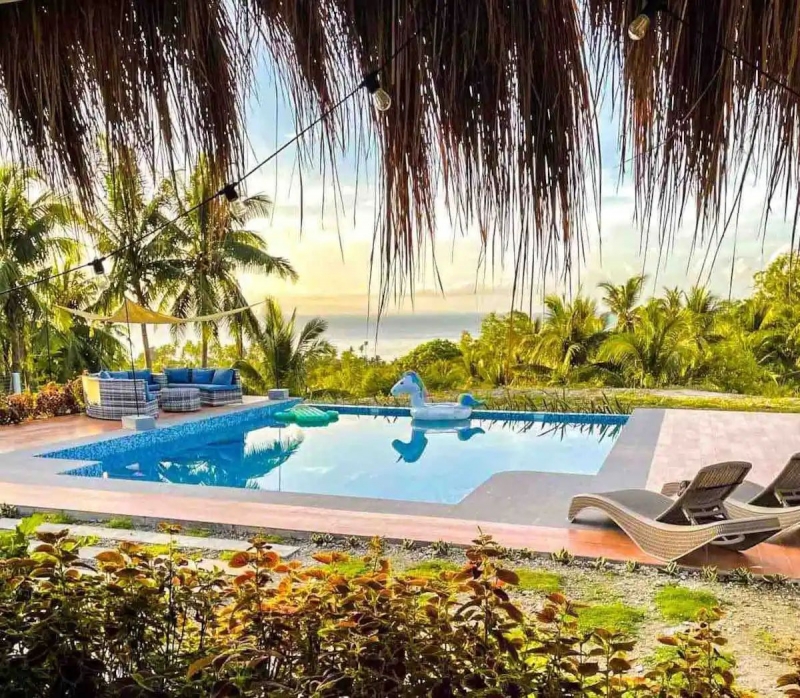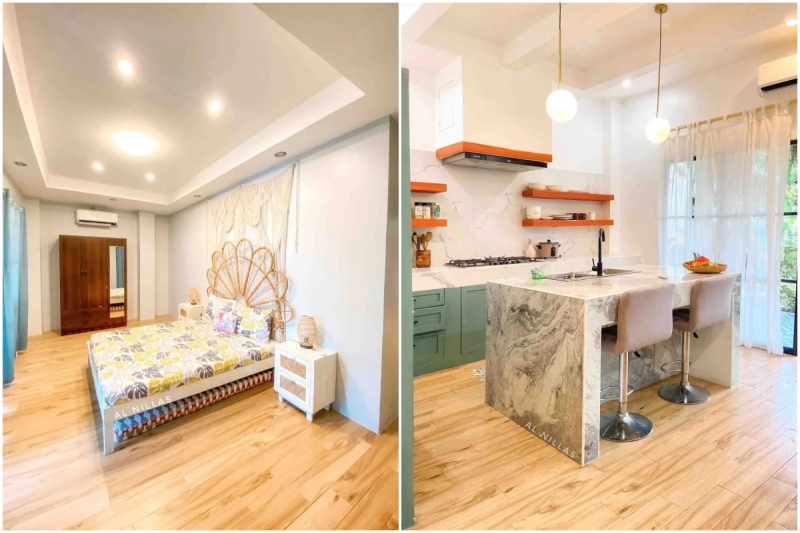 Listing name: Bohemian Villa in Pasil, Santander, Cebu
Listing type: Entire villa
Max. no. of guests: 15
No. of bedrooms: 3 
On the southern tip of Cebu is Santander, a picturesque town renowned for crystalline blue waters, white-sand beaches, and colourful diving spots. This three-bedroom villa is as vibrant as the town, a tropical dream with bright indoor spaces, an infinity pool over the ocean, and outdoor spots for lounging under the sun.
Need help with your vacation? A personal chef, massage therapist, CPR-certified babysitter, and tour guides are available upon request. Additionally, this villa is close to many attractions in southern Cebu: Oslob's famous whale shark encounters are only a 15-minute drive away, and local beaches are five minutes away.
Also read: Cebu to Bagiuo Flights Are Coming 
The sprawling island of Cebu and the tiny offshore isles that are part of the province remain one of the best places in the Philippines for a well-deserved vacation. And if you're staying at these Airbnb homes in Cebu, you can stay in your rental and probably still have a good time!
Visiting other Visayan destinations? Check out our Airbnb picks in Dumaguete, Siquijor, and Boracay.
Got a property you'd like TripZilla to feature? Inquire with us here.
---
This article contains affiliate links. When you book through these links, we may earn a small commission at no additional cost to you. All images courtesy of the respective property listings.