Back when I was a kid, trips to Tagaytay were always special, no matter the occasion. Whether it was for a quick vacation with family, road-testing a new car, or just dropping by for breakfast with a view, it always felt like going on a little adventure. And since my visits are less frequent nowadays, each trip to the city brings me a sense of nostalgia, taking me back to the good ol' days. Not only that — it also gives me the perfect excuse to check out all the must-visit coffee shops in Tagaytay!
From classic, oldie-but-goodies to newer, up-and-coming cafes, the city's coffee shop scene is definitely worth travelling for. After all, I believe a good cup of coffee is always best enjoyed with an excellent view. Agreed? 
So, without further ado — here are the top coffee shops in Tagaytay you have to visit!
Also read: 10 Overlooking Restaurants in Tagaytay for Your Next Road Trip
Classic Tagaytay coffee shops that everyone loves
1. Bag of Beans
One of the most loved coffee shops in the city, Bag of Beans is truly a Tagaytay classic. Having amassed such a big (and still growing) clientele over the years, they now have a total of five branches around the city! No matter which branch you choose, you can expect to enjoy excellent homegrown coffee and delicious comfort food —  plus beautiful eclectic interiors that are unique to each branch. Why not make it a goal to visit all their coffee shops in Tagaytay? We swear every visit will be different and just as worthwhile as the last!
For more information, visit Bag of Beans' official Facebook or Instagram pages.
2. Breakfast at Antonio's
When it comes to celebrating special occasions in Tagaytay, Breakfast at Antonio's is always one of the first places that come to mind. There's just something about it — a place where the cool Tagaytay breeze, a scrumptious all-day breakfast menu (and mouth-watering, freshly baked cookies!), and classic decor all come together. I just love how it gets a lot of natural light, too. If you're on the hunt for coffee shops in Tagaytay that are perfect for your Instagram photos and serve good food, then look no further!
For more information, visit Breakfast at Antonio's official website, Facebook, or Instagram pages.
3. Starbucks
To some, it might seem funny to travel all the way to another city just to go to a coffee shop you can find pretty much anywhere. But those who think the idea of heading to Tagaytay and having coffee at Starbucks is laughable clearly just haven't seen this particular cafe for themselves! Not only is the branch at Domicillo Design Hotel one of the best places to enjoy unobstructed views of Taal — it's one of the most gorgeous Starbucks stores around the country, too!
For more information, visit Starbucks Philippines' official website, Facebook, or Instagram pages.
4. UCC Clockwork
UCC always brings back fond memories — on early Sunday mornings, my dad would drive us out to the coffee shop for breakfast. I'd order my usual, their Hokkaido French Toast with a side of bacon, while gazing longingly at my parents' coffee (I was still too young to have it back then!). When I was finally old enough to order myself a Kori-Kohi, the satisfaction I felt was like no other. No matter how many times I order it, or whichever UCC or UCC Clockwork branch I visit, I always feel the same sense of comfort. I love that I get to enjoy this even in Cliffhouse Tagaytay — another place that never fails to take me back to the good old days!
For more information, visit UCC Clockwork's official Facebook or Instagram pages.
Not-so-typical cafes in Tagaytay to add to your list
5. Cafe Voi La
Cafe Voi La is particularly special to me because my dad actually recommended it to me for my anniversary celebration! The interiors are beautiful, and they've got an extensive menu as well — they have so many dishes and drinks to choose from that one visit wouldn't suffice. I particularly recommend their pizza and authentic ca phe sua da (Vietnamese iced coffee).
Another thing to love about Cafe Voi La is that it's perfect for just about any occasion. Its relaxed vibe makes it a great pick for intimate dates, casual hangouts with friends, or gatherings with the whole family. It's easily one of the most underrated coffee shops in Tagaytay, in my opinion!
For more information, visit Cafe Voi La's official Facebook or Instagram pages.
6. Sweet Knot Haven
First of all, how gorgeous is this cafe? Diners will surely fall in love with Sweet Knot Haven at first sight, thanks to its Instagram-worthy combination of white and wood, paired with its setting in the middle of lush greens. Given its unmistakably romantic ambience, couples will definitely want to check it out for special occasions. It seems that this was actually one of the most favoured coffee shops in Tagaytay for Valentine's Day! (Tip: For a date with your significant other, make sure to request for a table at the lower veranda!)
Sweet Knot Haven isn't just a great place for grabbing breakfast or a cup of coffee; they serve a generous range of delicious meals for lunch and dinner, too. Among their most raved-about dishes would be their Hainanese chicken, pomelo salad, and bulalo — because a trip to Tagaytay is never complete without bulalo, right?
For more information, visit Sweet Knot Haven's official Facebook or Instagram pages.
7. Tsokolateria
Tsokolate-eh, anyone? There's no better place to enjoy some than in Tsokolateria! Popular for serving "everything cacao", this artisanal café is a highly recommended choice for brunch or dessert. Our favourite menu items? Their churro waffles and bibingka, best paired with their decadent hot chocolate.
To top it all off, Tsokolateria is also one of the top cafes in Tagaytay where you can enjoy outdoor seating with a view — so if you're looking for a social distancing-appropriate place to dine, you know where to go!
For more information, visit Tsokolateria's official website, Facebook, or Instagram pages.
8. Char's Garden Cafe
There's nothing more comforting than home cooked Pinoy food, and Char's Garden Cafe serves just that. Offering popular Filipino dishes like bulalo, bagnet, sinigang, and sisig, this restaurant is easily one of Tagaytay's hidden gems. Situated away from the city's more crowded areas, it exudes a peaceful, quiet ambience that you won't find in many other coffee shops in Tagaytay.
For more information, visit Char's Garden Cafe's official Facebook or Instagram pages.
9. Kuuma Kaakao Kaffe
Speaking of hidden gems, Kuuma Kaakao Kaffe is one of the under-the-radar coffee shops in Tagaytay that deserve a lot more love. They serve hot chocolate and kakanin, which, as we all know, pair perfectly with stunning views — and thankfully, this café has an outdoor dining area that overlooks the breathtaking Taal Lake! Besides that, their menu also includes delicious local dishes like tapsilog and carbonara with longganisa. Yum!
For more information, visit Kuuma Kaakao Kaffe's official Facebook or Instagram pages.
10. Ruined Project
Have you heard of Ruined Project yet? If you haven't, it's actually got a really interesting backstory! The coffee shop in Crosswinds Tagaytay is actually Coffee Project's 50th branch, and was originally conceptualised to be the brand's flagship store. However, their plans for the project were ruined by the pandemic — eventually, they decided to embrace said ruined plans, and took it as inspiration for a whole new concept!
Today, the store is adored for its "perfectly imperfect interiors" and their extensive menu. Best-sellers include their pizzas, pastas, and (of course!) coffee beverages like their Iced Freddo and Ca Phe Sua Da.
For more information, visit Ruined Project's official website, Facebook, or Instagram pages.
11. Sspace Coffee Bar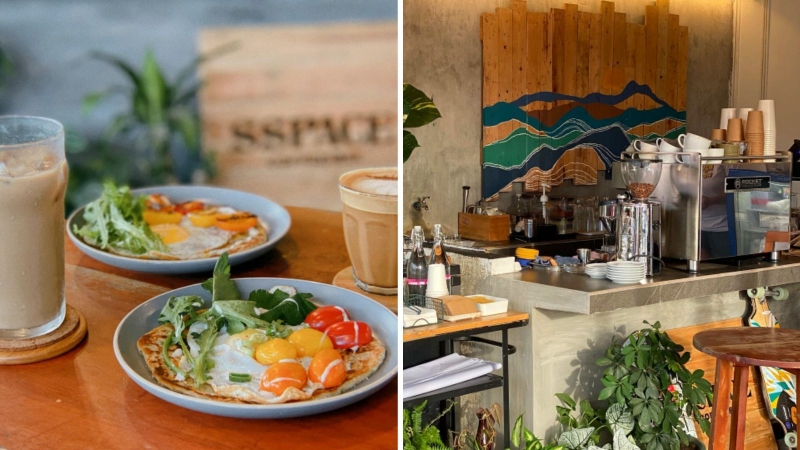 Bikers and cyclists out there, Sspace Coffee Bar nestled along Sta. Rosa Tagaytay Road is your go-to curbside espresso bar. This underrated minimalist cafe serves yummy breakfast staples and pastries best paired with their single-origin brews. Aside from opening their space to locals and Tagaytay visitors, they also have pop-up stalls to share their passion for food and coffee with other communities. 
For more information, visit Sspace Coffee Bar's official Facebook and Instagram pages. 
Also read: 15 Roadside Coffee Shops in & Near Metro Manila 
12. Cafe Yama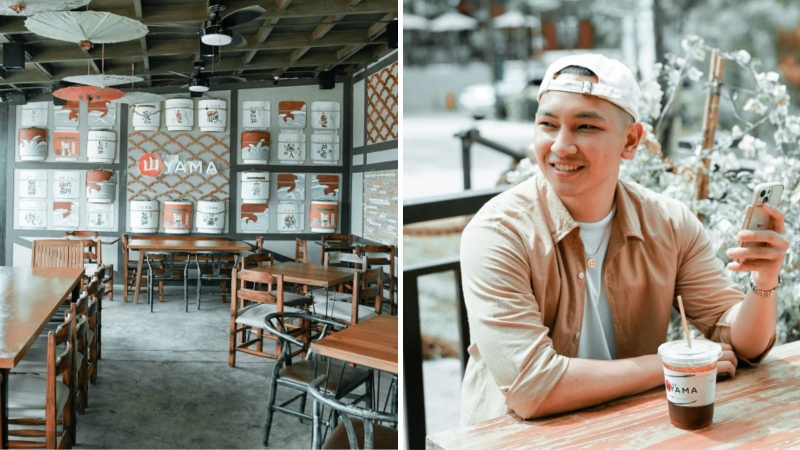 If you're looking for great eats, you're in for a treat at the nature-filled enclave of Crosswinds Tagaytay. Here, you'll find Japanese haven Cafe Yama serving up sushi, sashimi, teppanyaki, caffeinated beverages and other refreshing cold drinks. If you're craving oriental flavours on your visit to Tagaytay, you'll surely "taste Japan with every bite" at this picturesque cafe. What's more, its location along the city's natural slopes provides you with scenic views and a calm ambience! 
For more information, visit Cafe Yama's official Facebook and Instagram pages. 
13. Kape'an Coffee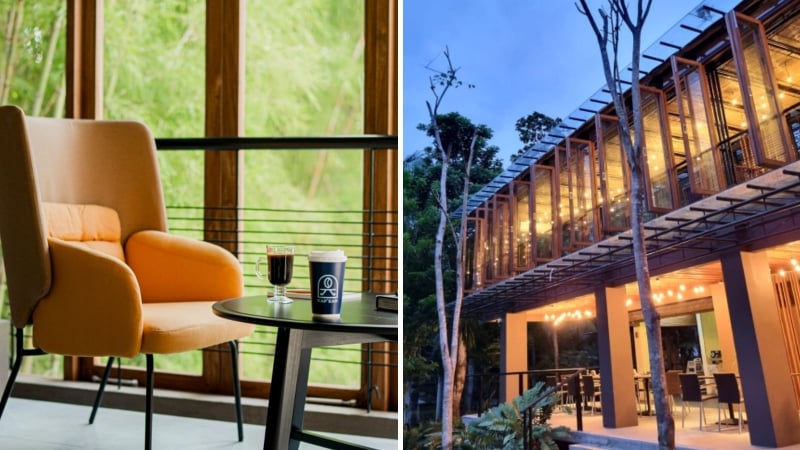 If you can spare a little more time on the road, visit Kape'an Coffee, tucked just a stone's throw away from Tagaytay. It recently opened its doors to the public for those looking for a quiet sanctuary for afternoon tea or coffee. Caffeine talk aside, its grub menu comprises classic breakfast options, hearty snacks, and pastries perfect for meriyenda. 
For more information, visit Kape'an Coffee's official Facebook and Instagram pages. 

14. Flour Pot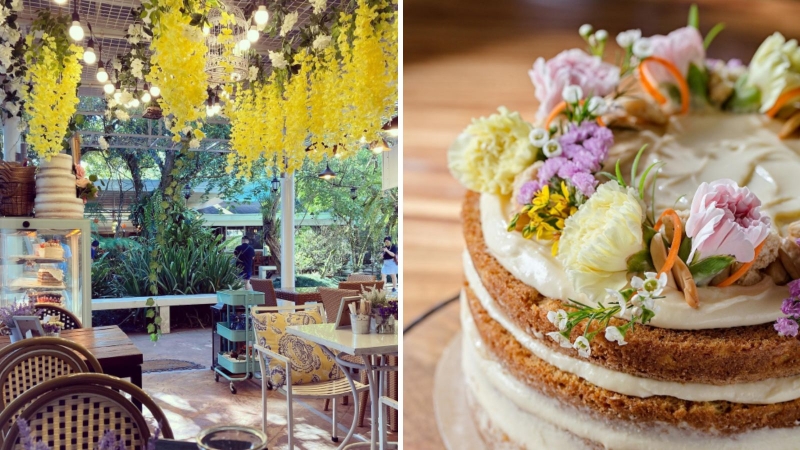 Surely everyone knows about the burgeoning al fresco dining scene in recent times. Another addition to the garden-esque club is Flour Pot, located at The Cliffhouse in Nasugbu Road, Tagaytay. For your sweet tooth cravings, take delight in their decadent lineup of pastries. From their classic rum and tableya cakes to quezo de bola ensaymadas, you'll surely come back for more. Undoubtedly, the Flour Pot remains to be one of the best al fresco coffee shops in Tagaytay you need to visit!

For more information, visit Flour Pot's official Facebook and Instagram pages. 
15. Meza Tiarra Cafe
Meza Tiarra Cafe is a contemporary artisanal coffee shop in Tagaytay serving international and regional cuisine and culture. Its crowd-fave eats include Margherita pizza, chicken wings, and the classic Filipino dish bulalo — all made with the freshest artisan ingredients. Of course, you wouldn't want to miss out on indulging in their handcrafted coffee creations! 
Got a special occasion coming up? Meza Tiarra Cafe also houses a selection of decadent cakes and pastries to make your celebration extra special! 
Also read: 8 Reasons to Visit Tagaytay as Soon as We Can Travel Again
Ready for your next road trip to the city? Whether it's just for a day trip or a full overnight stay, be sure to check out at least one of these coffee shops in Tagaytay. We'd love to hear which ones you enjoy the most!